This homemade pumpkin donut has the rich cakey texture of old fashioned donut with the perfect crispy outside. Then the donut glaze is a homemade maple spice glaze that takes these donuts to the next level.
Old Fashioned Pumpkin Donuts. Who is not in love right now?
I have to confess that baking is not my favorite area of cooking. However, this time of year, as the holidays roll in, I find that I enjoy baking the recipes that make me feel nostalgic. It takes me back to the days before mortgages and responsible food choices.
So why not bake up a metric ton of homemade donuts and, of course, homemade donut holes. Then crack open a bottle of prosecco and make it a party!
Is it possible to make donuts at home?
When I started on my mission to tackle making homemade donuts, of course, this was my first question. What I found; Donuts are easy to make at home if you have the right equipment.
You'll also need the best donut recipe and the perfect donut glaze recipe. Because honestly, what is a donut if it's not a glazed donut?
What do you need to make homemade donuts?
Whole wheat pastry flour
Baking powder
Sugar
Vanilla
Spices
Canned Pumpkin Puree
Buttermilk OR Sour Cream (depending on which recipe you are going to try)
What to use as a substitute for a donut cutter.
I didn't have one, so I used a round cookie cutter. It's has a three and a half-inch diameter.
To cut out the centers, which become homemade donut holes, I used a shot glass. I know! Classy!
PRO-TIP: Dip the edges of the donut cutting tools into flour before each cut so that the dough comes out easily.
You can also order a set of round pastry cutters HERE.
Growing up, my family made this pie every Thanksgiving. It's just expected! Thanksgiving could not go on without this pumpkin-tactic holiday pie.
The pumpkin in my Grandma's pie always had the perfect amount of pumpkin spice flavor and the exact right amount of sweetness.
Creating the perfect pumpkin pie sweetness in these donuts was exactly what I wanted.
I think I nailed it. I used my Grandma's pumpkin spice mix – that's the secret ingredient. If you want to make a large batch spice mix recipe, you can download it here!!!
Trust me, you should make it!
In the interest of science, I had to run the tests.
I made two different versions of these pumpkin donuts.
The first version was an old-fashioned buttermilk donut. The second version of the pumpkin spice donut was a sour cream old fashioned donut.
A few things that I learned while making homemade donuts.
Eating a metric ton of donuts is a small feat for my husband. No worries, he's got this!
A heavy cast iron pot is perfect for keeping oil at just the right temperature.
Pumpkin Donuts (The Buttermilk Version)
The first version that I tested used a buttermilk-based batter. It ended up being my favorite of the two.
I mean, these were OMG-lose-your-mind old fashioned donut deliciousness.
Ridiculous!! I'm still not over this soft, crispy, sweet, warm, spicy pumpkin donut. And honestly, I am not easily impressed by donuts.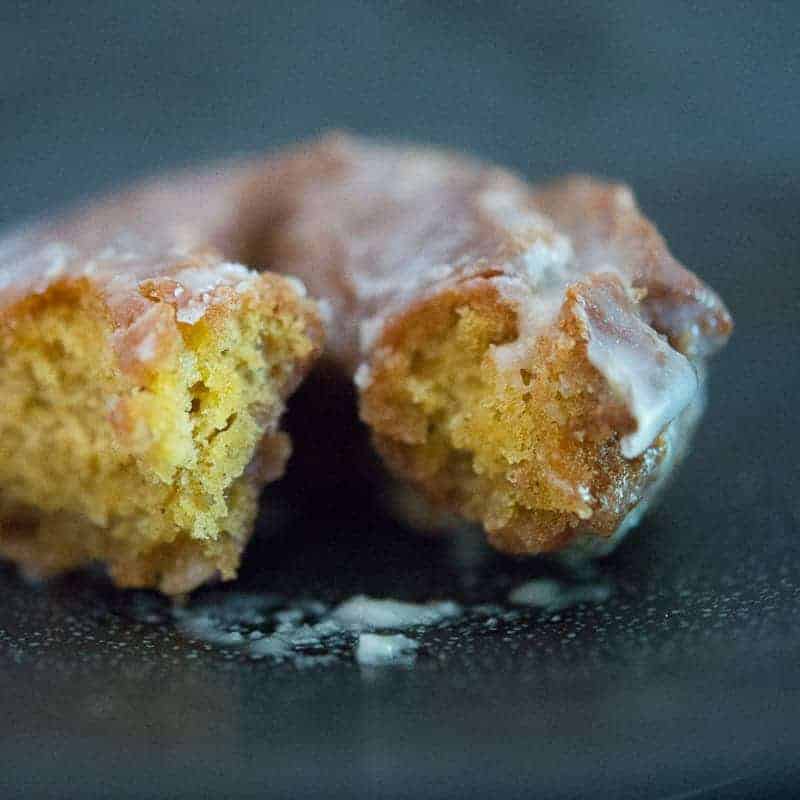 Check out the crumb here…
To read about the second version of Maple Glazed Pumpkin Cake Donuts, check out the recipe HERE!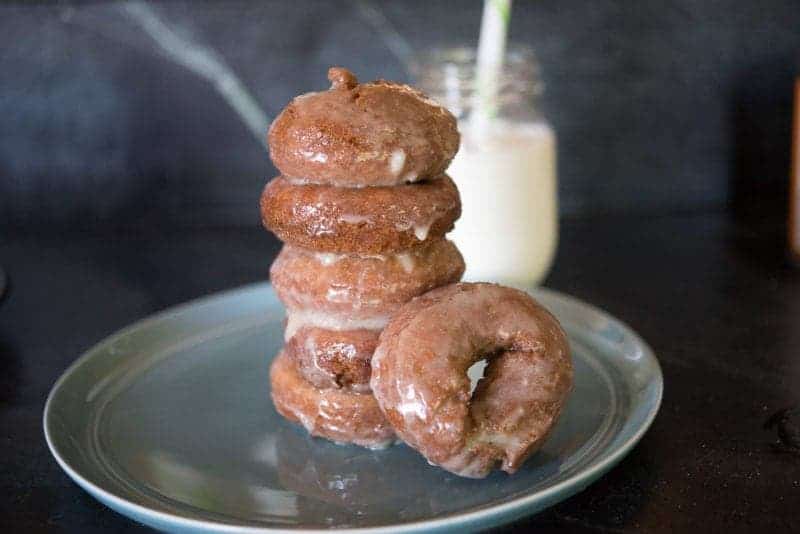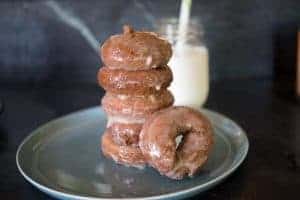 Old Fashioned Pumpkin Donuts Version 1
This donut is everything that a true old fashioned donut should be. The crumb is perfect and moist. The outside is crispy in that perfect-glazed-way. Plus it's full of amazing pumpkin pie flavor.
Print Recipe
Pin Recipe
Ingredients
Buttermilk Glaze
3

cups

powdered sugar

1/2

cup

buttermilk

1/2

tsp

vanilla or maple extract
Instructions
Donut Dough
In a large bowl, combine all of the dry ingredients.

In a stand mixer combine butter, pumpkin puree and vanilla. beat with paddle attachment until the mixture is fluffy.

Add buttermilk, mix until incorporated.

Add dry ingredients and mix until well combined.

The batter will be pretty sticky. Best if you cover with plastic wrap and rest overnight in the fridge.

Make buttermilk glaze before frying. (see below)

Turn out on well floured surface.

Roll dough to 1/2 inch thick. Use a donut cutter to cut donuts.

Heat Canola oil to 325F. Drop donuts in, fry for 10 seconds and flip. Fry for about 90 seconds and flip again. Fry for another 90 seconds.

Remove from oil and place on paper towel. Dip in glaze while still hot. Place on rack to dry.
Buttermilk Glaze
Combine all ingredients for glaze in a bowl and whisk together.

An infinite number of flavorings can be added to this glaze. Maple instead of vanilla. Citrus juice instead of the buttermilk. Be creative.
Nutrition
Calories:
171
kcal
|
Carbohydrates:
37
g
|
Protein:
2
g
|
Fat:
1
g
|
Cholesterol:
3
mg
|
Sodium:
109
mg
|
Fiber:
2
g
|
Sugar:
23
g
|
Calcium:
58
mg
|
Iron:
0.9
mg
(Visited 429 times, 1 visits today)