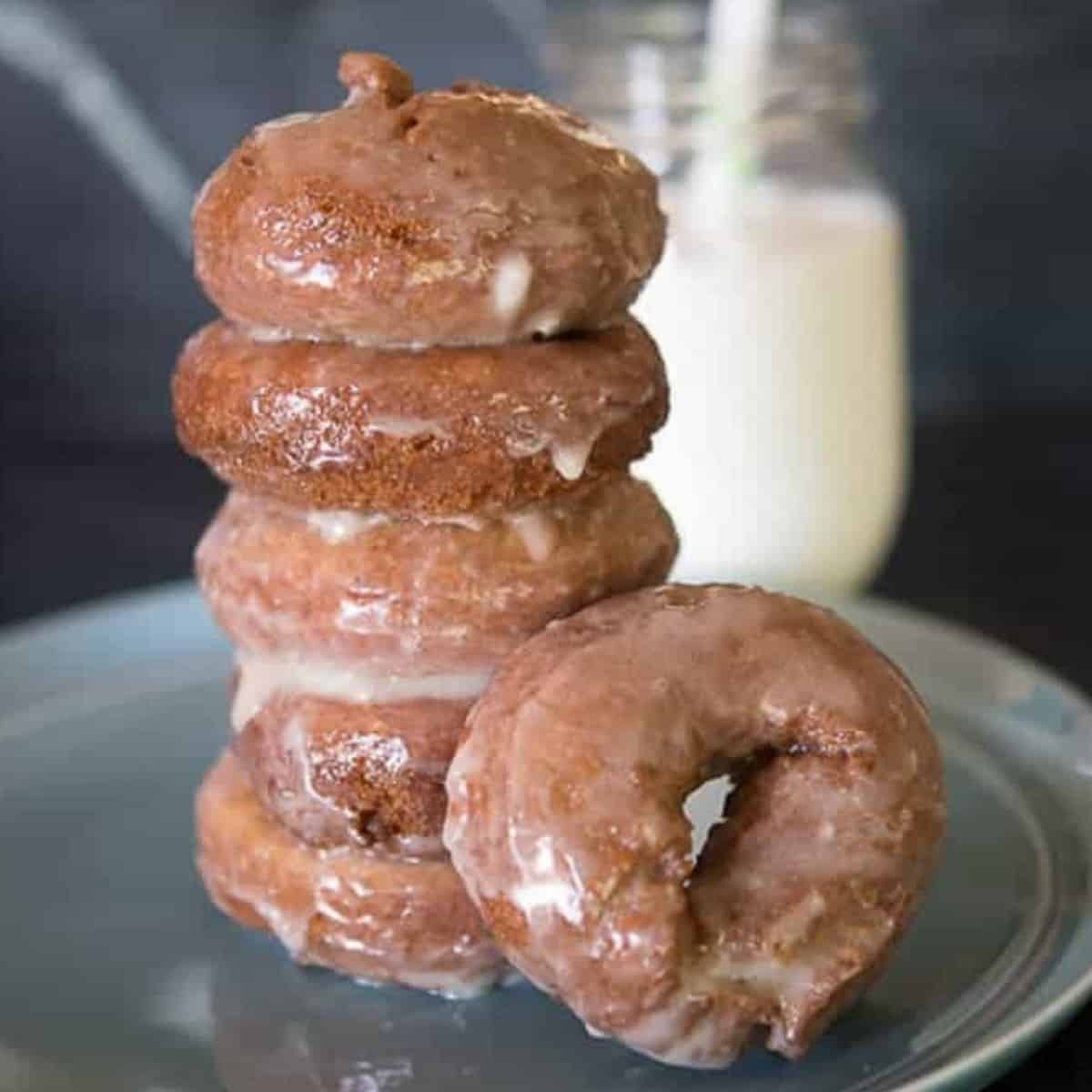 Recipe
Comments
Save
Go to Collections
This post may contain affiliate links. Please read my
disclosure policy.
This homemade pumpkin donuts recipe has the rich cakey texture of an old-fashioned donut with the perfect crispy outside. I tried a few different recipes before I decided that this is the BEST buttermilk doughnut recipe on the planet!!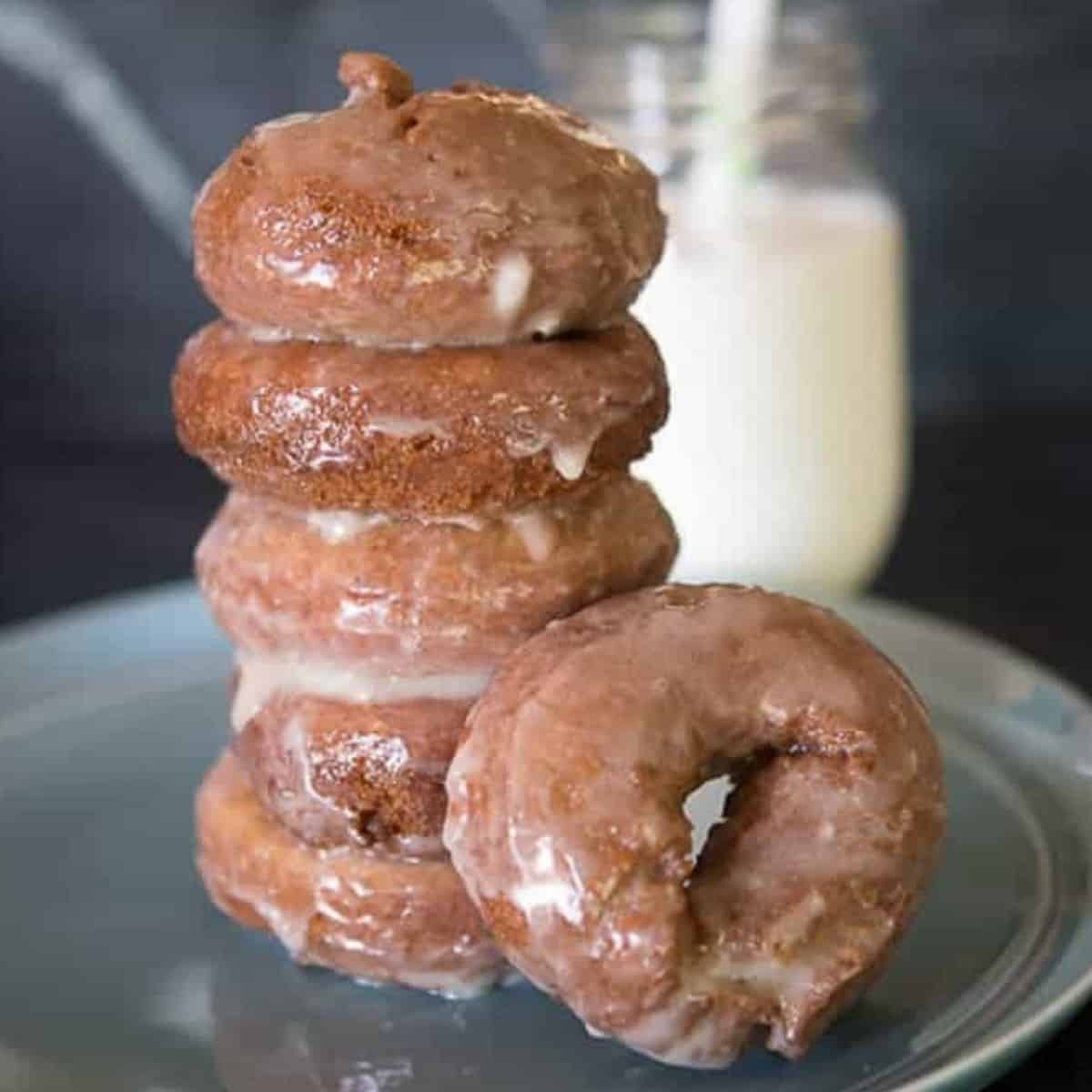 When the holidays roll around, I enjoy baking the recipes that make me feel nostalgic.
All the baking takes me back to the days before mortgages and responsible food choices.
So why not bake up a metric ton of old-fashioned glazed donuts and homemade donut holes? Then crack open a bottle of prosecco and make it a party!
Ingredients for homemade donuts
Dry Ingredients: Whole wheat pastry flour, baking powder, and sugar.
Wet Ingredients: Vanilla, canned pumpkin puree, melted butter, and buttermilk.
Spices: Pumpkin pie spice OR cinnamon, ginger, nutmeg, and cloves.
Equipment For Making Donuts
Donut cutter:

(affiliate link)

A handy dandy donut cutter quickly cuts out donuts and donut holes in one shot.
A heavy cast iron pot: Cast iron holds its temperature well and is perfect for keeping oil at just the right temperature.
Candy thermometer: A thermometer will help you regulate the temperature so that you have perfectly cooked donuts.
Homemade Old Fashioned Donuts
Making Old Fashioned Buttermilk Donuts might be a lengthy process, but it's totally worth it. These donuts have the perfect texture and flavor that you'd expect from a classic old-fashioned donut.
Mix up the batter: Add the wet ingredients to your mixer and mix until fluffy. Add in the flour and mix until the flour is just mixed in. The dough will be sticky.
Roll out the donut dough: Flour your work surface and roll out the donut dough to about one-inch thickness.
Cut the donuts: Cut out the donuts. Set aside on parchment paper. Re-roll the dough and continue cutting out as many donuts as possible. This recipe should make about 24 donuts.
Make the glaze: While your oil is heating up, make the glaze. You will want to glaze the donuts while they are still warm.
Fry the donuts: Heat the oil to 325℉. Add 4 to 5 donuts to the oil at a time. Don't crowd them too much. Fry on one side until golden brown, then flip over and fry on the other. (see below for detailed times)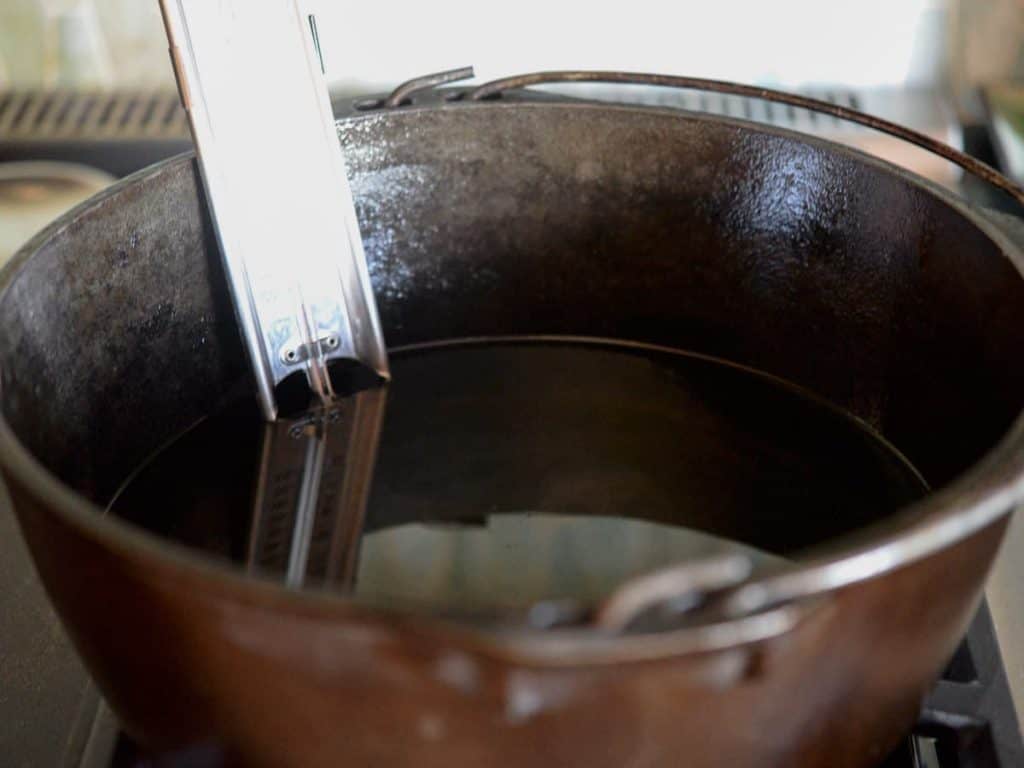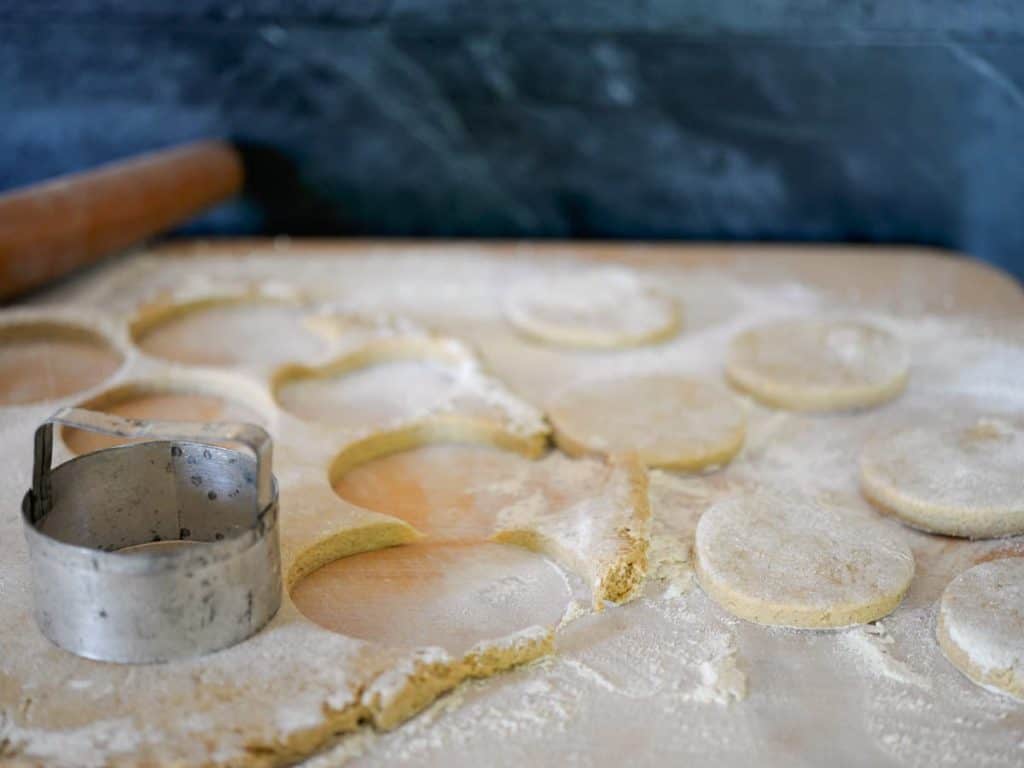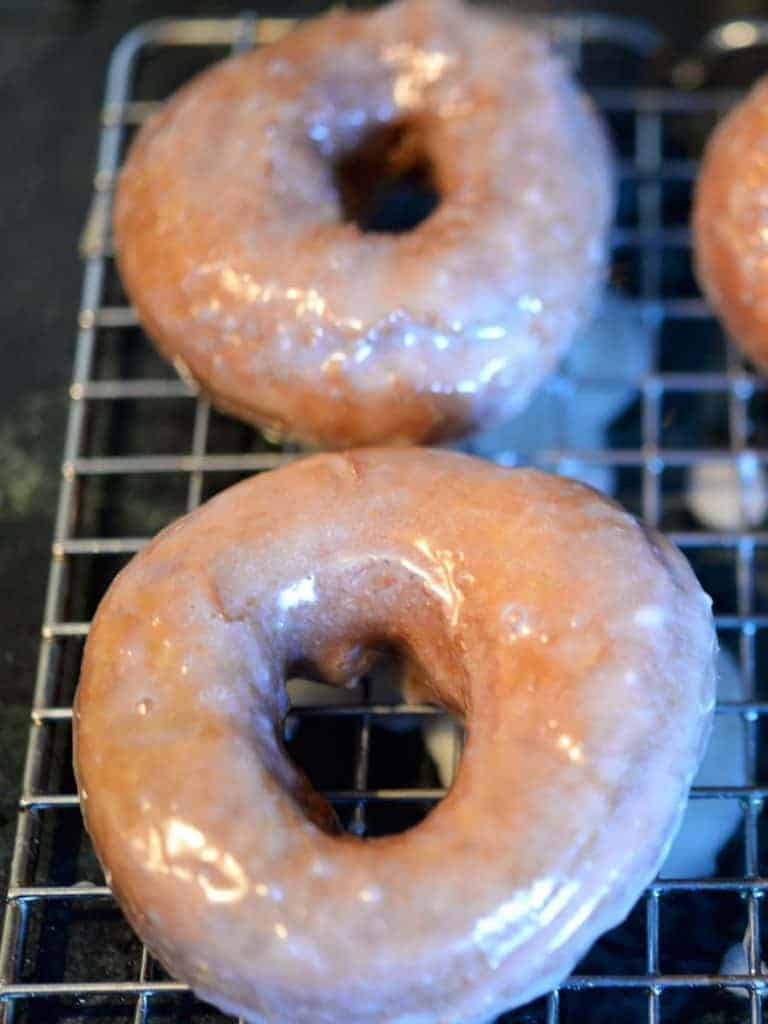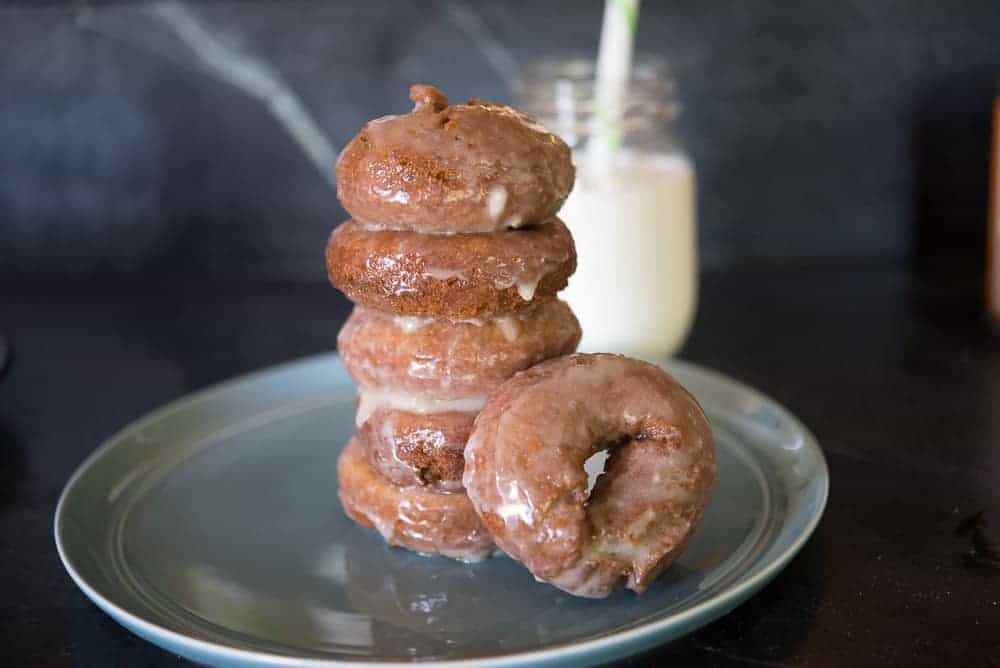 How to make glazed donuts
This old-fashioned donut recipe uses a buttermilk glaze. It's made of buttermilk and powdered sugar. I chose to add a little bit of pumpkin spice to the glaze just to give it a little more pumpkin spice flavor.
After frying the donuts, you should dunk them into the glaze while they are still warm.
Remove the donuts from the oil and place them onto a paper towel. Then while they are still hot, dunk them in the glaze and place them on a wire rack.
FAQS and Substitutions
What to use as a substitute for a donut cutter?
I didn't have a donut cutter when I made this recipe, so I used a round cookie cutter. It has a three-and-a-half-inch diameter.

You can also order a set of round pastry cutters HERE.

I use a shot glass to cut out the centers, which become homemade donut holes. I know! Classy!
Is it possible to make really good donuts at home?
When I started on my mission to tackle making homemade donuts, of course, this was my first question.

Donuts are easy to make at home if you have the right equipment.

You'll also need the best and perfect donut glaze recipe. Because honestly, what is a donut if it's not a glazed donut?
Can I make these pumpkin donuts gluten-free?
Luckily this recipe for gluten-free pumpkin donuts has already been tested by one of my best friends, who is sensitive to gluten. She and her husband made this recipe using a gluten-free flour blend.

They made a huge batch of pumpkin donut holes and raved about how delicious they were, even gluten-free!
PRO-TIP: Dip the edges of the donut cutting tools into flour before each cut so that the dough comes out easily.
More Pumpkin Recipes You'll Love
It's not the holiday season until the pumpkin pie is served, am I right? Bring on sweater season!!! This classic pumpkin pie recipe is so…
Your Baking
Delicious parmesan shortbread in the form of edible monster fingers— Anyone? If you are looking for Halloween treat ideas 😜— I'm your girl! If you…
This is an easy-to-make, no-knead focaccia bread. The result is a perfect focaccia, tender and moist on the inside inside with huge pillowy bubbles. The…
Tomato Focaccia Bread is an easy-to-make, no-knead focaccia bread. Topped with fresh tomatoes, rosemary, and roasted garlic. Not only is it gorgeous, but everyone loves…
With the arrival of fall, it's time to embrace the season's cozy comforts and enticing flavors. And what better way to do so than by…
Pumpkin season is the time to whip up a batch of Pumpkin Chocolate Chip Cookies! These pumpkin cookies are soft and chewy, brimming with pumpkin flavor,…
Get ready to indulge your taste buds with a mouthwatering treat that will satisfy your sweet tooth like no other. Introducing our foolproof apple crisp…
Leave A Review
Did you make this recipe? Leave a comment and a 5 ★ review. Your feedback helps other readers and helps me continue to offer recipes at no cost. Happy Cooking!!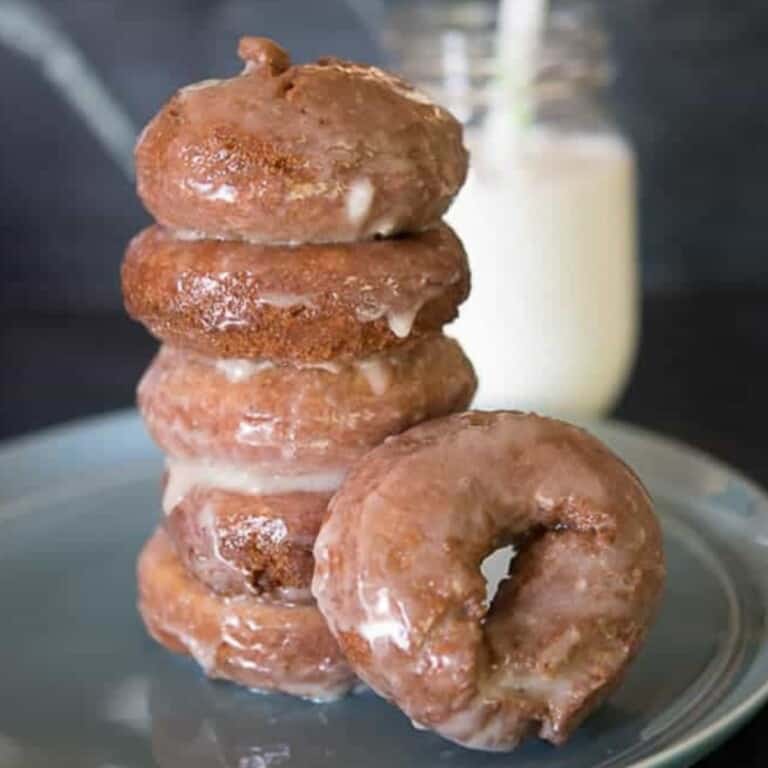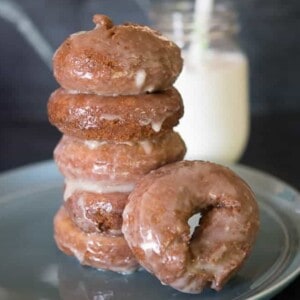 Old Fashioned Glazed Pumpkin Donuts
This donut is everything that a true old fashioned donut should be. The crumb is perfect and moist. The outside is crispy in that perfect-glazed-way. Plus it's full of amazing pumpkin pie flavor.
Instructions
Donut Dough
In a large bowl, combine all of the dry ingredients.

In a stand mixer combine the butter, pumpkin puree, and the vanilla extract. Beat with the paddle attachment until the mixture is light and fluffy.

Add the buttermilk, mix until incorporated.

Add the dry ingredients and mix until everything is well combined.

The batter will be pretty sticky. (This dough can be made a day ahead and rested overnight in the the fridge)

Make the buttermilk glaze before frying. (see below)

Turn out the dough onto a well-floured surface.

Roll the dough to a half-inch thick. Use a donut cutter to cut donuts.

Heat the Canola oil to 325°F.

Drop donuts in, fry for 10 seconds, and then flip. Fry for about 90 seconds and flip again. Fry for another 90 seconds.

Remove the donuts from the oil and place them on a paper towel.

Dip each donut in the buttermilk glaze while still hot. Then place the dounts on a rack to cool .
Buttermilk Glaze
Combine all ingredients for glaze in a bowl and whisk together.

Note: An infinite number of flavorings can be added to this glaze. Maple instead of vanilla. Citrus juice instead of the buttermilk. Be creative.
YOUR OWN NOTES
Sign In to add your own private notes
Nutrition
Calories:
171
kcal
Carbohydrates:
37
g
Protein:
2
g
Fat:
1
g
Cholesterol:
3
mg
Sodium:
109
mg
Fiber:
2
g
Sugar:
23
g
Calcium:
58
mg
Iron:
0.9
mg