Pumpkin Chocolate Chip Cookies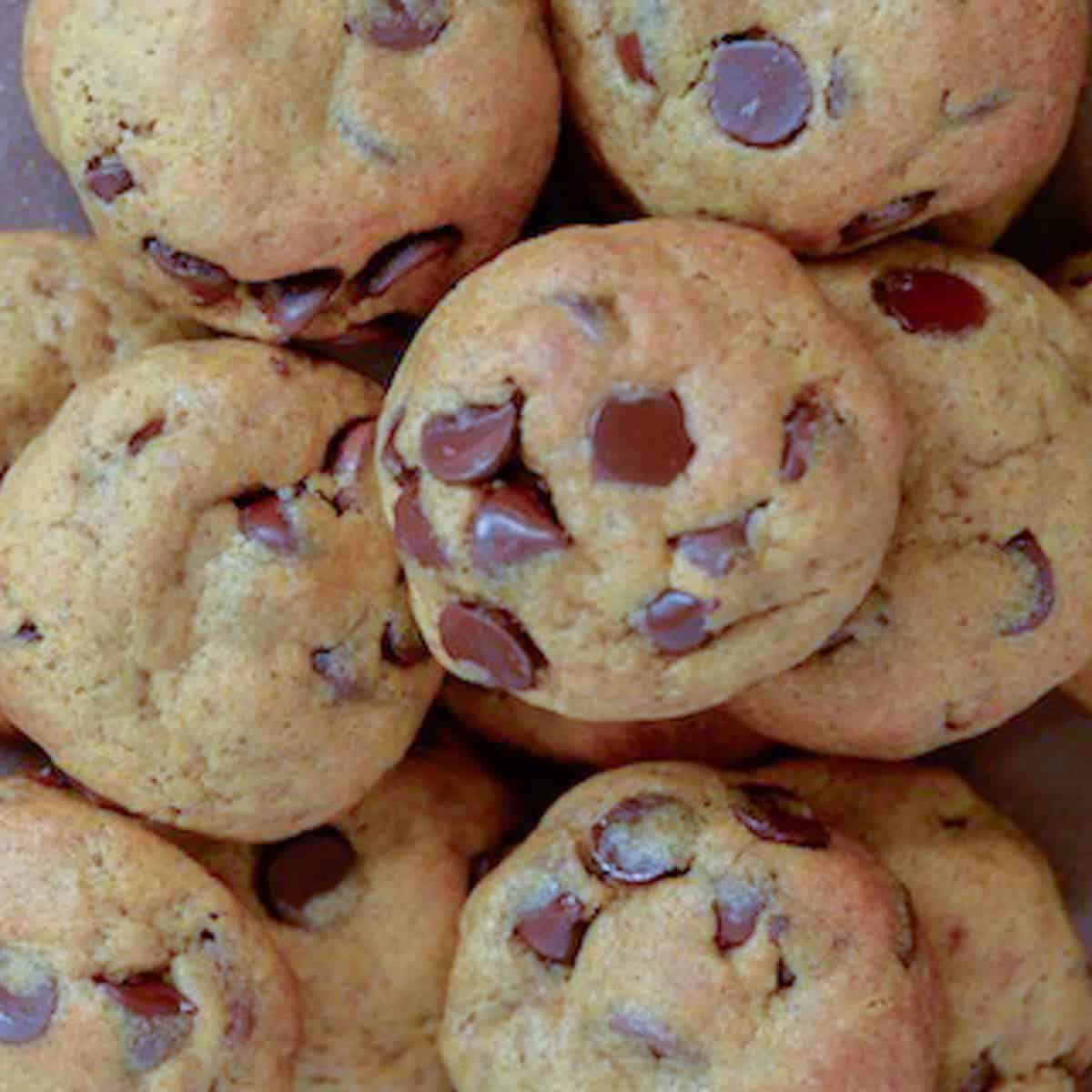 Recipe
Comments
Save
Go to Collections
This post may contain affiliate links. Please read my
disclosure policy.
Pumpkin season is the time to whip up a batch of Pumpkin Chocolate Chip Cookies! These pumpkin cookies are soft and chewy, brimming with pumpkin flavor, and chock full of extra dark chocolate chips. They're going to be one of your favorite pumpkin recipes.
When fall baking season came around this year, I knew I had to get a new cookie recipe on the blog. I was working on my Pumpkin Pie blog post and updating all the photos, and I ended up with some leftover pumpkin puree.
Hmmm, I thought. What better way to use up leftover pumpkin puree than an easy pumpkin chocolate chip cookie recipe?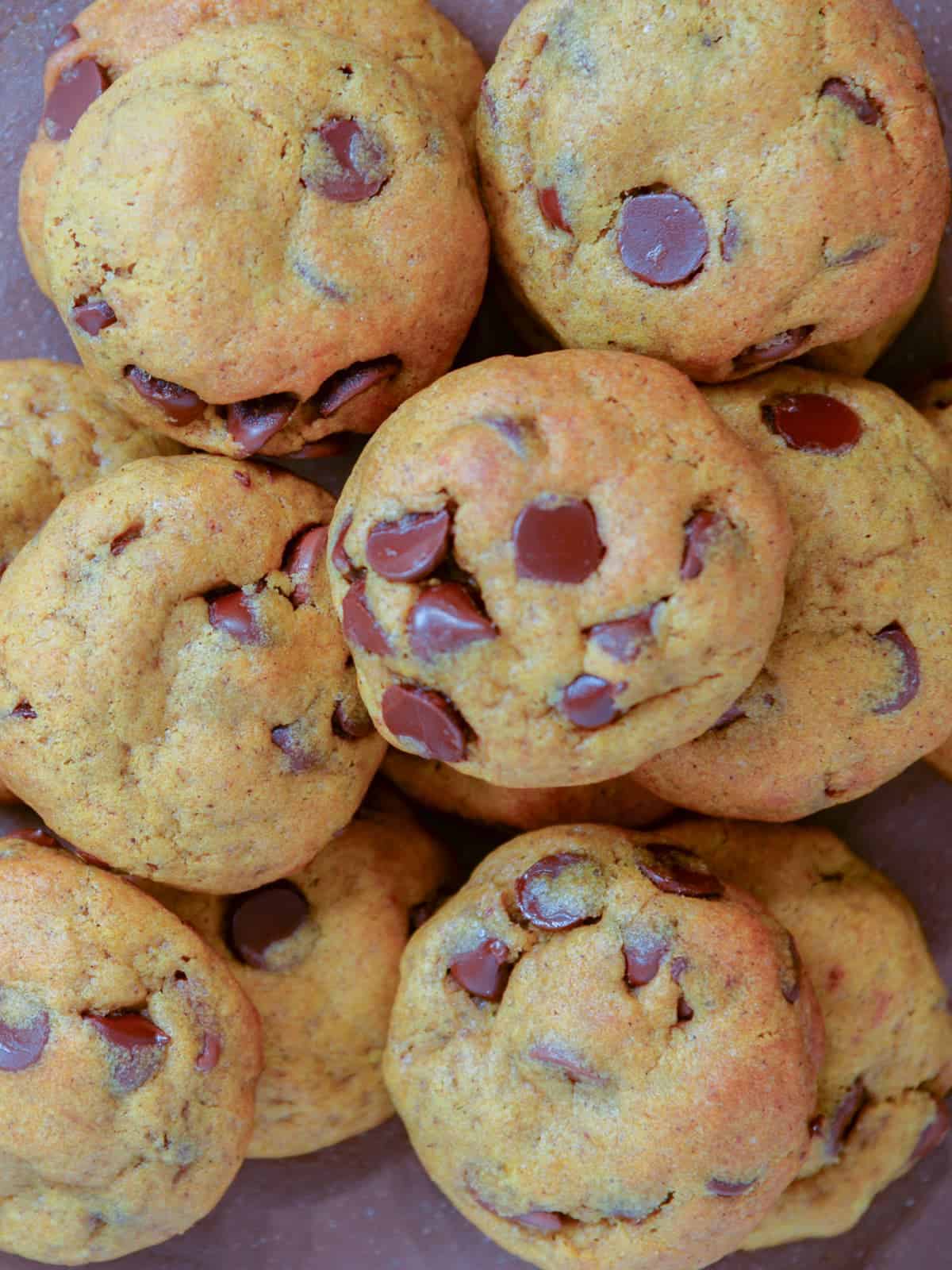 What You'll Love About This Recipe
Easy. First of all, this recipe is so easy! Everything for these chocolate chip pumpkin cookies is mixed up in one bowl. Stir it up with a wooden spoon. No mixer is needed.
Delicious and soft. This soft pumpkin cookie has an ever-so-slight amount of crunch on the outside. The dark chocolate chips add an extra layer of flavor, making this cookie the best pumpkin chocolate chip cookie ever.
Freezer-friendly. This pumpkin cookie dough is freezer-friendly, so it's a great recipe to make a huge batch and then freeze. Freeze them in pre-portioned cookie balls so you can bake a few any time you want!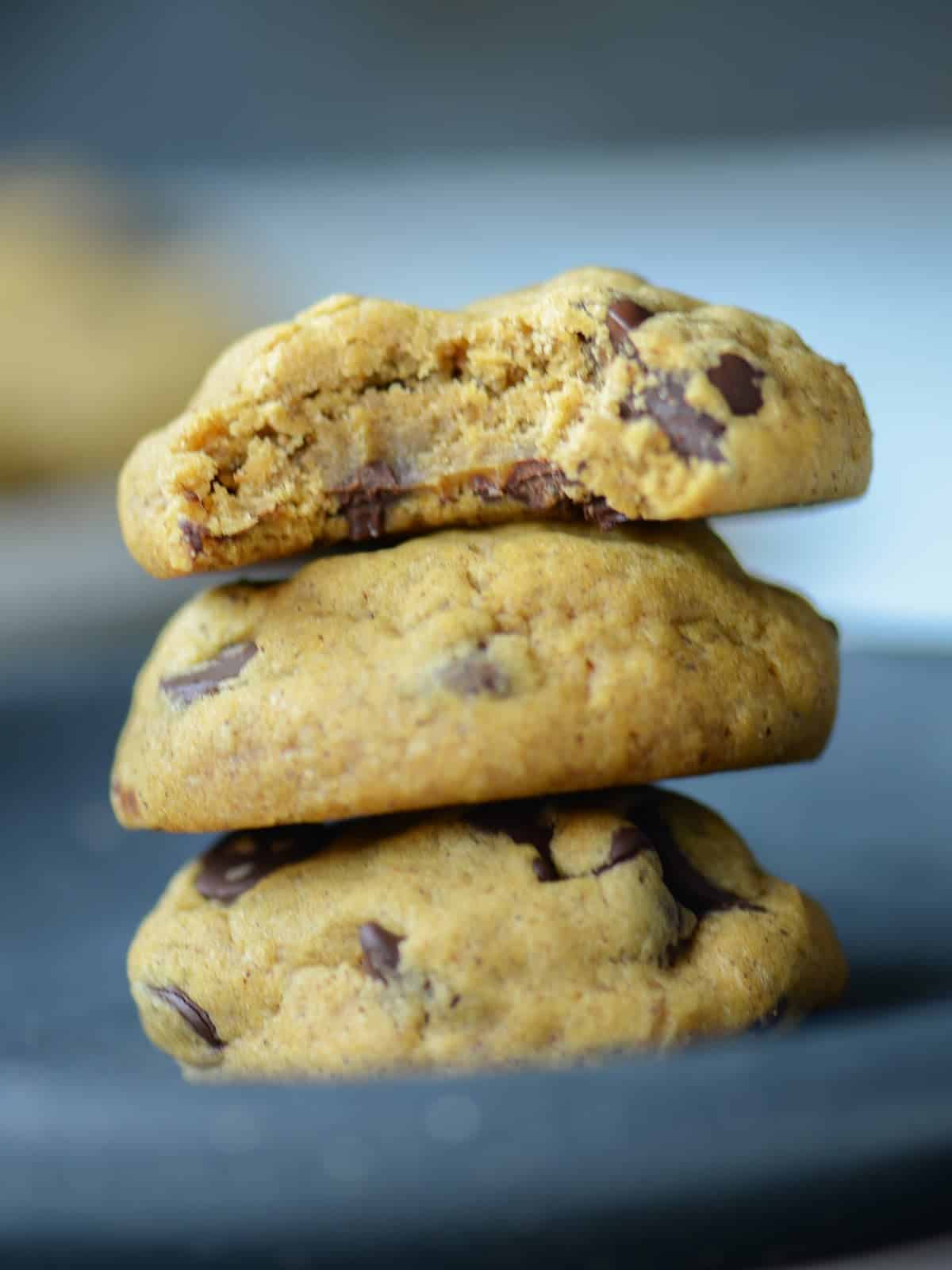 The Best Pumpkin Chocolate Chip Cookies
These delicious cookies are soft pumpkin chocolate chip cookies.
This pumpkin cookie dough is the same cookie dough that I use in my Pumpkin Cookies with Cream Cheese Frosting. I swap the frosting for the chocolate chips.
I usually have to make both kinds because my daughter loves them frosted with cream cheese frosting, and my husband loves them with chocolate chips, so I usually split the batch and make half of each.
Ingredients For Pumpkin Cookies
Unsalted Butter: For this recipe, melt the butter and let it come to room temperature.
Sugar: Both granulated white sugar and dark brown sugar.
Flour: I used all-purpose flour. You can also use a gluten-free flour baking blend in these cookies. King Arthur's is a brand that I have had good success with.
Pumpkin Pie Spice: I use a homemade pumpkin pie spice blend. Or see the recipe card notes for a quick substitution for pumpkin pie spice.
Baking soda and salt: For leavening.
Corn starch: Corn starch helps to create a dense, chewy texture in these cookies.
Vanilla extract or vanilla bean paste: Either one will work in this recipe. Use a teaspoon of vanilla paste if using.
Chocolate chips: I use an entire bag of chocolate chips, a full 11.5 ounces. You can adjust the recipe to use your favorite brand of chocolate chips. I am a diehard Guittard Chocolate fan when it comes to baking.
How To Make Pumpkin Chocolate Chip Cookies
Step 1—Strain The Pumpkin
Strain the pumpkin by lining a small mesh strainer with a paper towel. Add the pumpkin and let it drain until you are ready to use it.
Use this method whether you are using fresh or canned pumpkin. The goal is to reduce any extra moisture as much as you can.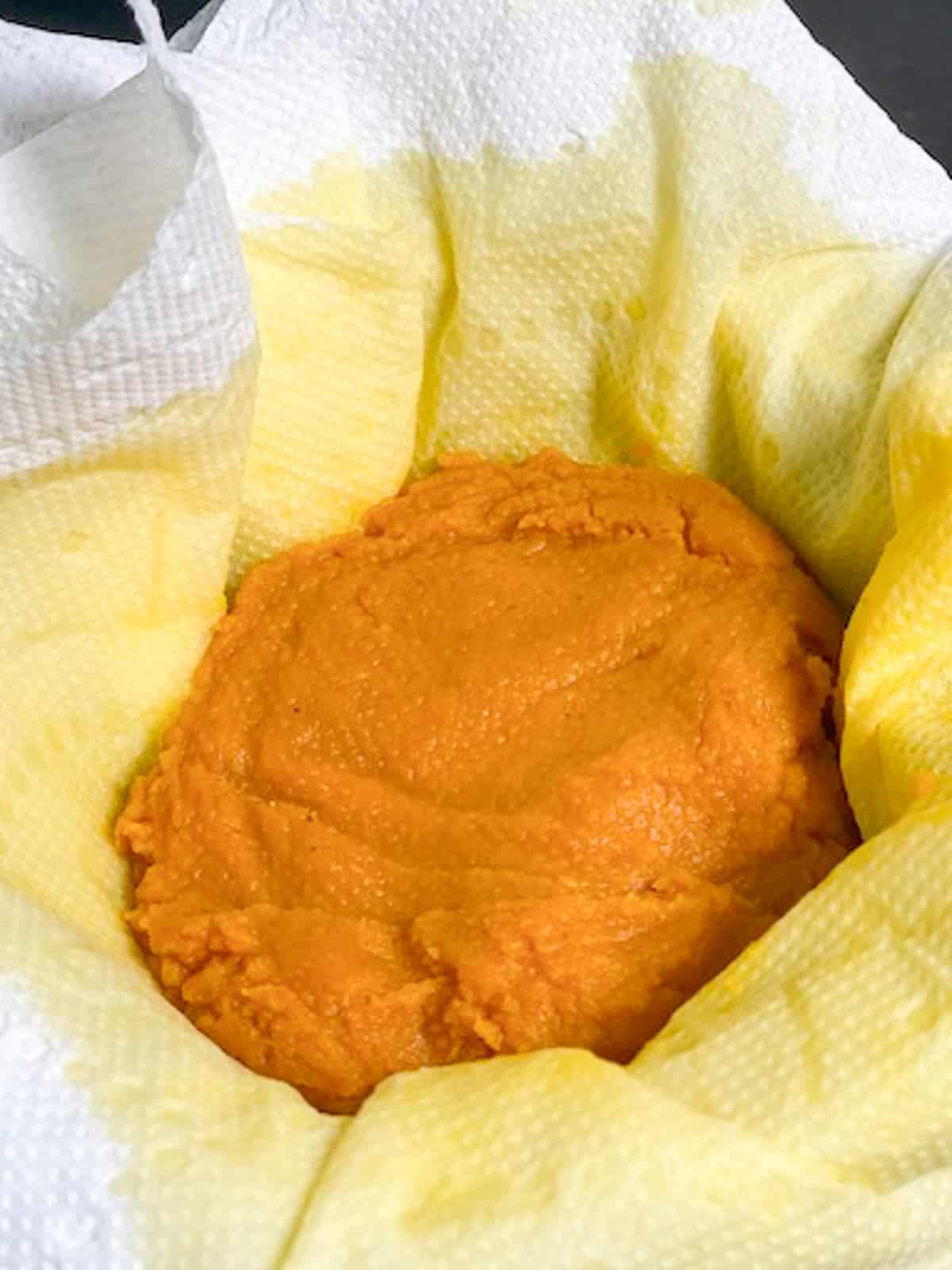 Step 2—Combine The Dry Ingredients
Mix together the flour, salt, baking soda, and pumpkin pie spice. Whisk together in a medium bowl and set aside.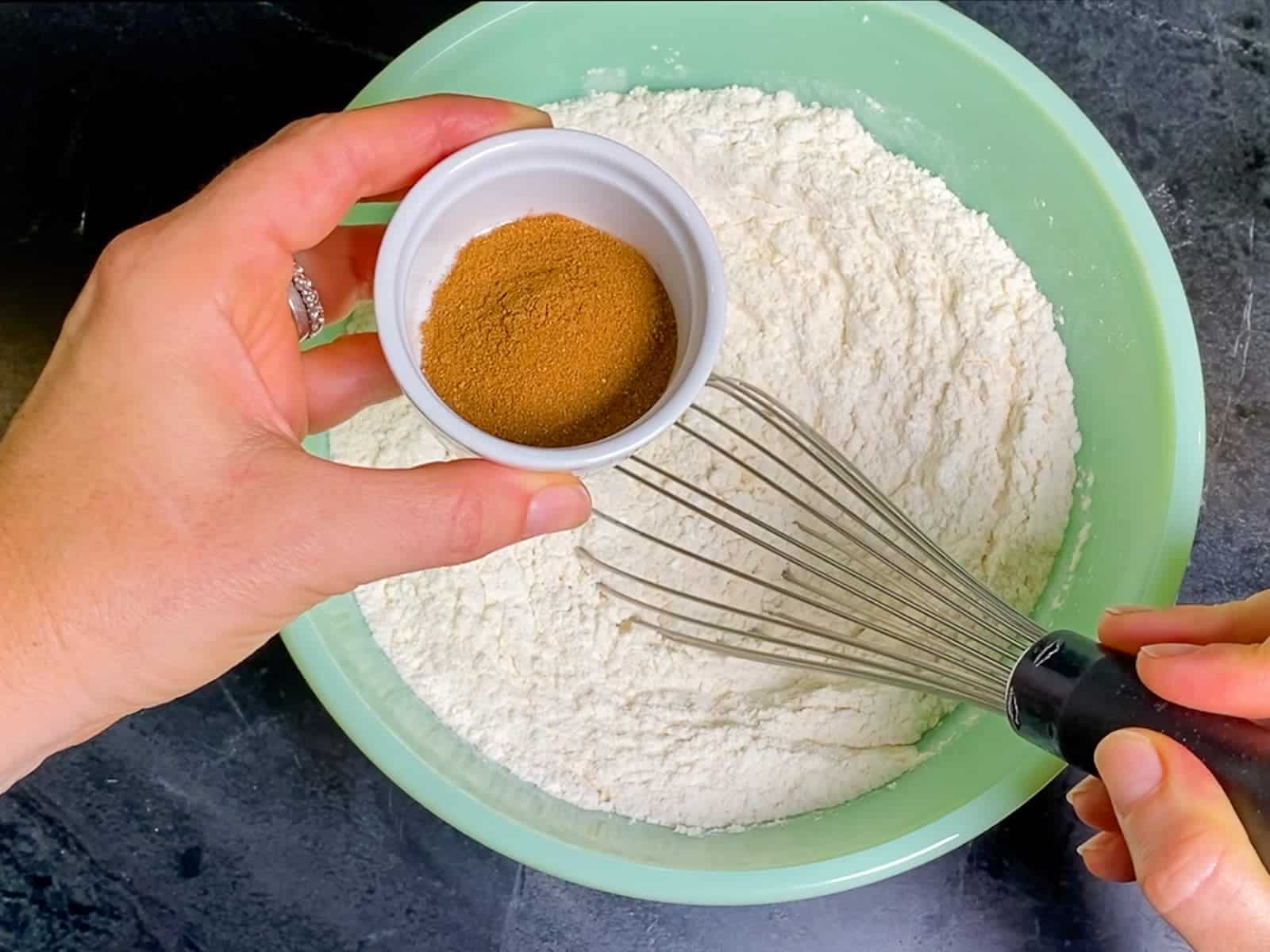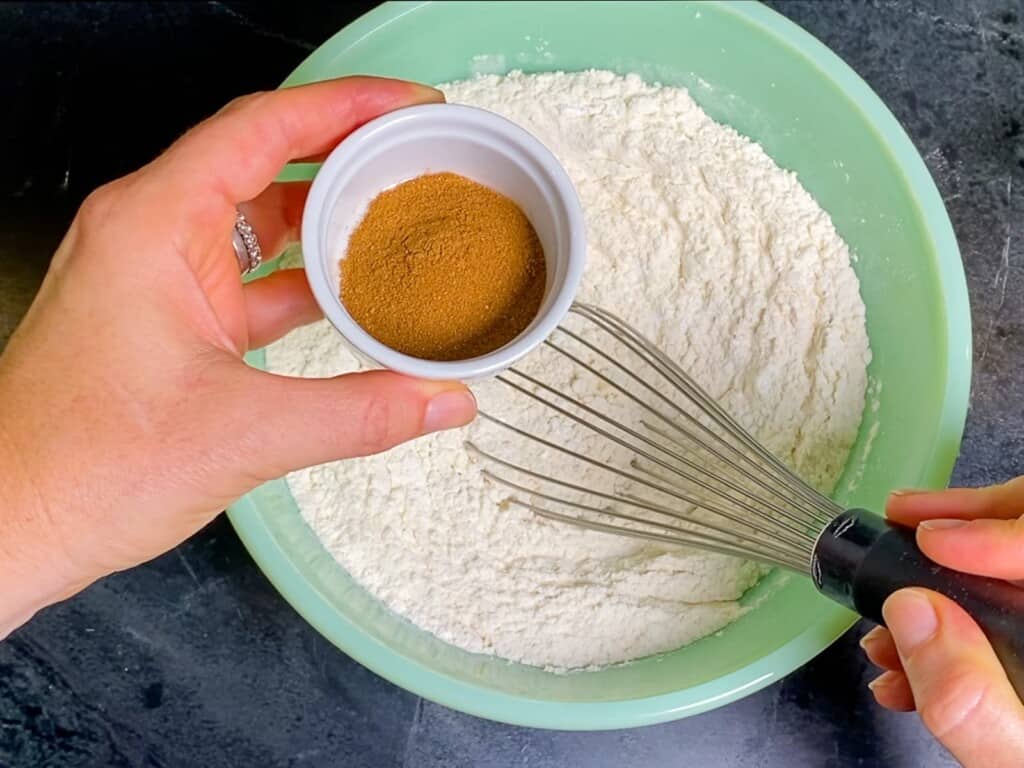 Step 3—Melt The Butter
Melt the butter and set it aside to cool. Once it is cool, add it to a medium-sized bowl and whisk.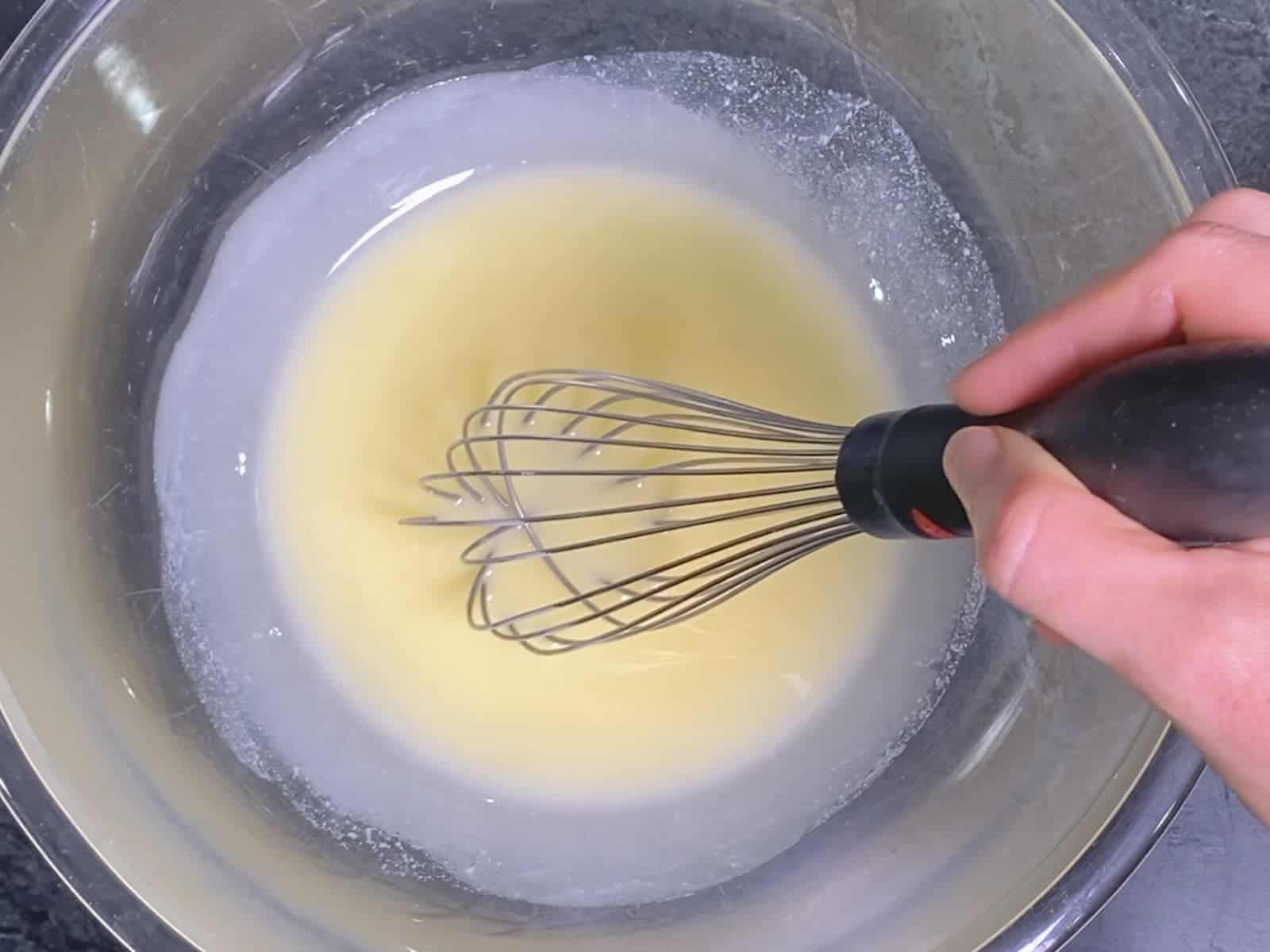 Step 4—Combine The Wet Ingredients
Mix together the granulated sugar and the brown sugar in a medium-sized bowl. Add the sugars to the melted butter (or vice versa). Whisk to combine.
Add the pumpkin and the vanilla to the sugar. Whisk one more time.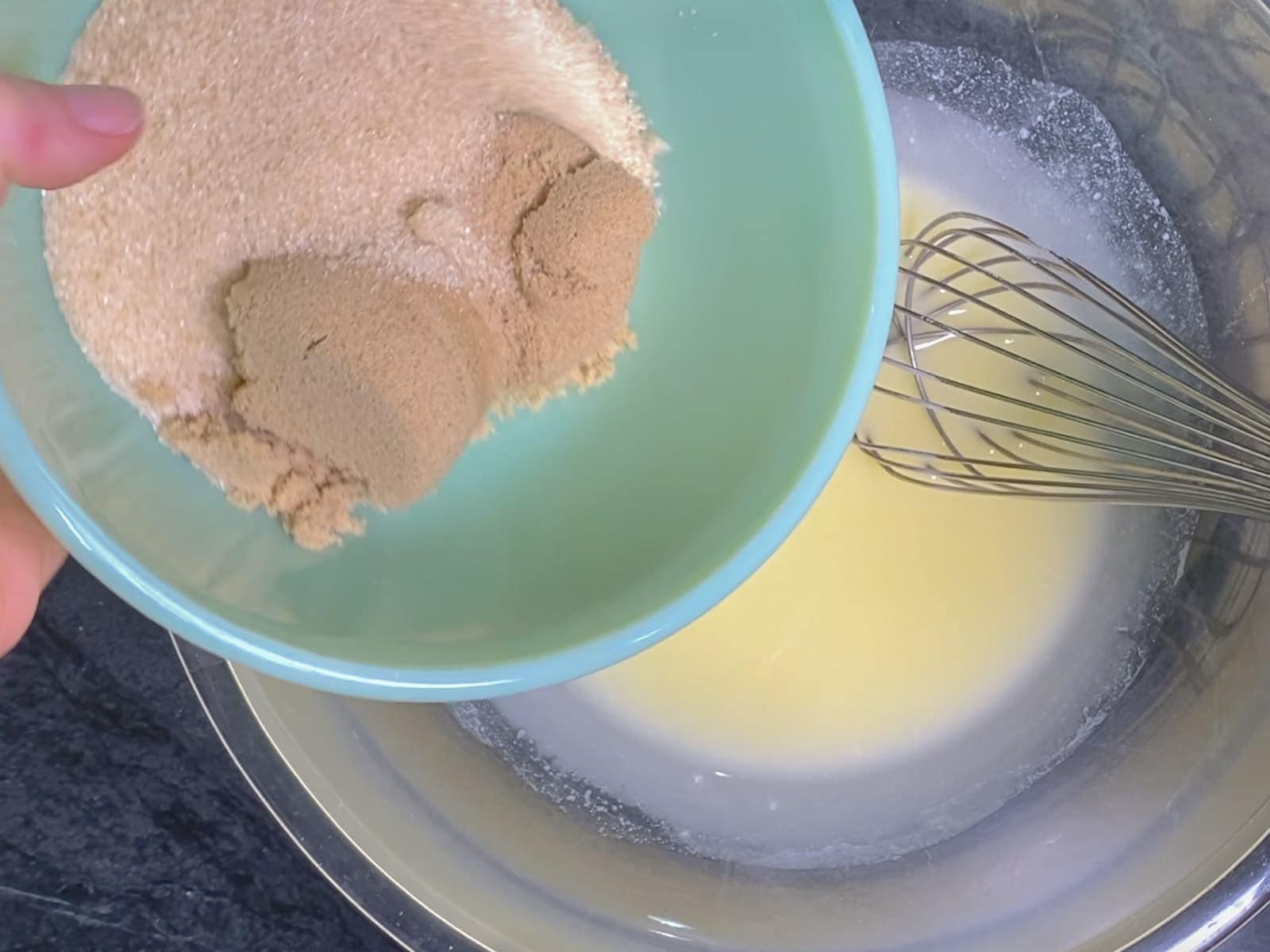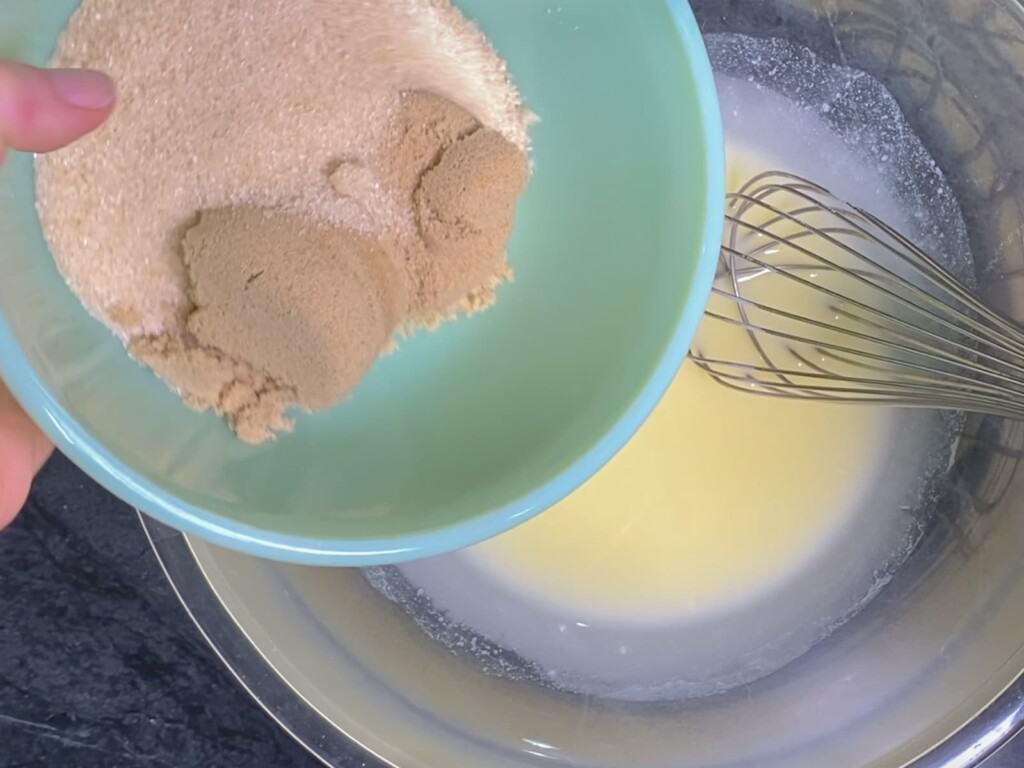 Step 5—Add The Dry Ingredients
Add the flour mixture to the pumpkin mixture. Mix with a wooden spoon until the flour is just combined.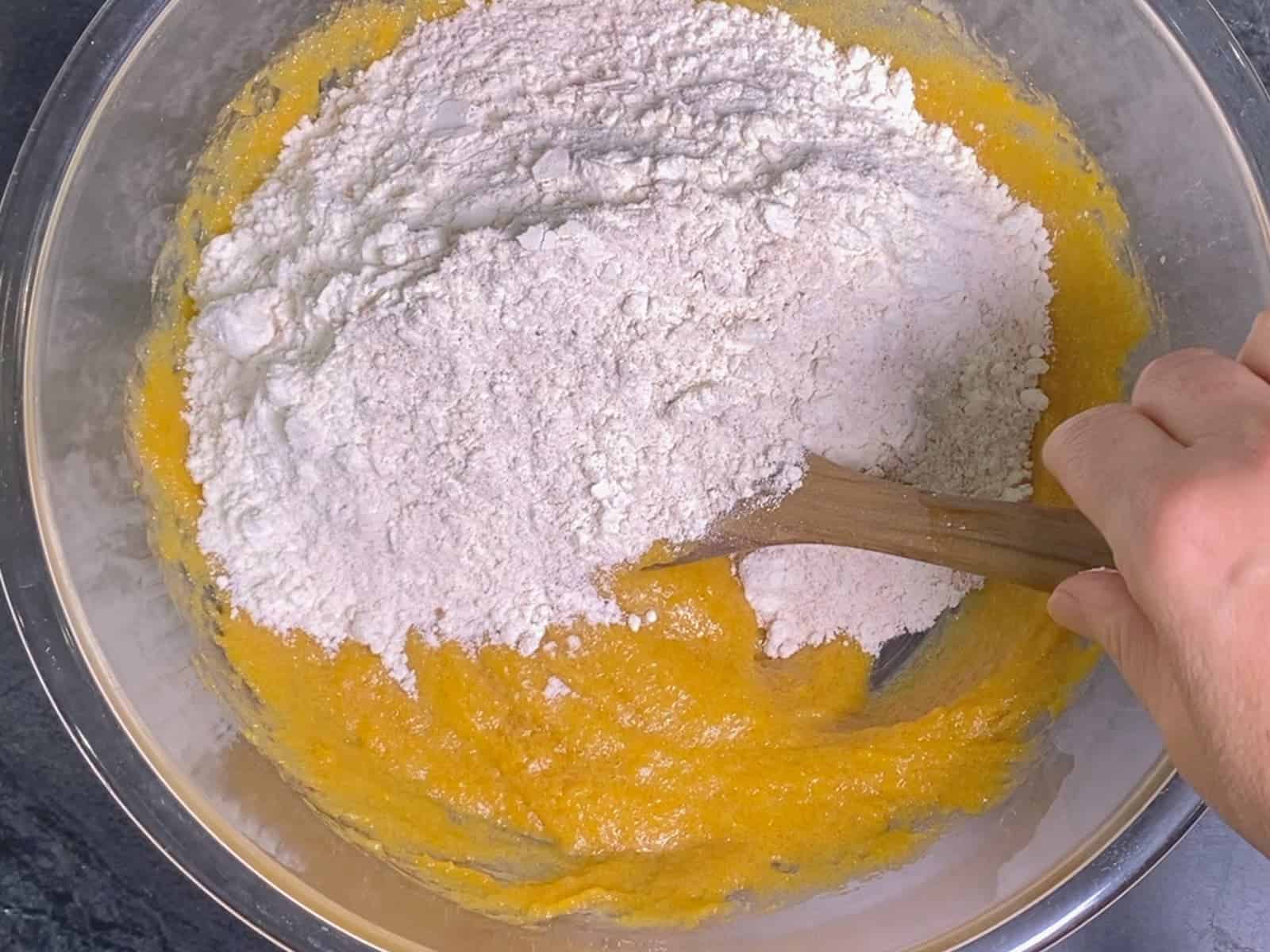 Step 6—Add The Chocolate Chips
I love Guittard Extra Dark Chocolate Chips (affiliate link) to balance out the pumpkin spice cookies. But you can also use semi-sweet chocolate chips, chocolate chunks, or white chocolate chips!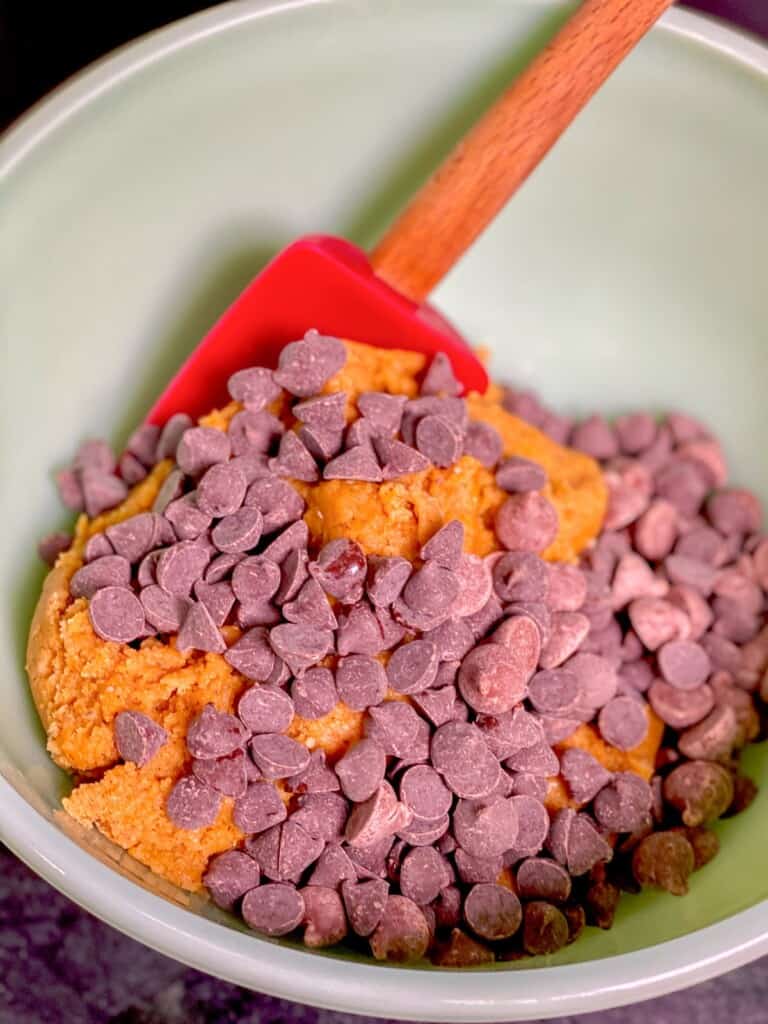 Step 7—Make Cookie Balls
Use a cookie scoop to make 36 cookie dough balls. Chill for 30 minutes to an hour before baking.
Line baking sheets with parchment paper, and add 12 cookie balls to each baking sheet. Place the cookies into a preheated oven and bake for 14 minutes.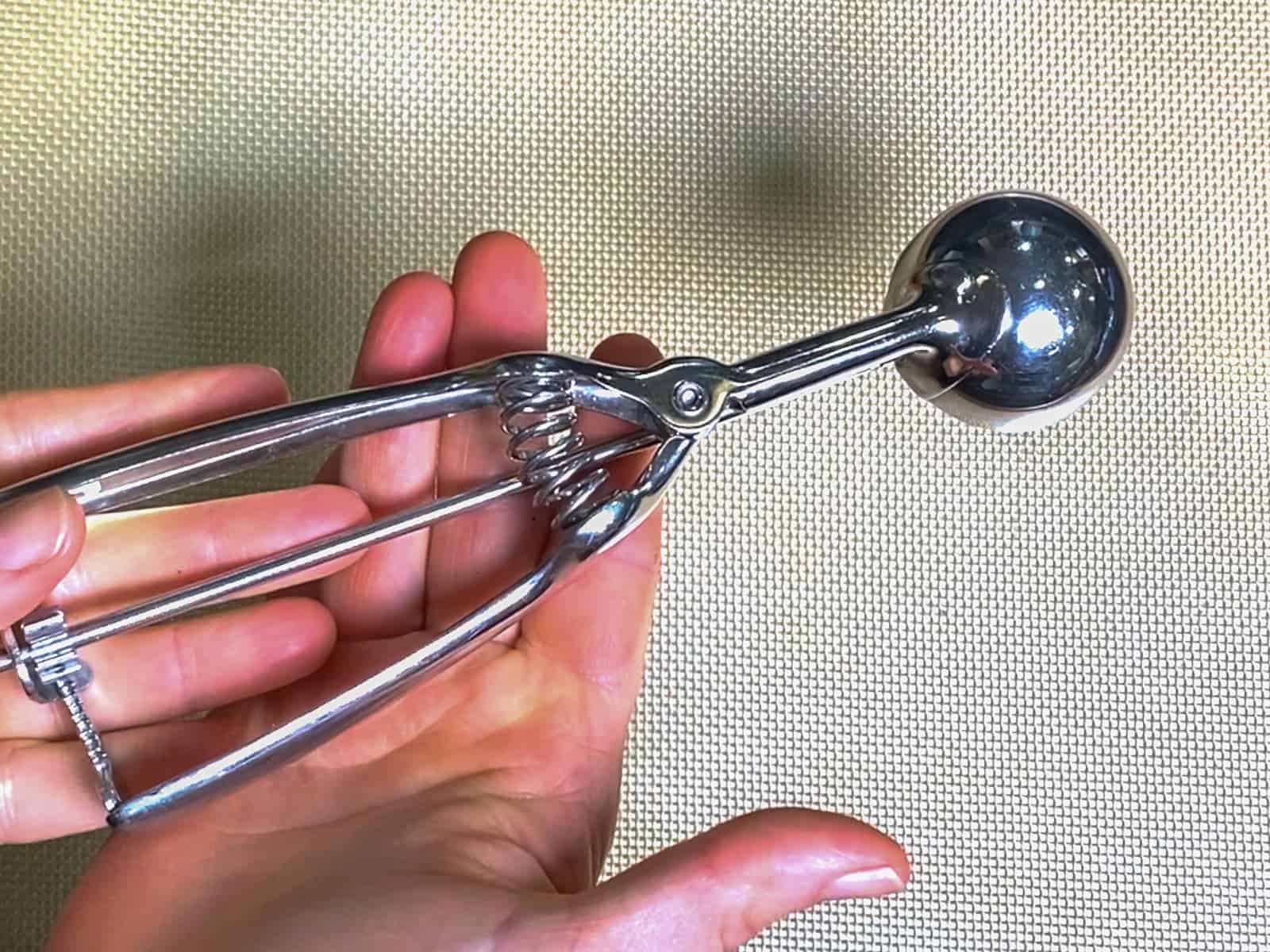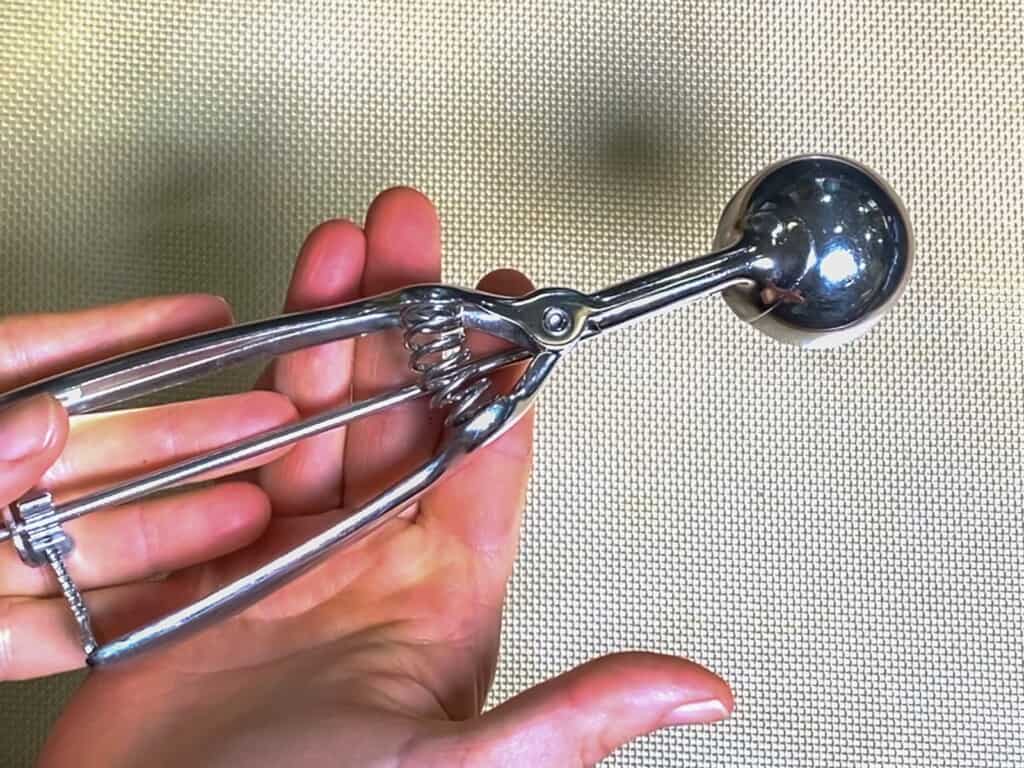 Step 8—Bake
Preheat the oven to 325℉.
The cookies will be puffy and slightly brown on the edges. Transfer them to a wire rack to cool.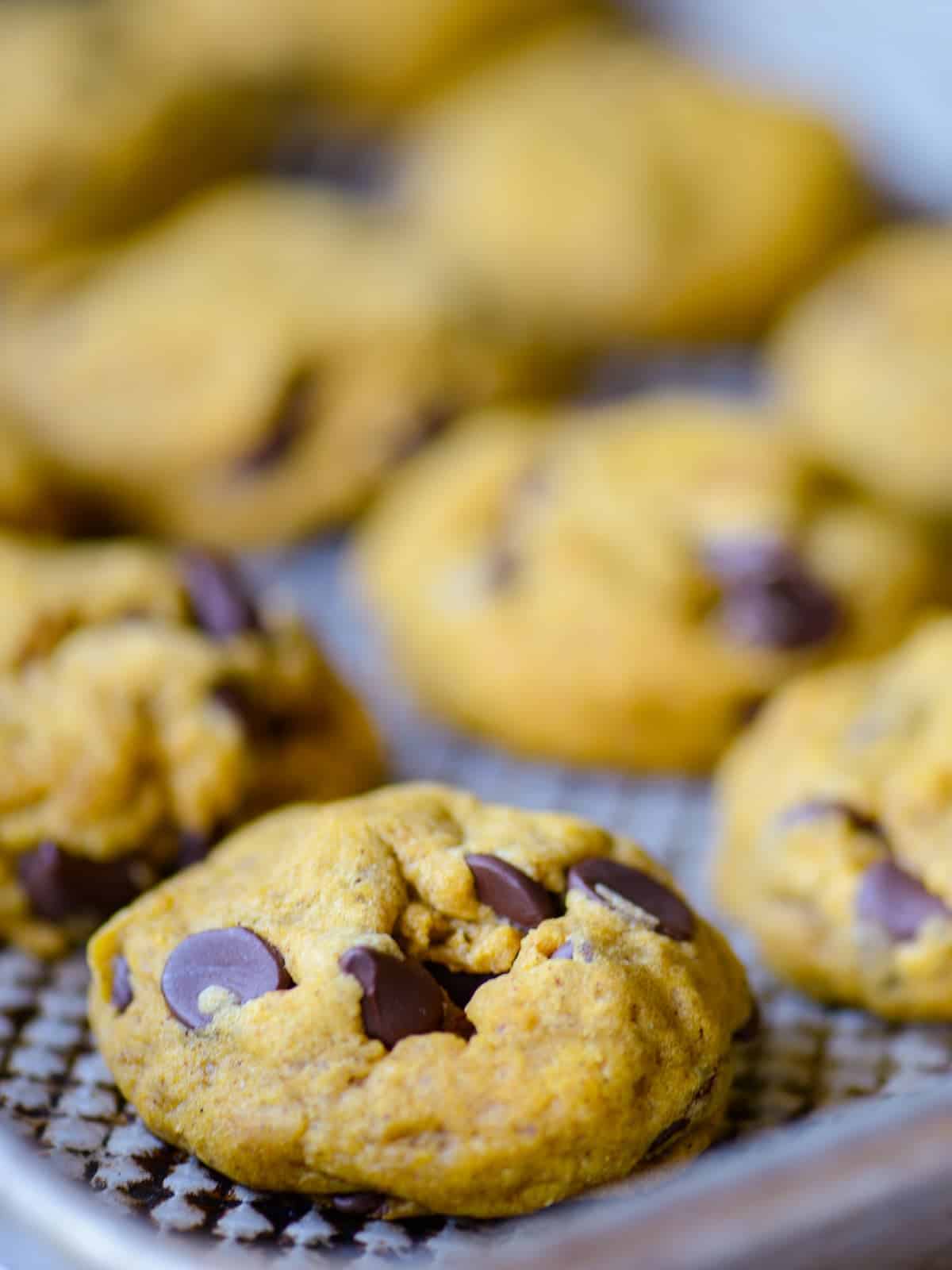 FAQs And Expert Tips
Do pumpkin cookies need to be refrigerated?
The best way to store pumpkin cookies is in an airtight container. Storing pumpkin cookies in the fridge or the freezer will definitely make them last longer.
Can you freeze pumpkin cookies?
Yes, you can freeze these pumpkin cookies. Not only can you freeze the unbaked dough balls, but you can also freeze the baked cookies. This cookie recipe freezes beautifully.
How to make pumpkin cookies for dogs?
I use pumpkin and peanut butter to make pumpkin dog cookies. You can grab the recipe HERE! No chocolate, butter, and sugar for the dogs, of course.
Is canned pumpkin the same as pumpkin puree?
Canned pumpkin is essentially canned pumpkin puree. Be careful not to use pumpkin pie filling, which is already sweetened and includes added spices like cinnamon and nutmeg.
How do you know when pumpkin cookies are done?
You can tell when your pumpkin cookies are done because they will puff up in the oven, and the edges will be ever so slightly golden brown. You can also measure the internal temperature with a probe thermometer. Cookies should be 201℉ (94℃)

Check out my post on baking conversions and temperatures for the full story.
Does baking soda make cookies fluffy?
Adding baking soda to cookies adds to the fluffy texture. Baking soda releases CO2, puffing the cookies into delectable bites of yummy that melt in your mouth.
Can you make this pumpkin cookie recipe gluten-free?
Yes, you can substitute a gluten-free flour blend in this recipe.
How do you make vegan pumpkin chocolate chip cookies?
​There are a few substitutions that you can use to make this easy recipe vegan.
Use vegan butter or melted coconut oil instead of butter.
Use flax eggs instead of eggs.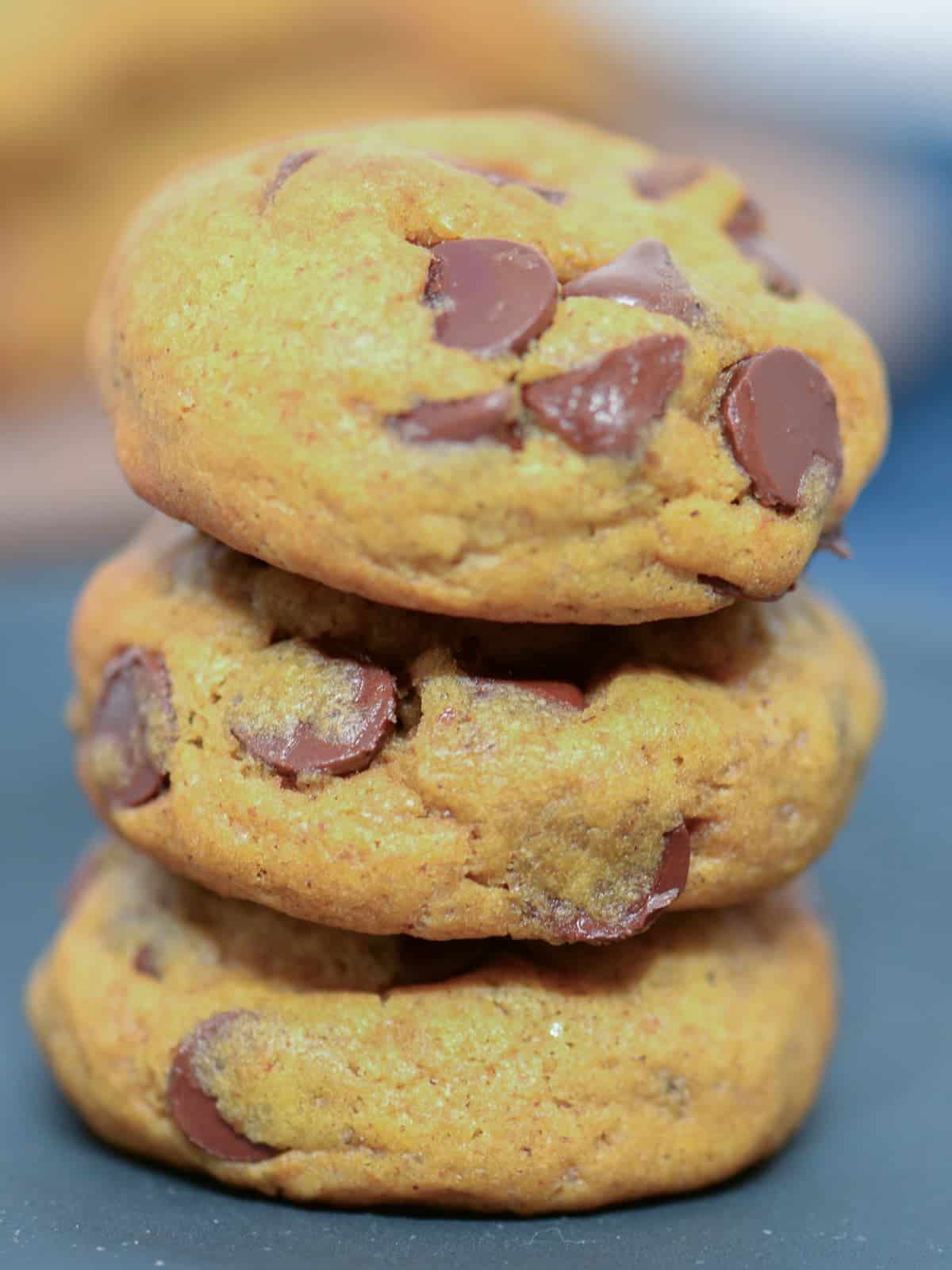 What could be more iconic of the winter season than sugar cookies? These soft sugar cookies are loved by all and are perfect for satisfying…
Leave A Review
Did you make this recipe? Leave a comment and a 5 ★ review. Your feedback helps other readers and helps me continue to offer recipes at no cost. Happy Cooking!!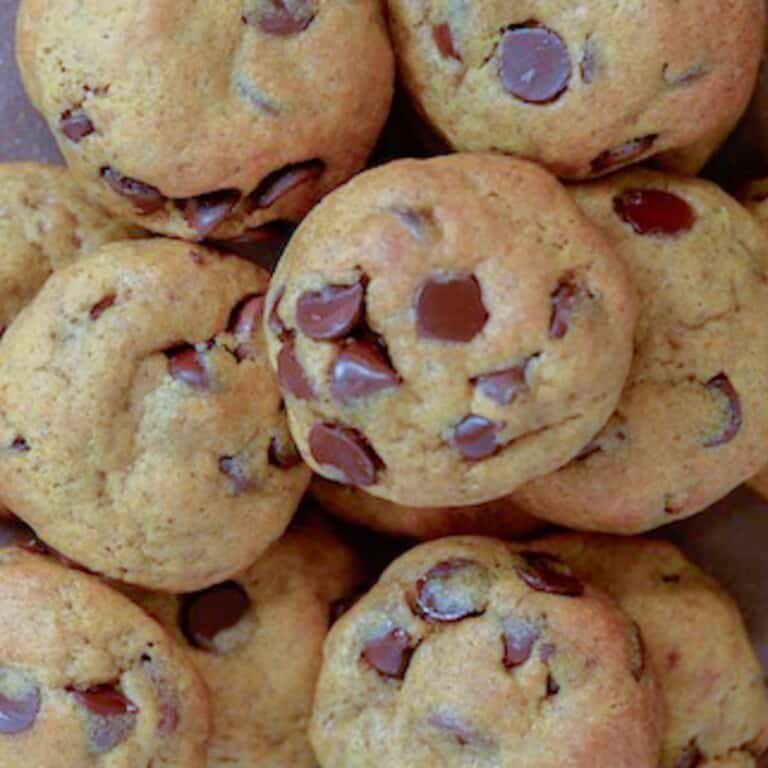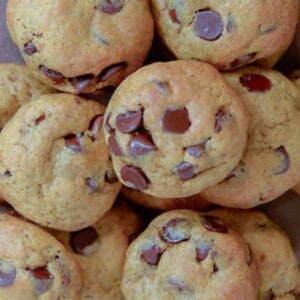 Pumpkin Chocolate Chip Cookies Recipe
These are the BEST soft and chewy pumpkin chocolate chip cookies. Pumpkin spice cookies are the perfect fall dessert recipe! These cookies are so easy to make – no mixer needed.
Instructions
Line a small fine-mesh sieve with a paper towel. Add the ¾ cup of pumpkin and let it drain while you are mixing together the rest of the ingredients.

Melt the butter in a saucepan or the microwave. Then let it cool.

Combine the dry ingredients including the all-purpose flour, spices, salt, and baking soda. Whisk together and then set aside.

2 ¾ cup all purpose flour,

1 ½ teaspoons corn starch,

½ teaspoon sea salt,

1 teaspoon¼ baking soda,

1 tablespoon pumpkin pie spice

Whisk together the sugars and the cooled butter in a medium bowl.

⅔ cup sugar,

⅔ cup brown sugar

Add in the strained pumpkin and the vanilla extract. Whisk to combine.

½ tablespoon vanilla extract

Add in the dry ingredients and mix until combined.

Add the chocolate chips and stir until they are combined.

11.5 ounces dark chocolate chips

Use a #20 cookie scoop to form balls of cookie dough.

Preheat the oven to 325°F.

Cool for a few minutes before transferring them to a wire rack to cool completely.
Laura's Tips + Notes
Drain the pumpkin. Remove as much water from the pumpkin as you can. Do this by lining a small mesh strainer with a paper towel. Then add the 3/4 cup of pumpkin and let it strain until you are ready to use it. This step helps to keep the cookies chewier and less cakey.
Pumpkin Pie Spice: If you don't have any pumpkin pie spice you can grab the download of my DIY Pumpkin Pie Spice HERE.
Brown Sugar: You can use light brown sugar or dark brown sugar in this recipe. Brown sugar has a richer taste with more molasses flavor.
Pumpkin Pie Spice Substitute: 1 teaspoon cinnamon, ¾ teaspoon ground ginger, ¼ teaspoon ground cloves, ¼ teaspoon ground nutmeg
Gluten-free substitute:

I recommend

King Arthur gluten-free flower blend

(affiliate link)

.

Vegan substitutions:

Use

vegan butter

(affiliate link)

or

coconut oil

(affiliate link)

.

How to make a flax egg

: 1 tablespoon of finely ground flaxseed + 3 tablespoons of water for each egg. Mix and let it sit for about 5 minutes.
YOUR OWN NOTES
Sign In to add your own private notes
Nutrition
Serving:
1
cookie
Calories:
161
kcal
Carbohydrates:
22
g
Protein:
1
g
Fat:
8
g
Saturated Fat:
5
g
Cholesterol:
20
mg
Sodium:
108
mg
Fiber:
1
g
Sugar:
15
g
Calcium:
12
mg
Iron:
1
mg