Pumpkin Cookies With Cream Cheese Frosting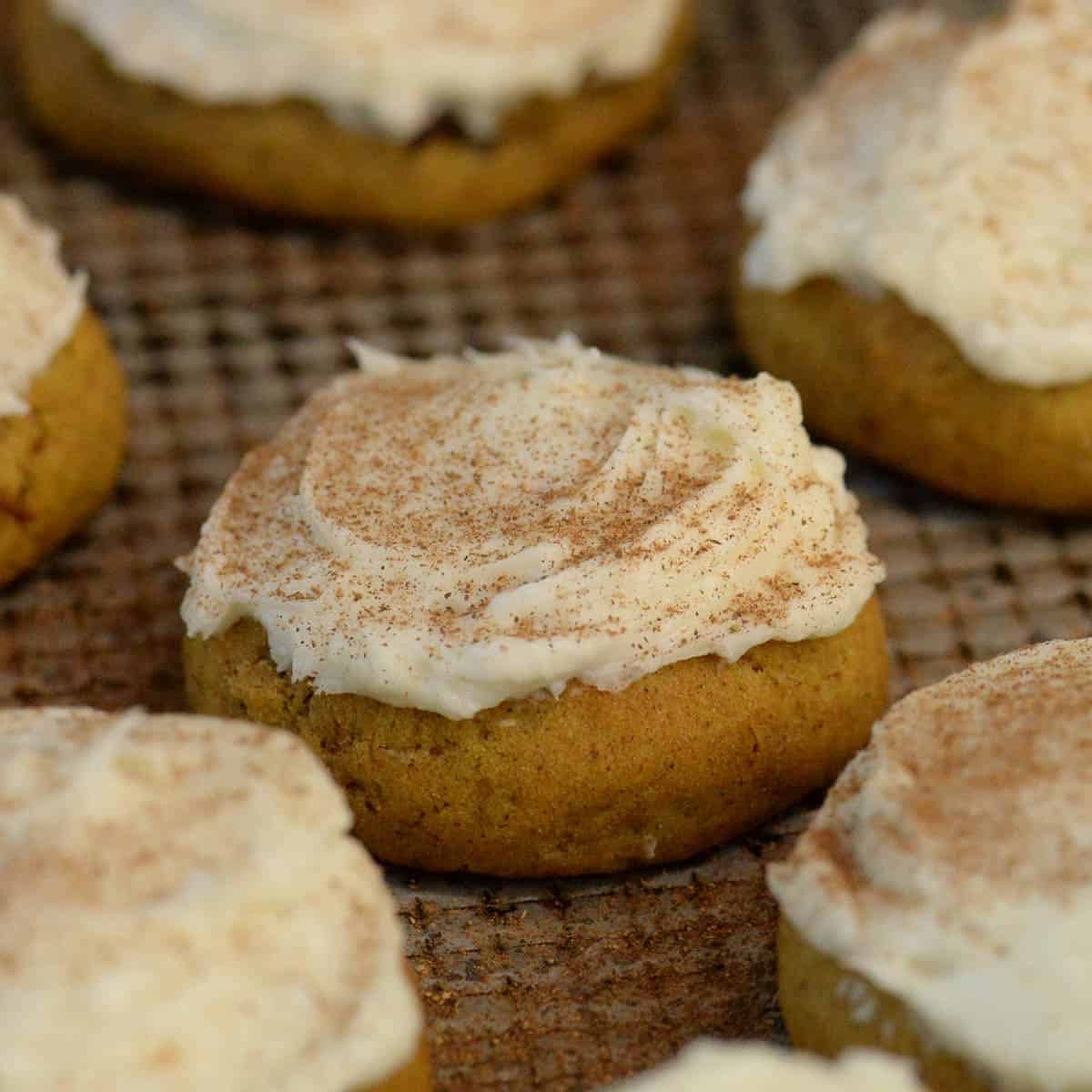 Recipe
Comments
Save
Go to Collections
This post may contain affiliate links. Please read my
disclosure policy.
These are the BEST soft pumpkin cookies, frosted with tangy-sweet cream cheese frosting. Soft pumpkin spiced cookies are the perfect fall dessert recipe! These are so easy to make, you don't even need an electric mixer. Grab a spoon and get cookin', good lookin'!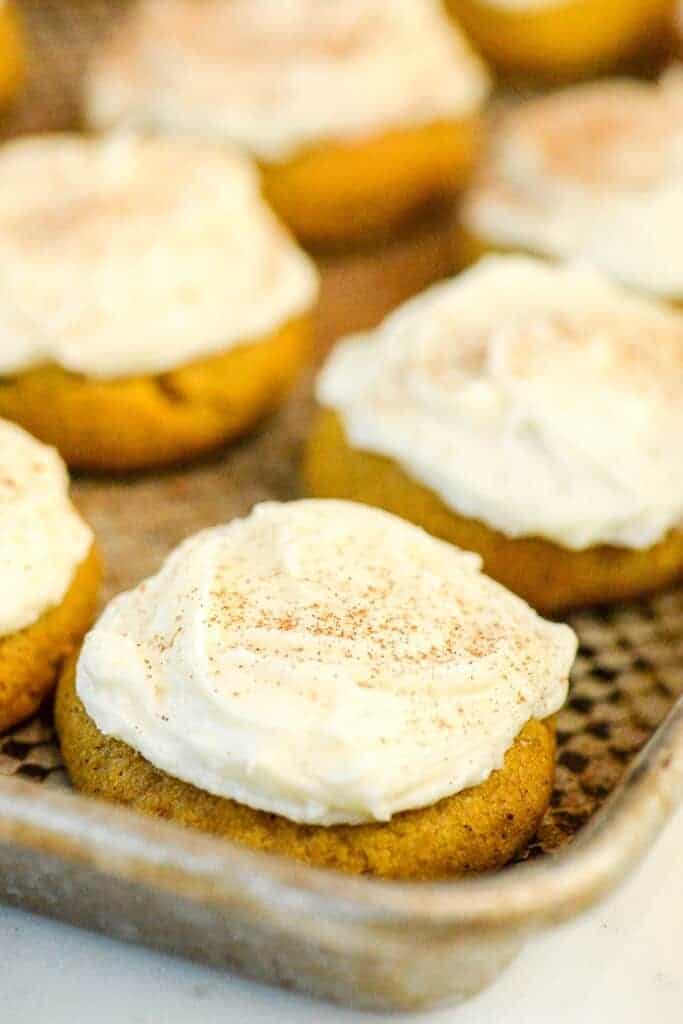 Pumpkin spice cookies are a new favorite in our house. I made two different kinds this year. This version is a soft pumpkin cookie frosted with a nice big old smear of sweet cream cheese frosting. I add a 1/2 tsp of salt to balance the sweetness.
The second version is a pumpkin chocolate chip cookie made with extra-dark chocolate chips. You know I love me some semi sweet chocolate chips, but there's just something magical about DARK chocolate with pumpkin. Mmmmm. My family loved both of these two cookie recipes. It was honestly hard to decide which one was the clear favorite.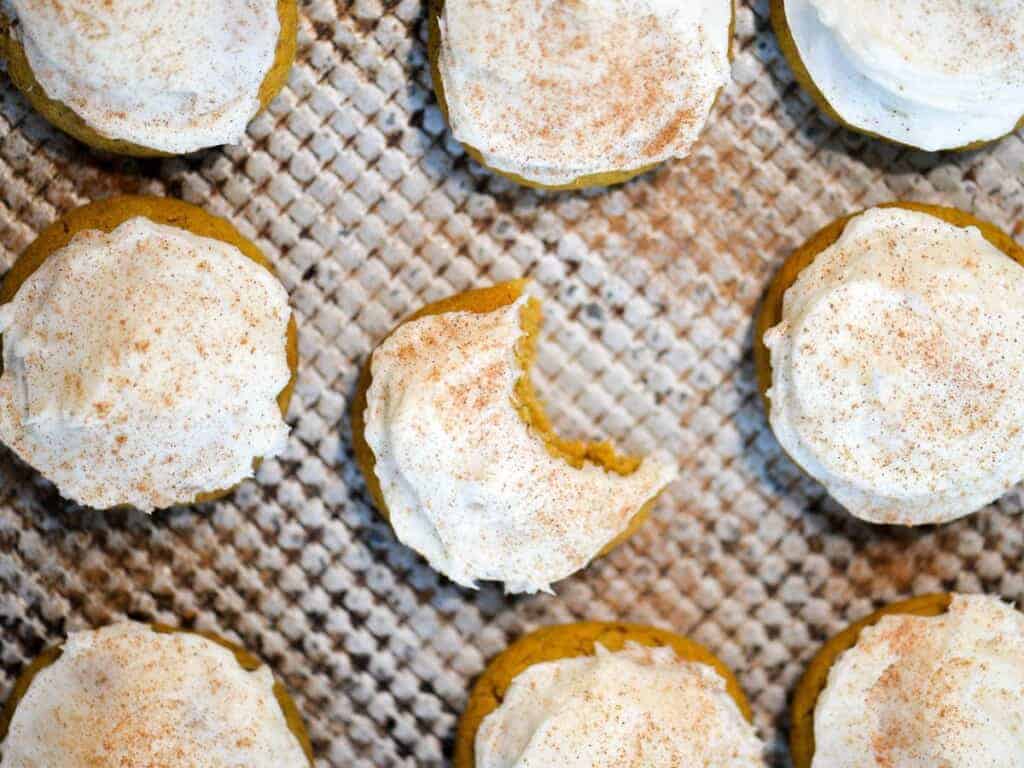 What You'll Love About This Recipe
Easy. First of all, this recipe is so easy! Everything for this pumpkin cookie recipe gets mixed up in one bowl. Stir with a wooden spoon.
Delicious and soft. This pumpkin cookie is a soft cookie with an ever-so-slight amount of crunch on the outside. I tested several recipes before settling on this one.
Freezer friendly. This pumpkin cookie dough is freezer friendly, so it's the perfect dough to make a huge batch and then freeze. I freeze them in preportioned cookie balls. Then we can bake a few fresh cookies any time we like.
Recipe Notes
Whenever you have leftover pumpkin, these cookies are the perfect thing to bake up. This recipe makes the perfect Thanksgiving or Christmas dessert. I love giving cookies as gifts to my neighbors around the holidays, and these easy pumpkin cookies are always appreciated by family and friends.
Ingredients you'll need
Butter: For this recipe, you'll melt the butter first and then let it cool to room temperature.
Sugar: You will use both granulated white sugar and brown sugar.
Flour: I used all-purpose flour. You can also use a gluten-free flour blend in these cookies. I have had success with King Arthur brand.
Pumpkin Pie Spice: I use my own homemade blend with cinnamon and nutmeg. If you'd like the recipe — grab it HERE! Perfect for all your pumpkin flavored goodies!
Baking soda and salt: These are used for leavening so that the cookies are fluffy.
Cornstarch: Cornstarch helps to create that really dreamy, smooshy, pillowy cookie texture.
Vanilla extract or vanilla bean paste: Either one will work in this recipe.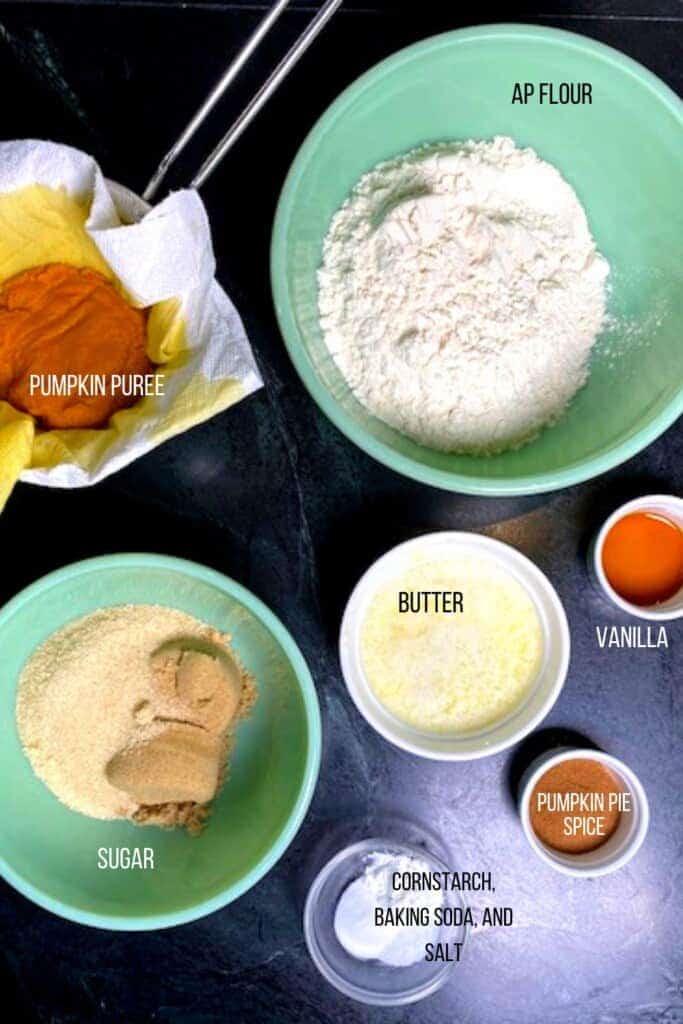 Ingredients for the Cream Cheese Frosting
Butter: Softened to room temp.
Cream Cheese: Softened to room temp.
Powdered Sugar
Vanilla
A sprinkle of pumpkin pie spice (optional)
Step-by-Step Instructions
Step 1: Melt the butter and set it aside to cool.
Step 2: Strain the pumpkin by lining a small mesh strainer with a paper towel. Add the pumpkin and then let it drain until you are ready to use it.
Step 3: Mix together the granulated sugar and the brown sugar in a medium bowl.
Step 4: Mix together the flour, salt, baking soda, and pumpkin pie spice. Whisk together to mix and set aside.
Step 5: Add the melted butter to the sugars. Whisk to combine.
Step 6: Add the pumpkin and the vanilla to the sugar. Whisk to combine.
Step 7: Add the dry ingredients to the pumpkin mixture. Mix with a wooden spoon until the flour is just combined. There is no egg in this recipe, so be sure to lick the spoon. (This part is important.)
Step 8: Use a cookie scoop to make 36 cookie dough balls, and space them evenly on a parchment paper-lined baking sheet. Chill for 30 minutes to an hour before baking.
Step 9: To bake. Preheat the oven to 325℉. Bake for 14 minutes. The cookies will be puffy and slightly brown on the edges. Put them on a wire rack to cool.
Step 10: While the cookies are baking, mix up your delicious cream cheese frosting. Wait until the cookies have cooled slightly before you frost them. Otherwise, the cream cheese frosting will want to melt and drip off the sides. And we can't have THAT.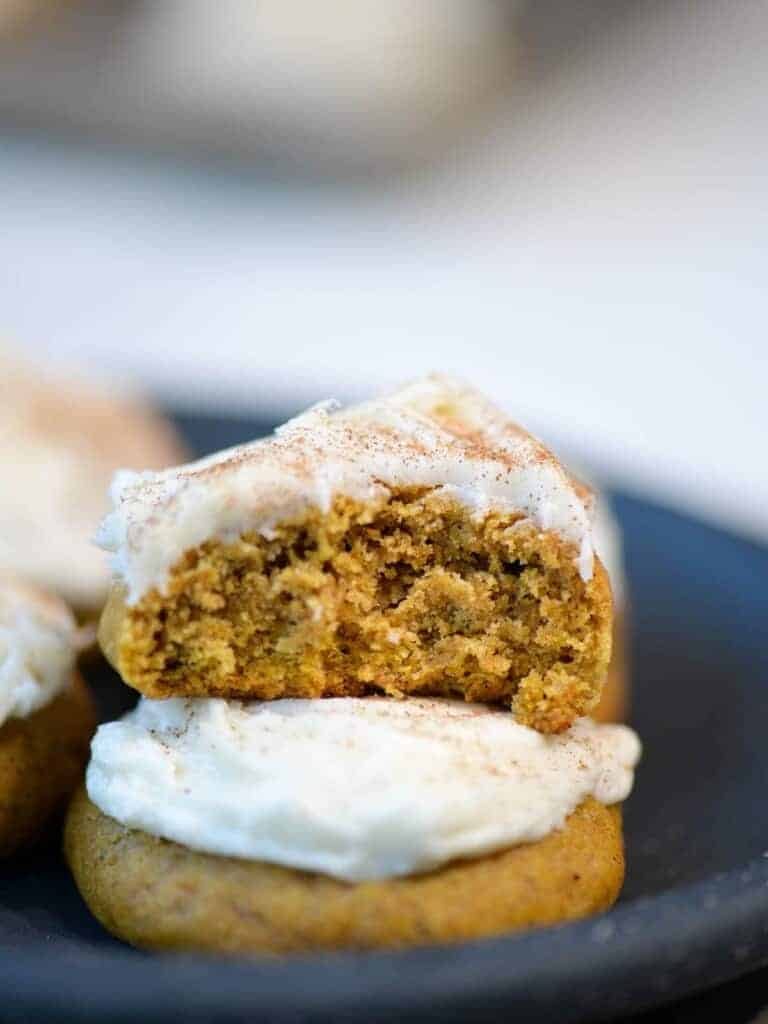 FAQs and Expert Tips
How to store pumpkin cookies:
The best way to store pumpkin cookies is side by side in an air tight container. Once the icing has set up, you can stack them with waxed paper in between. However, they still may get a little bit smooshed if you layer them. Still delicious!
Can you freeze pumpkin cookies?
Yes, you can freeze these pumpkin cookies as long as you wait to frost them.
Once frosted, it's best to store them at room temperature. Chances are, they'll be eaten in about a day. Don't say I didn't warn you!
How to make pumpkin cookies for dogs?
It's really not fair that we humans get all the good snacks. I use pumpkin and peanut butter to make pumpkin dog cookies. You can grab the recipe HERE!
Is canned pumpkin the same as pumpkin puree?
Canned pumpkin is essentially canned pumpkin puree. Be careful to not use pumpkin pie filling which is already sweetened and includes spices.
How long are pumpkin cookies good for?
In our house the cookies never last that long. But these cookies will keep at room temperature for at least a week.
Does baking soda make cookies fluffy?
Adding baking soda to cookies adds to the fluffy texture. Baking soda releases CO2 during the baking process, which makes the dough form little internal air bubbles. The C02 disappears, leaving you with super light, melt-in-your-mouth goodness.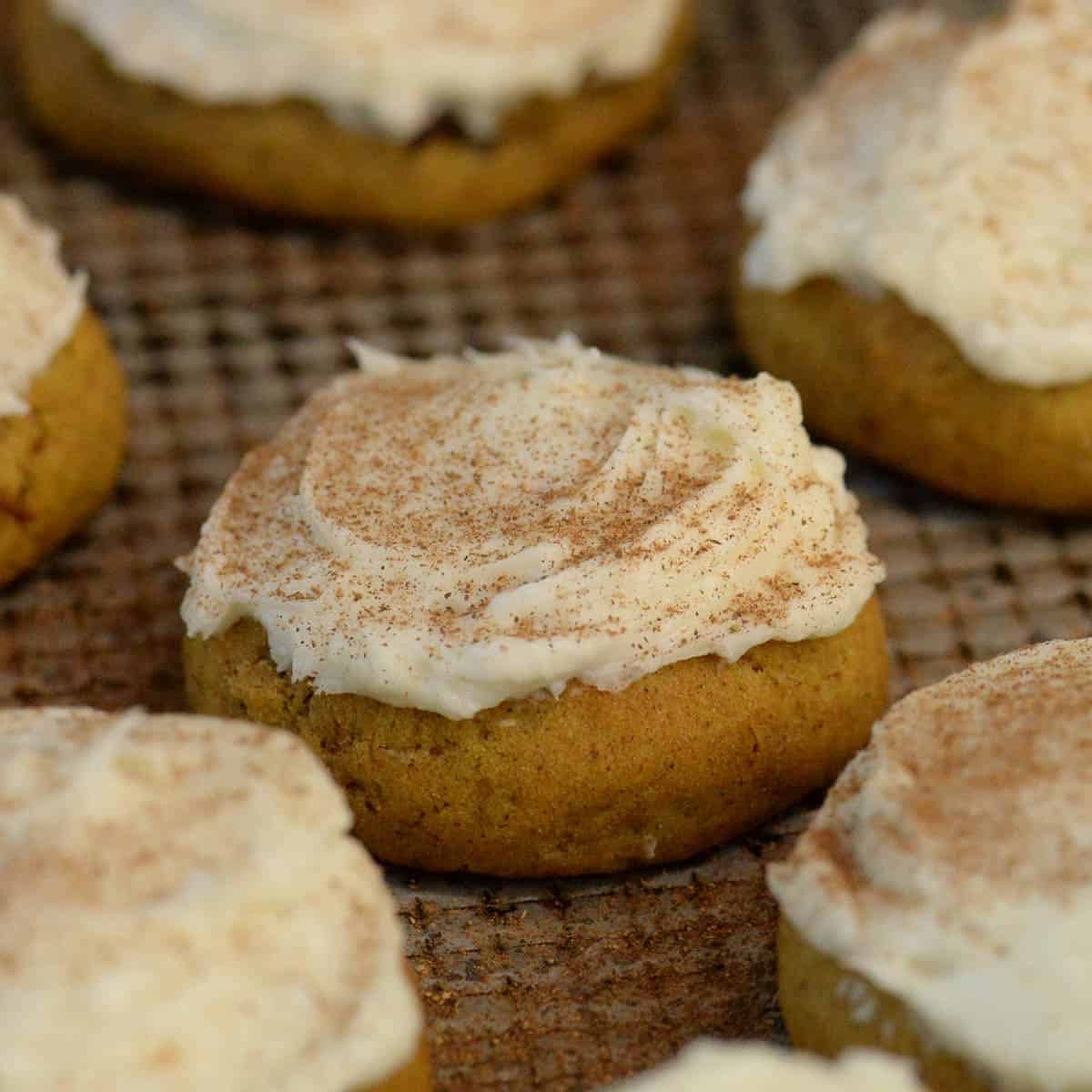 Pumpkin Cookies with Cream Cheese Frosting
These are the BEST soft pumpkin cookies frosted with tangy-sweet cream cheese frosting. Soft pumpkin spiced cookies are the perfect fall dessert recipe! These are so easy to make – no mixer needed.
Ingredients
Cream Cheese Frosting
¼

cup

butter

,

softened

4

ounces

cream cheese

,

one half of a block, softened

2

cups

powdered sugar,

more or less
Instructions
How to make pumpkin cookies dough
Melt the butter. Melt the butter in a saucepan or in the microwave. Then let it cool.

Combine the dry ingredient. Combine the dry ingredients including the all-purpose flour, spices, salt, and baking soda. whisk together and then set aside.

Strain the pumpkin. Line a small fine-mesh sieve with a paper towel. and add the ¾ cup of pumpkin and let it drain while you are mixing together the rest of the ingredients.

Combine the sugar and butter. In a medium bowl combine the sugars and the cooled butter. Whisk together.

Add in pumpkin. Add in the pumpkin and the vanilla extract.

Dry ingredients. Add in the dry ingredients and mix until combined.

Scoop cookies. Use a cookie scoop to form balls of cookie dough.

Chill. Chill for 1 hour.

Bake. Preheat the oven to 325°F. Bake for 10-14 minutes.
Cream Cheese Frosting
Combine the butter and cream cheese. Use a hand mixer to mix until smooth.

Add the powdered sugar a little bit at a time.

The more sure you add in the more stiff the icing will be. You will want a spreadable consistency but not to soft.
Laura's Tips + Notes
Drain the pumpkin. Remove as much water from the pumpkin as you can. Do this by lining a small mesh strainer with a paper towel. Then add the 3/4 cup of pumpkin and let it strain until you are ready to use it. This step helps to keep the cookies chewier and less cakey.
Pumpkin Pie Spice: If you don't have any pumpkin pie spice you can grab the download of my DIY Pumpkin Pie Spice HERE.
Pumpkin Pie Spice Substitute:
1 teaspoon cinnamon
¾ teaspoon ground ginger
¼ teaspoon ground cloves
¼ teaspoon ground nutmeg
YOUR OWN NOTES
Nutrition
Serving:
1
cookie
Calories:
161
kcal
Carbohydrates:
22
g
Protein:
1
g
Fat:
8
g
Saturated Fat:
5
g
Cholesterol:
20
mg
Sodium:
108
mg
Fiber:
1
g
Sugar:
15
g
Calcium:
12
mg
Iron:
1
mg