Cranberry Sauce Coffee Cake Recipe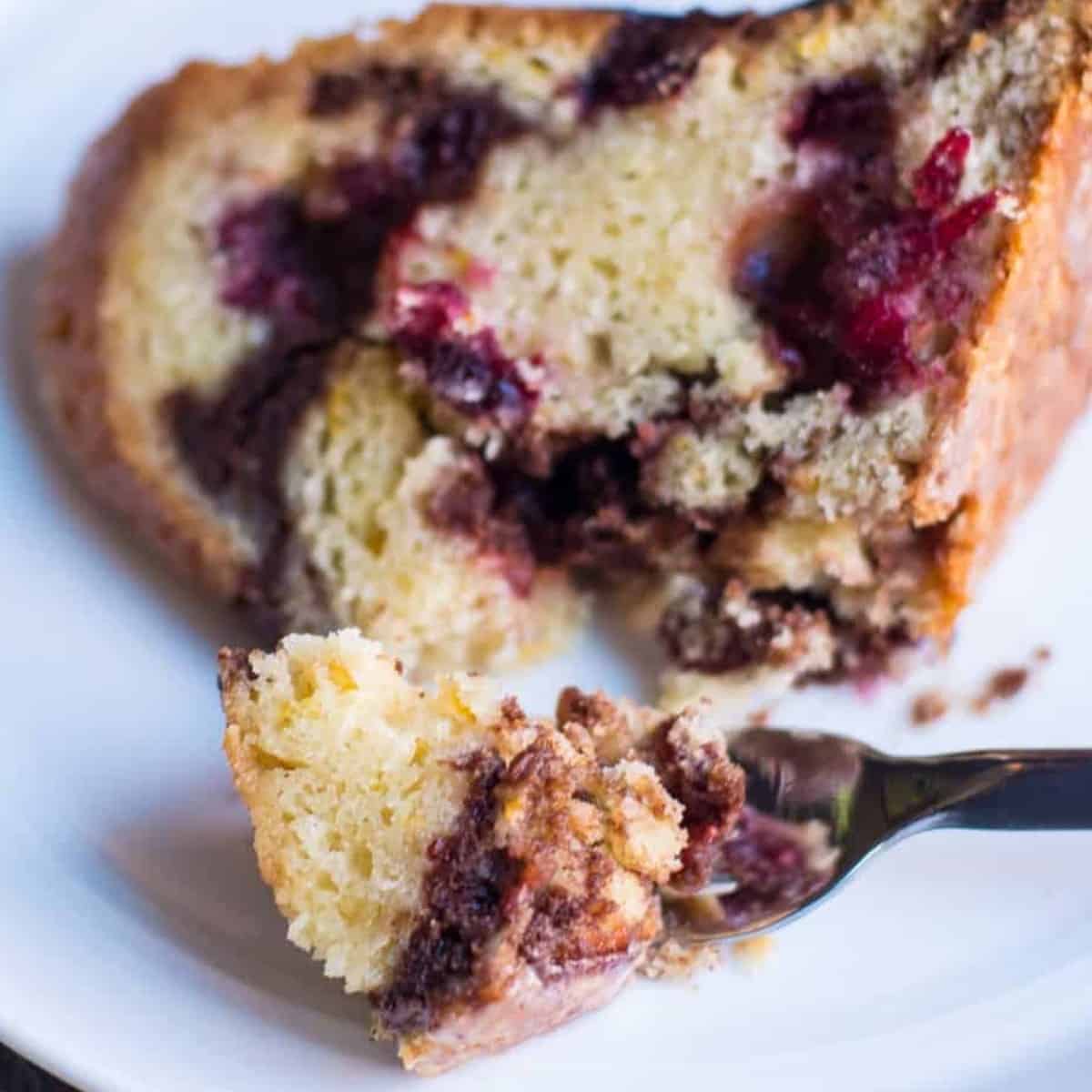 Recipe
Comments
Save
Go to Collections
This post may contain affiliate links. Please read my
disclosure policy.
If you're unsure what to do with leftover cranberry sauce — This beautiful cranberry coffee cake recipe is the answer you've been waiting for. The base of this coffee cake recipe is delicious on its own, but when you add the fresh cranberry sauce, it becomes even more festive.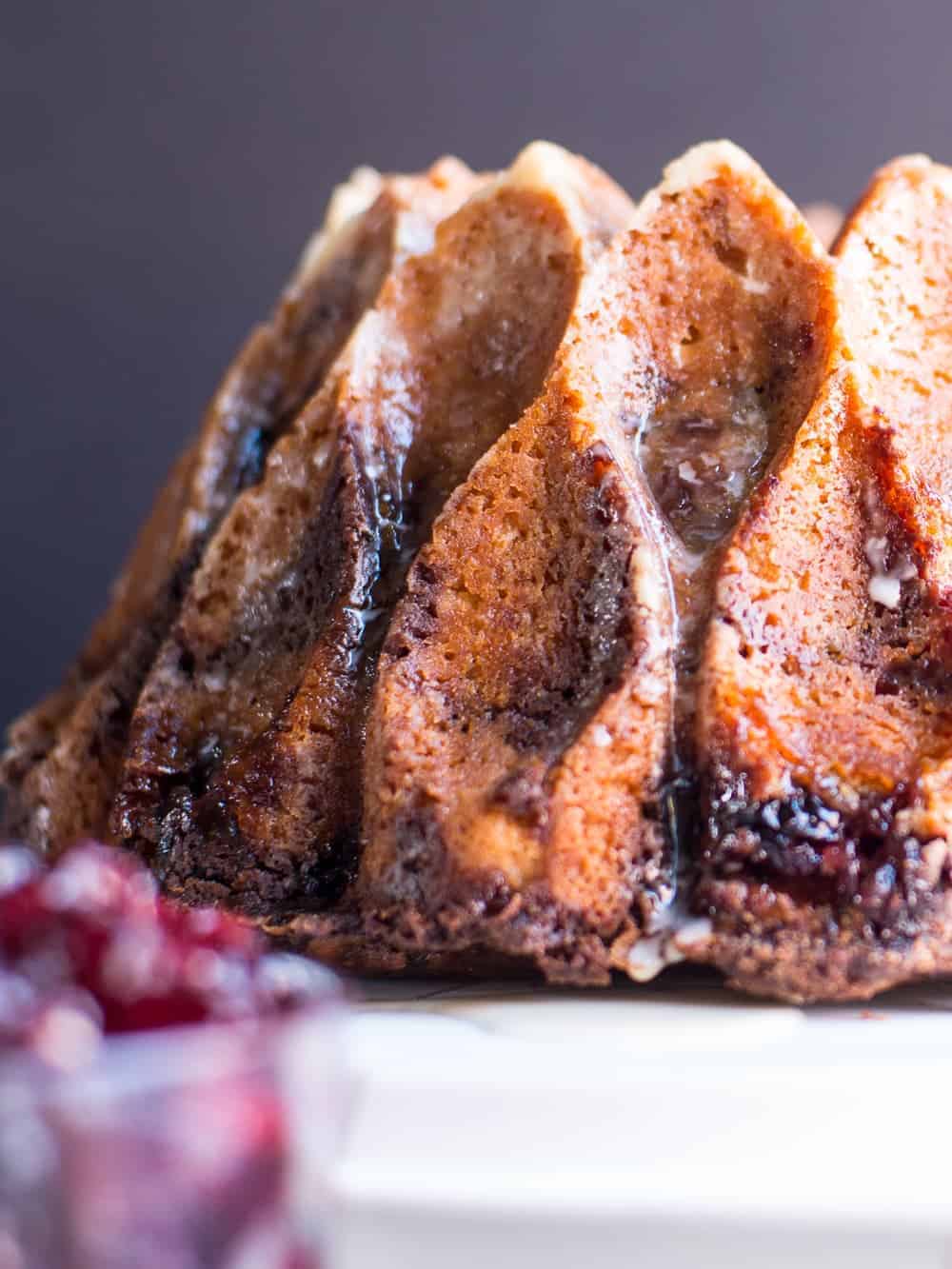 The sour cream in this coffee cake gives it a super moist crumb and a wonderful flavor.
Cranberry Coffee Cake is absolutely necessary when we go Christmas Tree Hunting. Our family tradition is to pack up a lovely brunch and bring it to the Christmas tree farm.
Some of our other favorites are hot chocolate, spiked, and not spiked. My brother-in-law usually cooks the bacon on a griddle that he hauls up to the farm. It is always a great time.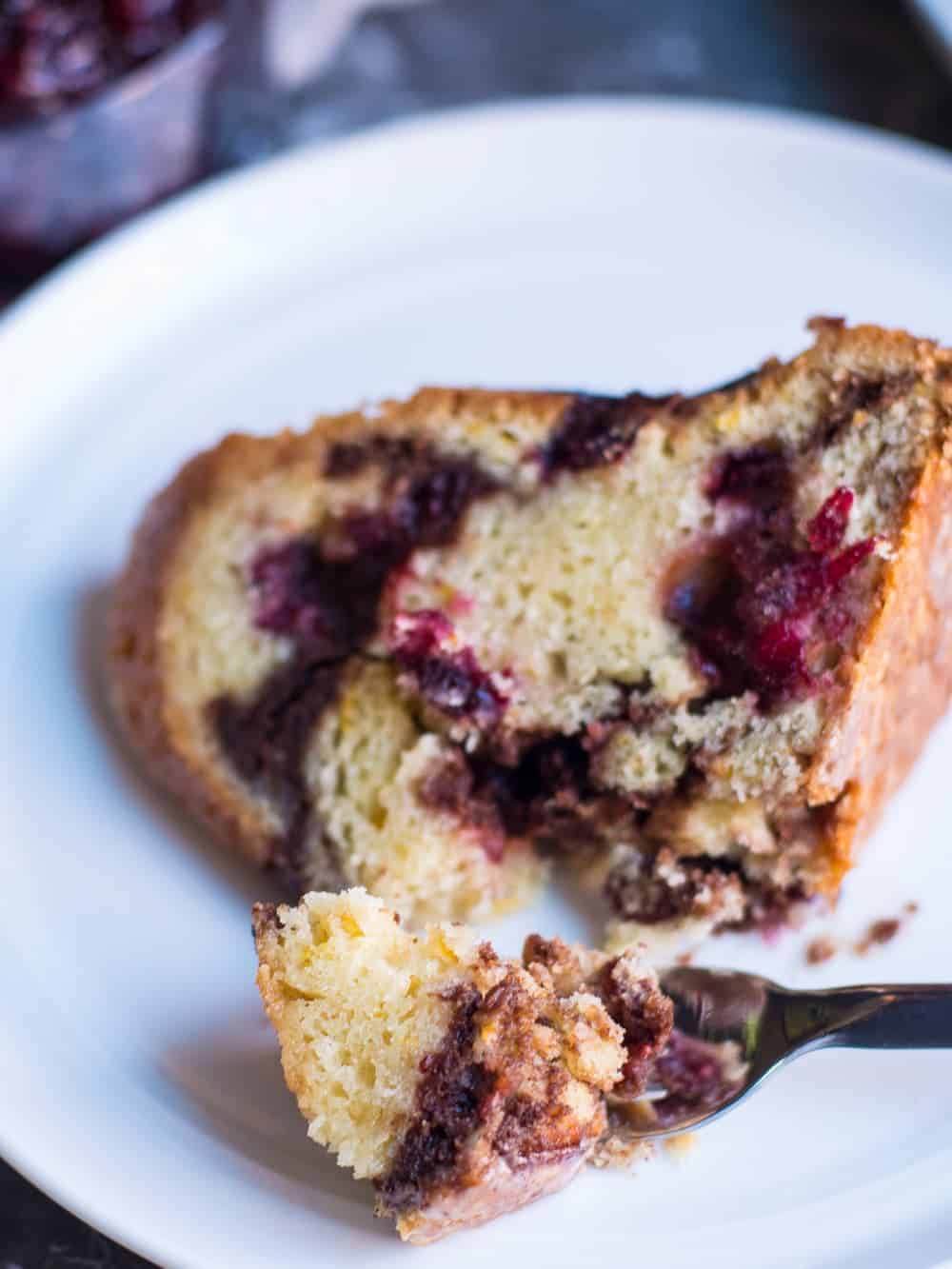 Sour cream makes the crumb on this cake so tender and moist.[/caption]
I've made this sour cream coffee cake for years.
I usually make it as a cinnamon coffee cake; sometimes I add blueberries or raspberries.
My mother-in-law shared with me a Greek Yogurt Cranberry Coffee Cake Recipe.
I decided to combine my tried and true cinnamon coffee cake with a swirl of leftover brandied cranberry sauce from Thanksgiving. It was a magical combination!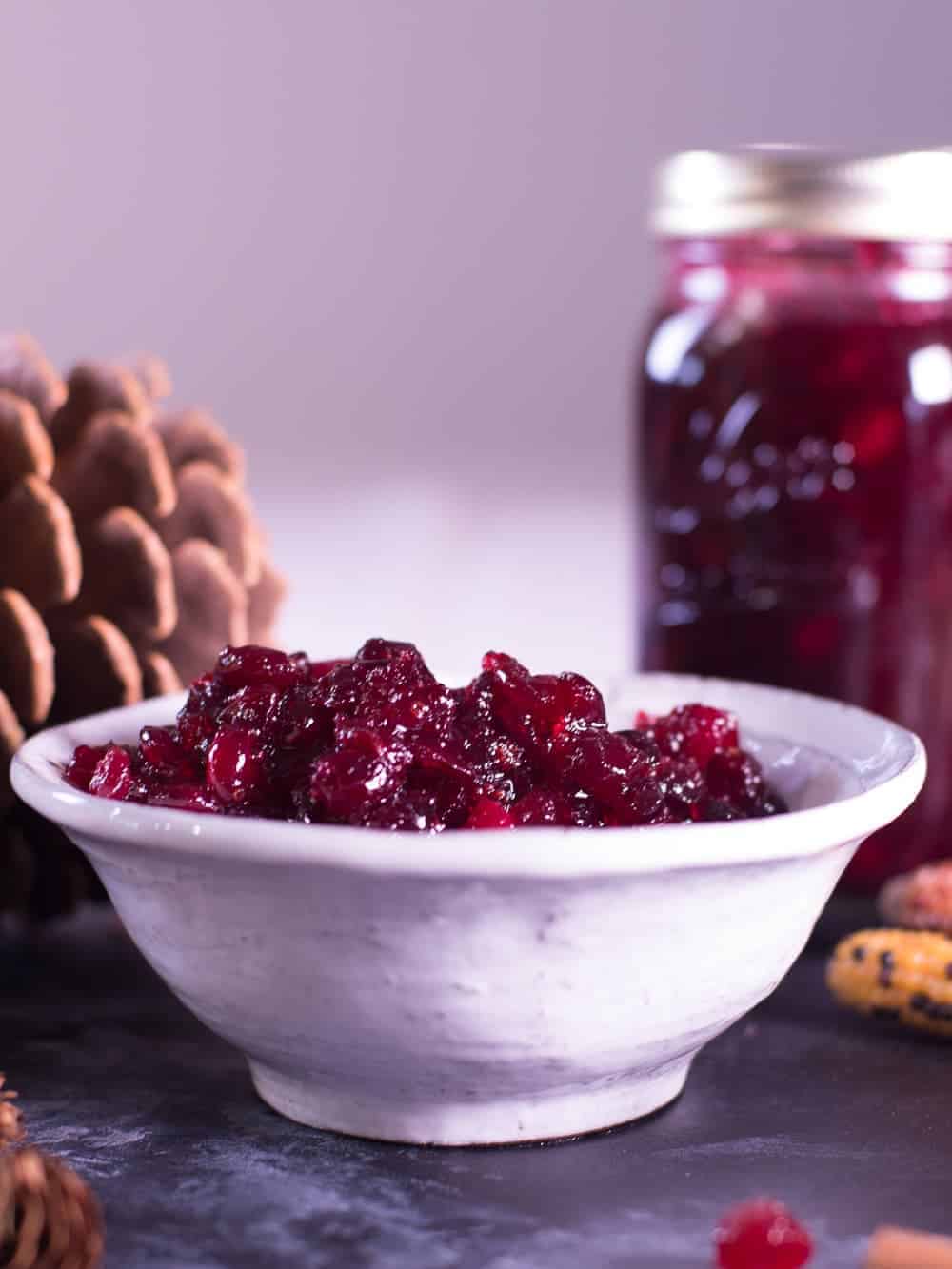 The easiest fresh cranberry sauce you can make for Thanksgiving![/caption]
I have a few Cranberry Sauce Recipes, but my Brandied Cranberry sauce is the easiest fresh cranberry sauce that I've even made.
Ingredients for Cranberry Sauce
1 bag of fresh Ocean Spray cranberries (12 ounces)
1 ½ cups of granulated sugar
¼ cup of brandy
Add the cranberries and the sugar to a large microwave-safe bowl, toss.
Cover tightly with plastic wrap.
Microwave on high for 10 minutes.
Carefully remove the plastic wrap.
Immediately add the brandy and stir to blend.
Let cool.
Store any leftovers in an airtight container.
Check out the full post for detailed instructions on making homemade fresh cranberry sauce
I've provided stove-top and Instant Pot instructions in this post.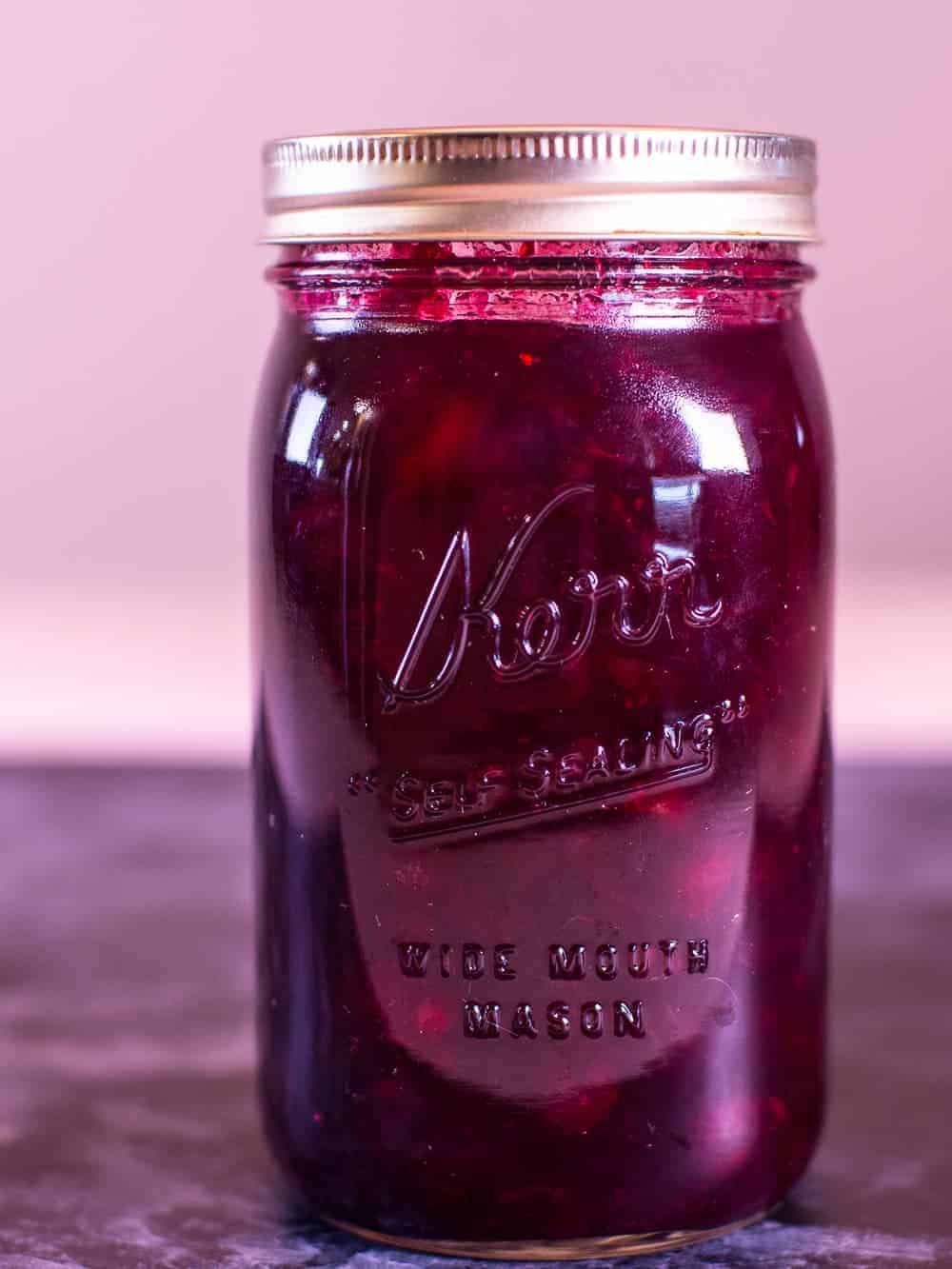 I adore cinnamon coffee cake. But adding some fruit to the mix gives you an even better coffee cake.
This coffee cake is gorgeous when baked in a bundt pan. However, you can make this recipe in 2 loaf pans or a cake pan.
This year I plan on making this recipe in a muffin tin. Because what is cuter than Coffee Cake Muffins?
PRO-TIP: Adjust the timing if you use a different pan.
Do not let this holiday season go by without making this coffee cake. I promise you will have no regrets.
I am a big believer in desserts that are worth it. I don't eat a lot of sweet stuff.
When I indulge in something sweet, I have to ensure that it is completely and utterly worth it. It needs to taste so freakin' good that I have no regrets about indulging.
This coffee cake fits the bill. It's sweet, but not too sweet. It's rich, moist, and cinnamony with a tart bite of cranberry sauce. Then you have the Grand Marnier Glaze.
Other Impressive Breakfast Recipes for Feeding a Crowd
We know the holidays bring many visitors and they're always hungry! Here are a few recipes to help you get through the holidays hangry-free.
These are the BEST cinnamon rolls that you're ever going to make. They're soft and fluffy, full of gooey cinnamon roll filling, and topped with…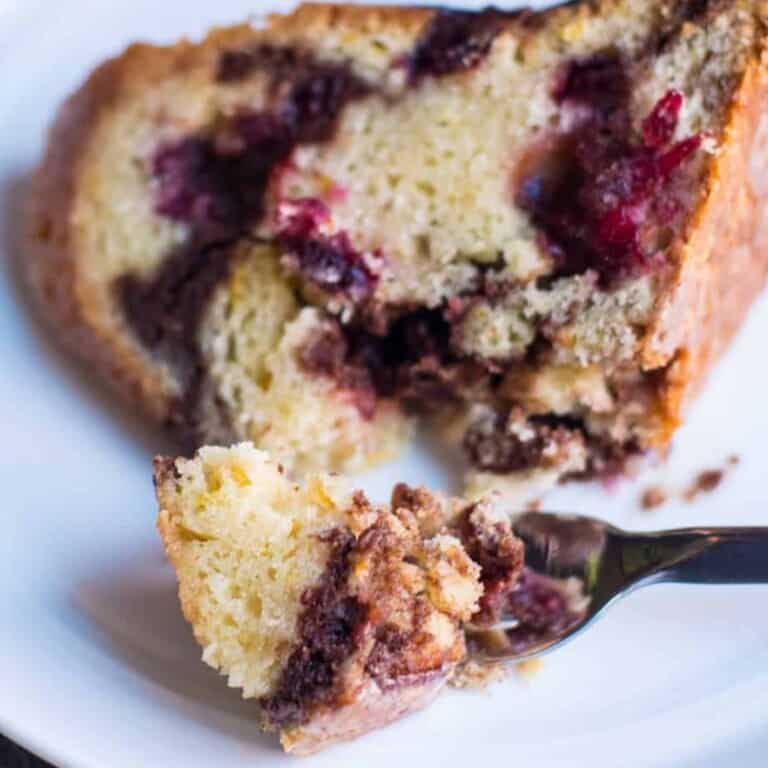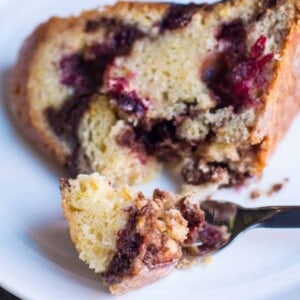 Brandied Cranberry Sauce Coffee Cake
Rich sour cream coffee cake, swirled with brandied cranberry sauce and cinnamon streusel then topped with a Grand Marnier glaze. This coffee cake is a home run for the holidays.
Ingredients
Instructions
Cranberry Sauce
Rinse the cranberries well and spread out on a towel to dry.

In a large microwave-safe bowl, combine berries and sugar. Stir to coat.

Cover with plastic wrap and microwave on high for 10 minutes. Remove from microwave and immediately add brandy, stir to blend.

Cool. You will only need about ½ cup for this coffee cake, the rest can be stored in the refrigerator in an airtight container to enjoy later!
Streusel
Combine all of the dry ingredients. Mix well with a fork.

Dice the cold butter and cut into dry ingredients (will be crumbly).
Prep
Butter and flour the bundt pan.
Cake Batter
Combine dry ingredients in a medium bowl.

In a separate mixing bowl, cream together butter and sugar until light and fluffy. Add eggs one at a time, beating well in between each addition.

Add vanilla, greek yogurt and orange zest. Mix until blended.

Add dry ingredients and mix until they are just incorporated.
Final Assembly
Spoon ½ of the cake batter into the bundt pan.

Add dollops of the cranberry sauce (approximately ¼ cup)

Sprinkle about ⅔ streusel mixture on top of this. Swirl into batter.

Add remaining batter on top.

Add another ¼ cup of cranberry sauce, in dollops.

Add the rest of the streusel, swirl into batter.

Bake for 45-55 minutes, until a skewer comes out clean.

Allow to cool for 10 minutes and then invert cake on a serving plate.
Grand Marnier Glaze
Add powdered sugar and Grand Marnier to a bowl and whisk until smooth.

Adjust the amount of sugar to liquor to obtain the right consistency of drizzle. I like mine to be like thin glue.
Laura's Tips + Notes
The perfect way to use left over brandied cranberry sauce from Thanksgiving.
Optional: Use and extra ¼ cup of Grand Marnier to brush cake before adding the glaze. This allows for a little something-something in the cake. I highly recommend it.
If you aren't keen on the alcohol, you can use milk or orange juice to make a glaze as well.
YOUR OWN NOTES
Nutrition
Calories:
425
kcal
Carbohydrates:
53
g
Protein:
5
g
Fat:
20
g
Saturated Fat:
12
g
Cholesterol:
91
mg
Sodium:
303
mg
Fiber:
2
g
Sugar:
21
g
Calcium:
67
mg
Iron:
2.2
mg