There isn't anything like the flavor of fresh apple cider donuts. If you haven't made homemade donuts before, I promise this is an easy apple cider donut recipe that makes the best apple cider donuts you have ever eaten.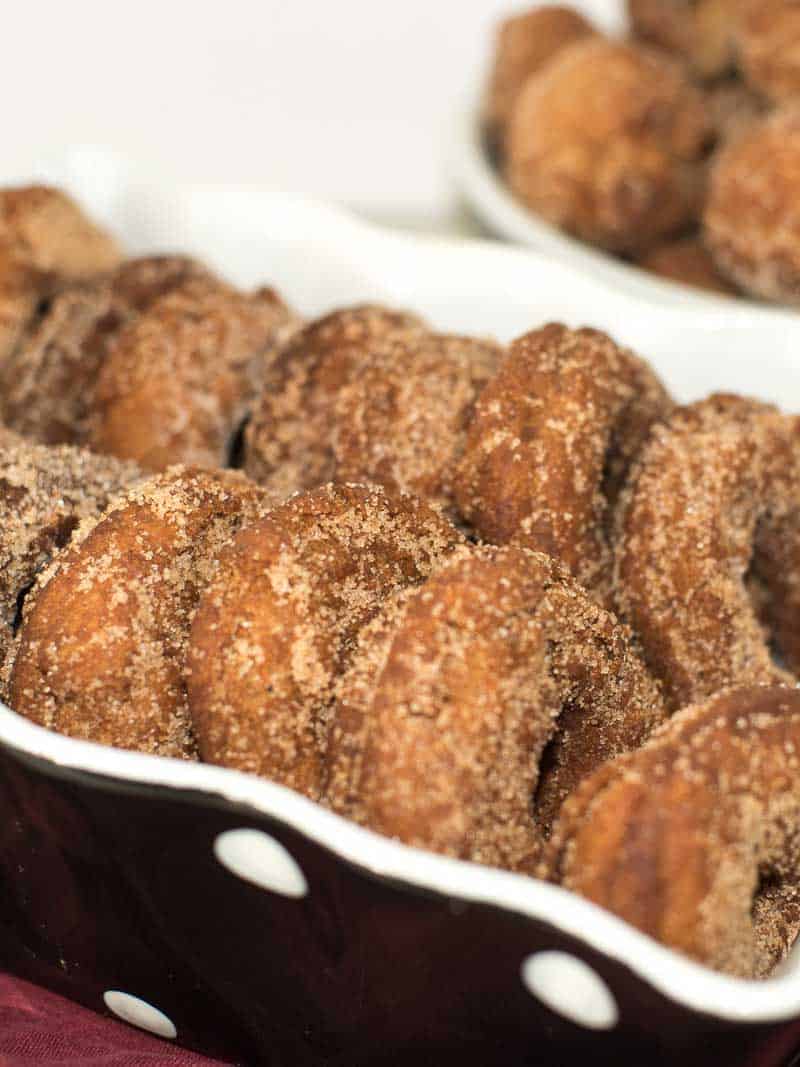 When I created this recipe I was on the hunt for the best Apple Cider Donut Recipe.
But of course, I wanted to make this recipe an easy cider donut recipe. I tried 3 different recipes and this one was by far my favorite. It was full of apple flavor. Some of the other recipes that I tested when a little bland, in my opinion.
Honestly, homemade apple cider donuts aren't that hard. And they are totally worth it.
What is in apple cider donuts
I've tried out a few donut recipes and did a lot of testing when I made my Homemade Pumpkin Old Fashioned Donuts. I knew that I was looking for a recipe that contained buttermilk.
The buttermilk is the key to getting that traditional old fashioned donut texture and crumb. You want a donut that is super moist on the inside and crispy on the outside.
Ingredients in Apple Cider Donuts
Dry Ingredients: All-purpose flour, granulated sugar, salt
Wet Ingredients: Butter, buttermilk, eggs
Spices: Brown sugar, nutmeg, cinnamon, vanilla extract
Apple Flavor: Apple Cider and apple butter.
Vegetable oil: for frying
This recipe also calls for two ingredients that give these cider house donuts a super apple-ly flavor.
An apple cider reduction
Apple butter
Step-by-step Instructions.
Donuts aren't hard to make. They can be messy! But making these easy apple cider donuts with your kids would be a great bonding experience. Why not make a new holiday tradition this year.
Make the Donut Dough: I usually use my stand mixer

(affiliate link)

for this step.
Rest the dough: 3 hours, up to overnight. This dough is perfect if you want to make donuts the next morning.
Roll Out The Dough: Then cut out the donuts with pastry rings.
Get your oil ready to fry: Add your oil to a dutch oven with a candy thermometer fixed to the side of a heavy dutch oven. Once your oil is 350℉ you can start adding your donuts.
Set up a rimmed baking sheet: Line the baking sheet with paper towels. Place a wire rack over the top of this.
Fry the donuts: Fry until golden brown, about 3 minutes per side. Remove the donuts from the oil and place on the wire rack to cool slightly.
Toss Warm Donuts in the Sugar: While your apple cider donuts are still warm, toss them into the cinnamon and sugar mixture.
FAQs and Expert Tips
Why are they called apple cider donuts?
Apple cider donuts originated in the Northeast and are found at cider houses. Cider donuts are made by adding apple cider, cinnamon, and nutmeg to the donut dough.
How many donut holes does this recipe make?
This recipe makes about 18 donuts + 18 donut holes. OR approximately 90 donut holes.
Can I bake apple cider donuts?
Yes, absolutely! Use a donut pan instead of frying these donuts. It's easiest to pipe the donut batter into the donut pan. You can use a pipping bag or simply add the batter to a zip top bag and snip off the corner. Bake for 10 minutes at 350℉.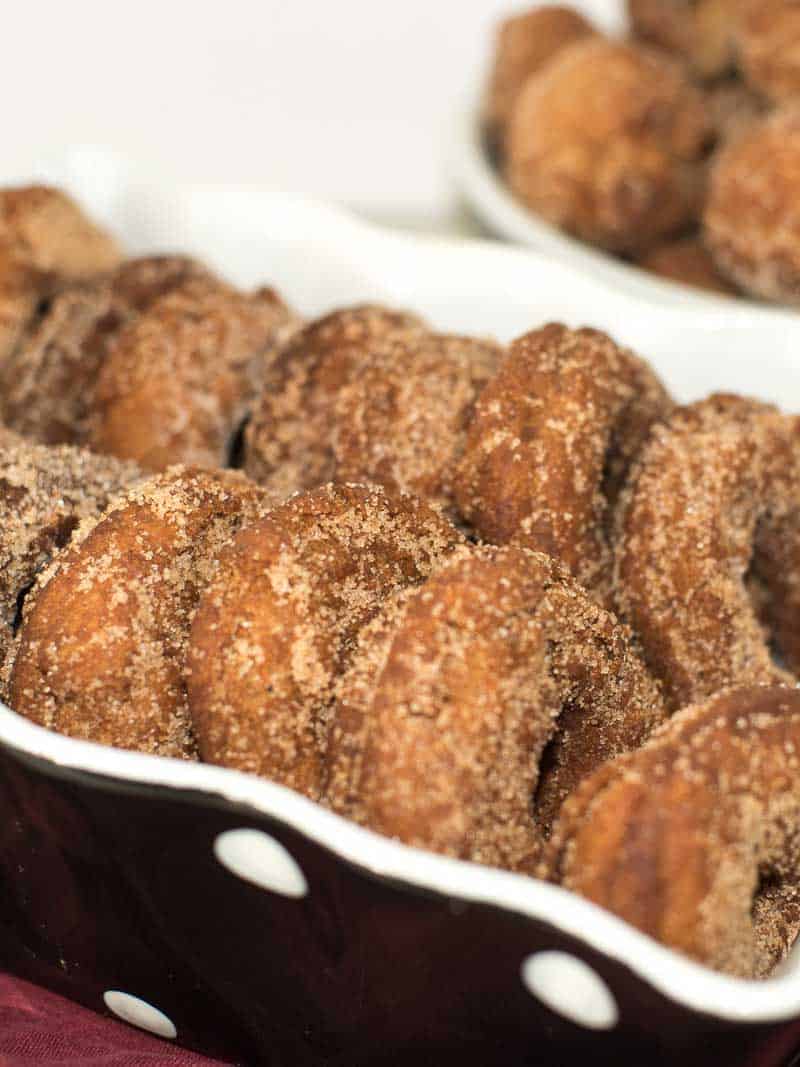 How to make apple cider donuts at home
Like everything in life, if you have the right tools for the job then the project is easy. These donuts are no exception to that rule.
I used to hate baking until I had my kitchen aid mixer (affiliate link). Buying that mixer was a game-changer for me. I actually look forward to the cookie season now.
Special Equipment For Making Donuts
A heavy dutch oven (affiliate link) — is King when it comes to deep-frying. Cast iron holds heat really well so the oil stays at a relatively constant temperature. I use my dutch oven (affiliate link) to make fried chicken as well as when I am deep frying donuts or hand pies.
Thermometers (affiliate link) — Accuracy is important in baking and cooking alike. Having a candy thermometer (affiliate link)for deep frying or making toffee is essential. A digital probe thermometer (affiliate link) can be used to make sure meat and poultry if cooked perfectly. Don't leave things to chance when you can use science.
A Stand Mixer (affiliate link) — A stand mixer fixed with a paddle attachment makes dough making so easy.
rimmed baking sheet will last forever and can be used for baking and for sheet pan dinners.
Pastry cutters (affiliate link) — OR a donut cutter (affiliate link). Pastry cutters (affiliate link) are a necessity for cookies, biscuits, and donuts. Make sure to dunk the edges in flour before cutting so they won't stick to your dough.
Parchment paper (affiliate link) — This may be my most utilized kitchen tool I use it practically every time I cook. I am convinced that parchment paper (affiliate link)-lined baking sheets have saved me hours of cleaning time.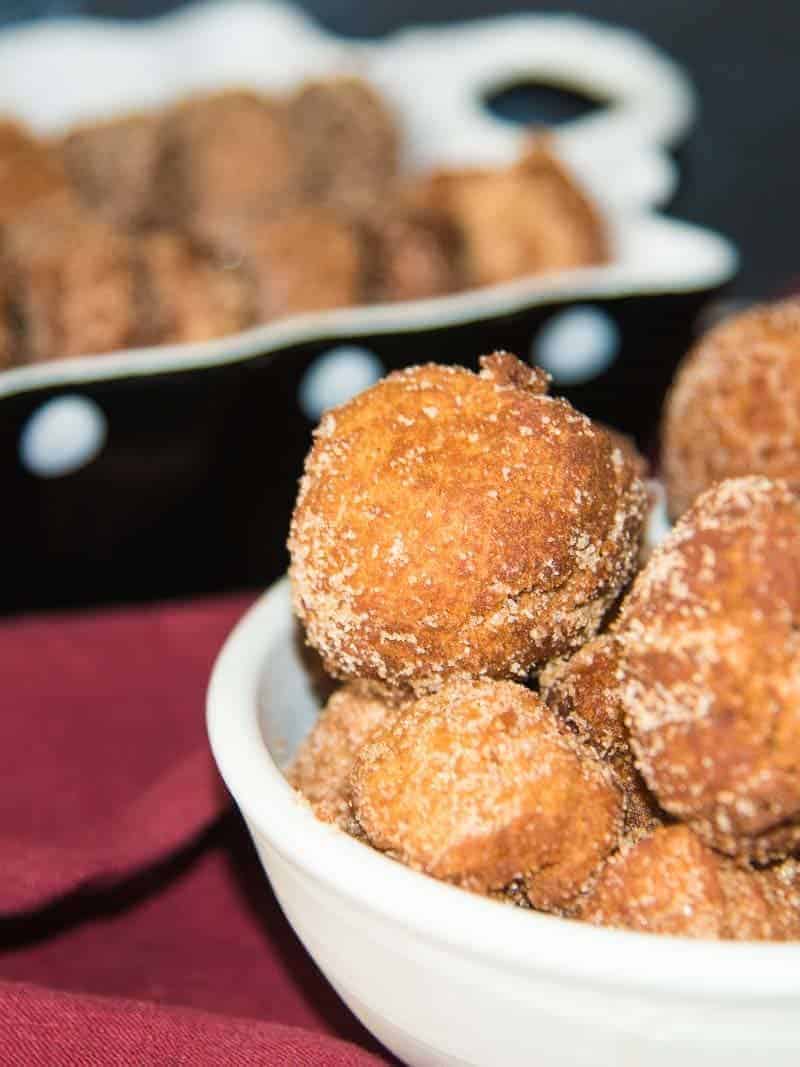 Don't forget the best part — the donut holes.
More of my top-rated dessert recipes.
If you haven't had enough carbs, then here are my favorite comfort food dishes.
Curry Noodle Bowls
Vegan Alfredo
➽ Did you make this recipe? I love to see what's going on in your kitchen. Show me what you're cooking. 🍳 Tag me @foodologygeek on your favorite social channel! Facebook, Instagram & Pinterest. If you loved ❤︎ this recipe, please leave a five ★ review and a comment!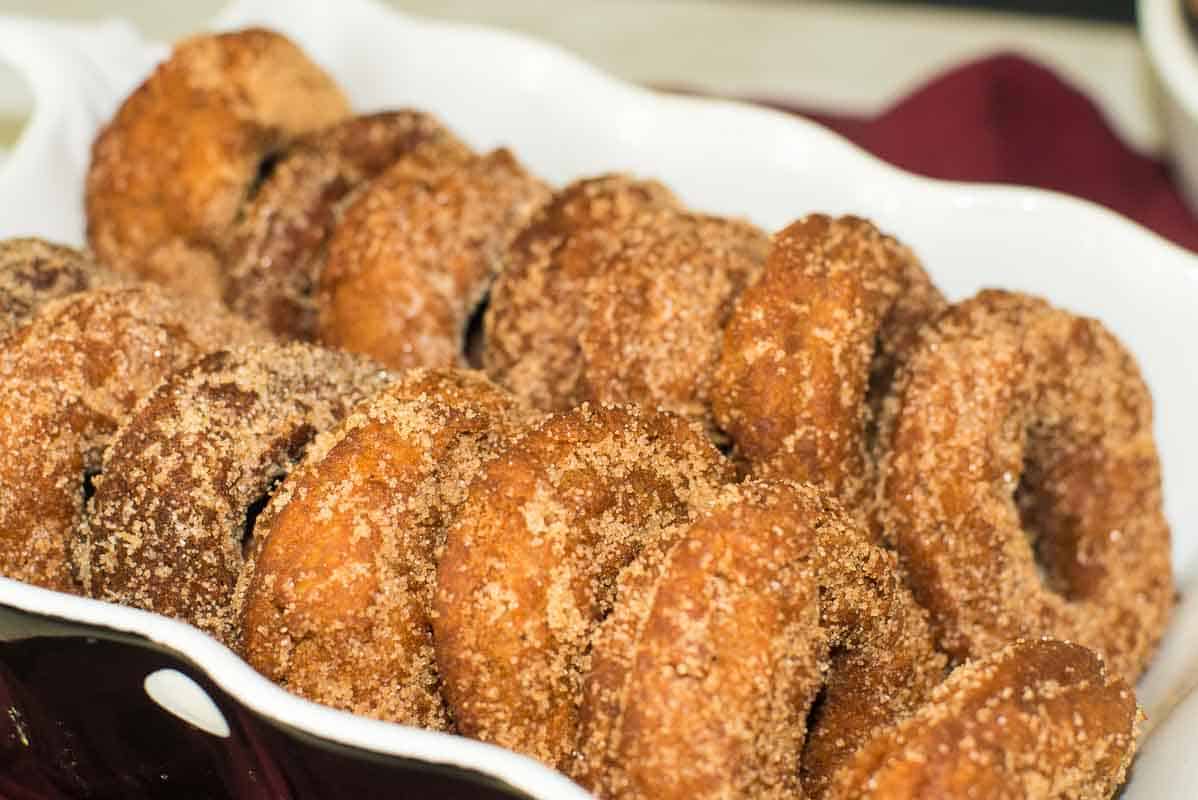 Homemade Apple Cider Donuts
These cider house donuts are full of apple spice flavor. They're the best apple cider donuts that I have ever tasted.
This recipe is adapted from Bon Appetit.
Instructions
Apple Cider Donut Dough
Add the cider and the cinnamon stick to a medium saucepan. Bring the cider to a simmer over medium-high and let it reduce until you have about ⅓ of a cup. It will be syrupy.

Transfer the apple cider syrup to a medium bowl to cool.

Add the apple butter, buttermilk, and the vanilla. Whisk to incorporate.

In a second medium-sized bowl, Add the baking powder, salt, baking soda, flour and 1 teaspoon of the cinnamon.

In a mixer, add the butter, the brown sugar, and ¼ cup of granulated sugar. Beat until the mixture is light and fluffy.

Beat in the eggs, adding them one at a time.

Turn off the mixer and add half of the flour mixture and half of the cider mixture. Mix briefly until just incorporated.

Repeat with the remaining flour and cider mixture.

Prepare a rimmed baking sheet by lining it with parchment paper and dusting with flour.

Scrape the dough onto the prepared baking sheet.

Dust your hands and the top of the dough with more flour and pat it down until it is about 3/4 of an inch thick.

Cover with plastic and refrigerate for 3 hours, up to overnight.
Making the Donuts
Get your sugar coating ready by whisking together 1 cup of granulated sugar and

Get your dutch oven ready and warning. Add about 3 inches of the peanut oil and set up your thermometer in the pan. Set the pan on low while you are preparing the dough and then turn it up to medium-high when you are ready to start frying your donuts.

Punch out your donuts with a 3 ¼ inch round pastry cutter.

Punch out the centers with a 1 ¼ inch round pastry cutter.

Gather the scraps and repress, try not to work the dough too much.

You should end up with 18 donuts. Roll the remaining dough into holes.

Line a rimmed baking sheet with paper towels and a wire rack over a rimmed baking sheet.

When the oil has reached 350°F, add one layer of donuts. Fry until they are golden brown on one side (3 min) then flip them over and fry another 3 minutes.

Fry the donut hole for 2 minutes on each side.

Transfer the donuts to the wire rack and cool slightly.

Toss the warm donuts into the cinnamon-sugar mixture to coat.
Cinnamon Sugar Mixture
Add the remaining 1 cup of sugar and 1 tablespoon of cinnamon to a shallow bowl.

Dunk the warm donuts into the mixture to coat.
Laura's Tips + Notes
Gluten-Free: Bob's Redmill gluten-free baking mix works great in these.
Make-Ahead: Make the apple cider donut dough a day a head, cover and refrigerate until you are ready to use.
YOUR OWN NOTES
Nutrition
Calories:
235
kcal
Carbohydrates:
44
g
Protein:
4
g
Fat:
5
g
Saturated Fat:
3
g
Cholesterol:
34
mg
Sodium:
165
mg
Fiber:
1
g
Sugar:
24
g
Calcium:
28
mg
Iron:
1
mg