These sweet rolls are made out of homemade Hawaiian King rolls. Then they are swirled with caramelized pineapple and pineapple curd. These amazing Hawaiian style pineapple sweet rolls Are just the thing to bring some sunshine to your table.
Get ready to eat the most fabulous carbs ever to be born?
This recipe starts off with a made from scratch Hawaiian sweet bread.
If you have ever eaten King's Hawaiian rolls you will know what I mean. If you haven't ever eaten these rolls I am so sorry because they are delicious. Good news! Now you can make a batch at home for yourself anytime you want.
The dough for this recipe can be made by itself and then rolled into 12 to 14 dinner rolls. One of my favorites ways to eat these rolls is this a few slices of deli ham tucked inside. Yum!
But today we are taking the original sweet roll recipe to the next level.
Today we are going to fill the sweet bread with the most amazing caramelized pineapple and pineapple curd before they are baked.
Break one of these open to find sweet pineapple goodness!
You know those Hawaiian sweet rolls – these rolls taste like that, only better.
The Hawaiian sweet bread recipe is essentially a classic brioche that is turned into a Hawaiian recipe by adding pineapple juice, a little bit of ground ginger, and some coconut extract.
If that's not enough – each roll is filled with sweet caramelized pineapple and pineapple curd. Then, they're baked to a golden-brown deliciousness! The best part – the whole thing is topped with a tangy-sweet pineapple cream cheese icing.
I can't think of any better way to eat ALL the carbs.
I created this recipe with pineapple upside down cake in mind. Going through the National Food Holiday's calendar I stumbled across Pineapple Upside Down Cake Day. I thought pineapple upside down cake is alright! But then, the inspiration to make pineapple sticky buns hit me like a ton of bricks. I knew I had to make them Hawaiian style.
The best way to get started baking these is to have a plan.
Make the dough and get it in the pre-warmed oven so that it can start rising.
Make the caramelized pineapple —> set it aside to cool.
Make the pineapple curd —> get it in the fridge.
Take the risen dough out of the oven and start assembling your sweet rolls.
Once your sweet rolls are put together you can choose to do your second rise now and then bake them off.
What if you want to bake your sweet rolls the next morning?
A  lot of times I like to bake them the next morning so that they are fresh and warm. If you want to bake them the next morning, you can get them in the pan that you plan to bake in and them cover it with plastic. Put the sweet rolls in the refrigerator overnight.
You will need to plan an hour or so ahead of time so that you have time to take the rolls out of the fridge and rise one last time.
My method for doing this is to place the pan on a baking sheet and set it on top of my oven. I then preheat my oven to 350℉. I find that the heat from the oven is just enough to help the dough warm and rise perfectly. The rolls should be doubled in size before you bake them.
This recipe is not for the faint of heart. It has many steps and lots of waiting.  I can guarantee –  it's worth it! These sweet rolls are fantastic…I mean, completely worth the carb coma, fantastic.
My daughter's response to these sweet rolls was. "Mom these are your soul in bun form." Yeah,  pretty much!
I hope you enjoy these Hawaiian style pineapple sweet rolls as much as my family did.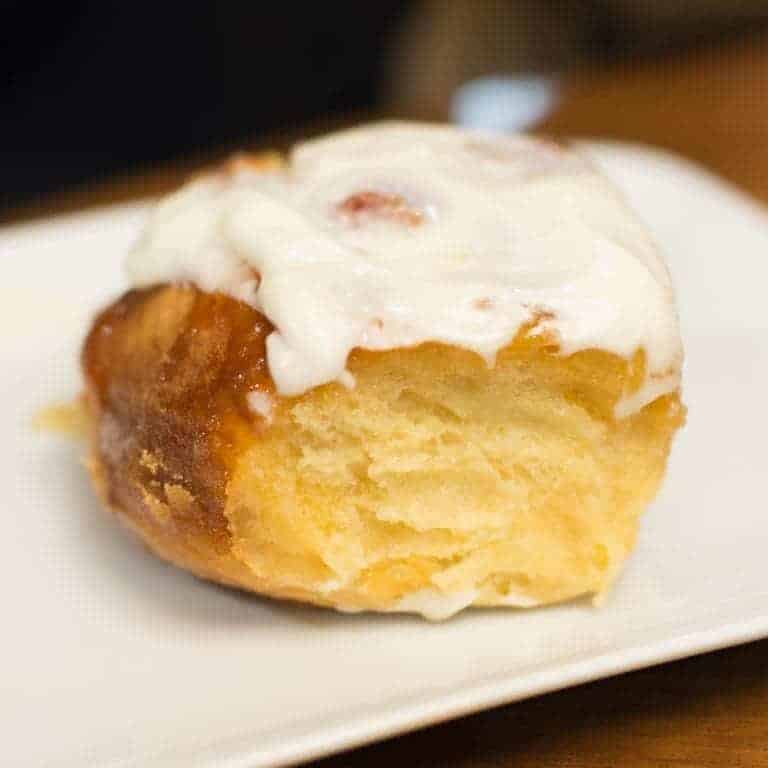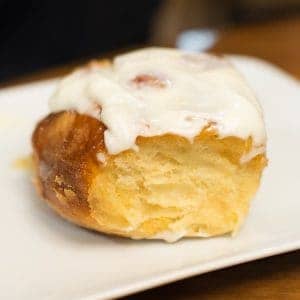 Pineapple Sweet Rolls
Total Time:
2
hours
50
minutes
Pineapple Sweet Rolls. Built with a Hawaiian sweet bread bun, swirled with caramelized pineapple and pineapple curd. Topped with a tangy sweet pineapple cream cheese icing. 
Print Recipe
Pin Recipe
Instructions
Hawaiian Sweet Rolls
Melt the butter in a medium sauce pan, allow to cool before adding buttermilk, pineapple juice and brown sugar. 

Meanwhile, in the bowl of your mixer, combine 3 3/4 cups of flour, yeast, salt and ground ginger.

Using the paddle attachment, turn the mixing speed on low and slowly pour in the wet ingredients. Continue mixing while adding the 2 eggs and egg yolk.


A sticky dough will begin to form. Switch to the hook attachment and knead the dough for 7-8 minutes, adding 1/4 cup more of flour if necessary. Do note that this is a very sticky dough, so don't add any more than 4 cups of flour total!

Once the dough has been kneaded, form into a ball and place in a large metal or glass bowl that has been lightly greased. Cover with a clean towel or plastic wrap, turn OFF your oven, place inside and allow to rise for about 1 to 1 ½ hours or until doubled in size. I use this trick all the time to speed up the rising time.

While the dough is rising make the pineapple curd, pineapple caramel and the pineapple cream cheese frosting. 
Pineapple Curd
Add pineapple juice, sugar, and egg yolks to the double boiler.

In a large stainless steel bowl or any heatproof bowl, combine the egg yolks, juice, sugar, and salt. Whisk until well combined.

Set the bowl over a saucepan of simmering water and cook, stirring constantly, until the mixture thickens. It should be consistency of regular yogurt. This can take up to 10 minutes depending on the temperature of the simmering water.

Remove from heat. If necessary, strain the curd through a fine mesh sieve to remove bits of egg that may have scrambled.

Stir in the butter until it is fully melted and mixed in.

Cover the curd with plastic wrap. Make sure the plastic wrap is touching the surface of the curd to prevent a skin from forming. Refrigerate until cold. The curd will thicken as it cools.

The curd will keep for up to 10 days stored in an airtight container in the refrigerator.
Pineapple Caramel
Add drained pineapple and sugar to a saucepan.

Bring to a boil and watch carefully.

Sugar will start to melt and then turn and light amber color.

Stir occasionally as mixture thickens and turns to a deep golden color.
Pineapple Cream Cheese Frosting
Place cream cheese in a mixing bowl. Beat until soft.

Add sugar, continue to beat.

Add pineapple juice a few tablespoons at a time.
Assembly and Baking
Once the dough has doubled, remove and gently press dough into a rectangle.

Spread with pineapple caramel and pineapple curd. Roll and seal.

Using dental floss cut the roll into 12 equally sized rolls.

Place them into a greased cast-iron skillet. I grease mine with coconut oil.

Generously butter the tops and sides of each roll. Place a clean kitchen towel over top.

Turn OFF your oven and place the covered rolls inside to rise until doubled in size.

Remove the rolls from the oven from the oven.

Increase the temperature to 350℉

Return the risen rolls to the preheated oven, Bake for 20 minutes.

Let cool slightly and add the cream cheese frosting.

Remove from the oven. Another option is to skip brushing them with the egg wash and bake them, then brush them with melted butter once out of the oven.

Alternatively, you can add a glaze made from powdered sugar and pineapple juice to the sweet rolls. (See notes for amounts)
Notes
Pineapple Glaze: 
1 cup of confectioners sugar + 2 to 3 tablespoons of pineapple juice. 
Nutrition
Calories:
550
kcal
|
Carbohydrates:
80
g
|
Protein:
8
g
|
Fat:
22
g
|
Saturated Fat:
12
g
|
Cholesterol:
176
mg
|
Sodium:
285
mg
|
Potassium:
190
mg
|
Fiber:
2
g
|
Sugar:
46
g
|
Vitamin A:
800
IU
|
Vitamin C:
6.9
mg
|
Calcium:
60
mg
|
Iron:
12.9
mg
SaveSave
SaveSave
SaveSave
SaveSave
SaveSave
SaveSave
SaveSave
SaveSave
SaveSave
SaveSave
SaveSave
SaveSave
SaveSave
SaveSave
SaveSave
SaveSave
SaveSave
SaveSave
SaveSave
SaveSave
(Visited 241 times, 1 visits today)