There is nothing like a warm bowl of these maple pumpkin spiced oats to get you in the mood for crisper weather. This bowl of warm pumpkin-spiced deliciousness is vegan and gluten-free.
I love everything Pumpkin!
After working on my Pumpkin Pie Tarts (that will be on the blog later this Fall), I had some extra pumpkin puree leftover. I really hate to waste food. Being a food blogger there is a lot of cooking that happens - and a lot of leftovers. I am always trying to find ways to use up anything that I can.
These oats were the perfect vehicle for my leftover pumpkin puree. As I was making them it occurred to me that this recipe would also work well in a slow cooker. With holidays coming and family in town, it is great to be able to make something easy that doesn't leave you trapped in the kitchen. Imagine how good it would smell, too!
I haven't tried these in an Insta-pot yet but I would love to hear if anyone does try these in theirs. If you do leave a comment below and let us know.
I recently fell in love with Runamok maple syrup.
I picked up some of this maple syrup before we headed out on our last camping trip. We drizzled it in on the amazing Kodiak protein pancakes we made. Yum! It's also absolutely fantastic in these pumpkin oats. (Now, I'm in the mood for pumpkin pancakes, too!)
It's been almost a year!
Some of the very first recipes that I posted right here on the blog, were pumpkin recipes. I hope you will check them out! It's kind of crazy to think that it's coming up on a year that I have been food blogging. Here is the first post I did on the blog. My how much better the photos are now. 😀
I've always wanted to share my love of cooking with the people around me. Over the years I'd started to blog a few times but just couldn't find the inspiration to keep at it. This time I just went all-in. I decided that if I totally failed there were only going to be maybe 2 followers as witnesses. I could handle that. This year, I've learned so much and am only hoping to get better. I hope you will stick around and see what my second year brings.
In the meantime – check out my other pumpkin recipes: buttermilk pumpkin donuts and the most amazing pumpkin spice soup.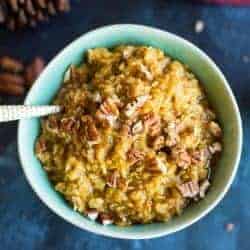 Maple Pumpkin Spiced Oatmeal
Full of Fall flavor. These oats are vegan, gluten-free and you can also make them in your slow- cooker.
Ingredients
Toppings
chopped pecans

maple syrup

flaked unsweetened coconut
Instructions
Bring water, salt, and pumpkin puree to boil in a medium saucepan.

Add oats, return to a boil, then reduce heat to simmer.

Add pumpkin pie spice, maple syrup, and coconut milk.

Simmer for about 10 minutes, stirring occasionnaly until liquid is absorbed and oats are desired tenderness.

Remove from heat, stir in vanilla.

Serve and top with you desired toppings.
Notes
Slow cooker for a crowd: These can made in a slow cooker. If you are cooking for a crowd. Double or triple the recipe. Add all ingredients to a slow cooker and then cook on low for 2 hours.
Tips- cook the night before and just reheat in the morning on low.
Nutrition
Serving:
1
cup
Calories:
367
kcal
Carbohydrates:
66
g
Protein:
13
g
Fat:
5
g
Sodium:
303
mg
Fiber:
10
g
Sugar:
10
g
Calcium:
74
mg
Iron:
3.9
mg
(Visited 163 times, 1 visits today)