💖💗💕💞💘 Nothing says "I love you!" more than homemade crunchy butter toffee and decadent rum truffles on Valentine's Day 💞💓💕💗💖
Jump to Butter Toffee Recipe  💘  Jump to Truffle Recipe
Both of these recipes are WAY easier than you think. With just a few ingredients you can give all of the loved ones on your Valentine list a super-special sweet treat.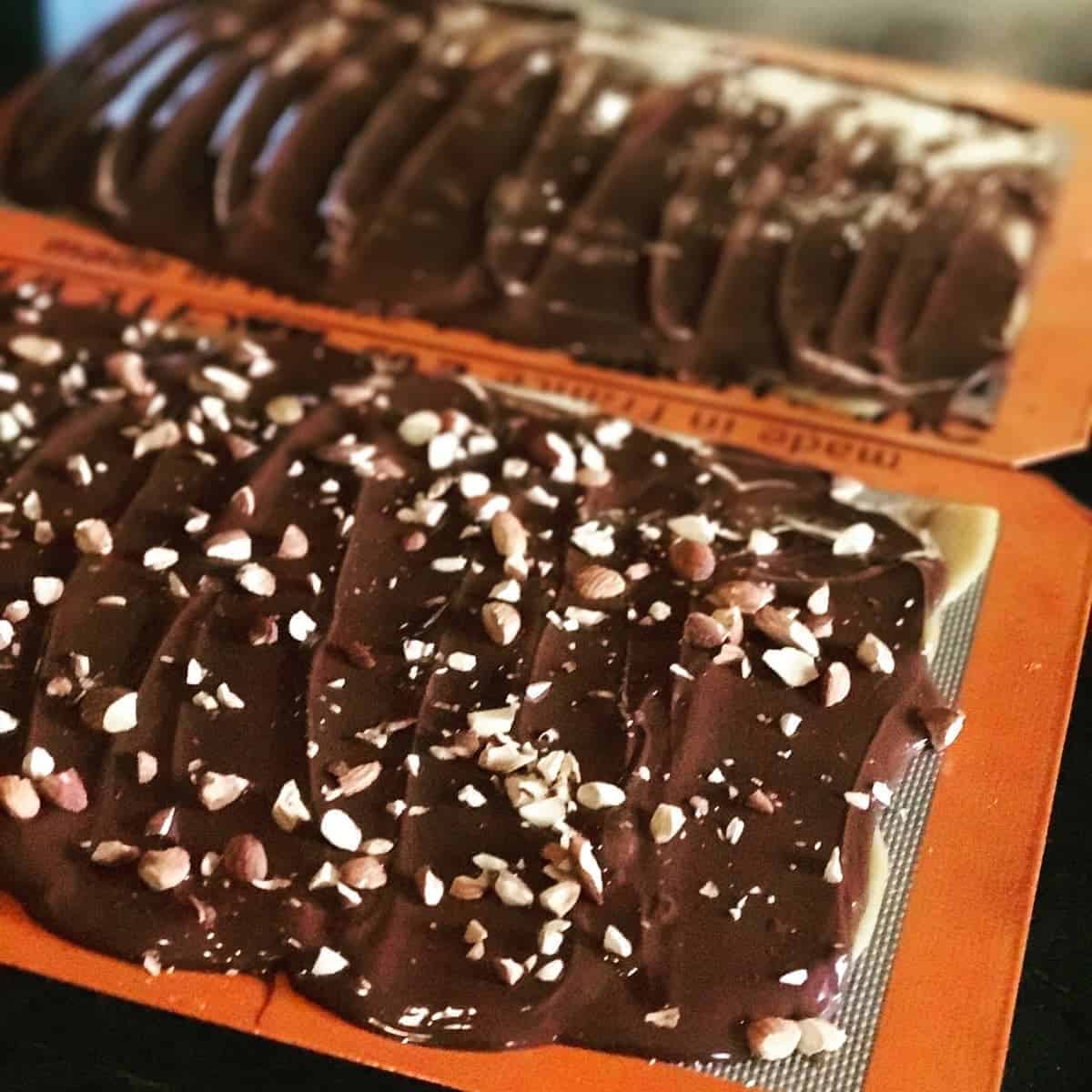 With January wrapping up, and February right around the corner, this year is already speeding by. It's a reminder to stop and cherish the good things while you can, including occasional bites of really delicious, rich and decadent sweets. I have a policy with sweets and baked goods alike: they have to be worth it! I am not going to waste my time with some store-bought cookie or pie. I am not usually a sweet eater, but when I do eat something sweet I make sure that it is a worthwhile experience. It needs to be special. This toffee is that special, it is sooooo good and totally worth it. It only has a few ingredients, so quality really counts here – I always use the highest quality butter I can find, usually European and, of course, unsalted. Chocolate… my favorite brand of baking chocolate is Guittard, and for this recipe I use the 70% cocoa.
Butter Toffee with Fleur de Sel
This crunchy butter toffee slathered with bittersweet chocolate and a sprinkle of fleur de sel is a flavor and texture heaven.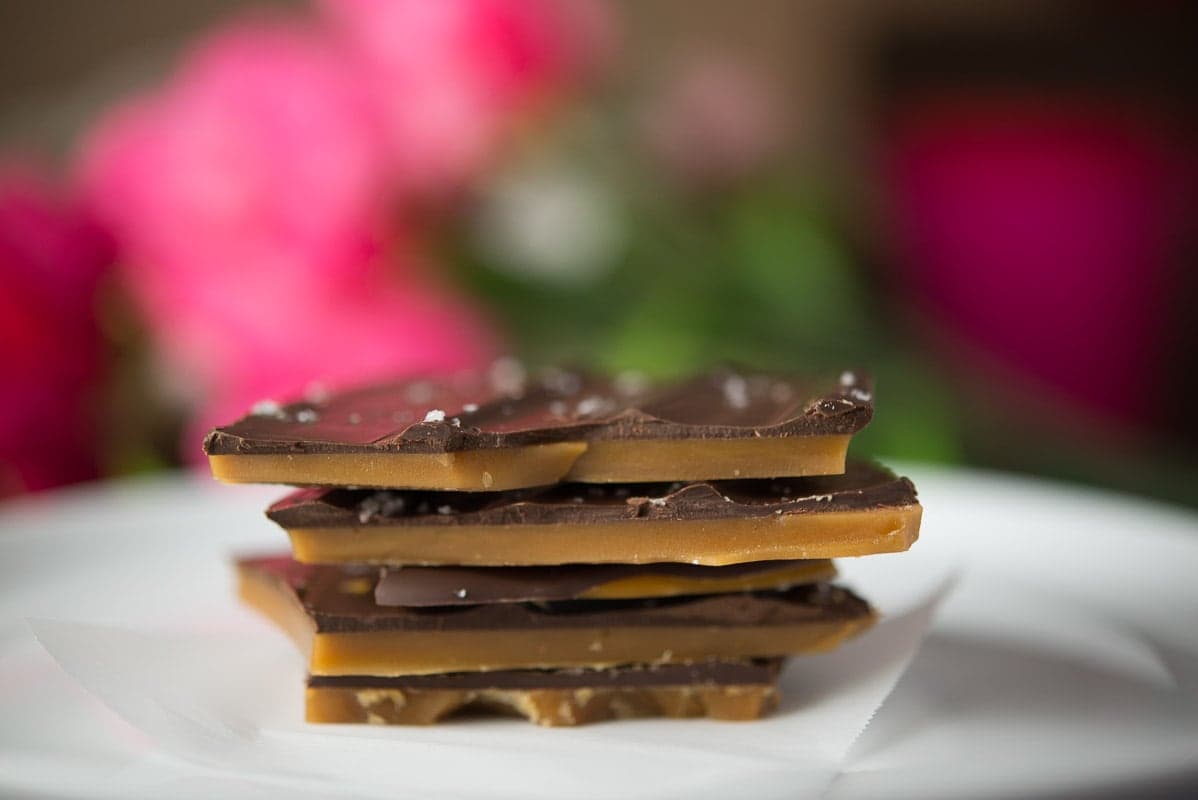 Butter Toffee with Roasted Almonds and Fleur de Sel – The Traditional
I love nuts so this is my favorite version. The roasted almonds with the deep, dark chocolate and a little fleur de sel is what I picture when I imagine the perfect toffee experience. Just imagine this over a big bowl of really good ice cream. 🙌 Do you need anything else in life?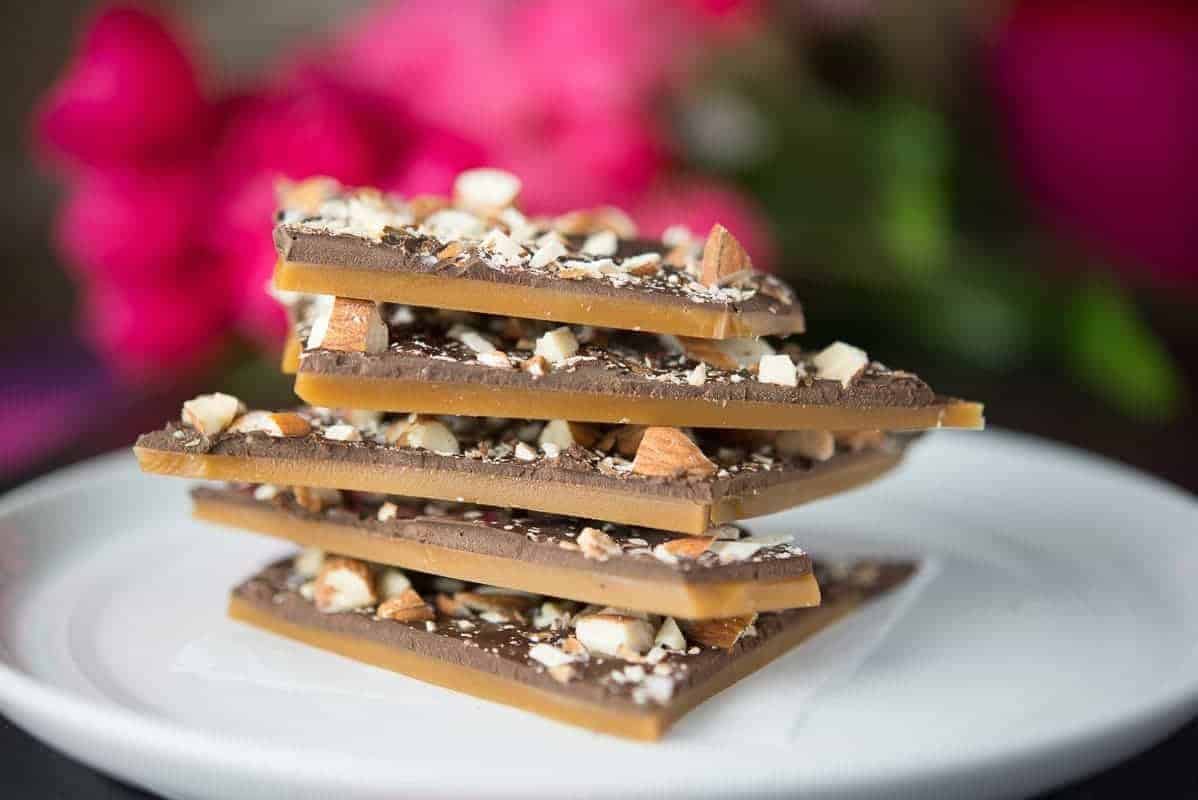 I can't necessarily say these are my recipes. Toffee and caramel are kind of a science so the ingredients don't vary much. Again, the quality of the ingredients is what determines the amazetasticness of this toffee in the end.  Both of these recipes are super simple and will make you look like a classically trained confectioner, but be sure you read through the entire recipes before getting started. For the toffee you will need to make sure that you have all of the baking sheets set up and lined with a silicon baking mat
or a really good parchment (not waxed paper).
For the toffee there is one special piece of equipment you will need: a candy thermometer (this is the one I use). Luckily it is relatively inexpensive, plus it has a clip on the back so that it stays in place, and is easy to read. After everything is added to that pan you will bring it to a boil, and then reduce the heat slightly. Continue to heat while stirring constantly, and the sugar and butter will start to achieve a nice amber color. Keep stirring and watching the temperature closely — once that thermometer hits 298℉ remove the toffee immediately from the heat! Add the vanilla quickly and then pour and spread.
Butter Toffee
Crunchy butter toffee, topped with bittersweet chocolate.
Ingredients
16

ounces

unsalted butter

16

ounces

granulated sugar

3

fl. ounces

water

1

teaspoon

salt

1

teaspoon

vanilla extract

23

ounces

chocolate chips (2 packages)

I like extra dark Guittard
Optional Toppings
16

ounces

roasted and chopped nuts

16

ounces

crushed candy canes

fluer de sel
Instructions
Prepare two baking sheets, line with a silicone baking mat or good parchment paper.

Combine butter, sugar, water, and salt in a heavy bottomed saucepan. Bring to a boil, stirring constantly.

Cook over moderate heat, stirring gently, until candy thermometer registers exactly 298 ℉.

Remove from heat and immediately stir in vanilla until well combined.

Working quickly, pour ½ the mixture onto each prepared baking sheet. Use a heatproof rubber spatula or offset spatula to spread quickly before the toffee sets. Spread thin.

Allow toffee to cool completely. Blot to remove excess oil from the surface.

Melt chocolate in a double boiler.

Pour ½ of melted chocolate over each piece of toffee, spread and immediately sprinkle with topping.

Allow to set, then break into bite-size pieces.
Recipe Notes
Store in an airtight container. 
Rum Truffles
This recipe could easily be a post on it's own and I plan to do that in the future.  However, I really wanted to share this recipe in time for Valentine's Day, just in case toffee really isn't your thing. These truffles are super easy and Vegan/Paleo adaptable – just swap out the cream for full-fat coconut milk.
The awesome thing about these truffles is that you can add different flavors to the filling to make them your own. My two favorites are 1. rum and 2. raspberry flavored. I hope you are able to have some fun making and eating these, and they also make great gifts! I more variations of these that I will share with you in the future as I get more and more recipes posted. This is one of those recipes that I love, because it serves as a basic truffle recipe and then you can let your imagination go crazy!
So whatever you do this Valentine's Day… share some love, spread some happiness, and make one of these treats.  💘💝🙌
Rum Truffles
Delicious, rich, chocolatey bites of happiness.
Ingredients
Center
16

ounces

finely chopped chocolate or chocolate chips

Recommend: Guittard 70% cocoa

1

cup

heavy cream
Optional Flavorings (See notes for options)
Coating
23

ounces

finely chopped chocolate or chocolate chips
Instructions
Place 16 ounces of chocolate in a large glass bowl.

Heat cream in a sauce pan until it is very hot. Pour over chocolate.

Stir until the chocolate is melted. (If chocolate doesn't melt completely it can be microwaved for 30 seconds at a time or placed over a double boiler until melted.)

Add rum (or other optional flavoring) and stir until everything is well-combined.

Pour chocolate onto 9" x 13" baking sheet. (Can be lined with parchment or plastic wrap.) Refrigerate for about 60 minutes, until the mixture is thick and "scoopable."

When the mixture is cool enough to hold its shape, scoop small balls of the chocolate onto a baking sheet that's been lined with parchment paper. For perfectly round truffles, quickly roll each one between the palms of your hands. You have to do this quickly, or the chocolate will become too soft.

Freeze rolled balls for about 60 minutes, covered, until they are firm and very cold.

Heat the 23 ounces of chocolate over a double boiler until melted and smooth.

Remove frozen chocolate centers from the freezer. Drop into melted chocolate one by one. Make sure each one is evenly coated. Using a fork or chocolate dipping tool, remove and place on parchment paper. Cool completely.

Optional: as you make them, sprinkle each truffle with the garnish of your choice. (chopped nuts, toffee, jimmies, etc.)
Recipe Notes
Alternate Flavors: You can use different flavorings for the centers, but you should use no more than 3 tbsp of liquid. When using extracts use only ½ tbsp at the most, some flavorings are stronger than others. 
Some suggestions:
½ tbsp of raspberry flavoring + 2 ½ tbsp raspberry jam
½ tbsp orange oil + 2 ½ tbsp orange liqueur
3 tbsp of really strong espresso
Vegan Adaptable: Use full-fat coconut milk in place of cream.