How to Make Butter Toffee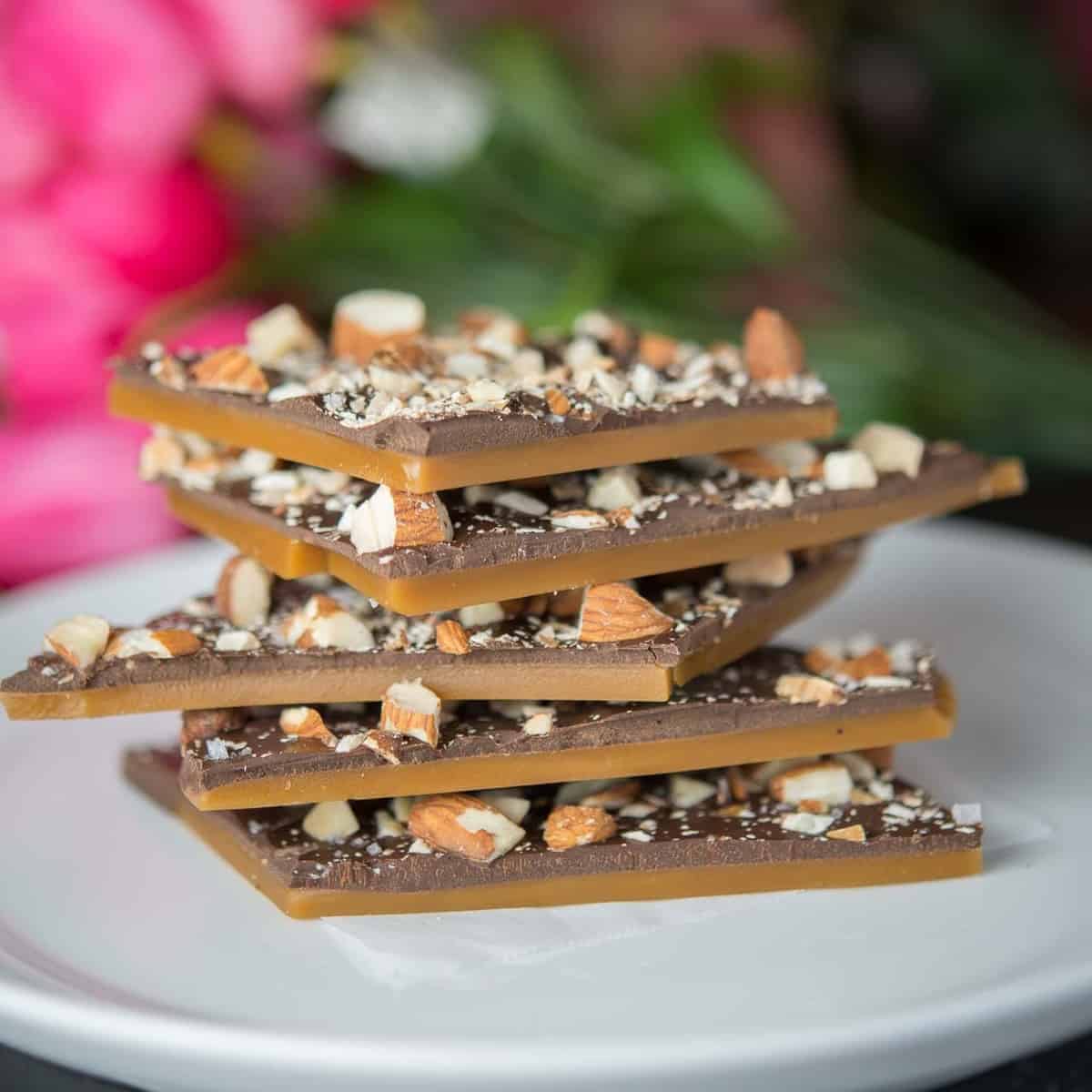 Recipe
Comments
Save
Go to Collections
This post may contain affiliate links. Please read my
disclosure policy.
Looking for a delicious way to show your love? Look no further than homemade butter toffee! This sweet treat is surprisingly easy and incredibly versatile – it's the ideal gift for any occasion, from Valentine's Day or Christmas to birthdays, anniversaries…or even just because you care.
Surprise someone special today with this heart-warming crunchy delight.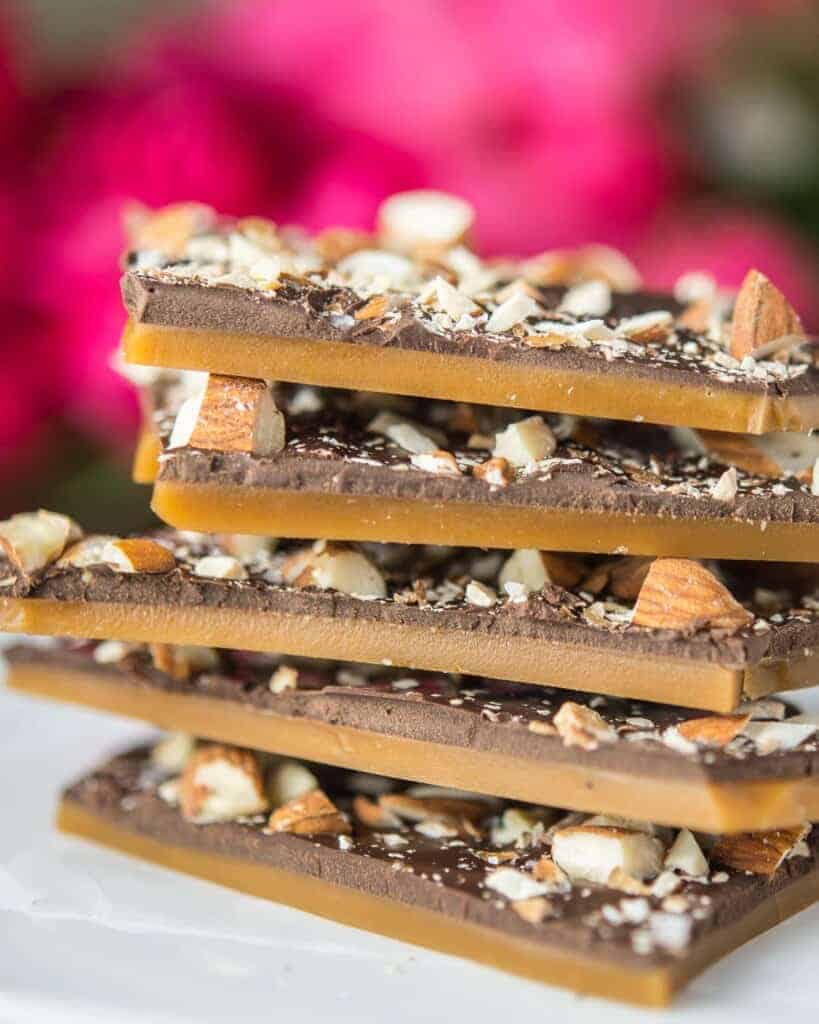 I have a policy with sweets and baked goods alike: they have to be worth it! I'm not going to waste my time with some store-bought cookie or pie.
I'm not usually a sweet eater, but when I do eat something sweet and decadent, I make sure that it is a worthwhile experience. It needs to be special.
Just like my Rum Truffles or Coconut Truffles, this homemade butter toffee is gorgeous and delicious. With a cooking time of only 30 minutes, it's a thoughtful, fancy gift that doesn't require hours of effort.
Recipe Notes
Toffee only has a few ingredients, so quality really counts here – I always use the highest quality butter and chocolate that I can find.
Ingredients You'll Need
Butter. I usually use European butter because it has a higher butterfat content. Of course, it should be unsalted so that you can control any salt flavor. My favorite brands are Pulgra and Kerrygold.
Chocolate. My favorite brand of baking chocolate is Guittard

(affiliate link)

, and for this recipe, I use 70% cocoa. I find that milk chocolate tends to be a little too sweet for this one.
Sugar. Use granulated sugar. You can also use brown sugar, which gives this toffee even more of a caramelly flavor.
Keto Butter Toffee: You can use monk fruit sweetener if you are watching your carbs. See the recipe notes.
Butter Toffee with Fleur de Sel
This crunchy butter toffee slathered with bittersweet chocolate and a sprinkle of fleur de sel is a flavor and texture heaven.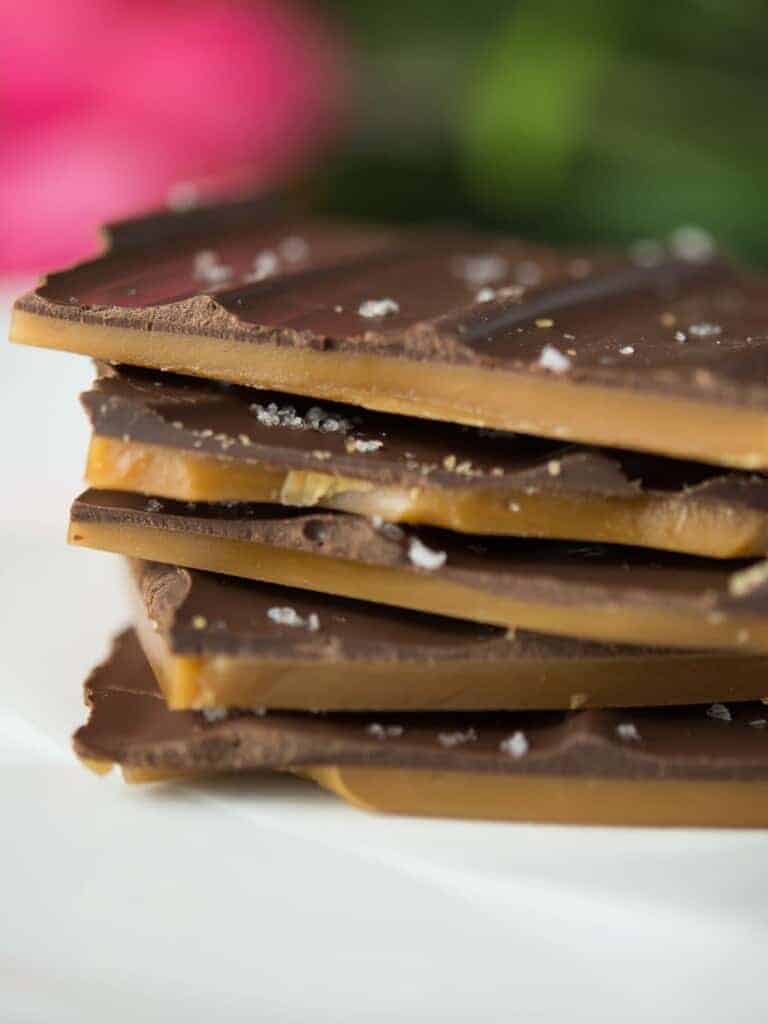 Butter Toffee with Roasted Almonds and Fleur de Sel – The Traditional
I love nuts, so this is my favorite version. The roasted almonds with the deep, dark chocolate and a little fleur de sel are what I picture when I imagine the perfect toffee experience. Just imagine crumbling a few pieces of this crunchy butter toffee over a big bowl of ice cream. 🙌 Do you need anything else in life?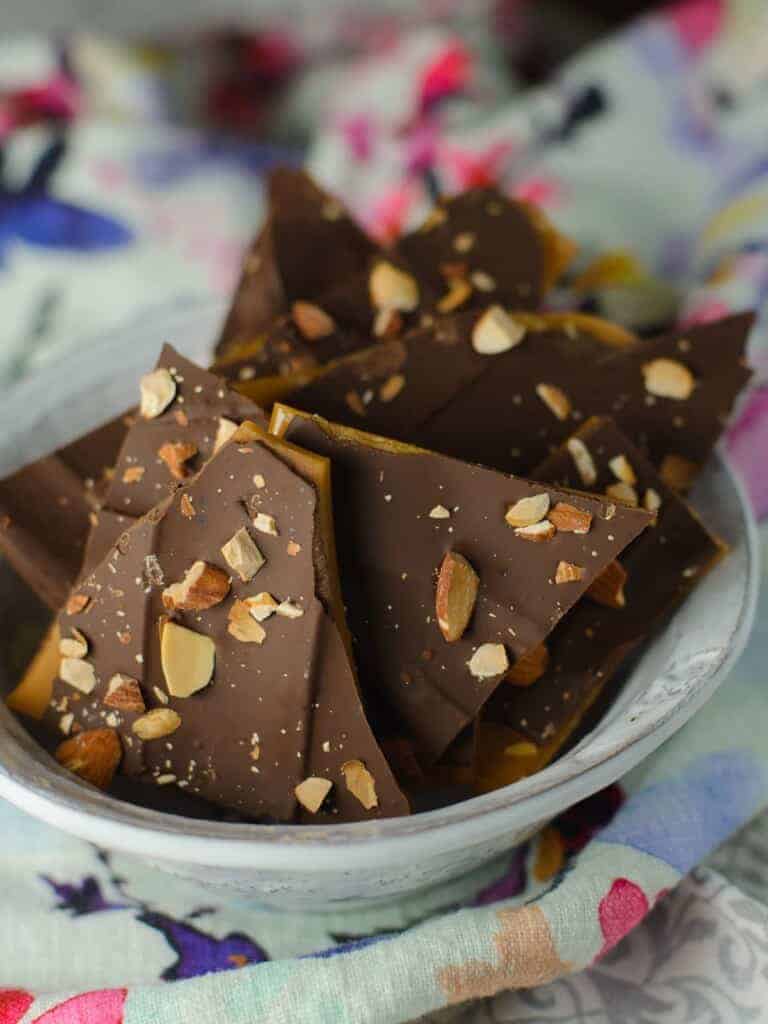 How to make butter toffee
Toffee is a science, so the ingredients don't vary much. Again, the quality of the ingredients determines the amazingness of this toffee in the end.
This butter toffee recipe is super simple and will make you look like a classically trained confectioner, but read through the entire recipe before getting started.
For the toffee, you will need one particular piece of equipment: a candy thermometer (this is the one I use (affiliate link)). Luckily, candy thermometers are relatively inexpensive.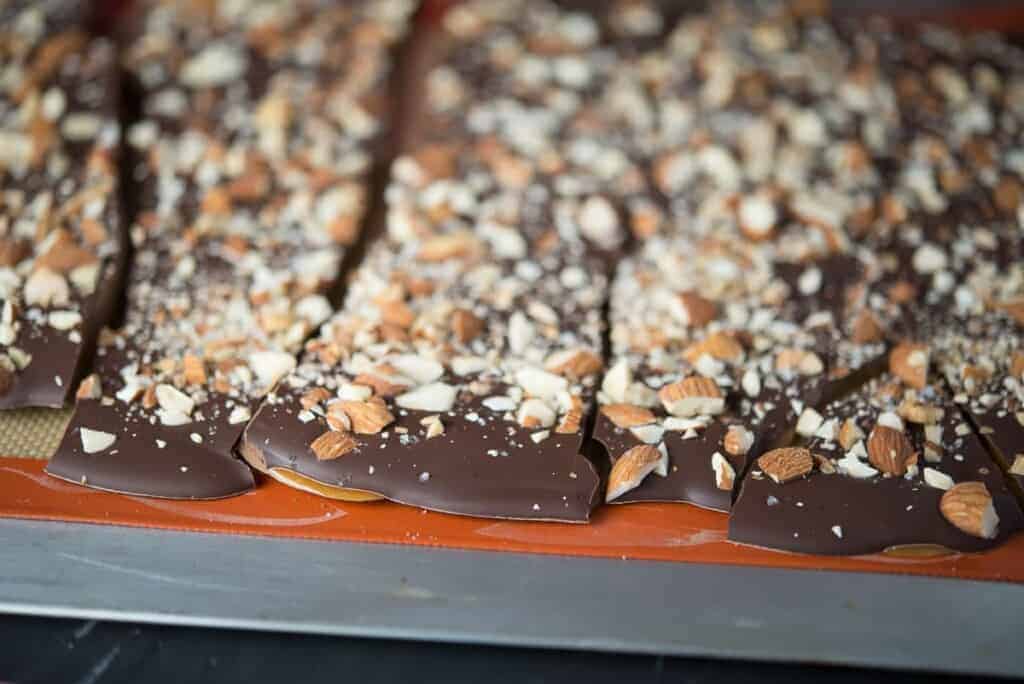 Step-by-Step Instructions
Start by setting up two baking sheets. Each baking sheet should be lined with a silicone baking mat or good parchment paper (not waxed).
Add the butter, sugar, and water to a heavy-bottomed saucepan.
Bring everything to a boil and then reduce the heat slightly. This is the best time to place your candy thermometer in the mixture. The candy thermometer should never touch the bottom of the pan.
Use a whisk (or a wooden spoon, but definitely no plastic) to stir the mixture. Keep it at a low boil. It should be bubbling but not too fast.
Continue to heat until the toffee reaches 298℉.
Quickly remove the toffee, and carefully pour half the mixture onto each baking sheet.
Use an offset spatula to spread the toffee. Let the butter toffee cool until the toffee is completely hard at room temperature. Use a lint-free paper towel to blot off any excess oil.
While the toffee is cooling, melt the chocolate chips. You can melt the chocolate in a double boiler OR by microwaving the chocolate on high for 30 seconds. Stir occasionally.
Pour the melted chocolate over the toffee and spread the chocolate using an offset spatula.
Top with chopped nuts and fleur de sel.
Pictorial Guide
Step-by-step photos for how to make butter toffee:
Step 1. Start by bringing the butter, sugar, and water to a boil. Reduce temperature and insert your candy thermometer. Bring the mixture to 298℉.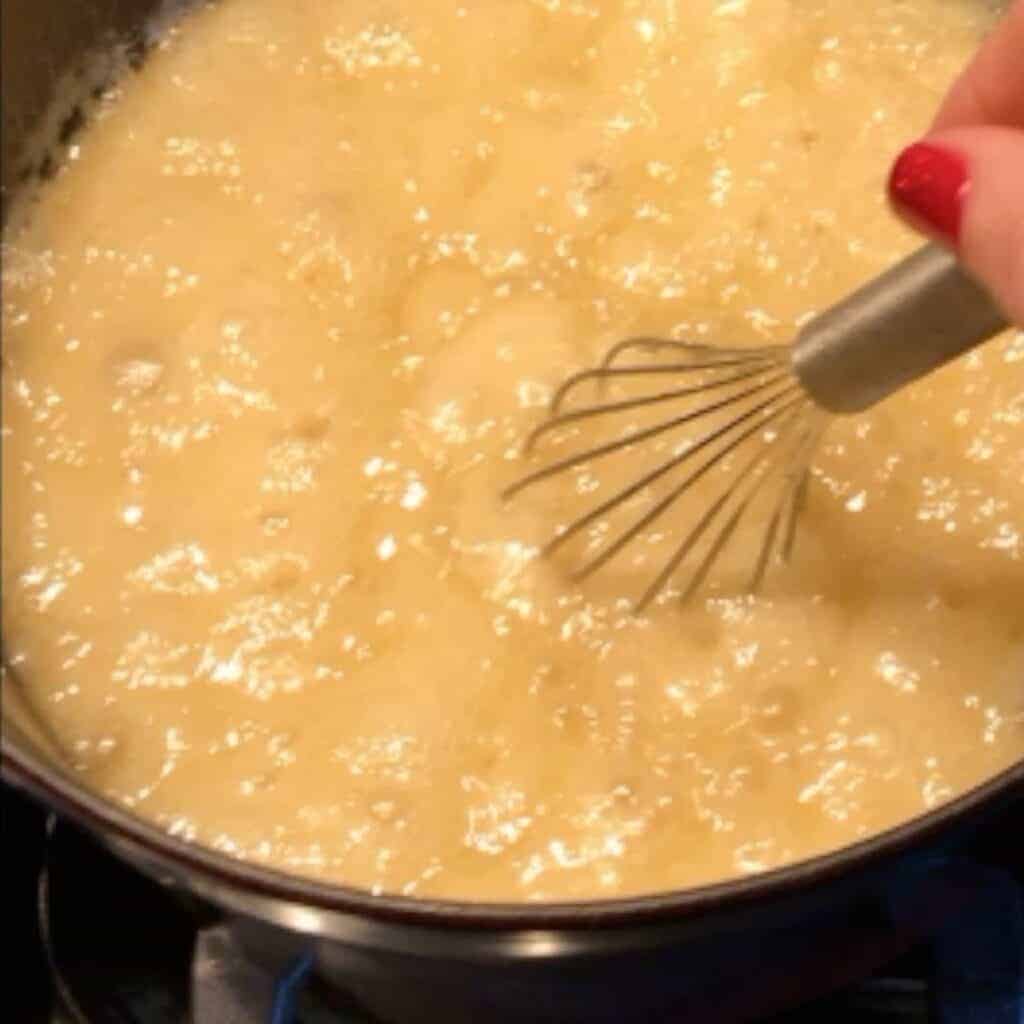 Step 2. Carefully pour the hot butter toffee onto a Silpat. When cool, remove any excess oil by patting with a paper towel or a lint-free kitchen towel.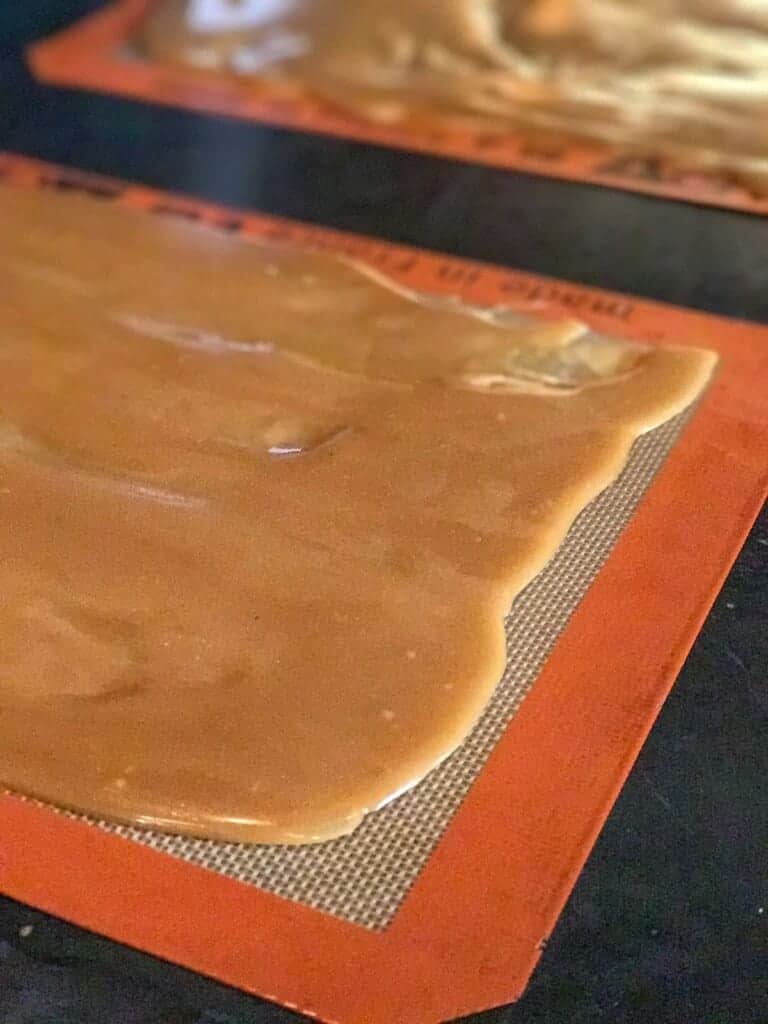 Step 3. Melt chocolate chips. In this photo, I'm using a double boiler to melt the chocolate. You can also use the microwave. The trick is to melt the chocolate slowly and evenly.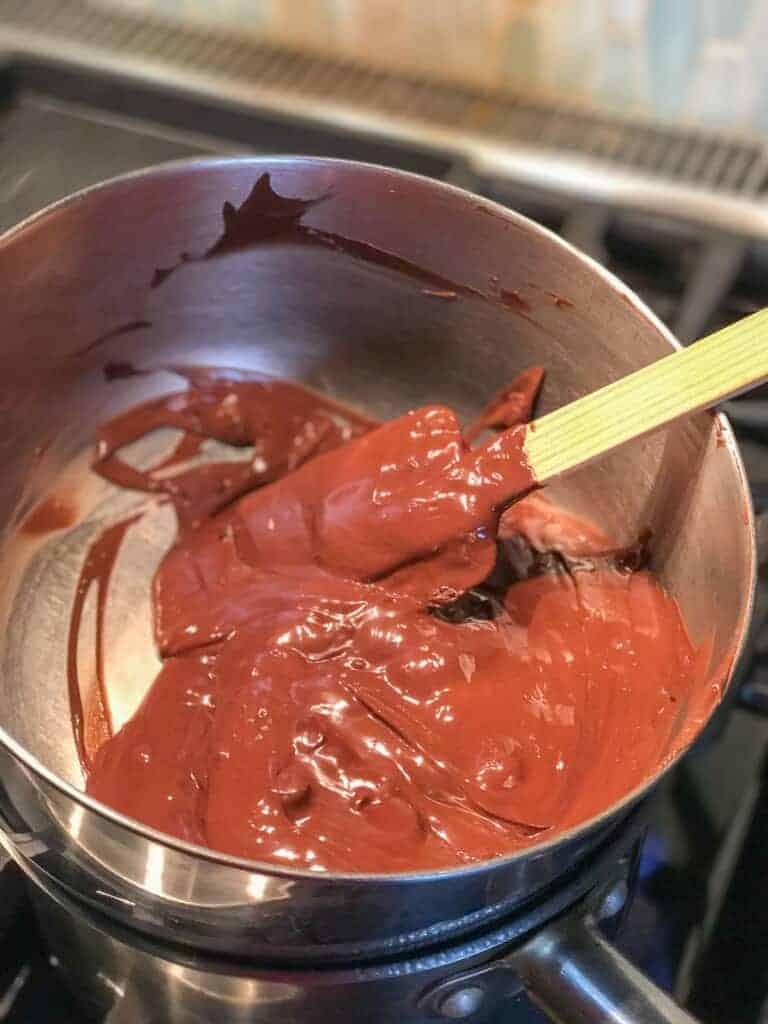 Step 4. Chop and toast the almonds.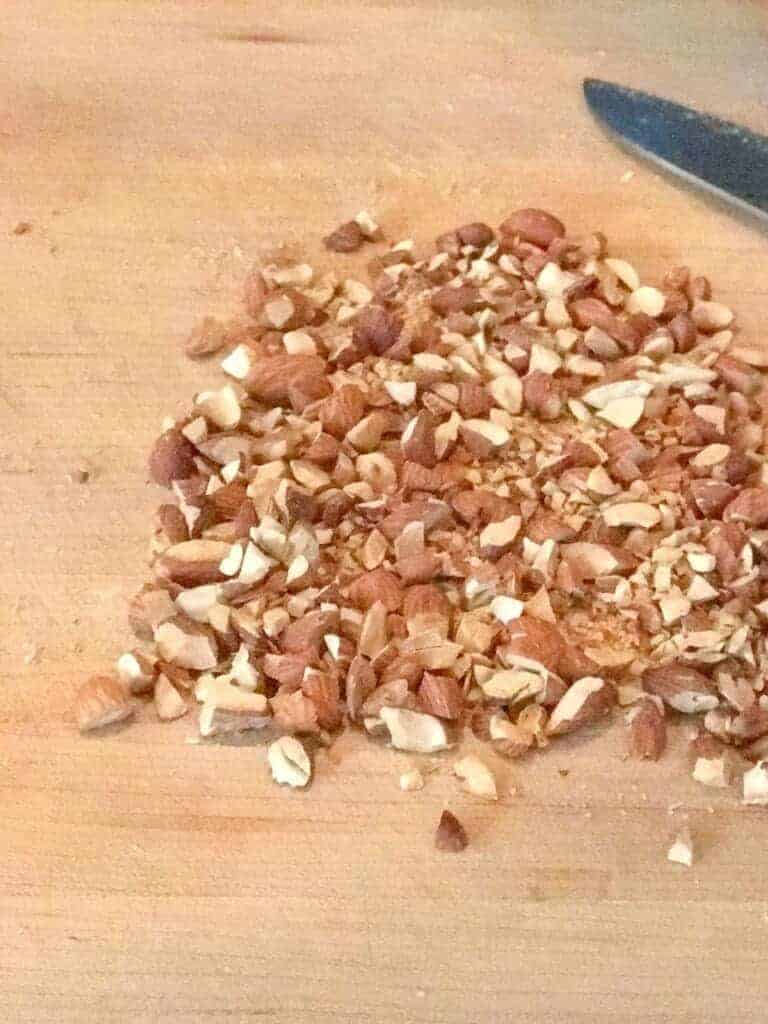 Step 5. Pour on the melted chocolate and spread.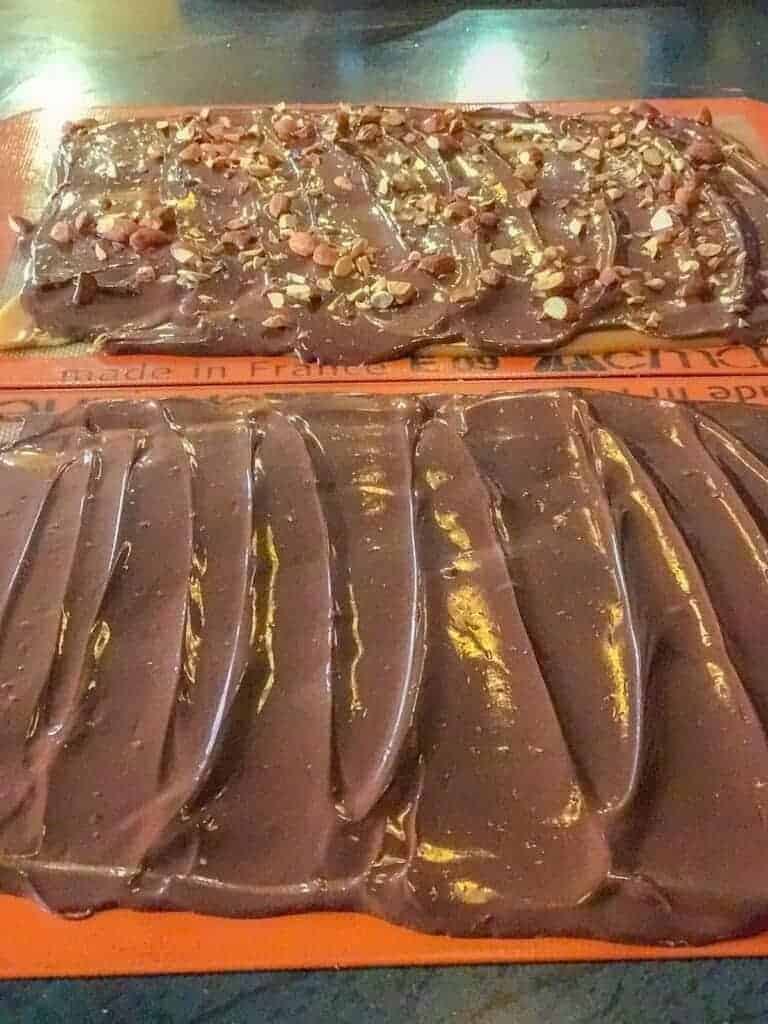 Step 6. Sprinkle with fleur de sel and/or roasted almonds.
Step 7. When the chocolate is completely cool, break the toffee into bite-sized pieces.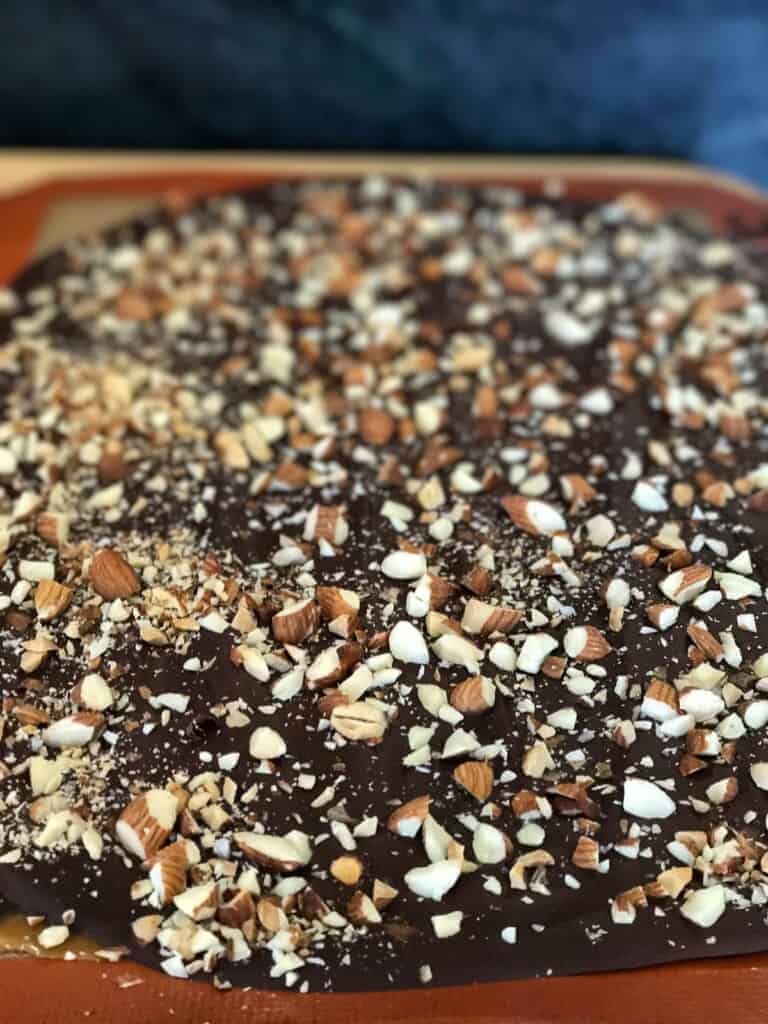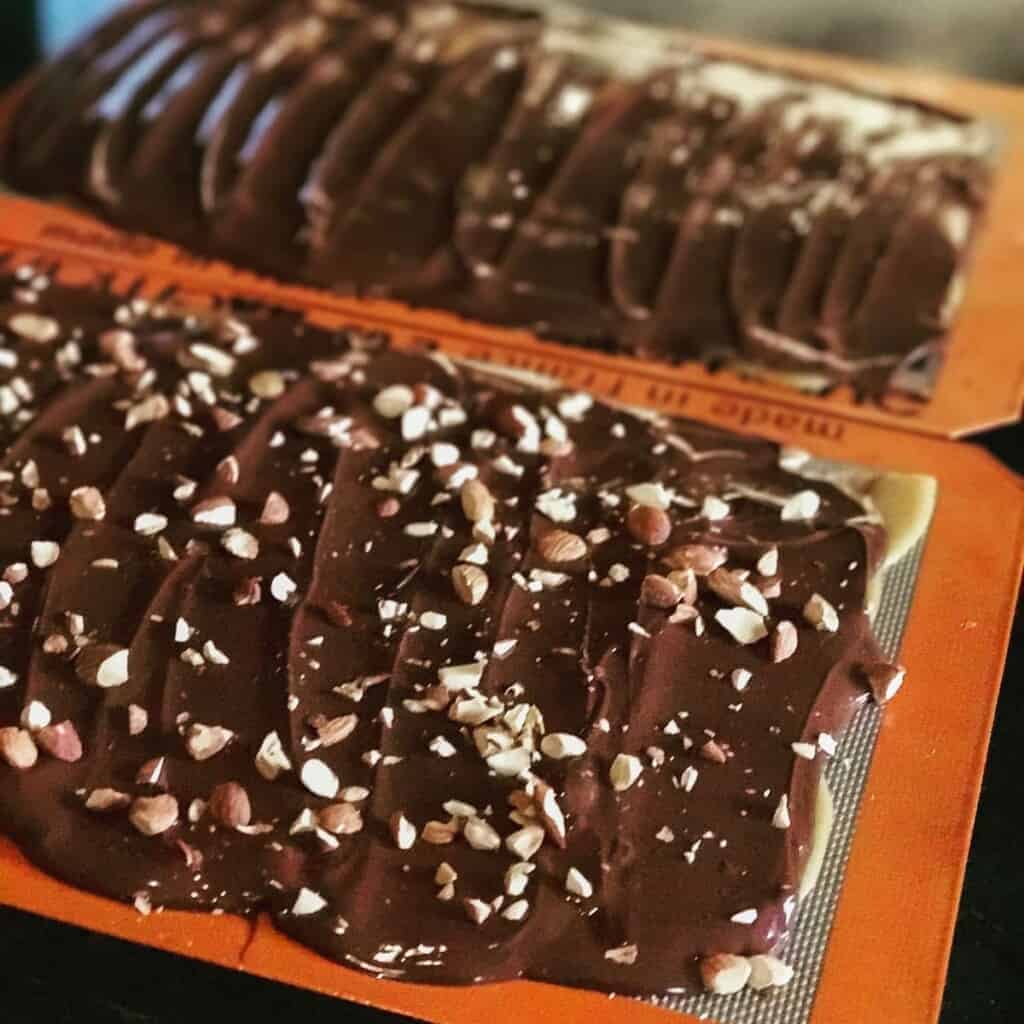 Tips for perfect butter toffee every time
Continue to heat while stirring constantly, and the sugar and butter will start to achieve a nice amber color.
Keep stirring and watching the temperature closely until it reaches the "hard crack" stage.
Once that thermometer hits 298℉, immediately remove it from the heat! Following super-specific temperatures is the secret to awesome candy. If you use monk fruit sweetener, allow the thermometer to hit 300 degrees.
Add the vanilla quickly and then pour and spread.
After the toffee is cool, remove any excess oil with a lint-free paper towel before adding the melted chocolate.
Recipe Variations
Hazelnut Butter Toffee. To make hazelnut butter toffee, simply add about 1 cup of roughly chopped hazelnuts to the butter toffee before pouring it onto the Silpat. In addition, you can add another 1/2 cup chopped hazelnuts to the top.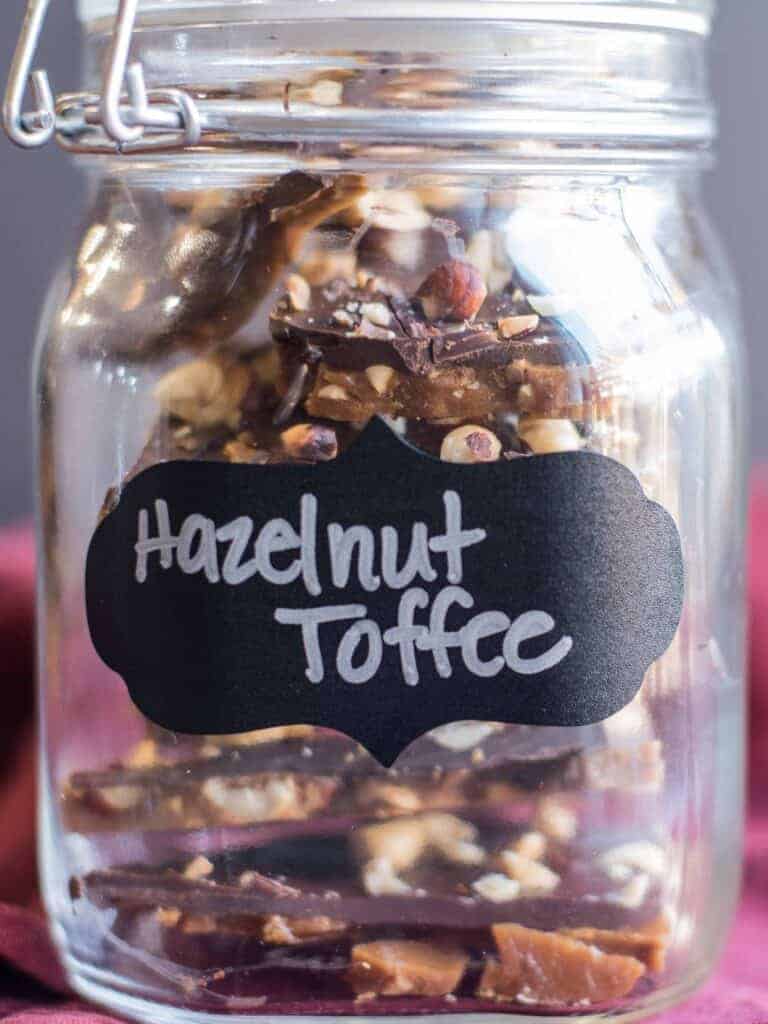 Keto Butter Toffee. Replace the sugar with monk fruit sweetener. I like the Lakanto (affiliate link) brand. Use the golden variety for this recipe.
Thick Butter Toffee. To make a thicker butter toffee layer, line a cake 9×13 cake pan with parchment paper. Add some oil to the parchment to easily remove the toffee after it's cooled.
Other Candy Recipes to Try:
These are the fluffiest, most delicious sugar-free marshmallows. They're made with grass-fed gelatin and zero unhealthy sugars, so they're nourishing. Did you ever imagine that…
Did you try this recipe?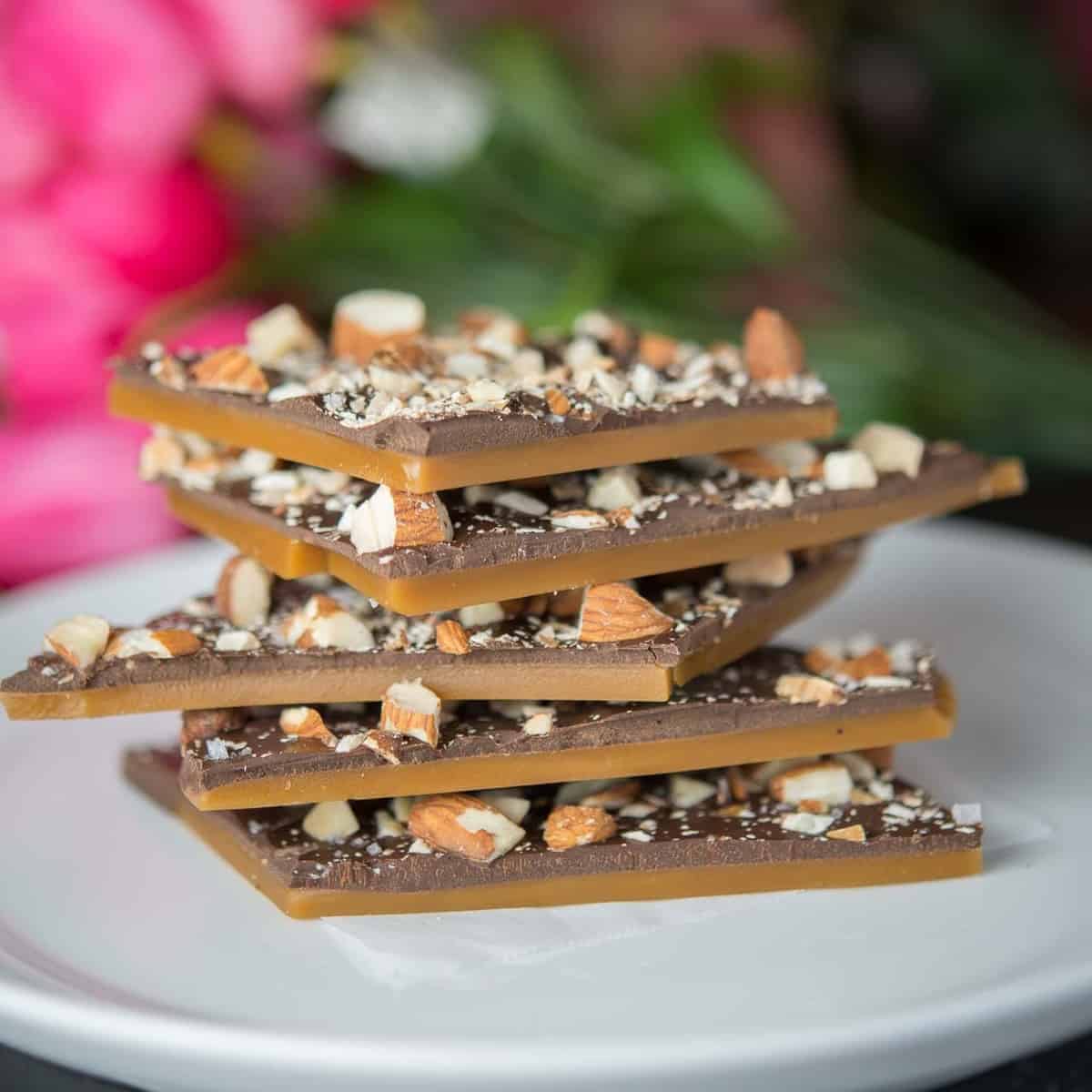 Classic Butter Toffee
Nothing says "I love you!" more than homemade crunchy butter toffee. This recipe is WAY easier than you think. Butter toffee makes the perfect gift for the holiday season, valentine's, birthdays, or just because!!
Ingredients
Optional Toppings
16

ounces

roasted and chopped nuts

16

ounces

crushed candy canes

fleur de sel

(affiliate link)
Instructions
Prepare two baking sheets lined with silicone baking mats or good parchment paper.

Combine butter, sugar, water, and salt in a heavy bottomed saucepan. Bring to a boil, stirring constantly.

Cook over moderate heat, stirring gently, until candy thermometer registers exactly 298℉.

Remove from heat and immediately stir in vanilla until well combined.

Working quickly, pour ½ the mixture onto each prepared baking sheet. Use a heatproof rubber spatula or offset spatula to spread quickly before the toffee sets. Spread thin.

Allow toffee to cool completely. Blot to remove excess oil from the surface.

Melt chocolate in a double boiler.

Pour ½ of melted chocolate over each piece of toffee, spread, and immediately sprinkle with topping.

Allow to set, then break into bite-size pieces.
Laura's Tips + Notes
Variations
Hazelnut Toffee: Add in 1 cup of toasted and chopped hazelnuts to the toffee before you pour it.
Keto: I have made this recipe with Lakanto monk fruit sweetener.
I had really good success with this variation. I let the sweetener get a touch hotter, 300℉.
How to store
Store in an airtight container. Add layers of waxed paper between the toffee if you will be keeping it for awhile.
YOUR OWN NOTES
Sign In to add your own private notes
Nutrition
Calories:
177
kcal
Carbohydrates:
17
g
Protein:
1
g
Fat:
11
g
Saturated Fat:
8
g
Cholesterol:
20
mg
Sodium:
64
mg
Sugar:
14
g
Calcium:
43
mg
Iron:
0.2
mg