My family cannot get enough of this corn salsa recipe. It's great on all your favorite Mexican food like tacos, burritos, and even burrito bowls.
This fresh corn salsa makes the perfect bbq side dish because it goes with everything grilled. You'll love it with grilled chicken or grilled mahi-mahi.
Imagine fresh summer corn, roasted to bring out its sweetness, spicy peppers, and a fresh squeeze of lime. Who needs chips? You'll want to eat this salsa right out of the bowl.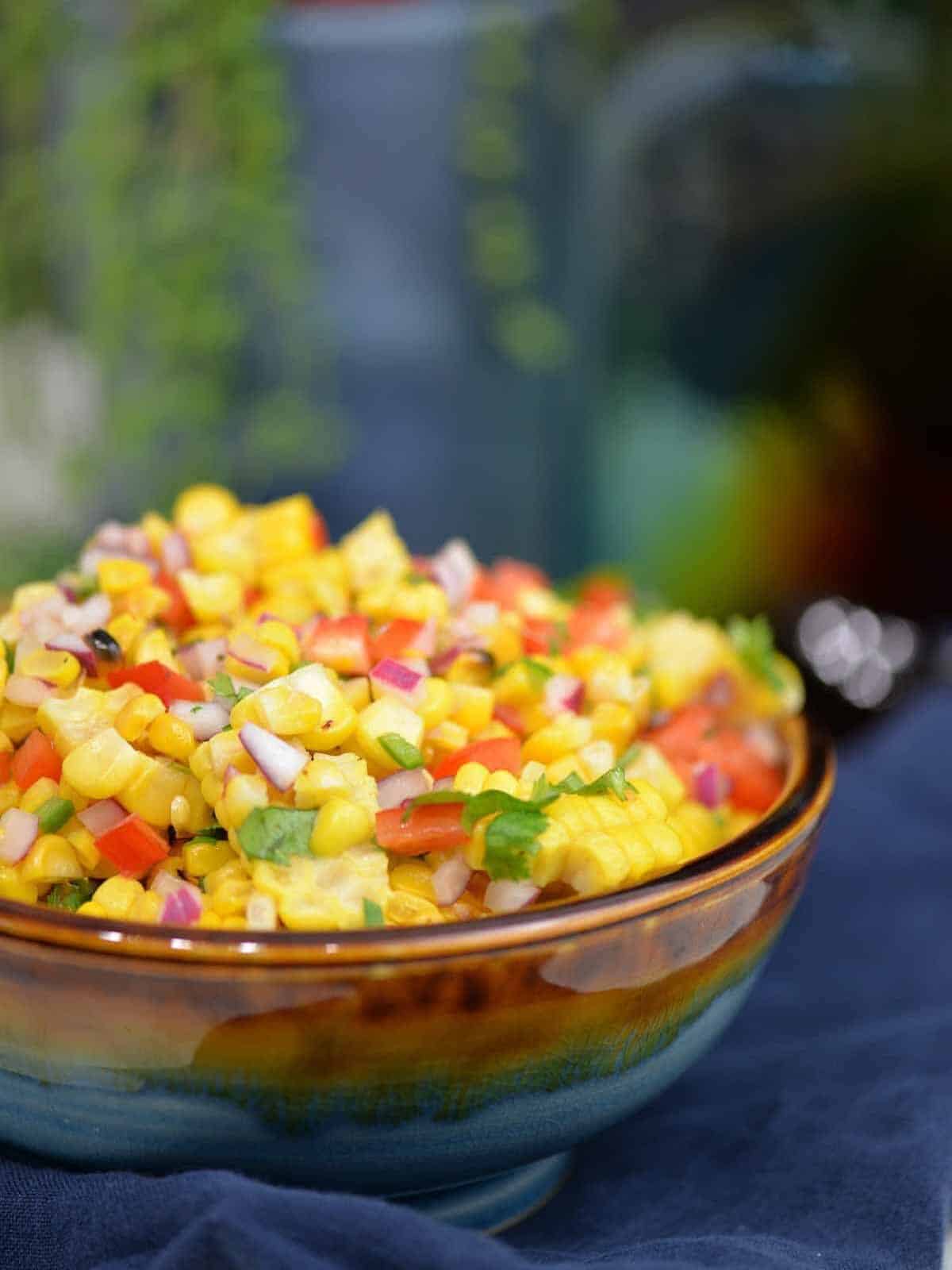 What you'll love about this corn salsa
Fresh: The ingredients in this corn salsa really pop! Serranos lend a kick, but a light one, and everything balances out with the honey and sweet corn.
Versatile: While this salsa is great on tacos and other Mexican dishes, it's also great with fresh fish and grilled chicken! I love to toss it on top of some baked salmon and chickpeas, or chicken and rice with fresh broccoli. It adds the perfect kick to just about any dish!
Recipe Notes
Fresh veggies and herbs give this salsa recipe it's bright flavors. You can serve corn salsa with chips, or on tacos or burritos. Corn salsa also makes a great side dish for cookouts.
What Goes Into Corn Salsa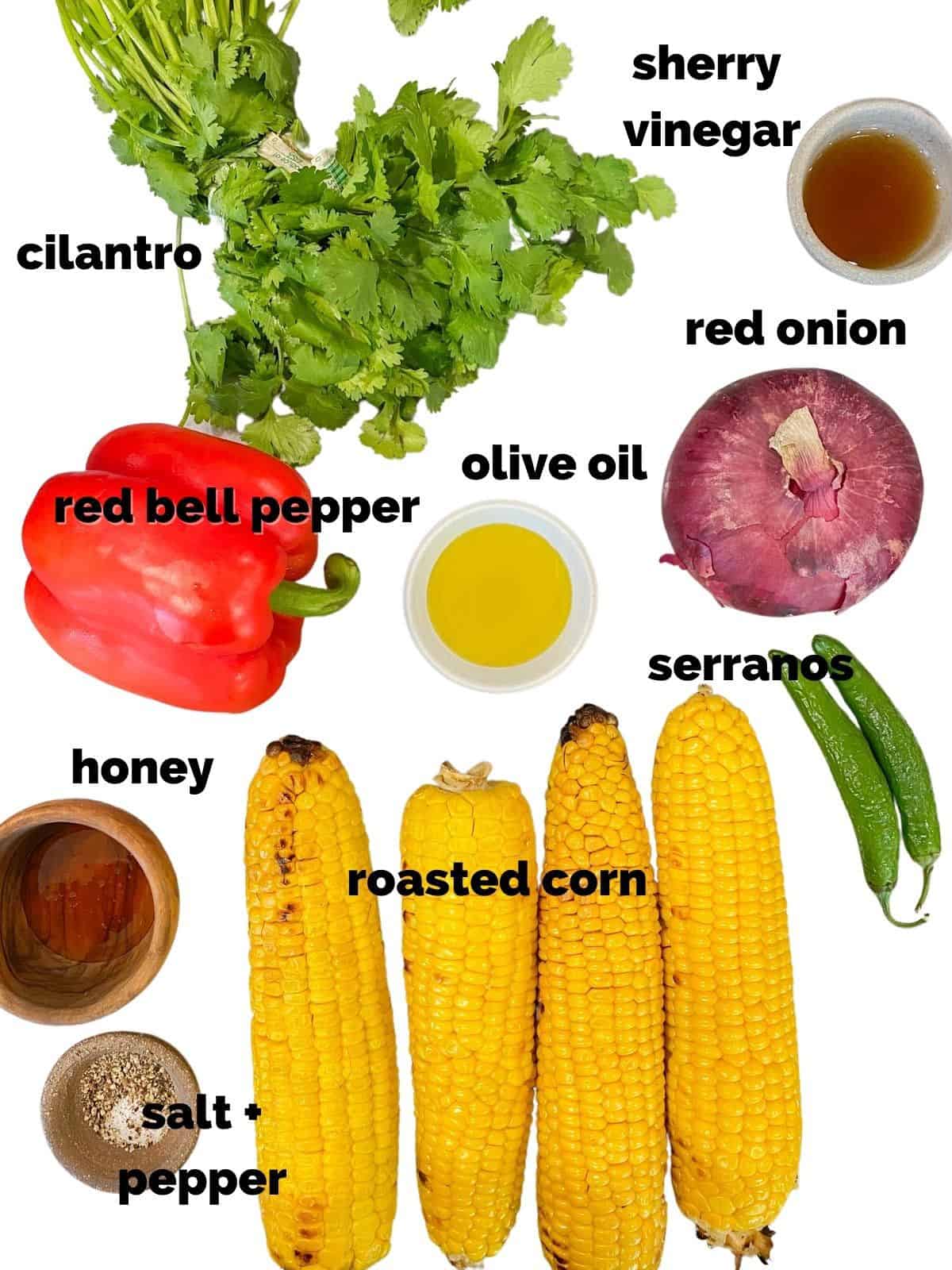 Corn: Use fresh or frozen corn in this recipe. If you are using fresh corn you can use it raw, or for an extra flavor boost, roast, or grill the corn.
Red bell pepper: Red bell pepper adds a sweet crunch.
Serrano peppers: You can substitute jalapeños if you want to have a little less heat.
Red onion: I like to use red onion in corn salsa instead of the traditional white onion.
Cilantro: Fresh chopped cilantro adds an herbaceous bite to this salsa.
Seasoning: Sherry vinegar, lime, honey, cumin, and salt and pepper.
How To Make Corn Salsa
Step 1: Slice and seed the peppers. Finely dice the serrano peppers and add them to a bowl.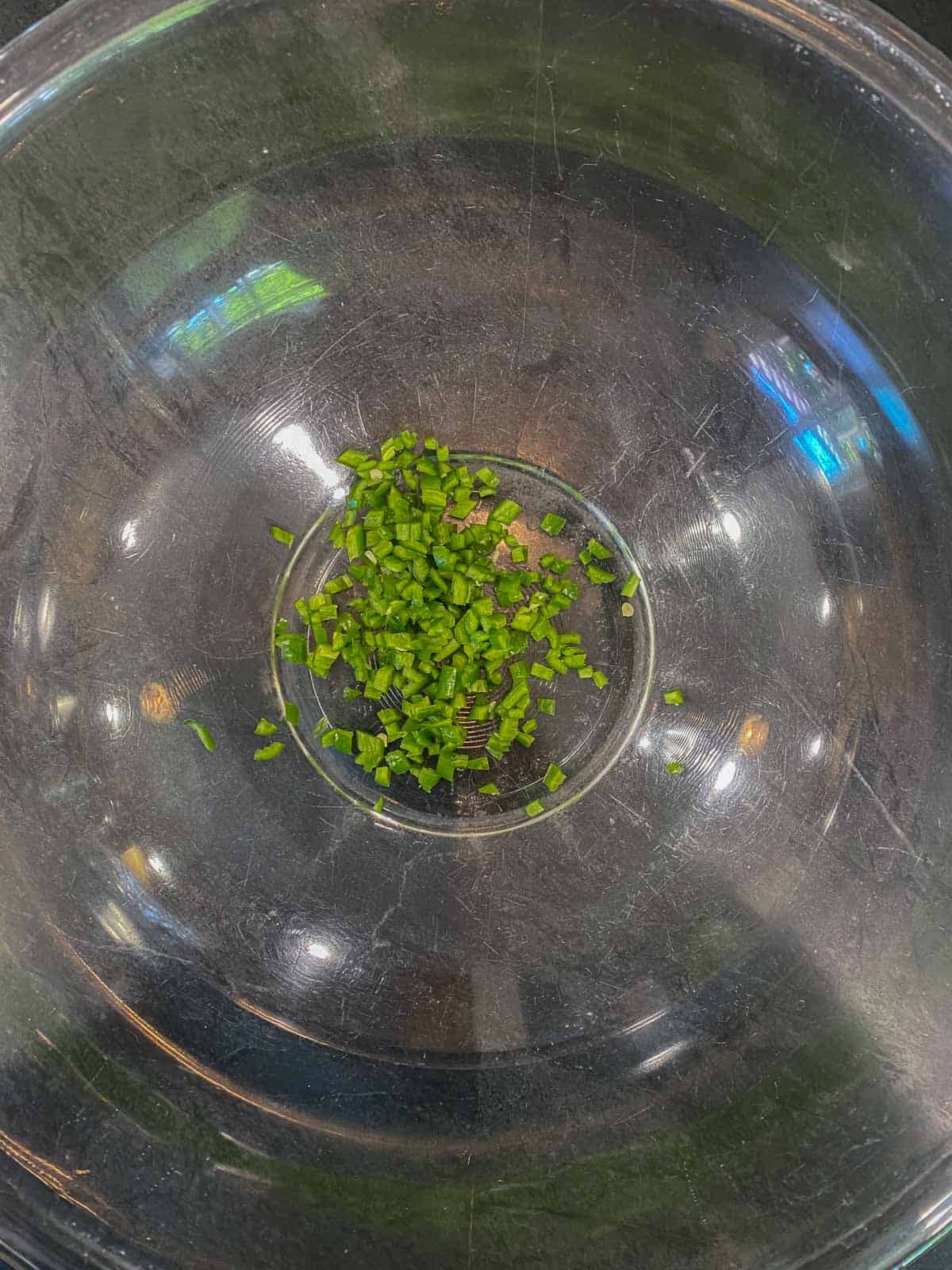 Step 2: Add about ⅓ of a cup of red onion to the bowl. Add a squeeze of lime juice and let the onions and peppers marinade while you cut the remaining veggies.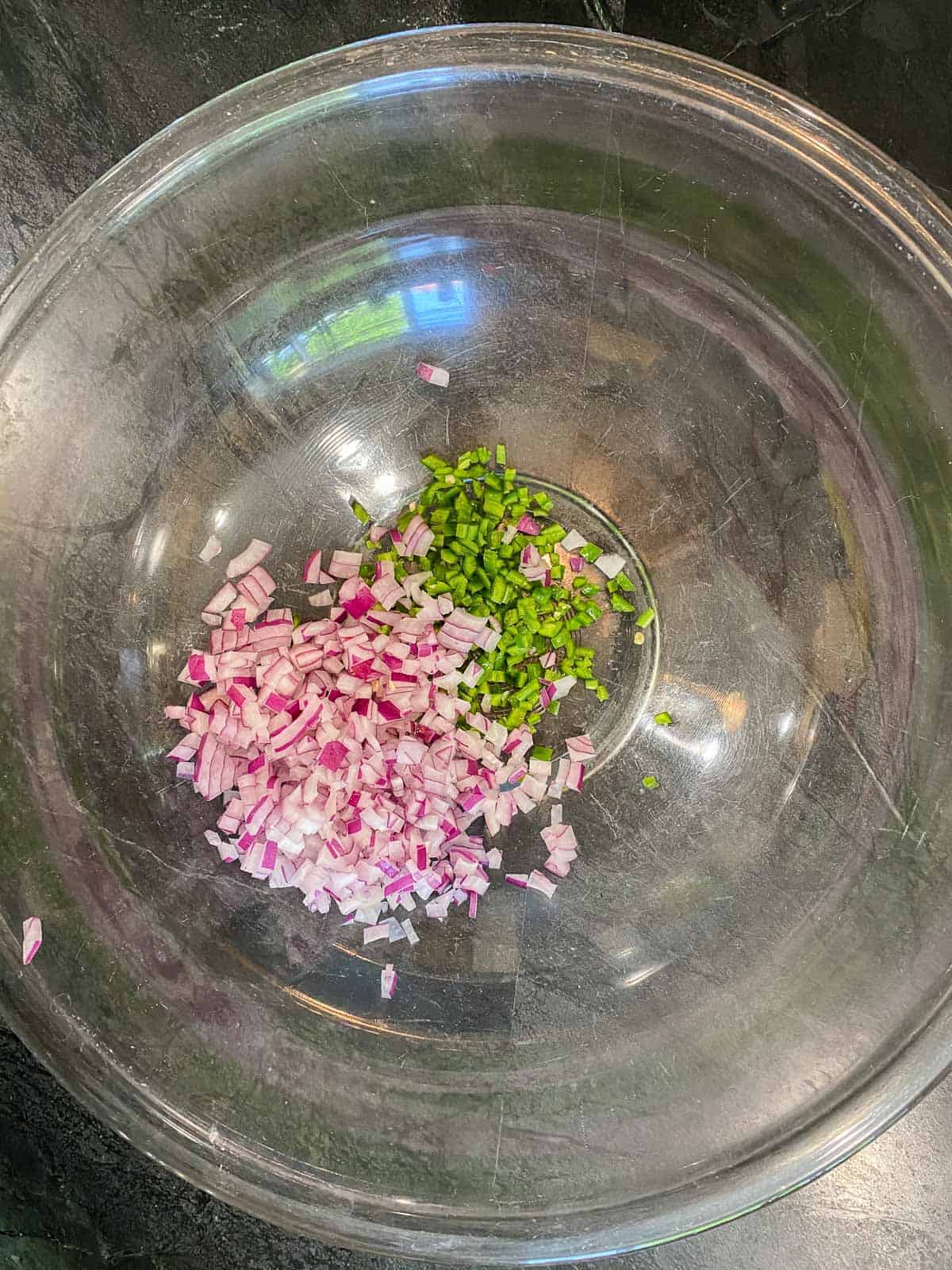 Step 3: Finely dice one red bell pepper. Make sure to remove the seeds and white membrane that is in the center.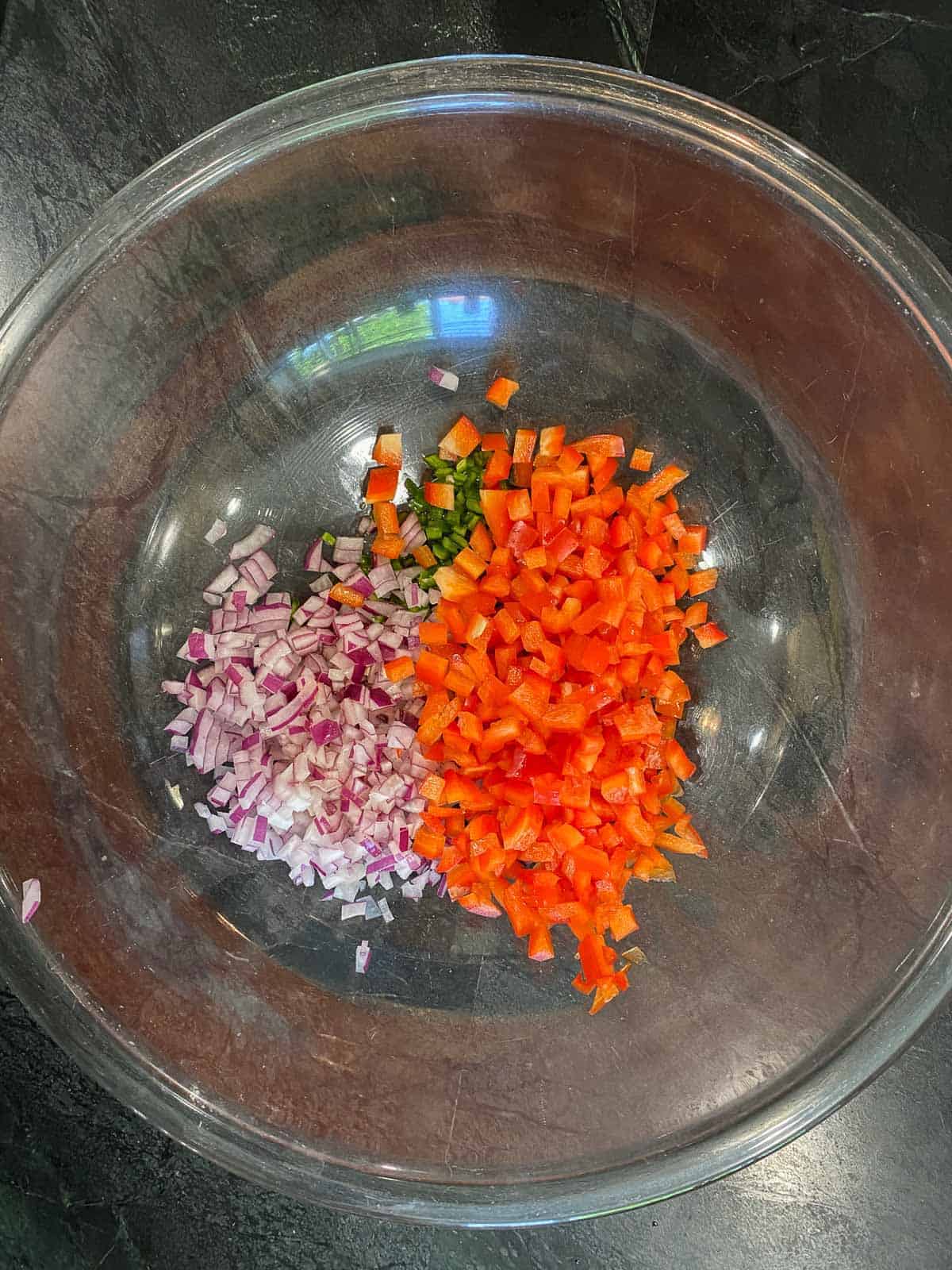 Step 4: Cut the corn kernels off of the cobs. I used 6 cobs of corn for this recipe. You want about 4 cups of corn. If you are short on time, or corn isn't in season but you have to have this salsa, sub in frozen corn. Just thaw first.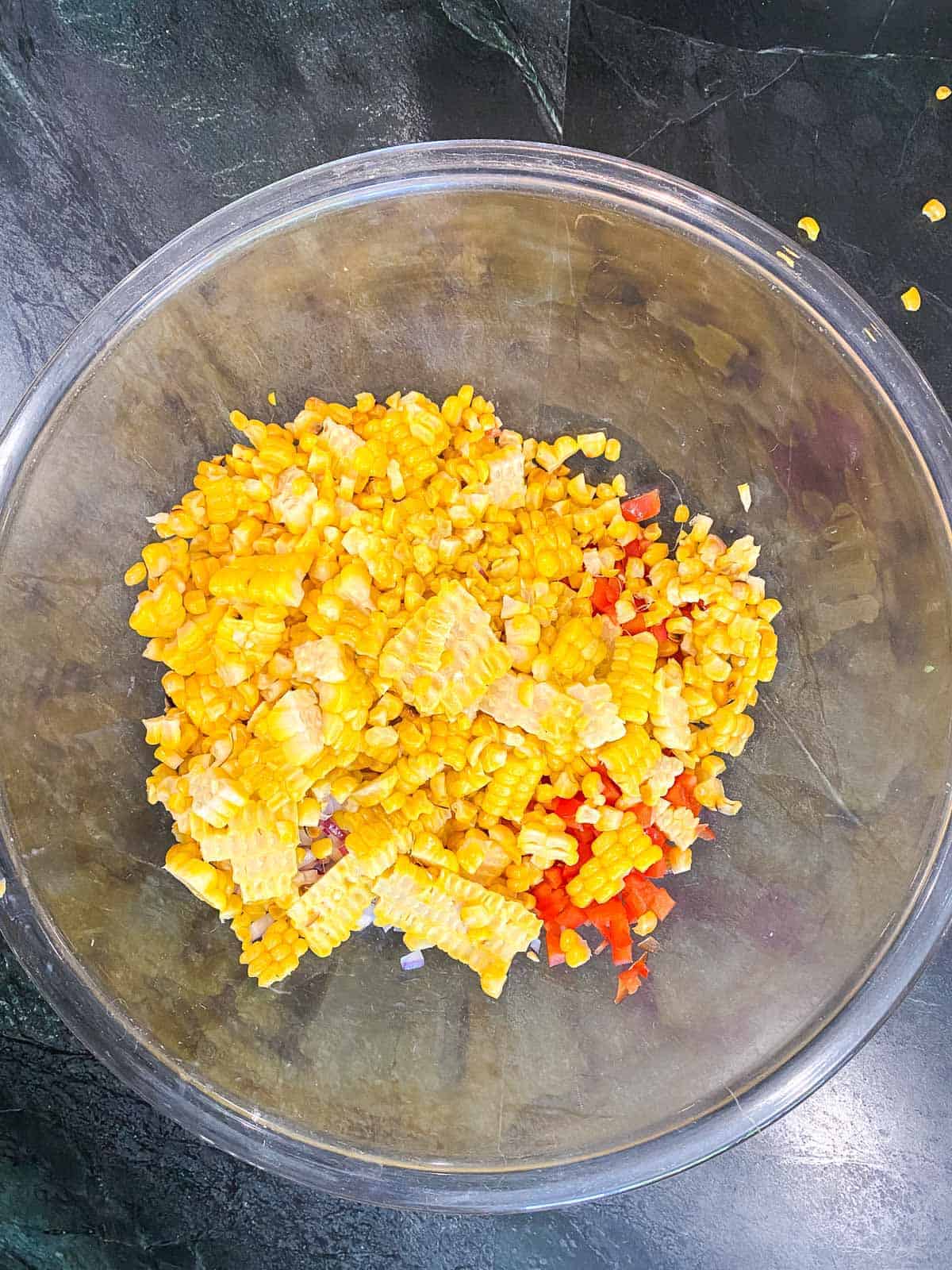 Step 5: Add finely chopped cilantro.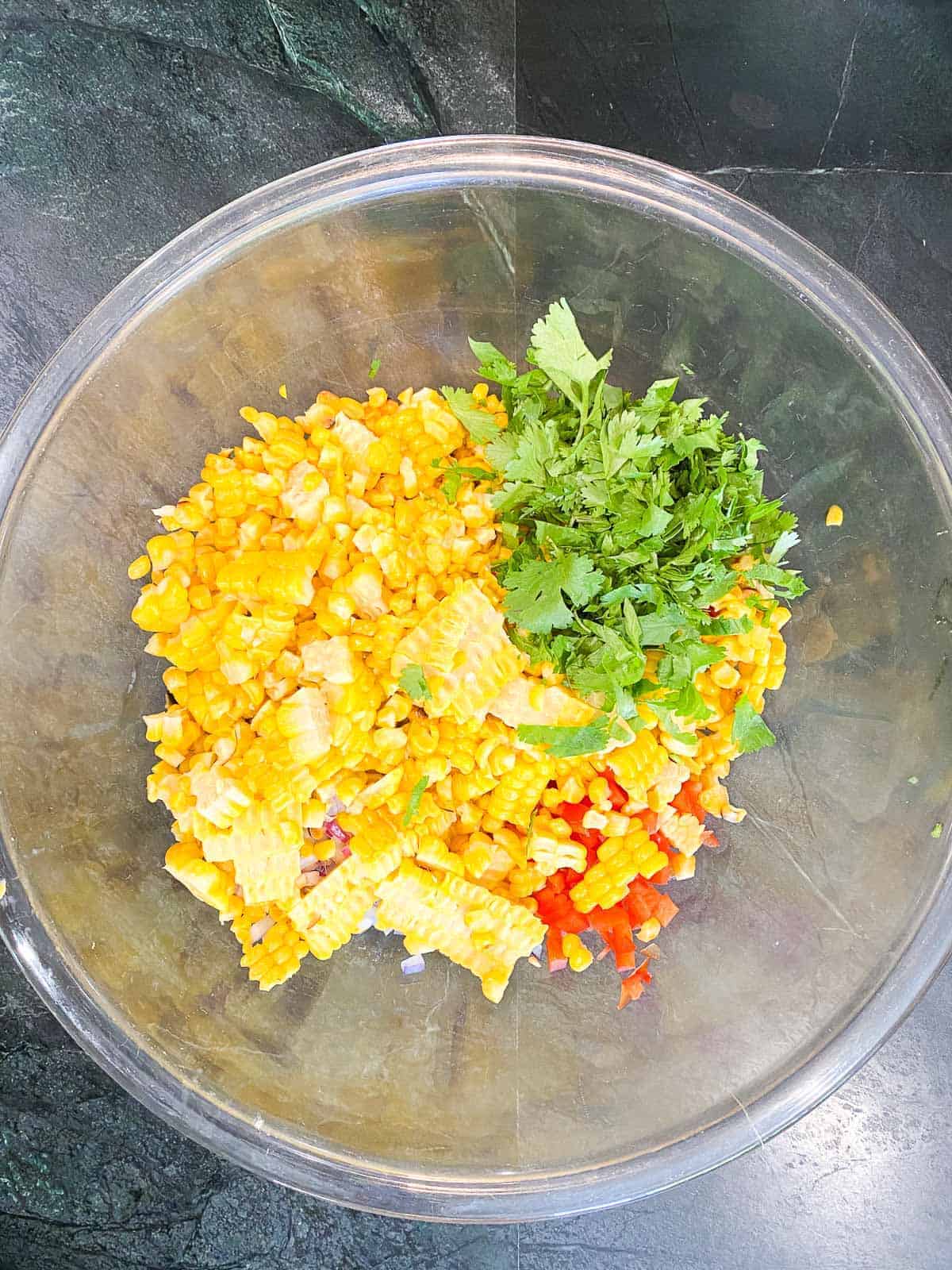 Step 6: Add olive oil, sherry vinegar, honey, and a little bit of salt and pepper.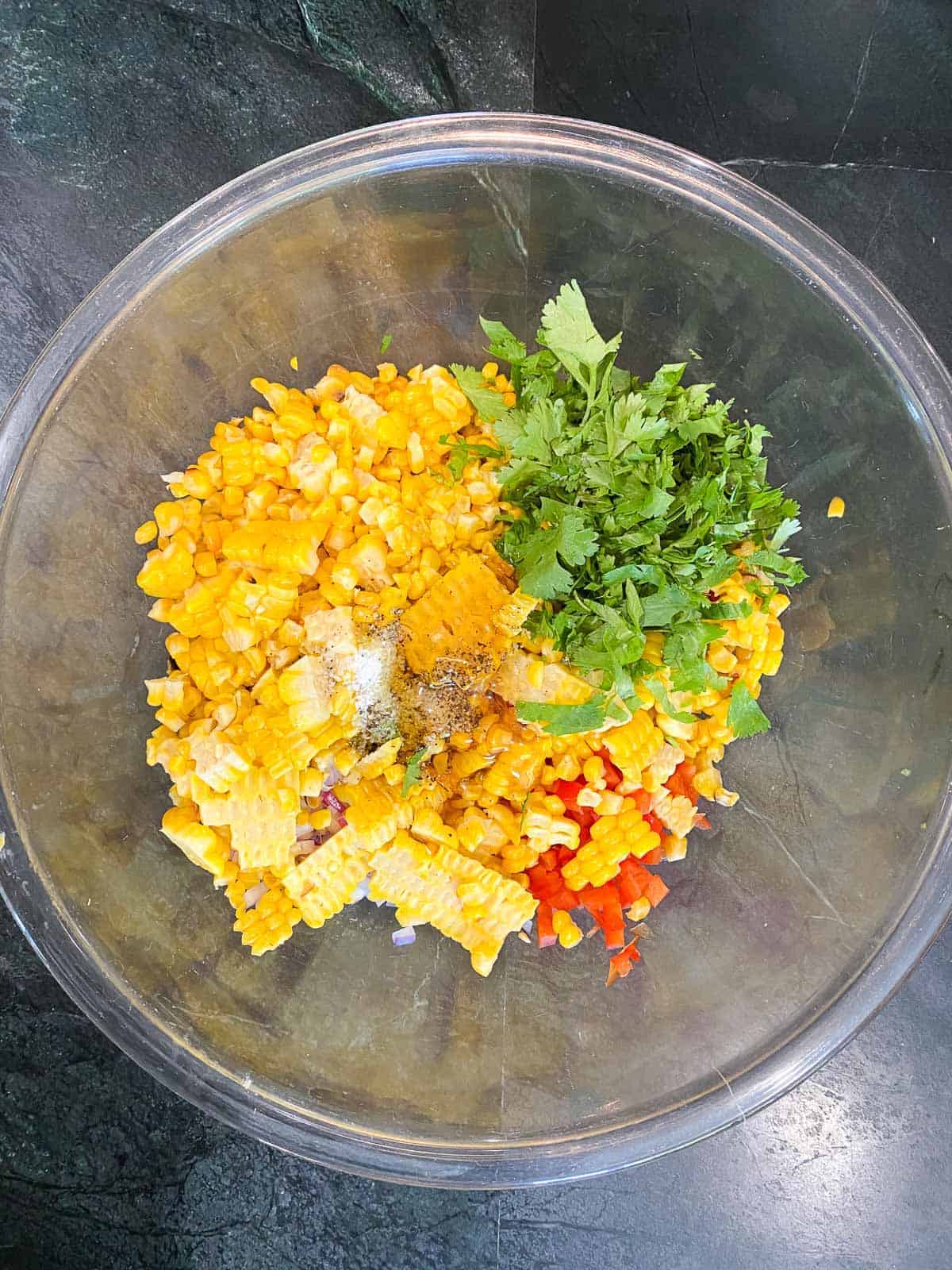 Step 7: Mix all of the corn salsa ingredients.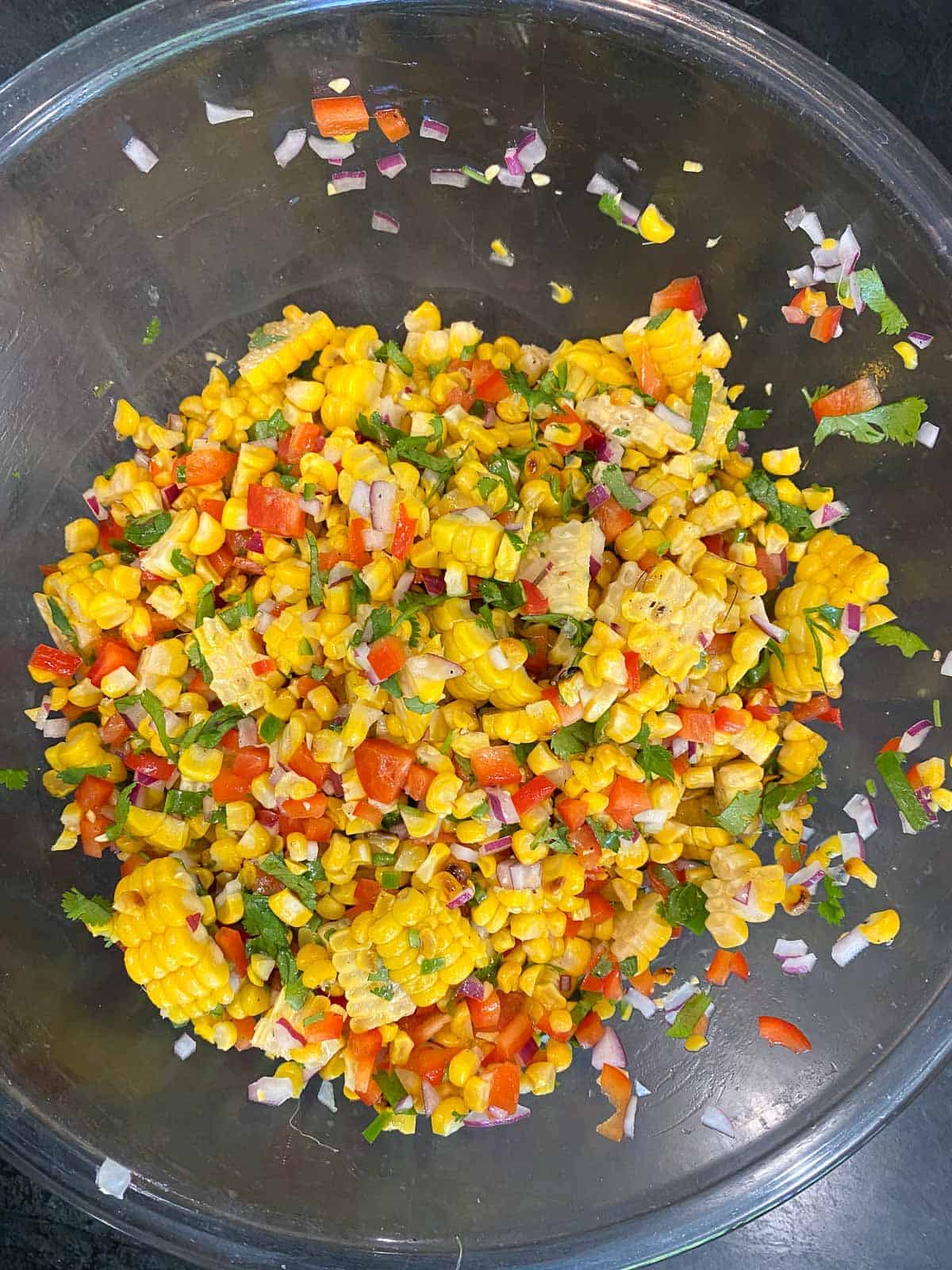 FAQs and Expert Tips
How do you roast corn in the oven?
Just place the corn on a baking sheet under the broiler and broil until the fresh corn is charred. Make sure to rotate every 5 minutes until done!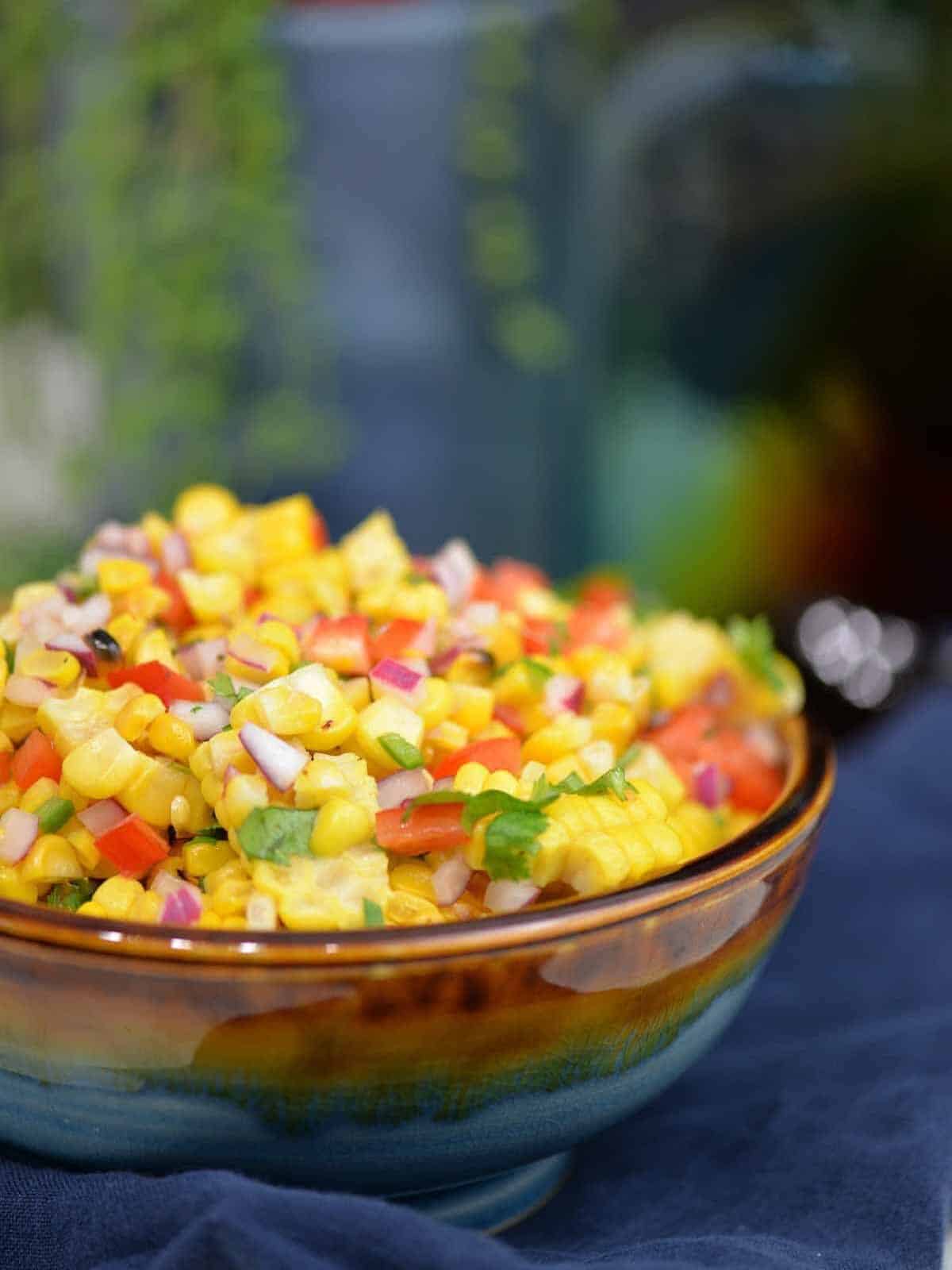 What To Eat With Corn Salsa
More Salsa Recipes
Mexican food needs salsa. Pico de Gallo or Roasted Tomato Salsa make every taco better.
Spicy and sweet fruit salsa like Pineapple Salsa and Mango Salsa are the perfect pairing for grilled chicken and for fish tacos. Even give the fish taco bowl a try.
➽ Did you make this recipe? I love to see what's going in your kitchen. Show me what you're cooking. 🍳 Tag me @foodologygeek on your favorite social channel! Facebook, Instagram & Pinterest. If you loved ❤︎ this recipe, please leave a 5 ★ review and a comment!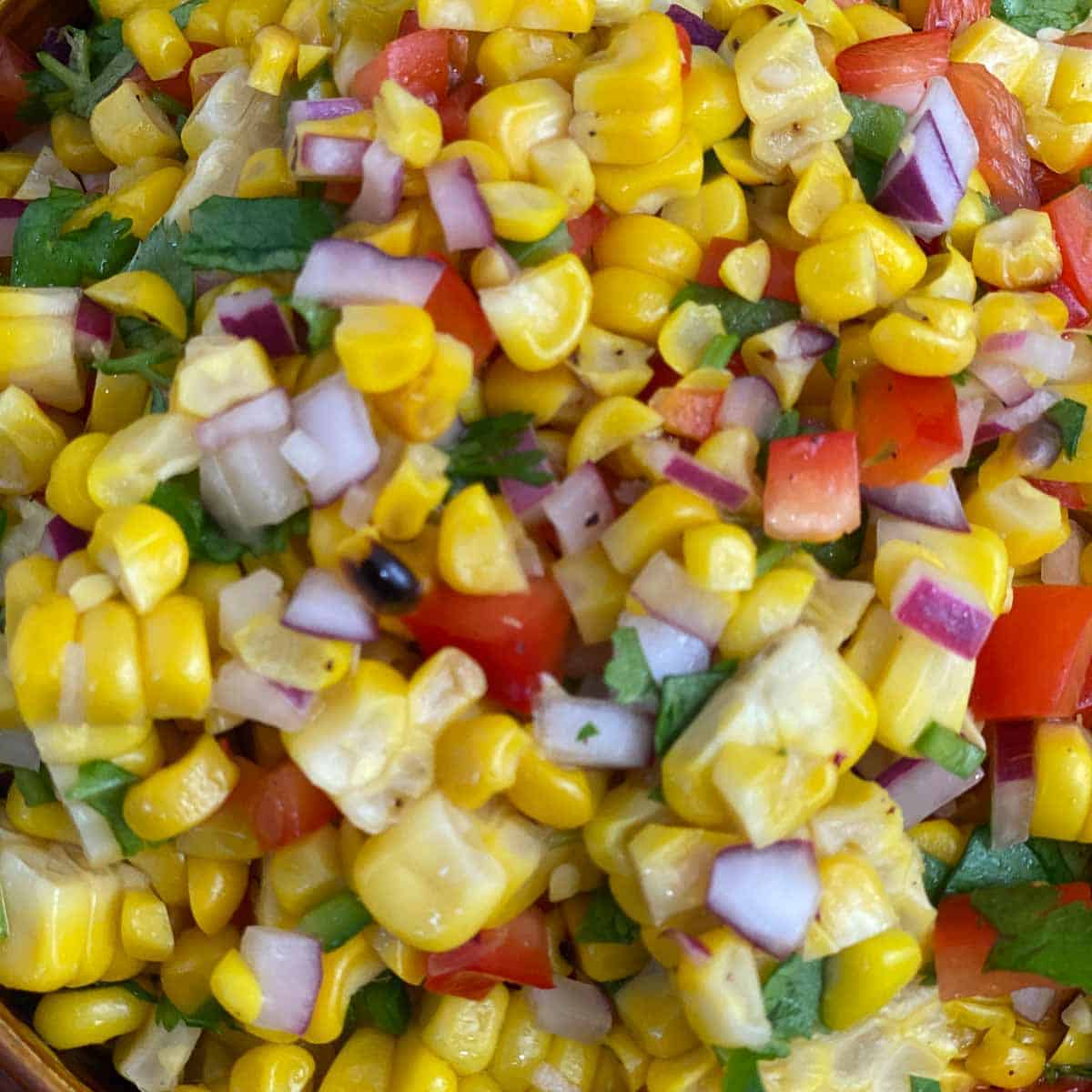 Corn Salsa Recipe
This homemade corn salsa is crunchy, sweet, and just a little bit spicy. Corn salsa is perfect with tacos, burritos, or even a delicious burrito bowl.
Ingredients
2 to 3

ears

Roasted corn

cut off the cob (grilled corn can be used too)

1

Red bell pepper

finely diced

2

serrano peppers

finely diced

½

Red onion

diced

⅓

Bunch of cilantro

finely chopped

2

tablespoons

Olive oil

2

tablespoons

Sherry vinegar

1

Lime

juiced

1

teaspoons

Cumin

1

teaspoons

Himalayan salt

¼

teaspoons

black pepper

2

teaspoons

Honey
Instructions
Roast the corn at 450℉ until kernels are charred. Remove them from oven and let them cool.

Chop and dice all of the vegetables and add them to a large bowl.

Cut the kernels off of the cob and add them to the salsa.

Add the lime juice, olive oil, cumin, and salt and pepper to taste.

Toss the ingredients together and serve.

Store in the refrigerator in and air tight container.
Laura's Tips + Notes
Corn: You can use fresh raw corn in this recipe OR even thawed frozen corn.
How to Roast Corn: You can roast corn on the grill OR in the oven.
Fire-Roasted Corn: Heat the grill to high heat and place the corn on the grill, husk and all. Grill the corn until the husks are charred. Turn the corn occasionally, about every 5 minutes. Once the corn is well charred on the outside, remove it from the grill and let it cool before removing the husks.
Oven Roasted Corn: Turn on the broiler. Remove the husks from the corn and place the cobs on a heavy baking sheet. Place the corn under the broiler and watch closely. Let the corn broil until it is blackened. Turn every few minutes until you have a good level of browning.
Peppers: Serrano or Jalapeño peppers give heat to this salsa. Serranos are higher on the Scoville Scale and have more heat.
Nutrition
Calories:
34
kcal
Carbohydrates:
6
g
Protein:
1
g
Fat:
1
g
Saturated Fat:
1
g
Sodium:
198
mg
Fiber:
1
g
Sugar:
2
g
Calcium:
4
mg
Iron:
0.3
mg