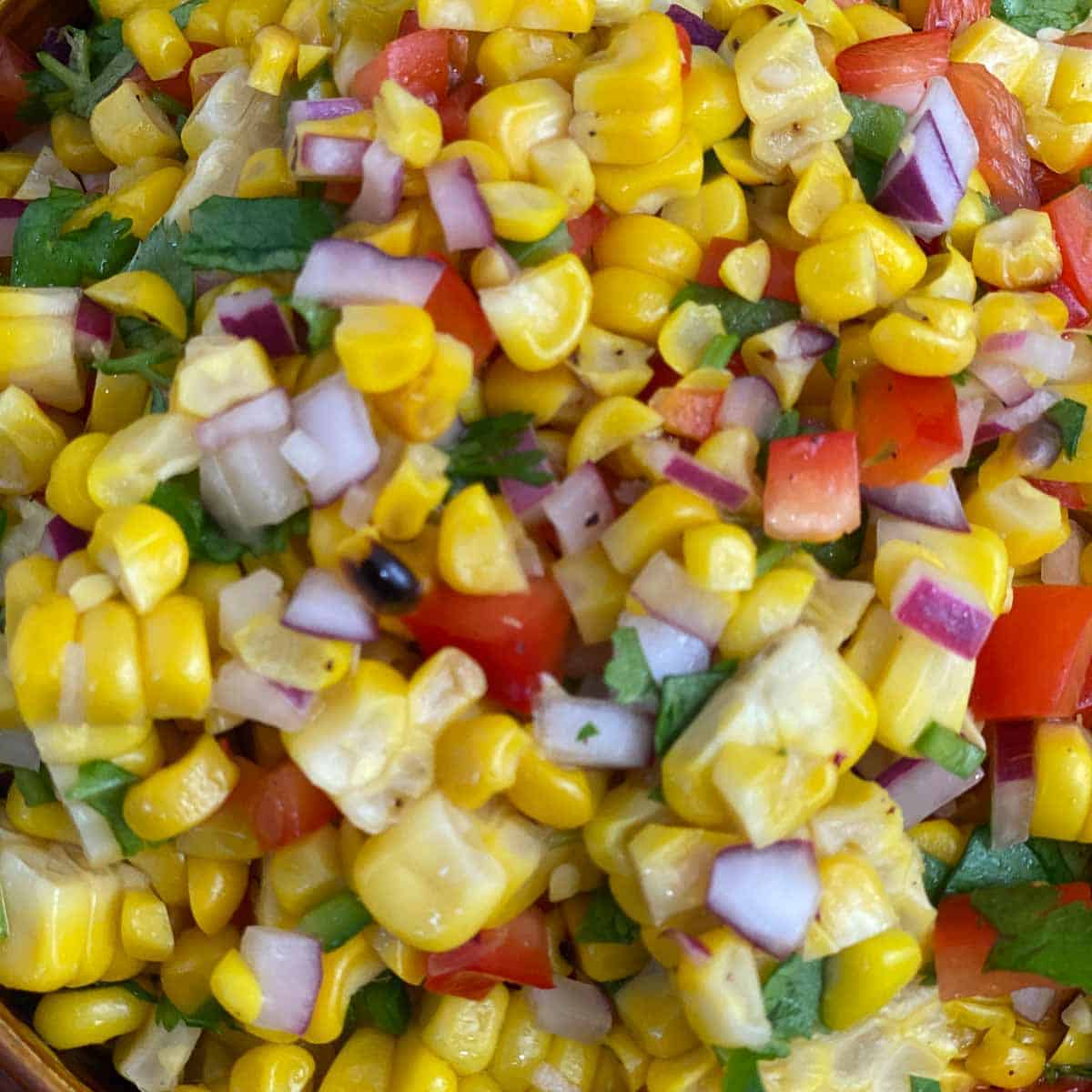 Recipe
Comments
Save
Go to Collections
This post may contain affiliate links. Please read my
disclosure policy.
Looking for a fresh and tasty way to enjoy corn this summer? Look no further than this delicious corn salsa recipe! With just a few simple ingredients, you can whip up a batch of this fresh corn salsa in no time.
It's perfect for serving with all your favorite Mexican recipes, as an appetizer or snack, or when served with some tortilla chips on the side. So don't wait any longer – give this easy corn salsa recipe a try today!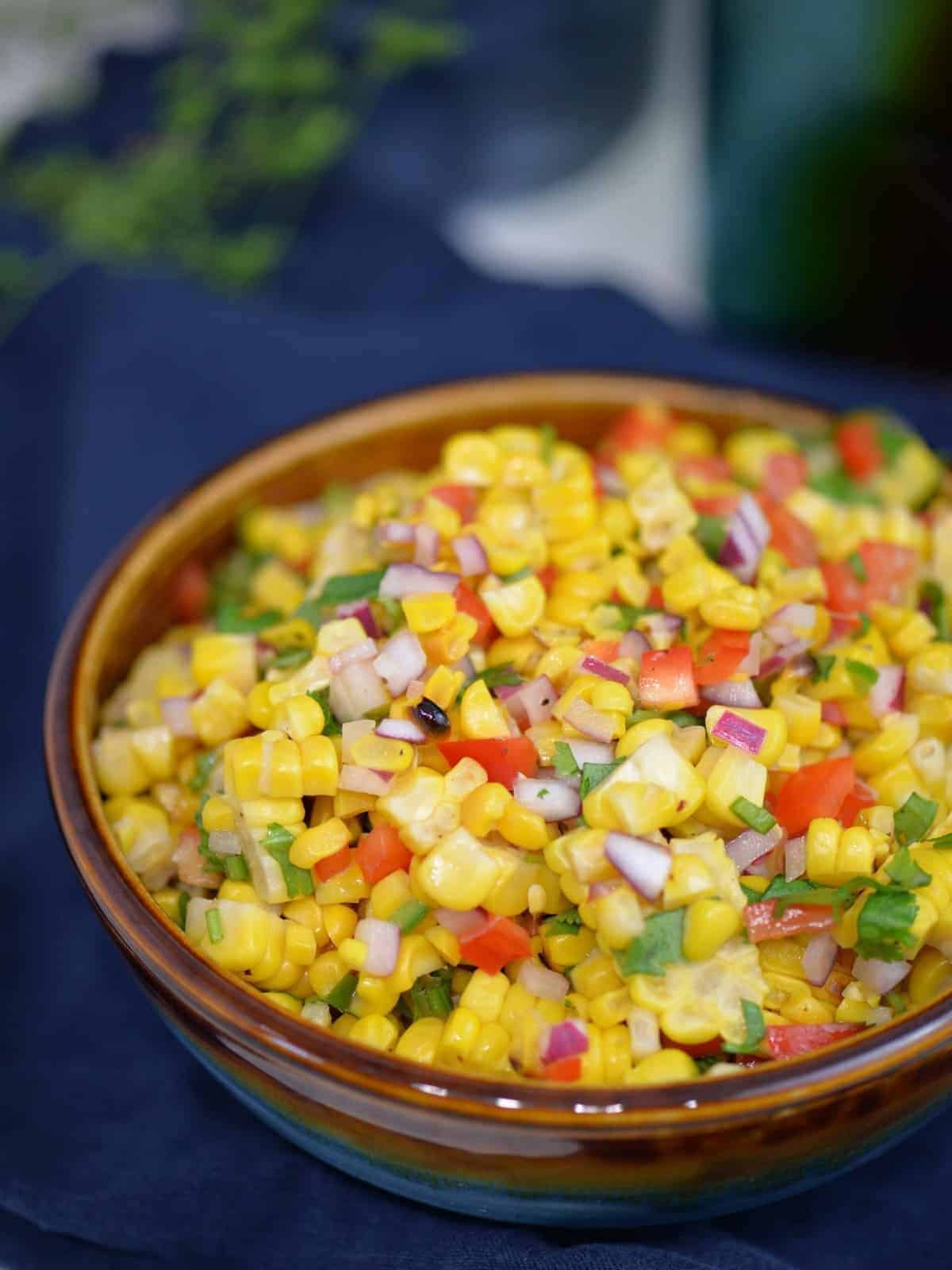 If you're craving Chipotle's corn salsa then you're going to love this recipe. There are tons of fresh flavors — the perfect combination of spiciness paired with the sweetness of the corn. It's one of my family's favorite Mexican side dishes.
What is corn salsa?
Corn salsa is a Mexican corn salad that is made with fresh summer corn, bell peppers, cilantro, onions, peppers, and juicy tomatoes.
It's a bit like pico de gallo with fresh corn added in. You will also see corn salsa referred to as corn pico. The fresh sweet corn pairs perfectly with the spiciness of chilies and all of the other crisp, fresh veggies that are in this recipe.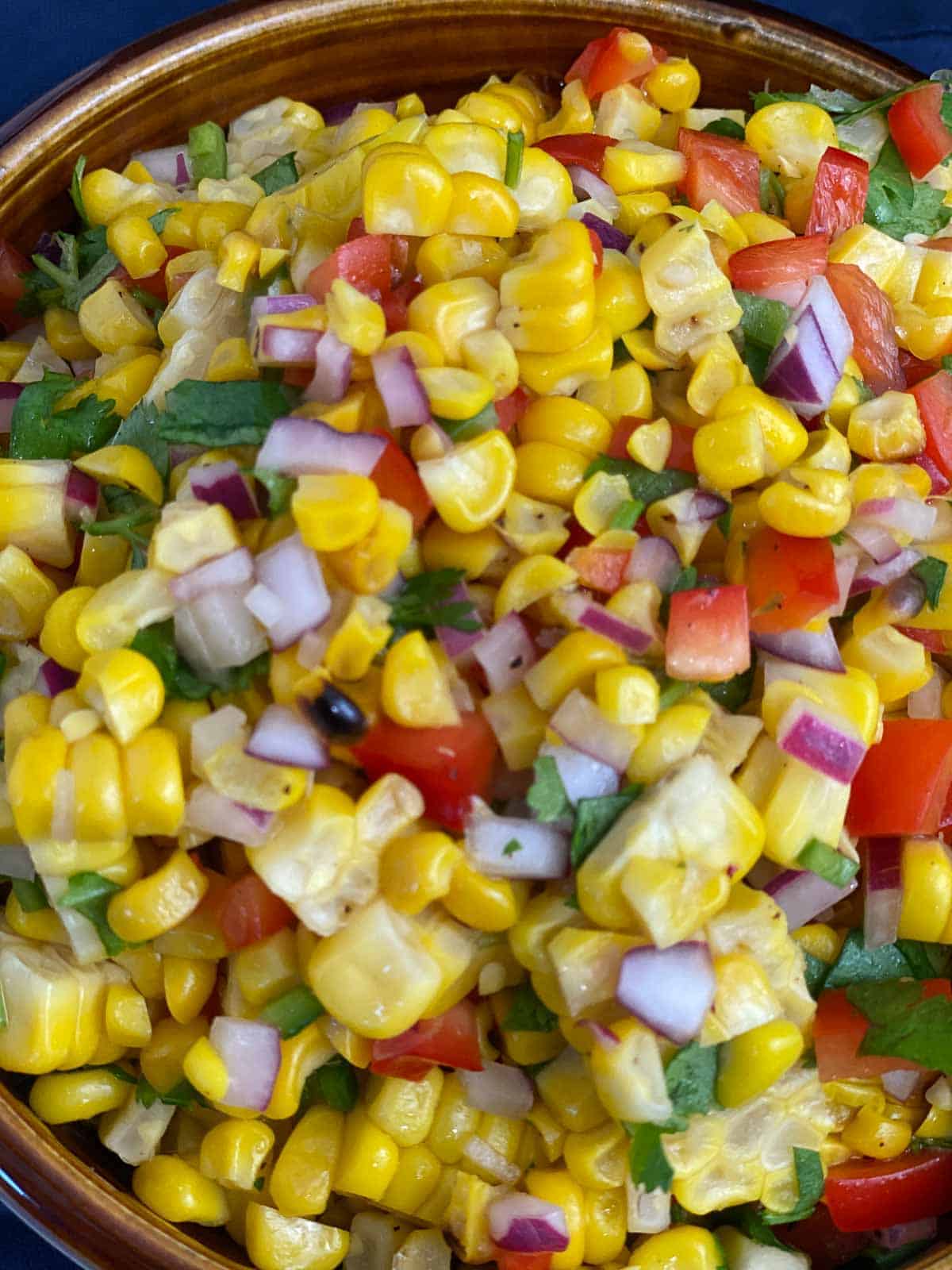 How To Eat Corn Salsa
You can eat this homemade salsa on a million different things. It's great as a topping
Of course, it's great with a side of salty tortilla chips. But my favorite way to eat this fresh corn salsa is on grilled salmon.
WHAT GOES INTO CORN SALSA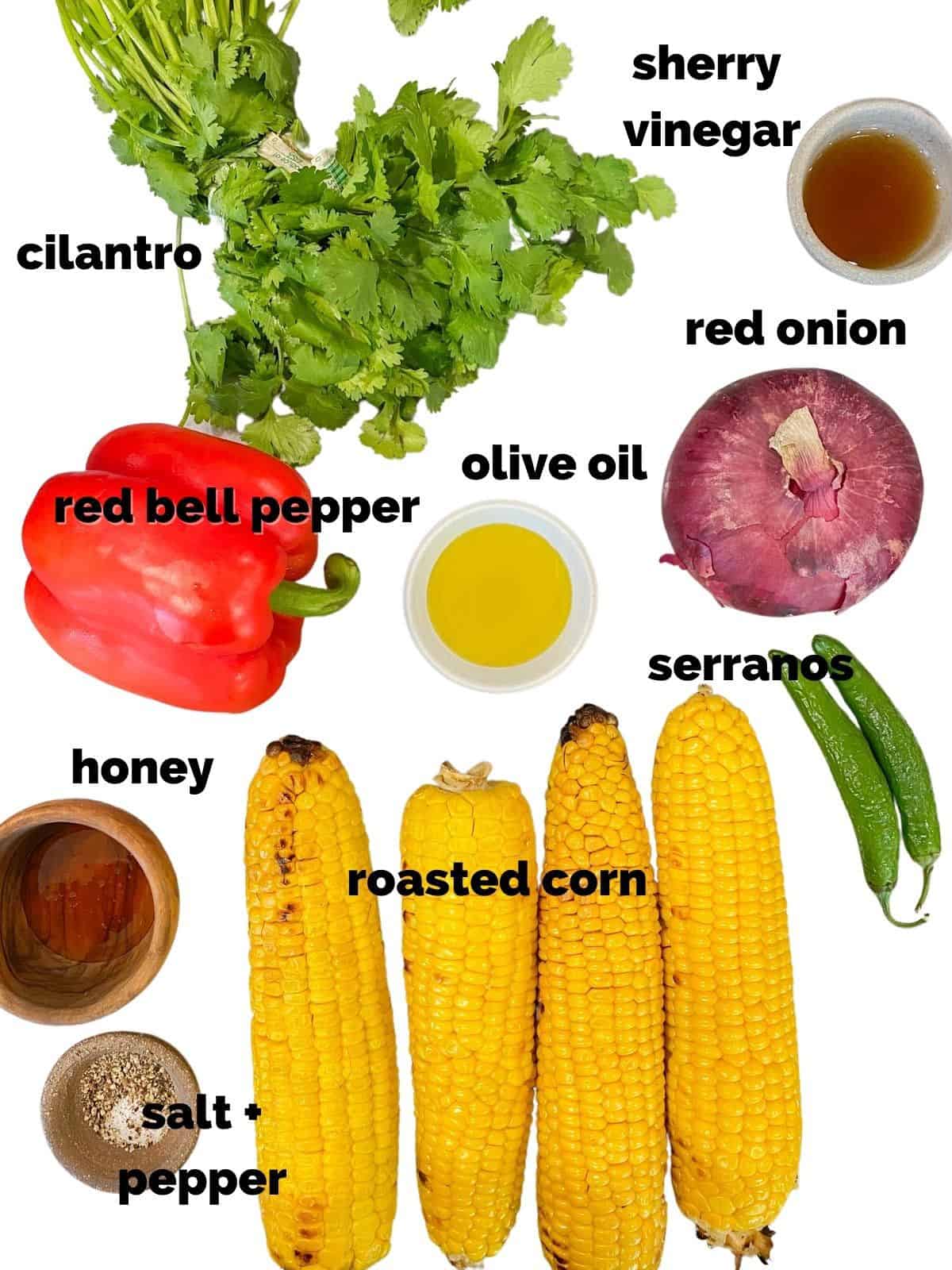 Corn: Use fresh or frozen corn in this recipe. If you are using fresh corn you can use it raw, or for an extra flavor boost, roast, or grill the corn.
Red bell pepper adds a sweet crunch.
Serrano peppers: You can substitute jalapeño peppers if you want to have a less spicy corn salsa.
Red onion: I like to use red onion in corn salsa instead of the traditional white onion.
Cilantro: Fresh cilantro adds an herbaceous bite to this salsa.
Vinegar: Sherry of apple cider vinegar.
Fresh lime juice.
Honey.
Chili powder.
Salt and pepper.
How To Make Roasted Corn Salsa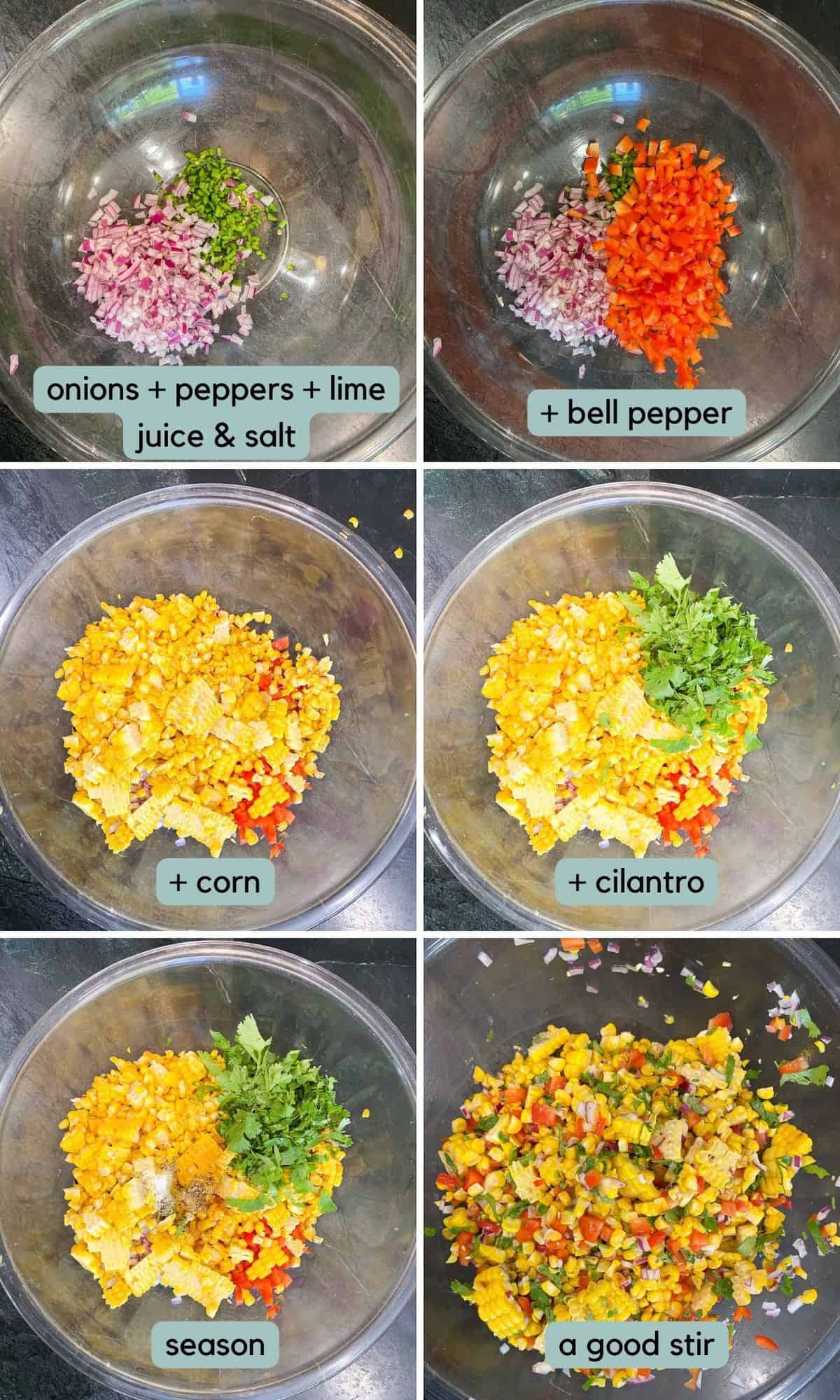 Prepare the corn. If you are going to roast or grill the corn, get this done first so that the corn has time to cool.
Slice and seed the peppers. Finely dice the serrano peppers and add them to a large bowl.
Add about ⅓ of a cup of red onion to the bowl. Add the fresh lime juice and a little bit of kosher salt. Let the onions and peppers marinate while you cut the remaining veggies
Finely dice one red bell pepper. Make sure to remove the seeds and white membrane that is in the center. Add the finely diced red pepper to the bowl.
Cut the corn kernels off of the cobs. I used 6 ears of corn for this recipe. You want about 4 cups of corn. If you are short on time, or corn isn't in season but you have to have this salsa, sub in frozen corn. Just thaw first.
Add finely chopped cilantro.
Add olive oil, vinegar, honey, and a little bit of salt and pepper.
Give everything a good stir.
Recipe Variations
Corn salsa with black beans. Add one can of black beans, drained and rinsed.
Add diced avocado. Avocado is an excellent addition to this fresh corn salsa recipe. Add diced avocado right before serving.
Pro Tip: Dice the avocado and squeeze it with fresh lime juice to help it keep from browning in the salad.
Smoked paprika. 1 teaspoon of smoked paprika adds a touch of smoky flavor to corn salsa.
Yellow corn or white corn. You can use whatever corn is in season. White corn is sweeter and has more tender skin. Yellow corn gives this salsa a nice bright yellow pop of color.
Corn Salsa Tips
How do you roast corn in the oven?
The best way to roast corn in the oven. Just place the corn on a baking sheet under the broiler and broil until the fresh corn is charred. Make sure to rotate every 5 minutes until done!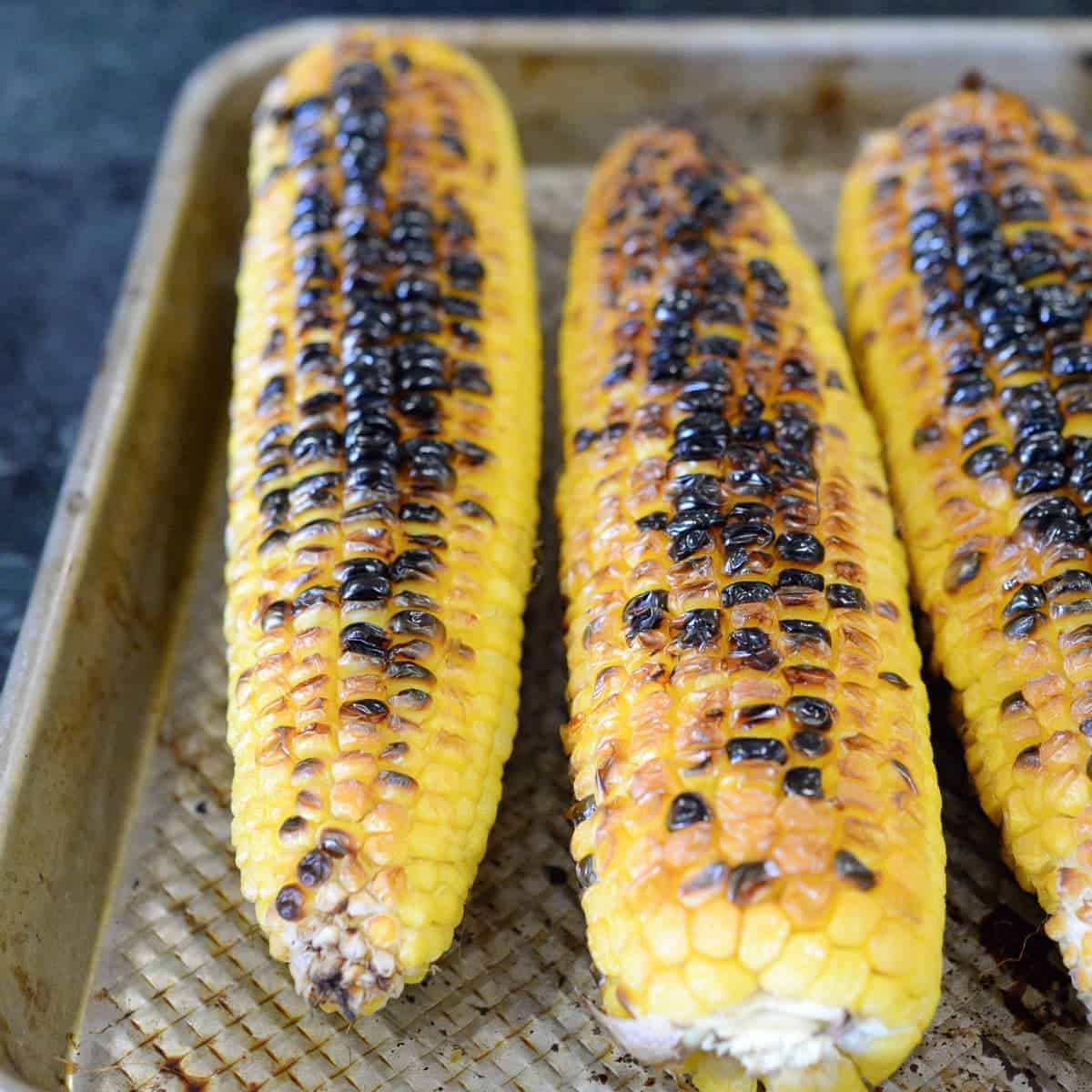 How to Grill Corn
For this recipe grill the corn without the husks on direct heat. heat the grill to medium-high heat and grill the corn for 10 to 15 minutes. Turn several times during the cooking time.
Can you freeze corn salsa?
Yes, you can freeze this corn salsa recipe in the freezer in an airtight container for up to 3 months. Place it in the refrigerator to thaw.
What To Eat Corn Salsa With
Corn salsa pairs perfectly with Mexican food. Serve it on tacos or as a side with grilled meat.
Soup is the perfect comfort food, and this chicken tortilla soup is no exception. It's hearty, flavorful, and warming, perfect for a cold winter night….
Hungry For More Salsa Recipes
Mexican food needs salsa. Pico de Gallo or Roasted Tomato Salsa makes every taco better.
Spicy and sweet fruit salsa like Pineapple Salsa and Mango Salsa is the perfect pairing for grilled chicken and for fish tacos. Even give the fish taco bowl a try.
Homemade salsa recipes add so much flavor to all of your favorite Mexican food. This collection of the BEST Salsa Recipes gives you salsa for…
Homemade guacamole is so easy to make. If you're craving that creamy but chunky guacamole for all of your favorite Mexican Food. Look no further….
This pineapple salsa is like a vacation for your taste buds. With bright, sunny flavors from the juicy pineapple and jalapeño pepper, it's the perfect…
Lomi-Lomi Salmon is a popular Hawaiian dish made with ripe, juicy tomatoes, sweet Maui onion, green onions, and shredded or diced salted salmon. This simple…
Our best potluck recipes are perfect for game day or any other party that you need to handle. Potluck recipes aren't just for potlucks, either….
Mango Salsa is sweet and spicy. This fruit salsa recipe is made with ripe juicy mangos, serrano peppers, red onion, cilantro, and a fresh squeeze…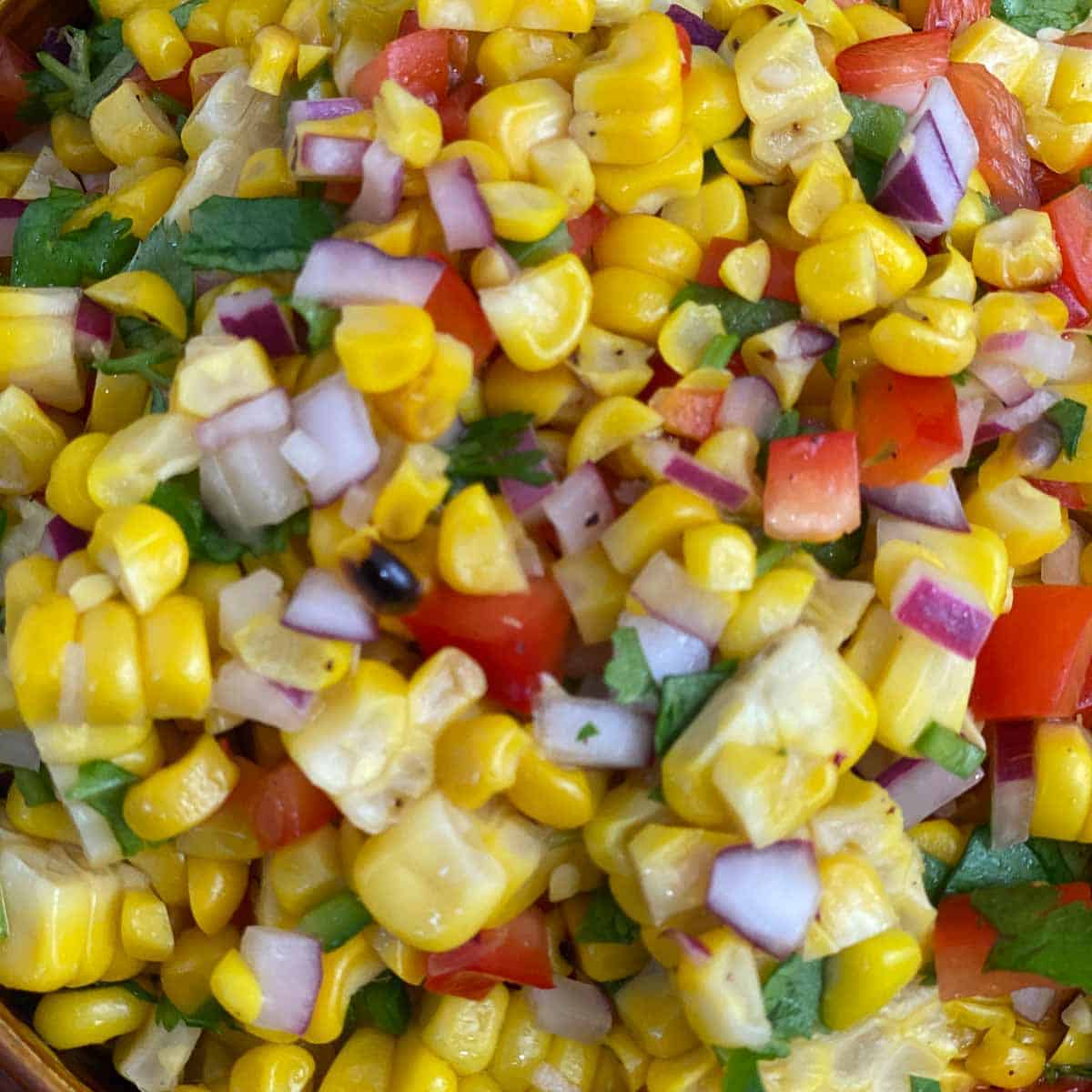 Corn Salsa Recipe
This homemade corn salsa is crunchy, sweet, and just a little bit spicy. Corn salsa is perfect with tacos, burritos, or even a delicious burrito bowl.
Ingredients
2 to 3

ears

roasted corn

,

cut off the cob (grilled corn can be used too)

1

Red bell pepper

,

finely diced

2

serrano peppers

,

finely diced

½

Red onion

,

diced

⅓

Bunch of cilantro

,

finely chopped

2

tablespoons

Olive oil

(affiliate link)

2

tablespoons

Sherry vinegar

1

Lime

,

juiced

1

teaspoons

Cumin

1

teaspoons

Himalayan salt

¼

teaspoons

black pepper

2

teaspoons

Honey
Instructions
Roast the corn at 450℉ until kernels are charred. Remove them from oven and let them cool.

Chop and dice all of the vegetables and add them to a large bowl.

Cut the kernels off of the cob and add them to the salsa.

Add the lime juice, olive oil, cumin, and salt and pepper to taste.

Toss the ingredients together and serve.

Store in the refrigerator in and air tight container.
Laura's Tips + Notes
Corn: You can use fresh raw corn in this recipe OR even thawed frozen corn.
How to Roast Corn: You can roast corn on the grill OR in the oven.
Fire-Roasted Corn: Heat the grill to high heat and place the corn on the grill, husk and all. Grill the corn until the husks are charred. Turn the corn occasionally, about every 5 minutes. Once the corn is well charred on the outside, remove it from the grill and let it cool before removing the husks.
Oven Roasted Corn: Turn on the broiler. Remove the husks from the corn and place the cobs on a heavy baking sheet. Place the corn under the broiler and watch closely. Let the corn broil until it is blackened. Turn every few minutes until you have a good level of browning.
Peppers: Serrano or Jalapeño peppers give heat to this salsa. Serranos are higher on the Scoville Scale and have more heat.
YOUR OWN NOTES
Sign In to add your own private notes
Nutrition
Calories:
34
kcal
Carbohydrates:
6
g
Protein:
1
g
Fat:
1
g
Saturated Fat:
1
g
Sodium:
198
mg
Fiber:
1
g
Sugar:
2
g
Calcium:
4
mg
Iron:
0.3
mg