Fresh homemade salsa is the perfect healthy way to spice up grilled chicken and seafood. This pineapple salsa is the perfect amount of sweet and spicy.
A spicy tropical alternative to Pico de Gallo!
Grilling season is all about saucy marinades and grilled chicken, and fish. Fruit salsas are one of my favorite sides to make in the summer.
A fresh salsa that is juicy and sweet with just the right amount of spicy heat makes everything taste better.
Key ingredients to make homemade salsa
2 cups of Fruit, diced
1/3 cup of Onion – use your favorite type (red, white, or sweet)
2 or 3 Peppers – Serrano peppers of jalapeno peppers. I like using serranos.
A few tablespoons of Acid – Lime juice is the go-to. You can use lemon or for the strawberry salsa use balsamic.
A few tablespoons of an Aromatic herb like – Cilantro, basil, or mint.
Once you learn how to make salsa, you can make it a million different ways with almost any fruit you like. You knew tomatoes were a fruit, right? Of course, you did! You're one smart cookie.
Just a note about frozen fruit:
You can definitely use frozen fruit when making fruit salsa. It is, however, best to thaw the fruit and then drain off excess liquid before making the salsa.
Canned pineapple can also be used in this recipe.
What are some easy homemade salsa recipes?
Remember, the basic ingredients of salsa can be wrapped around almost and fruit. These are some of my favorite combinations.
MELONS: like cantaloupe and watermelon make delicious salsas. Melon salsa is great with spicier grilled meats. The sweetness adds the perfect balance.
MANGOES: Mango salsa is one of my favorites. Serve with shrimp tacos for wow-tastic taco Tuesdays!
STRAWBERRIES: Strawberry salsa made with basil and balsamic is perfect with grilled chicken.

PEACHES: Peach salsa and grilled pork is a marriage made in heaven.
CORN: Technically not a fruit, but this salsa is eat-right-out-of-the-bowl delicious.
What's a good summer fish recipe using fresh fruit?
Fish and fruit salsa is a fantastic combo. I like to keep things simple, so I typically will add a squeeze of lemon or lime juice and a little bit of salt and pepper to my fish before I grill it. If you want a little bit of spice you can add a little chili powder and some paprika.
Steakier fish like mahi-mahi or swordfish grills well. Salmon is also another good choice for grilling.
If you are using a lighter white fish, broiling is a great way to cook fish.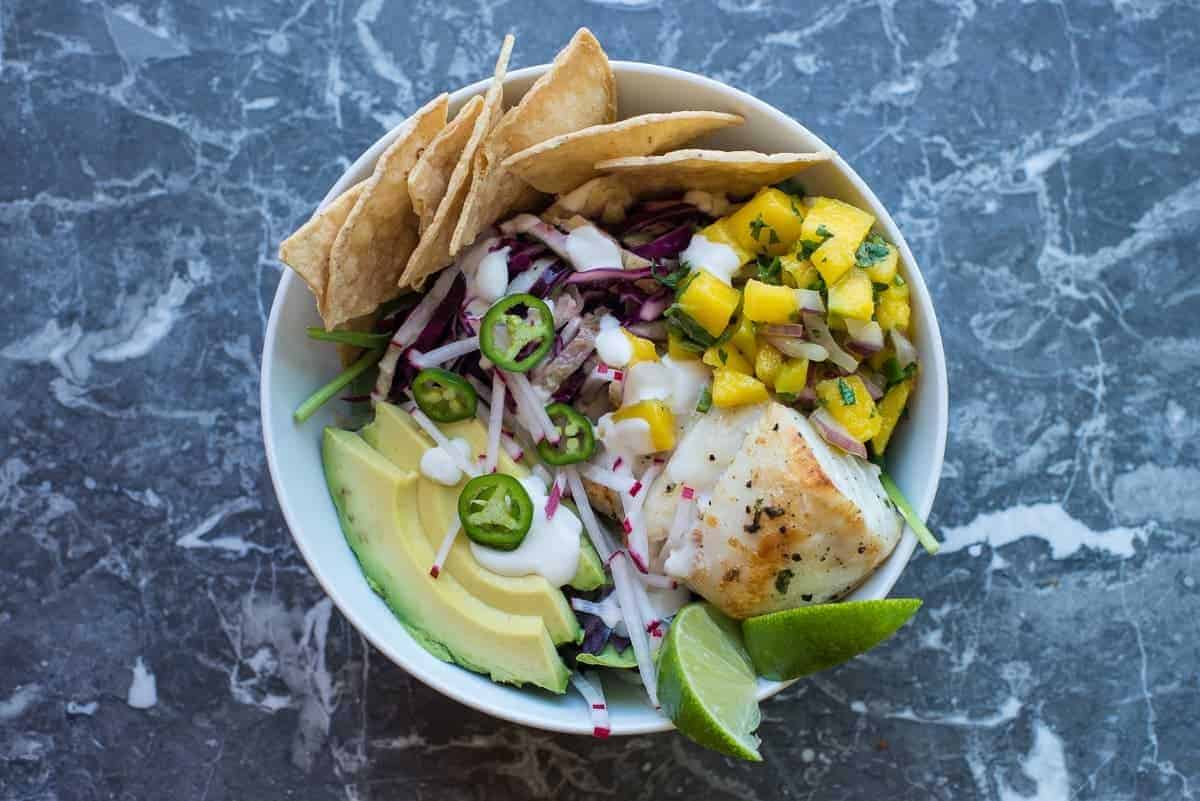 Once your grill is hot:
Grill 2 to 3 minutes per side.
Remove from heat, cover with foil, and let rest for about 5 minutes before serving.
How long can fresh salsa last?
I make fresh salsa all of the time because it keeps so well in the fridge. The flavor of the salsa gets better and better, the longer it sits.
One of the reasons I love salsa is because I meal prep every week and salsa is the perfect side to add some extra flavor, texture, and spice to grilled meats, eggs, or even a big salad.
You can easily keep fresh salsa in the fridge in an airtight container for several weeks. Salsa would never stick around in my fridge that long because I literally eat it on EVERYTHING! Chips and salsa are probably my Spirit Animal.
I first made this homemade salsa recipe to go with my Jerk Chicken Recipe.
Spicy Jamaican Jerk Chicken with this sweet and spicy salsa is so good! Check out the recipe. You can grill or bake the Jerk Chicken.
Make the Jerk Chicken Beast Bowl with Jamaican Rice and Fried Plantains! Talk about a fantastic flavor combination; this one is a favorite.
For my Weight Watchers friends, the Jerk Chicken Recipe has 0 Freestyle Points and so does the pineapple salsa. So this is a flavor-packed Zero Point meal. This recipe is also perfect if you are following a Whole 30 Plan. Salsa is naturally gluten-free and full of phytonutrients.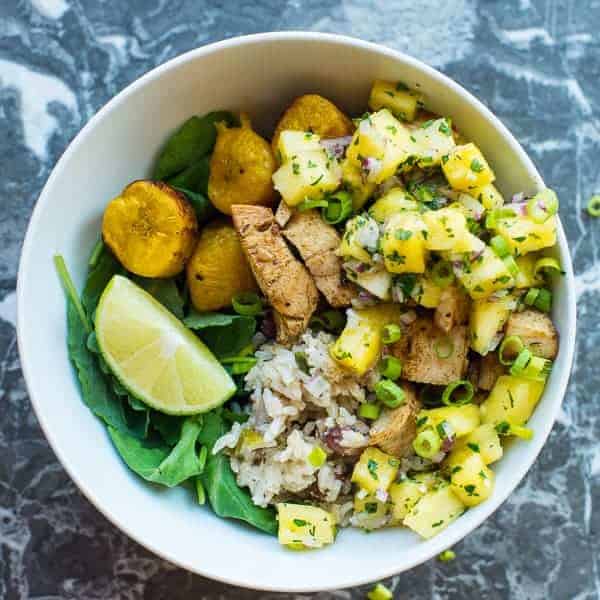 My Jerk Chicken Bowl is a mouthful for flavor. Spicy Chicken, Jamaican Rice, and Peas, plus roasted plantains.
Other recipes that are amazing with salsa:
Other Light Summer Recipes you might like:
Pineapple Salsa
This sweet and spicy tropical salsa is a bright addition to most any dish. It pairs really well with grilled chicken or fish.
Ingredients
2

cups

fresh pineapple

diced

2

serrano or jalapeno peppers

finely diced

1/3

cup

red onion

finely diced

2

tbsp

cilantro

minced

2

tsp

coconut oil

1

lime

juiced
Instructions
Add all of the ingredients to a bowl and stir.
Nutrition
Calories:
36
kcal
Carbohydrates:
7
g
Protein:
1
g
Fat:
1
g
Saturated Fat:
1
g
Sodium:
1
mg
Fiber:
1
g
Sugar:
5
g
Calcium:
10
mg
Iron:
0.2
mg
(Visited 858 times, 3 visits today)