Sweet and spicy mango salsa is the perfect go-to for summer's grilled chicken and fish recipes. Get ready to give your taste buds a refreshing kick.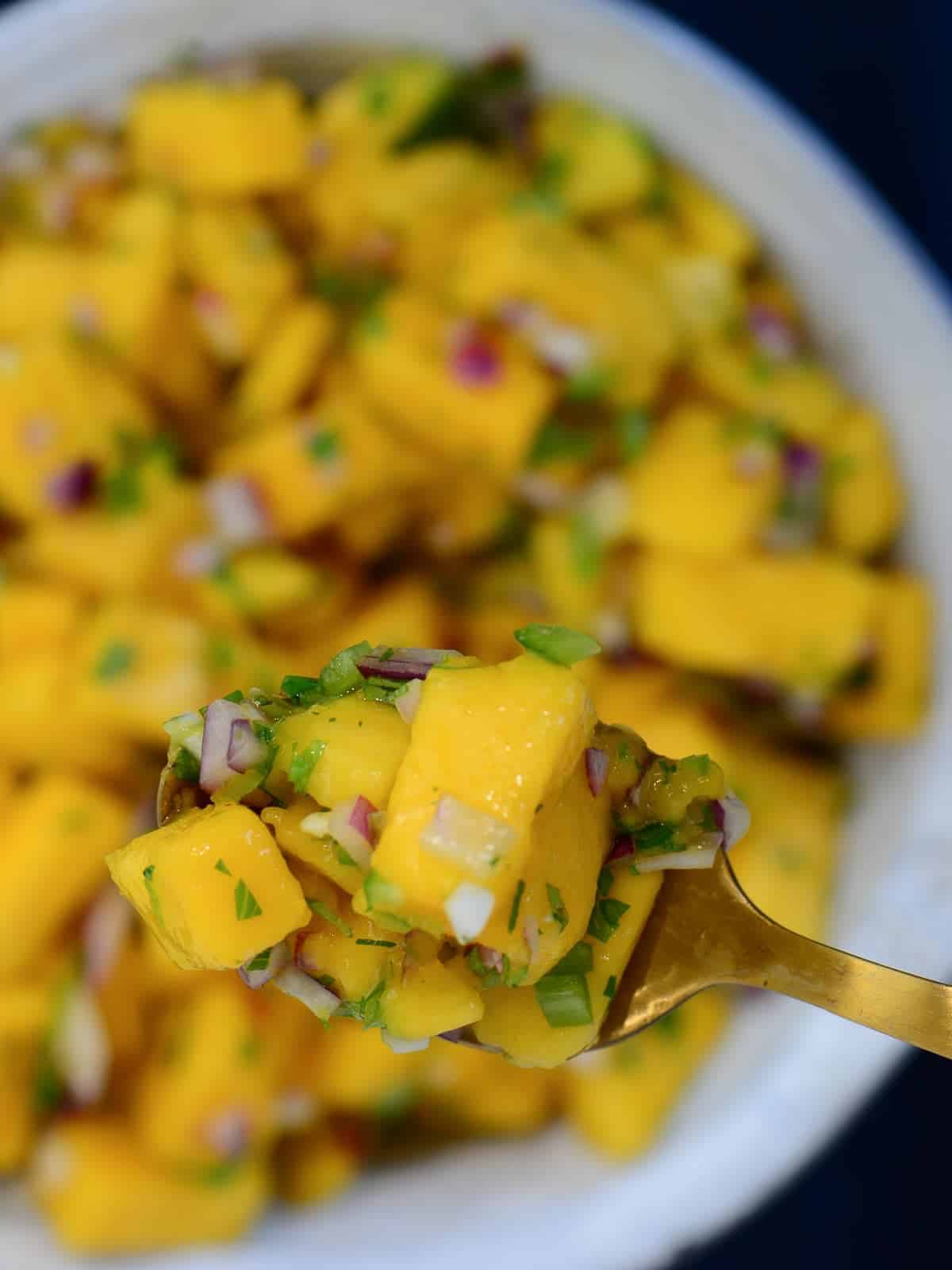 I've always been a massive fan of salsa. I can honestly say that chips and salsa are one of my kryptonite foods.
Do you know what I mean? Those foods that once you start eating them, you're powerless to stop eating even when you know you should. Like while you are waiting on your Chili Verde... Mmmm...
Mango salsa is a sweet and spicy, fruit-based salsa that is best when paired with grilled fish or chicken. Fish tacos, anyone?
What you're going to love about this recipe
Sweet and Spicy: The sweet and spicy combo in this fresh fruit salsa is to die for.
Easy: With just a few ingredients and a few easy steps, you can have a large bowl of fresh, juicy salsa.
Healthy: Salsa is full of fresh fruit and veggies; it's low in fat and the perfect way to add a lot of flavor to almost any meal.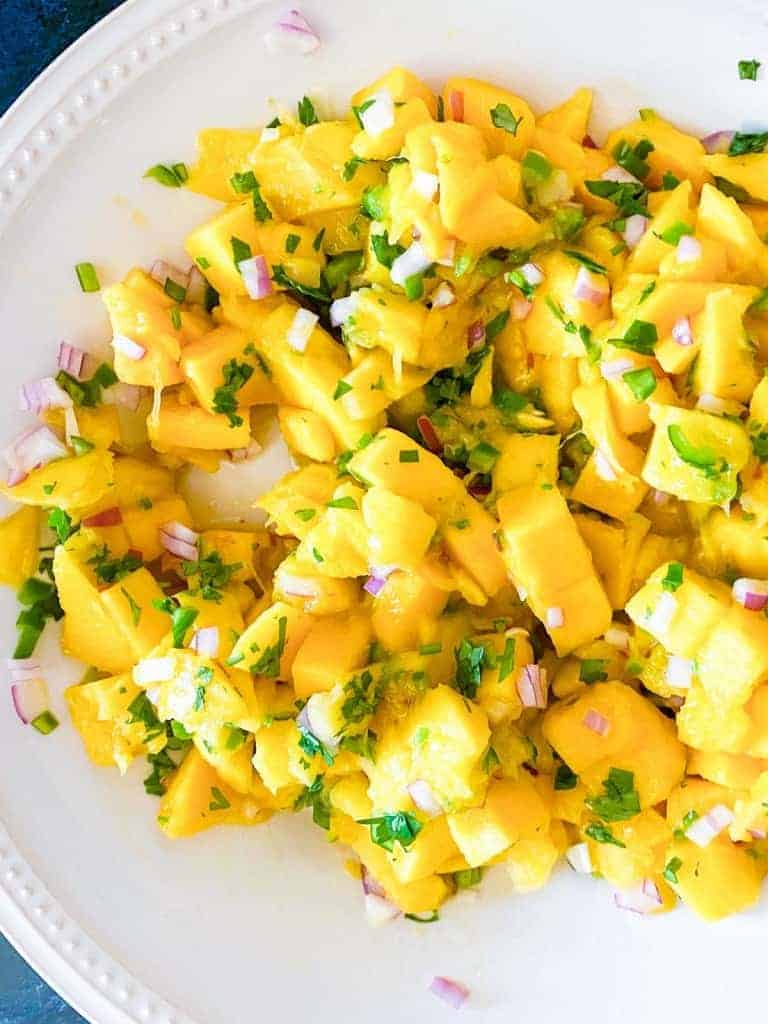 Recipe Notes
Making salsa hardly requires a recipe. There's zero cooking involved. Simply dice and chop a few ingredients, and then give them a quick stir.
Ingredients
Mangoes: Fresh mango salsa demands ripe mangoes. [How to pick a ripe mango]
Onions: I like to use red onions for fruit salsas. They are a little bit sweeter and have a more mild onion flavor.
Peppers: Serranos are my go-to pepper when I'm making salsa. If you want a little less heat, swap the serrano peppers for jalepeños. Also, make sure that you remove the seeds and membranes.
Aromatics: Cilantro, basil, and mint are all great options in this salsa recipe.
Lime Juice: A few tablespoons of lime juice brings out the brightness in the fruits and ties all the yummy flavors together.
Step By Step Instructions
These instructions are not only for making mango salsa! You can use them for any variety of fruit salsa recipes.
Step 1: Cut the mango away from the seed. You want to cut the fruit in half but slightly off to the side so that you can avoid the seed. You'll end up with two sides and a thick middle piece.
Step 2: Score the mango: Score the mango in two directions making sure not to cut through the skin.
Step 3: Flip and scrape: Press your fingers into the middle of the mango on the skin side so that you can flip the fruit inside out. Use a spoon to scrape the fruit away from the skin.
Step 4: Dice: Cut the peppers and the onions. Add the mangoes and chopped cilantro.
Step 5: Toss: Add a squeeze of lime and a pinch or two of salt, and toss to combine.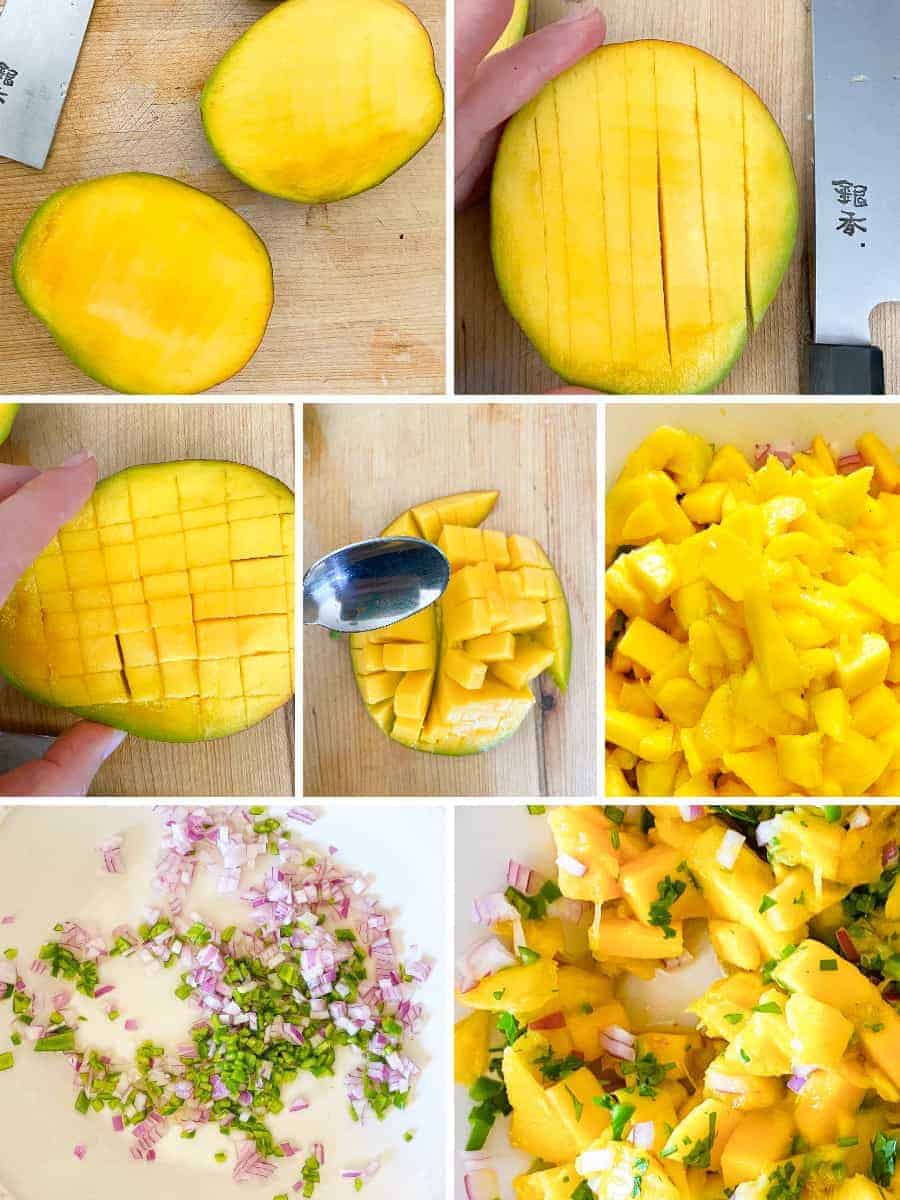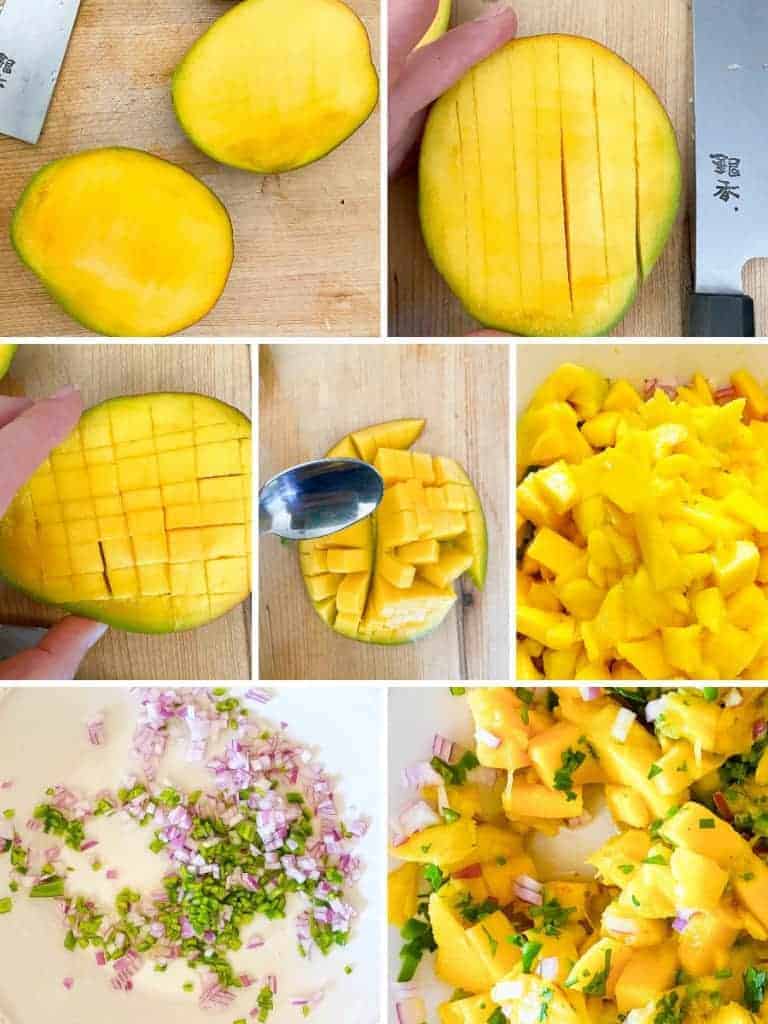 FAQs and Recipe Expert Tips
What do you eat mango salsa with?
Grilled Meat: My favorite way to eat mango salsa is with grilled chicken or fish.
With Crispy Tortilla Chips: Of course, you can always eat it with tortilla chips. Perfect for margarita night! For a light but decadent dessert, try it with homemade cinnamon chips!
How long does mango salsa last in the fridge?
Mango salsa should keep in the fridge for a few days, up to a week. Keep it in an airtight container.
How do I ripen a mango?
A lot of times, mangoes in the mainland grocery stores aren't ripe yet. The best way to ripen them is to put them in a paper bag on the counter. The fruit releases a gas compound that encourages the fruit to ripen.
Wait a day or two, and then check them again.
How do you pick a ripe mango?
Picking a mango is like picking an avocado. The color of the skin does not always indicate its ripeness.
The fruit should have the scent of mango. Its flesh should be firm but give slightly when pressed. If it's too soft, the fruit may be bruised or overripe.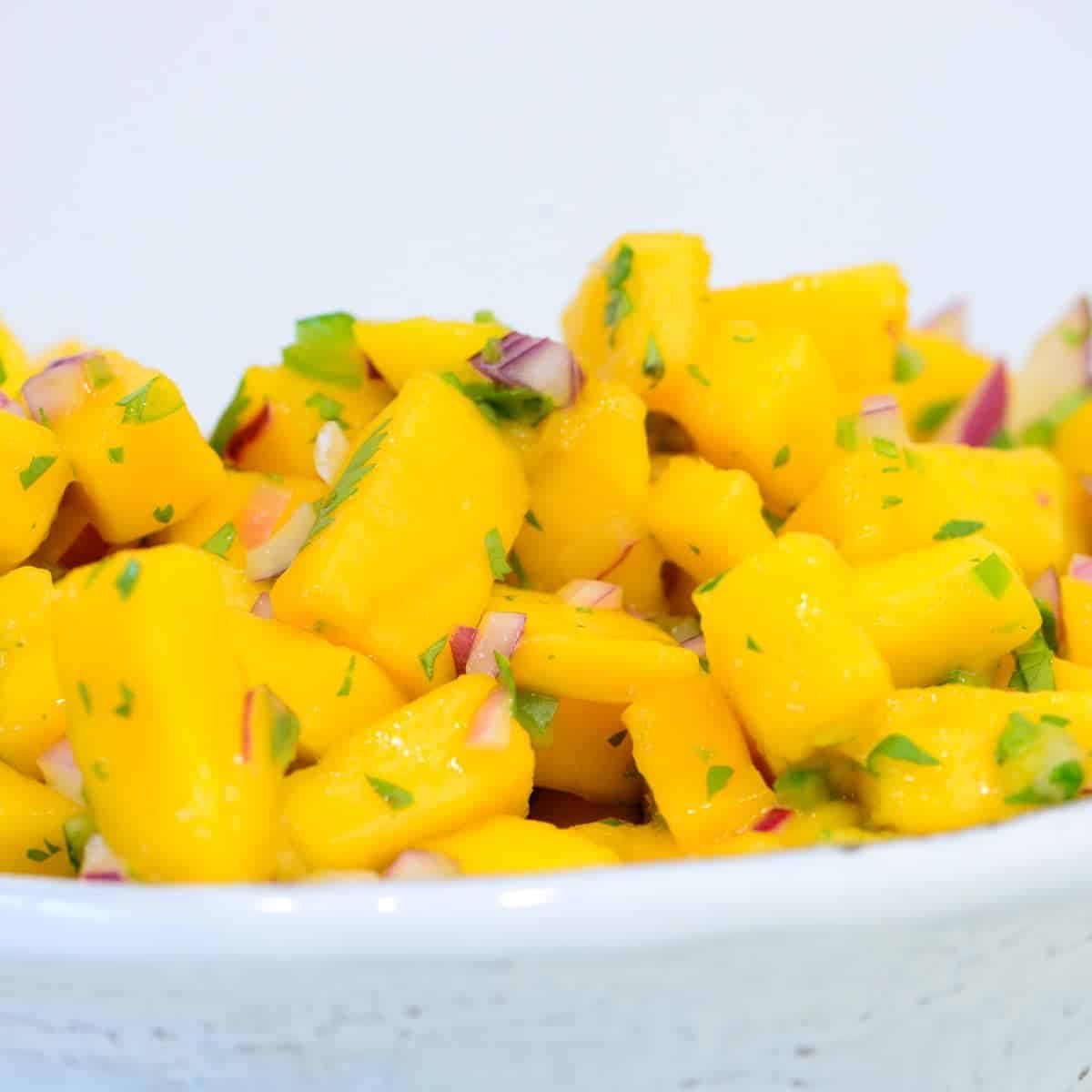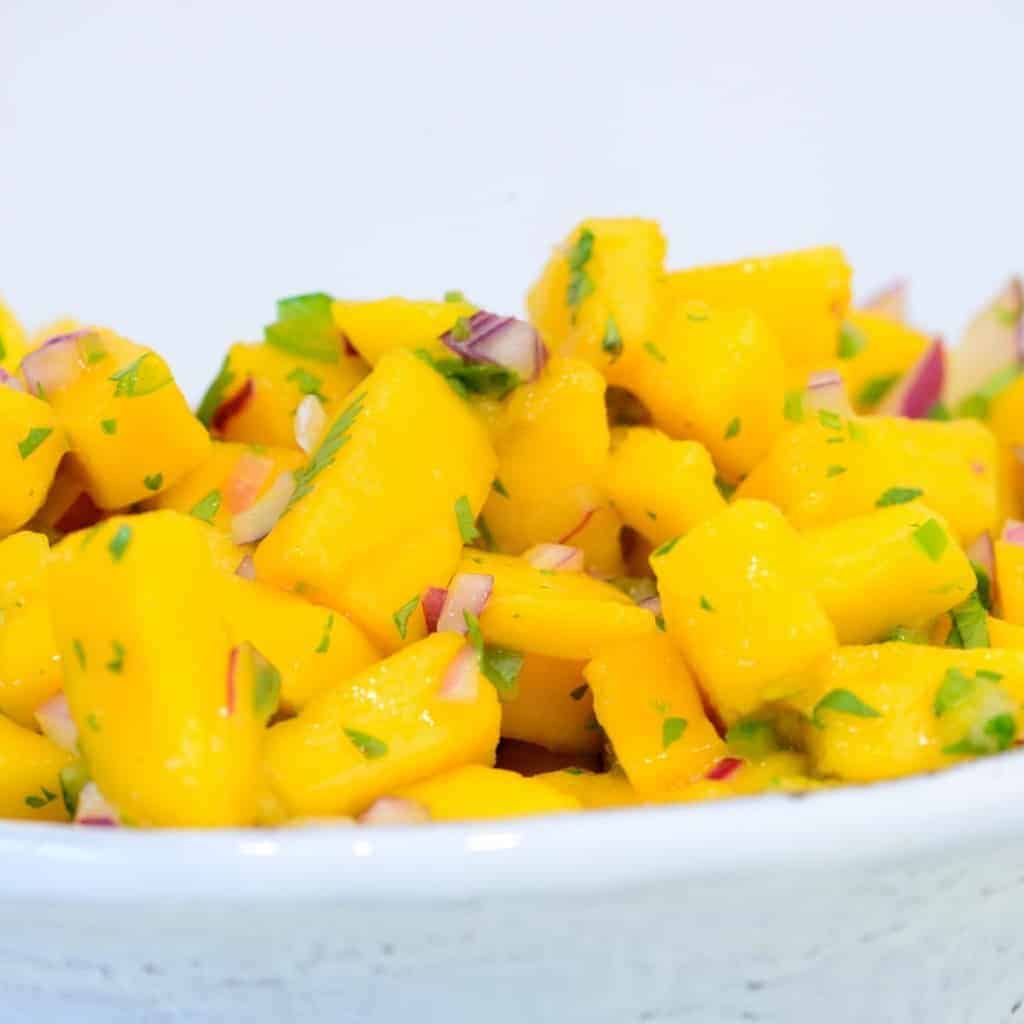 Recipe Variations
Fruit salsa is super easy to make. Once you've figured out the basic formula, you can start to experiment with different fruits. Just swap in the same amount of fruit for the mango.
Peaches: Peaches and basil are a lovely combo for grilled chicken and pork recipes.
Strawberries: Strawberries and mint are delicious and make a great topping for a fresh summer salad. Add grilled chicken for some protein.
Pineapple: Pineapple salsa is one of my absolute favorites. It's fantastic with grilled fish.
Watermelon: Watermelon paired with mint or basil makes a lovely refreshing salsa.
Other Salsa Recipes
If you're a freak for salsa the way that I am, make sure you try my other salsa recipes.
What to serve with Mango Salsa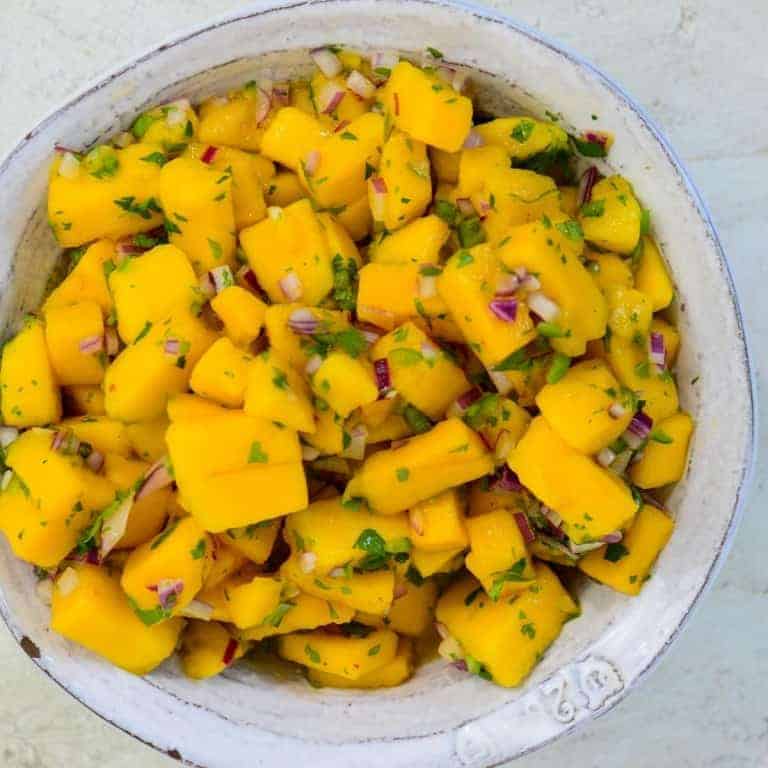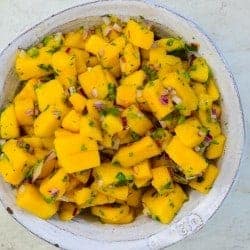 Mango Salsa
Sweet and spicy fresh mango salsa recipe. This salsa is my go-to summer fruit salsa. It pairs perfectly with grilled fish or chicken.
Ingredients
2

cups

fresh mango

diced, approximately 2 mangoes

1 to 2

serrano pepper

minced

¼

cup

red onion

finely diced

2

tbsp

fresh cilantro

finely minced

1

tsp

avocado oil

or coconut oil

½

lime

juiced

½

tsp

Kosher salt
Instructions
Dice the serrano pepper(s) and the onion: add to a large bowl.

Add the salt and the lime juice to the pepper and onions. Allow them to marinate while you prepare the remaining ingredients.

Peel and dice the mango. Add the mango to the bowl.

Finely chop the cilantro then add it to the bowl.

Add a few teaspoons of coconut oil and toss to combine.
Laura's Tips + Notes
Less Spicy
If you want the less spicy version of this fruit salsa, simply swap out the serrano peppers for jalapeños. Make sure to remove all the seeds and the inner white membranes.
This is where the majority of the heat is.
Fruit Salsa
This recipe is my basic fruit salsa recipe. You can swap out the mango for almost any other fruit. Simply add 2 cups of fruit and follow the instructions as indicated in the recipe.
A few of my favorite variations of fruit salsa are:
Peach Salsa
Strawberry Salsa
Watermelon Salsa
Nutrition
Calories:
129
kcal
Carbohydrates:
30
g
Protein:
2
g
Fat:
1
g
Saturated Fat:
1
g
Sodium:
97
mg
Fiber:
2
g
Sugar:
21
g
Calcium:
21
mg
Iron:
2
mg