Is there anything better than fish tacos on a hot summer day? The answer is no. And the best part is, you can make them in your air fryer!
Fish tacos are the perfect light and healthy summer meal. Ready to try them out? Keep reading for the recipe.
Disclaimer: This post does contain affiliate links. All opinions are my own. If you do click on the link, Foodology Geek may receive a small commission, at no cost to you. I do appreciate the support. If you love this recipe, please take a second and leave a 5-star review.
Don't forget to pin this recipe to save for later!
A little back story:
If you already have an Instant Pot (affiliate link) and are in love with all the ways you can make fast and easy recipes, then this add-on air fryer tool is a must-have.
I confess I am a traditionalist and never really got on board with slow cooking. I never really made anything in my slow cooker that I loved. Except for that Queso dip you make with a giant block of Velvetta and Salsa.
However, the pressure cooker is a different story.
When the Instant Pot (affiliate link) trend came on the food scene, I didn't rush to buy one. I have had a traditional pressure cooker since the 90s.
I always use my pressure cooker to make recipes like my super quick weeknight bolognese. There is no other way to get that much flavor into a dish so quickly.
So when the Instant Pot (affiliate link) came out, I was interested. At first, I wasn't sure it was worth having another kitchen tool. I already had the traditional version of a pressure cooker.
To test it out, I borrowed my friends to test it out. I fell in love with it.
Traditional pressure cookers can be intimidating. They make a loud sound, and you do have to use good old fashioned kitchen instincts to make sure you get your stew or meat just right. The set it and forget it design of the Instant Pot (affiliate link)makes pressure cooking a breeze! The fact that you can brown your meat and then deglaze that pan was what convinced me to give it a try.
Enter the Mealthy CrispLid
At my last Food Bloggers conference, I was introduced to Mealthy.
Mealthy makes its own version of the digital MultiPot. While I have not tried the MultiPot, they claim it is superior to the Instant Pot Brand. You can check it out here and see for yourself!
I was asked to test a few recipes with their new CrispLid. I was super excited to get started on recipe testing. These Healthy Battered Fish Tacos were the first on my list
The remarkable thing about Mealthy's CrispLid is that it fits on an Instant Pot (affiliate link) so if you do not have the Mealthy brand pressure cooker, no worries this lid will fit just fine on your Instant Pot.
How Does an Air Fryer Work?
An air fryer uses convection to cook food.
Convection oven cooking uses a high-powered fan to circulate hot air around the food as it is cooking. This hot circulating air helps keep the food at a consistent temperature to cook evenly.
Air frying is the perfect technique for creating crispy breaded things that you typically deep fry with minimal oil. If you are trying to eat healthier but miss some of your favorite foods like breaded fish tacos, air fryer recipes can be the perfect solution.
Mealthy's CripsLid turns your Instant Pot (affiliate link) into a digital air fryer.
Check out the CrispLid Here! This lid is an add-on tool that turns your current multi-pot into a convection oven.
If you know me, you know that tacos are life in my world.
I have been known to make any meal into something I can eat on a tortilla. I am proud of this skill. Everything is better when wrapped in a warm tortilla especially if it involves crispy spicy battered fish.
Ingredients to make fish tacos:
Fish – Cod or halibut, about one pound
Masa – found in the ethnic section
Spices – Oregano, paprika, cayenne, chili powder, garlic powder. Get my taco seasoning recipe here and always have a big batch on hand.
Eggs
Oil – in a pressurized sprayer. Perfect for keeping things on the lighter side.
Corn tortillas – My favorite brand is Mi Rancho. But you can use whatever your favorite tortillas are.
For the sides:
Cabbage slaw for fish tacos: cabbage, cilantro, limes, and a little salt and pepper.
White sauce for fish tacos: creme fraiche, mayonnaise, lime juice, and a little salt. (If you can't find creme fraiche, sour cream is an excellent substitute.)
Cholula Hot Sauce

(affiliate link)

: This is just my recommendation. I grew up with Cholula, and it's one of my favorite hot sauces.
Making Fish Tacos in an air fryer is a dream come true.
I was surprised at how perfectly crisp and delicious these battered fish tacos were. Using only a trace amount of oil makes these fish tacos easy on the waistline.
How to make air-fried fish tacos
Mix the masa flour and spices together in a shallow dish.
Add the eggs and a few dashes of hot sauce to a separate shallow dish. Whisk to combine.
Cut fish into sized taco sized pieces. Approximately 3 to 4 inches long and 1 to 2 finger widths.
Season the fish with a little bit of salt and pepper and a little bit of taco seasoning.
Working in batches, dunk the fish into the egg wash and then into the masa flour mixture.
Set out on a baking sheet in a single layer.
Set up your instant pot, insert the stand and basket into the body of the Instant Pot.
Place 5 or 6 pieces of battered fish into the basket.
Then affix the Crisplid. (Note: if you don't yet have a CrispLid, many toaster ovens have an air fryer setting. You can make these air fryer fish tacos with a toaster oven as well.)
Set the time and temperature of the CrispLid to high and the time for 7 minutes.
PRO-TIP: If there was one disadvantage to the CrispLid, it was that you can only cook a small amount of food at a time. For my family of four, I made 3 batches of the fish. The fish cooks really quickly, so it wasn't a huge issue. If you are cooking for just one of two people, then it's no problem at all.
Find More Mexican Recipes
I love everything about tacos and Mexican Food. Find more Mexican Recipes and start planning your next fiesta.
This Fish Taco Bowl is heaven in your mouth. Imagine everything flavorful tequila lime fish topped with Mango Salsa and crunchy Fish Taco Slaw –…
➽ Did you make this recipe? I love to see what's going on in your kitchen. Show me what you're cooking. 🍳 Tag me @foodologygeek on your favorite social channel! Facebook, Instagram & Pinterest. If you loved ❤︎ this recipe, please leave a five ★ review and a comment!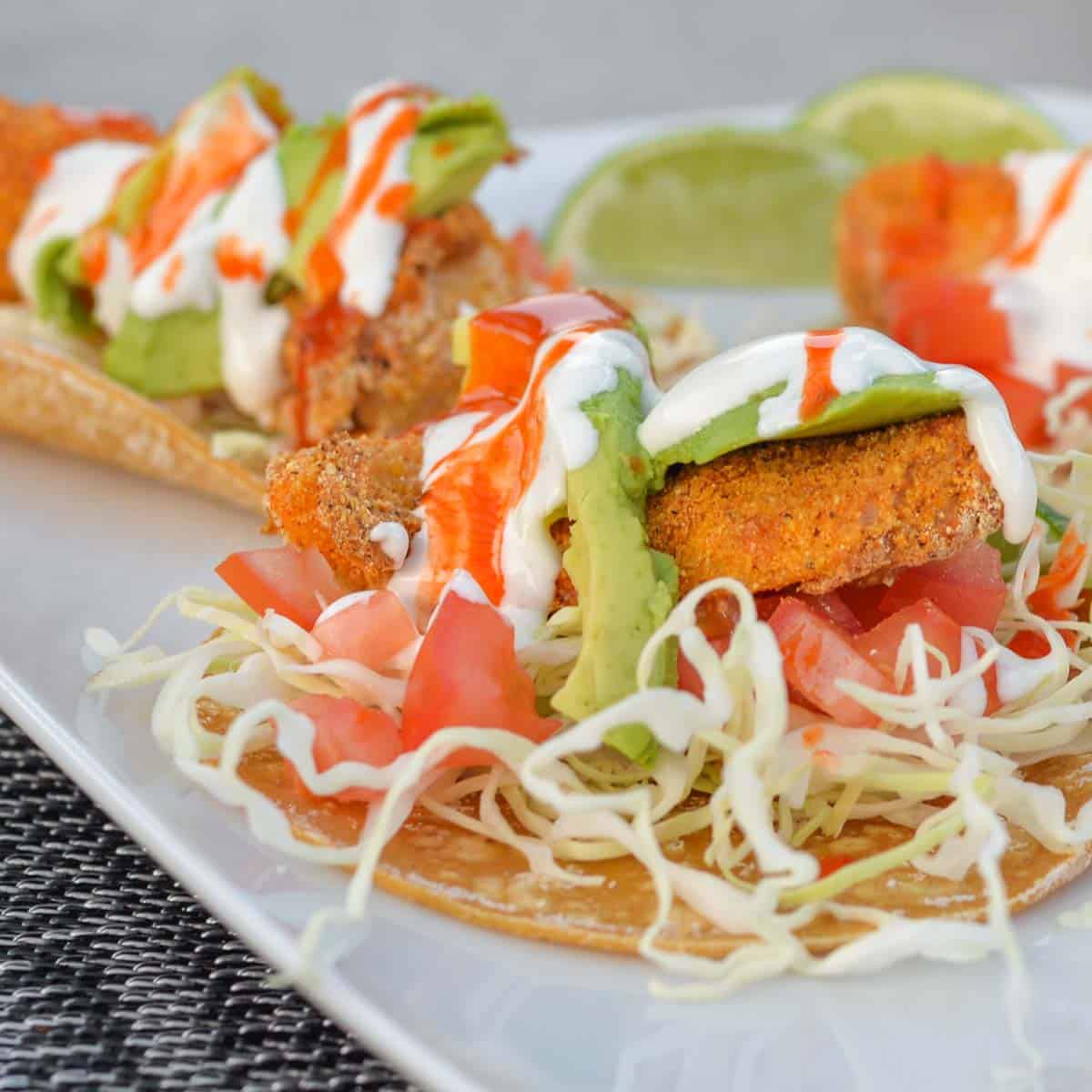 Air Fryer Baja Fish Tacos
Healthy Baja fish tacos. Battered fish tacos made in the air fryer are low fat and high in protein.
Ingredients
Instructions
Batter the Fish
Cut the fish into taco sized pieces

Pat the fish dry and season with salt and pepper.

Mix the masa flour with a few teaspoons of taco seasoning in a shallow dish. (Get the Foodology Geek recipe in the notes.)

Add the eggs to a second shallow dish, whisk, and add a few dashes of your favorite hot sauce.

Prepare a baking sheet. Line with parchment paper for easy cleanup.

Working in batches, dunch each piece of fish into the egg wash and then into the masa flour mixture.

Set the battered pieces of fish on the parchment-lined baking sheet.
Air fryer Instructions
Set up the Instant Pot with the stand, and the basket.

Add the battered fish to the air fryer basket. Affix the lid and set the air fryer to cook for 7 minutes.

Make sure to leave sufficient space between the pieces of fish so that the air can circulate and evenly crisp each piece.

Remove each batch and set aside.
White Sauce
Simply mix the cream fraiche and mayonnaise together.

Add enough lime juice to thin to desired consistency.

Add a few pinches of salt and whisk.
Cabbage Slaw
Finely shred the cabbage and add it to a medium-sized bowl.

Add the minced cilantro and the lime juice.

Add a little bit of salt and pepper and then toss.
Laura's Tips + Notes
This recipe has 5 points for 4 tacos. Add in the avocado and white sauce if you use that.
I use Mi Rancho Slider sized corn tortillas.
Avocado pts: one-quarter of a medium sized Hass avocado is 2 points.
White Sauce pts: 1 pt for one-quarter of the recipe if you use fat free sour cream and mayo. If you use the full fat stuff the white sauce will have a few more points.
Get the Taco Seasoning

(affiliate link)

recipe.
YOUR OWN NOTES
Nutrition
Serving:
4
tacos
Calories:
622
kcal
Carbohydrates:
47
g
Protein:
58
g
Fat:
26
g
Saturated Fat:
6
g
Cholesterol:
193
mg
Sodium:
357
mg
Fiber:
8
g
Sugar:
2
g
Calcium:
104
mg
Iron:
3
mg