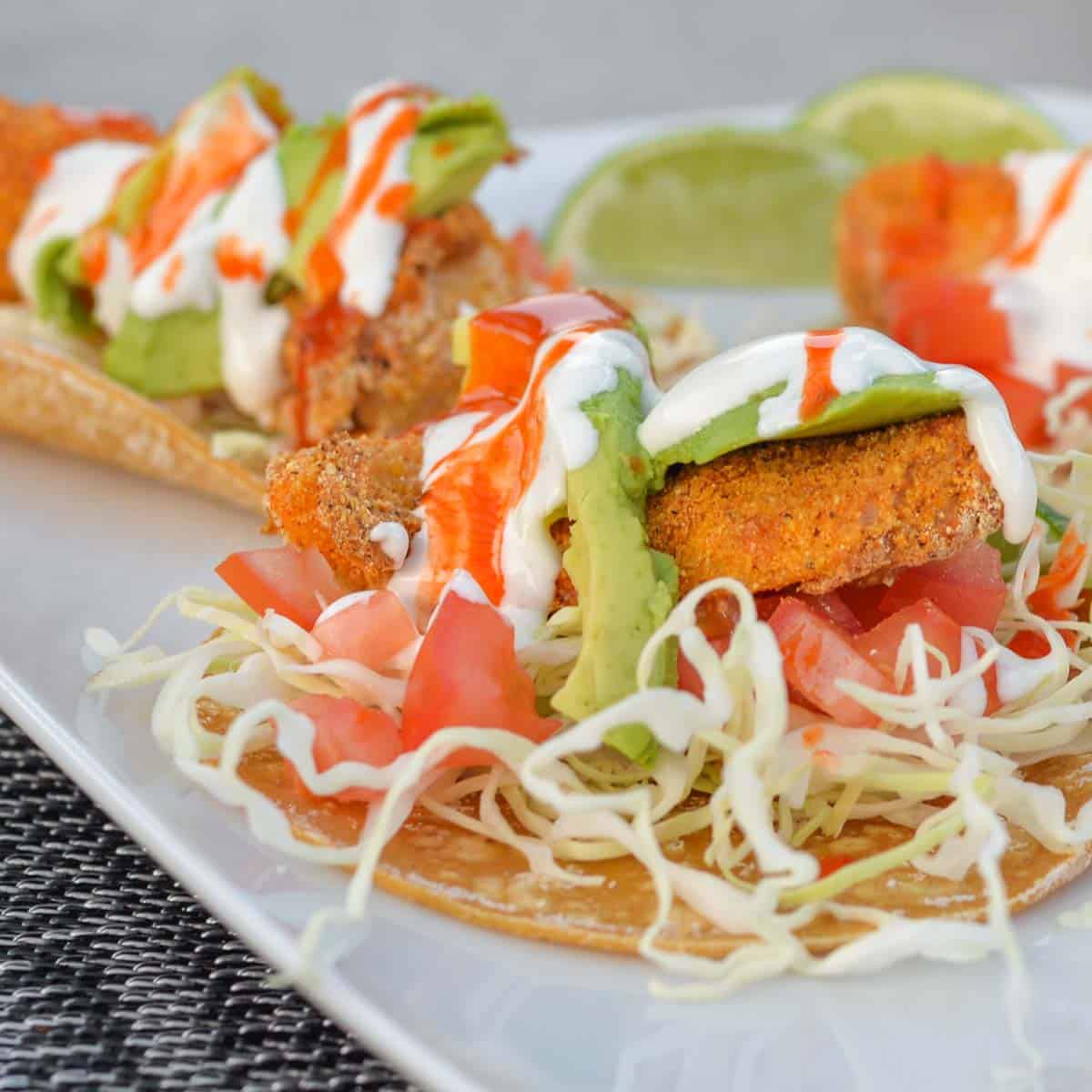 Recipe
Comments
Save
Go to Collections
This post may contain affiliate links. Please read my
disclosure policy.
Are you craving a delicious and healthier version of crispy fish tacos? Look no further! Our air fryer fish tacos recipe combines crispy and flavorful fish with a mouthwatering blend of toppings and sauces.
Whether you're following a specific dietary plan or simply want to enjoy a guilt-free meal, these air fryer fish tacos will satisfy your cravings. Get ready to indulge in a culinary delight that the whole family will love.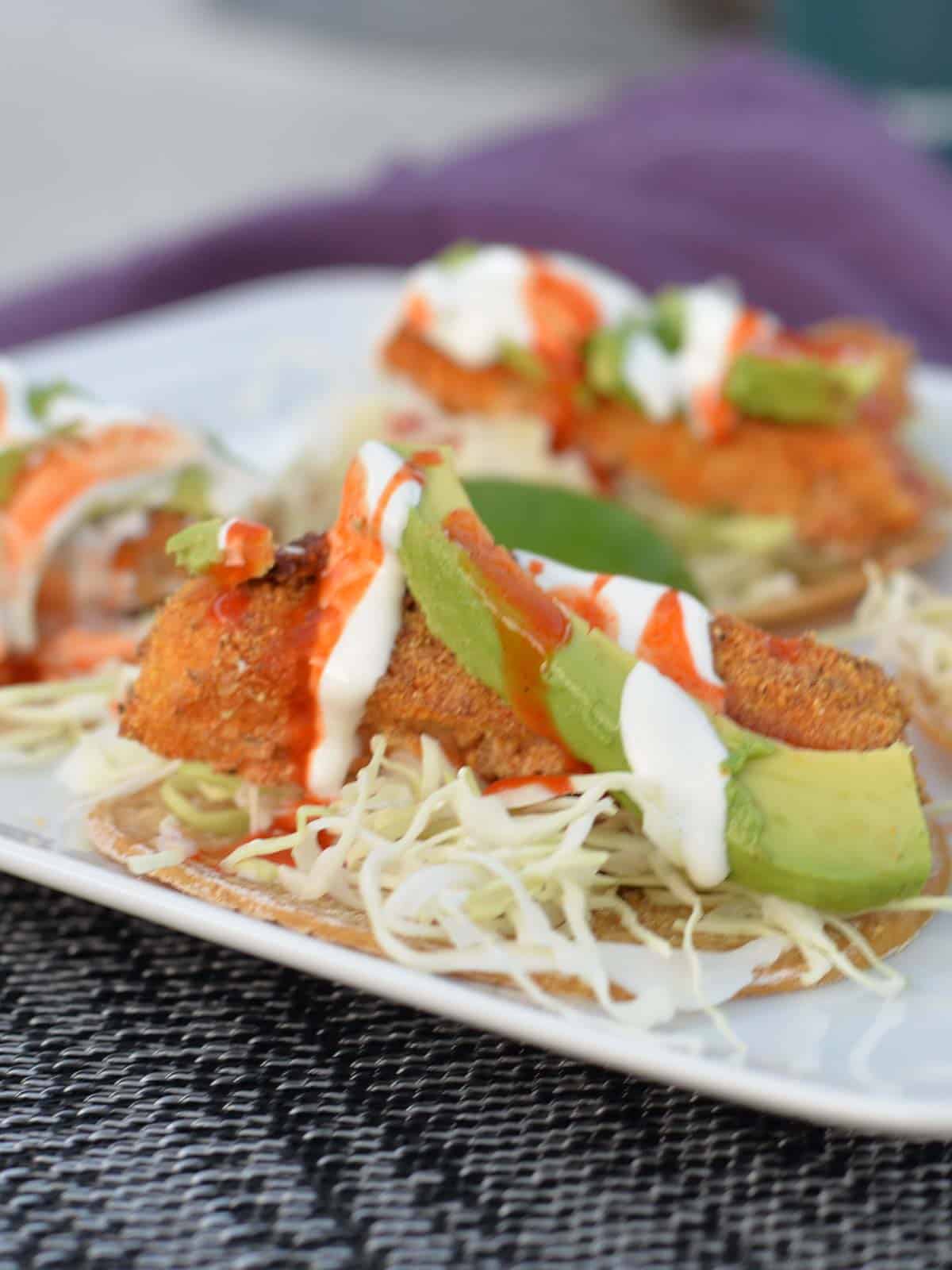 Tacos always make a quick and easy dinner! This satisfying recipe is for any night of the week, so don't save it just for Taco Tuesday.
What You'll Love About This Recipe:
Crispy Perfection: Using the air fryer allows you to achieve a perfectly crispy coating on the outside of the fish, while keeping it tender and flaky on the inside. Say goodbye to greasy and heavy fried fish tacos!
Healthier Option: You significantly reduce the oil used by air frying instead of deep frying, making these fish tacos a healthier alternative. Enjoy the same great taste with fewer calories.
Versatile Toppings: This recipe gives you the freedom to customize your toppings. From tangy slaw to creamy avocado sauce, you can create a combination that suits your taste buds perfectly.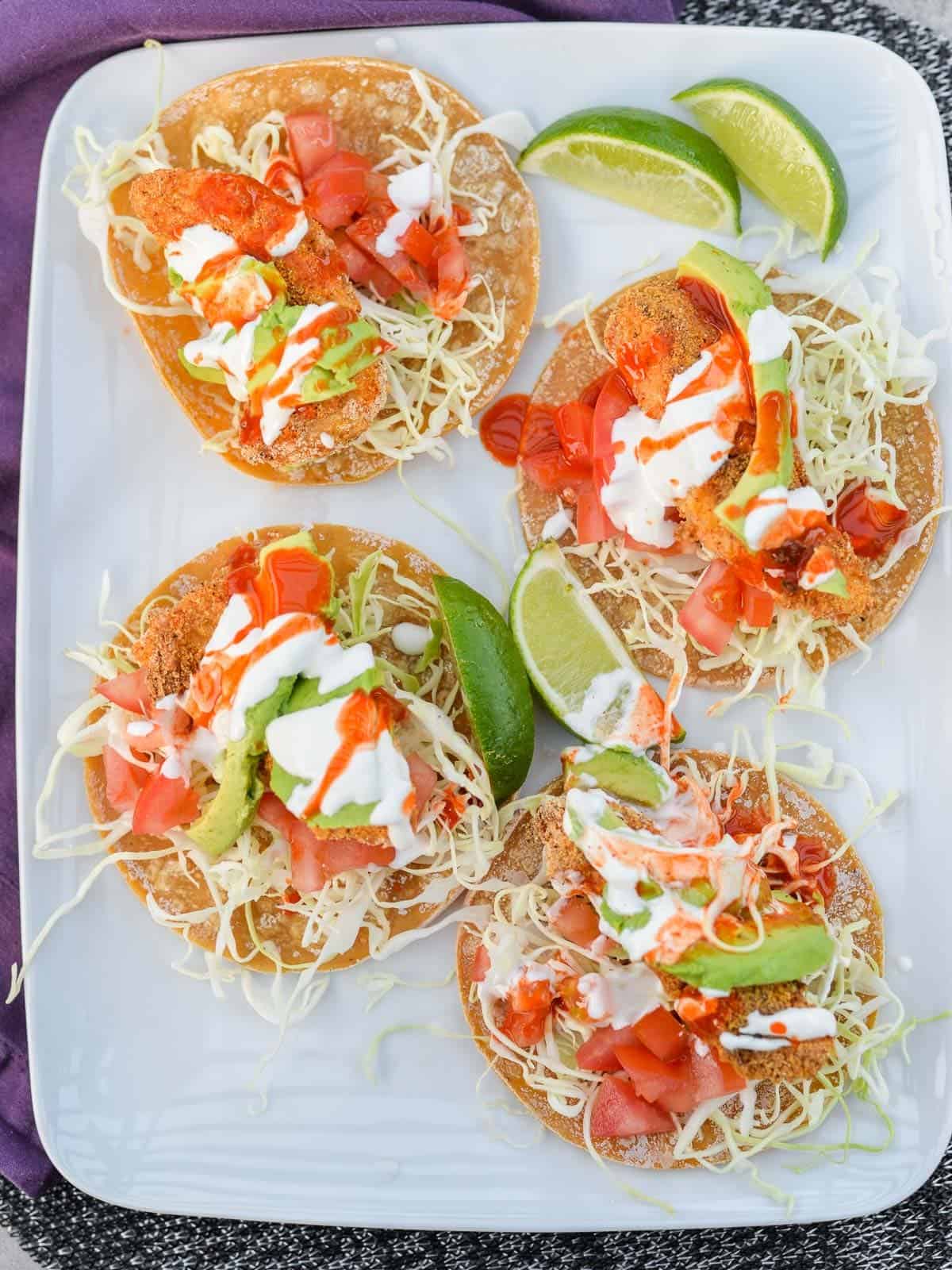 What You'll Need:
Fresh white fish fillets (such as cod or tilapia fillets)
Masa flour or panko breadcrumbs.
Seasonings (paprika, garlic powder, cumin, salt, and pepper)
Eggs (for an egg wash)
Olive oil (for brushing the fish fillets)
Flour or corn tortillas
Shredded cabbage or coleslaw mix
Fresh cilantro leaves
Lime wedges
Optional toppings: sliced avocado, diced tomatoes, hot sauce, sour cream
Step-by-Step Instructions:
Add this perfect taco dinner to your repertoire or easy air fryer recipes.
Preheat your air fryer to 400°F (200°C).
Mix the masa or panko breadcrumbs (or your chosen low-carb alternative) with seasonings like paprika, garlic powder, cumin, salt, and pepper in a shallow dish.
In a second shallow bowl, beat the eggs.
Dip each fish piece into beaten eggs, ensuring both sides are coated, then dredge in the panko mixture, pressing gently to adhere.
Lightly brush both sides of each coated fillet with olive oil to enhance crispiness.
Place the breaded pieces of fish in a single layer in the air fryer basket, leaving space between each piece for optimal air circulation.
Cook the fish in the air fryer for about 10-12 minutes, flipping halfway through or until the fish is golden brown and flakes easily with a fork.
While the fish cooks, warm the tortillas in a dry skillet or microwave, then keep them warm in a clean kitchen towel.
Assemble the tacos by placing a few pieces of crispy fish onto each tortilla. Top with shredded cabbage or coleslaw mix, fresh cilantro leaves, and a squeeze of lime juice.
Add optional toppings like sliced avocado, diced tomatoes, hot sauce, or sour cream.
Serve immediately and enjoy the mouthwatering flavors of your homemade air fryer fish tacos!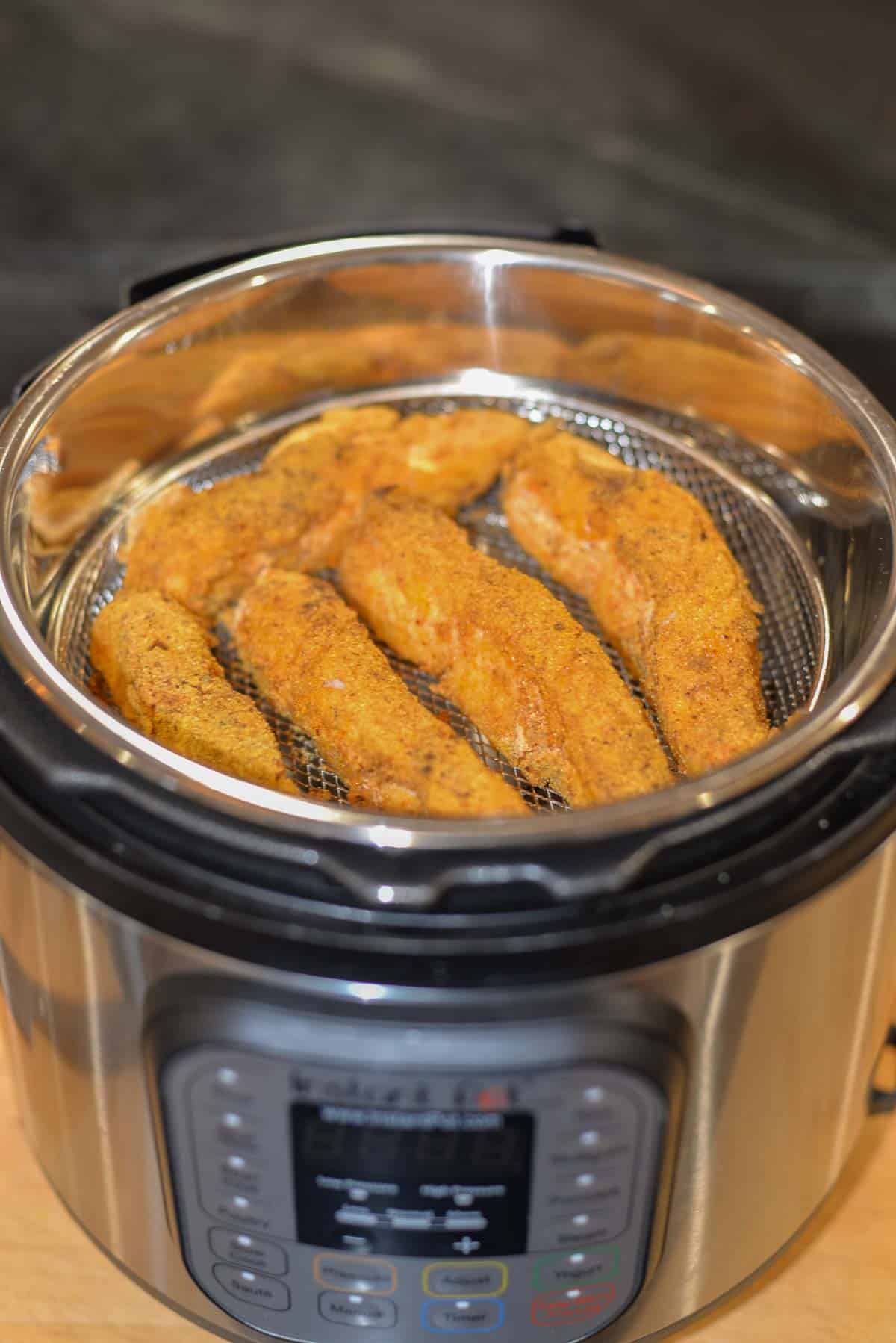 What to Serve with Fish Tacos:
To complement your air fryer fish tacos, consider serving them your favorite toppings and a few Mexican side dishes.
Mexican Rice: Whip up a batch of fluffy Mexican rice to add a flavorful side dish to your meal.
Mexican Corn Salad: Enjoy a crisp, refreshing corn salad with a tangy, creamy, cheesy dressing.
Lime Crema: Fresh crema with a squeeze of lime.
Baja-style Slaw: Prepare a tangy and crunchy slaw with cabbage, carrots, and a citrusy dressing to add texture and freshness to your tacos.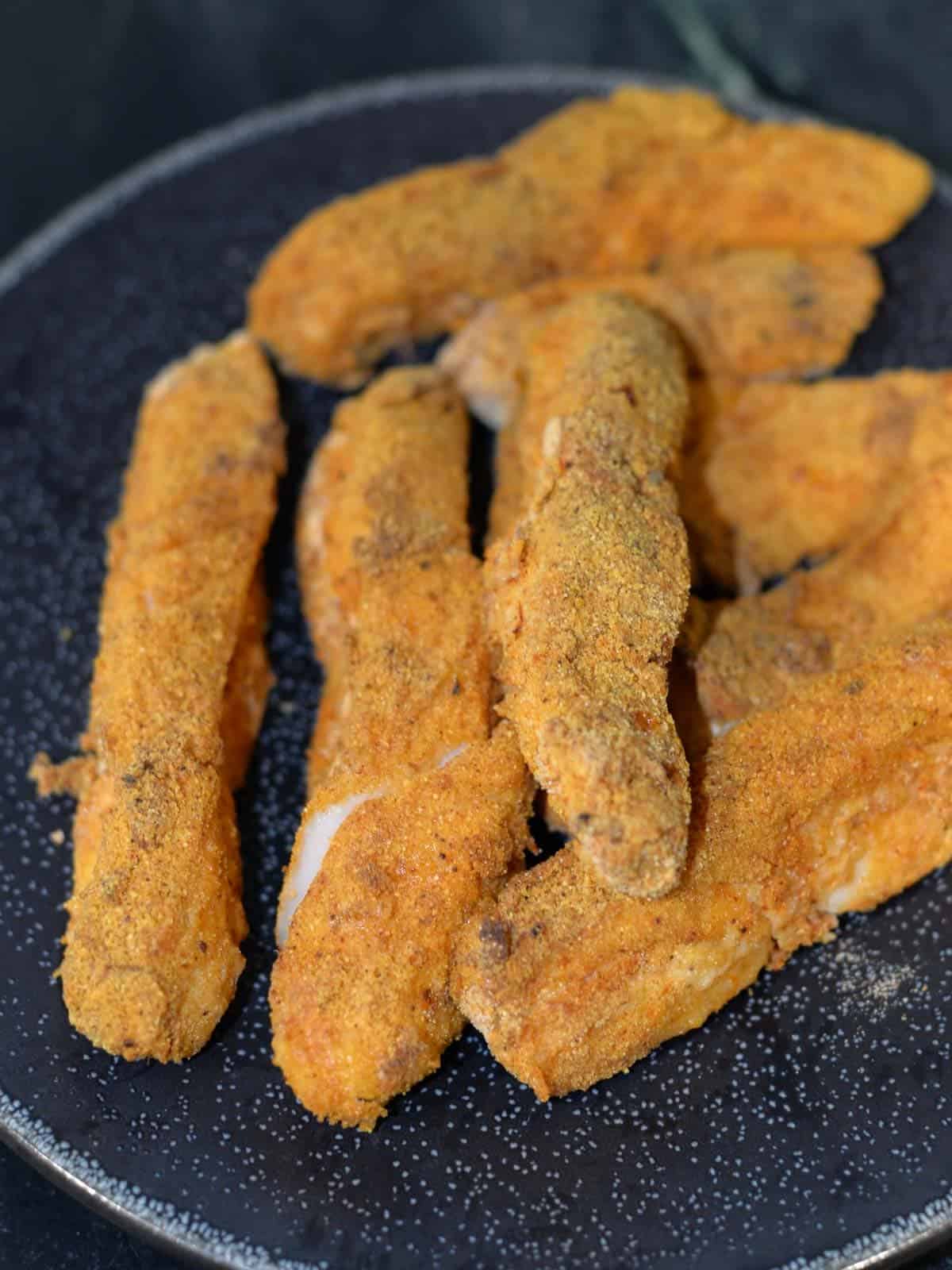 ​FAQs and Expert Tips
What is the best fish for fish tacos?
The best fish for fish tacos is a flaky white fish or a firm white fish.
A few of my favorite types of fish for fish tacos are: mahi mahi, sea bass, tilapia or cod.
What size air fryer do you need?
If you haven't yet purchased this kitchen gadget, let me help you pick the correct size for your needs.
What if you don't have an air fryer?
If you don't have an air fryer, you can still make this simple fish taco recipe in the oven.
Find More Mexican Recipes
If you love everything about tacos and Mexican food, find more Mexican Recipes and start planning your next fiesta.
Homemade flour tortillas are super easy to make. Once you've made a batch of flour tortillas from scratch, you'll never go back to store-bought tortillas….
Leave A Review
Did you make this recipe? I'd love to hear about it. Leave a comment, and don't forget to leave a 5 ★ review.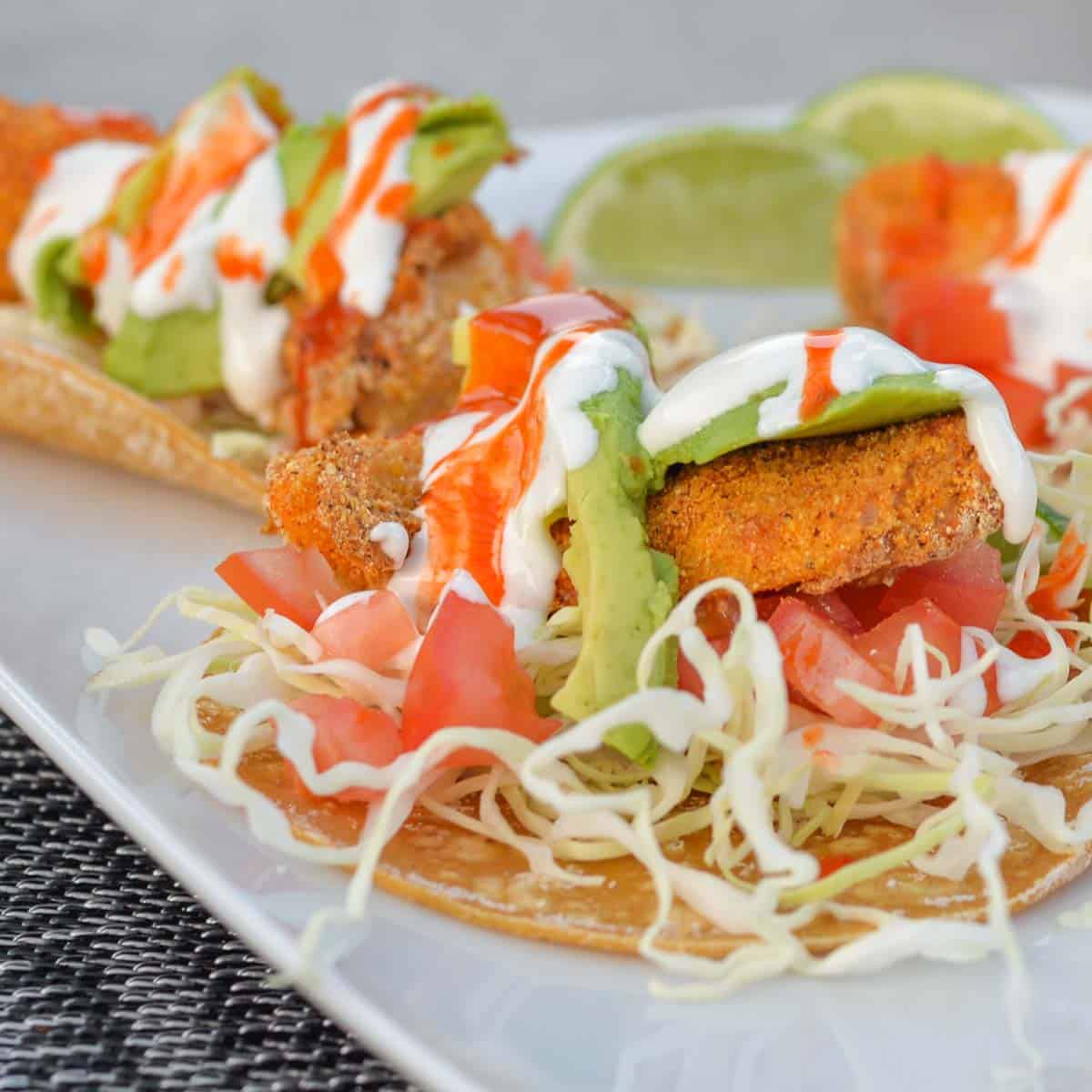 Air Fryer Fish Tacos Recipe
Elevate your taco game with our gourmet air fryer fish tacos! This culinary masterpiece features succulent fish fillets cooked to crispy perfection in the air fryer. Topped with a medley of fresh and flavorful ingredients, these tacos will impress your family and friends with their restaurant-quality taste. Get ready for a taco experience like no other!
Ingredients
Instructions
Batter the Fish
Cut the fish into taco sized pieces

Pat the fish dry and season with salt and pepper.

Mix the masa flour with a few teaspoons of taco seasoning in a shallow dish. (Get the Foodology Geek recipe in the notes.)

Add the eggs to a second shallow dish, whisk, and add a few dashes of your favorite hot sauce.

Prepare a baking sheet. Line with parchment paper for easy cleanup.

Working in batches, dunk each piece of fish into the egg wash and then into the masa flour mixture.

Set the battered pieces of fish on the parchment-lined baking sheet.
Air fryer Instructions
Set up the Instant Pot with the stand, and the basket.

Add the battered fish to the air fryer basket. Affix the lid and set the air fryer to cook for 7 minutes.

Make sure to leave sufficient space between the pieces of fish so that the air can circulate and evenly crisp each piece.

Remove each batch and set aside.
White Sauce
Simply mix the cream fraiche and mayonnaise together.

Add enough lime juice to thin to desired consistency.

Add a few pinches of salt and whisk.
Cabbage Slaw
Finely shred the cabbage and add it to a medium-sized bowl.

Add the minced cilantro and the lime juice.

Add a little bit of salt and pepper and then toss.
Laura's Tips + Notes
Breading variations:
I like the flavor of masa flour in this recipe. However, panko breadcrumbs are also a good choice, giving you an even crispier fish taco. You can also use a blend of panko and masa flour.
Low-Carb Alternatives For Breading
Pork rinds, almond meal, coconut flour.
Get my homemade sugar-free Taco Seasoning

(affiliate link)

recipe.
YOUR OWN NOTES
Sign In to add your own private notes
Nutrition
Serving:
1
taco
Calories:
158
kcal
Carbohydrates:
15
g
Protein:
13
g
Fat:
5
g
Saturated Fat:
1
g
Trans Fat:
0.01
g
Cholesterol:
51
mg
Sodium:
250
mg
Fiber:
2
g
Sugar:
1
g
Calcium:
49
mg
Iron:
1
mg