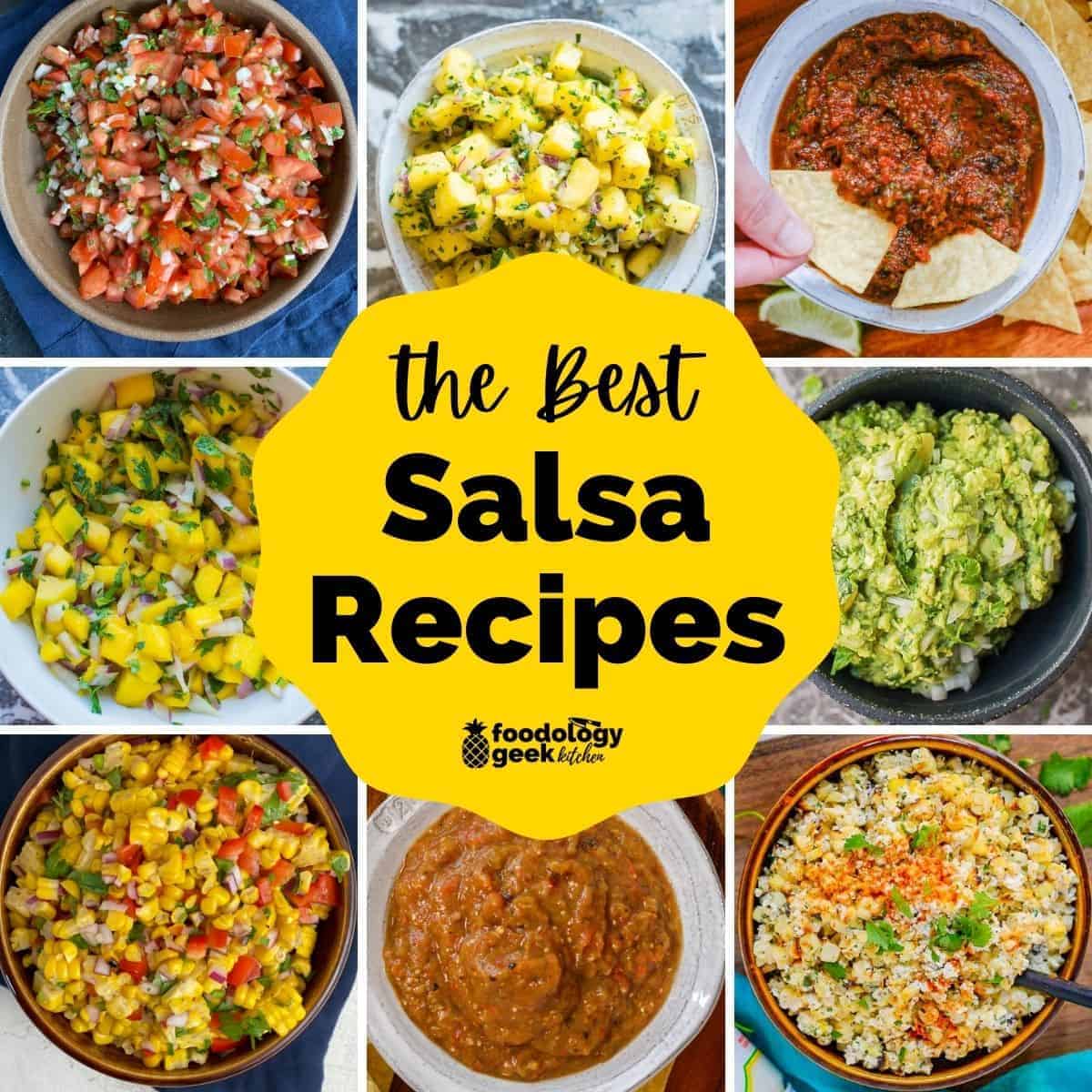 Recipe
Comments
Save
Go to Collections
This post may contain affiliate links. Please read my
disclosure policy.
Homemade salsa recipes add so much flavor to all of your favorite Mexican food.
This collection of the BEST Salsa Recipes gives you salsa for every occasion. Whether you're looking for authentic Mexican salsa or sweet and spicy fruit salsa, this post has you covered.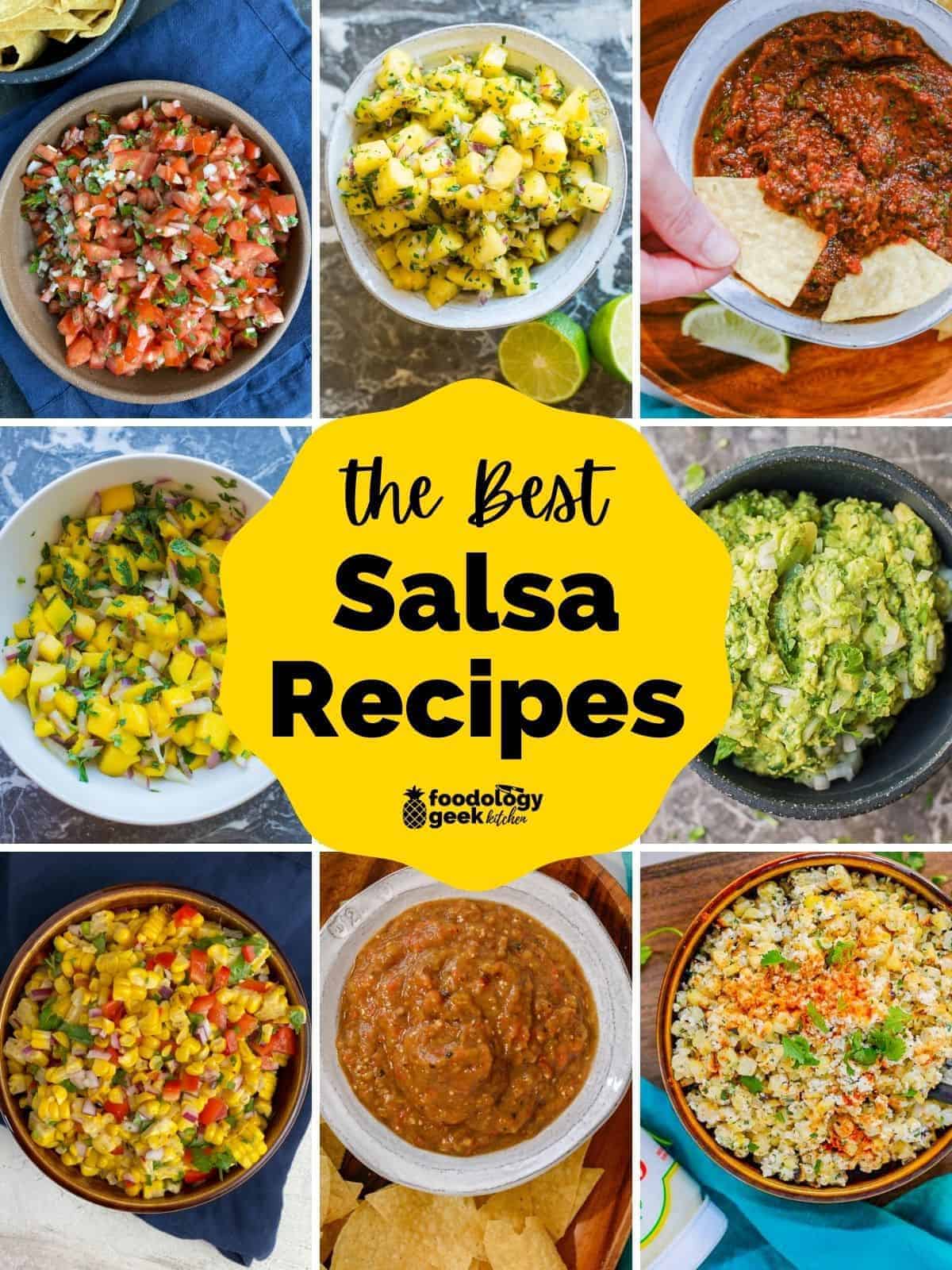 Mexican Salsa Recipes
Salsa recipes come in many varieties. Some salsa recipes are made with fresh tomatoes like Pico de Gallo (AKA Salsa Fresca). Cooked salsa recipes like Fire-Roasted Tomato Salsa require roasting the vegetables before making the salsa.

Pico de Gallo
Make Pico de Gallo with ripe tomatoes, onions, cilantro, fresh lime juice, and peppers (usually jalpeños or serrano peppers).
Salsa recipes with fresh tomatoes are relatively mild. Perfect when served with a bowl of tortilla chips and always perfect on tacos.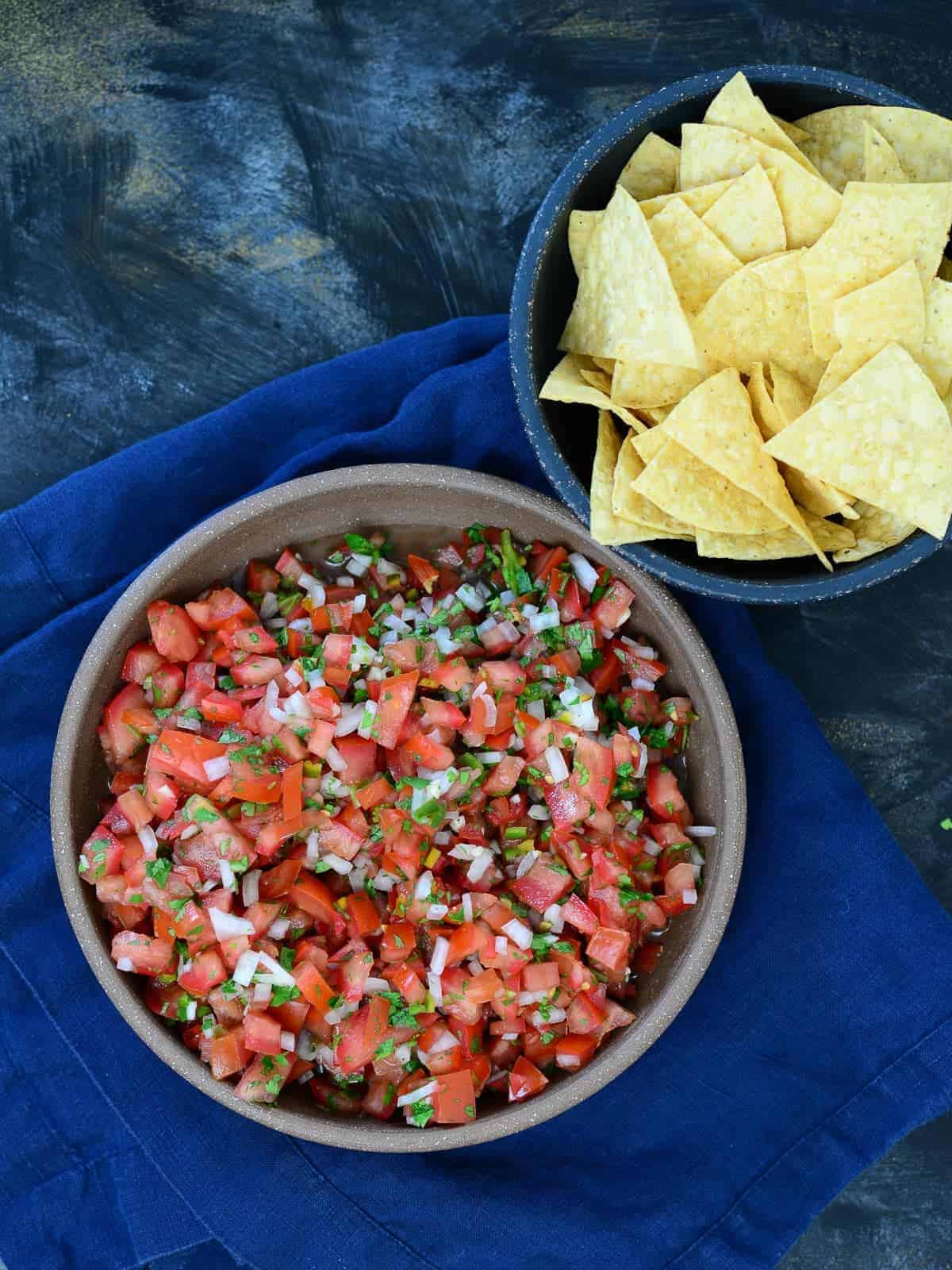 Homemade Pico de Gallo Recipe
Meta: This easy pico de gallo recipe is infinitely customizable and far superior to anything you can buy in a store. Make it the way you like it!
SEE THE RECIPE
PIN FOR LATER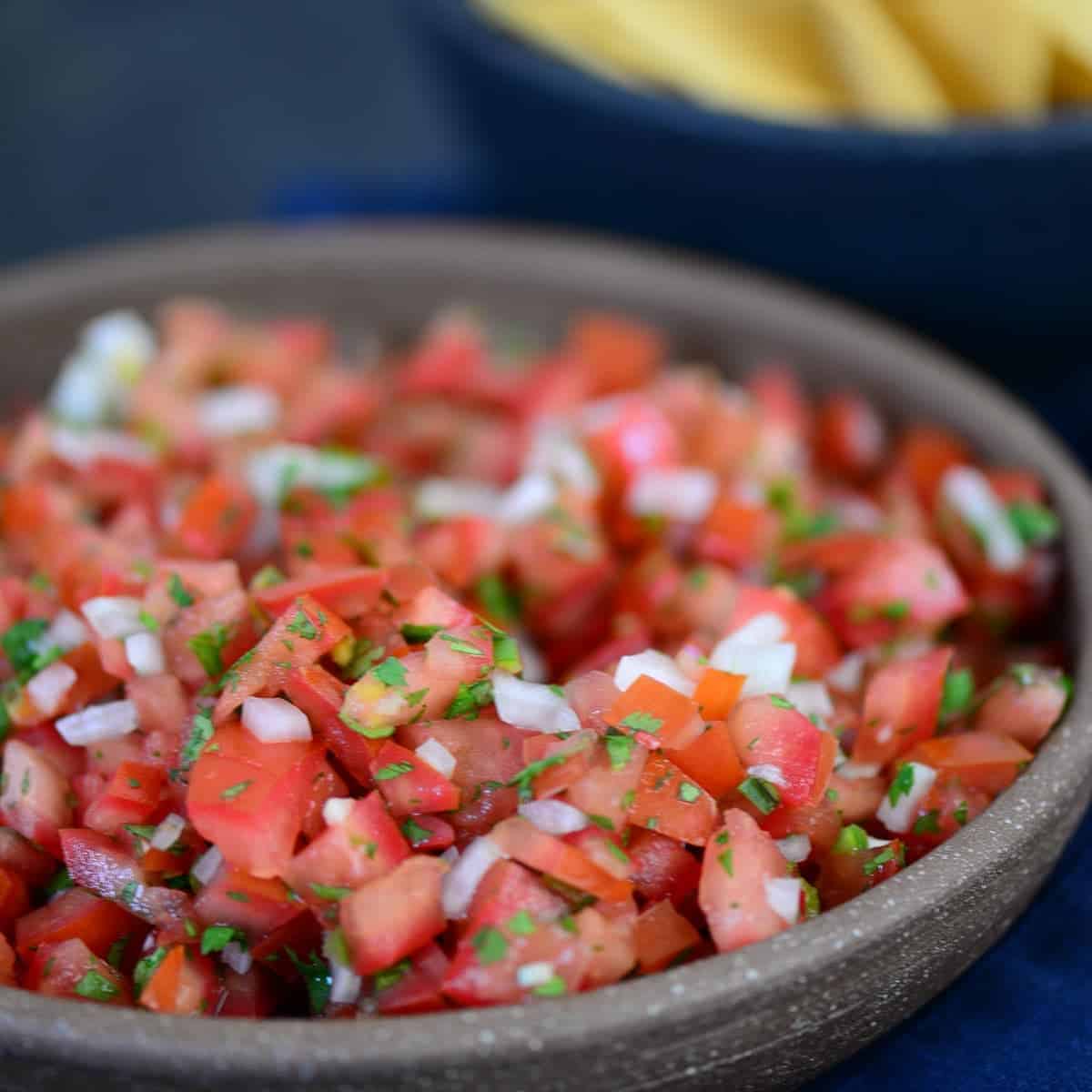 Salsa Verde Recipes
Make this green salsa recipe with tomatillos. Salsa Verde is also used to make recipes like Pork Chile Verde or my Chicken Green Chile Bowl.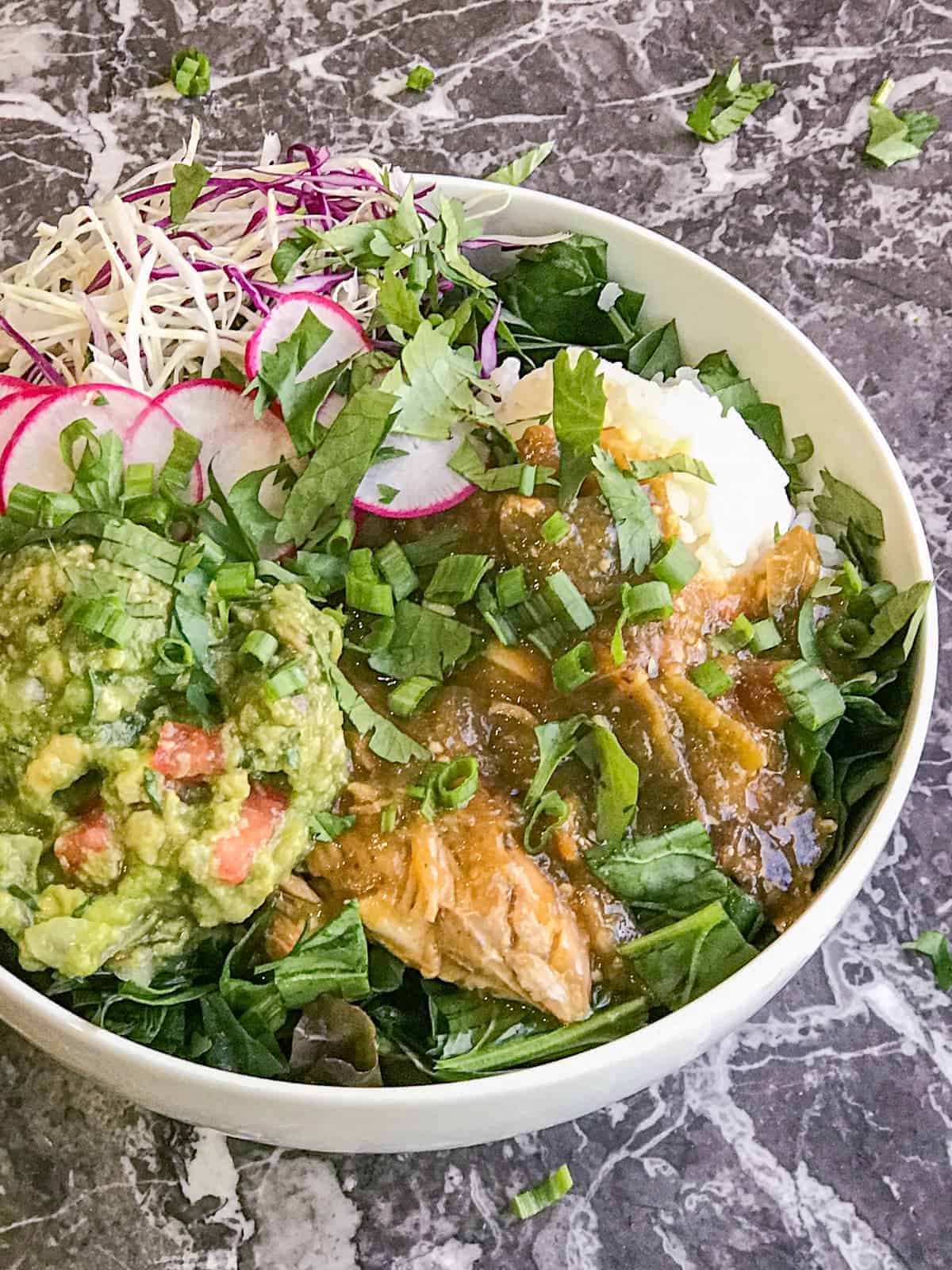 Cooked Salsa Recipes
Some salsa recipes are cooked, like my Roasted Tomato Salsa Recipe and the Pepper Salsa that appear in this post.
Roasted vegetables brings out a sweet and smoky flavor that adds a layer of deliciousness to any salsa recipe.
Roasted Tomato Salsa
Roasted Tomato Salsa has an extra layer of flavor that comes from roasting and charring the vegetables. The sugars in the tomatoes and onions are concentrated during roasting which gives roasted salsas are sweeter and have a richer flavor since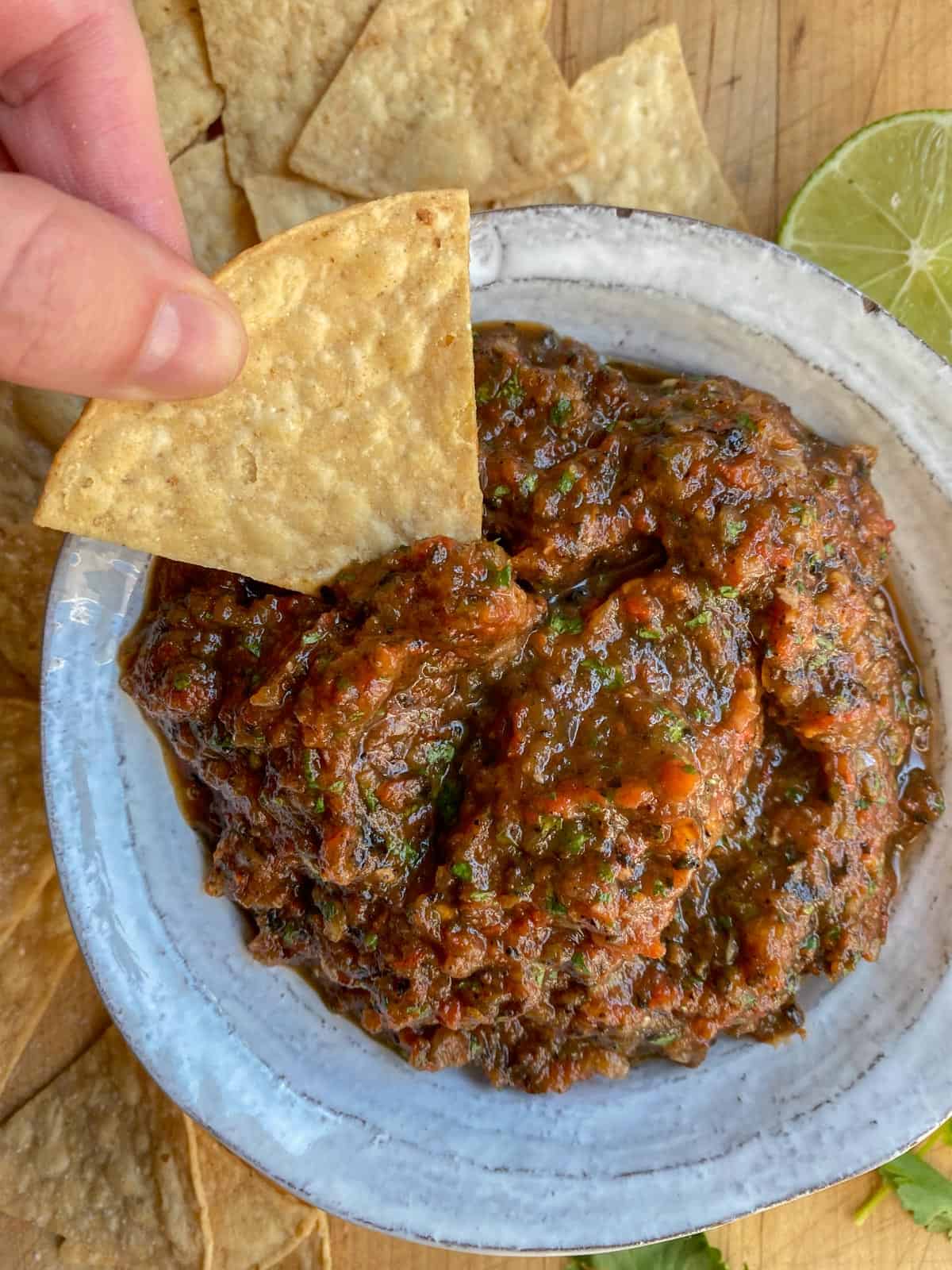 Roasted Tomato Salsa
This roasted tomato salsa is mouthwateringly addictive. It's made with roasted jalapeños and tomatoes for a hint of smokiness. You'll have restaurant-style chips and salsa at home!
SEE THE RECIPE
PIN FOR LATER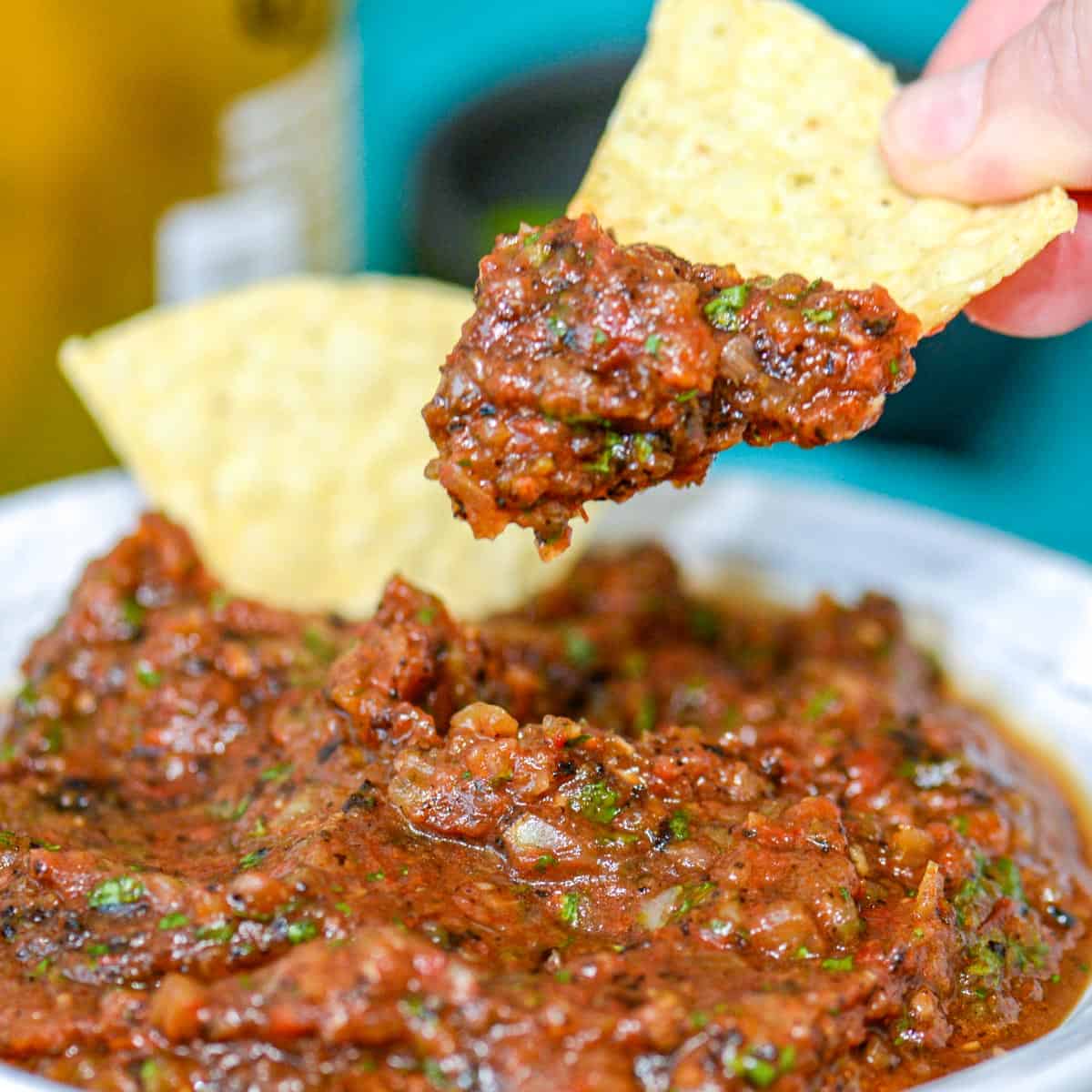 Pepper Salsa Recipe
This spicy, garlicky pepper salsa recipe is delicious on tacos and burritos. Made with 12 peppers, Roma tomatoes, tomatillos, and garlic.
You can find the recipe for this Pepper Salsa in the recipe card below.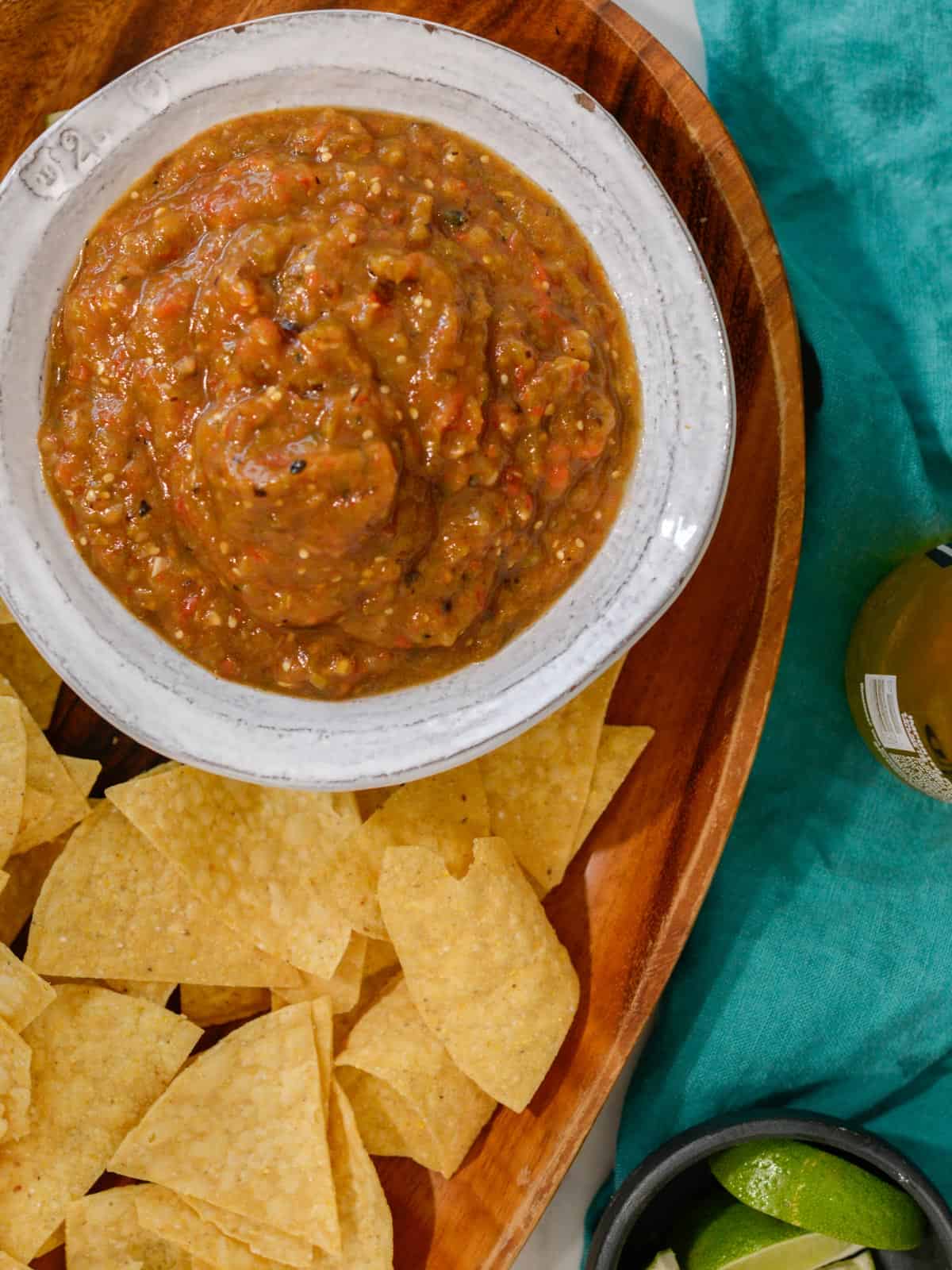 Corn Salsa Recipes
Some of our favorite summer salsa recipes include our Roasted Corn Salsa and while it's technically not a salsa. Esquites is a Mexican corn salad that is just as good when you serve it with chips.
Roasted Corn Salsa
Roasted Corn Salsa made with fresh grilled corn, spicy peppers, sweet bell pepper, onions, and cilantro is a reader favorite and is absolutely amazing on tacos or when served as a side dish with your favorite Mexican Food.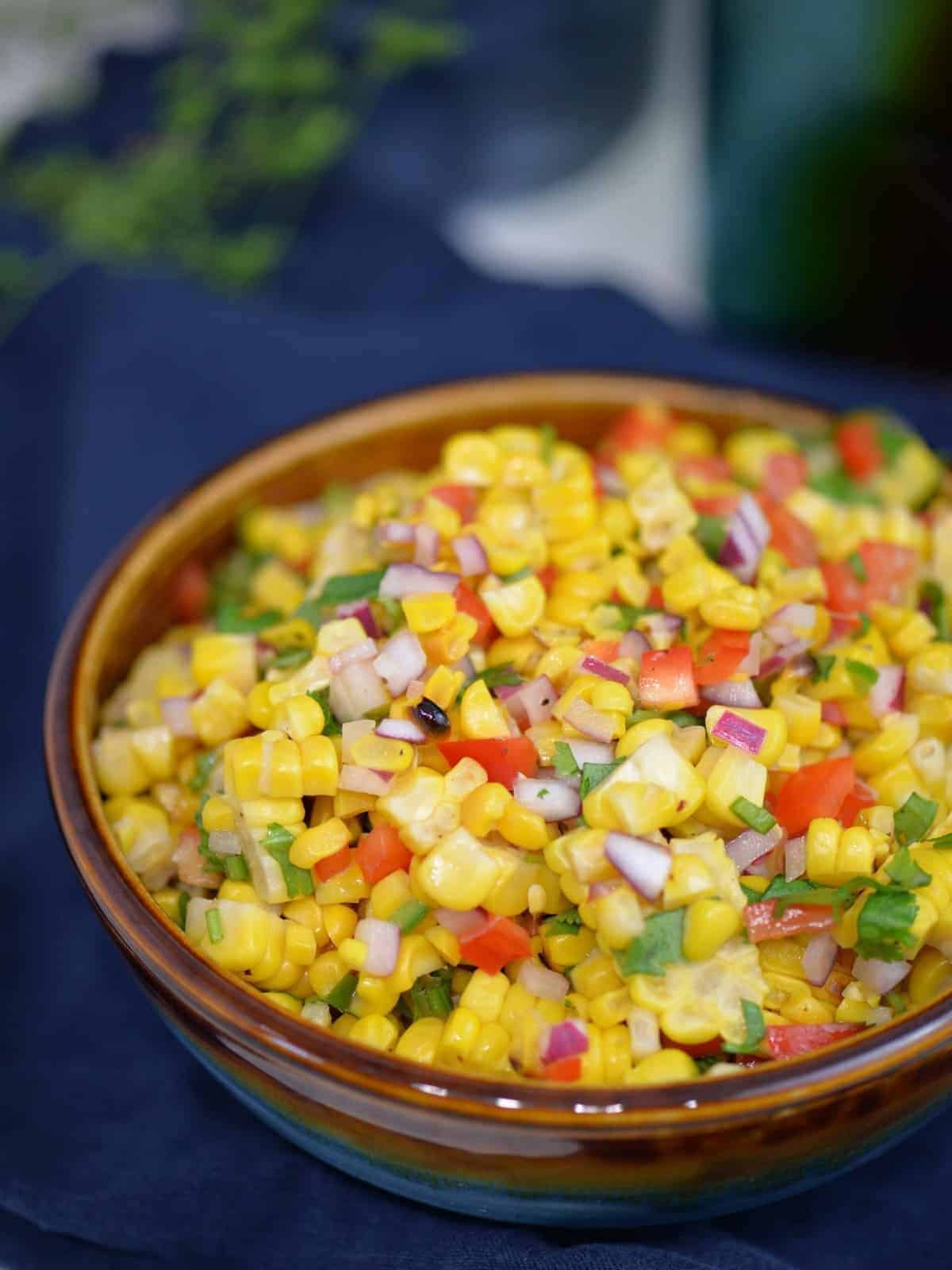 Corn Salsa Recipe
This homemade corn salsa is crunchy, sweet, and just a little bit spicy. Corn salsa is perfect with tacos, burritos, or even a delicious burrito bowl.
SEE THE RECIPE
PIN FOR LATER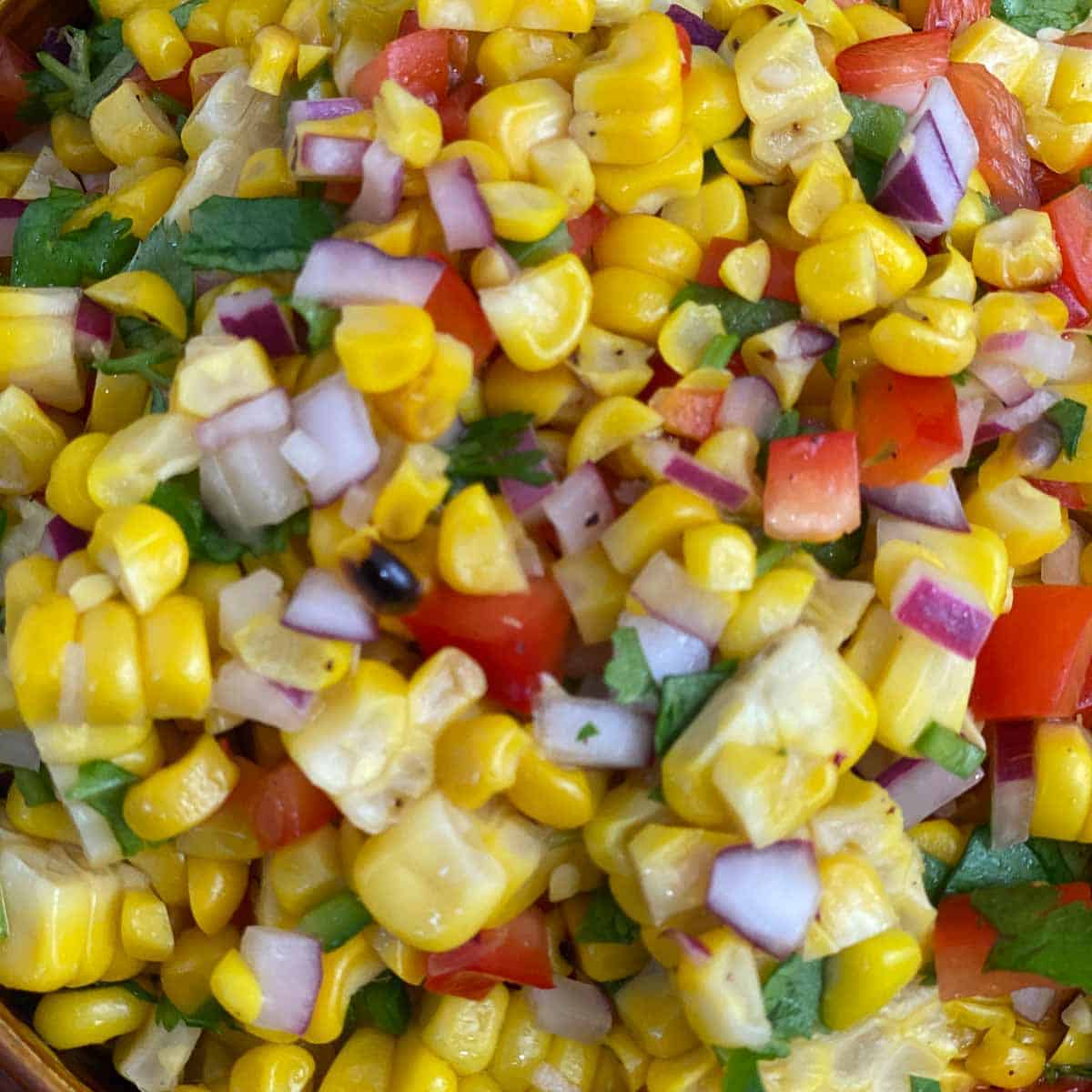 Mexican Corn Salad
Mexican Street Corn Salad (Esquites) made with fresh grilled corn, Mexican crema, mayonnaise, cotija cheese, cilantro, and chili powder. This creamy, cheesy, corn in a cup sold by Mexican street vendors is how it got its name as Street Corn Salad.
Eat this Mexican corn salad as a side dish with your favorite Mexican recipes or eat it with tortilla chips.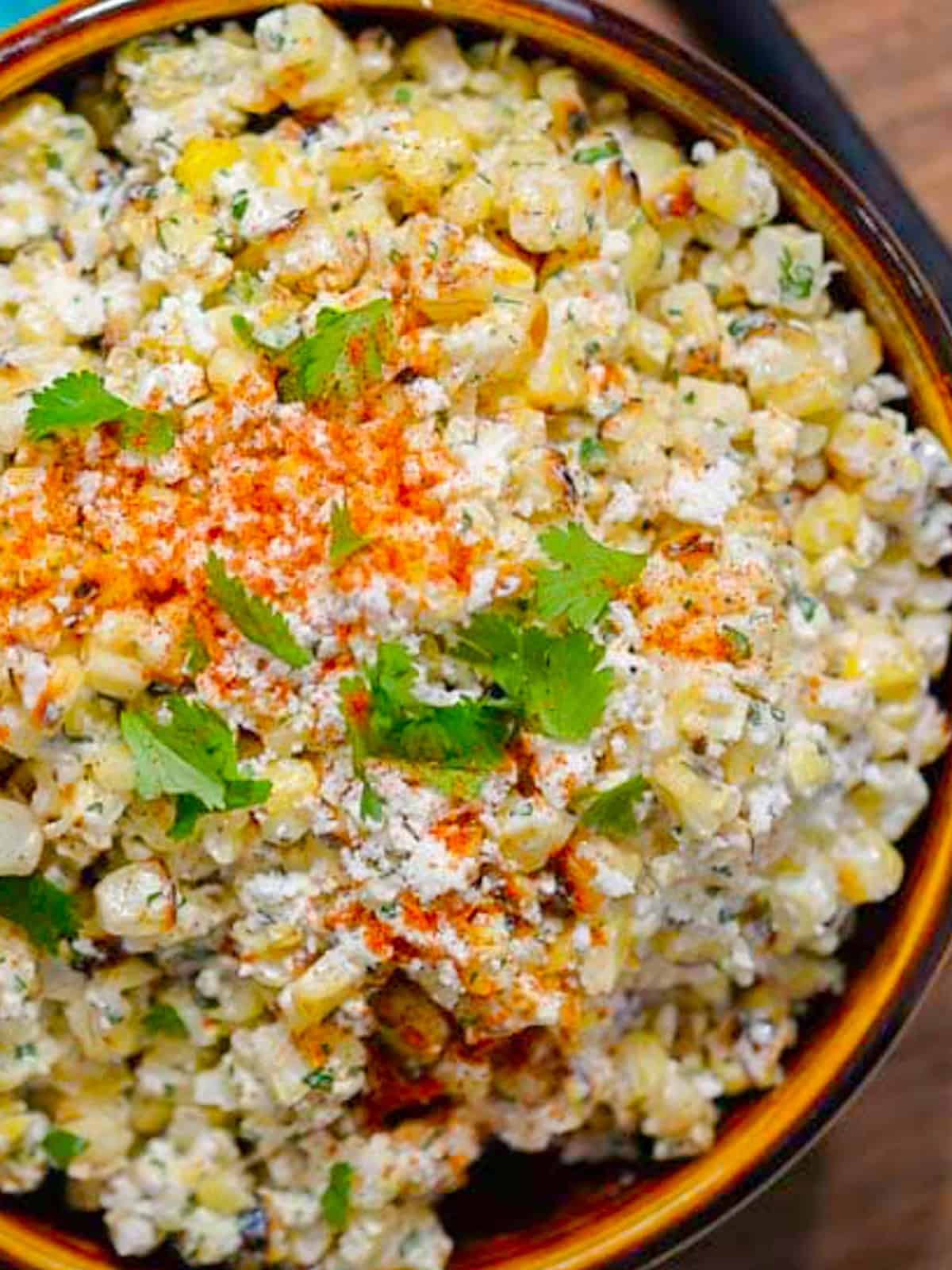 Mexican Corn Salad (Esquites)
Mexican Corn Salad is a charred, buttered corn salad with a cheesy, creamy, spicy dressing. This fresh corn salad is a version of Esquites which is delicious corn in a cup snack that you can buy in Mexico from street vendors. This easy corn salad is perfect for summer barbecues and Mexican feasts.
SEE THE RECIPE
PIN FOR LATER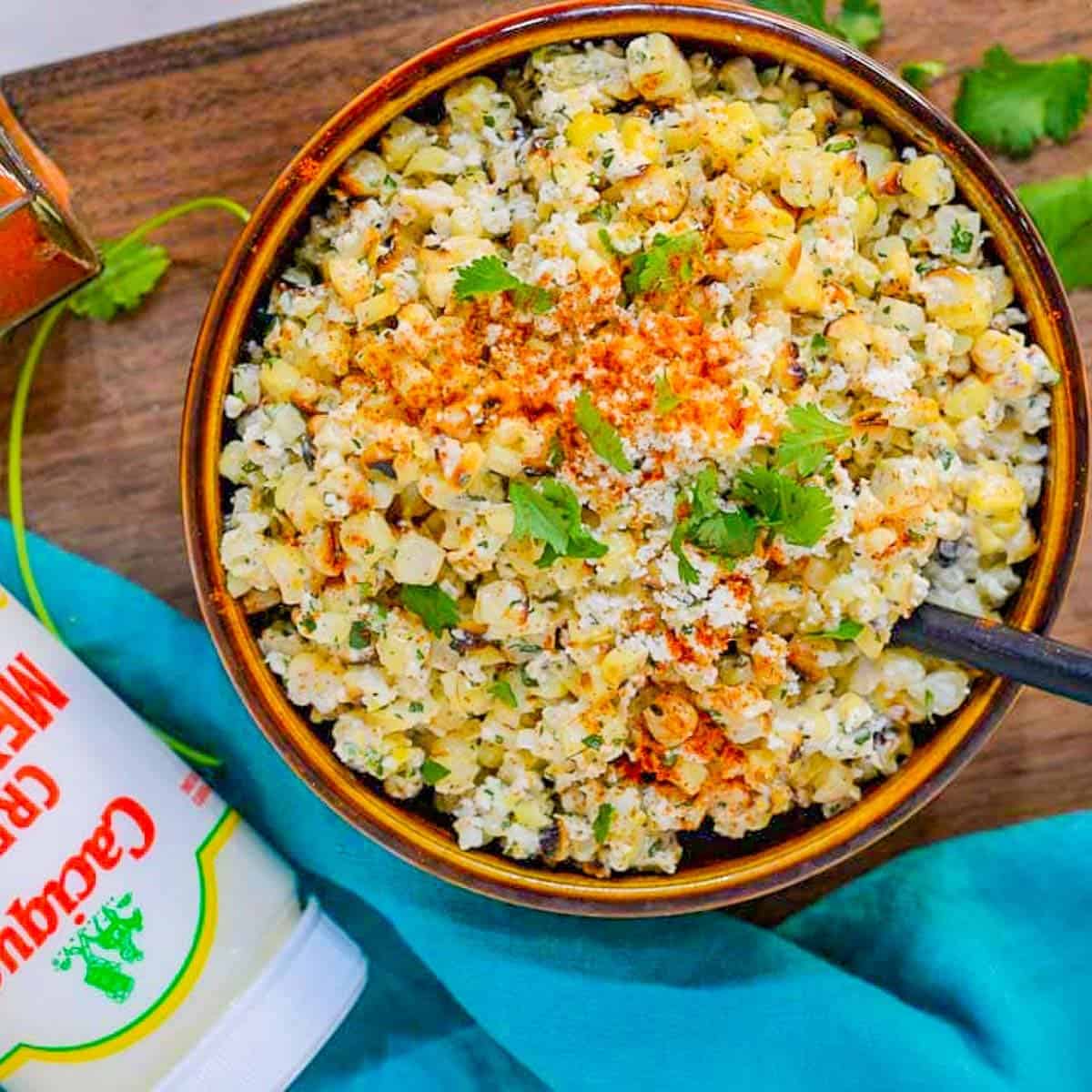 Fruit Salsa Recipes
Mango Salsa and Pineapple Salsa are summer salsas that can be served with grilled meat like Simple Grilled Chicken or Shish Kabobs.
Mango Salsa
Mango Salsa is sweet and spicy and the perfect topping for Grilled Chicken and Fish Tacos. Fruit salsas add a sweet kick to spicy grilled food.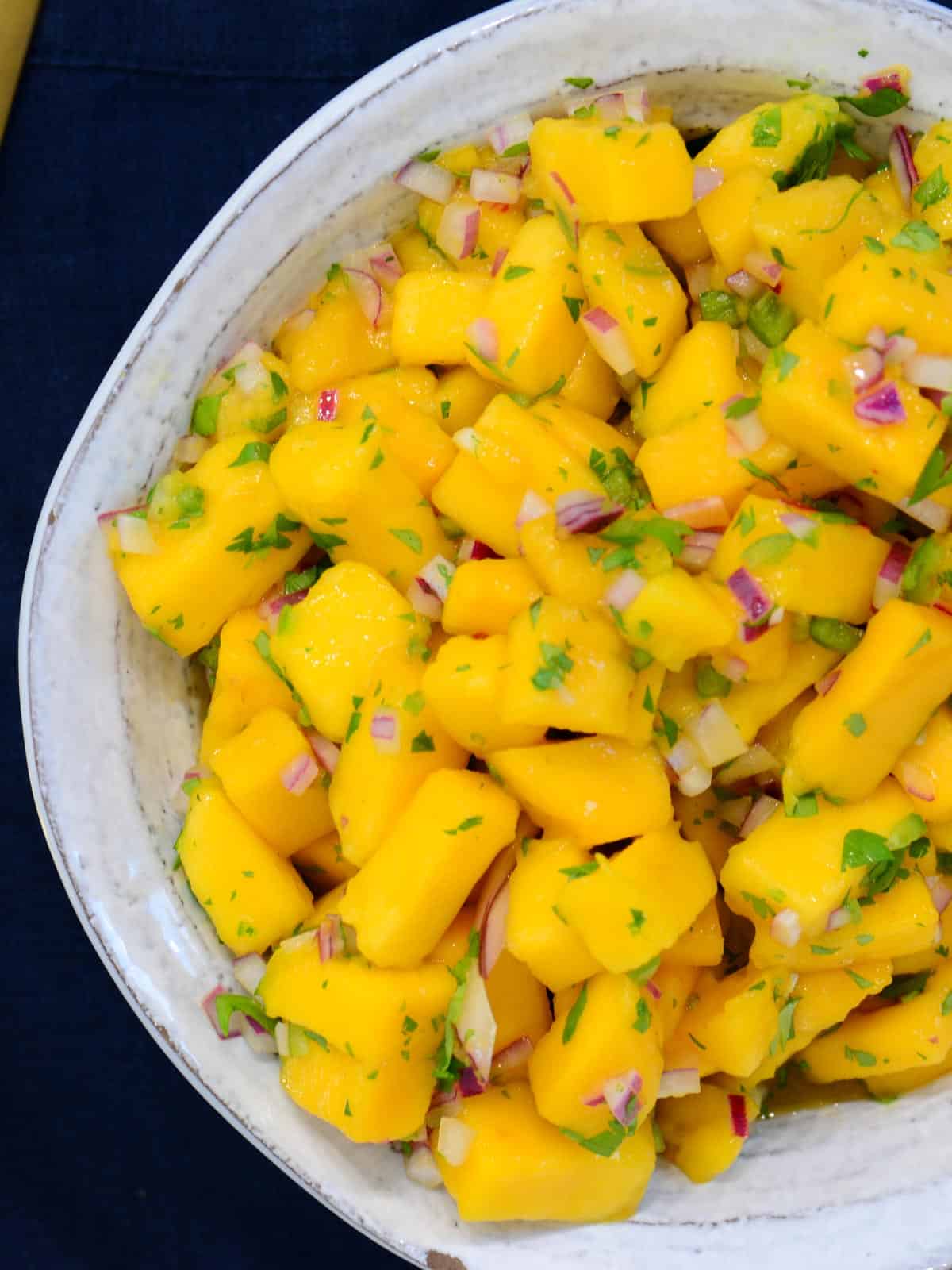 Mango Salsa
Sweet and spicy fresh mango salsa recipe. This salsa is my go-to summer fruit salsa. It pairs perfectly with grilled fish or chicken.
SEE THE RECIPE
PIN FOR LATER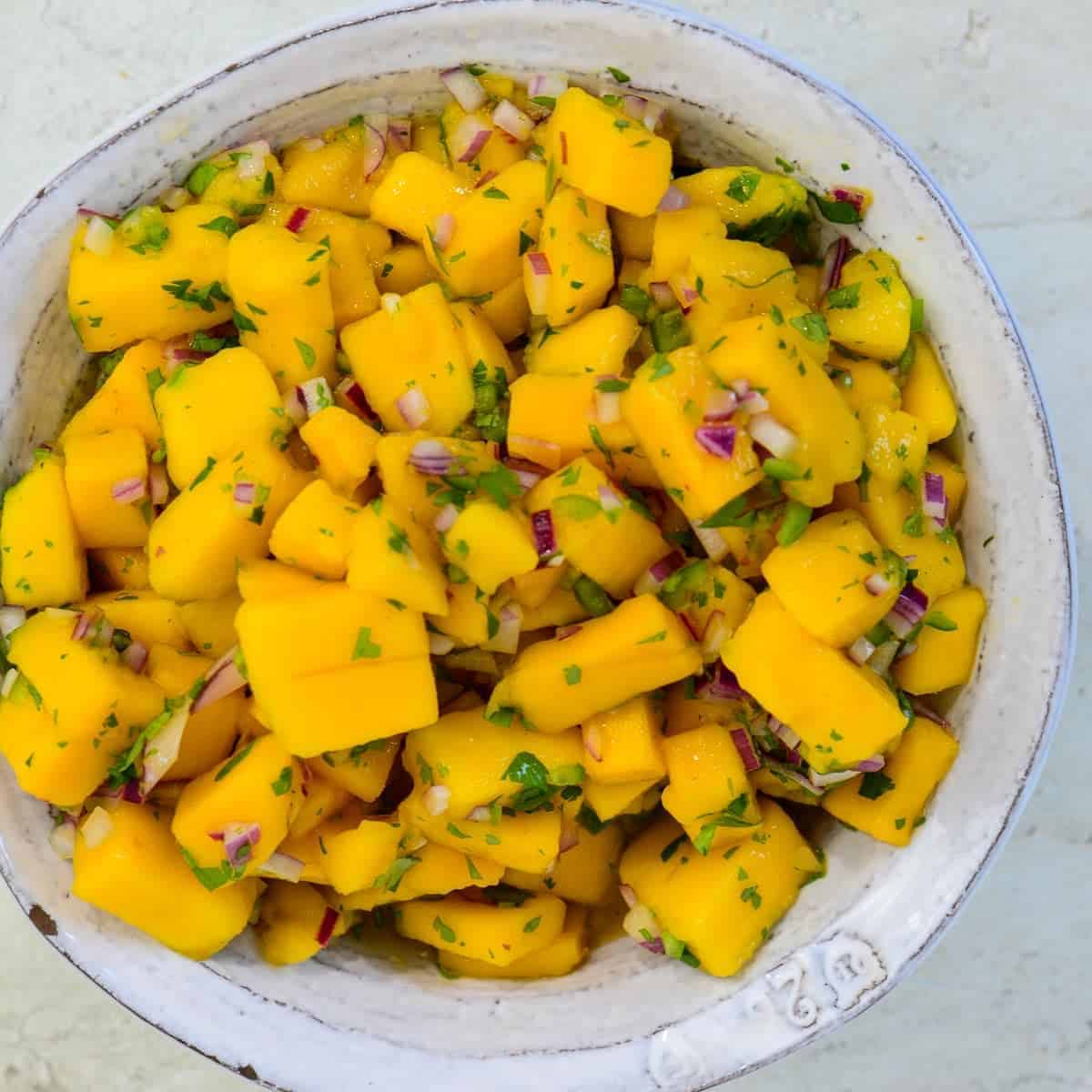 Pineapple Salsa
Pineapple Salsa is a tropical fruit salsa that is super yummy with grilled chicken and teriyaki sauce. It's also my favorite salsa to serve with my Spicy Jerk Chicken.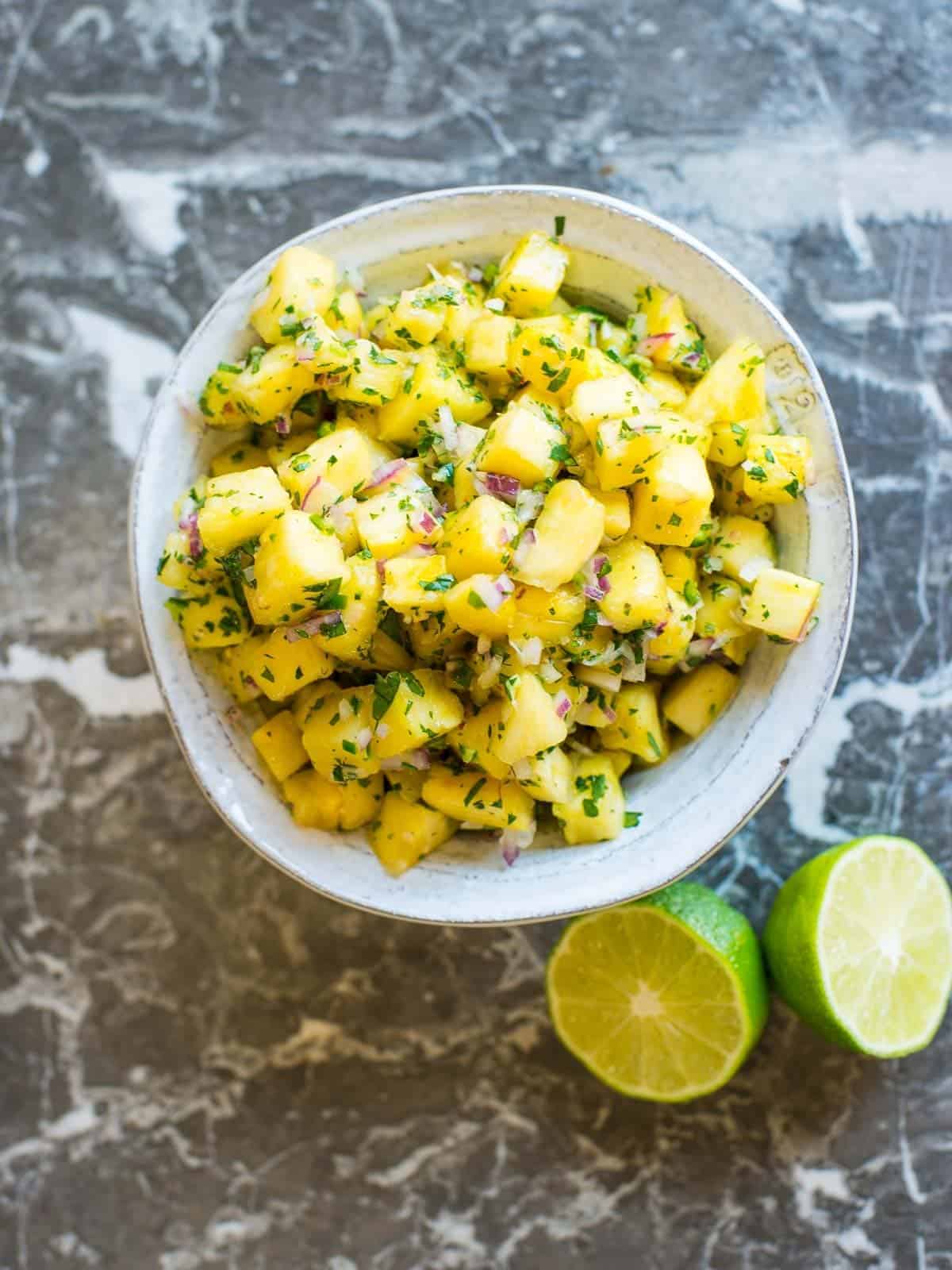 Pineapple Salsa Recipe
Pineapple salsa is a sweet, juicy, spicy addition to grilled meat. Serve on top of tacos or with your favorite tortilla chips.
SEE THE RECIPE
PIN FOR LATER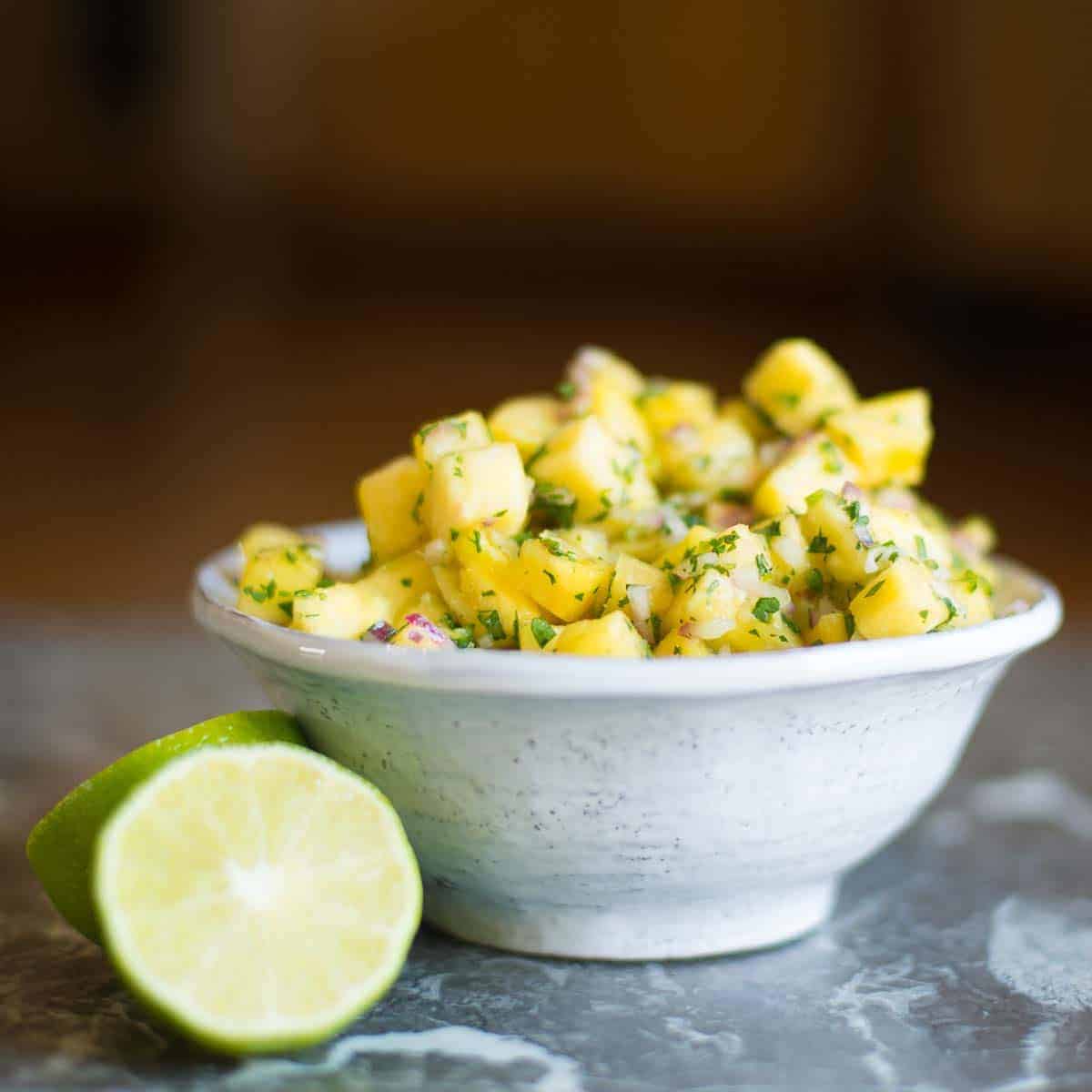 What To Serve With Salsa
Mexican Food is only more delicious when you serve it with the Best Salsa Recipes.
Salsa goes with so much more than chips. Roasted Corn Salsa and even the Mexican Corn Salad are delicious on Tortilla Chips or Tacos. Don't forget the Guacamole.
Fresh Pico de Gallo adds a juicy burst of spicy flavor to Carne Asada Tacos or Shredded Beef Burritos.
Roasted Salsa is the perfect accompaniment to Shrimp Enchiladas or even my Enchilada Pasta.
FAQs and Expert Tips
How do you make salsa from scratch?
Salsa is made with tomatoes, onions, garlic, peppers, and cilantro. Season with lime juice, salt, and pepper. Dice the vegetables and combine them in a bowl.
What tomatoes do you use for salsa?
Any ripe meaty tomato can be used for salsa. Beefsteak and Roma tomatoes and two of the most flavorful and firm tomatoes. Both of these tomatoes are perfect for salsa.
What is the difference between salsa and pico de gallo?
Pico de gallo is usually made with chunky, diced vegetables. Salsa is usually blended or crushed into more or a sauce consistency.
How do you make homemade salsa hotter?
Homemade salsa can be made hotter by using a spicier pepper. Serranos, habañeros, or even ghost peppers can really kick up the heat in a salsa.

Alternatively, a few tablespoons of Tapatio or Cholula can be added to spice up a homemade salsa recipe.
Why is my salsa pink and foamy?
If your salsa is blended it can sometimes look pink and foamy. Blending salsa introduced air into the salsa which produces a foaminess that will settle out over time.
How do you get the foam out of salsa?
If you need to remove the foaminess from your blended salsa quickly you can put it in a pan and heat it gently.

The foaminess will also dissipate in the fridge overnight.
Can you freeze homemade salsa?
Yes, homemade salsa can be frozen in an airtight container for several months.

Thaw it at room temperature or in the fridge before serving.
Which Peppers To Use For Salsa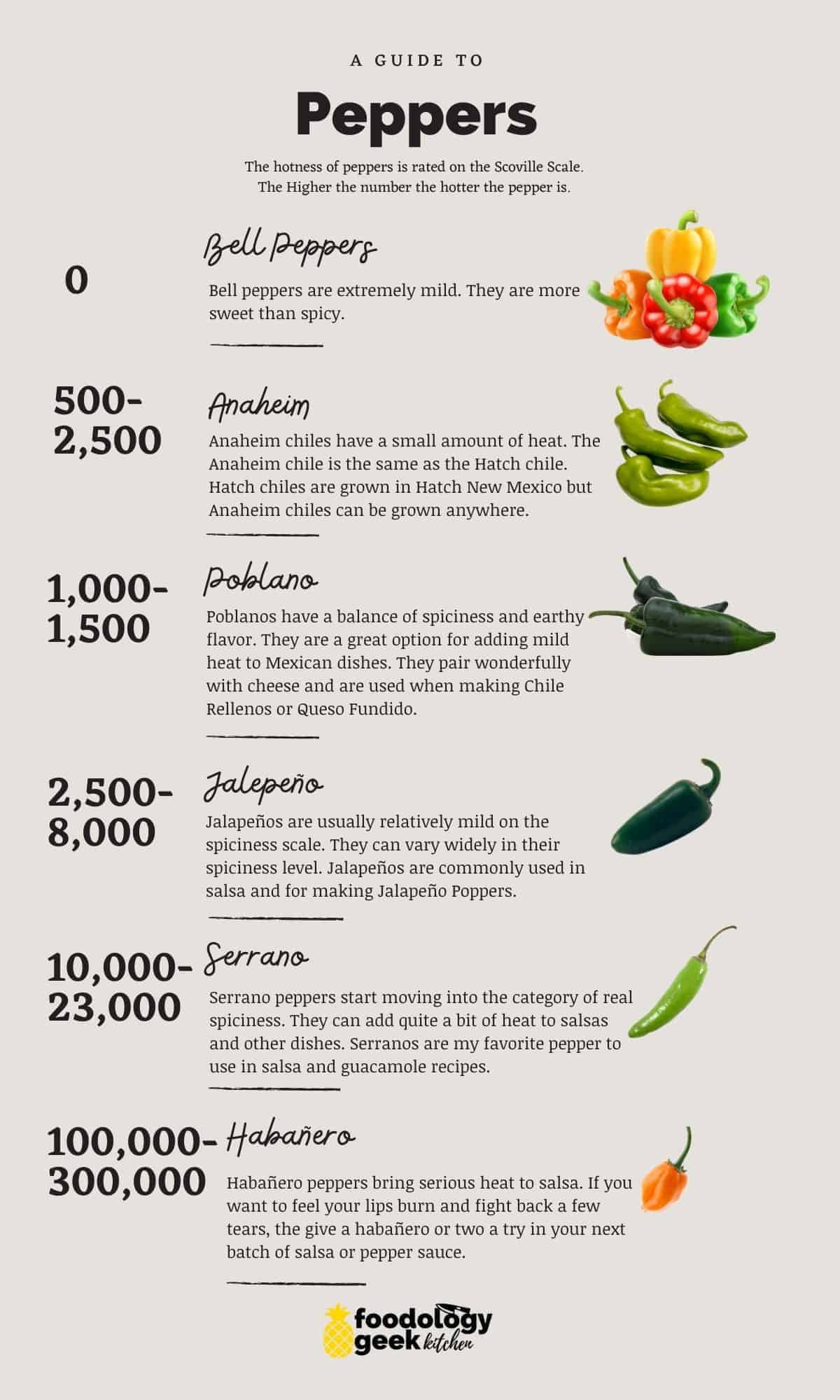 Leave A Review
Did you make this recipe? Leave a comment and a 5 ★ review. Your feedback helps other readers and helps me continue to offer recipes at no cost. Happy Cooking!!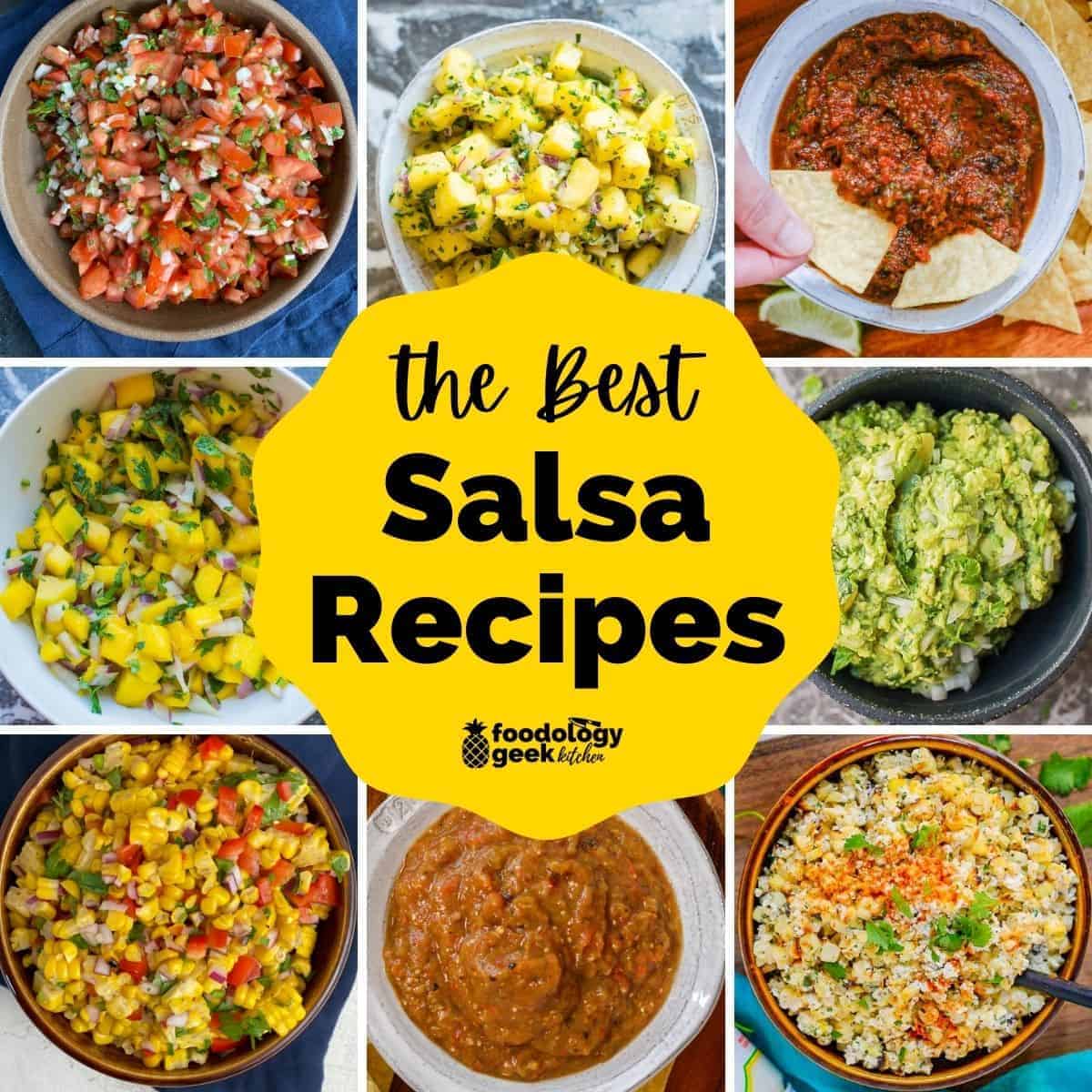 Pepper Salsa Recipe
This spicy, garlicky pepper salsa recipe is delicous on tacos and burritos. Made with 12 peppers, Roma tomatoes, tomatillos, and garlic.
Ingredients
Instructions
Preheat the oven to 450℉.

Cut the tomatoes and the peppers in half. Remove the stems and seeds. Place on a large baking sheet cut side down.

Roast the tomatoes, peppers, and garlic until they are charred. About 20 to 25 minutes.

Add the roasted peppers to a blender. Add salt and pepper and blend until smooth.
YOUR OWN NOTES
Sign In to add your own private notes
Nutrition
Serving:
2
Tbsp
Calories:
13
kcal
Carbohydrates:
3
g
Protein:
1
g
Fat:
1
g
Saturated Fat:
1
g
Sodium:
293
mg
Fiber:
1
g
Sugar:
2
g
Calcium:
6
mg
Iron:
1
mg