I'm not gonna lie. This Easy Meal Prep Bowl is heaven in your mouth. Tequila Lime Fish Taco Bowl with Mango Salsa – Hello!!! If you're ready for a party in you mouth. Follow Me!

I'm definitely a summer person! I wouldn't complain one bit if it could just be warm and sunshiny all year round.
Tequila, limes, and mangoes are summer flavors that warm my soul.
This Tequila Lime Fish Taco Bowl takes my back to Baja every time. There are few things that I appreciate more than Baja Style Mexican food.
Fresh-grilled fish and lobster served with rice, beans, and fresh tortillas is one of the true simple pleasures in life. Just the thought of vibrant fresh fruits with chilé and lime makes me salivate.
This bowl of fish taco delicious was created with all of those vibrant flavors in mind. I've made this meal prep bowl a little healthier, but I promise you won't miss out on the true authentic Baja flavor.
What you'll love about this bowl
PROTEIN: This bowl has 35 grams of lean protein. Not to mention a tasty tequila-lime marinade that is just as good on grilled chicken.
MANGO SALSA: The sweet and spicy Mango Salsa takes this bowl to the next level! I make it all summer long and eat it on fish, shrimp, and grilled chicken. OMG, it's ridiculously good!
HEALTHY: This meal prep bowl is not just healthy it's ultra-healthy! You get crunchy tasty veggies + healthy fats from avocado + protein-packed fish + spicy-sweet mango salsa! Why eat anything else?
Recipe Notes
This recipe has several parts to it. Don't let that keep you from making it. I'm going to break it down step by step. You can make ALL the parts or just make a few. Mix and match whatever you like.
Tequila Lime Fish: The first part of this bowl is the fish. You'll be making a tequila lime marinade. You can use this marinade with fish, shrimp, or chicken.
Mango Salsa: The next part of this bowl is the mango salsa. Once you make this salsa one time, you will make it over and over again. It's AMAZING with pretty much any spicy grilled meat.
Mexican Slaw: I always make a batch of Mexican Slaw when I make this bowl. Slaw adds a great crunch to this bowl and an extra layer of spicy flavor.
Ingredients
Fish: I like Cod for this recipe. You can use any white fish that you like. Halibut is another great option.
Tequila: Make sure you use a tequila that you would actually drink. No bottom shelf stuff in out fish taco bowl, please!
Spices: You'll be using just a few spices in the Mexican Slaw; cumin, coriander, oregano, and crushed red pepper (or Aleppo pepper.)
Veggies: Cabbage, spinach, cilantro, onions, and serrano peppers. Plus, you can get anything else that you might like to add color and crunch to your healthy meal prep bowl.
Creme Fraiche: I love to add a fresh drizzle of creme fraiche to this bowl. Creme Fraiche is a little like sour cream but has a milder flavor. Add a squeeze of lime to thin it out a bit.
Limes: Make sure to get enough limes for the marinade, the mango salsa, the slaw, and a few extra for squeezing.
Mangoes: You'll need two mangoes for this recipe. [How to choose a ripe mango]
Avocado: Buy one to two avocadoes [How to chose avocados]
Step by Step Instructions
Step 1: Make the Tequila Lime Marinade.
I usually make my marinade in a zip-top bag and then add my protein to the bag. The bag is easy to store in the fridge until you are ready to cook.
PRO-TIP: Shrimp and Chicken handle freezing really well in this marinade. Make an extra batch, freeze it and Voila! Dinner next week is already done.
Step 2: Make the Mexican Slaw.
Quarter the cabbage along the core. Slice out the core. Slice each quarter of the cabbage relatively thin. I like to use a mandoline slicer to make quick work of this step.
Step 3: Make the Mango Salsa.
Simply dice the mangos, onions, peppers, and cilantro. Add a squeeze of lime juice and toss.
Step 4: Cook the Fish.
You can grill, broil, or pan sauté the fish in this recipe. Most often I bake it because it's just too easy!
BROIL: Broil for 8 to 10 minutes. I always line my sheet pan with parchment paper OR aluminum foil to make clean up a breeze.
PAN SAUTE: To sauté your fish. Heat a heavy-bottomed pan to medium-high heat. Add a few teaspoons for oil. I like to use coconut or avocado oil for this recipe. pan sear for 3 minutes, flip and cook an additional 3 minutes.
GRILL: Heat your grill to medium-high heat. Make sure the grates are well-oiled. Grill the fish 2 minutes, turn and finish cooking on the second side for 2 to 3 more minutes. The fish should just start to flake when it is done.
FAQs and Expert Tips
How to pick a mango
When you pick a mango the flesh should be firm. The color of the mango isn't always the best indicator of a mangoes ripeness.

Press on the mango and the fruit should give a little but not be too mushy.

Smell the mango and see if has a mango aroma too it. This is usually a good indicator or a fruits ripeness.
See the Individual Recipes
Mango Salsa
Sweet and spicy fresh mango salsa recipe. This salsa is my go-to summer fruit salsa. It pairs perfectly with grilled fish or chicken.
See The Recipe
Pin For Later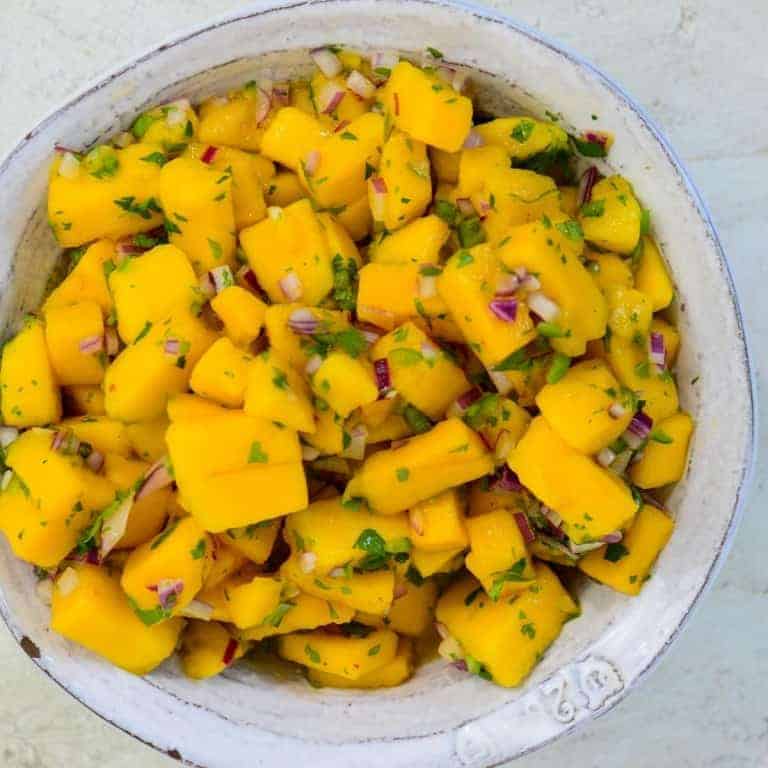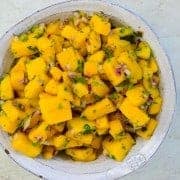 Tequila Lime Marinade Recipe
This flavorful and is the perfect fish taco marinade. It's versatile flavors can also be used to marinate shrimp or chicken.
See The Recipe
Pin For Later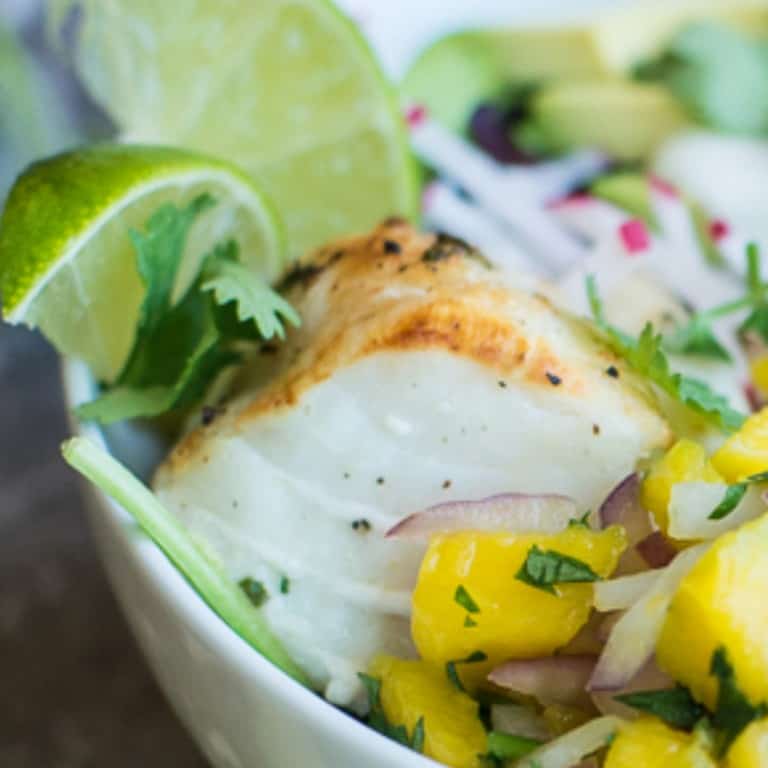 Meal prep is kind of my jam! Check out my entire section on meal prep recipes. Just a few of my favorites are:
Healthy Burger Bowl: This protein packed burger bowl is everything you need to smash any fast food burger craving. It's complete with my own version of Animal Sauce.
Steak and Sweet Potato Power Bowl: This is one of my go-to meal prep bowls. It's so easy and versatile. I guarantee you'll never have to sacrifice flavor to eat healthy again.
The Ultimate Guide to Overnight Oats: Overnight oats are the perfect meal recipe. My high-protein version of overnight oats will have you jumping for joy! Try ALL the variations in this post.
Fish Taco Bowl with Mango Salsa
Tequila-Lime Marinated Fish with Mango Salsa. This bowl is packed with protein and with flavor. You cannot go wrong fueling up on a healthy fish taco power bowl. + Mango Salsa
Ingredients
24

ounces

cod filet

cut into 4 pieces
Tequila Lime Marinade
1

shot

tequila

1

lime

juiced

1 to 2

tablespoons

fresh cilantro

minced

½

tsp

salt

¼

tsp

black pepper
Mango Salsa
1

mango

diced

1

Serrano pepper

minced

¼

red onion

finely diced, about 3 tablespoons

1

tablespoon

fresh cilantro

finely minced

1

teaspoon

avocado oil

½

lime

juiced

½

teaspoon

salt
Creme Fraiche
¼

cup

creme fraiche*

½

lime

juiced
Mexican Slaw
2

cups

green cabbage

finely sliced

2

cups

red cabbage

finely sliced

2

tablespoons

fresh cilantro

minced

2

scalliions

sliced, green parts only

1

teaspoon

avocado oil

1

teaspoon

red wine vinegar

⅛

teaspoon

cumin

⅛

teaspoon

coriander

⅛

teaspoon

crushed red pepper

⅛

teaspoon

oregano

¼

teaspoon

salt
Bowl Fixin's [optional extras]
2

avocados

4

radishes

julienned

8

cups

mixed greens
Instructions
Tequila-Lime Fish
Add all the ingredients for the Tequila-Lime Marinade to a glass or plastic (non-reactive) dish or a zip-top bag.

Add the fish and marinate up to a few hours.

To Cook: Broil until the fish is slightly brown and firm to touch, 8-10 minutes. Alternatively, grilling this fish is also an option.
Mango Salsa
Add all ingredients to a medium glass or plastic (non-reactive) bowl. Toss and let set while everything else is prepared.
Mexican Slaw
Add all ingredients to a medium glass or plastic (non-reactive) bowl. Toss and let set while everything else is prepared.
Assemble the Meal Prep Bowl
Add a few handfuls of greens and between half a cup and a cup of the Mexican Slaw to large individual salad bowls.

Add the fish and the rest of your desired toppings.

Finish with a drizzle of creme fraiche.

Serve with extra lime wedges and tortilla chips.
Notes
* Sour cream may be substituted for creme fraiche.
Nutrition
Calories:
446
kcal
Carbohydrates:
26
g
Protein:
35
g
Fat:
21
g
Saturated Fat:
4
g
Cholesterol:
80
mg
Sodium:
880
mg
Fiber:
10
g
Sugar:
10
g
Calcium:
112
mg
Iron:
2.4
mg
(Visited 281 times, 1 visits today)