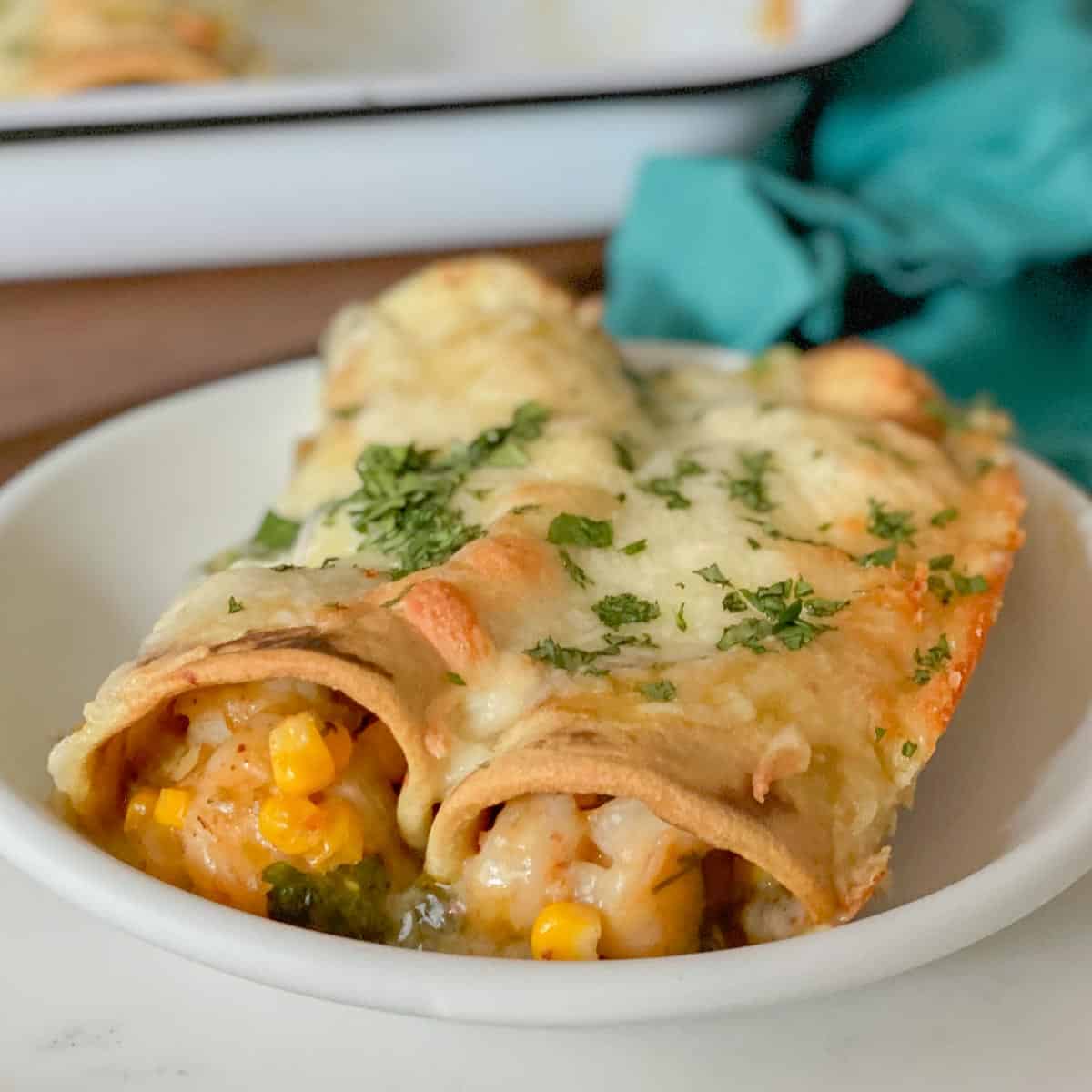 Recipe
Comments
Save
Go to Collections
This post may contain affiliate links. Please read my
disclosure policy.
Shrimp enchiladas are a delicious Mexican recipe filled with flavorful shrimp, sweet corn, and creamy chili verde salsa.
This is an easy shrimp enchilada recipe that the whole family will love. Even the pickiest eaters will eat it up! Because shrimp cooks quickly, this easy weeknight meal comes together in no time.
The Best Seafood Enchiladas
Seafood enchiladas are often made with shellfish like shrimp, crab, or lobster. They're usually covered in white sauce or a creamy salsa verde sauce. If that isn't enough, cheese is sprinkled on top of the enchiladas before baking.
They have a ton of flavor and are perfect when craving something warm, creamy, and comforting for dinner.
This enchilada recipe is easy to make ahead of time. It can be kept in the fridge overnight before baking and freezes well.
Ingredients For Shrimp Enchiladas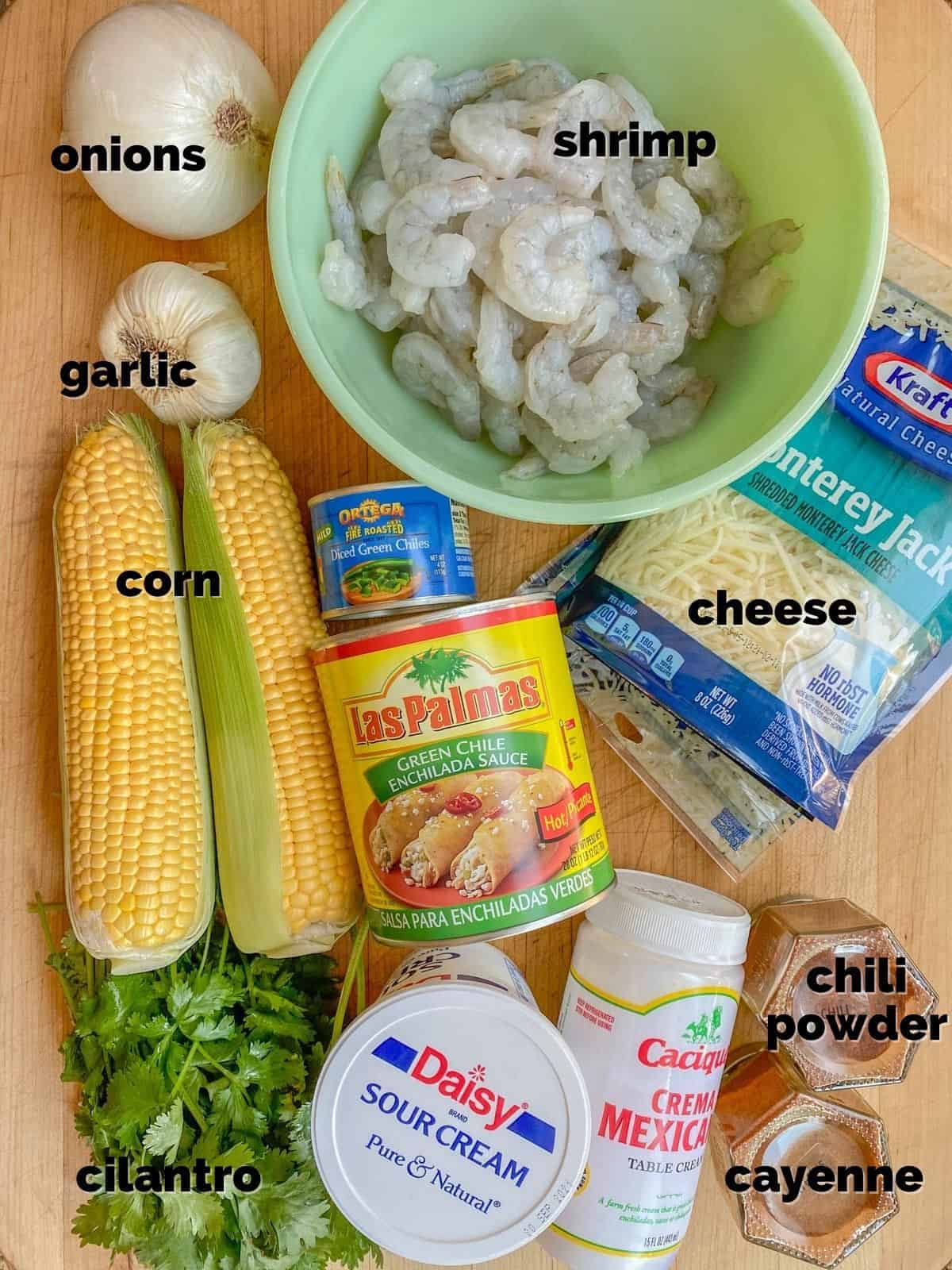 What's In Shrimp Enchilada Filling?
Diced onion. White onion has the perfect flavor.
Garlic gloves. 5 cloves of garlic.
Shrimp. Fresh or frozen shrimp, cleaned and tailed removed. I recommend dicing the shrimp to make them easier to eat.
Corn. from two cobs of fresh corn or about one and a half cups of frozen corn.
Diced green chilis. One small can of diced green chiles is drained. You can also use fresh peppers in this recipe. Substitute one-quarter cup of Anaheim, poblano, or jalapeño.
Green enchilada sauce. One large can of green enchilada sauce. (28 ounces)
Sour cream & creme fraiche. Creme fraiche has a slightly milder flavor than sour cream.
Spices: Cayenne pepper, chili powder, salt, and pepper.
Ingredients for Assembly
Remaining enchilada sauce.
Tortillas. 16 corn or flour tortillas. I've made this recipe with both kinds of tortillas. My husband prefers flour tortillas; my daughter prefers corn. If you have a few extra minutes, try making homemade tortillas. Try Flour Tortillas or Corn Tortillas.
Shredded Cheese. I recommend a Monterey Jack or a Mexican blend cheese.
HOW TO MAKE ENCHILADAS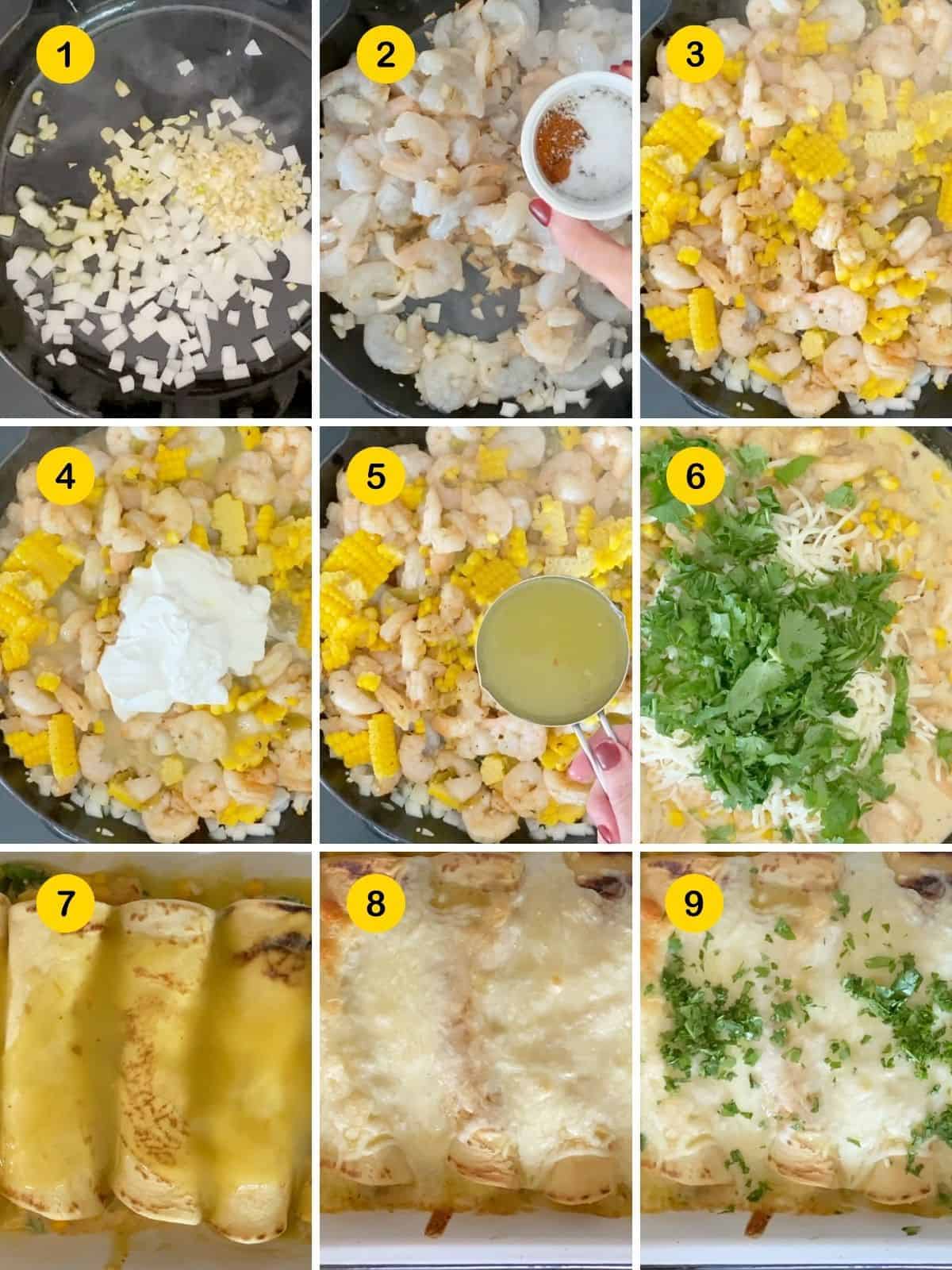 Step 1 – Make the Shrimp Filling
Sauté onions and garlic with a few teaspoons of oil in a large skillet on medium-high heat.
Add the chopped shrimp, the spices, and the diced chilis to the sautéed onions.
Add 1/2 cup of green enchilada sauce, sour cream + creme fraiche.
Bring the cream sauce to a boil and then reduce to medium heat, simmer and allow the sauce to thicken.
Set the filling aside to cool.
Step 2 – Assemble The Enchiladas
Start by precooking your tortillas is a small amount of oil. Keep them warm while you are assembling the enchiladas.
Add about one cup of green enchilada sauce to the bottom of a 9×13 inch baking dish.
Using a slotted spoon, place one-quarter cup of filling and a few tablespoons of shredded cheese on each tortilla before rolling.
Place each rolled enchilada seam-side down into the prepared baking dish. Repeat until all of the enchiladas are in the baking dish.
Drizzle the remainder of the enchilada sauce on top of the enchiladas and spread gently with a spatula, if needed.
Sprinkle with the remaining Monterey jack cheese.
Bake for 15 to 20 minutes at 400℉.
Step 3- Serve
Serve these creamy enchiladas with a few of your favorite Mexican sides. You can top them with a dollop of sour cream, fresh cilantro, and green onions.
Tips for Making The Best Enchilada
What Type Of Shrimp?
You can use fresh shrimp or frozen shrimp. I find that the thawed shrimp in most grocery stores have been previously frozen.

I usually ask my butcher to give me a back of the frozen shrimp that they have in the back. It's usually 2 lbs of the same kinds of shrimp that is already in the case.

I like to use the medium to large shrimp and try to choose wild-caught shrimp instead of farm-raised ones when available. You'll see a number range with the shrimp that indicates its size. The smaller the number, the larger the shrimp. The number is an estimate of how many shrimp will be in each pound for that size of shrimp.
What is the best tortilla for enchiladas?
Corn tortillas are traditionally used for enchiladas. Usually, a 6-inch corn tortilla is a perfect size. Flour tortillas also work. Choose a 7 to an 8-inch flour tortilla. They may be labeled as fajita size.
Is it better to fry tortillas for enchiladas?
Warm the tortillas with a small amount of oil in a medium pan over medium heat. Precooking the tortillas is important because it helps to develop flavor and soften the tortilla before the assembly.
RECIPE VARIATIONS
Chicken Enchiladas: If you're not into shrimp, this recipe can easily be made with chicken. Swap the shrimp in this recipe for chicken. You can use leftover rotisserie chicken or sautéed chicken breast or thigh meat.
Shrimp Enchiladas With Red Sauce: If you prefer you can make this recipe with a red enchilada sauce instead of a green enchilada sauce.
Mexican Shrimp Casserole: This recipe can easily be made into an easy-to-assemble casserole. To make the layers, cut the tortillas into quarters and then layer the filling with the tortillas. Top with shredded cheese before baking.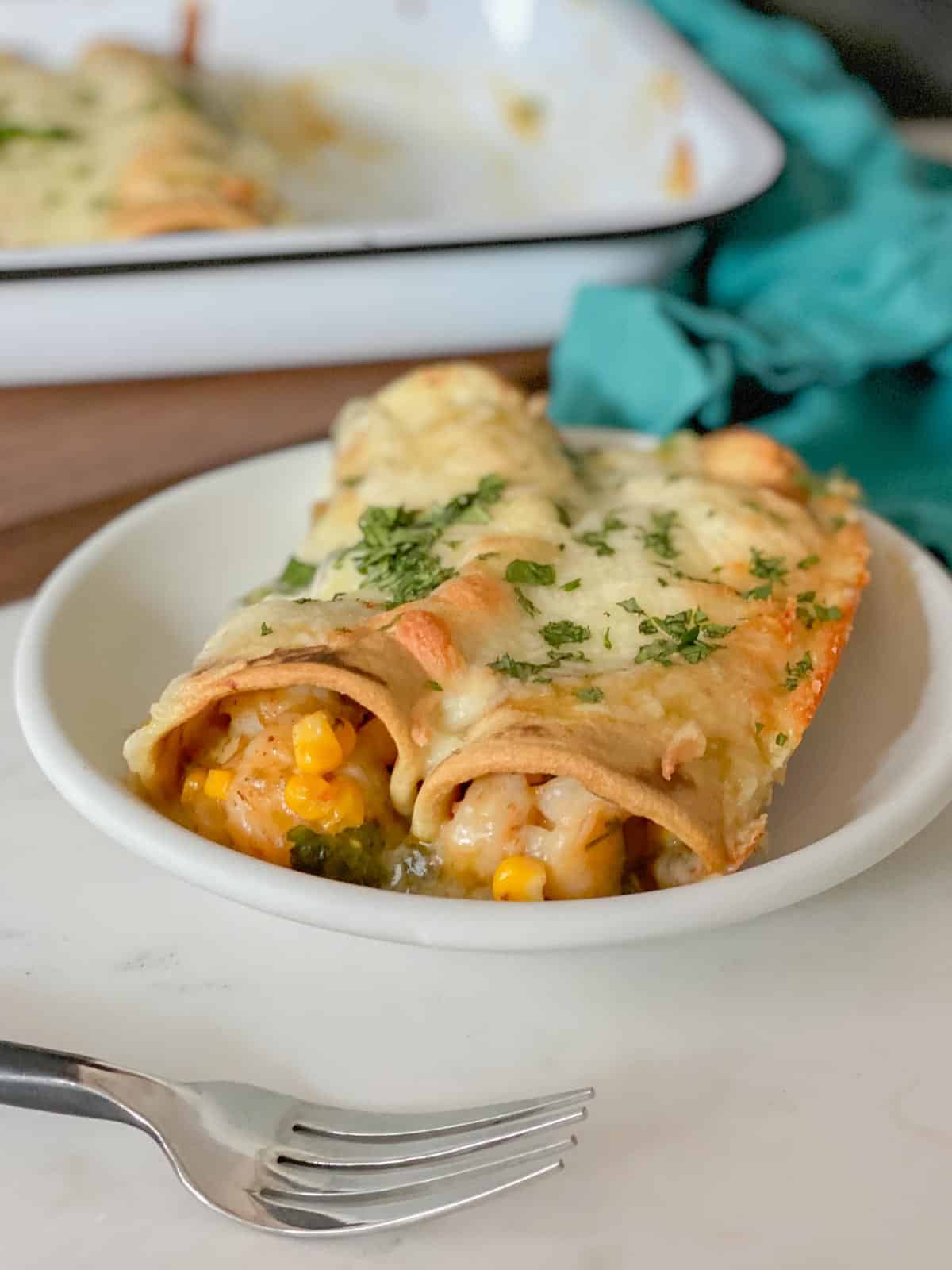 What Goes With Shrimp Enchiladas?
Round out your Mexican feast with a few traditional side dish recipes like Esquites (Mexican Corn Salad) or Mexican Rice. You can never go wrong with refried beans or black beans.
Ceviche or Escabeche make delicious appetizers when serving enchiladas.
Guacamole, Pico de Gallo, or Roasted Tomato Salsa are the best toppings to serve with enchiladas. Fresh cilantro and green onions also add a fresh bite to this creamy recipe.SaveSave
This is truly the best Mexican rice recipe out there. Restaurant-style Mexican Rice is easy to make at home. This delicious rice recipe is fluffy,…
More Mexican Food
If you're hungry for more Mexican recipes, check out a few of my favorites. Of course, tacos are always on my number one list of all-time favorite foods.
Street style Carne Asada Tacos or Baja Style Fish Tacos are recipes you'll make repeatedly. You can try my Healthy Fish Taco Bowl if you are watching your carbs.
This enchiladas verdes recipe is super easy to make. This satisfying dinner is made with salsa verde, shredded chicken, tortillas, and a creamy cheesy green…
Step up Your Cocktail Game with a Delicious Pineapple Margarita Recipe Looking to bring some tropical vibes to your cocktail party? Look no further than…
The Ultimate Guide to Brisket Tacos: A Perfect Fusion of Smoky Beef and Mexican Flavors Are you ready to embark on a culinary adventure that…
Curtido is a spicy Salvadoran pickled cabbage slaw made with cabbage, red onion, carrots, and spices. It's a must-try recipe! In Central America, curtido is…
Leave A Review
Did you make this recipe? Leave a comment and a 5 ★ review. Your feedback helps other readers and helps me continue to offer recipes at no cost. Happy Cooking!!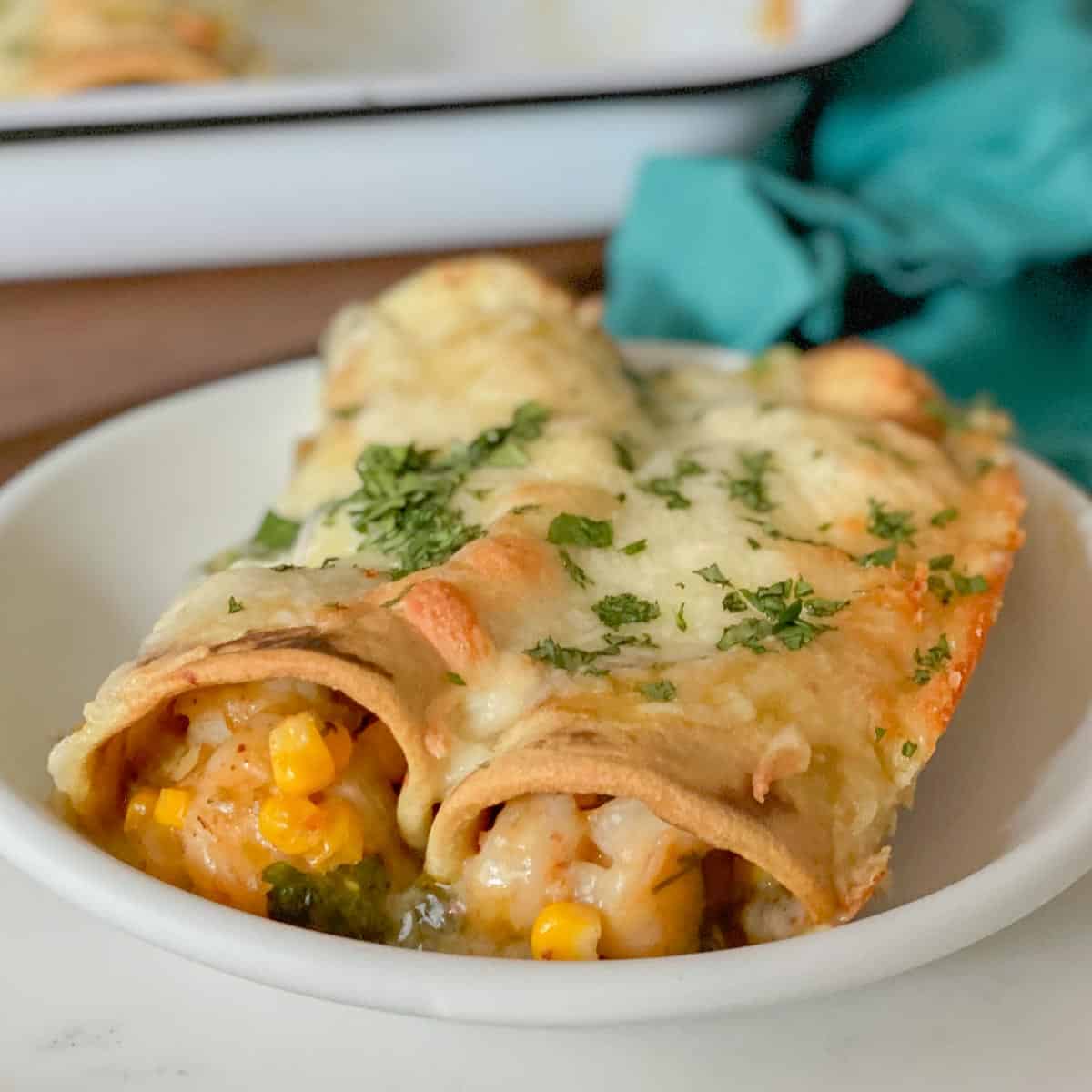 Shrimp Enchiladas Recipe
Shrimp enchiladas are a delicious Mexican recipe filled with shrimp and veggies. Then topped with spicy chile verde sauce and melted cheese. This recipe for seafood enchiladas is spicy, saucy, and cheesy. They make a delicious and indulgent dinner that's easy enough to make any night of the week.
Ingredients
16

Tortillas,

corn or flour, 6 to 8 inch size

2

lbs

Shrimp

,

cleaned and roughly chopped

½

cup

Onion

,

diced

5

cloves

Garlic

,

pressed

¼

tsp

Cayenne Pepper

½

tsp

chili pepper

1

cup

Fresh Corn

4

ounces

diced green chilis,

drained

28

ounces

green hatch chili sauce

⅓

cup

Creme Fraiche

⅓

cup

Sour Cream

2

lbs

monterey jack cheese

,

shredded

1

bunch

Fresh Cilantro

,

finely chopped, divided
Instructions
Sauté the onion and garlic in a heavy-bottomed skillet on med-high for a few minutes. The onions should be soft and translucent.

Add the shrimp and the seasonings to the pan. Sauté until the shrimp are pink.

Fold in sour cream, creme fraiché, diced green chilis, and one cup of green chili sauce.

Bring the enchilada filling to a boil and let the sauce reduce. It will thicken slightly.

Remove the enchilada filling from the heat let it cool for about 10 minutes while you prepare the baking pan by adding a half or a cup of enchilada sauce to the bottom of the pan.

Preheat oven here to 400℉.

Fold 2 cups of shredded cheese into the seafood filling.

Start rolling enchiladas. Add a few spoonfuls of filling to each tortilla and set them in the pan seam side down.

Pour over the remaining enchilada sauce and then top with the remaining shredded cheese.

Place on a large baking sheet and bake for 15 to 20 minutes. Keep an eye on the cheese – if it starts to get too dark you can cover the enchiladas with a little foil.

Remove from oven and let rest for about 10 minutes before serving.

Serve with fresh limes, extra sour cream or creme fraiché, and a little chopped cilantro.
Laura's Tips + Notes
Recipe Variations
Chicken Enchiladas: If you're not into shrimp, this recipe can easily be made with chicken. Simply swap the shrimp in this recipe for chicken. You can use leftover rotisserie chicken or sautéed chicken breast or thigh meat.
YOUR OWN NOTES
Sign In to add your own private notes
Nutrition
Calories:
359
kcal
Carbohydrates:
15
g
Protein:
27
g
Fat:
20
g
Saturated Fat:
12
g
Cholesterol:
198
mg
Sodium:
769
mg
Fiber:
2
g
Sugar:
2
g
Calcium:
548
mg
Iron:
2.3
mg
SaveSave