Creamy Potato Soup Recipe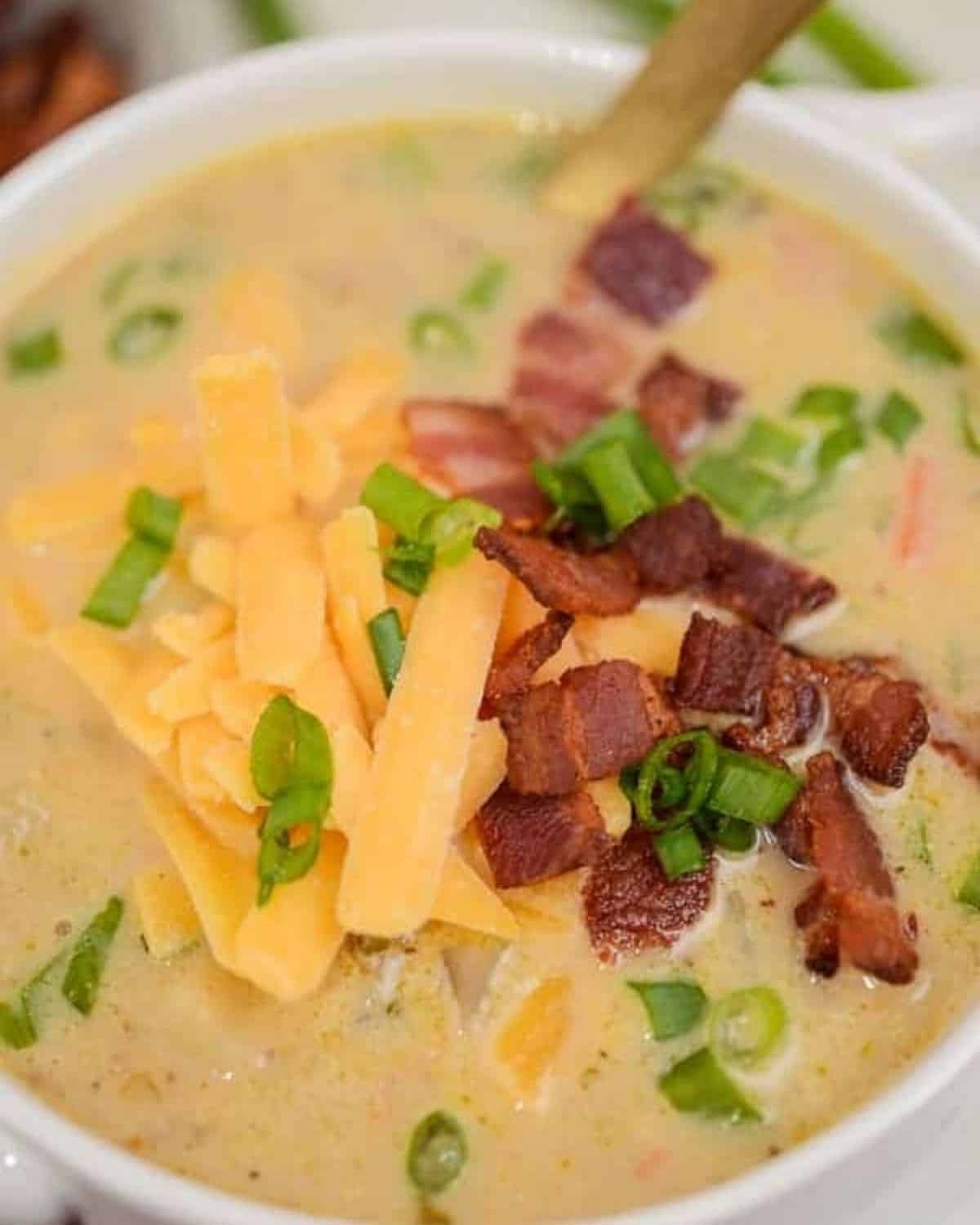 Recipe
Comments
Save
Go to Collections
This post may contain affiliate links. Please read my
disclosure policy.
Homemade potato soup is easy to make, and it's delicious. This old-fashioned potato soup recipe is everyones favorite comfort food recipes.
This easy and creamy potato soup recipe has so much flavor! Because nobody needs bland potato soup. You can eat this potato soup as-is or serve it fully loaded with all the extra toppings.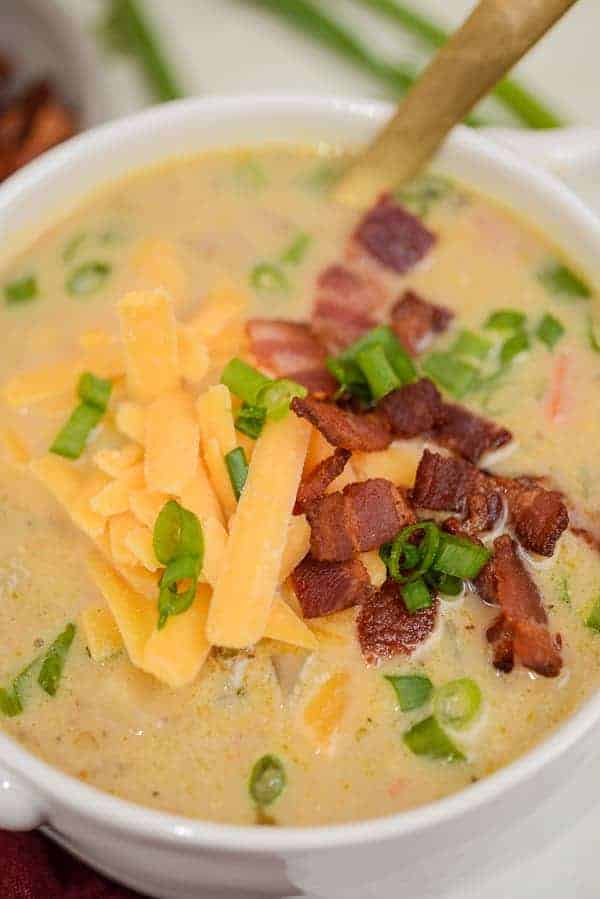 Either way, this soup is serious comfort food. It reheats beautifully so that you can eat it all week long.
Potato Soup Ingredients:
Bacon: I like to use thick center-cut bacon. You will need six slices, brown them up, and then use the reserved bacon grease to sauté the vegetables.
Veggies: Onions or leeks give this soup fantastic flavor. Leeks are a little bit milder and used when making a traditional potato leek soup. You probably already have onions at home. I like to you a sweet yellow or Vidalia onion in this recipe.
Potatoes: Use any variety of potatoes that you like in this recipe. Russet potatoes are traditionally used in potato soup. Yukon golds have a higher starch content and a rich, creamy, buttery flavor.
Flour: The flour combines with the bacon grease or butter to make a roux that thickens this soup. Another option is to take our about one-third of the soup and blend it. Then add it back to the soup.
Broth: I usually use chicken broth in this potato soup recipe. If you want to make a vegan potato soup, it is fine to use vegetable stock.
Milk: Use any kind of milk that you have on hand. You can use low-fat or skim milk. I typically used whole milk.
Seasonings: Thyme, Bay Leaves, Crushed Red Pepper
Toppings: This easy potato soup recipe is delicious as is. But, if you want even more flavor, you can top off a steaming bowl with shredded cheese, crumbled bacon, and green onions.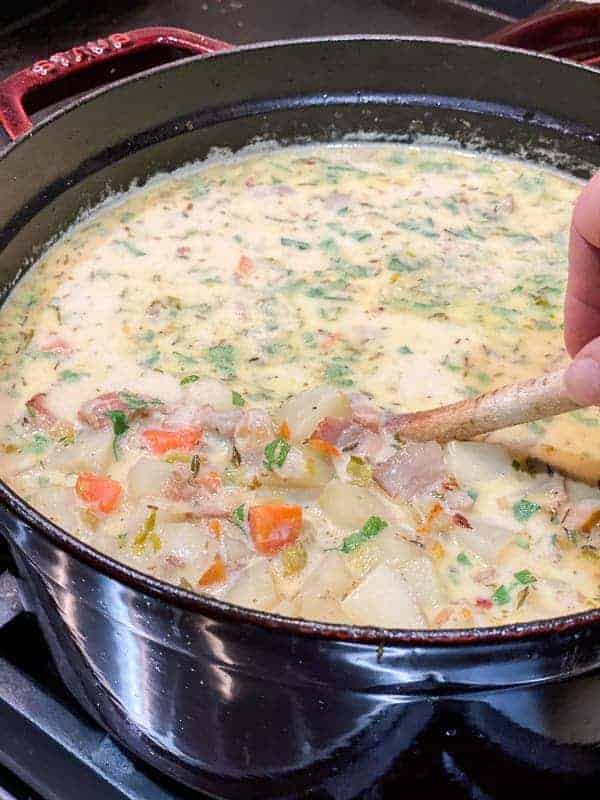 Step by Step Instructions
Cook the bacon: Dice and brown the bacon in a dutch oven or a large stockpot. Remove the bacon and set aside. Reserve a few tablespoons of the bacon grease to sauté the vegetables.
Sauté the veggies: Add the onions (or leeks), carrots, and celery to the pot and sauté until fragrant. Approximately five minutes.
Add potatoes and broth: Add the diced potatoes and the broth to the stockpot and bring the mixture to a boil over medium-high heat. You can add the seasoning at this time. Reduce the soup to a simmer and cook until the potatoes are tender.
Add the milk: After the potatoes are tender, add the milk to the soup. Warm the soup, make sure to stir occasionally so that the potatoes don't stick to the bottom.
Serve warm: This soup is excellent as is. But toppings always add that little something extra.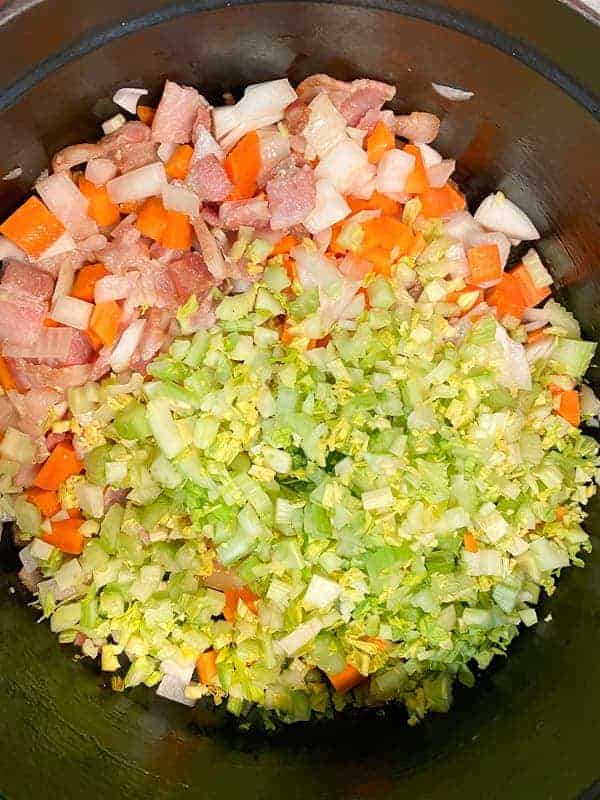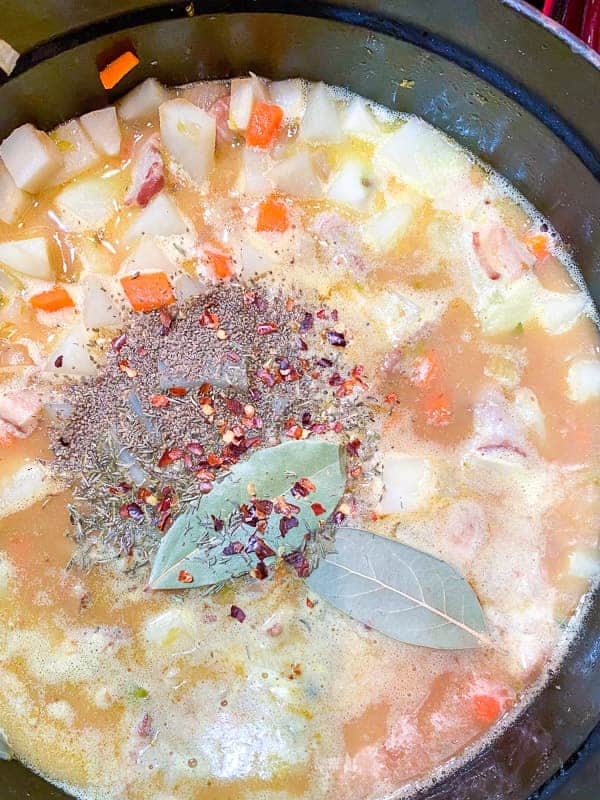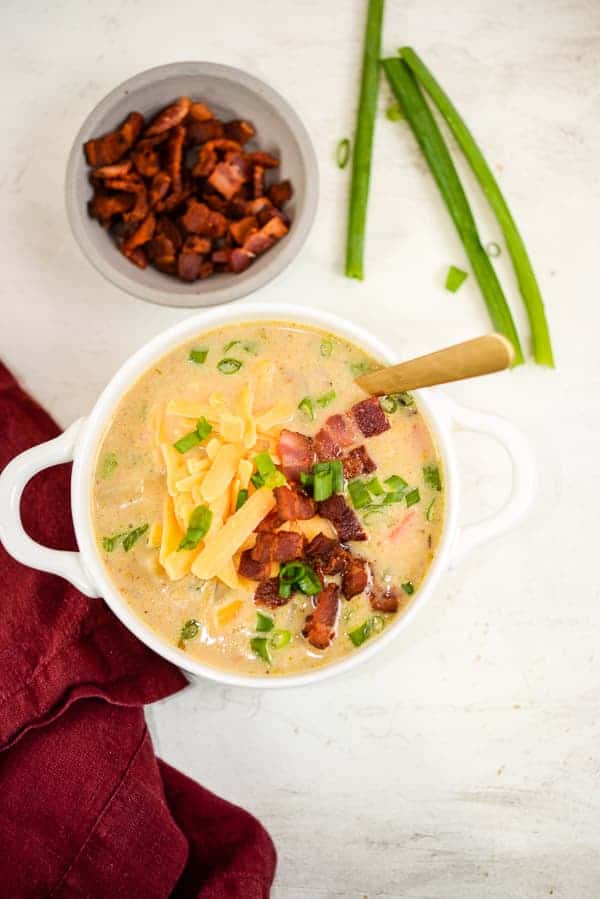 Possible Variations:
Vegetarian Version: Leave out the bacon and sauté the veggies in olive oil. Use vegetable broth and non-dairy milk. I think coconut milk works best in soup recipes. You'll want to get the variety that comes in a carton.
Gluten-free: If you are gluten intolerant, you can leave out the flour entirely or use a gluten-free flour blend. Alternatively, you can use corn starch or arrowroot powder to thicken this soup.
Lighter Version: Use 2% or skim milk. You can use turkey bacon in this recipe. To thicken the soup without flour, you can take out one-thrid of the soup and puree it in a blender. Return the blended portion to the soup.
Low Carb: To lower the total carbs in this recipe, you can replace a portion of the potatoes with diced cauliflower.
Loaded Baked Potato Soup: Add a few dollops of sour cream and about one cup of shredded cheese. Then top this creamy potato soup with all of your favorite baked potato toppings.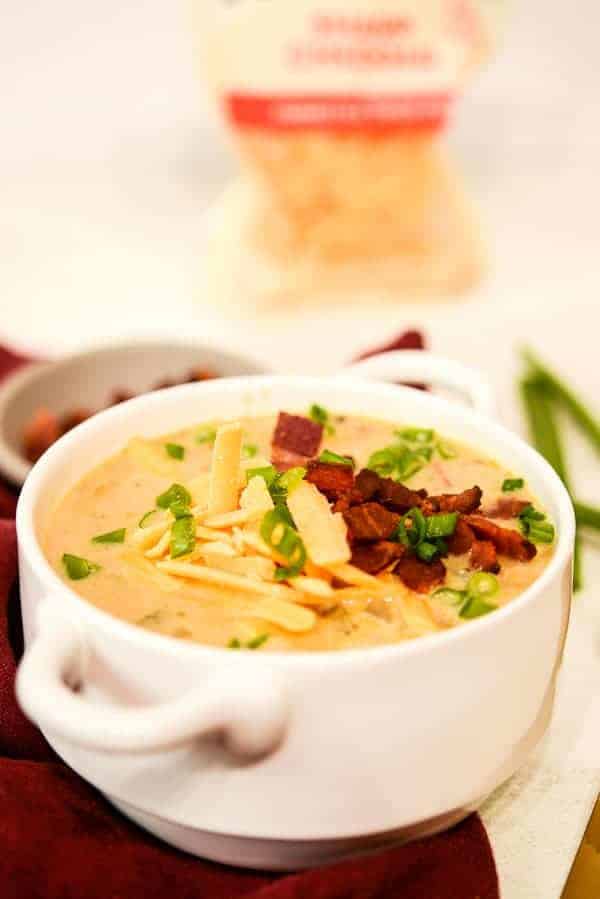 FAQs:
Can I freeze potato soup?
The milk in potato soup makes freezing less than ideal. Milk usually separates when frozen. The soup will still taste fine, but it may not look as attractive once reheated after freezing.
Can I use hash brown to make potato soup?
Yes, you can use frozen diced potatoes or hash brown potatoes in this recipe. If you are using frozen potatoes, keep in mind that they will cook much faster than raw potatoes.
How long should potatoes cook for potato soup?
Potatoes will cook for about 20 – 4o minutes. Cooking time will vary based on the type of potato that you are using as well as the size of the dice that you use. Large diced potatoes take longer to cook.
What to serve with Potato soup:
If you need a few ideas of side dishes to serve with potato soup, here are a few of my favorites.
Other Soup Recipes:
I love soup so much. Here are some more of my favorite soup recipes.
Some of my favorite vegetable soups are Creamy Tomato Soup, Spicy Pumpkin Soup, and Vegan Lentil Soup.
Hearty Soup Recipes that I love are Firehouse Chili, Classic Beef Stew Recipe, or Split Pea with Ham.
Find all of my Soup and Stew recipes HERE!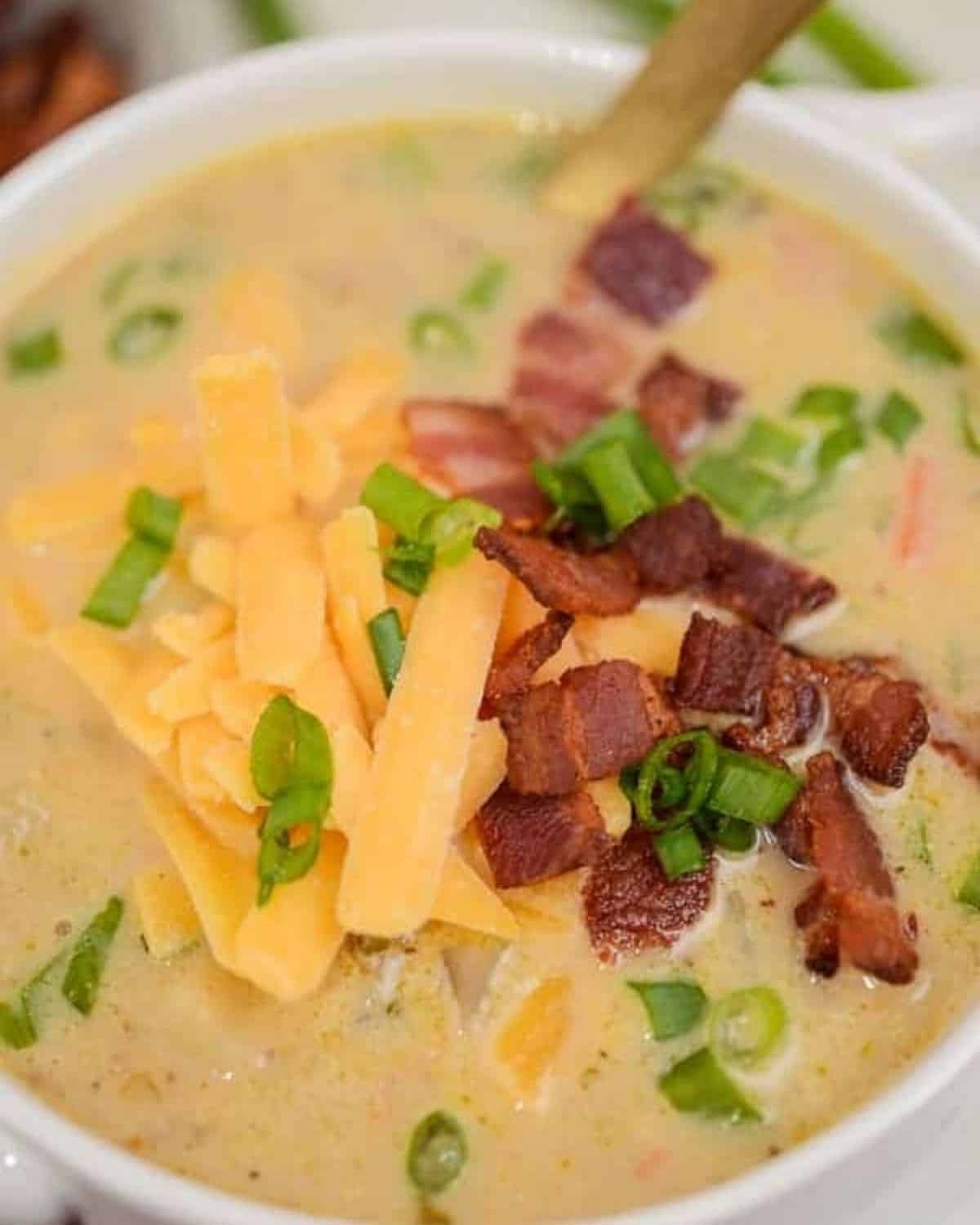 Homemade Potato Soup Recipe
Potato soup is easy to make comfort food that is filling and satisfying. It is also extremely budget-friendly. I grew up eating this soup as a kid. My mom is big into comfort food, and she does it well. This recipe is a classic potato soup recipe that can be adapted to a lot of different ways.
Ingredients
6

slices

Bacon

4

tablespoons

All-purpose flour

3

Carrots

,

peeled and diced

3

Stalks of celery

,

diced

1

Medium onion

,

diced (Optional: swap out 2 leeks here)

5

potatoes

,

peeled and diced

3

cups

Chicken broth

(affiliate link)

2

cups

Milk

½

teaspoon

Thyme

½

teaspoon

Crushed red pepper

Fresh parsley
Instructions
Start by dicing and browning the bacon until crispy.

Remove the crispy bacon and set it aside.

Reserve the bacon grease to sauté vegetables.

Add the carrots, celery, and onion to the bacon grease. Sauté until soft and fragrant.

Sprinkle flour over the vegetables and toss to coat.

Add potatoes and chicken broth.

Add seasoning.

Bring the soup to a boil.

Reduce heat and simmer until potatoes are tender.

Add the milk, and simmer to rewarm.

Add salt and pepper to taste.
Laura's Tips + Notes
Vegetarian Adaptions:
Leave out the bacon and use butter or vegan butter substitute instead.
YOUR OWN NOTES
Sign In to add your own private notes
Nutrition
Serving:
1
cup
Calories:
189
kcal
Carbohydrates:
24
g
Protein:
7
g
Fat:
8
g
Saturated Fat:
2
g
Cholesterol:
11
mg
Sodium:
546
mg
Fiber:
5
g
Sugar:
2
g
Calcium:
131
mg
Iron:
5
mg