I like it sunny ☀️ and warm. I am the first to admit that I am completely spoiled when it comes to the weather — I grew up in Hawaii and San Diego and have now lived  in the treacherous weather in Northern California for about 9 years. I can handle a few crisp autumn days as long as the sun is still out, but I have never longed for white winters.  It's January, and it has been cold and dreary here in California all week (Whaaahhh! 😩). The good news is that it's the perfect time for a big steaming bowl of spicy chili to warm your soul.
Chili is a recipe that everyone has some version of, I've had a lot of different recipes and made a lot of different versions over the years. Most of my recipes have a special place in my heart, and usually a story to go along with them. I have always lived my life through the lens of the flavors, textures and smells of food and cooking. I experience life and remember special moments by relating them to the recipes that I have prepared, while hanging out with my best girlfriends or being in the kitchen with my mom or brother. I remember the places I have traveled by the coffee houses that I've stopped at, or the best ice cream that I ever ate. My husband is no longer shocked when I plan an entire vacation around a crab sandwich or a bowl of clam chowder that I have to try. Everyone does that, Right? ✈️🚊
Even this chili recipe also has its own story. I created this with my best friend's son in mind. Since she is like a sister I guess you could say that Austin is one of my adopted nephews – I have known him since he was 5 years old. Austin recently finished the fire academy and is working on finding a full time position at a firehouse (I don't feel old at all).  I had a bunch of peppers left over from my chili verde, and I started thinking… every firefighter needs a perfect chili recipe, isn't that all they eat? Everybody knows that firefighters just cook chili and rescue kittens. Chili is the perfect thing to make a giant batch of and have on hand in the fridge to heat up and eat anytime you aren't out rescuing kittens from trees.
The other part of this story is that Austin and his brothers grew up fishing with their dad. Austin always liked fish… his brothers and mom, not so much. I remember when Austin was about 10 or so I was over at the house and cooked some salmon for them. Austin still talks about the salmon, and when his mom told him I was making a chili recipe for him he replied "Hmmm I thought it would have been salmon." So next time I post a recipe in honor of Austin it'll be a salmon recipe. Stay tuned!!!
5 Alarm Firehouse Chili
Super awesome, full of flavor chili. Uses 5 different peppers for flavor wow, and a secret ingredient that adds a deep richness to this chili recipe.
Print
Ingredients
1

tbsp

coconut oil

1

red bell pepper

fine diced

2

anaheim peppers

fine diced

1

pasilla pepper

fine diced

2

serrano peppers

fine diced

2

jalapeno peppers

fine diced

5

cloves

garlic

minced

3

lbs

grass fed ground beef

(or cubed chuck roast)

3

tbsp

chili powder

26

oz

strained tomatoes

26

oz

chopped tomatoes

2

tbsp

tomato paste

30

oz

kidney beans

15

oz

black beans

2

tsp

kosher salt

2

tsp

black pepper

2

bay leaves

1

tbsp

taco seasoning

Foodology Geek Brand

1

tbsp

raw sugar

1

tbsp

unsweetened cocoa powder
Instructions
Heat oil in a large stew pot or dutch oven.

Add onions to the pan, add a little salt and carmelize.

Add ground beef. Brown well. (Note: if you are using chuck roast, salt and pepper meat and brown well then remove and set aside. You will add this back in at the end)

Add peppers, sauté for 3-5 minutes, until tender and fragrant.

Add garlic. Sauté for a few minutes.

Add chili powder and toss to coat.

Add tomato paste and toss to coat.

Add tomatoes and bay leaves.

Add taco seasoning, sugar, and cocoa powder.

Bring to a boil and then reduce chili to a simmer. Simmer for at least an hour. (Note: if you are using chuck roast you should simmer for 2-3 hours until the meat is very tender.

Add beans and simmer for another 20 minutes or so.

Remove bay leaves before serving.
Suggested Sides
chopped white onions and/or green onions
Nutrition Facts
5 Alarm Firehouse Chili
Amount Per Serving
Calories 482
Calories from Fat 170
% Daily Value*
Total Fat 18.9g 29%
Total Carbohydrates 48.1g 16%
Protein 31.3g 63%
* Percent Daily Values are based on a 2000 calorie diet.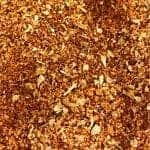 Taco Seasoning
Print
Ingredients
5

tbsp

chili powder

3

tsp

kosher salt

3

tsp

cumin

2

tbsp

dried oregano

4

tsp

onion powder

4

tsp

coriander

4

tsp

paprika

2-6

tsp

cayenne pepper

1

tsp

black pepper
Instructions
Mix all ingredients together in a large bowl. Store in an air-tight container.