5 Alarm Firehouse Chili Recipe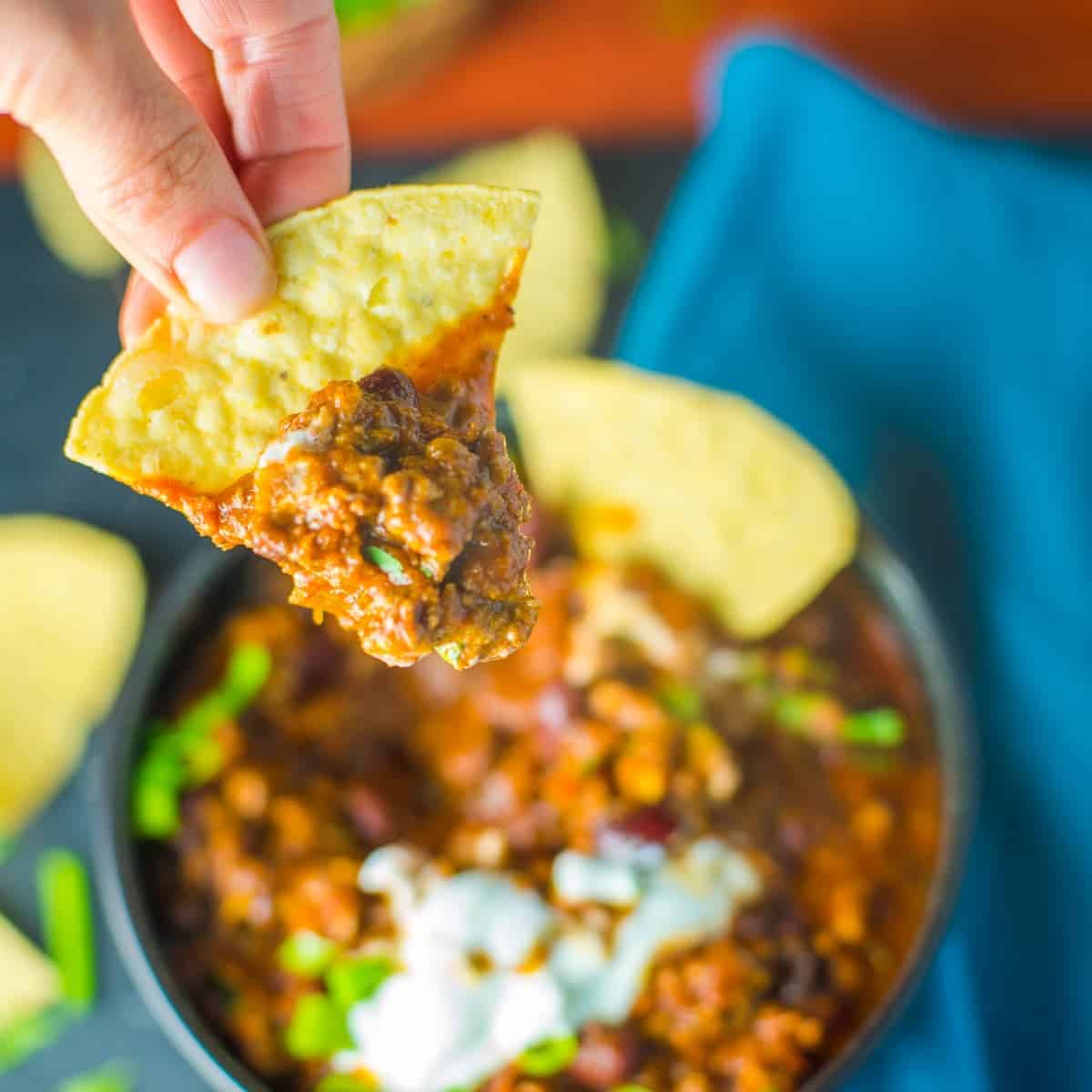 Recipe
Comments
Save
Go to Collections
This post may contain affiliate links. Please read my
disclosure policy.
Classic beef chili is a delicious and super easy one-pot dinner. Nothing beats a warm bowl of spicy, meaty chili topped with sour cream, onions, and melty shredded cheddar cheese.
Serve this with your favorite tortilla chips or a fresh batch of homemade cornbread.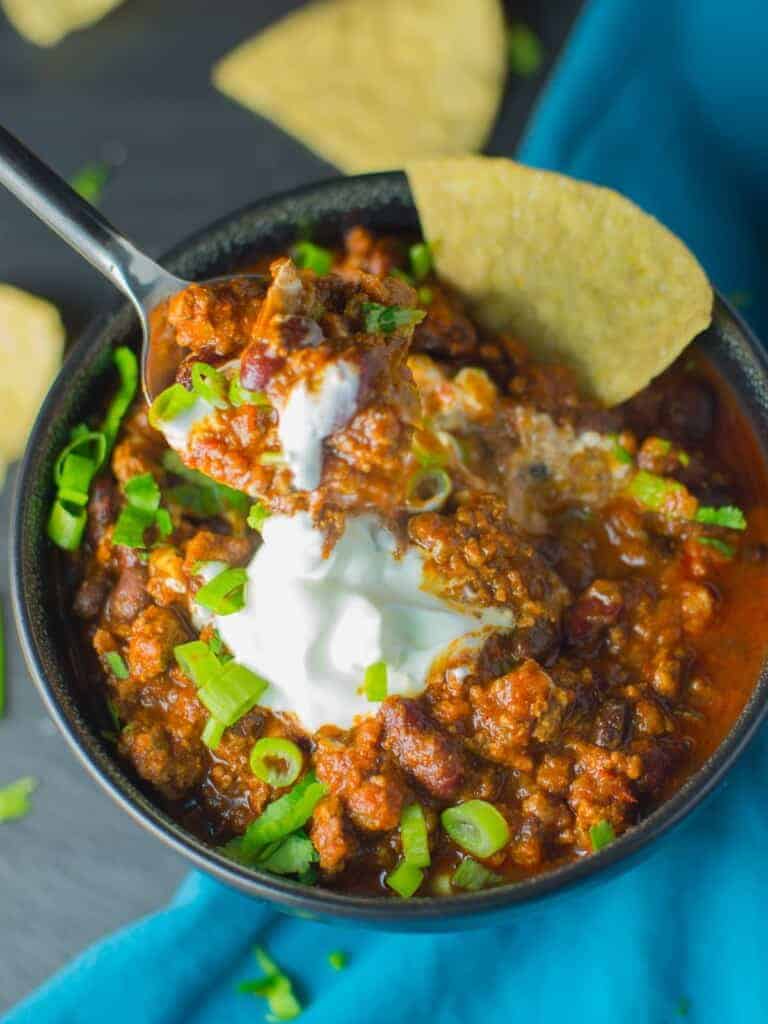 This post may contain affiliate links. Please see my disclosure policy for more information.
My family is a big fan of spicy food. Chili is at the top of that list.
I was practically weaned on Tabasco sauce. I remember my dad eating it on everything! I'm not sure my mom appreciated it. She might have even taken offense to it.
Soup and stew recipes are probably one of my favorite things to make. Not only are they delicious, but they have meal prep built in. A batch that can be eaten all week or frozen to pull out for another week.
What You'll Love About This Chili Recipe
Hearty. This chili recipe is hearty and has tons of flavor.
Chile con Carne. Chili can be made with all meat, or you can make this recipe with beef and beans.
Make ahead. It's so easy to make a massive pot of chili ahead of time. You can warm it up any time for a healthy, filling meal.
One-Pot Meal. Chili is the original one-pot meal.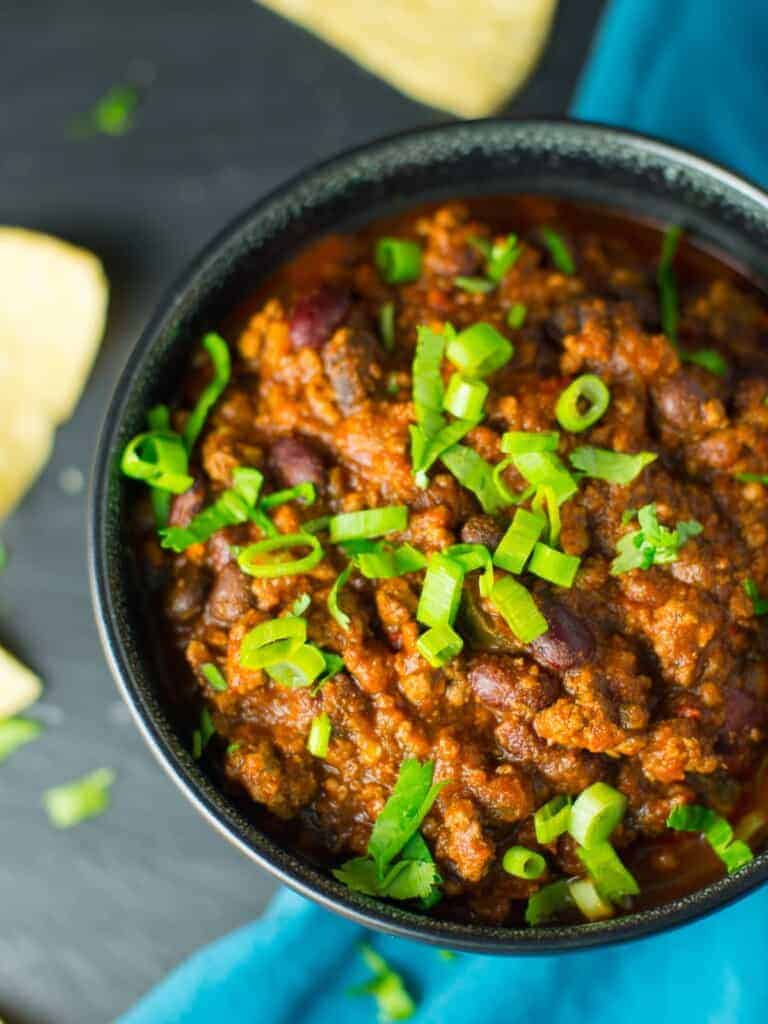 Recipe Notes
Chili is an easy one-pot recipe that can be made on the stovetop, in an Instant Pot, and even in a Slow cooker. It's so versatile, filling, and it freezes beautifully.
Ingredients
Meat. I like to use either coarse ground beef or diced chuck roast.
Beans. Beans are entirely optional with this chili recipe. Try using pinto beans, black beans, red kidney, or a combination.
Tomatoes. Canned tomatoes are just fine here. I like chunky tomatoes in my chili and opt for whole stewed tomatoes. For smoother chili, you can use diced tomatoes or crushed tomatoes.
Peppers and Onions. This recipe calls for peppers and onions. If you want spicier chili, use more of the spicier chilies.
Spices. Chili flavor comes from all the spices. Chili powder, cayenne, oregano, garlic, and onion powder.
Cocoa powder. Cocoa powder is the secret ingredient in my chili recipe. Cocoa gives this recipe a balanced flavor similar to a Mexican mole.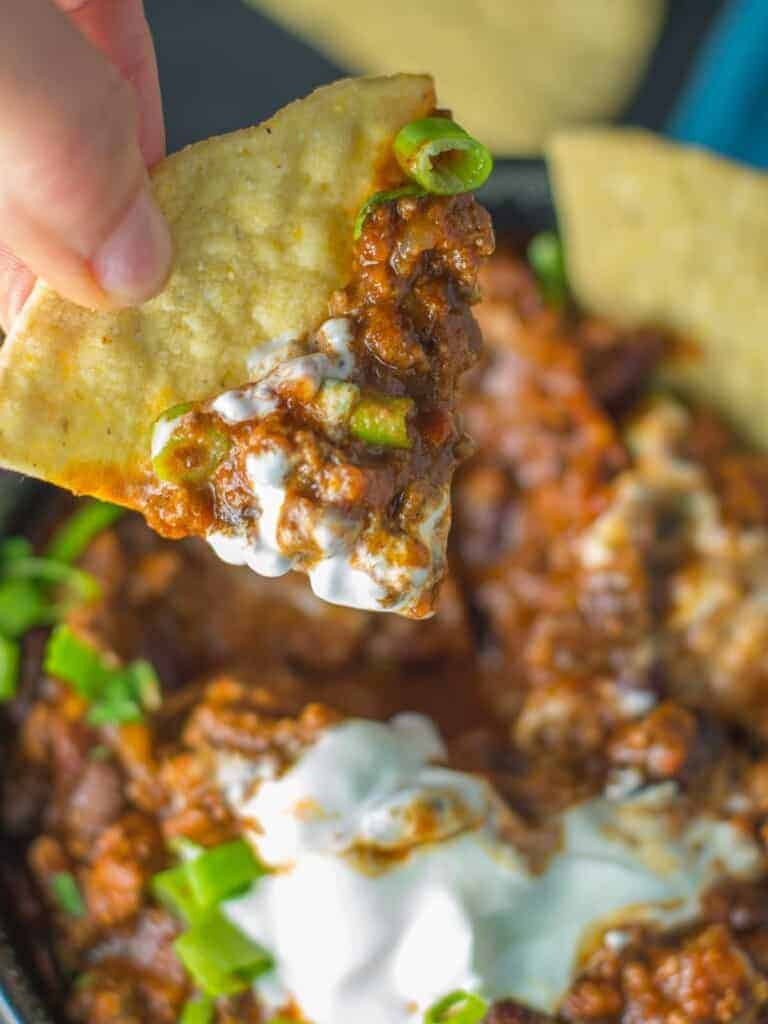 FAQS and Variations
Can you make chili with no beans?
Yes, you can make chili without beans. Chili with no beans is usually called Texas Chili or Chili Con Carne. I'm a huge fan!

This recipe can be made with no beans if you prefer a no-bean chili.
What kind of beef is best for chili?
Ground Beef — ground beef cooks quickly, so you won't have to simmer your chili long enough to get the meat tender.

I like to use coarsely ground beef. You can usually find this at the meat counter. If you don't see it, you can ask your butcher to grind you some coarse ground chuck.

Chuck Roast — On the stovetop, chuck will take about 90 minutes of simmering to get nice and tender. Chuck is the cut of meat that is most often used in a classic chili con carne.

Brisket and Short Ribs are other options that also work well in chili. Again these cuts of meat require a longer simmering time, but they are super flavorful.
How to make the best chili sauce.
The chili sauce in this recipe is the perfect blend of crushed tomatoes, fresh peppers, and spices. I like a spicy chili recipe. You can reduce the amount of cayenne if you want to keep your chili milder.

Once you learn how to make a delicious chili sauce, then you can make this chili in three different ways, with just a few modifications.

Classic Beef and Bean Chili (AKA 5 Alarm Chili) — make the recipe as is.

Chili Recipe No Beans — follow the recipe, but leave out the beans.

Vegetarian Chili — Follow the recipe as is, but skip the meat.
How long does it take chili to cook?
Depending on what kind of meat you are using, a pot of chili can take anywhere from 30 minutes to a few hours.

Ground beef will cook the fastest. You can have a pot of chili on the table in 30 minutes or less.

Other beef cuts, like chuck, will take at least 90 minutes to get tender.

Brisket and short ribs will take even longer than that. You can speed this up by making your chili in an Instant Pot.
How long does chili last in the fridge?
Chili will last for about 3 to 4 days in the fridge. Make sure to bring it to a boil when you reheat it. If you want to keep it longer, you can freeze it.
How to freeze chili?
I like to freeze chili in individual serving-size portions.

Individual portions make it easy for anyone in the family to take one out of the freezer and reheat it. These are the containers I use.

My second favorite way to freeze chili is to fill a large freezer bag about halfway full. Seal and lie flat.

PRO-TIP: Seal the zip top 80 percent closed. Then, press the air out of the freezer bag before you lie it flat. This is an excellent space-saving method if you have a drawer in your freezer.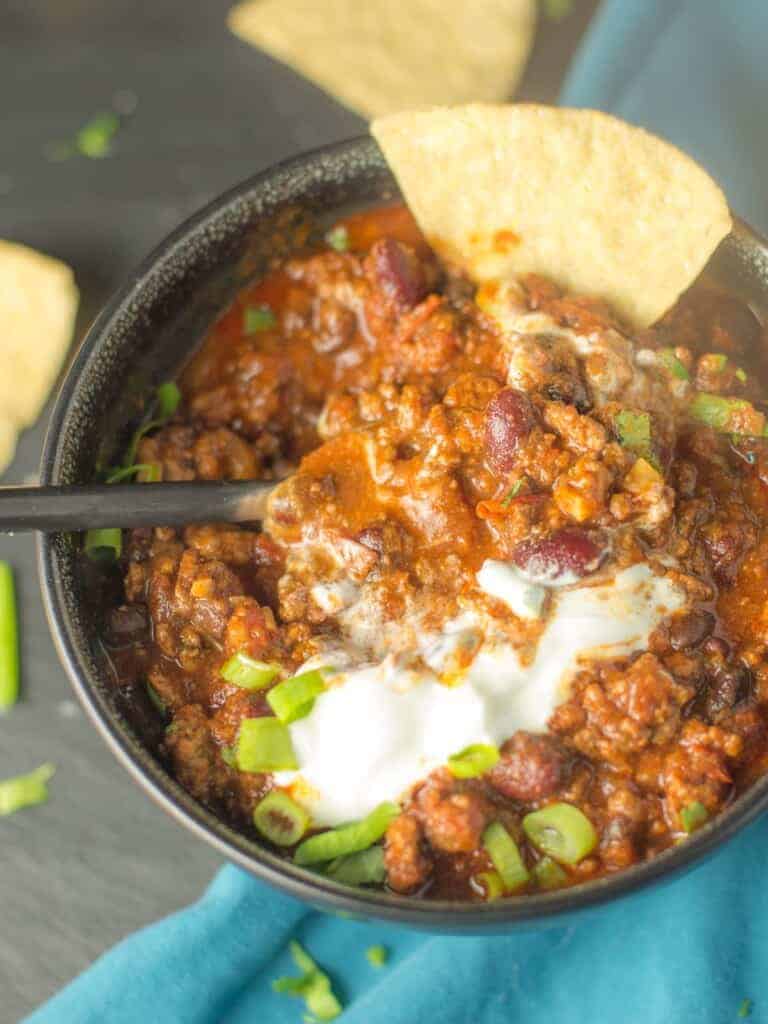 Ways to cook chili
Stovetop Chili
I most often make my chili in my favorite Staub dutch oven. (affiliate link) If you aren't ready to shell out the money for a Staub, I recommend the 6-quart Lodge (affiliate link)Enameled Dutch Oven. Lodge is a solid brand that knows what it's doing regarding cast iron cookware.
Instant Pot
(affiliate link)

Chili

These instructions also work for a Traditional Pressure Cooker (affiliate link) and the Instant Pot.
Use the sauté setting on high to brown the meat, then add the onions and other veggies. Sauté for a few more minutes until the vegetables are tender.
Add the remaining ingredients and set to high pressure.
Cook for 20 minutes if you are using ground beef.
Cook for 35 minutes if you are using a cubed chuck.
Slow Cooker Chili
Brown the meat in a sauté pan. Add the onions and other veggies and continue to sauté until tender. Add the beef and vegetables to your slow cooker with the remaining ingredients — cover and cook on low for 5 to 6 hours.
Chili is the perfect One Pot meal to make for meal prep
This beef chili recipe is high in protein and low in calories.
Chili is great for meal prep because you make a large batch. It is easy to pack in reheatable containers (affiliate link) and store in the fridge.
Chili also freezes well.
How To Reheat Chili
To reheat chili from the refrigerator:
Remove the chili it from the fridge, place it in a saucepan.
Heat over medium heat until it's bubbling, approximately 5 minutes.
Make sure you stir the chili frequently to prevent it from burning on the bottom.
To reheat chili from the freezer:
Remove the container of chili from the freezer.
Set it in the sink or on a towel for 10 minutes to thaw slightly. (It will sweat as it thaws)
Place the sealed container in a bowl of warm water to speed up the thawing process. The container does not have to be completely submerged.
Place the thawed chili into a saucepan. The chili can still be partially frozen.
Heat over medium until it is bubbling, Approximately 5 to 10 minutes.
Make sure you stir the chili frequently to prevent it from burning on the bottom.
Microwave instructions:
Alternatively, microwave thawed chili for 3 to 4 minutes on high.
Microwave temperatures vary, so make sure you check yours.
What to serve with Chili
Tortilla chips OR Fritos Corn Chips.
Rice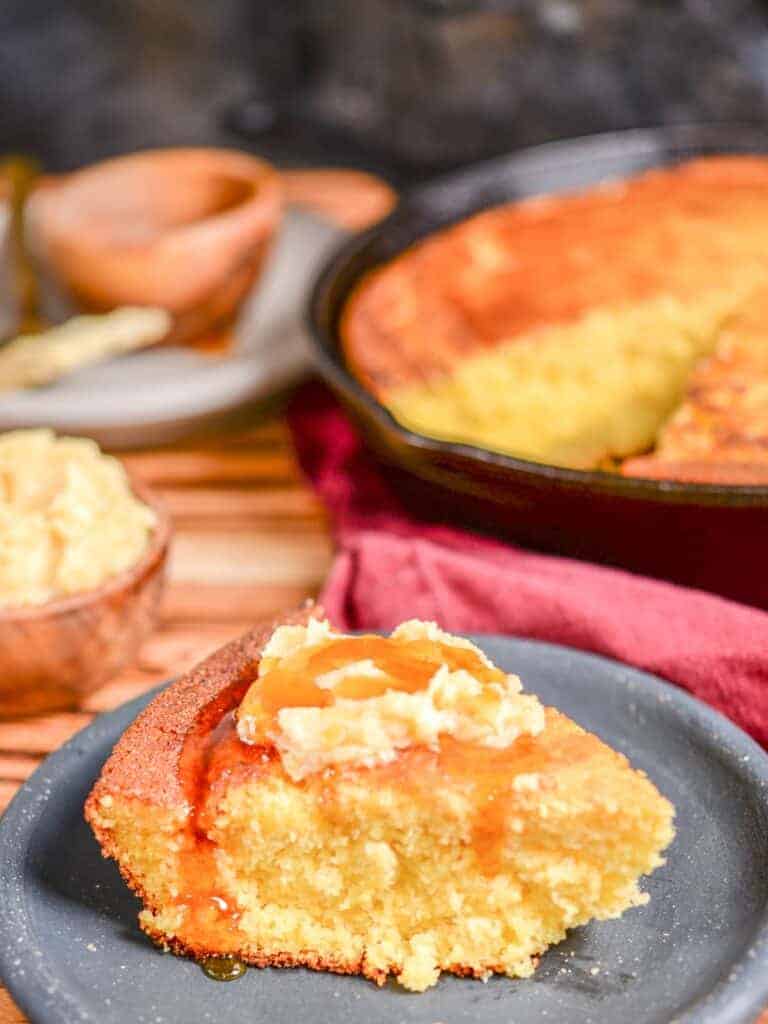 Other comfort food recipes You'll Love ❤︎
Homemade Turkey Pot Pie made from Thanksgiving leftovers and the flakiest pie crust is everyone's favorite comfort food recipe. My two favorite things to make…
Leave A Review
Did you make this recipe? Leave a comment and a 5 ★ review. Your feedback helps other readers and helps me continue to offer recipes at no cost. Happy Cooking!!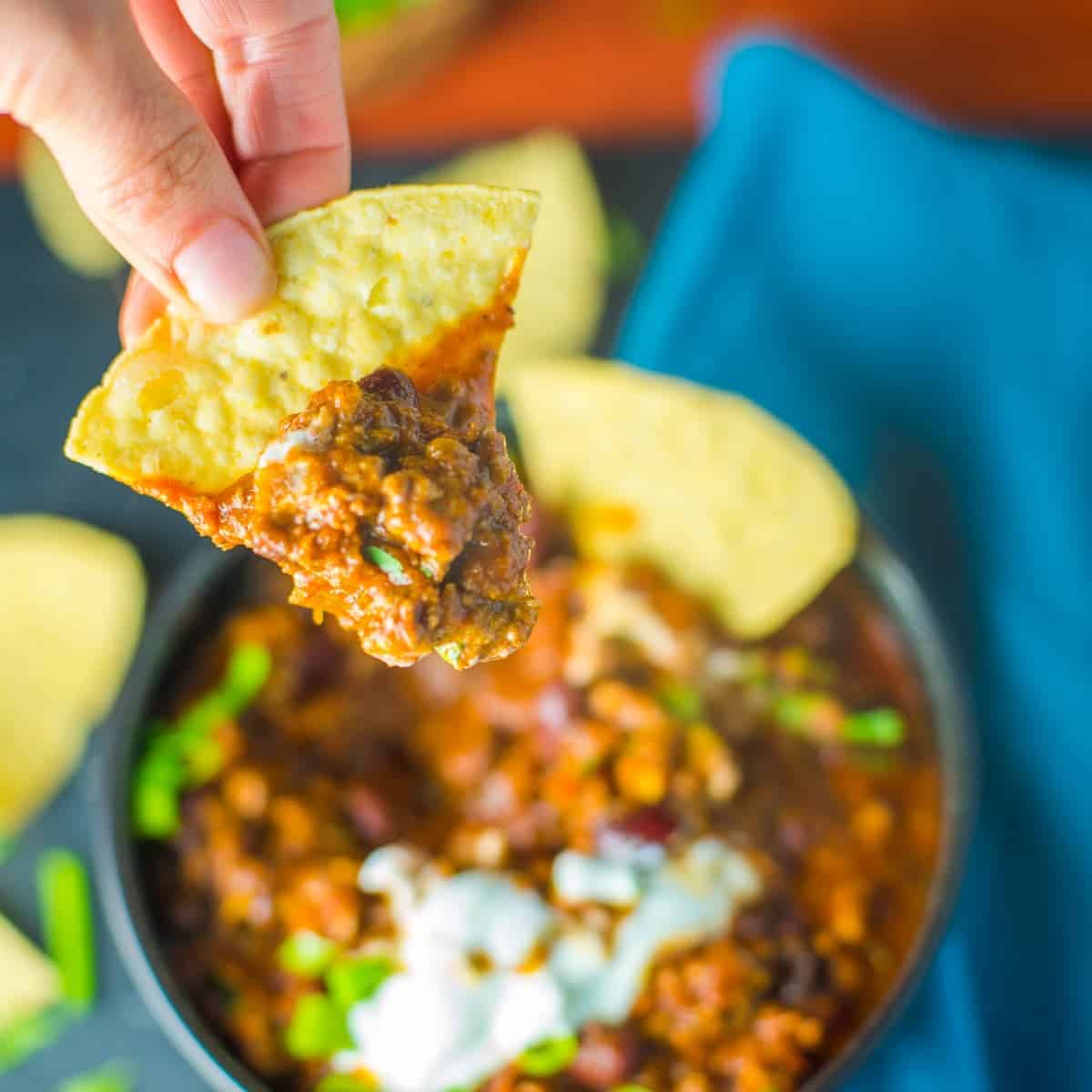 5 Alarm Firehouse Chili
The best homemade chili recipe. This is a spicy chili made with five different kinds of peppers, crushed tomatoes and spices. Chili is a one pot meal that is true comfort food.
Ingredients
Instructions
Heat the oil in a large stew pot or dutch oven.

Add the beef to the pan, add salt and pepper and toss well.

Add the onions to the pan, sauté until golden in color.

Add the peppers, continue to sauté for 3-5 minutes, until tender and fragrant.

Add the garlic. Sauté for a few minutes.

Add the chili powder and toss to coat.

Add the tomato paste and toss to coat. Sauté to slightly caramelize the tomato paste.

Add the tomatoes and bay leaves.

Add the taco seasoning, sugar, and cocoa powder.

Bring everything to a boil and then reduce chili to a simmer. Simmer for at least an hour. (Note: if you are using chuck roast you should simmer for 2-3 hours until the meat is very tender.

Add the beans and simmer for another 20 minutes or so.

Remove bay leaves before serving.
Suggested Sides
chopped white onions and/or green onions
Laura's Tips + Notes
Foodology Geek Taco Seasoning Mix
Adjust the cayenne pepper in the recipe to make it more or less spicy.
Makes about 1/2 a cup.
5 tbsp chili powder
3 tsp kosher salt
3 tsp cumin
2 tbsp dried oregano
4 tsp onion powder
4 tsp coriander
4 tsp paprika
2-6 tsp cayenne pepper
1 tsp black pepper
YOUR OWN NOTES
Sign In to add your own private notes
Nutrition
Calories:
410
kcal
Carbohydrates:
39
g
Protein:
34
g
Fat:
14
g
Saturated Fat:
6
g
Cholesterol:
74
mg
Sodium:
1125
mg
Fiber:
12
g
Sugar:
8
g
Calcium:
98
mg
Iron:
7.5
mg