Split Pea And Ham Soup Recipe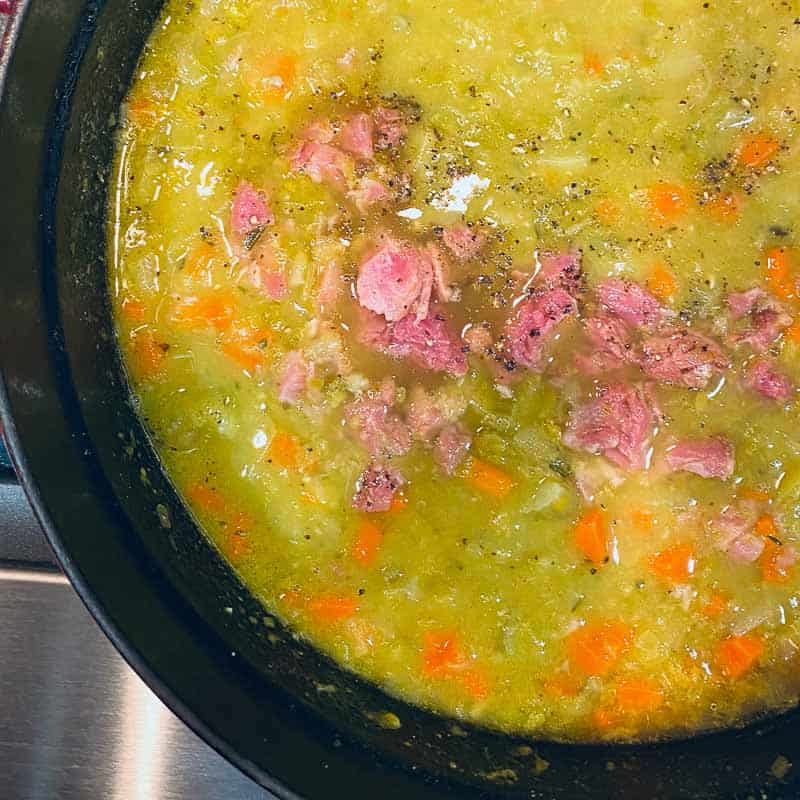 Recipe
Comments
Save
Go to Collections
This post may contain affiliate links. Please read my
disclosure policy.
I'm a big fan of homemade soup! Split pea soup with smokey ham is one of the classics. I make this recipe with smoked ham hock. But you can also make it with leftover ham.
With chunky vegetables, split peas, and big chunky stick-to-your-ribs pieces of smoked ham, you can't go wrong with this classic comforting soup recipe.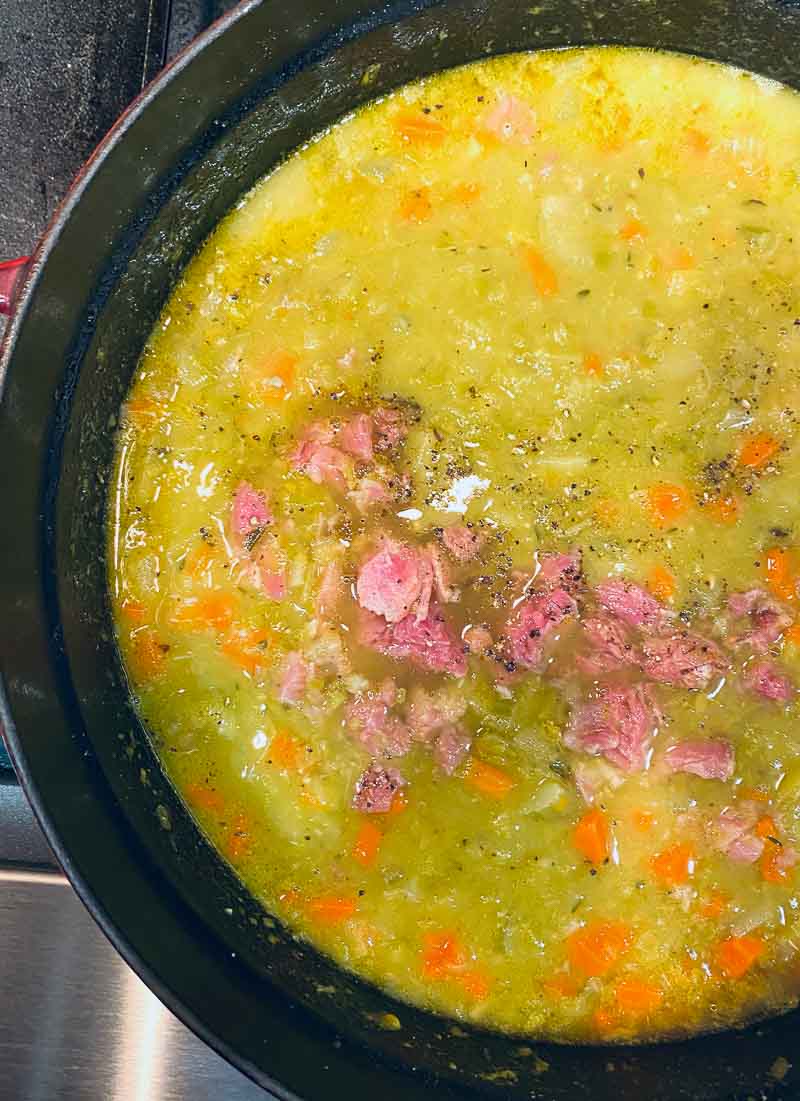 My mom inspired this Split Pea Soup Recipe.
Growing up, my mom was always really good at whipping up some kind of soup. A lot of my mom's cooking didn't have a recipe, per se. She always cooked from intuition. Especially, things like a pot of soup!
A few that I remember are her Potato Soup Recipe, this Split Pea Recipe, and her Ham and Beans.
All of these things have one thing in common. They start with bacon! If not with actual bacon, a ham bone or a smoked ham hock.
What Ingredients Do you need to make split pea and ham soup?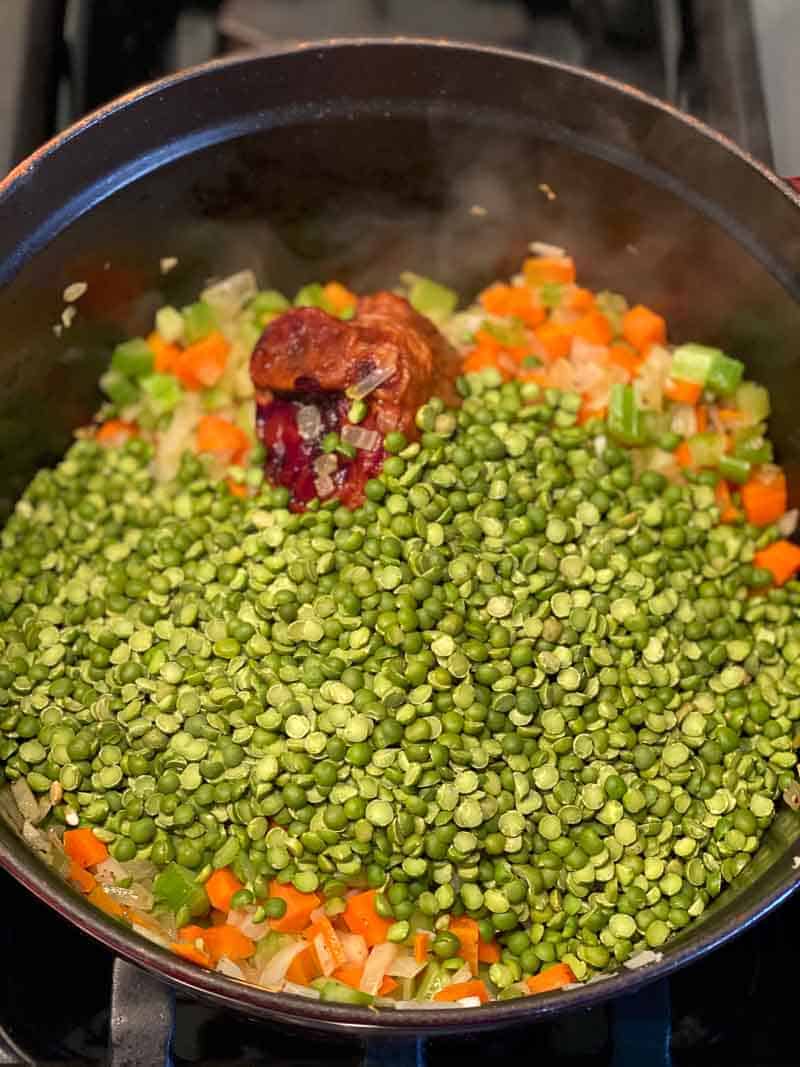 Mirepoix
I have a lot of recipes that use mirepoix. If you stick around for a while, you will be an expert on the subject of mirepoix. Pronounced as (meer-pwa).
Mirepoix is the base of most soups recipes. It's made of: Carrots, Onions, and Celery.
One bag of split peas
Most commonly, you can find 16-ounce bags of dried split peas in the rice and beans section of the grocery store.
Split peas are green peas that are peeled, dried, and then split. Green split peas are typically used for making pea soup.
Yellow split peas are more often used in Indian and Asian cooking. You may be familiar with dal.
One smoked ham hock
You can find smoked ham hock at the butcher counter. I often ask the butcher to 'crack it' for me. Which simply means to slice it into pieces, usually three.
If you have a leftover ham bone, maybe from a Holiday dinner, you can use that and any leftover ham too!
If you do not have a ham hock or a ham bone, you can still add some smoked pork flavor by using bacon. Just brown it before adding the ingredients for the mirepoix.
To make a vegetarian split pea soup, simply leave out the ham all together.
Chicken Broth
You can also use water or vegetable broth.
Bay leaves and thyme
I use two dried bay leaves and 1 to 2 teaspoons of dried thyme.
You don't need a lot of seasoning when you make this split pea soup with a ham bone.
Adjust the salt and pepper to taste. How much salt you add will vary depending on the salt contribution from your bacon or ham and what kind of liquid you are using.
How to make split pea soup
Start by dicing the carrots, celery, and onions.
Add the ham (ham hock or ham bone) and the broth.
Simmer for about 40 minutes until the peas are tender.
Remove the ham hock and pull off the meat. Add it back to the soup.
PRO-TIP: If your soup gets too thick you can add more water. I like my split pea soup on the thick side. But, sometimes when I reheat it, it needs a little bit more liquid.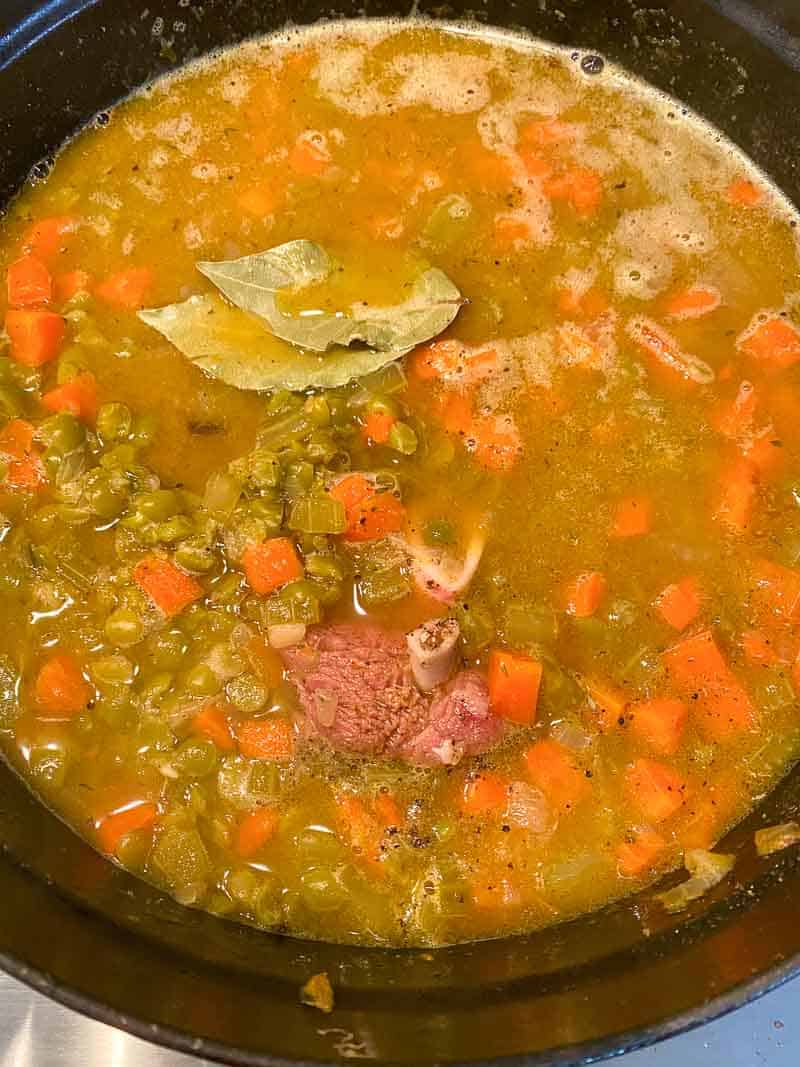 What to serve with Split Pea Soup
Soup is always good with a salad and a side of good bread.
My Aunt Donna's Fluffy Dinner Rolls are one of our family favorites.
Regarding salads, I love a simple green salad with Champagne Mustard Vinaigrette or Greek Salad Dressing.
My Low Carb Beef Stew Recipe that I make in the Instant Pot is one of my favorites. Homemade Tomato Soup, especially when served with grilled cheese, cannot be beaten. Authentic Beef Pho Tai and Firehouse Chili are my favorite comfort food recipes.
Check out all of my Soup Recipes HERE!
And get my Maple and Mustard Glazed Ham Recipe!
Homemade Bone Broth is a magic elixir! Not only is it good for you, but it's also delicious. Anytime I make a roast chicken I…
In the meantime, enjoy this hearty bowl of Split Pea Soup
This recipe is just one easy pantry-friendly recipe that I have on the blog.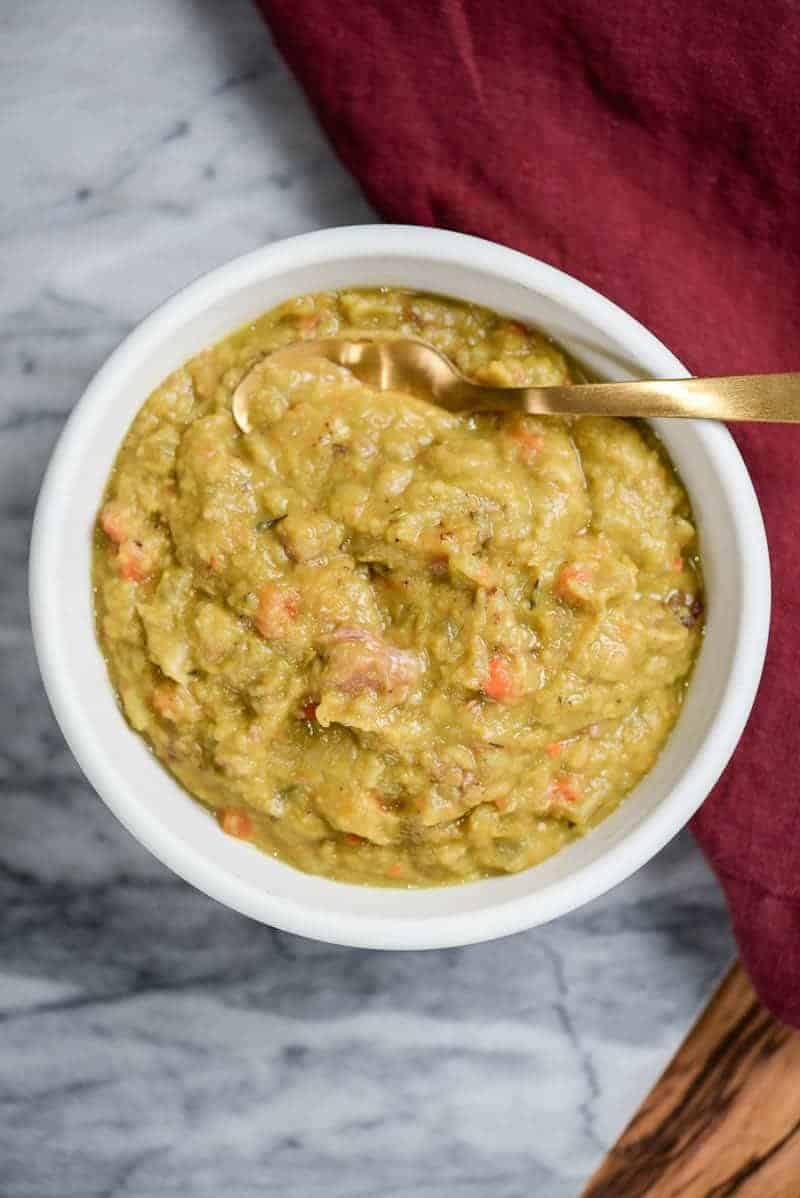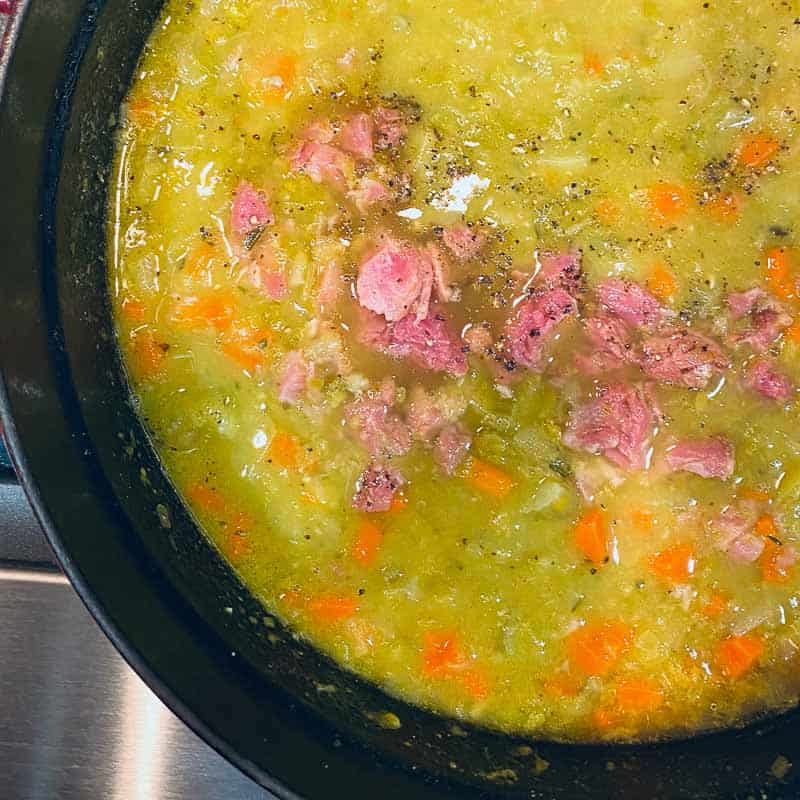 Split Pea Soup with Ham
Split pea soup made with smoked ham hock. This soup is easy and super flavorful.
Ingredients
1

tablespoon

olive oil

(affiliate link)

,

or butter

1

medium

white onion

,

diced, approx. ½ to 1 cup

2

medium

carrots

,

diced, approx. 1 cup

2

medium

celery stalks

,

diced, approx 1 cup

1

smoked ham hock

,

cut into three pieces (use one or all three)

16

ounces

split peas

2

tsp

dried thyme

8

cups

broth

,

or water

2

tsp

sea salt,

more if needed

¼ to ½

tsp

black pepper
Instructions
Add the olive oil, diced vegetables and salt and pepper to the dutch oven.

Sauté over medium high heat until fragrant, 3 to 5 minutes.

Add the ham hock and the dried split peas to the pot.

Add the broth (or water) and the bay leaves, and the thyme.

Cover. Reduce to a medium-low simmer Let simmer for a minimum of 40 minutes to an hour. (I like to simmer until the ham is falling easily off the bone.)

Remove the ham hock from the soup mixture and pull the ham off the bone. Cut into bite sized pieces and returen the ham to the soup.

Adjust the thickness of the soup:

If soup is too thick, add more broth or water until the desired consistency is reached.

If the soup is too thin, let the soup simmer until some of the excess liquid is reduced.

Add salt and pepper to taste. Salt content will vary based on what type of broth you use.
YOUR OWN NOTES
Sign In to add your own private notes
Nutrition
Serving:
1
cup
Calories:
218
kcal
Carbohydrates:
40
g
Protein:
14
g
Fat:
1
g
Saturated Fat:
1
g
Sodium:
961
mg
Fiber:
15
g
Sugar:
8
g
Calcium:
44
mg
Iron:
3
mg