Imagine your favorite grilled chicken or pork slathered with a rich, spicy-sweet peach-bourbon barbeque sauce. This is my absolute favorite homemade barbecue sauce recipe. Pair this tangy sauce with the tastiest pork skewers. PLUS: there is bacon between the chunks of pork!! Now it's a party!
How to make BBQ sauce from scratch.
Making barbecue sauce from scratch isn't as hard as you think.
When you make homemade barbecue sauce, you can leave out all the bad stuff like corn syrup and preservatives.
This barbecue recipe is made without ketchup. This recipe might not be a super easy bbq sauce recipe, but it is the best homemade bbq sauce I have ever made.
Start by caramelizing onions, tomatoes, and in this case, the peaches.
Add a little bit of apple cider vinegar, and a few spices.
Then let your tangy-sweet barbecue sauce cook down until it is as thick as you want it.
I use an immersion blender for this recipe to get my sauce a little bit smoother.
You might be wondering, how long does homemade BBQ sauce last?
Why go through all that effort if you can't keep it awhile. When I have made this barbecue sauce, I have kept it in an airtight container for around one month. Homemade barbecue sauce doesn't hang around too long at my house. We usually eat it way before it goes bad.
What goes with BBQ sauce?

I am all about summer grilling!
I could cook on the grill every day. I love grilled meats and veggies – not to mention being outside while I'm cooking. Easier clean up is just a bonus that comes with throwing everything on the grill. Who needs pots and pans?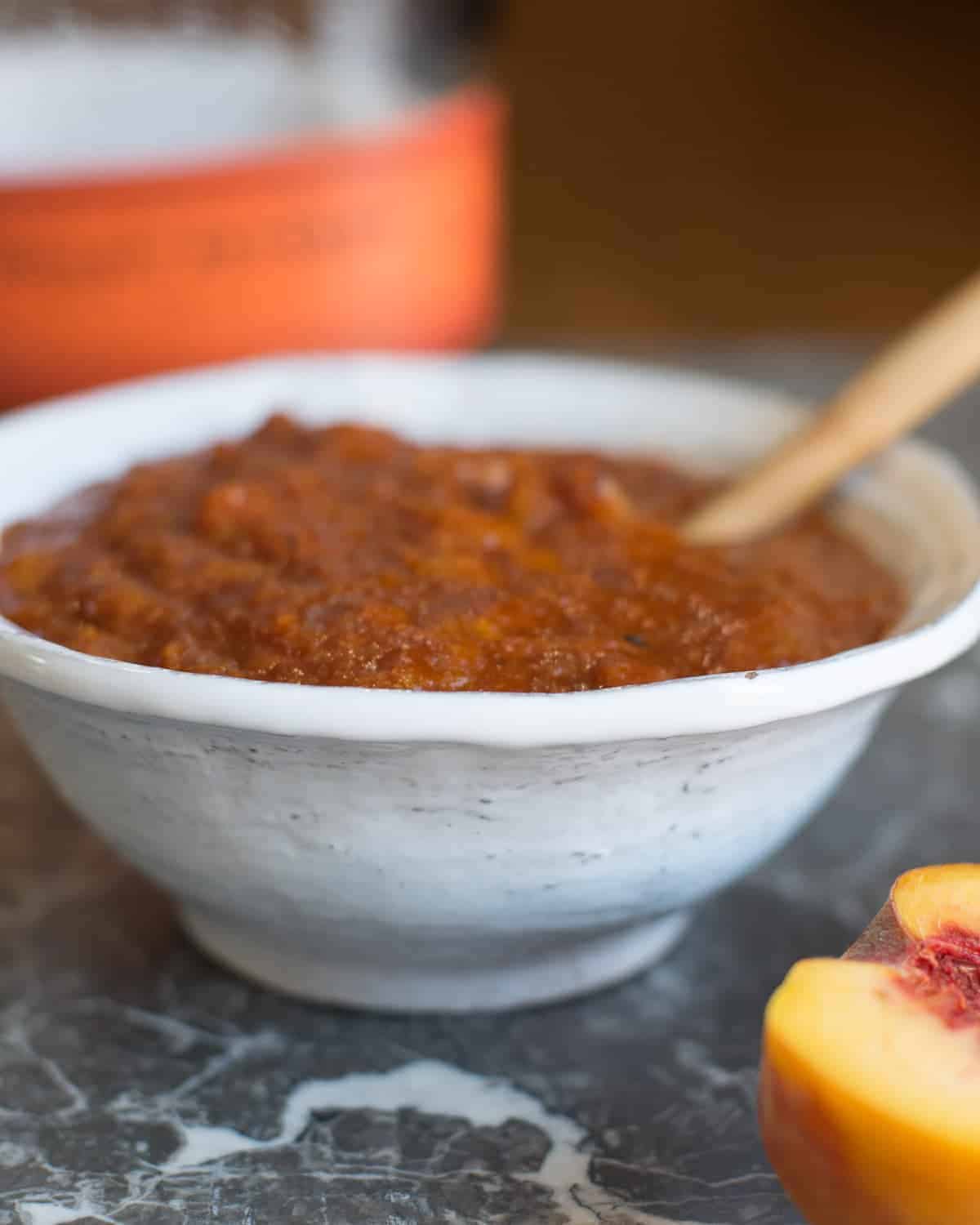 Peaches and Bourbon – Is there a better combination?
Being a bourbon fan I might be a little bit prejudice here. Because if we're being honest, bourbon goes with just about everything, right? This sweet and spicy barbecue sauce has the perfect amount of sweet heat. The peaches and the panela sugar create a sweet caramelly flavor, while the bourbon and cayenne give it a nice spicy kick.
I highly recommend going out of your way to buy the panela sugar. You can find panela sugar in a Hispanic grocery store. Or if you don't have a Hispanic market in your area, you can order it HERE!
The little details are what can take a recipe from pretty good to amazing! You can't quite reproduce the rich flavor of panela with brown or white sugar. Of course, this barbecue sauce is delicious either way, but the panela sugar makes this sweet bbq sauce exceptional.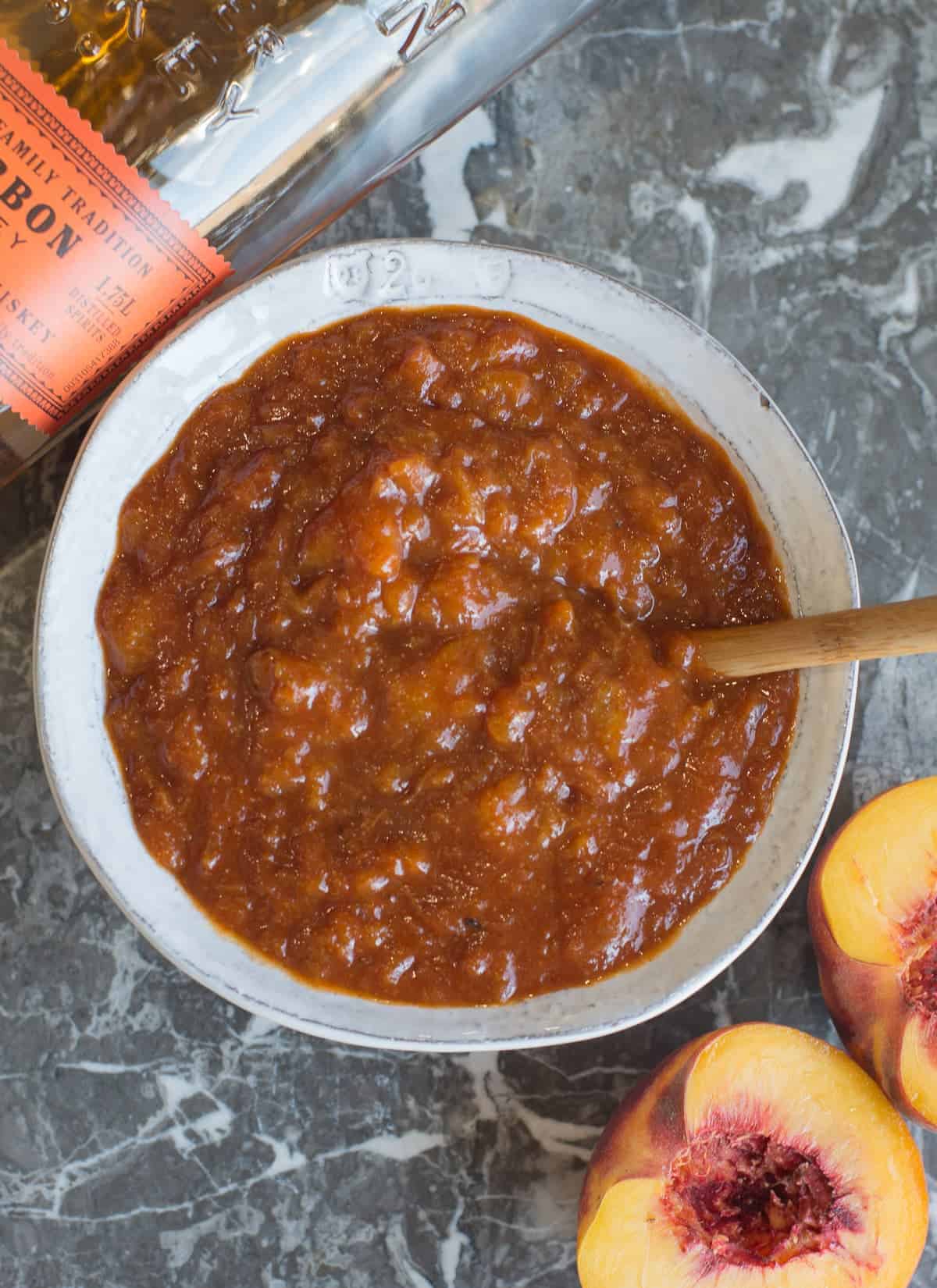 This Peach-Bourbon Barbecue Sauce recipe is a Keeper.
There are some recipes that I keep making over and over again.
What is the best meat for BBQ?
I like to serve grilled chicken or pork with this sweet and spicy barbecue sauce.
I recently discovered a pork tri-tip cut.
This roast cut is often called a pork club roast. The pork club roast is a boneless pork roast cut. It is a tender cut that is leaner than a pork shoulder. I had never heard of it before. It turned out to be a delicious cut.
When you love cooking as much as I do, it's natural to be on a first name basis with your butcher. If you can't find this 'club roast' cut, you can use pork tenderloin instead. You could also ask your butcher if they have any stew cut pork.
These pork skewers are perfect with this barbecue sauce. I usually make these shish kabobs with a little bit of applewood smoked bacon slapped between each piece of meat. Can you say bacon-tastic? I also use my signature BBQ Spice Rub. You can download it here!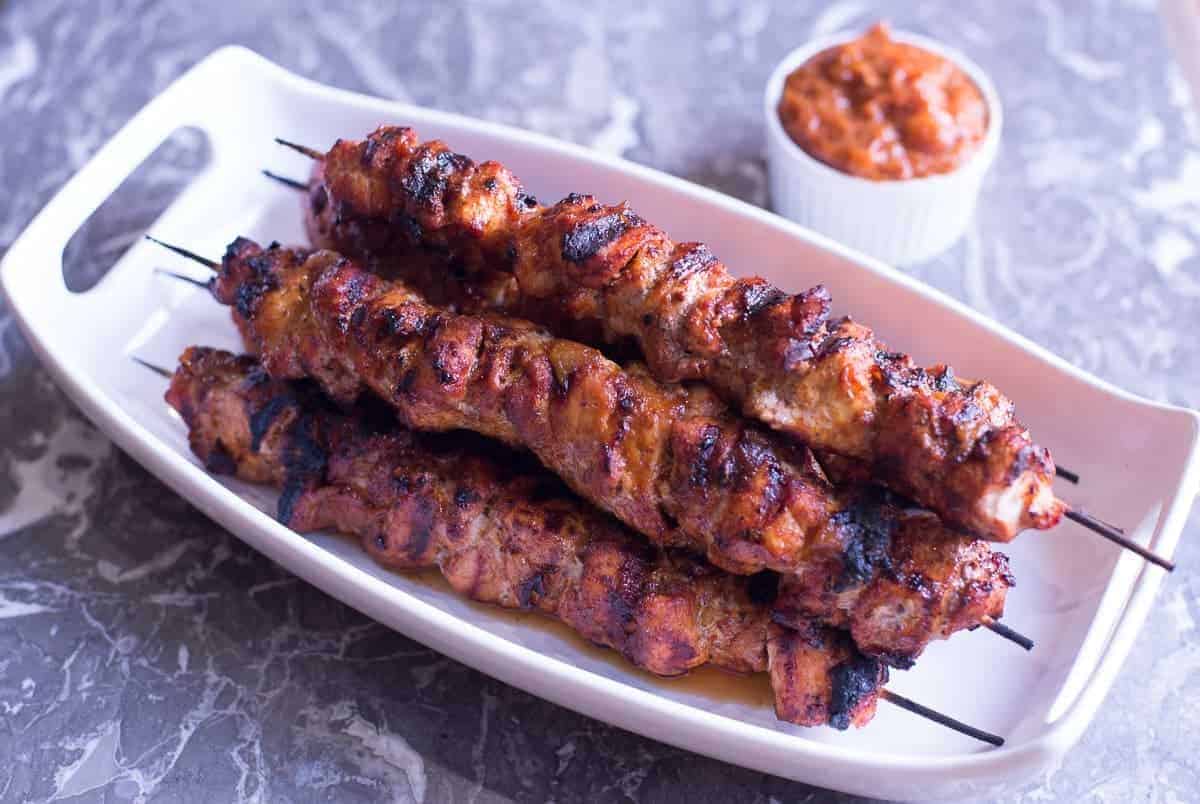 How to make barbecued pork on a campfire?
This recipe was so easy to make camping. I am a Master of campfire cooking. I bring my Lodge brand camp oven with me and cook in it the whole time. Want to know what other campfire recipes I cooked while camping?
Check out my post on super easy camping recipes to see what we ate on our Big Sur camping tip! You will be truly inspired!
Other recipes that you might like: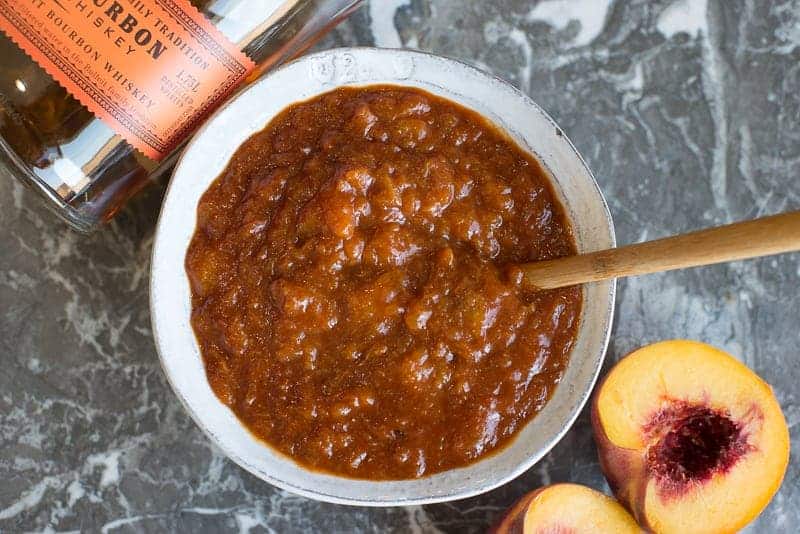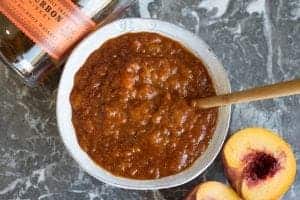 Peach Bourbon BBQ Sauce
Total Time:
1
hour
15
minutes
Sweet and spicy Peach Bourbon BBQ sauce. Great with pork or chicken.
Print Recipe
Pin Recipe
Instructions
Add the oil, onion, garlic and peaches to a medium sized sauce pan.

Cook on medium high until peaches are soft and the sauce starts to caramelize and thicken. Approximately 30 minutes.

Time may vary depending on how ripe your peaches are.

Add the tomato paste, and sugar. Allow it to incorporate into the fruit.

Add the apple cider vinegar and bourbon. Bring to a boil.

Reduce the temperature and add spices. Simmer to let spices infuse into sauce.
Nutrition
Serving:
2
Tbsp
|
Calories:
136
kcal
|
Carbohydrates:
22
g
|
Protein:
1
g
|
Fat:
1
g
|
Saturated Fat:
1
g
|
Sodium:
647
mg
|
Fiber:
1
g
|
Sugar:
20
g
|
Calcium:
12
mg
|
Iron:
0.5
mg
(Visited 100 times, 2 visits today)