Brussels Sprouts with Pancetta and Figs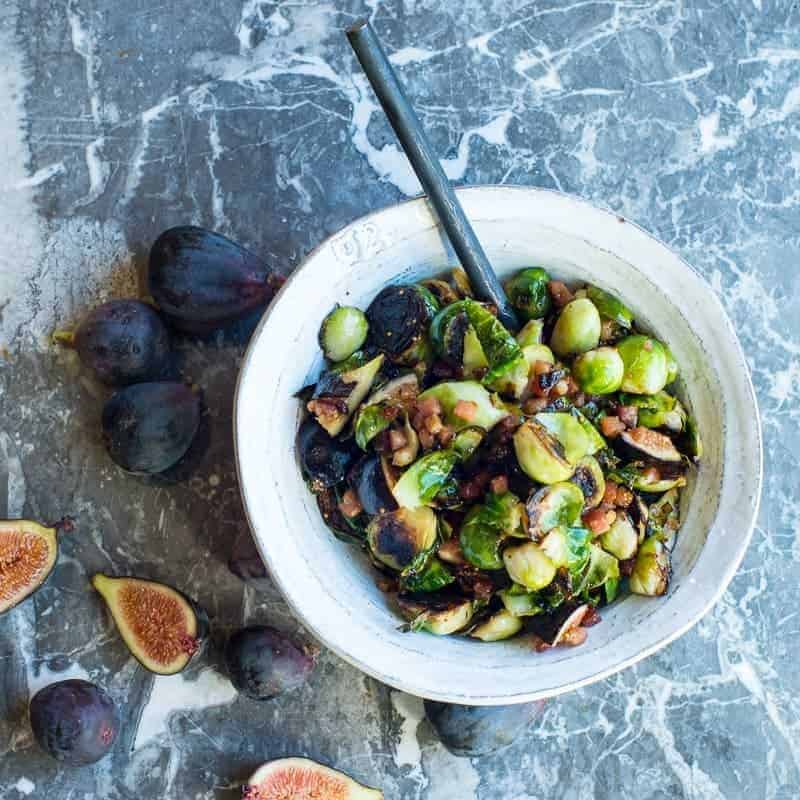 Recipe
Comments
Save
Go to Collections
This post may contain affiliate links. Please read my
disclosure policy.
These pan-seared brussels sprouts are delicious – especially when prepared with salty pancetta and sweet fresh figs!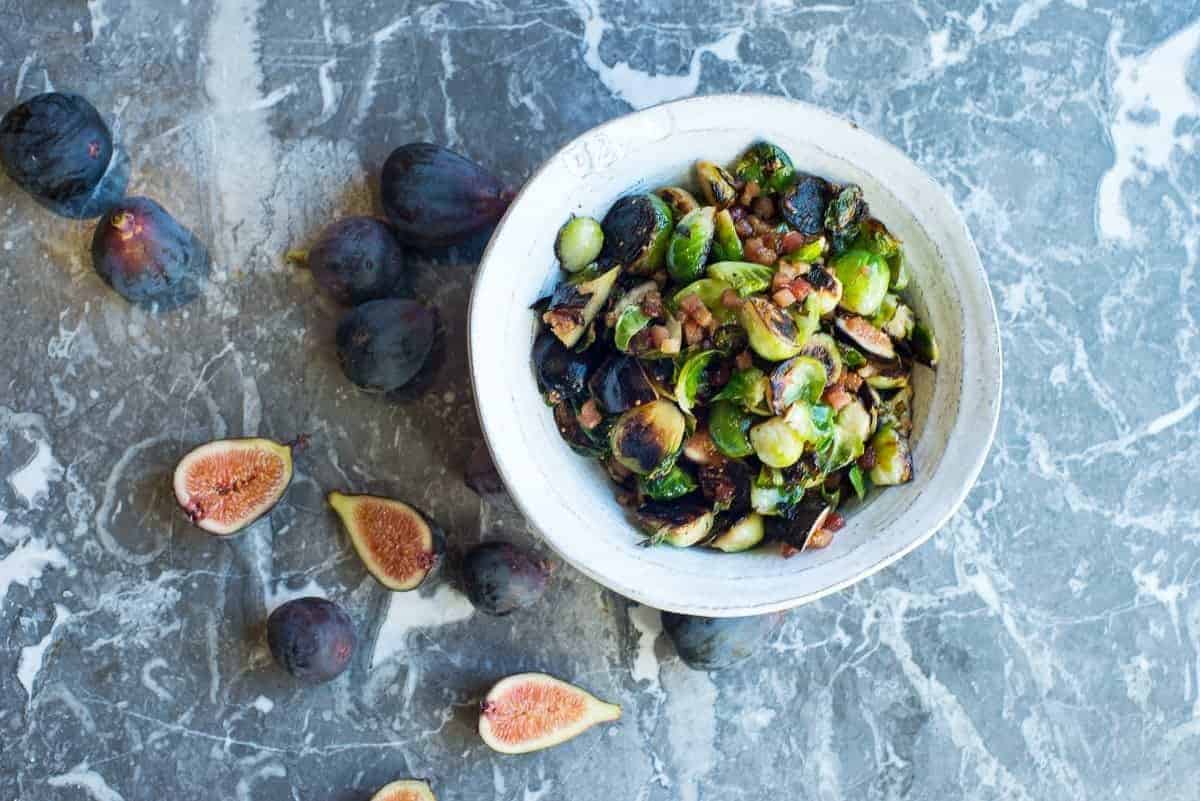 These Brussels sprouts are a favorite in our house. I could make them every night.[/caption]
I can already see my brother-in-law shaking his head in disagreement. I get it. When I was a kid I would literally eat anything – EXCEPT Brussels sprouts and Lima beans. I grew up in an era when these two vegetables were generally only available in frozen bricks, which when boiled per the directions, yielded a bitter or chalky end product. No wonder they have such a bad rap.
This recipe will change your outlook on Brussels sprouts.
These are nothing like the bitter boiled green balls of your youth! Truth be told, this recipe is a 'go-to' in our household. It's an easy to prepare, reliable favorite – equally appropriate for guests or the random weeknight dinner.
Have fresh figs?
This recipe is a perfect way to highlight the unique sweetness and texture of fresh figs. If fresh figs aren't easily available – no worries. You can still get a fantastic flavor profile from the fig jam-based glaze alone.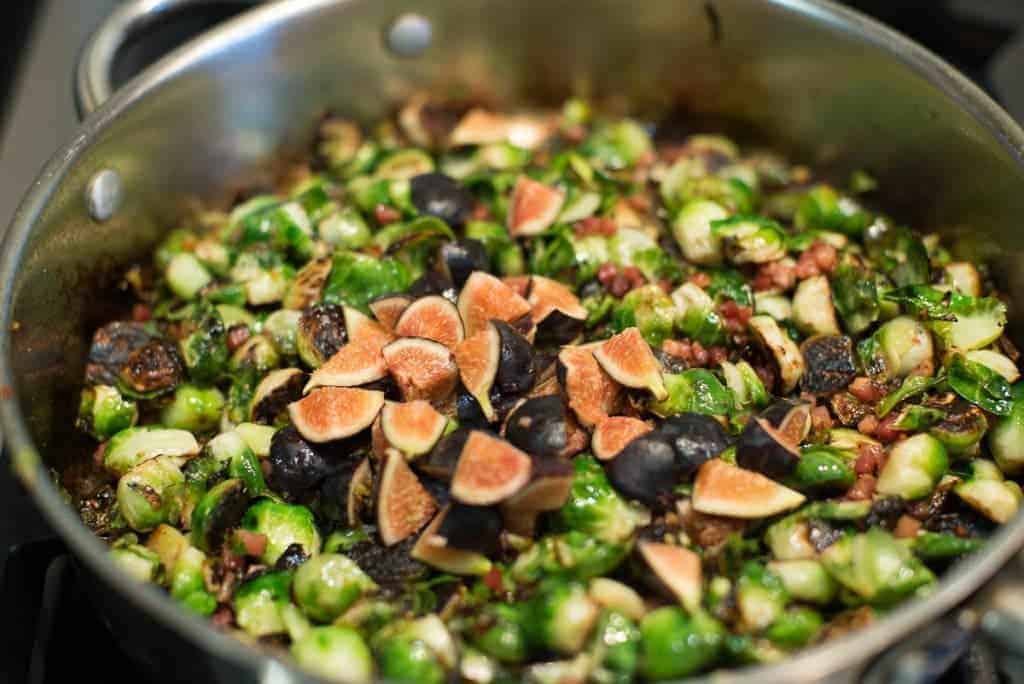 Bacon makes everything better, right?
Pancetta is the fancy 'first cousin' of bacon. When finely chopped and browned pancetta adds a bright salty bite to vegetable.
This rich and tasty contribution is sure to convince even the most skeptical Brussels sprout critics to give them another try.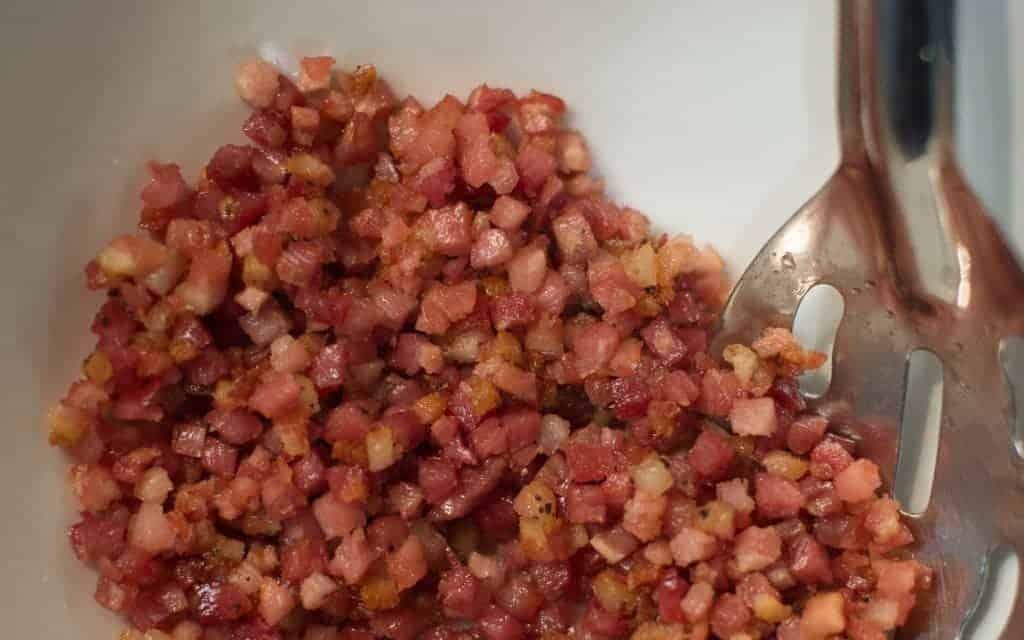 Brussels Sprouts with Pancetta and Figs – perfect for guests, a potluck, or a Wednesday night at home.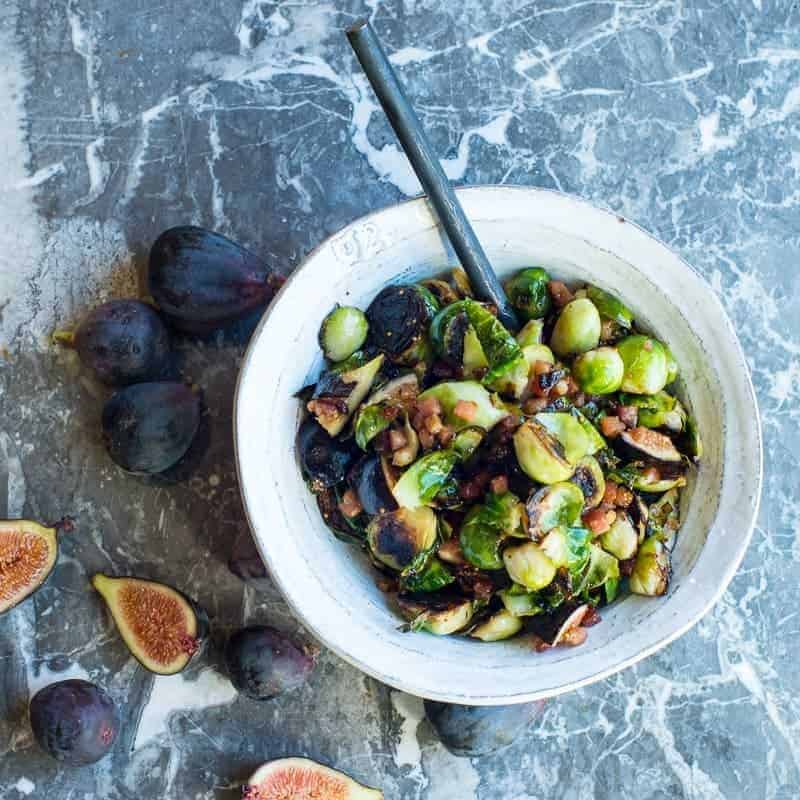 Brussels Sprouts with Pancetta and Figs
This brussels sprouts recipe is sure to convert the most stubborn veggie skeptic.
Ingredients
Instructions
Cook pancetta over medium heat in a large frying pan. About 4 minutes, until crisp.

Use a slotted spoon to transfer the cooked pancetta into a bowl.

Add 1-2 tbsp of olive oil to pan. Place individual sprouts into pan – flat cut side down. [While it is okay to have a few sprouts layered on top, the goal is to expose the flat side of each sprout to the pan surface.] Cook sprouts over medium high heat until charred. [As my husband says, "Cook the s**t out of 'em."] Depending upon your pan size, you may need to cook them in two batches. Add oil as needed to keep the pan surface moist.

Add the salt, fig jam and water. Stir to coat the sprouts and create a glaze.

Add the cooked pancetta back into the pan.

Add the cut fresh figs. Salt and pepper to taste. Stir and serve.
Laura's Tips + Notes
To make this Vegan: Omit the Pancetta.
If fresh figs are not available, they may be omitted.
YOUR OWN NOTES
Sign In to add your own private notes
Nutrition
Serving:
4
ounces
Calories:
280
kcal
Carbohydrates:
21
g
Protein:
8
g
Fat:
19
g
Saturated Fat:
5
g
Cholesterol:
21
mg
Sodium:
414
mg
Fiber:
5
g
Sugar:
10
g
Calcium:
68
mg
Iron:
2.1
mg