Everyone needs a few hearty stew recipes in their cooking repertoire.
This is a hearty vegan lentil stew that has stick-to-your-ribs character.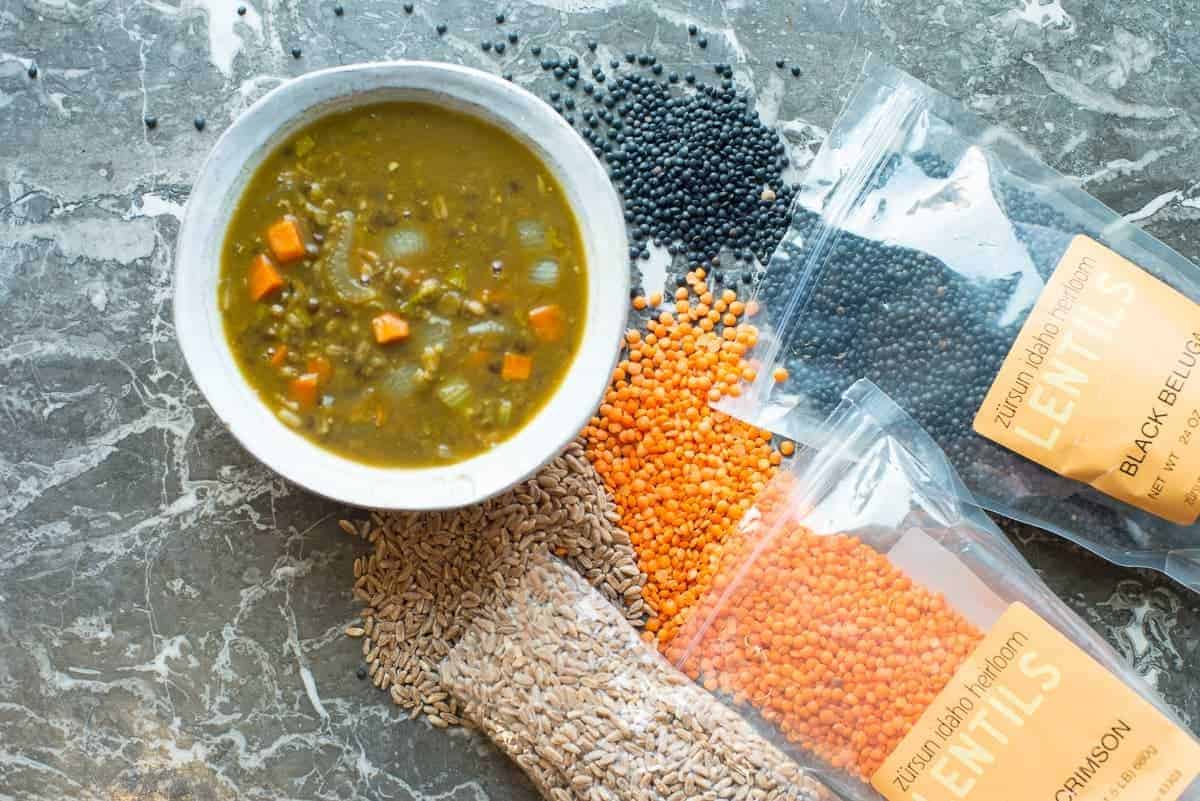 Being the mom of vegan can have it's challenges…
…especially when everyone else in the house is omnivorous. I am always looking for recipes that can satisfy both camps. I usually try to cook a recipe that I can either adapt to be vegan or a vegan recipe that I can adapt to be more carnivorous. This hearty lentil and faro stew is 'meaty' enough to satisfy everyone in my house. I use two different types of lentils, red lentils and black beluga lentils and also farro – which is a hearty ancient grain.
The farro gives this stew a wonderful texture. I also like using the farro because, unlike rice, it holds up to being reheated as leftovers. Rice always gets mushy after you've left in the fridge for a few days. Farro does not. This stew also has a curry flavor that is warming and comforting.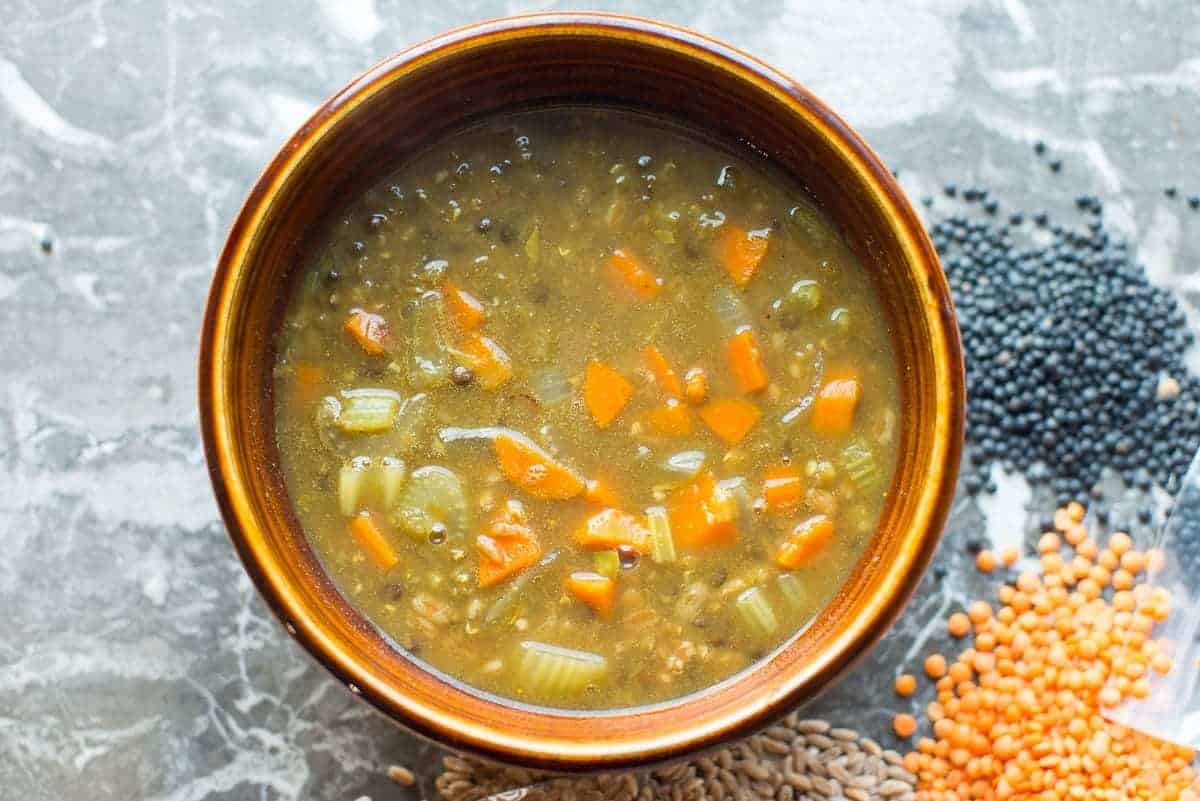 I think you will agree that this stew is a true crowd pleaser for everyone in your house.
Usually I suggest a vegan substitution, but for this recipe I will suggest a carnivorous one. Adding about a pound of chopped chicken or ground lamb makes this dish truly carnivore friendly. You can also boost the nutrition by adding kale or spinach – for a nice serving of dark greens.
Don't forget to sign up for our insiders club and get freebies delivered to your inbox. Get our Top 5 Master Spice Mix Recipes right now!
[mc4wp_form id="1940″]
Lentil and Farro Soup
A rich hearty vegan stew that will warm your belly when the weather is cold.
Print Recipe
Pin Recipe
Ingredients
Carnivore Adaptation
ground lamb

chicken

breast or thighs
Instructions
Heat coconut oil in a large soup pot.

Add carrots, celery and onions. Saute until tender and fragrant. (About 5 min)

Add lentils and farro.

Add stock, water and the spices.

Bring everything to a boil and then reduce to a simmer.

Simmer for about 20 minutes or until farro is tender.
Notes
Carnivore Adaptation: Add about a pound of your choice of meat. Brown along with onions and garlic. 
Add more water if you would like the soup less thick.
Nutrition
Calories:
119
kcal
|
Carbohydrates:
19
g
|
Protein:
6
g
|
Fat:
2
g
|
Saturated Fat:
1
g
|
Sodium:
50
mg
|
Fiber:
8
g
|
Sugar:
3
g
|
Calcium:
44
mg
|
Iron:
2.1
mg
(Visited 67 times, 1 visits today)