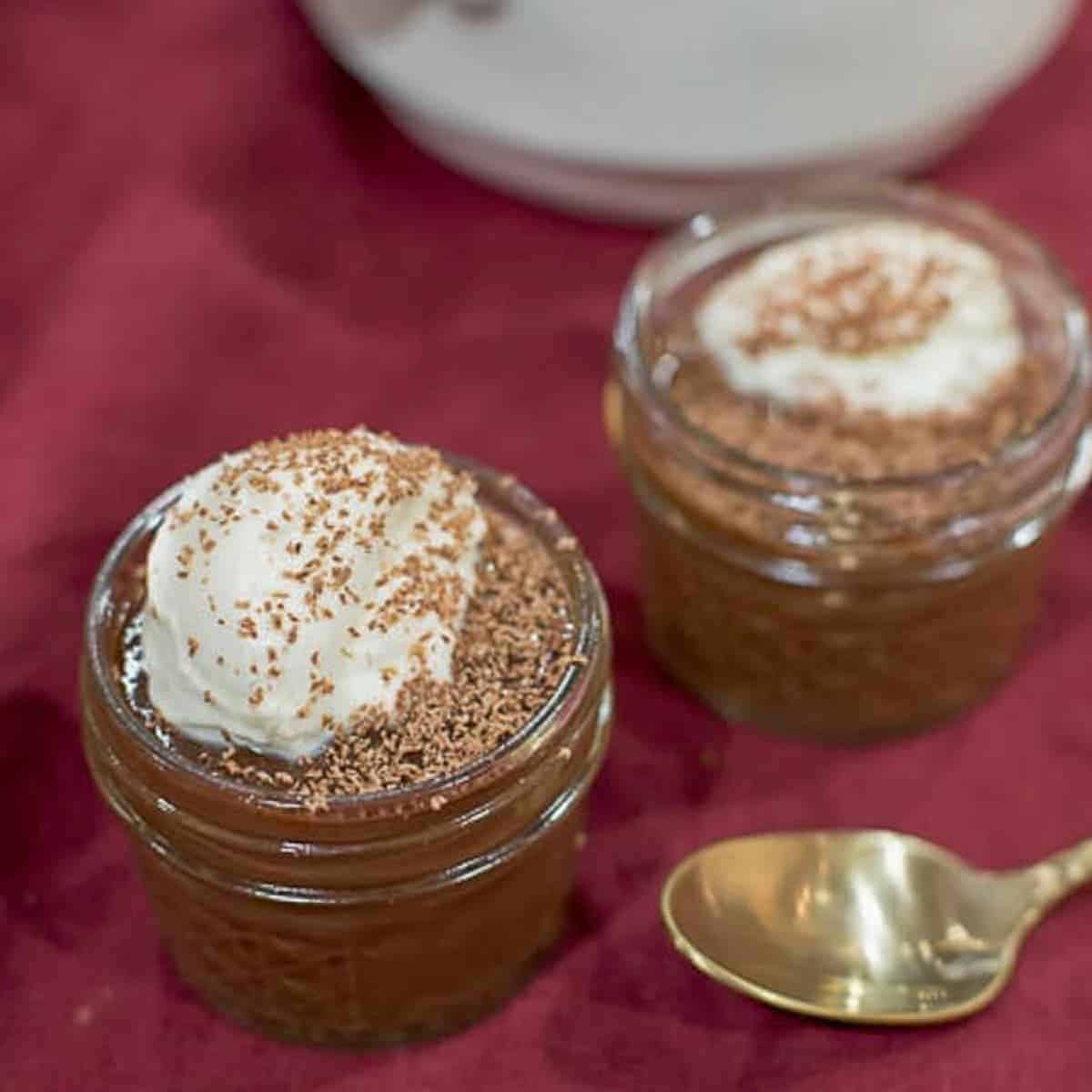 Recipe
Comments
Save
Go to Collections
This post may contain affiliate links. Please read my
disclosure policy.
A wondrously decadent pot de creme, topped with crème fraîche and chocolate shavings. These impressively rich and decadent chocolate pots de crème are elegant, easy to prepare – and DELICIOUS!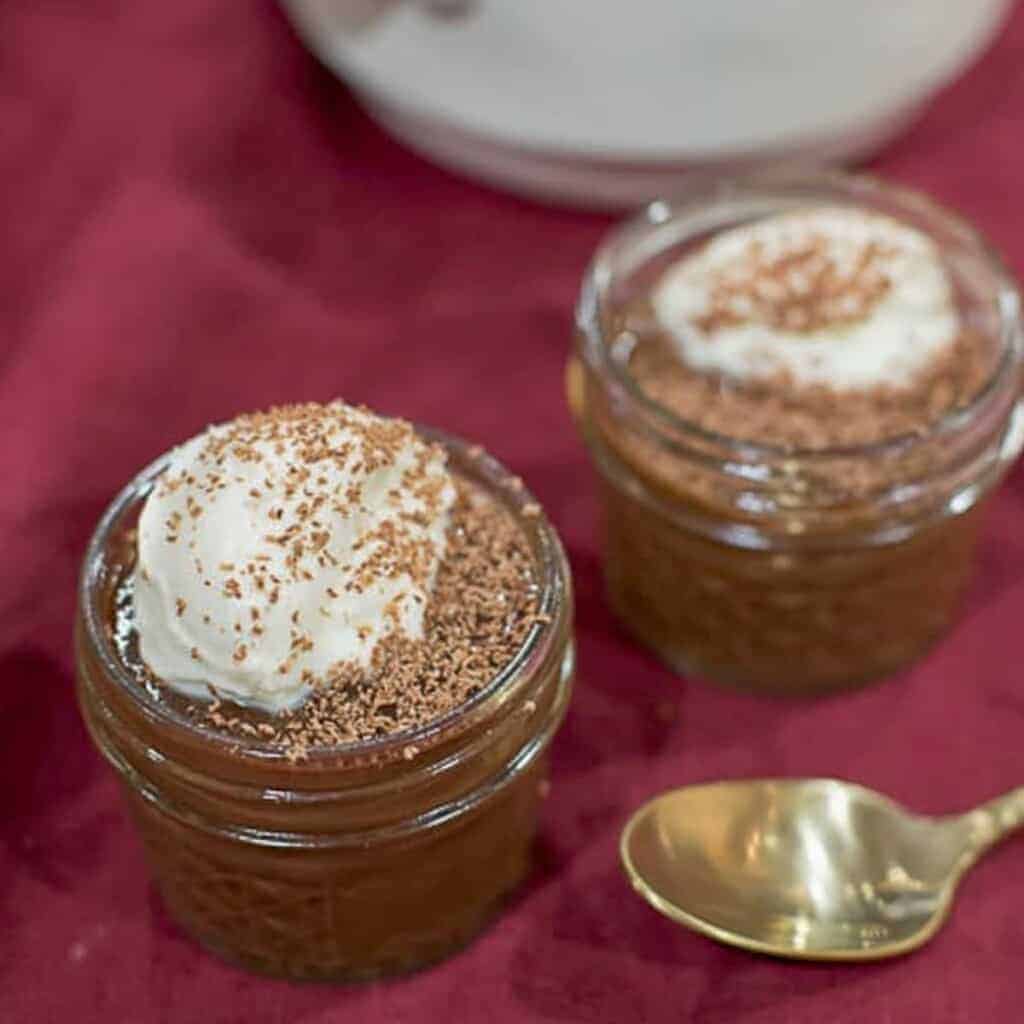 This easy chocolate pot de crème recipe is one of my favorite Valentine's dessert recipes, especially if I'm celebrating with a little dinner party.
There are a few truths in life and cooking.
What you put in makes the difference between something amazing and something that's just… forgettable.
This is especially true for a recipe with just a few simple ingredients. Quality matters here!
What You'll Love About Pot de Crème
Easy. This classic chocolate dessert recipe only takes a few minutes to prepare. This is a no-bake pot de crème, so you don't even need a water bath.
Chocolaty. The bittersweet chocolate custard is really thick and not too sweet.
Rich and creamy. The dollop of crème fraîche adds a touch of creaminess that is way more interesting than plain whipped cream.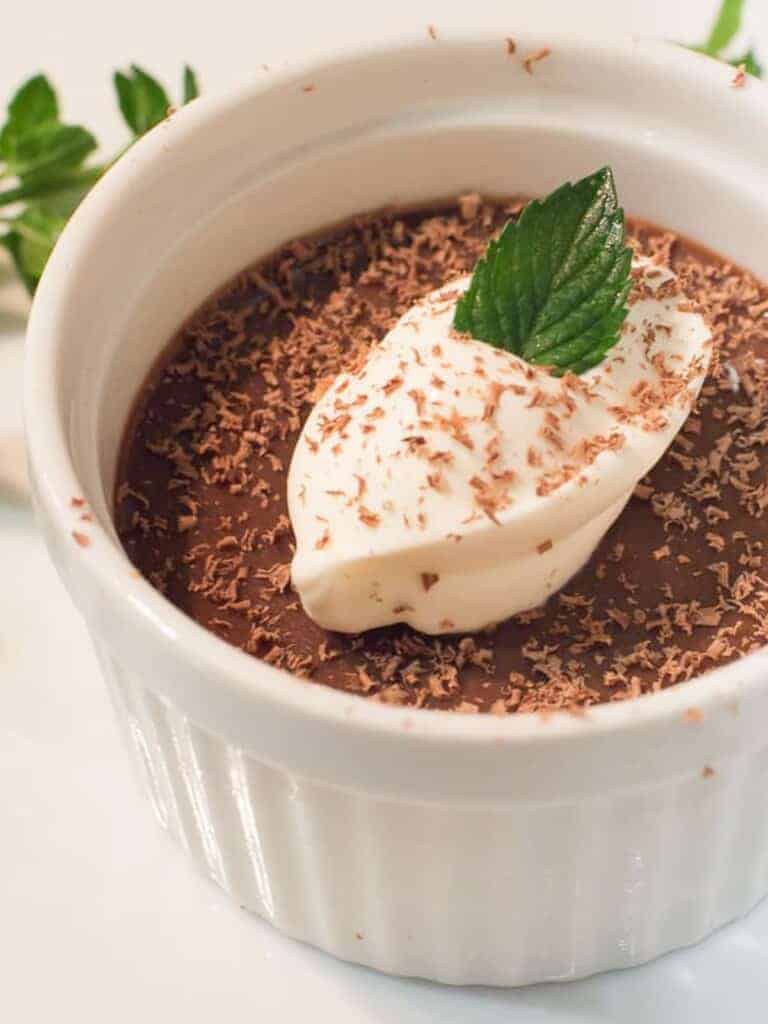 Recipe Notes
The most important thing in this recipe is to use the best chocolate that you can find. I'm a huge fan of Guittard chocolate for all my baking. It's my go-to chocolate for cooking.
Ingredients for Chocolate Pot de Crème
Chocolate. I like dark chocolate chips, so I usually use the bittersweet ones. You can use your favorite type of chocolate.
Crème fraîche. Crème fraîche is like a mild-flavored sour cream. It has a delicate flavor and is amazing with fresh fruit and these rich dark chocolate pots de crème.
Cream and milk. You'll want to use full-fat milk and heavy cream for this recipe.
Eggs. You'll be using 5 egg yolks for this recipe. (Save your egg whites for a delicious egg white frittata.)
Step-by-Step Instructions
Step 1 – Measure out the chocolate.
Step 2 – Place the egg yolks in a medium bowl and whisk.
You'll be adding the other ingredients to this bowl, so make sure it's large enough.
Step 3 – Add the sugar, milk, and cream to a sauce pan.
Heat the milk, cream, and sugar on medium heat until the sugar is dissolved. You want the milk to come to a simmer.
Step 4- Temper the eggs.
This step sounds hard. After all, isn't "temper" usually a bad thing? However, all you need to do is add one ladle of hot milk to the eggs and whisk it in slowly. This step warms the eggs enough to allow them to blend, but it isn't hot enough to actually cook them.
Then you can add the tempered eggs to the saucepan and whisk everything together.
Step 5- Thicken the custard.
Cook the custard on medium heat while you continue to whisk it. The custard will start to thicken.
You know it's done when the custard coats the back of a spoon.
Step 6 – Add the custard to the chocolate.
Whisk until the chocolate is melted and fully incorporated.
Step 7 – Pour the chocolate mixture into ramekins.
Little Mason jars are super cute for this. Refrigerate for two to three hours before serving. Garnish with crème fraîche and shaved chocolate.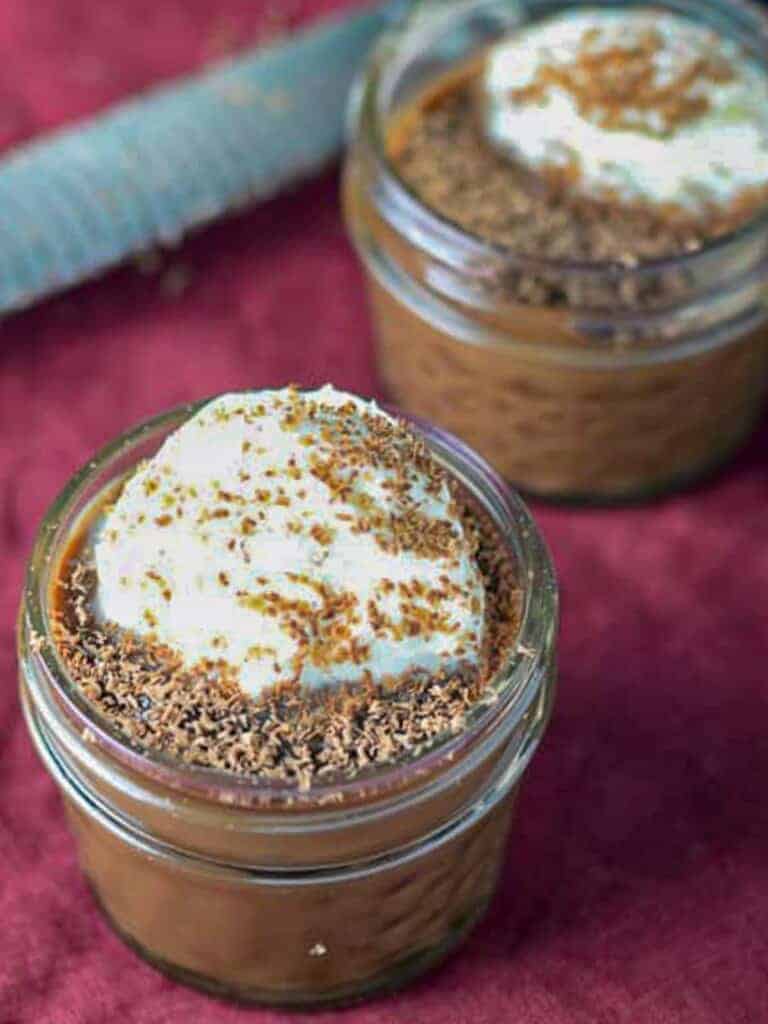 FAQs and Expert Tips
What's the difference between pot de crème and pudding?
A pot de crème is typically a baked egg custard, while pudding is a loose custard that is thickened, usually with cornstarch.
Pot de crème relies entirely on the eggs to set the mixture.
What's the difference between pot de crème and crème brûlée?
Crème brûlée is a looser custard and is usually served with a layer of burnt sugar on top.
Why is my pot de crème grainy?
Pot de crème can become grainy if it's overcooked. If the custard gets too hot, it may lose its creamy texture. Also, if the chocolate is too hot, it can cause a grainy texture.
How do you pronounce pot de crème?
Pot de crème is pronounced Poe De Krehm.
More Dessert Recipes That You'll Love
Check out these chia pudding recipes for delicious vegan alternatives. These are all fresh and creamy and super easy.
If you're unsure what to do with leftover cranberry sauce — This beautiful cranberry coffee cake recipe is the answer you've been waiting for. The base…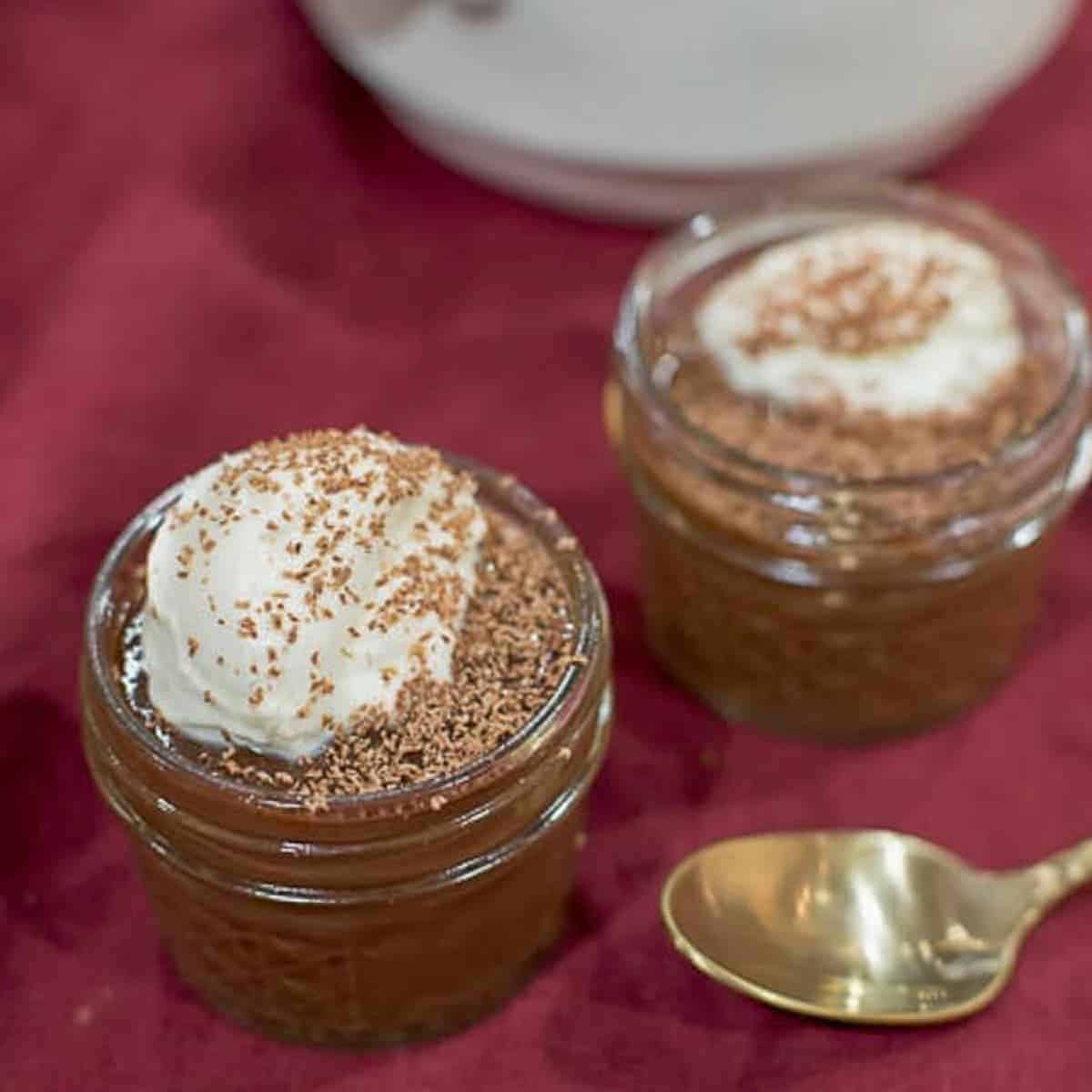 Chocolate Pot de Crème
A wondrously decadent pot of smooth chocolate custard, topped with crème fraîche and chocolate shavings.
Ingredients
13

oz

chocolate

1

cup

milk

1

cup

heavy cream

¼

cup

sugar

5

egg yolks

crème fraîche

chocolate shavings
Instructions
Weigh out the chocolate and add to a large heat-safe bowl.

Place the egg yolks in a medium heat-safe bowl. Whisk and set aside.

Place the milk, cream, and sugar in a sauce pan. Heat until sugar is dissolved.

Add the hot milk mixture to the eggs, slowly and gradually, while whisking constantly. It's best to use a ladle for this step. Add one ladle of hot milk at a time so that the eggs don't cook.

Return the custard mixture to the saucepan and cook gently, until thick.

Pour the hot custard over the chocolate and whisk until smooth.

Portion out into small dessert ramekins.

Refrigerate until set, about 2-3 hours.

Top with a dollop of crème fraîche and chocolate shavings.
Laura's Tips + Notes
The amount and types of chocolate you decide to use is up to you. You can also add flavorings or zests to give these a punch of flavor. (Think orange zest, or a tiny bit of mint extract.)
YOUR OWN NOTES
Sign In to add your own private notes
Nutrition
Calories:
415
kcal
Carbohydrates:
36
g
Protein:
5
g
Fat:
30
g
Saturated Fat:
17
g
Cholesterol:
165
mg
Sodium:
37
mg
Fiber:
2
g
Sugar:
31
g
Calcium:
79
mg
Iron:
1.6
mg