This Italian Ragu recipe is a staple in our house. Ragu is a luxurious Italian sauce typically served with pappardelle noodles or creamy polenta. This recipe is so good; you'll feel like you're Italian Grandma made it - Even if you aren't Italian.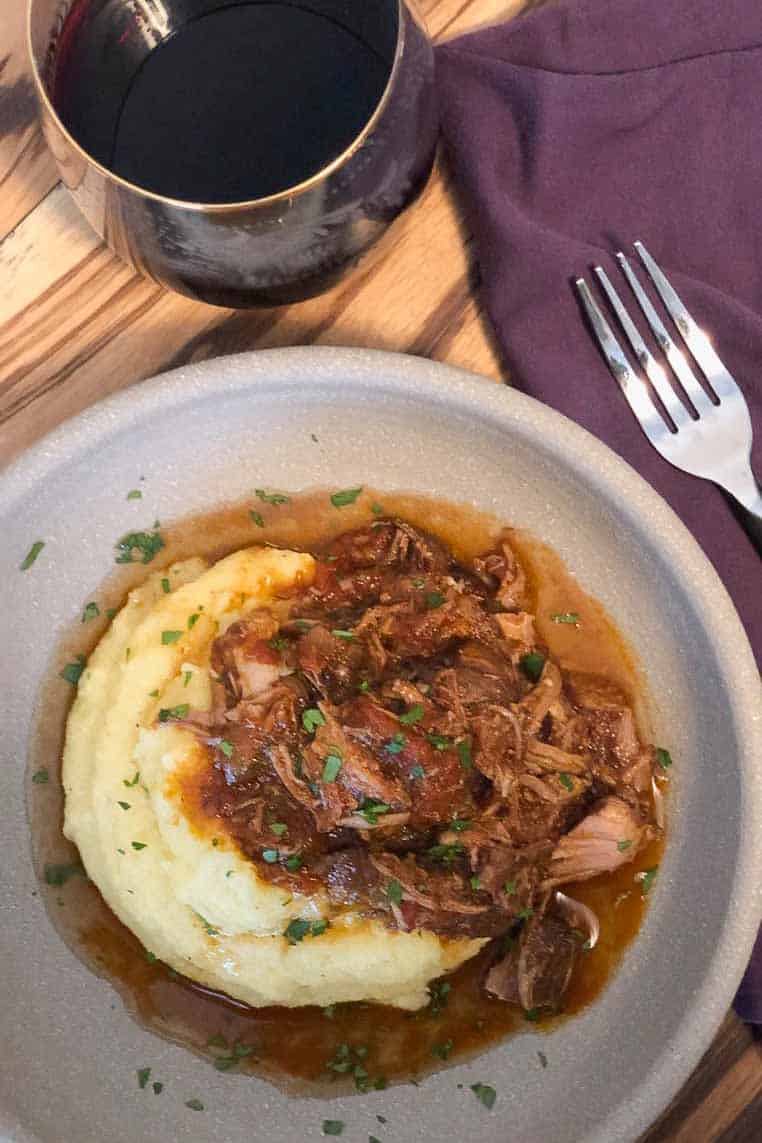 This Italian Ragu Recipe was one of my very first posts on Foodology Geek.
I decided to make this again for a family dinner the other night.
This sauce recipe is so fantastic, and the original photos that I shot did not do this dish justice at all. I really wanted to give this ragu recipe proper representation.
There was a massive bonus for me while I was redoing this post. It was really awesome to look back on one of my first posts and see how far I have come as a food photographer and writer.
Seeing my original photos and comparing them to the photos I shoot now not only reminded me of how much I have grown and improved but that I am still growing and improving and this time next year my photography is going to be even better and so is my writing.
Five years before I launched Foodology Geek I started a food blog.
I really wanted to do it, but I was scared it wasn't going to be good enough. I felt like there were so many people that were online that were way better than me.
I convinced myself to think "what's the point?" So I gave up! I quit on my dream.
The funny thing about passion though, is that it keeps showing up in your life knocking on that door, asking to be born. The thing you were meant to do doesn't ever leave you alone.
I only think now that if I had started five years before how much further along I would be now. But, everything happens in its own time.
So here we are. I wanted to share this story because while becoming a food blogger and cookbook author may not be your dream. I know you have a dream or two that seems too big and too scary.
You probably have a dream that sounds like it would be unreasonable to follow. I think you should follow it anyway.
You only get one shot here and every year that passes by is just one more year that you could be practicing to be the best at whatever you dream of becoming.
Two years later I have written a cookbook, Beast Bowl Nutrition.
I've published it on Amazon and Apple Books.
It's not easy every day, but I know that it is what I was born to do. I know there is no failing at this because it is my dream.
I would love to hear about a dream that you have that you are afraid to tell anyone you have. Comment below and inspire me.
From the original Ragu Recipe post:
As I finish up my second post I realize how much work I have to do on really getting my food photography skills up to par. There are so many incredibly talented bloggers and food artists out there. Practice makes perfect. I have ordered up some lighting solutions to help get more consistent light in my kitchen. So stay tuned for more recipes and more info on my experiments and practice with photography.

Taken from the original post!
Now, back to the Ragu Recipe:
Ragu Sauce is a rich Italian style meat sauce that is served with a hearty pasta like pappardelle or bucatini.
I also love this rich, meaty sauce served over a bowl of creamy, cheesy polenta.
Of course, served with a gorgeous Italian wine.
I imagine that if I had been Italian by birth that this is a recipe my Nonna would have made. Probably in a huge sauce pot or a heavy Dutch oven.
Her house would have been filled with the smell of delicious sauces and amazing baked cheesy lasagnas. She would have taught me how to make her special homemade tagliatelle.
Maybe this is a ragu recipe that your Nonna made.
Lucky you!
A traditional ragu sauce is cooked for a long time and has fantastic flavor.
This classic meat sauce can also be made with beef, lamb, or another one of my favorites, duck.
If you are feeling like stretching your chef's legs, try making some pasta from scratch.
It is really easy and so worth it. (I'm making a note that I need ot teach you how to do this.)
When I traveled to Italy and took a cooking class the host was telling us that her family makes pasta from scratch almost every single night.
It is just part of their daily cooking routine.
Pappardelle can be made by simply rolling out a scratch pasta dough and slicing it into ribbons.
It's cooked in boiling water for about 2 minutes. How easy is that?
Tender, flavorful braised pork shoulder in a rich, tomato-y ragu sauce.
Pork Ragu is the kind of recipe that I love making on a Sunday afternoon.
Sunday dinner always gets a little extra attention in my house.
I usually have a little more time on Sundays.
Saturday afternoon's errands are done, and in the good months, I may have hit the farmers market, so I have some kind of beautiful fresh local produce on hand.
I usually have the time to create something fabulous in the kitchen.
The kitchen is a relaxing space for me to spend time creating and feeling connected to my memories and to food sources in my area.
Here is a PRO-TIP: I've experimented with making this dish with the bone-in pork shoulder and boneless pork shoulder.
The flavor achieved with the bone-in shoulder is hugely elevated in comparison to the boneless shoulder.
Much of the flavor in a dish that is slow-cooked like this one comes from the break down of the proteins in the connective tissues.
The connective tissues being the tendons and other collagen-rich tissue that connects the muscle to the bone.
When cooking with a roast cut, having the bone attached to your cut of meat allows all of those extremely flavorful proteins to meld into the broth and create a richness that is unmatched by merely slow cooking a boneless piece of meat.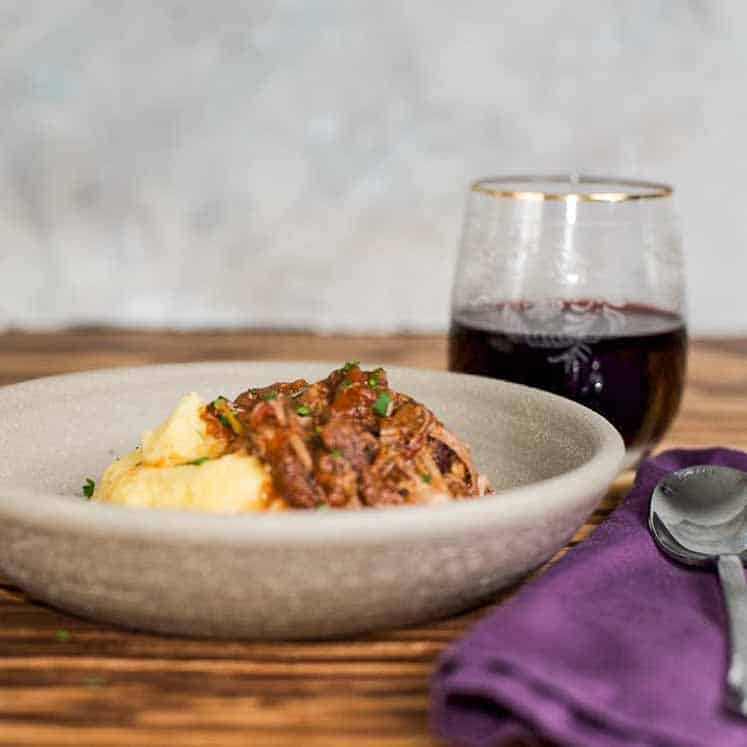 Serve with a Brunello di Montalcino - a yummy Italian wine!
Don't forget to leave a comment if you make this recipe. I love to hear how it came out. And give it a star rating to show some love here.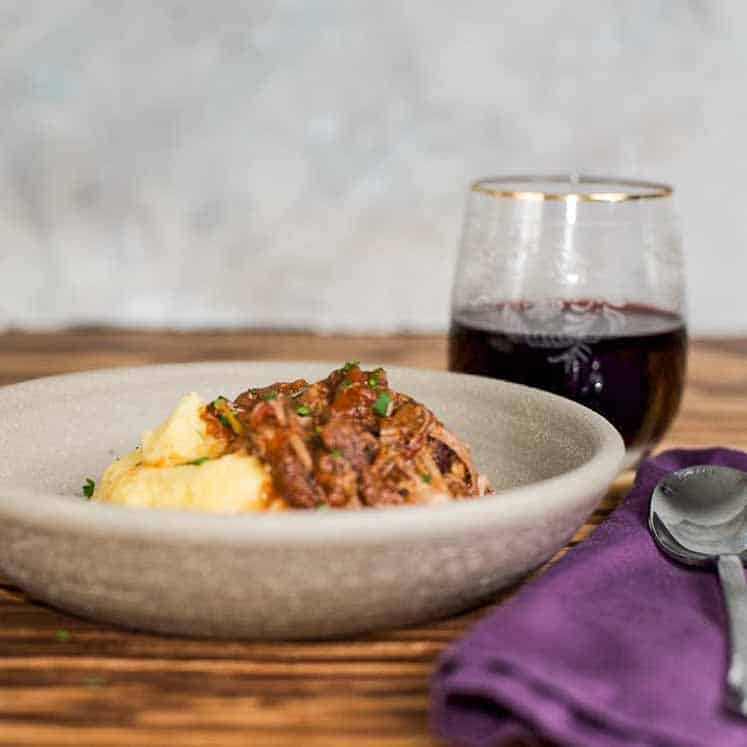 Pork Ragu Over Cheesy Polenta
Delicious, rich, meaty pork heaven. Best served over a polenta or hearty noodle such as bucatini or pappardelle. Garnish with shaved parmesan reggianno cheese and parsley.
Ingredients
Ragu
4

lbs

bone in pork shoulder

salt and pepper

1

tablespoon

olive oil

extra virgin

1

large

onion

diced

6

cloves

garlic

chopped

2

tablespoon

tomato paste

1

cup

full-bodied italian red wine

1

28 oz

can of whole plum tomatoes

4

sprigs

fresh thyme

2

sprigs

rosemary

salt and pepper
Polenta
6

cups

salted water

1 ½

cups

coarse polenta

¼

cup

unsalted butter

½

cup

parmesan cheese

grated

salt and pepper

½

cup

parsley

chopped

olive oil for drizzling
Instructions
Ragu
Cut the pork shoulder into 3-4 large pieces. Trim excess fat and season well with salt and pepper. (Be generous with the salt and pepper)

Add the oil to a large enameled dutch oven. Heat to medium-high heat. Caramelize the pork shoulder until all sides are well browned.

Remove the browned meat from dutch oven and place on a plate to rest. Remove the majority of excess fat from the pan.

Add onions to the pan and caramelize. If there are a lot of brown bits you can add a few tablespoon of water to loosen up the flavor bits.

Add the garlic and cook for several minutes until lightly browned.

Add the tomato paste and brown slightly.

Add the wine to deglaze that pan.

Add the tomatoes to pan, crush with hands as you add them to the pan.

Add the meat and any juices that have accumulated on the plate to the pan

Add the thyme, rosemary and bay leaves.

Bring the liquid to a boil and then reduce to a medium-low simmer. Simmer with lid ajar until liquid has been reduced and the meat is falling off the bone.

Before serving, remove thyme, rosemary and bay leaves.
Polenta
Bring 6 cups of salted water to a rapid boil.

Add the polenta to water while whisking continuously.

Reduce the temperature to a medium-low simmer. Whisk occasionally until all the liquid is absorbed.

Add the butter and cheese, whisk in to incorporate.

Salt and pepper to taste.

Add the finely chopped parsley.

Serve and top with the pork ragu and serve with a delicious Italian wine.
Laura's Tips + Notes
This Pork Ragu with Polenta is a rich, warm, saucy bowl of heaven. Fall is in the air, and as the air turns crisp, it is time to serve up warm, comforting dishes. What could be better than a cheesy polenta covered in a magnificent meaty ragu?
This recipe is easy to put together, and as it cooks, it makes the house smell amazing. As a bonus, the leftovers are magnificent.
YOUR OWN NOTES
Nutrition
Calories:
596
kcal
Carbohydrates:
37
g
Protein:
43
g
Fat:
25
g
Saturated Fat:
11
g
Cholesterol:
149
mg
Sodium:
334
mg
Fiber:
1
g
Sugar:
2
g
Calcium:
157
mg
Iron:
3.4
mg