Oven Roasted Potato Recipe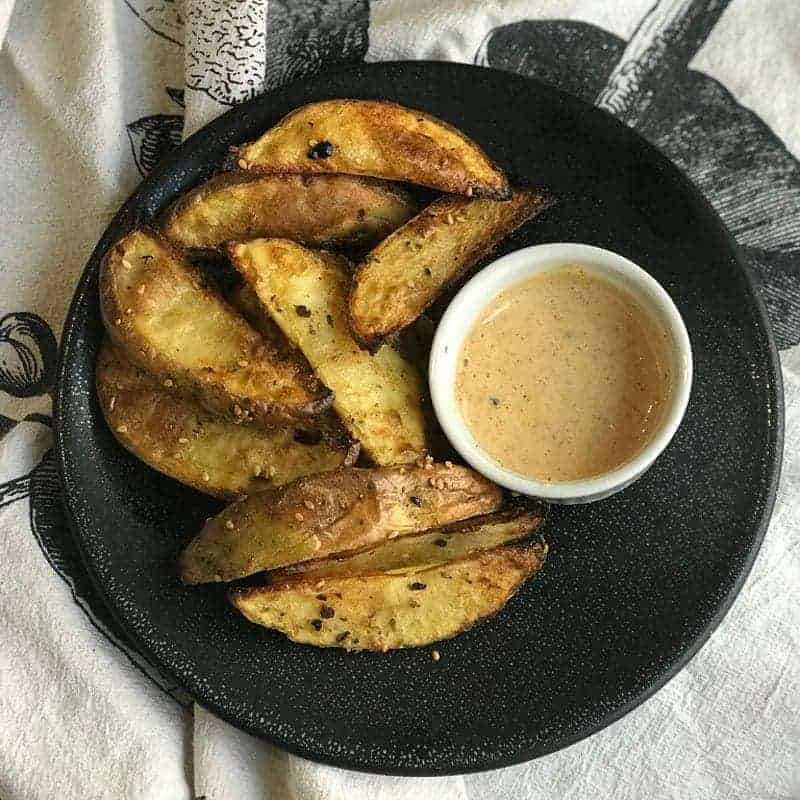 Recipe
Comments
Save
Go to Collections
This post may contain affiliate links. Please read my
disclosure policy.
Roasted potatoes are an easy go-to side dish or snack. They're quick to prepare and go with just about any food. You can also season them up in countless ways. Try a few of my Seasoning Blend Recipes.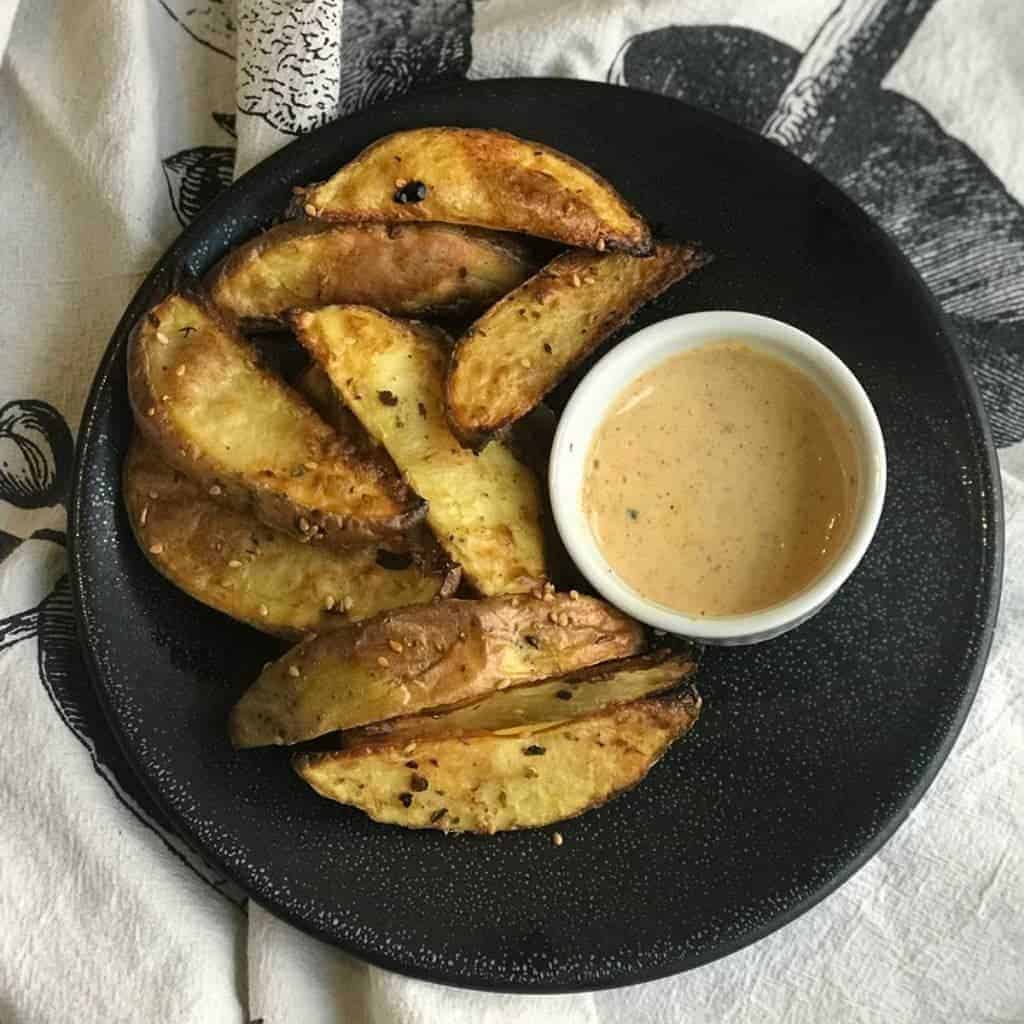 What I Love About This Recipe
Versatile: This recipe is versatile; use any kind of potato and seasoning that you want.
Perfect Side: Oven-roasted potatoes go well with almost any meal, especially grilled meat.
Healthy: Potatoes contain healthy starches that are good for your gut.
Easy: Making roasted potatoes is easy, inexpensive, and fast!
You want fries with that? Uh, Yeah!

said by EVERYONE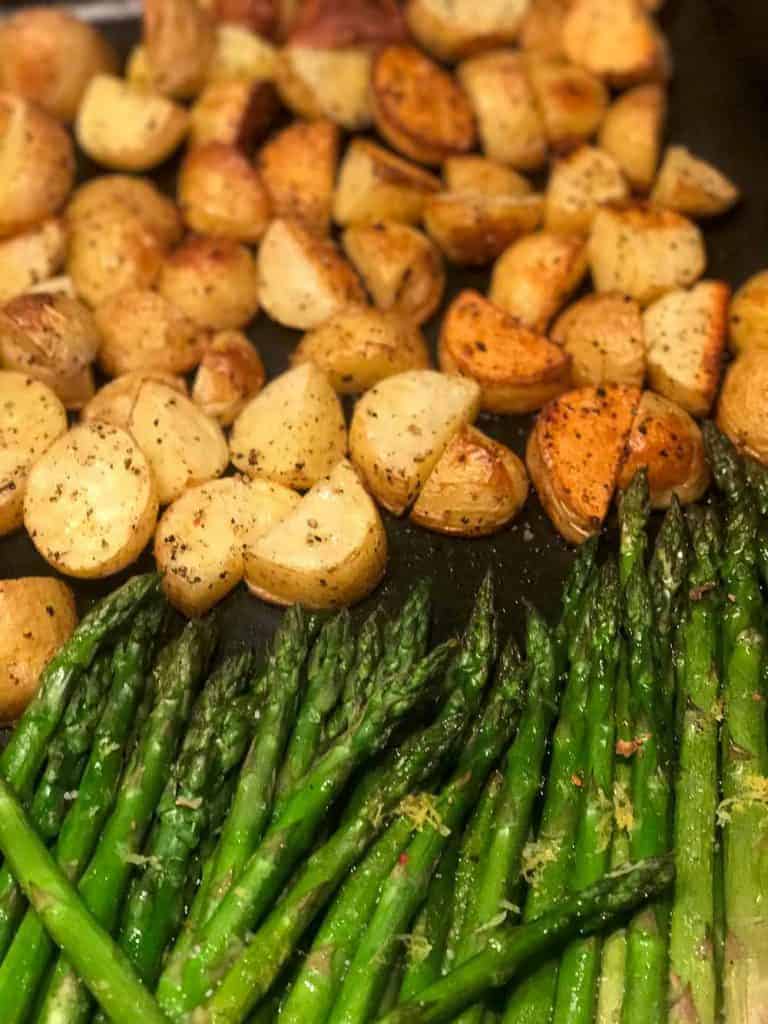 Recipe Notes
Making roasted potatoes is so easy! You might not need a recipe, but I can give you a few pointers to ensure that you'll produce perfect roasted potatoes every time!
Ingredients
While the recipe below calls for Yukon Gold potatoes, virtually any variety of potatoes will work.
Potatoes: I prefer the texture you can get using starchier potatoes, like red potatoes or Yukon golds. Sweet Potatoes also work very well.
Oil: Use a cooking oil that tolerates high heat. My favorite oil to gook with at the moment is avocado oil

(affiliate link)

. It has a buttery taste and tolerates roasting and sautéing very well.
Salt: Salt is an important element of any recipe.
Seasoning Blend: Use your favorite Seasoning Blend.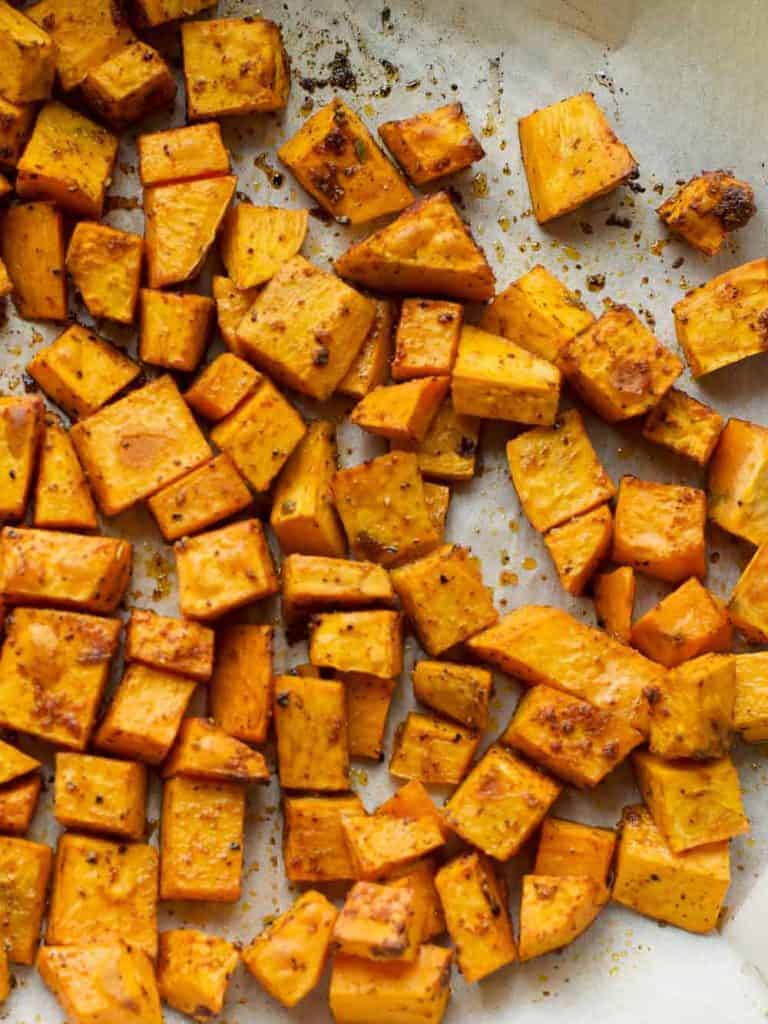 Special Equipment
Step by Step Directions
The basic formula for roasted potatoes is easy. You can use any potato and any seasoning that you like.
Pick your potato: Use your favorite potato or sweet potato.
Cut the potatoes into evenly-sized pieces: generally bite-sized chunks or fries.
Season: Pick your favorite Seasoning Blend. Toss the potatoes with oil, salt, and your favorite seasoning blend.
Oven Roast: Preheat your oven to 425℉. Roast until the potatoes are Cooking time will vary depending on the size of the potatoes.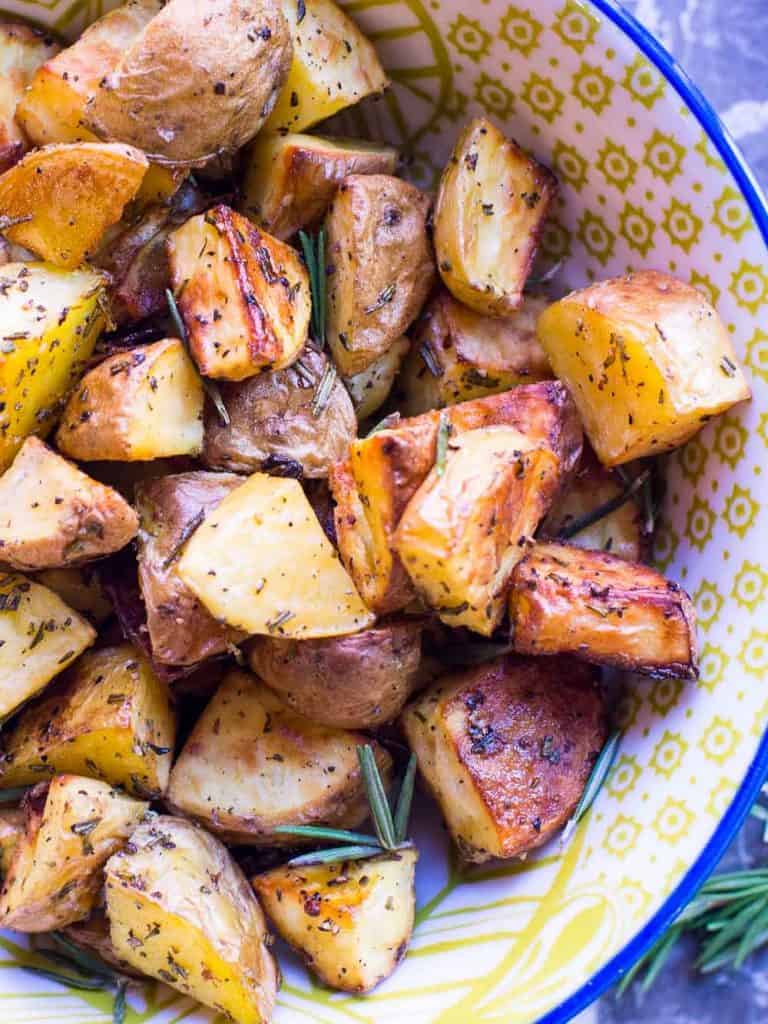 Tips and FAQS
Use Convection Baking: If your oven has a convection setting, use it. Convection circulates air in the body of the oven and creates a more even heat which yields a crispier and more evenly baked potato.
Give The Potatoes Space: Spread out your potatoes on the baking sheet. If the potatoes are too close, they will not get as crispy. Potatoes contain water, and as they are roasting, water is released. You want to give the steam plenty of room to escape so that it doesn't land on your potatoes and make them soggy
Turn Them Halfway Through Baking: I usually rotate my baking sheet about halfway through baking, at about the ten-minute mark.
Give Them A Dressing: You can dress roasted potatoes with a simple dressing right when they come out of the oven. I live to serve roasted potatoes with a ranch style-dip like my Chipotle Dip, Buffalo Ranch, Homemade Ranch, or a Spicy Chimichurri.
You can serve these easy roasted potatoes on their own or with your favorite dipping sauce…Ketchup, a seasoned Mayo, Pesto, Tzatziki, Ranch dressing, Louis dressing…you name it!
Crispy Potato Latkes
Bacon-Wrapped Green Beans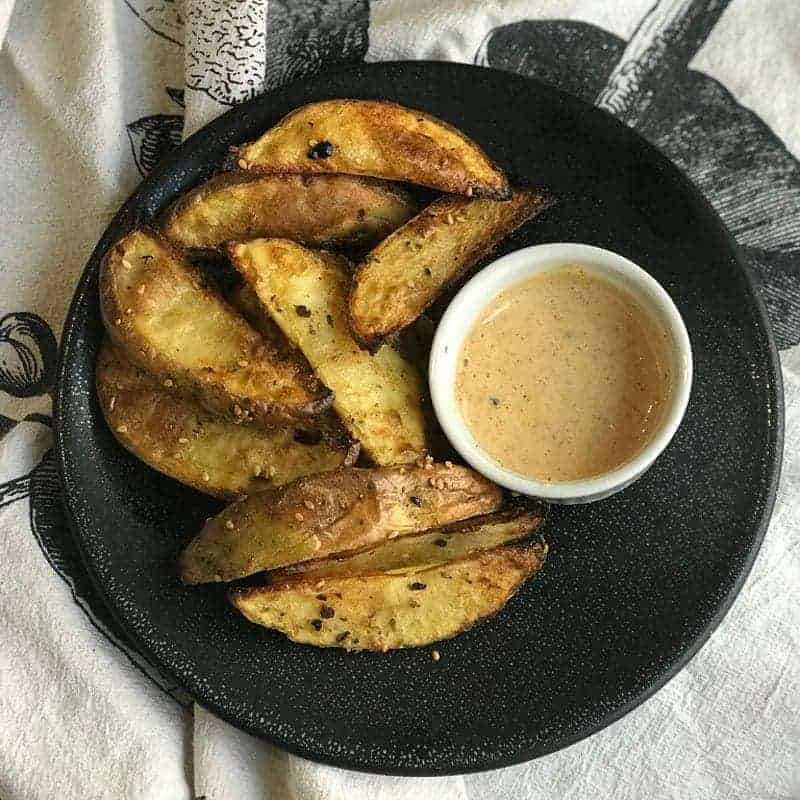 Easy Oven Roasted Potatoes
The easiest roasted potato recipe. Potatoes are the ultimate comfort food. They are easy to make and great with almost any meal.
Ingredients
4

lbs

Yukon gold potatoes

2

tbsp

avocado oil

2

tbsp

fresh rosemary

,

or Mediterranean Spice Mix

2

tsp

sea salt
Instructions
Wash and cut the potatoes into evenly sized pieces. Think bite-sized cubes or fries.

Put the potatoes into a roasting pan or on top of a baking sheet.

Toss with oil, salt, and the Seasoning Blend.

Roast for 10 minutes and then rotate the baking pan. Use tongs or a spatula to flip over the potatoes.

Roast for an addiitonal 10 to 15 minutes. Time may vary. Roast until browned and tender inside. I like mine well browned and crispy.
YOUR OWN NOTES
Nutrition
Calories:
163
kcal
Carbohydrates:
28
g
Protein:
5
g
Fat:
3
g
Sodium:
604
mg
Fiber:
5
g
Calcium:
69
mg
Iron:
7.4
mg