This enchilada recipe is super easy and you probably have all of the ingredients right now in your pantry. What's better than a super easy bowl of pasta with all the delicious flavors of enchiladas?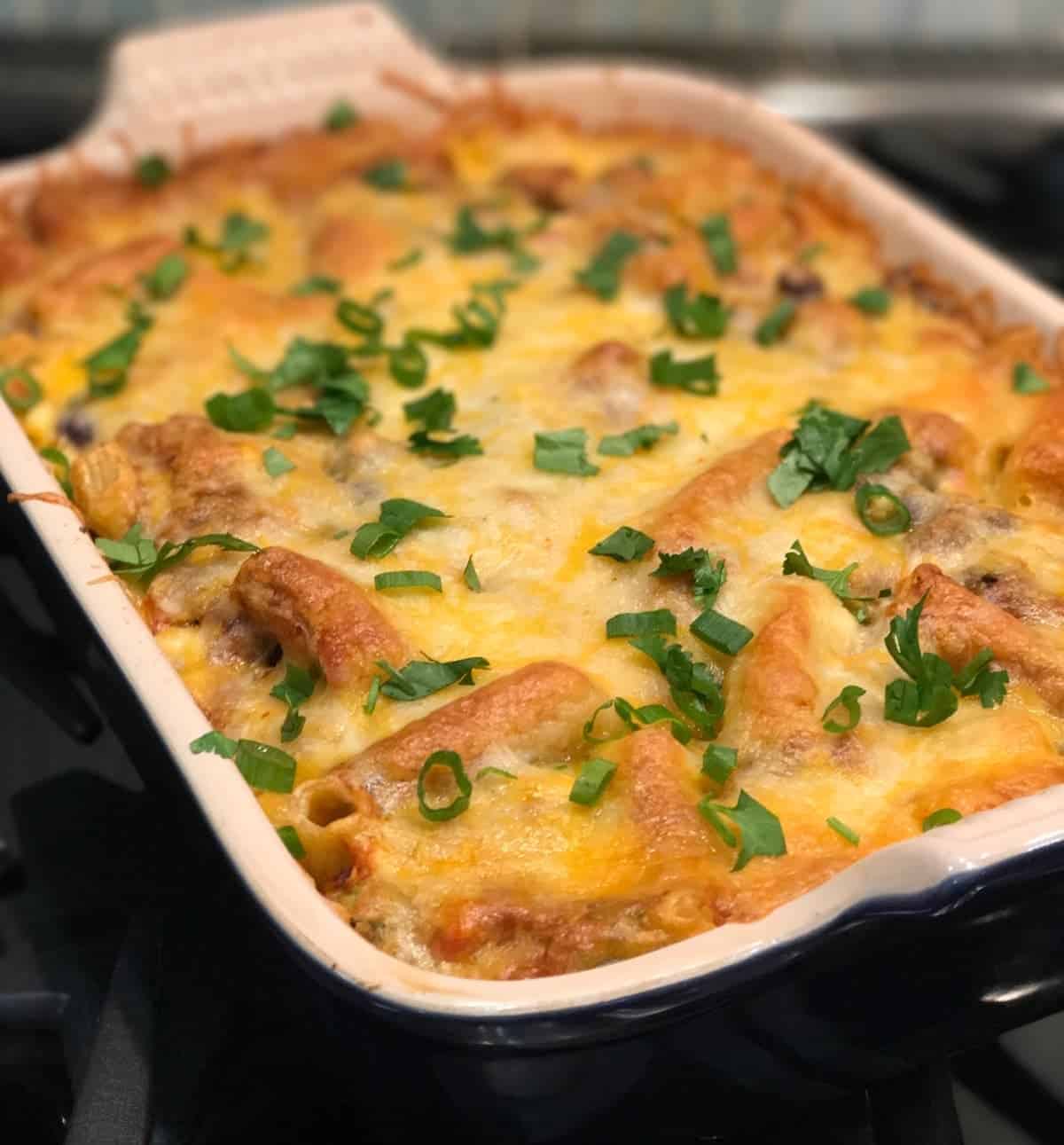 Super Easy Enchilada Pasta Recipe
Working for a living, being a spouse, a parent and a gym rat (not necessarily in that order) can have its challenges. Because my schedule gets so tight sometimes, I take advantage of doing food prep on the weekends.
Meal Prep saves me time during the week. With just a little bit of planning and a few hours of cooking, you can pre-prep a lot of stuff that'll just be waiting for you in the fridge all week. Who doesn't want that?
This recipe is perfect for weekend food prep.
You can get it in the oven in under 20 minutes and it keeps really well in the fridge or in the freezer. You can also put this together in no time on a busy weeknight when you are getting home late and don't have a lot of time for cooking. You can easily make it gluten-free with your favorite gluten-free pasta.
Dinner in under 30 minutes
I don't know about you but sometimes my schedule gets so busy that I can't even fathom how I am going to fit everything in.
Usually, I end up having to figure out how to prioritize things and leave some things behind. Life is just like that!
We are constantly juggling what we wish we could get done with what we must get done. Spring Break this year was spent traveling with my daughter out to the midwest for a quick trip to see my Grandma and then back home to California and a road trip down south to tour a few colleges.
It was incredible first seeing family and then seeing my daughter start to dream about her future place in the world. It really causes me to take a pause and just breathe at the moment – it will all speed past me before I know it. These weeks are the times when I need an easy weeknight dinner like this enchilada pasta bake.
This enchilada pasta reheats really well and tastes just as delicious as leftovers.
I usually try to pre-cook a few different proteins on the weekend so that I'll have them ready to re-heat or use it in a recipe like this.
If you already have chicken or ground beef cooked and waiting in the fridge it's easy to make tacos or a protein bowl.
Not to mention a salad topped with my protein.
If you already have a batch of ground beef browned up with some onions and salt and pepper, you can heat it up in a pan, add a little taco seasoning, and bam you have a really flavorful protein to use.
This enchilada pasta is also really delicious with chicken
If you already have a batch of chicken thighs or breasts pre-baked and ready to go, you can chop or shred them and add your taco seasoning to the meat, and use it in place of the ground beef.
I like to make my own homemade spice mixes and keep them on hand.
Having a few go-to spices on hand allows you to add a lot of flavor to whatever you are cooking really easily.
This taco seasoning is great on chicken, beef, or peppers and onions if you are making veggie tacos. I also use it in my tortilla soup recipe and my 5 Alarm Fire House Chili.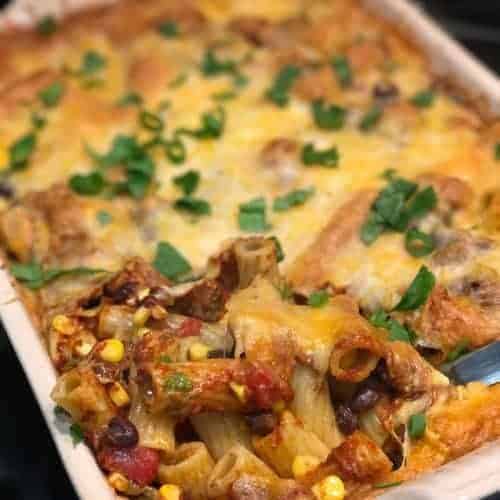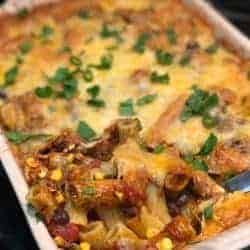 Enchilada Pasta Bake
All the flavors of enchiladas in a quick and easy pasta casserole that you can throw together in less that 30 minutes. This recipe makes 8-10 servings.
Ingredients
Pasta
1

box

rigatoni pasta

cooked al dente
Taco Meat
1

lb

ground beef

browned with onions and taco seasoning

½

medium

onion

finely diced

1

tbsp

taco seasoning
Mix Ins
15

oz

black beans

drained

10

oz

rotel tomatoes

19

oz

red enchilada sauce

2

cobs fresh corn

or 1 cup frozen

½

bunch

green onions

chopped thin

16

oz

colby jack cheese

shredded
Toppings
1

bunch

cilantro, divided

finely chopped

1

bunch

green onions, divided

chopped thin

1-2

avocados

diced
Instructions
Cook pasta, a few minutes less than directions say. It should still be slighty undercooked. Drain. Set Aside.

Prepare baking dish by adding ⅓ of the can of Rotel tomatoes to the bottom of the dish.

Prepare mixture in a large bowl.

Drain black beans and Rotel tomatoes. Add to bowl.

Add the cooked and seasoned taco meat.

Cut corn kernels from cob, place in a large bowl.

Add pasta and 1⁄2 of cheese.

Add 1⁄2 bunch of cilantro, chopped.

Add 1⁄2 bunch of green onions, sliced.

Use a large spoon to mix the ingredients together.

Spoon mixture into the casserole dish and add remaining enchilada sauce on top.

Add remaining cheese on top.

Bake until cheese is melted and lightly golden brown, roughly 20-30 minutes (depending upon the depth of your pan).

Serve topped with green onions, cilantro, and avocado.
Laura's Tips + Notes
Shortcut:
This recipe is super fast and easy if you have pre cooked your meat. I like to have browned ground beef and onions in the fridge ahead of time so that I can make things like this when I am short for time.
For Corn: Alternatively use 1 cup of frozen corn or 1 can of corn, drained.
For the taco meat: Alternatively you can use diced or shredded chicken with taco seasoning.
Gluten Free? Just use gluten free pasta.
Nutrition
Calories:
513
kcal
Carbohydrates:
24
g
Protein:
29
g
Fat:
33
g
Saturated Fat:
16
g
Cholesterol:
94
mg
Sodium:
1205
mg
Fiber:
7
g
Sugar:
7
g
Calcium:
435
mg
Iron:
3.6
mg