Chinese fried rice is one of the best take-out leftovers! You can make this easy fried rice recipe at home in less than 20 minutes. Not only does the fried recipe taste better than take-out, but It's also the perfect way to use up leftover rice and veggies.
I honestly used to buy rice in the 50 lb bag at Costco. I am no stranger to whipping up a quick fried rice recipe and have made it in a thousand different ways.
Once you get the basic technique down, you can add almost any kind of vegetables that you like, and you can even add in your favorite protein. Chicken and pork fried rice are two house favorites.
If you have some leftover veggies or leftover grilled chicken, you can toss it into a wok and make this delicious side dish recipe. Or who are we kidding fried rice is totally main dish material.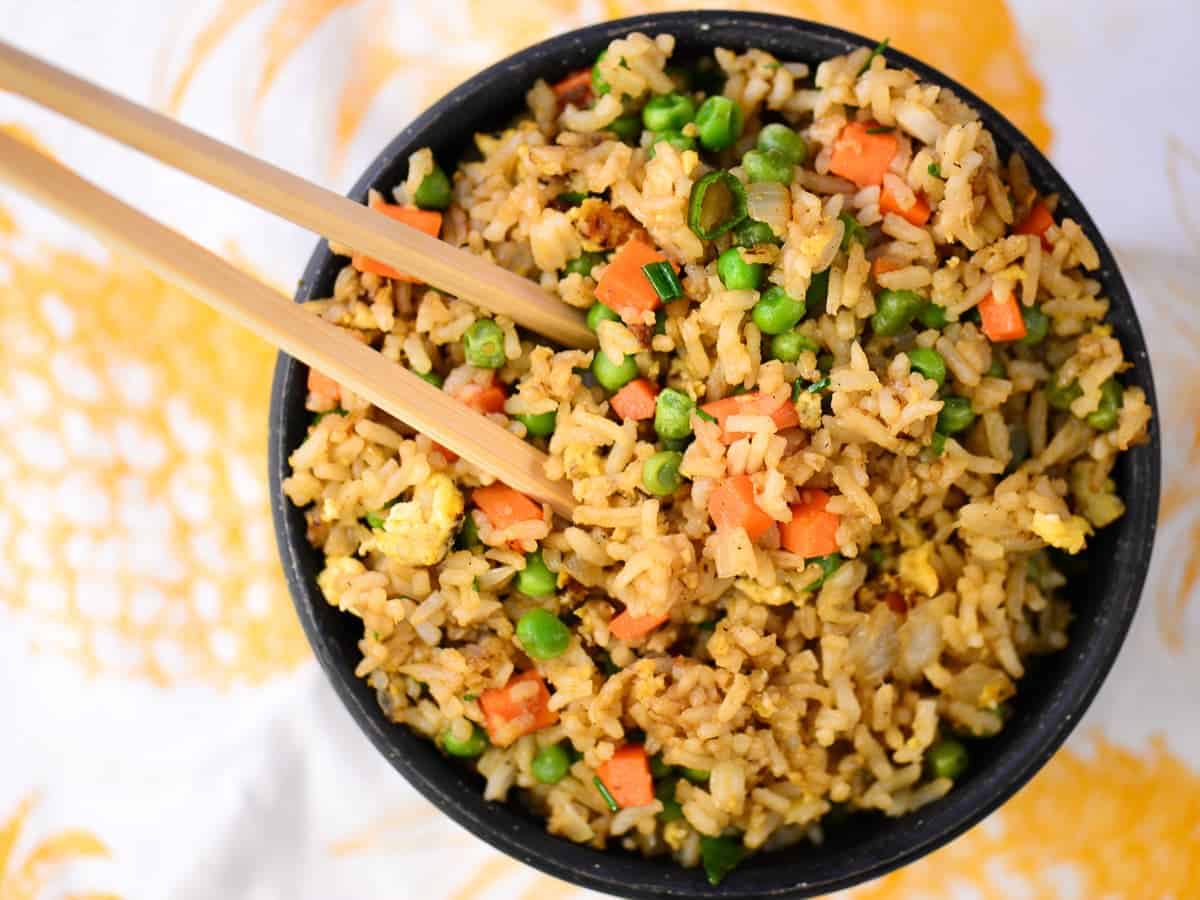 Why you need to make this tonight
Easy: Recipes don't get much easier than this. You're technically barely cooking since you are using already cooked rice.
Fast: Again, because everything is already cooked and veggies only need a quick toss in a hot pan, this dinner entree is ready in no time.
Better than take-out: This fried rice is better than take-out. I'm not even joking. Once you make this, you will wonder why the heck you haven't made this sooner.
Healthy: Fried rice is pretty healthy, and when you make it at home, you know exactly what you are putting into it. So, it's even better.
Recipe Notes
This recipe starts with making a simple veggie fried rice with egg. You can stop there or add in some leftover protein or even try my SPAM Fried Rice recipe.
Fried Rice Starts with Well, Rice
You'll need 3 to 4 cups of leftover rice for this recipe. But what kind of rice do you need for fried rice?
Leftover rice works best when making fried rice because it is slightly dried out, and when you add it to the pan with the oil, it gets a little bit crispy, which is magical, of course!
Don't worry; fresh rice works fine too!
If you don't have leftover rice, that is fine. It only takes about 20 minutes to cook up rice. If you are cooking the rice the same day that you are using, I suggest spreading the cooked rice out on a cookie sheet to cool for 10 to 15 minutes.
You can cook rice on the stovetop, in a rice cooker (which is my personal favorite), or in an instant pot.
I usually use Nishiki rice for most of my Asian dishes. I like the texture of it in fried rice. Nishiki is a short-grain rice that is used in sushi. It is similar to botan or calrose rice.
You can also use long-grain white rice or jasmine rice.
Watching your carbs, no problem? Substitute the rice in this recipe with cauliflower rice or even quinoa.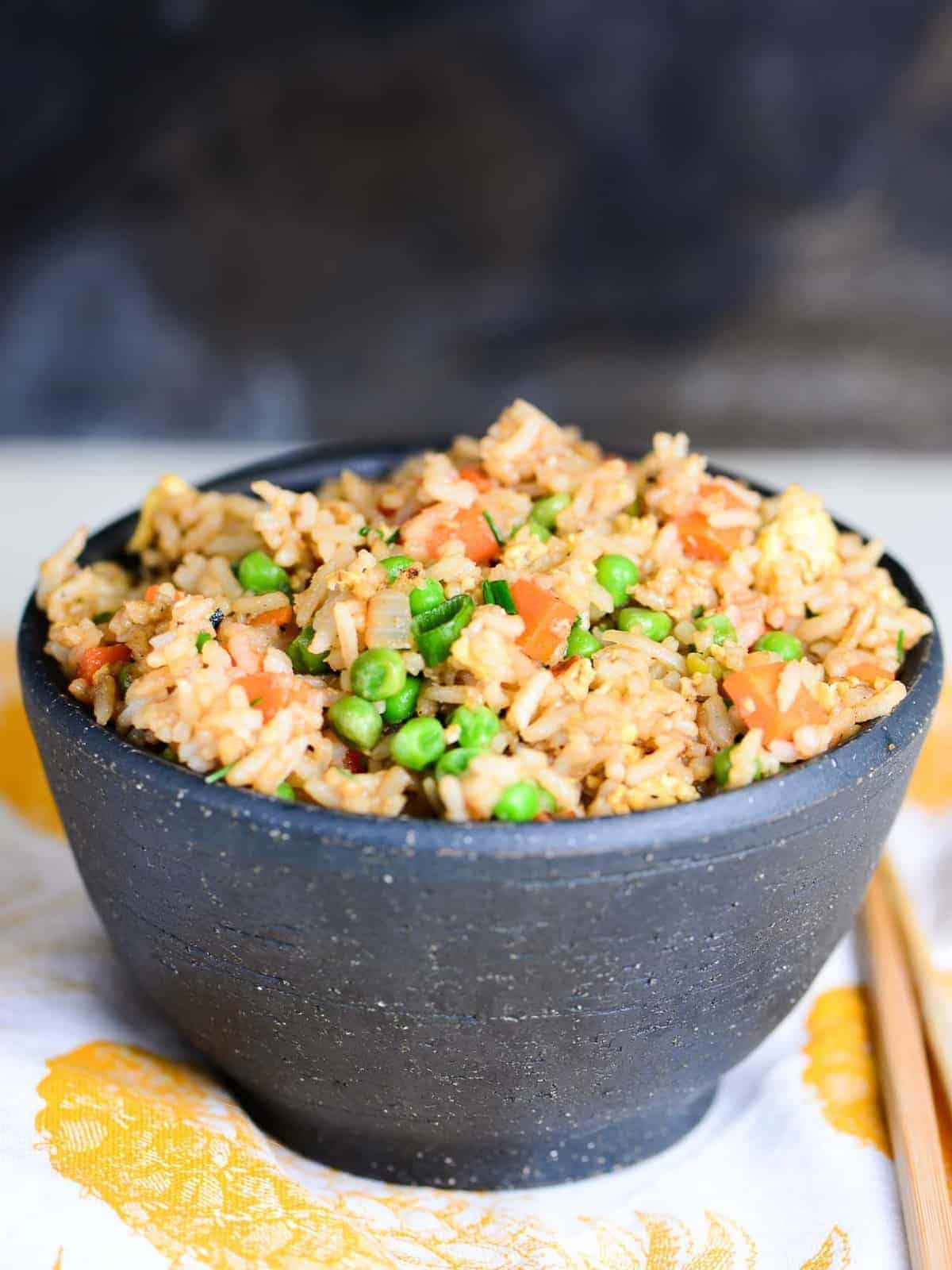 Ingredients for Making Fried Rice
Leftover Rice: This recipe calls for 3 to 4 cups of leftover rice. Use whatever rice you have on hand OR even cauliflower rice or quinoa.
Oil: Plain vegetable oil and sesame oil.
Aromatics: garlic, ginger, onions, and green onions.
Veggies: Carrots and peas. These are the bare minimum veggies. But you can add any veggies you like. (see below for some of my favorites)
Eggs: Two eggs, beaten.
Instructions for the Perfect Fried Rice
Stir-fry: Add the oil to the pan, and stir-fry the rice until it is a little bit crispy.
Sauté: Create a well in the pan with the rice and then add the onions, garlic, ginger, and carrots. Sauté until fragrant and tender. About 3 to 4 minutes.
Scramble: Move the veggies to the well and add the sesame oil and the beaten eggs. Scramble.
Toss and Sauce: Add the peas and the soy sauce, mirin, and rice wine vinegar. Toss to combine all of the ingredients. The mirin and vinegar are optional if you don't have them, just skip it. I find that they add a little extra umami. But, this recipe is still delicious without them.
Garnish: Add sliced green onions.
Recipe Variations
Other vegetables that are great in this fried rice recipe are:
mushrooms
broccoli
bok choy
red bell peppers
snap peas or snow peas
kimchi
Can you add meat or tofu to this vegetarian fried rice recipe?
Yes, absolutely. Of course, you should try my all-time favorite fried rice recipe: Spam Fried Rice.

In addition to spam, you can add almost any leftover protein. If you are not using a leftover protein, simply dice it and add your protein to the well before you scramble the eggs.

If you are going to be cooking your protein I recommend dicing the protein and then cooking it in the well before you scramble the eggs.
Is vegetable fried rice vegetarian?
Yes, this vegetable fried rice is vegetarian. If you want to keep it vegan, you can leave out the eggs.
Can I freeze Fried Rice?
Yes, freezing fried rice definitely allowed. Just thaw at room temperature or in the fridge before reheating.
How To Reheat Fried Rice?
You can reheat your fried rice in a few different ways.
In the microwave: Simply microwave the fried rice for about 2 minutes, loosely covered. If your fired rice seems dry, you can add about a tablespoon of water to the dish before microwaving it.
Stove-top: Add a little bit of oil to a skillet or wok. Add the rice and stir-fry until warm.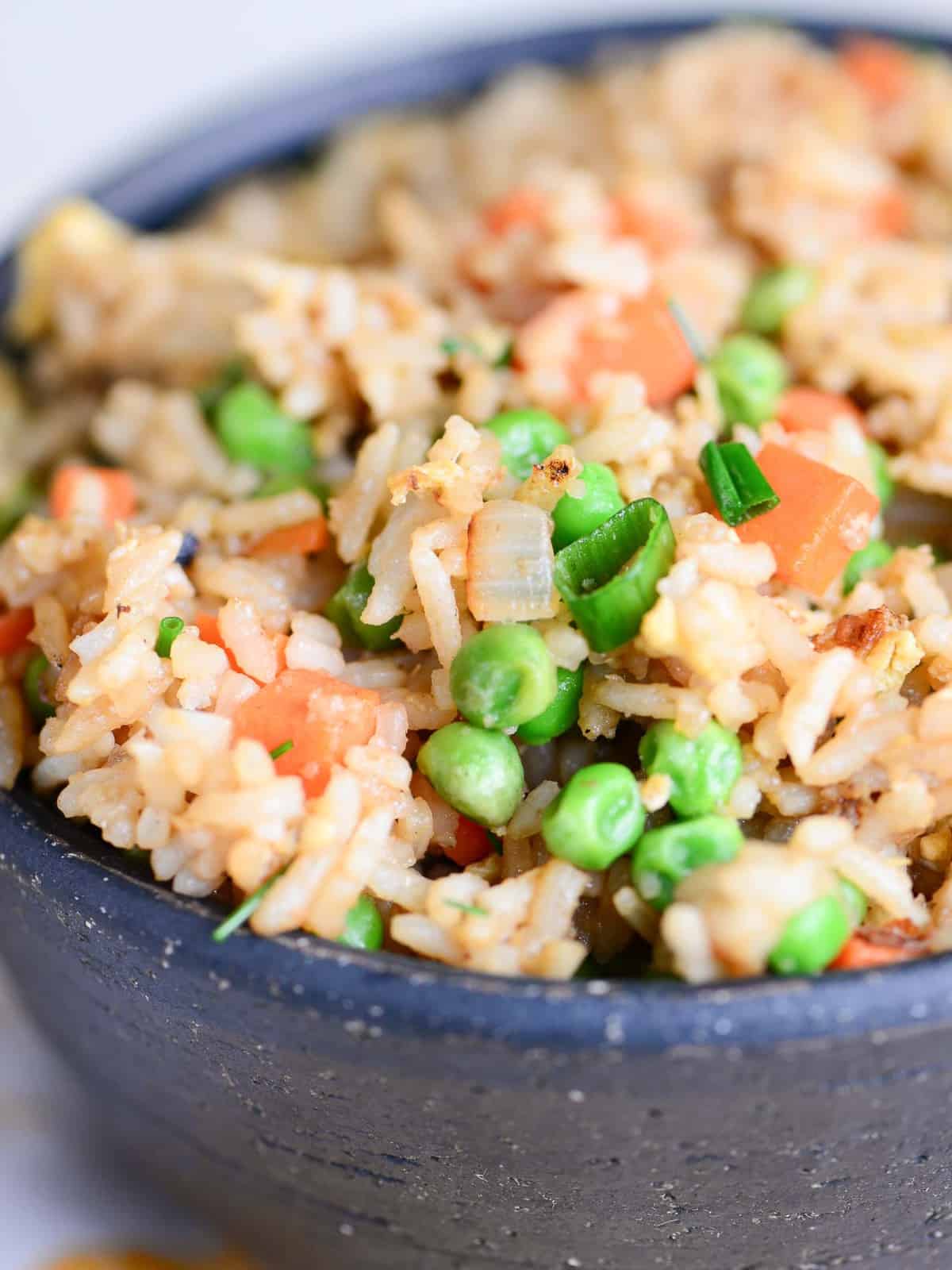 Hungry for more rice recipes
➽ Did you make this recipe? I love to see what's going in your kitchen. Show me what you're cooking. 🍳 Tag me @foodologygeek on your favorite social channel! Facebook, Instagram & Pinterest. If you loved ❤︎ this recipe, please leave a 5 ★ review and a comment!
Easy Veggie Fried Rice Recipe
Fried rice is always the best part of Chinese take-out. It tastes even better then next day. You can make fried rice at home in no time at all. Using leftover rice makes this recipe super easy. You'll be surprised how easy this recipe is and surprise it's even better than take-out. Once you know the basic recipe for fried rice you can make an endless variety of fried rice recipes.
Ingredients
3

cups

Cooked Rice

2

teaspoons

Oil

2

medium

Carrots

diced

¼

medium

Onions

diced finely

2 to 3

cloves

garlic

minced

1

teaspoon

ginger

grated

2

Eggs

beaten

¾

cup

Frozen peas

2

teaspoons

Toasted sesame oil

3

tablespoons

Soy sauce

1

tablespoon

mirin

optional

1

tablespoon

rice wine vinegar

optional
Other Veggies (optional)
mushrooms

bok choy

snap peas

broccoli

red bell peppers
Instructions
Place the oil into your wok pan over medium-high heat.

Add the rice and stir fry for a few minutes.

Create a well in the center of the wok pan.

Add the carrots, onions, ginger, and garlic.

Sauté for a few minutes until the veggies are soft and fragrant.

PRO-TIP: At this stage, you can add any additional veggies or even a protein like chicken or shrimp. See the notes below for a few suggestions.

Move the veggies to the outside of the wok to re-create the well.

Add the sesame oil to the middle of the pan.

Add the beaten eggs and scramble them in the center of the pan.

Add the peas, then use a large spoon or spatula to mix everything together.
Nutrition
Calories:
184
kcal
Carbohydrates:
29
g
Protein:
6
g
Fat:
4
g
Saturated Fat:
1
g
Cholesterol:
55
mg
Sodium:
561
mg
Fiber:
2
g
Sugar:
3
g
Calcium:
31
mg
Iron:
1
mg