Steak fajitas are arguably one of the best fast and easy dinner recipes. High protein, full of veggies, and tons of flavor, this recipe is sure to make everyone happy. Only 5 ingredients and 10 minutes of prep time, what??? This is so much quicker, easier, and cheaper than weeknight takeout, it's not even fair.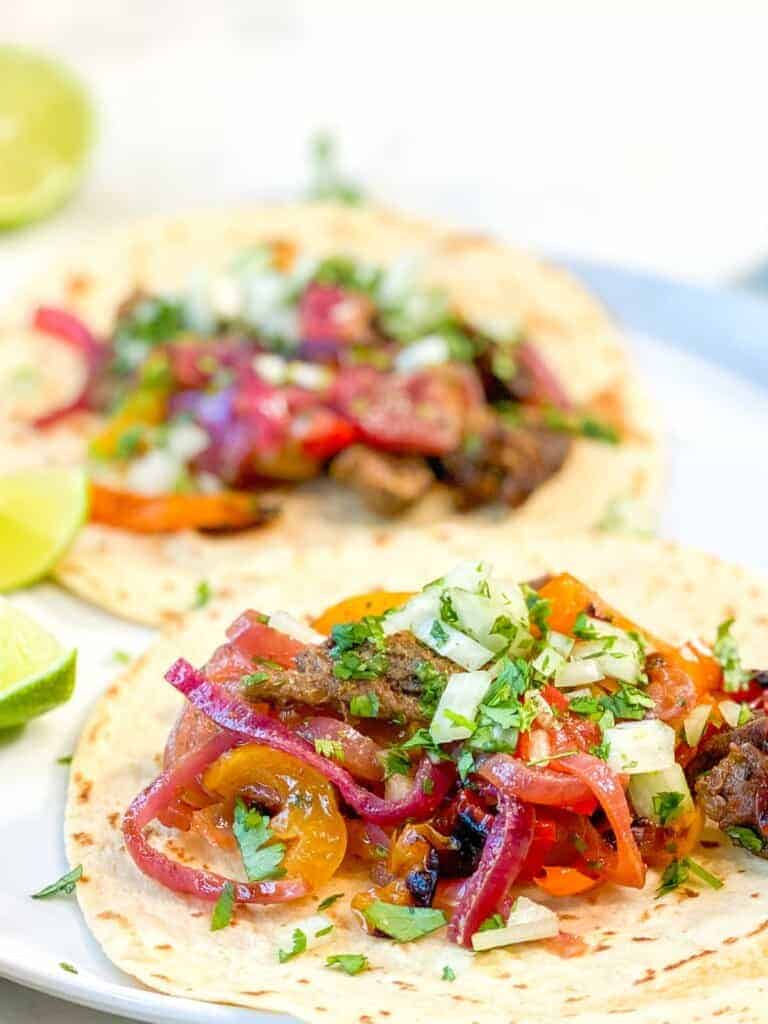 These super easy steak sheet pan fajitas are one of my go-to weeknight recipes. It's healthy, fast, and everyone in the family always loves it.
Plus, you only have to clean up one pan! Well... maybe not you. I think it's only fair that if you cook, they clean, am I right? No matter which way you slice it, this is seriously the easiest meal ever.
If you need more help with meal prep and planning, check out my handy dandy Meal Prep 100 Guide.
What You'll Love About This Recipe
Healthy. For sheet pan fajitas, steak is definitely my favorite. Harvard Health suggests that a moderate amount of saturated fat is A-Ok, and steak is rich in protein and iron.
Full serving of veggies. I like to cook up at least twice as many veggies to balance the meat but keep all the flavor. Add in healthy fats from a side of guac, and you have a well-rounded meal.
Easy. Sheet pan steak fajitas are super easy to make and even easier to clean up. No splatter, no frying pans... just chop, wait, and chow down.
Fast. Only 10 minutes of prep time. Better yet, these easy steak fajitas cook up in less than 15 minutes. Who's hungry?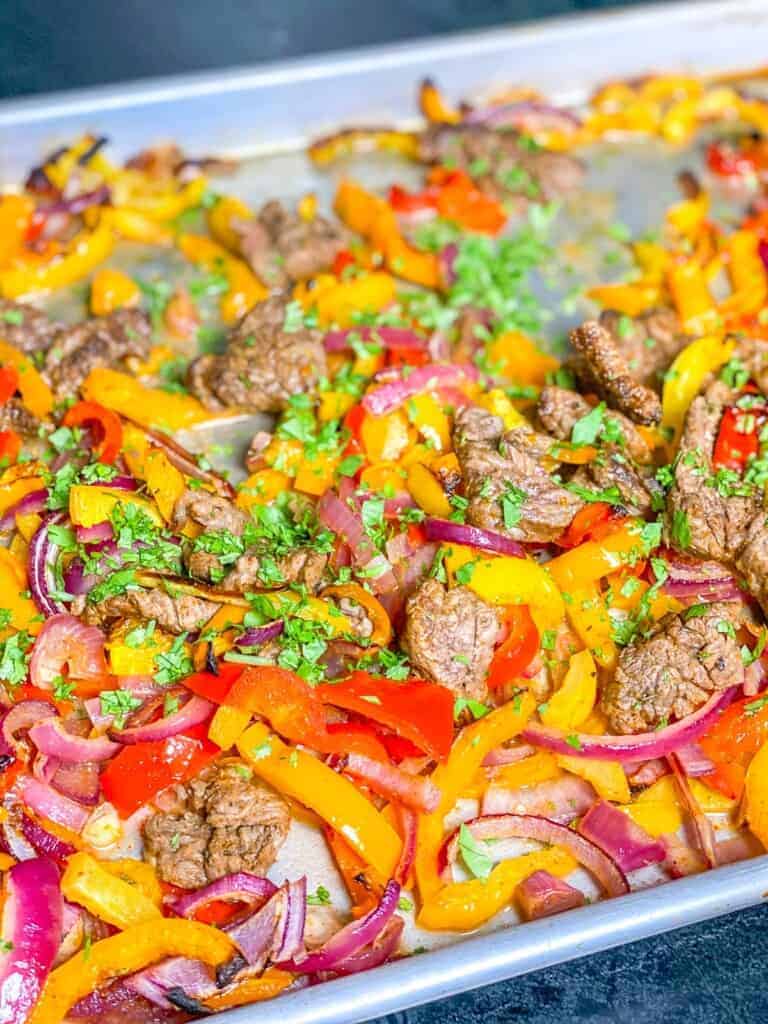 Recipe Notes
You can make this recipe with any protein that you like. I've personally made it with chicken, steak, and shrimp. They are all amazingly flavorful and super easy.
Ingredients you'll need for steak fajitas
Protein. One to two pounds of chicken, steak, or shrimp.
Veggies. Bell peppers and red onions.
Spices. You'll need a good taco seasoning blend. I make mine from scratch with chili powder, cumin, oregano, garlic, onion, coriander, paprika, and cayenne pepper.
Let's Get Cooing
Step 1 — Cut the peppers and onions into strips. Set aside.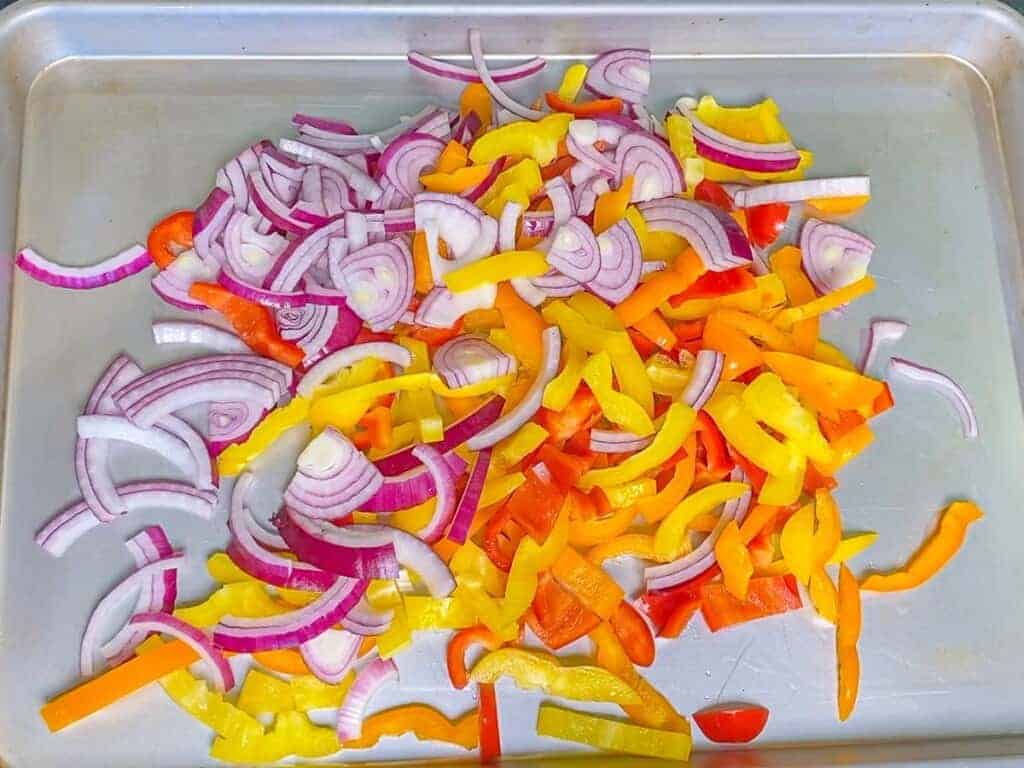 Step 2 — Slice the steak into strips.
I like to use a nice flank steak or strip steak, but you can use any cut of meat you like. My personal favorite is skirt steak. One way to tenderize meat naturally is to marinate it in lime juice for at least 30 minutes in a small bowl. The acid in the lime juice does double duty for tenderness and flavor!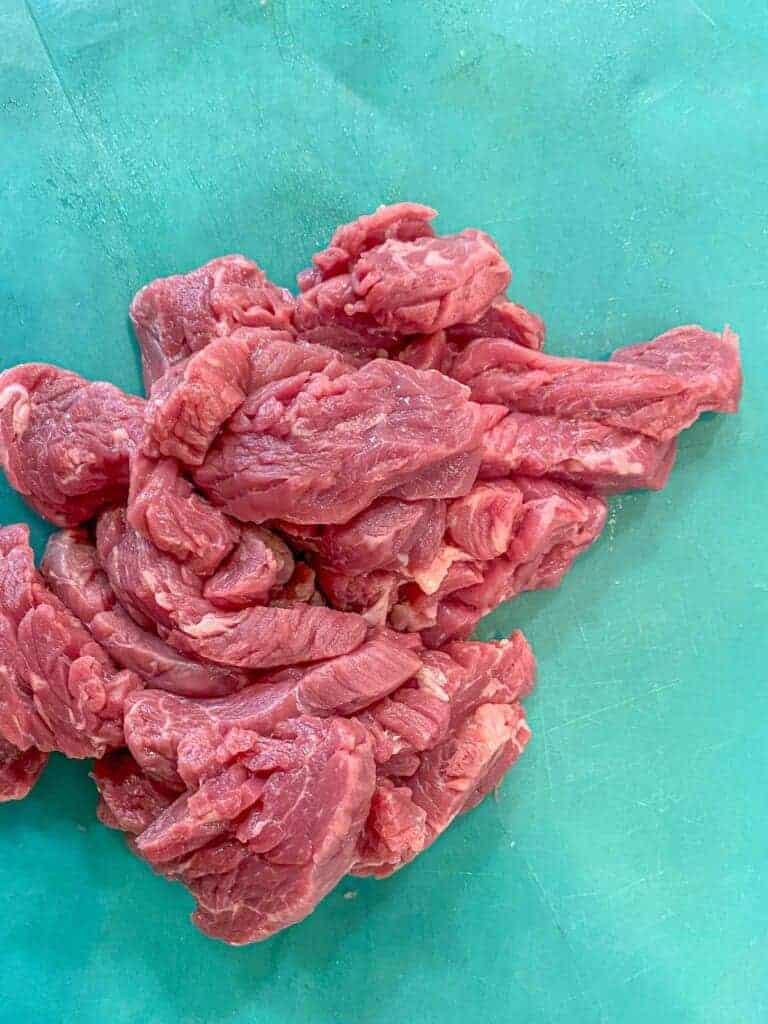 Step 3 — Season.
I usually add the veggies and the onions right to the sheet pan. Sprinkle with a little taco seasoning and your favorite oil. Olive oil works great here, but I really love avocado oil in this recipe. The flavors go together beautifully, and avocado oil has a much higher smoke point than other oils.
I toss it all together with my hands and then spread the fajitas out on the sheet pan in a single layer before I pop it in the oven. Clean up is a breeze. You can also line your pan with parchment paper or aluminum foil for an even quicker cleanup. Did I mention this meal just seriously couldn't be easier?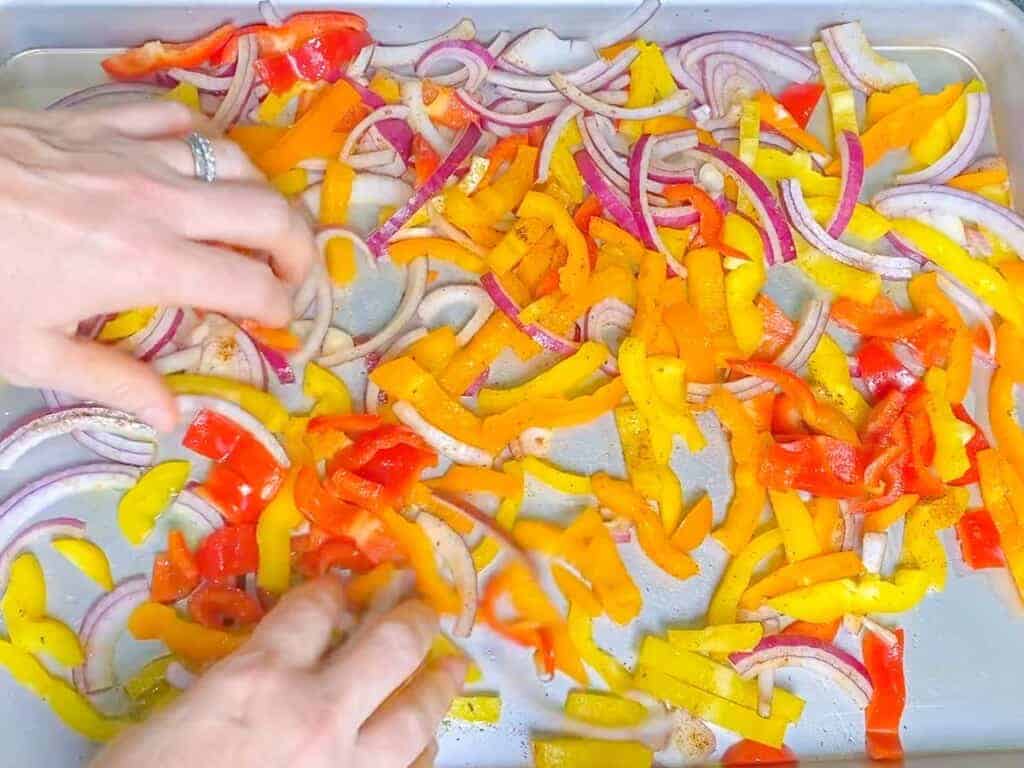 Step 4 — Cook.
Preheat the oven to 425℉/220℃. Bake for 25 minutes total.
Bake the veggies for 10 to 15 minutes.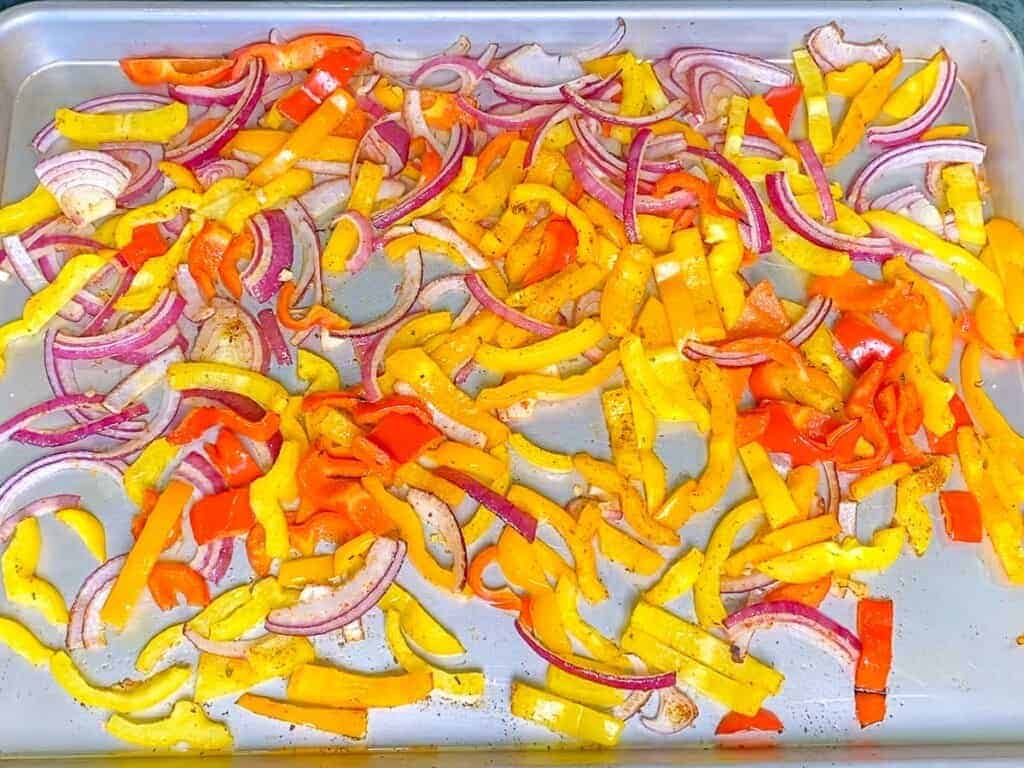 Add the steak to the sheet pan.
Return the sheet pan to the oven to bake another 10 minutes.
When I make steak or shrimp fajitas, I add the steak or shrimp after I've let the veggies cook for 10 to 15 minutes. Steak and shrimp take less time to cook than chicken does.
If you like your steak more on the well-done side, you can add the steak right from the beginning.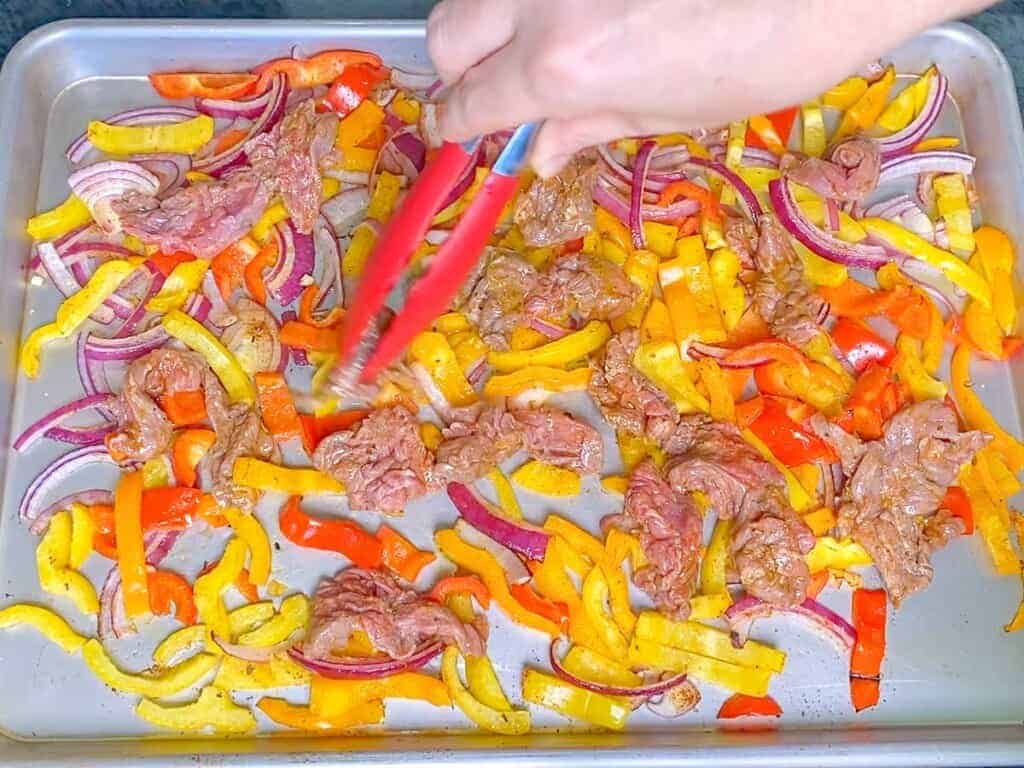 Bake until the steak is browned.
Remove the steak fajitas from the oven.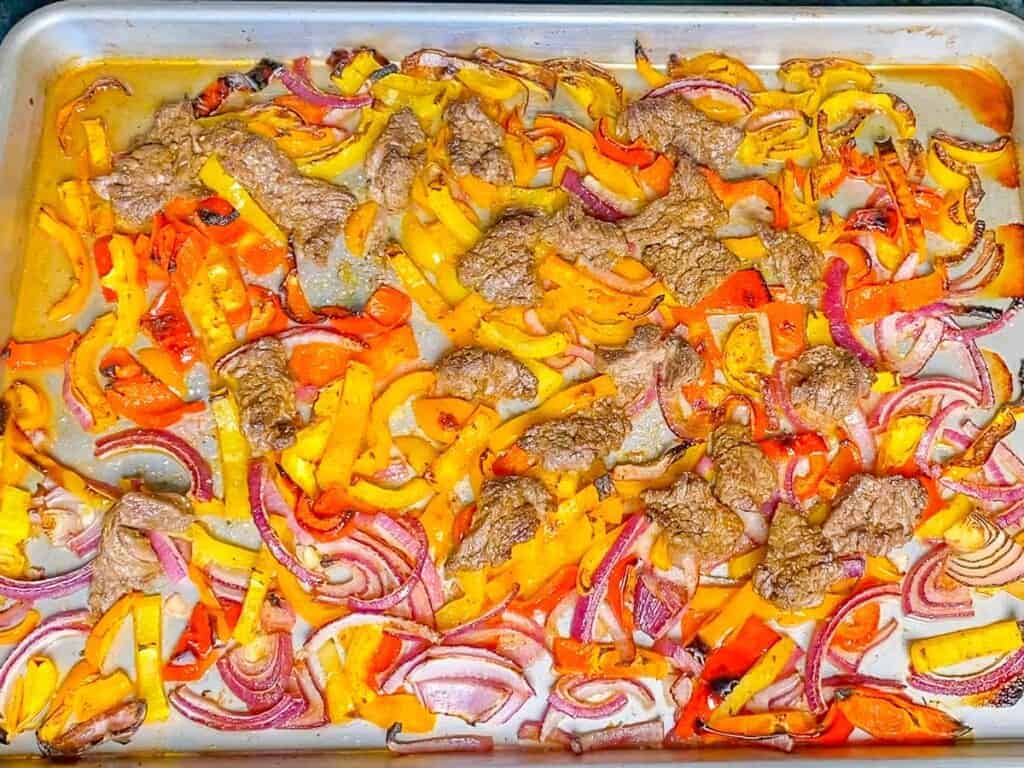 Season with a squeeze of lime.
Pro tip: Microwaving limes for 15 seconds makes it easier to squeeze out lots of juice!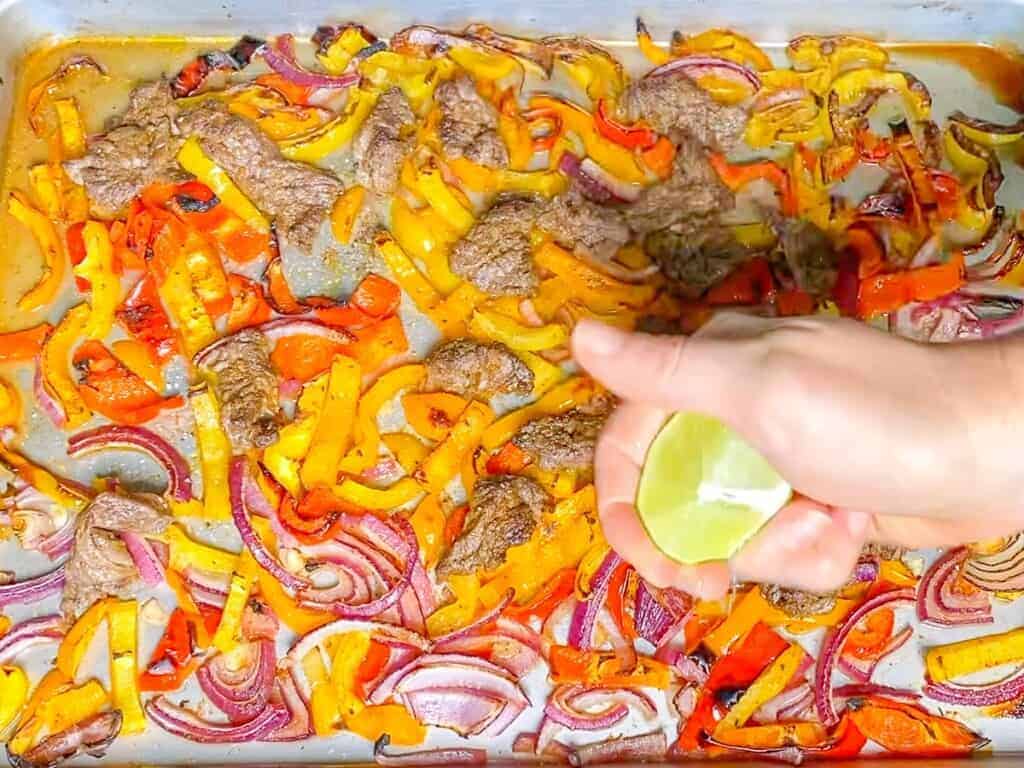 Toss the fajitas with kitchen tongs.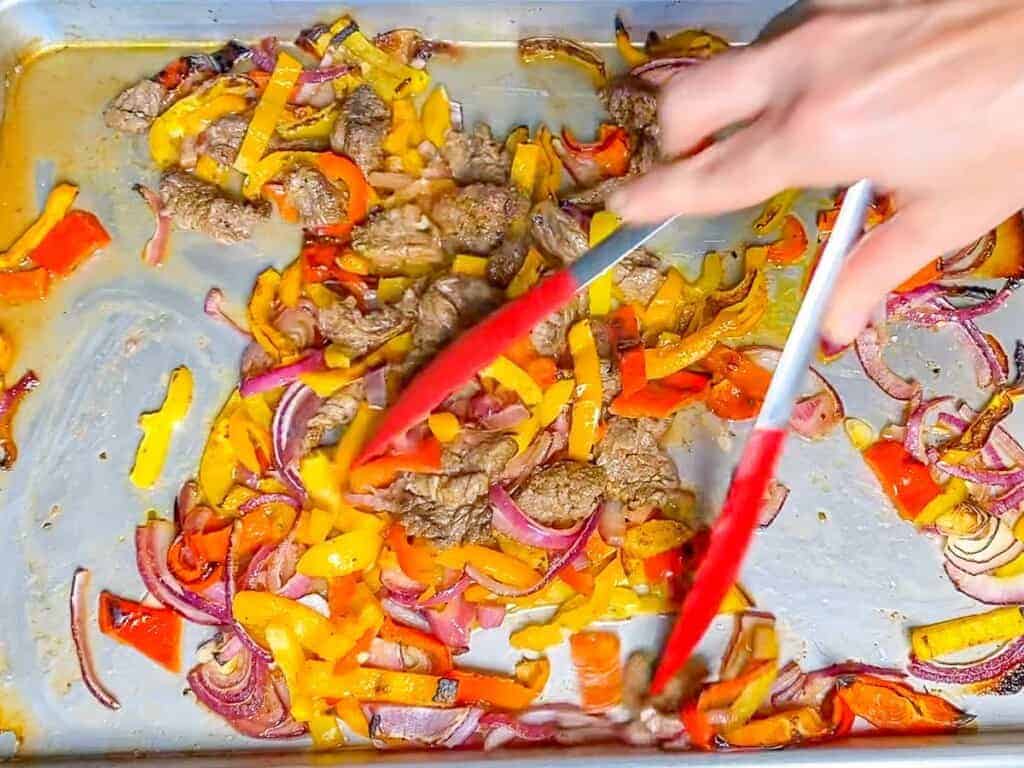 Add a few tablespoons of fresh chopped cilantro.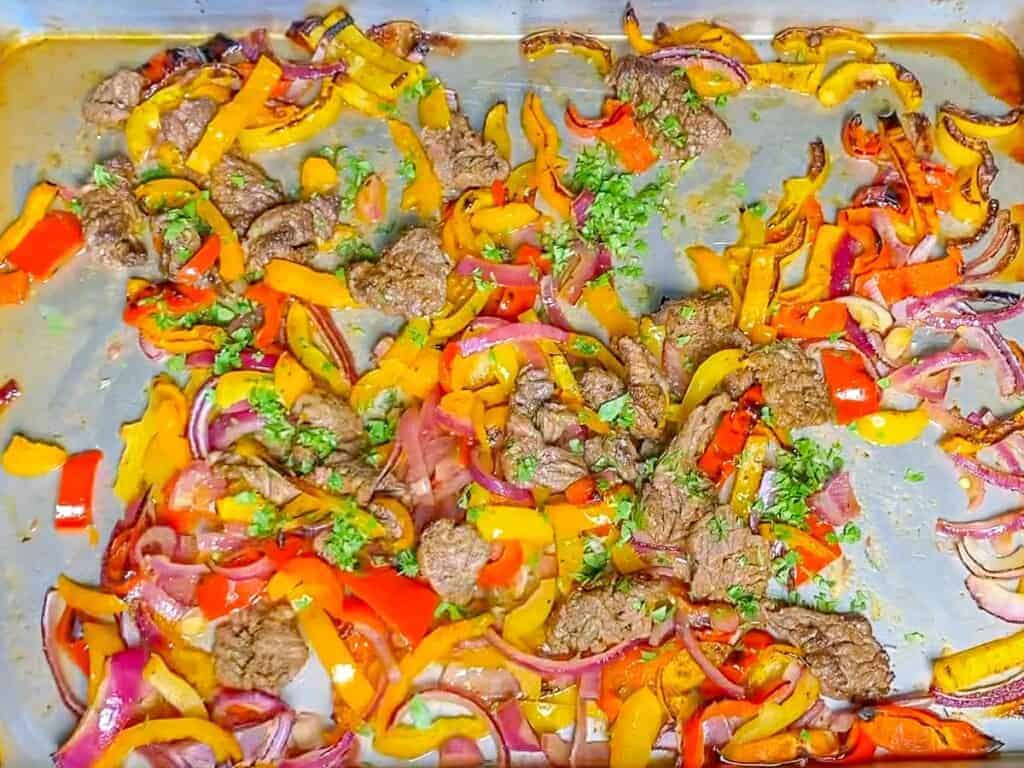 Serve with warmed tortillas, guacamole, pico de gallo, and extra cilantro and onions.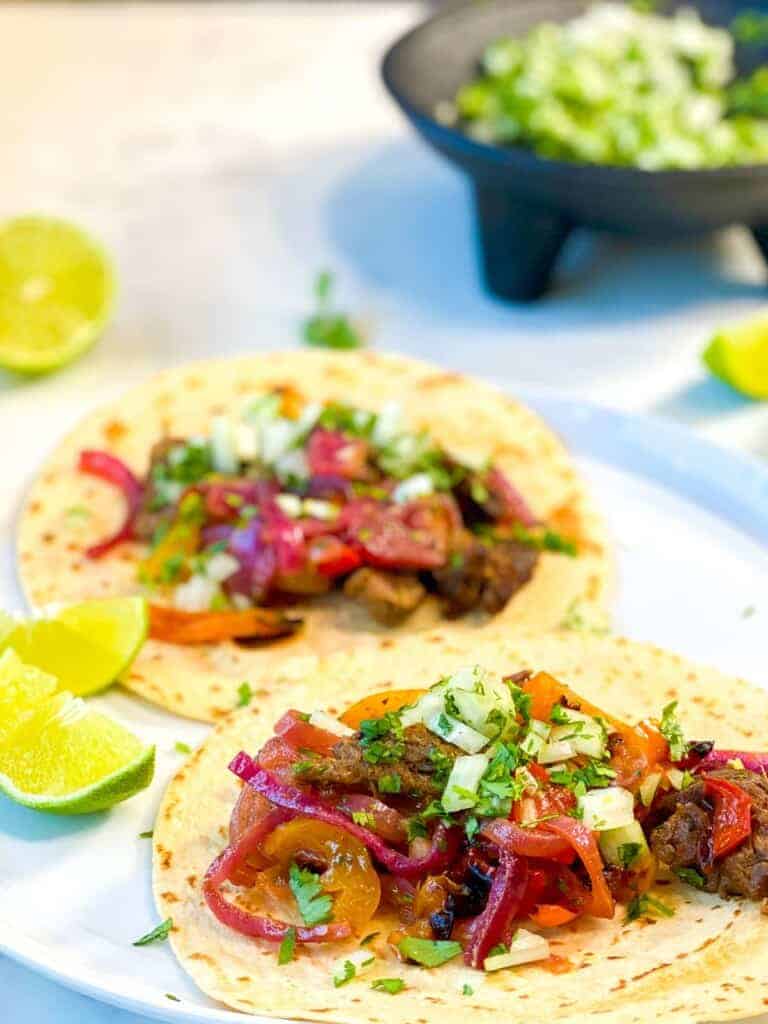 FAQs and Recipe Variations
Follow the directions below (and in the recipe card) for different proteins.
How to make shrimp fajitas:
Shrimp cooks very quickly, so I usually bake the veggies for 10 to 12 minutes, and then I add the shrimp and let it cook for the remainder of the time. Shrimp is ready when it is pink all the way through.
How to make sheet pan chicken fajitas:
Add the chicken and veggies to the sheet pan, season, and then bake for 25 minutes in an oven preheated to 425℉. The chicken and vegetables will have the same cooking times. Chicken is cooked when it reaches 165 degrees.
What to serve with sheet pan fajitas:
A few toppings. I love to serve fajitas with homemade fresh guacamole + pico de gallo. Sour cream and cilantro are also pretty much required. Fresh limes and hot sauce add a nice, bright shot of authentic flavor.
Flour or corn tortillas. I personally love corn tortillas. Cooking tortillas only takes a few minutes per side. You can buy your favorite kind, make your own flour tortillas, or even make keto tortillas if you're watching your carbs.
Other [Category Recipes] That You'll Love
➽ Did you make this recipe? I love to see what's going on in your kitchen. Please show me what you're cooking. 🍳 Tag me @foodologygeek on your favorite social channel! Facebook, Instagram & Pinterest. If you loved ❤︎ this recipe, please leave a five ★ review and a comment!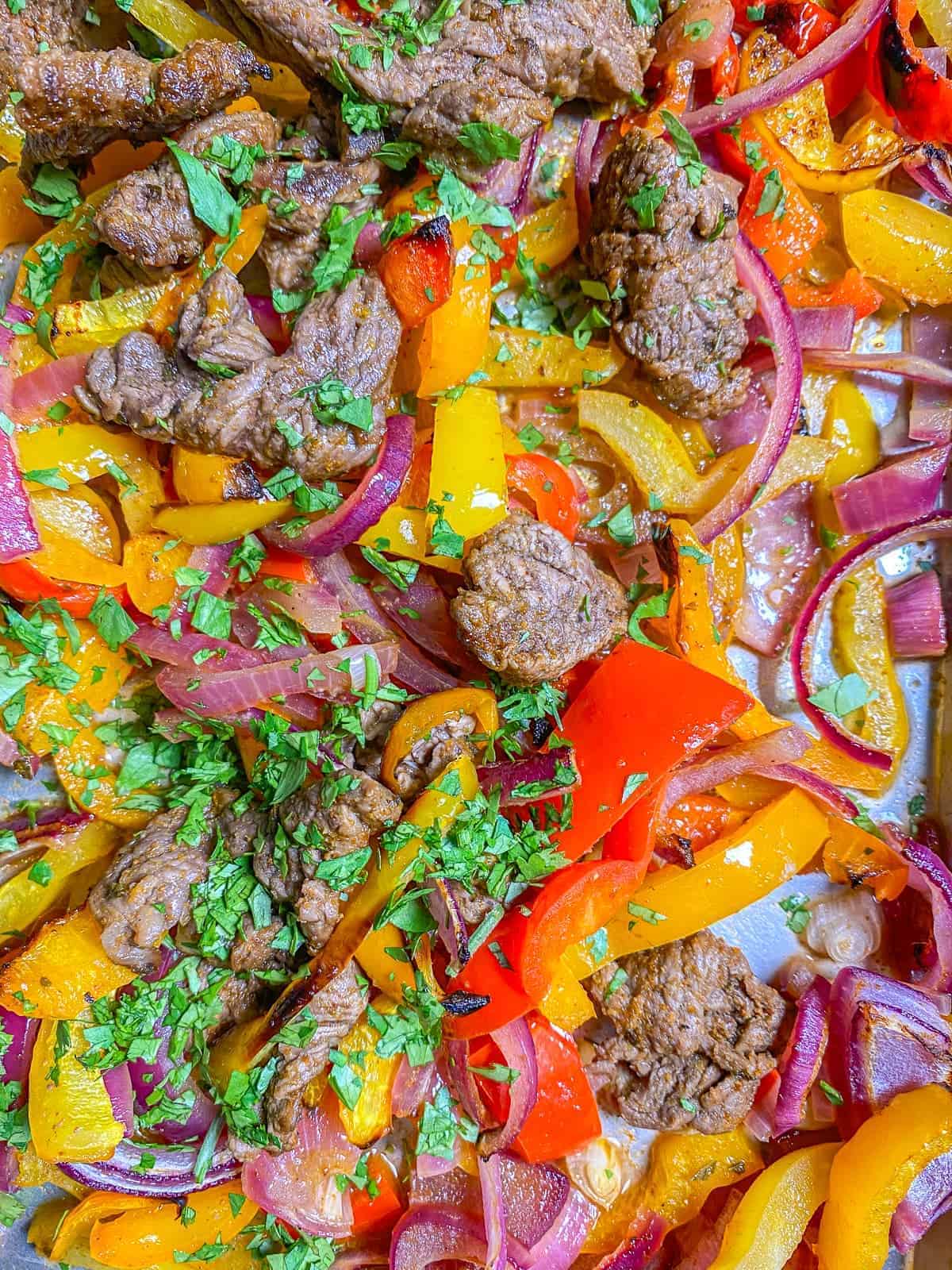 Sheet Pan Steak Fajitas
Super easy steak fajitas. This sheet pan dinner is perfect for a fast, easy, healthy dinner.
Ingredients
1

lb

flat iron steak

1

medium

yellow bell pepper

1

medium

red bell pepper

1

medium

red onion

2

tablespoons

taco seasoning

For the fajita seasoning, I use my homemade taco seasoning blend.

2

tablespoons

avocado oil

or olive oil
Steak Fajita Seasoning Blend (you will have extra)
Instructions
Preheat the oven to 425°F/220°C

Mix up the taco seasoning.

Slice the onions and the bell peppers into strips. Place them onto your baking sheet.

Season the bell peppers with 1 tablespoon of taco seasoning and a little bit of the oil. (I do this right on the sheet pan)

Place the veggies in the oven for 10 to 15 minutes.

Slice the steak into strips. Add a little bit of taco seasoning to the meat and toss. Set aside.

Remove the veggies from the oven and add the steak to the sheet pan.

Return the steak fajitas to the oven and continue to cook for another 10 minutes or so.

Remove the steak fajitas from the oven and add a squueze of lime and fresh chopped cilantro.
Laura's Tips + Notes
What to serve with sheet pan fajitas?
Fresh Cilantro
Sour Cream
Corn or flour tortillas.
Fresh limes
Recipe Variations
Chicken Fajitas
Slice and season boneless chicken breast or thighs. For this recipe, use 2 large chicken breasts OR 4 chicken thighs.
Add the chicken at the same time as the veggies.
Shrimp Fajitas
Thaw and season 20 to 30 uncooked large shrimp. You can use tail on or tail off.
Add the shrimp during the last 10 minutes of cooking, just as you would add the steak.
YOUR OWN NOTES
Nutrition
Calories:
292
kcal
Carbohydrates:
7
g
Protein:
22
g
Fat:
19
g
Saturated Fat:
5
g
Trans Fat:
1
g
Cholesterol:
75
mg
Sodium:
188
mg
Fiber:
2
g
Sugar:
3
g
Calcium:
18
mg
Iron:
3
mg