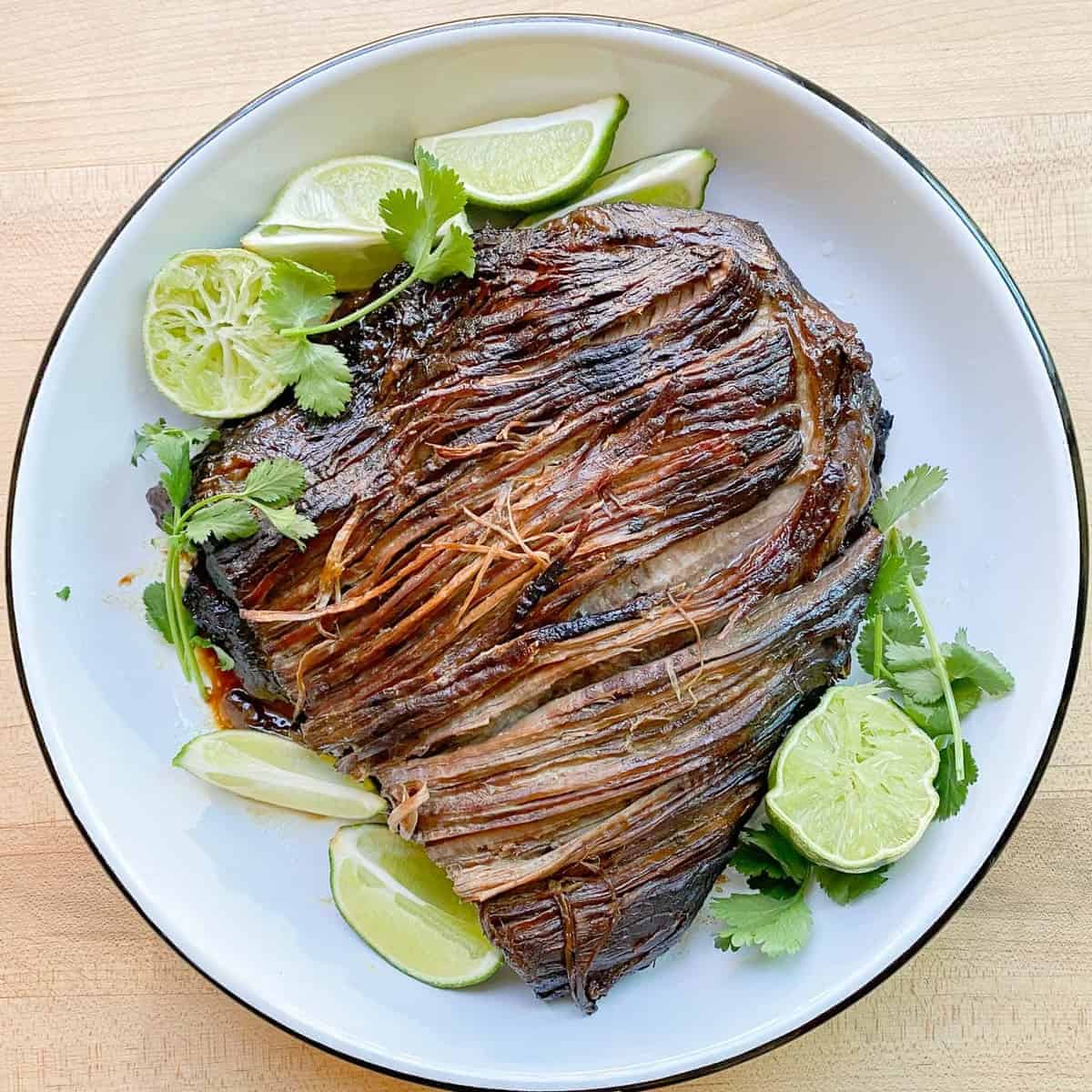 Recipe
Comments
Save
Go to Collections
This post may contain affiliate links. Please read my
disclosure policy.
This easy slow-cooked Mexican beef recipe makes the perfect pulled beef tacos, also known as brisket tacos. Every time I make this recipe for guests, they want the recipe. I'm almost embarrassed to tell them how easy it is.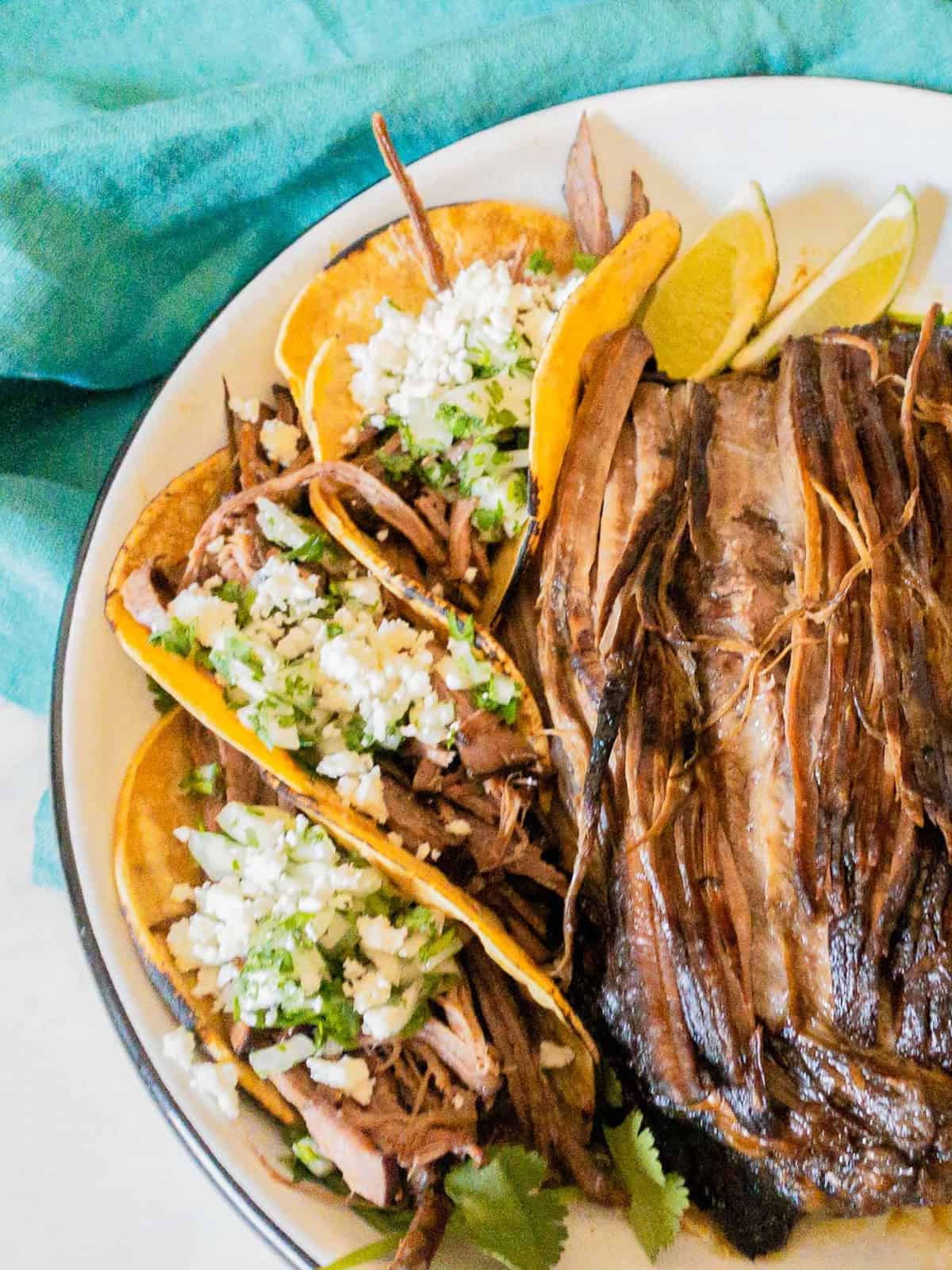 Mexican food might be my favorite cuisine. It's really hard to commit to just one. But come on, people, who could actually live without tacos?
I've been making shredded beef since I was a kid, and I even have three different versions of shredded beef on my blog. It's safe to say that I'm somewhat of an expert in the matter of shredded beef tacos.
One of my favorite things to order at a Mexican restaurant when I was a kid was a chimichanga. A chimichanga is a shredded beef burrito (sometimes made with shredded chicken) that is deep-fried. Sometimes it's served "wet," with a green or red chili sauce poured over the top. For me, though, I always liked mine with a heaping ton of guacamole + hot sauce.
Now, I'm not saying that the chimichanga is legit Mexican food. In fact, I'm pretty sure it qualifies as Tex-Mex — but, regardless of its status, chimichanga burritos are delicious and this shredded beef would be the perfect filling. If you've been wanting to branch out from ground beef, this is for you.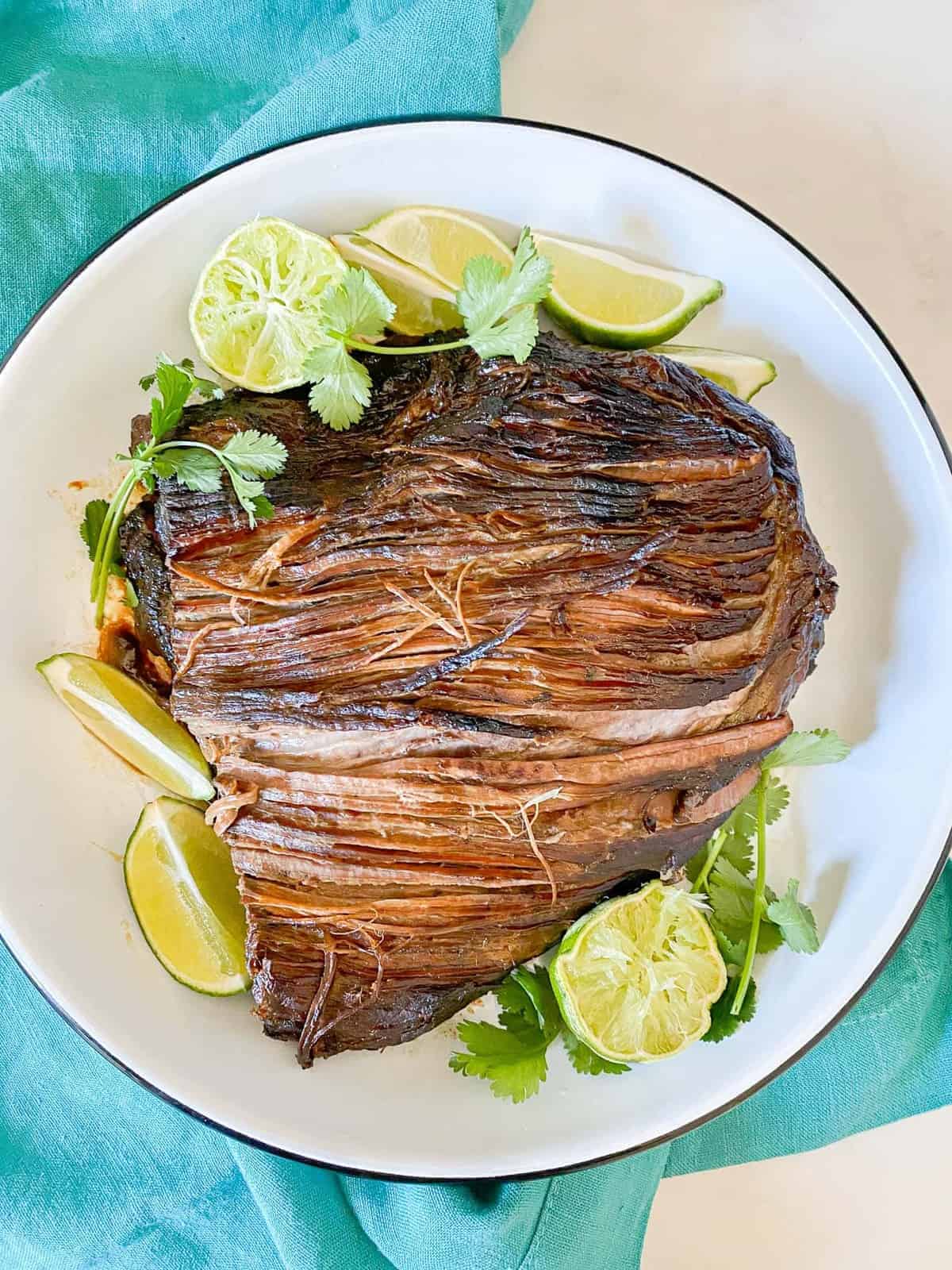 What You'll Love About This Recipe
Quick. This recipe takes less than 10 minutes of prep work, and then it's just a slow simmer to shredded beef perfection.
Easy. If you have one pot and know how to turn on the stove, you can make this recipe. It's that easy. It's practically foolproof.
Multipurpose. This Mexican shredded beef can, of course, be used for pulled beef tacos. But really, the possibilities are endless.
Recipe Notes
You can make this recipe on the stovetop or in the oven, and the recipe also does really well in an Instant Pot or even your slow cooker. All the directions are below.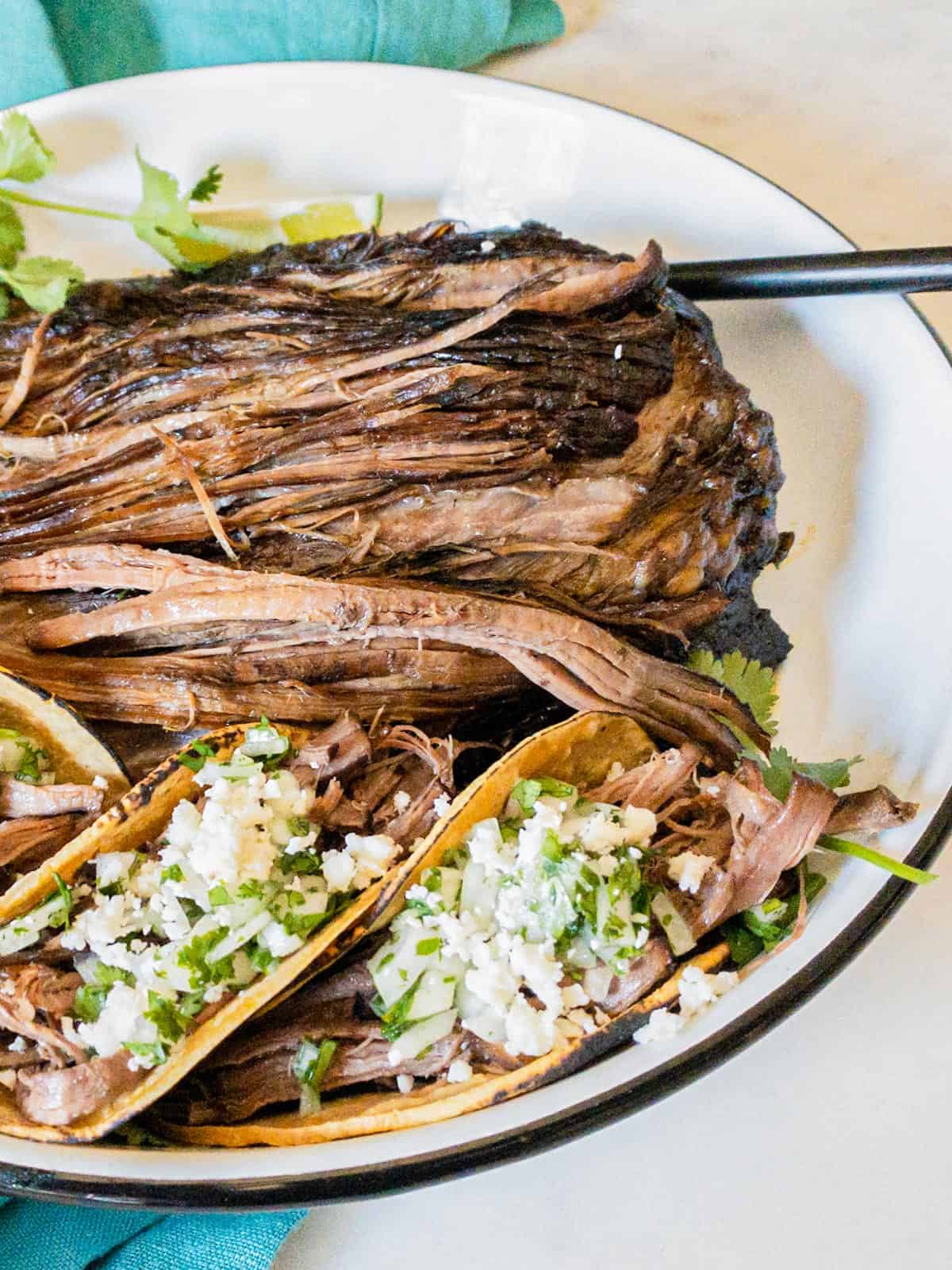 What You Need To Make Shredded Beef
Beef roast. For shredded beef tacos, the best cuts of beef are either beef brisket or chuck roast. I usually try to get one that's around 4 pounds. Trust me, you'll appreciate the leftovers.
Veggies. Onion, a few cloves of garlic, and a few serrano chilis.
Liquid. Beef broth and beer. Use one carton of beef broth, about four cups, and one dark Mexican beer, like Dos Equis Dark.
Spices. Oregano and cumin, salt, and pepper.
Step-by-Step Instructions
Most often, I make any kind of beef roasts in my Dutch oven. Especially now that I've been working from home, it's easy to just let dinner simmer on the stove all day.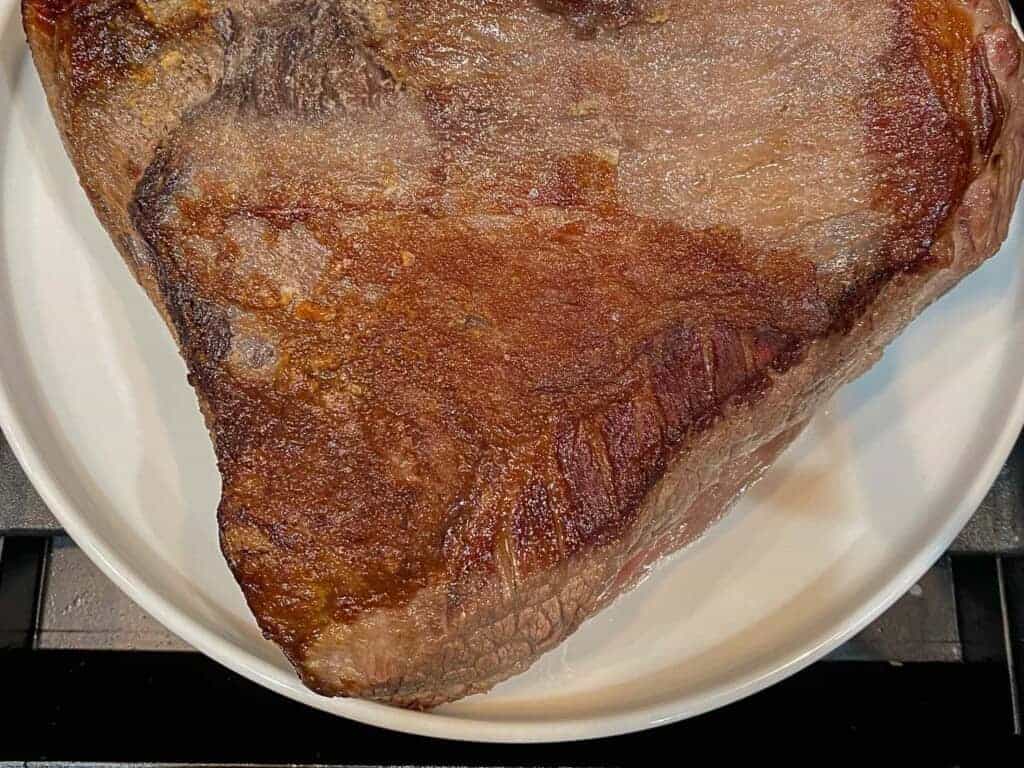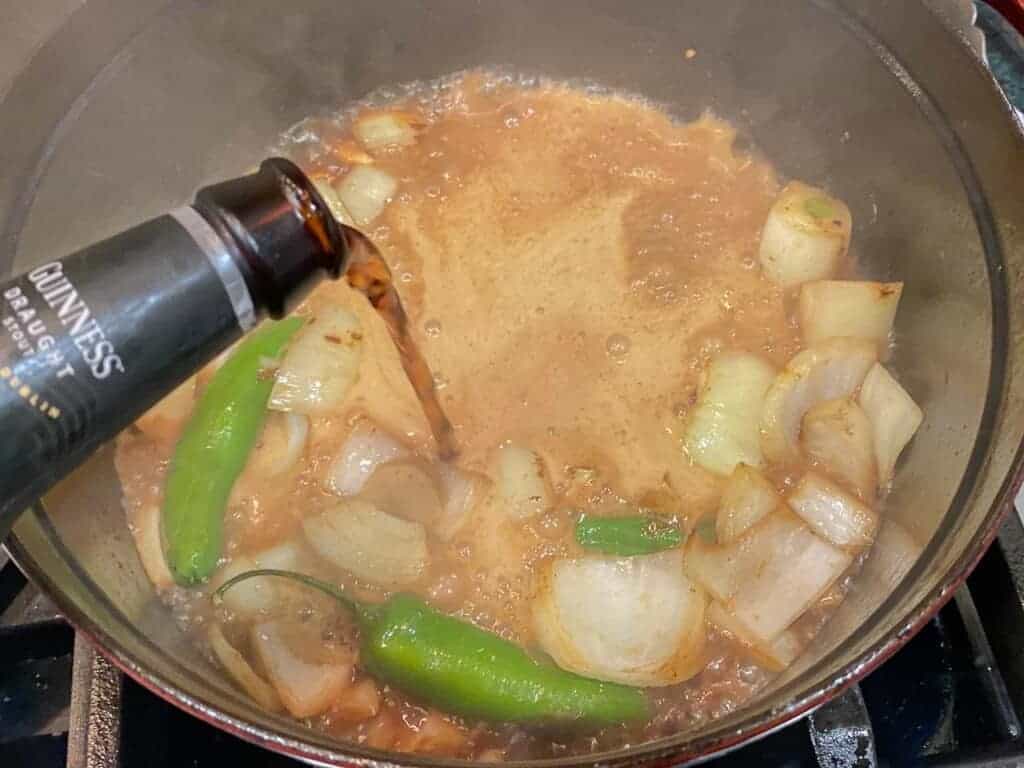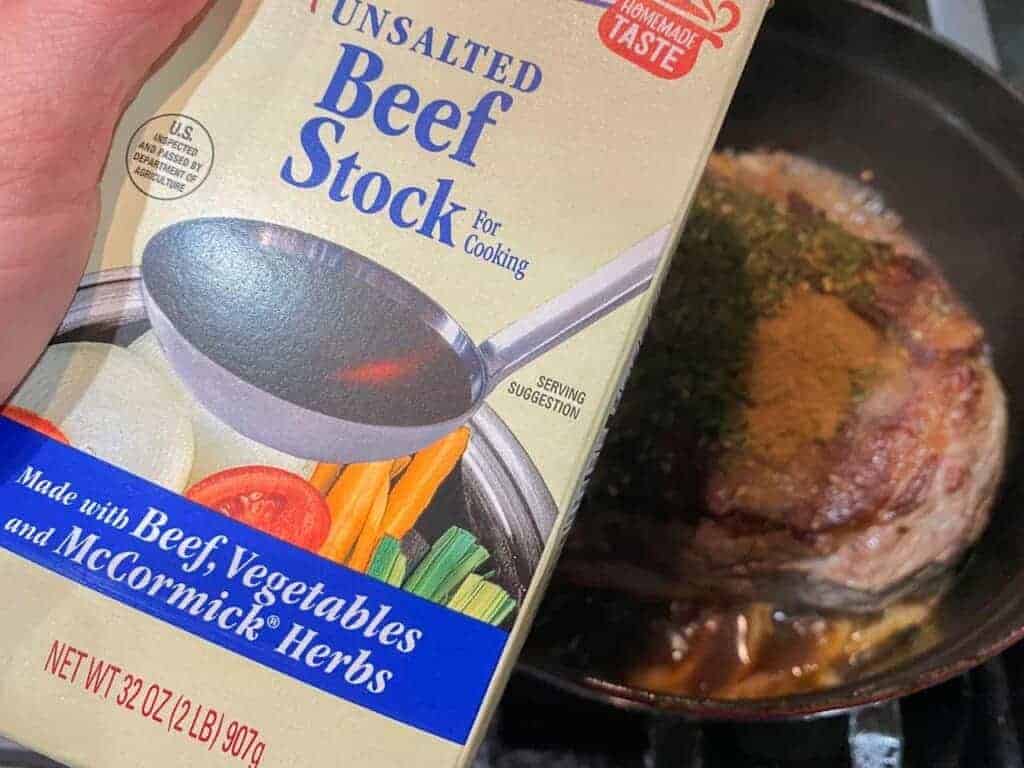 Brown the beef roast. Season the beef roast with salt and pepper. Add a few teaspoons of oil to the pan. Brown the meat over medium-high heat. Remove and set aside.
Sauté the onion and garlic. Add the onion and the garlic to the pan and sauté for a few minutes. I like to add the beer at this step to deglaze the pan. (Shortcut: I sometimes skip this step and just add the onions and garlic in with the liquid.)
Add the liquid and the serrano peppers. Return the beef roast to the Dutch oven and add the beef broth and the serrano peppers. I cut the serranos in half lengthwise to get as much of that amazing spicy flavor out of them as possible. Add the oregano and the cumin.
Braise for 2 to 3 hours. Bring the liquid to a boil, then reduce the temperature to a simmer. Cover the roast and braise the meat for at least two hours, sometimes longer. You want the beef to be so tender that you can easily separate the meat with two forks.
Recipe Variations
This is one of the go-to recipes for making shredded beef in a crockpot. I have a few recipes right here, so be sure to bookmark this page if your family loves pulled brisket!
Slow Cooker Shredded Beef recipe is a coffee-rubbed beef roast that makes absolutely incredible shredded beef tacos. You can also use the pulled beef to make sandwiches. Add some grilled onions, cheddar cheese, and barbecue sauce for summertime heaven.
Green Chili Shredded Beef that I have used for meal prep all the time. It's another easy pulled beef recipe that you can make in the slow cooker or in an Instant Pot. It's super easy and really flavorful. Chili powder and cumin are flavor classics.
How to make shredded beef in a slow cooker
Brown the beef roast in a heavy bottomed pan. Then place it into your slow cooker.
Add the remaining ingredients on top of the beef.
Cook on high for about 5 to 6 hours, or on low for 7-10 hours.
How to cook shredded beef in the oven
Preheat the oven to 425℉. Let it preheat while you are following steps 1 through 3.
Cover the roast. Place into the oven and cook for about 20 minutes.
Reduce the temperature and braise for 2 to 3 hours.
How to make Instant Pot shredded beef
Follow steps 1 through 3 for pressure cooked beef.
*Reduce the beef broth to 2 cups.
Set the Instant Pot to high pressure, "Manual," for 80 minutes. Let the pressure release naturally.
Storing + Freezing Tips
The best thing about making shredded beef for these beef tacos recipes is that you will probably have leftovers. Luckily, beef roast stores and reheats beautifully.
How to store leftover shredded beef
Store leftover shredded beef in an airtight container in the fridge for up to a week.
How to freeze
Pack meat in a zip-top bag or an airtight container. I like to make sure that it is tightly packed to prevent freezer burn.
Freeze up to 4 months.
How to reheat shredded beef
First, allow the meat to thaw in the fridge. I usually try to pull it out of the freezer the night before.
Reheat the shredded beef in a skillet. Use a little bit of oil or butter. I like to get the shredded beef a little bit crispy. So yummy!!
Alternatively, you can reheat the beef in the oven.
Just preheat to 350℉.
Place the beef in an oven-proof dish or skillet that has a lid. Cover and place in the oven for about 15 minutes.
Reheat meat to a temperature of 165℉.
What to do with leftover shredded beef
This recipe is perfect for beef burritos, tortas, and even Shedded Beef Cheese Steak. But one of my favorite things is Machaca Beef. If you have leftovers, it's to die for. Of course, don't forget about the chimichanga!
What To Make With Shredded Beef Tacos
Hungry for more taco recipes?
FAQs and Expert Tips
How much shredded beef per person?
I usually plan on serving about a half pound per person.

People might eat more or less than that, but I've found that using this guideline usually seems to guesstimate the correct amount.
What cut of beef is best for shredding?
Shredded beef is best made with a fibrous cut of meat like beef brisket or chuck roast.

The brisket and the chuck roast are both shoulder cuts of beef. The chuck roast sits high on the shoulder and the brisket is lower down on the front flank area. The butcher at the meat counter can also make suggestions for what cut of beef for shredded beef would be particularly tasty and fresh that day.

Both of these cuts of beef are from well-muscled areas and need a longer cooking time to be tender. Luckily, when it comes to what kind of beef for shredded tacos, inexpensive cuts are by far the best.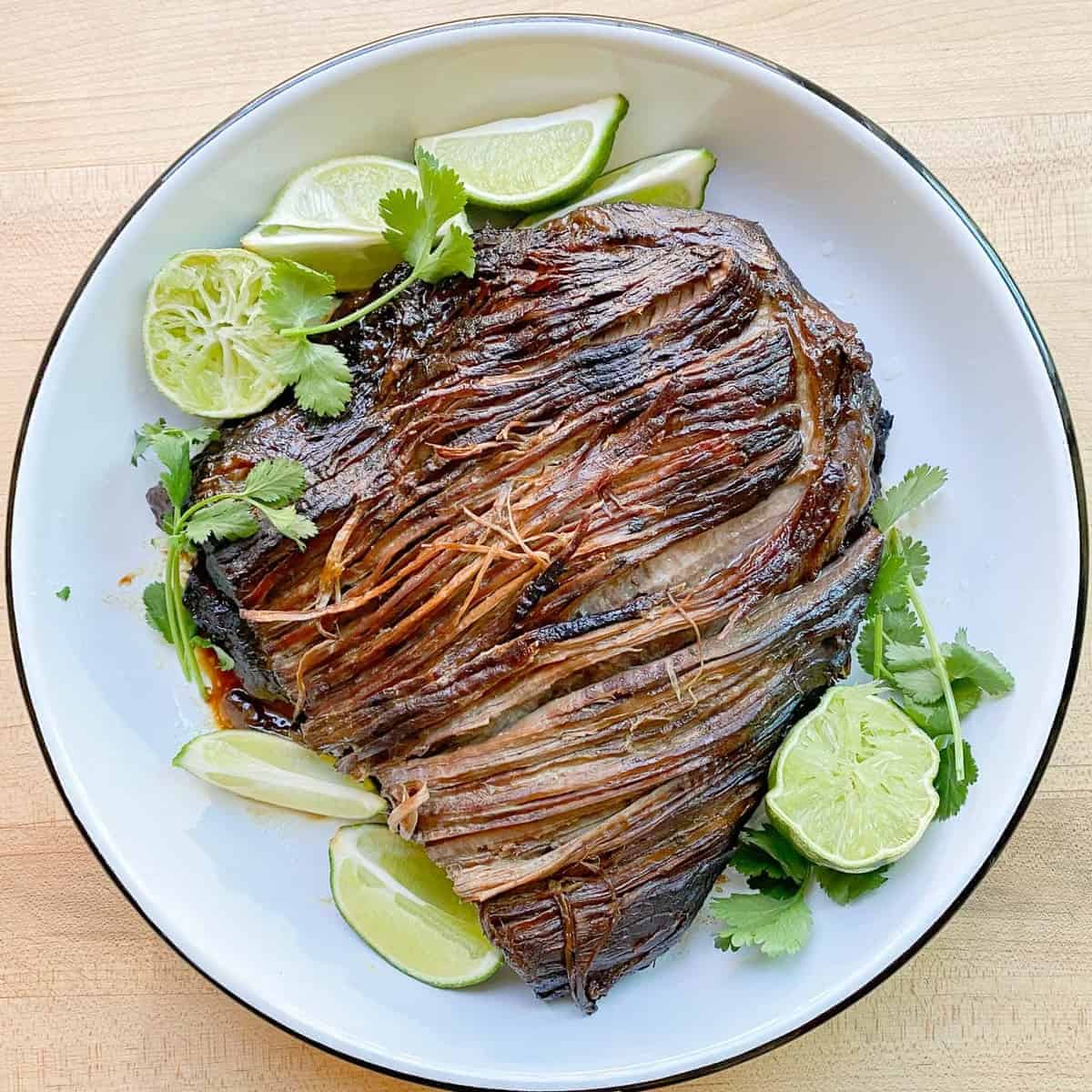 Shredded Beef Taco Recipe
This easy shredded beef recipe is perfect for making shredded beef tacos. This recipe is easy and quick to prepare. You only need about 10 minutes of prep time.
Ingredients
Serve With
white onion

,

finely diced

fresh cilantro

,

minced

Cotija cheese
Instructions
Salt and pepper the brisket and brown on medium-high heat in a heavyweight Dutch oven. (You can also use an Instant Pot or pressure cooker.)

Remove the brisket and set aside.

Add the onions, garlic, and serrano peppers to the pot. Sauté until the onions and garlic are fragrant, about 4 to 5 minutes.

Add the beer to the pot and deglaze the pan. (Scrape of any crunchy bits and get them back into the sauce; there's a lot of flavor in there.)

Add the brisket back to the pot and cover it with the beef broth.

Add the spices and bring the liquid to a boil.

Cover and reduce the temperature to a simmer.

The meat should be shreddable and falling apart when it's done.
Laura's Tips + Notes
Instant Pot Instructions:
Brown the seasoned chuck roast. Add the onions and the broth. Cook on high pressure, "Manual," for 70 minutes. Let the pressure release for 10-15 minutes. Remove roast and place on a cutting board. Use 2 forks to shred.
Dutch Oven Instructions:
On the stovetop, brown the seasoned roast on all sides. Preheat the oven to 450℉. Place the roast in the oven and add the onions and the broth. Cover and cook for 30 minutes. Reduce temperature to 350℉ and then cook for an additional 3-4 hours.
Slow Cooker Directions:
After seasoning the chuck roast, brown on all sides. Add the onions to the slow cooker; add the roast, then the broth. Cook on low for 6 to 8 hours or on high for 4 to 5 hours.
YOUR OWN NOTES
Sign In to add your own private notes
Nutrition
Calories:
286
kcal
Carbohydrates:
2
g
Protein:
29
g
Fat:
17
g
Saturated Fat:
7
g
Cholesterol:
104
mg
Sodium:
599
mg
Fiber:
1
g
Calcium:
38
mg
Iron:
4
mg