Spicy Dirty Rice – Rice, and Beans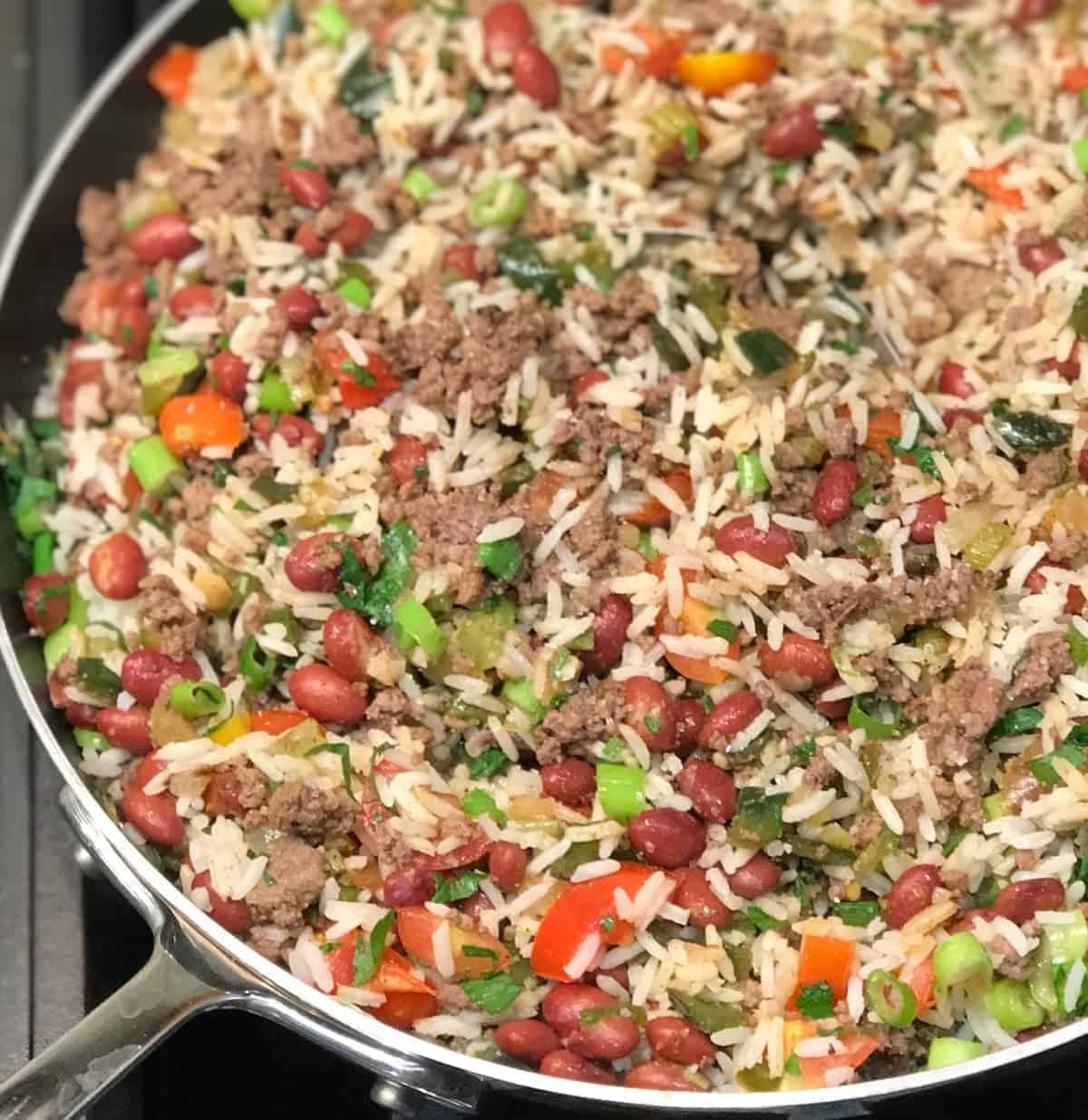 Recipe
Comments
Save
Go to Collections
This post may contain affiliate links. Please read my
disclosure policy.
Homemade dirty rice is spicy fried rice that's usually associated with Cajun cuisine. This easy rice recipe is an inexpensive homemade version of dirty rice that is sure to satisfy your craving for comfort food. Plus, you can make it in less than twenty minutes in one skillet.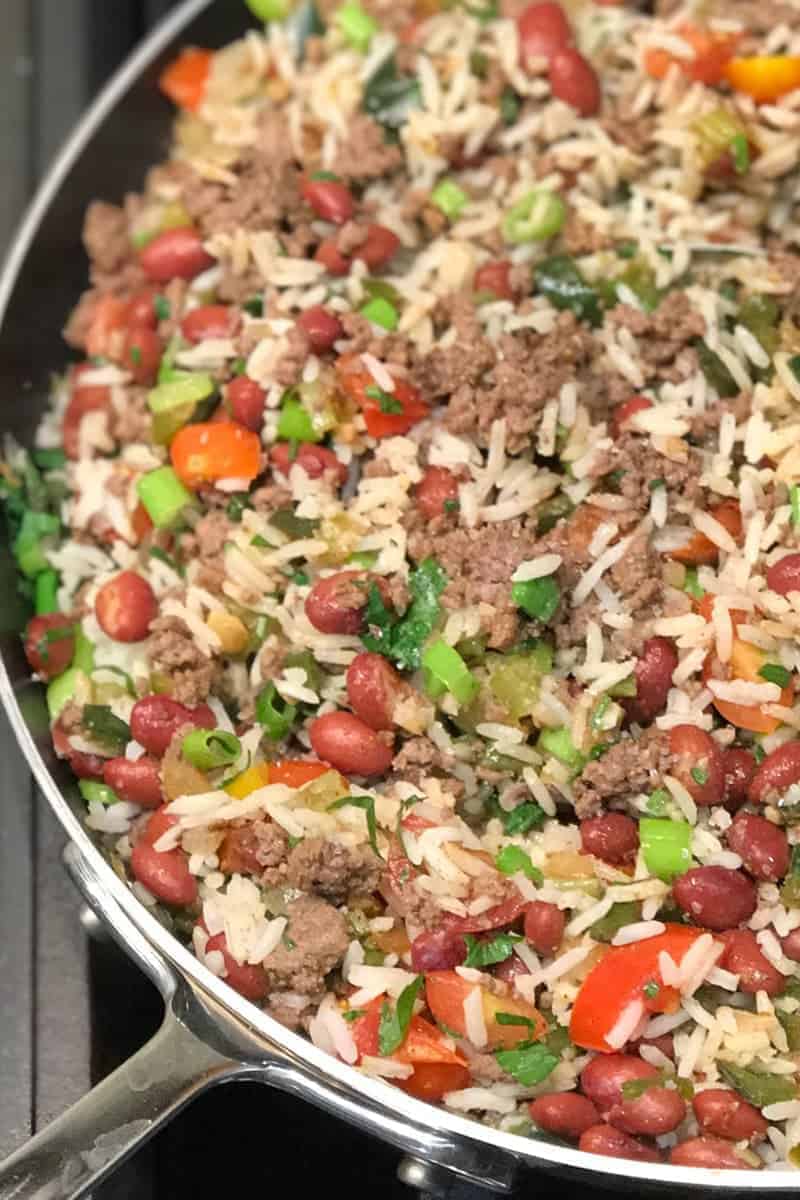 What is dirty rice?
My version of Dirty Rice uses ground beef. But traditionally, dirty rice got its brown or dirty color from the finely chopped liver and gizzards. Offal, which is organ meat, adds a lot of rich, tasty flavor to the rice. Organ meats were cheap and often eaten by peasant and working class. Don't let the name keep you from trying this though!
I am not afraid to eat offal. But, I know it can be intimidating if you haven't ever cooked with it. Don't worry; this recipe does not contain any liver.
Dirty rice is perfect when you have leftover ground beef.
Ground beef is one of my main meal prep staples. I like to brown up three to four pounds of grass-fed hamburger with some diced onion and a little bit of salt and pepper. I store my pre-prepped ground beef in the fridge or freezer.
Then when I have a night that I need to make something super quick, I can cook something like this quick and easy Fried Rice or another house favorite, my Easy Enchilada Pasta Bake.
THE BASIC Pantry Ingredients you'll need
Rice: 3 cups of cooked long-grain rice (from leftovers)
Meat: 2 cups of browned ground beef (from leftovers)
Beans: 1 can of small red beans
Stock: ½ cup of stock (chicken or vegetable)
Spices: 2 tsp dried oregano, 1 ½ tsp chili powder, salt and pepper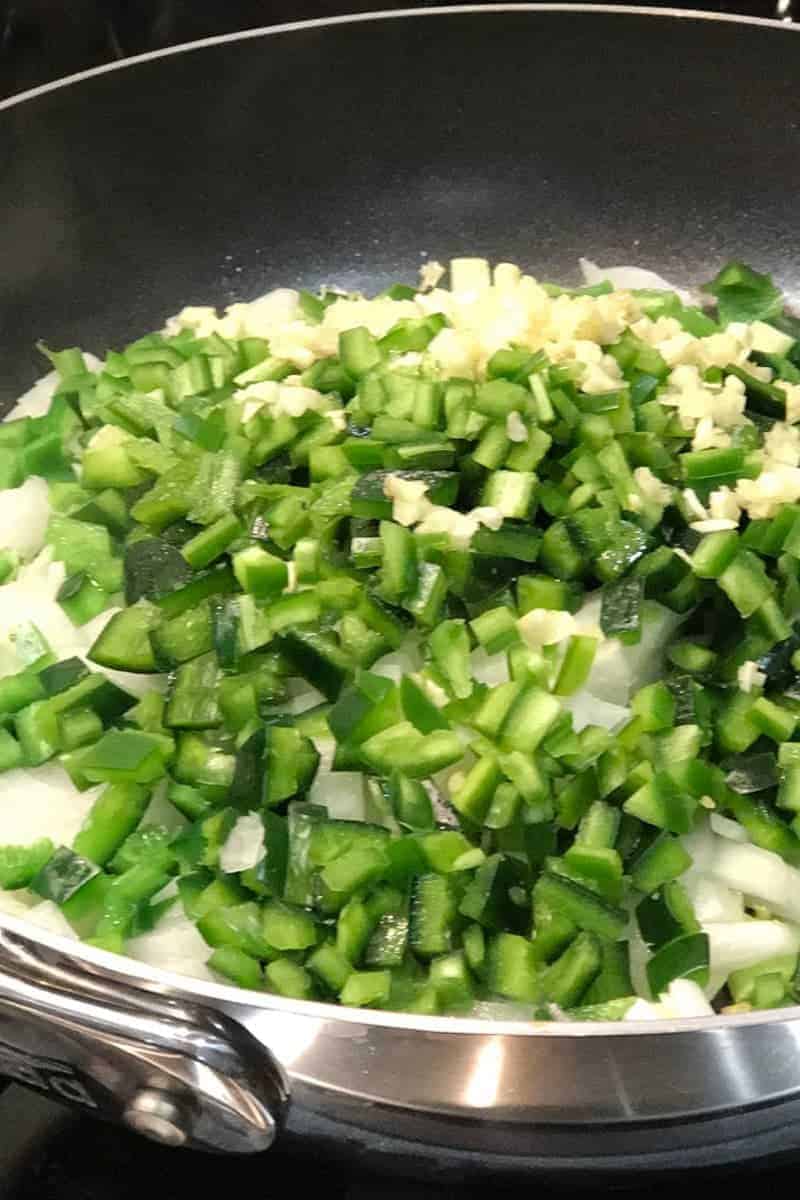 How to Make Sofrito
Sofrito is a Puerto Rican version of Mirepoix. The sofrito ingredients here are a little bit bastardized, but give this fried rice a spicy kick.
Many of the ingredients used in traditional Puerto Rican Sofrito are not readily available in US stores. Check out the link about to get the real version.
I use it here to add spicy flavor to this mashup Dirty Rice Recipe. Traditional mirepoix is a mixture of carrots, celery, and onions and is used in French cooking to add flavor to soups, stocks, and sauces.
You can find a version of mirepoix in almost every ethnicity of food.
Sofrito Recipe
½ sweet onion
2 stalks celery
2 pasilla peppers
2 jalapeño or serrano peppers
3 cloves garlic
Fresh veggies to add at the end
green onions
tomatoes
fresh parsley
You can make this easy dirty rice recipe with ground beef, or you can add in shrimp or chicken if you want to.
If you are going to add another protein, you should add in half of the ground beef. So you could do 1 cup of ground beef plus 1 pound of shrimp or chicken.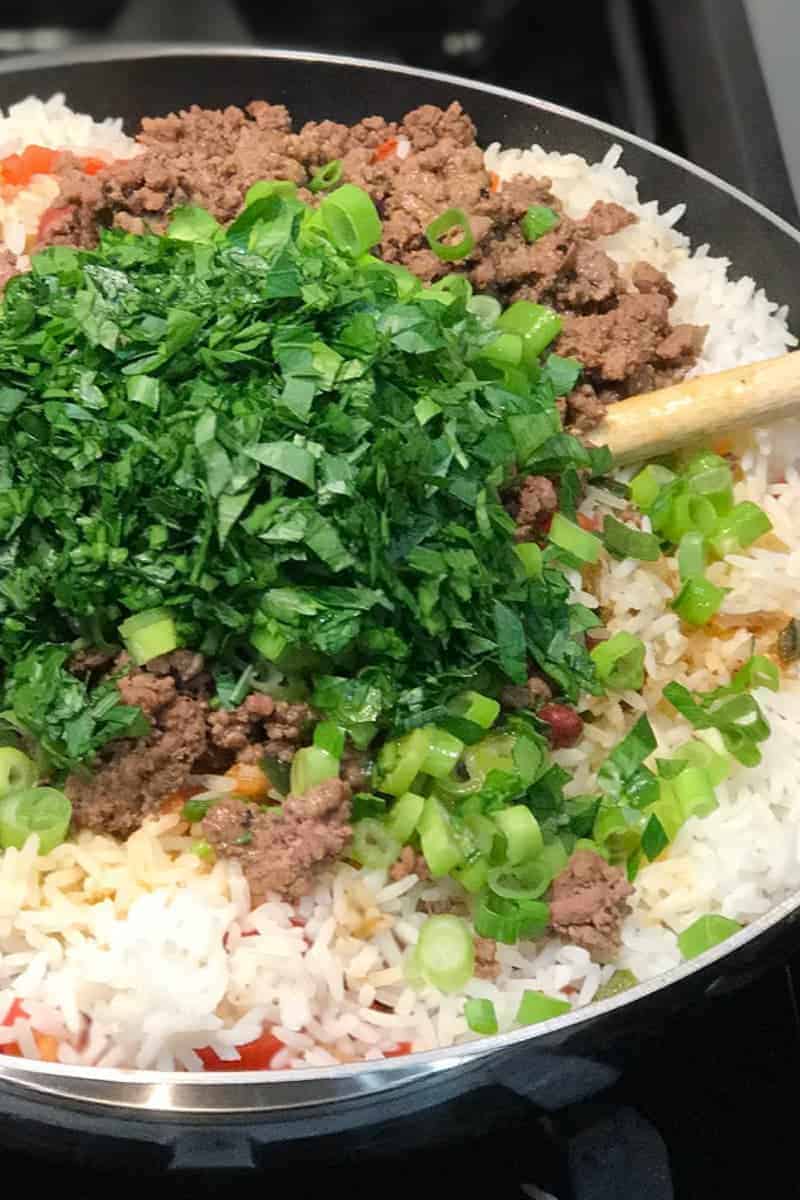 Leftover ground beef and aromatics make this Puerto Rican Dirty Rice so flavorful, and you can make it in one pan.
Step by Step Instructions
Because this is a one-skillet recipe, you have a lot less clean up. Everybody likes that.
Start by heating a large skillet to medium-high heat.
Add the oil and let it get warm.
Add in sofrito ingredients and sauté for about five minutes.
Add in the cooked rice and ground beef. Use a spatula or wooden spoon to mix together the rice, ground beef, and sofrito.
When everything is combined and warmed through, remove the dirty rice from the heat and add in the fresh tomatoes, green onions, and parsley.
Talk about a super easy dinner. I like to serve this dinner with a big fresh green salad and my Champagne Vinaigrette Dressing.
Even More Rice Recipes?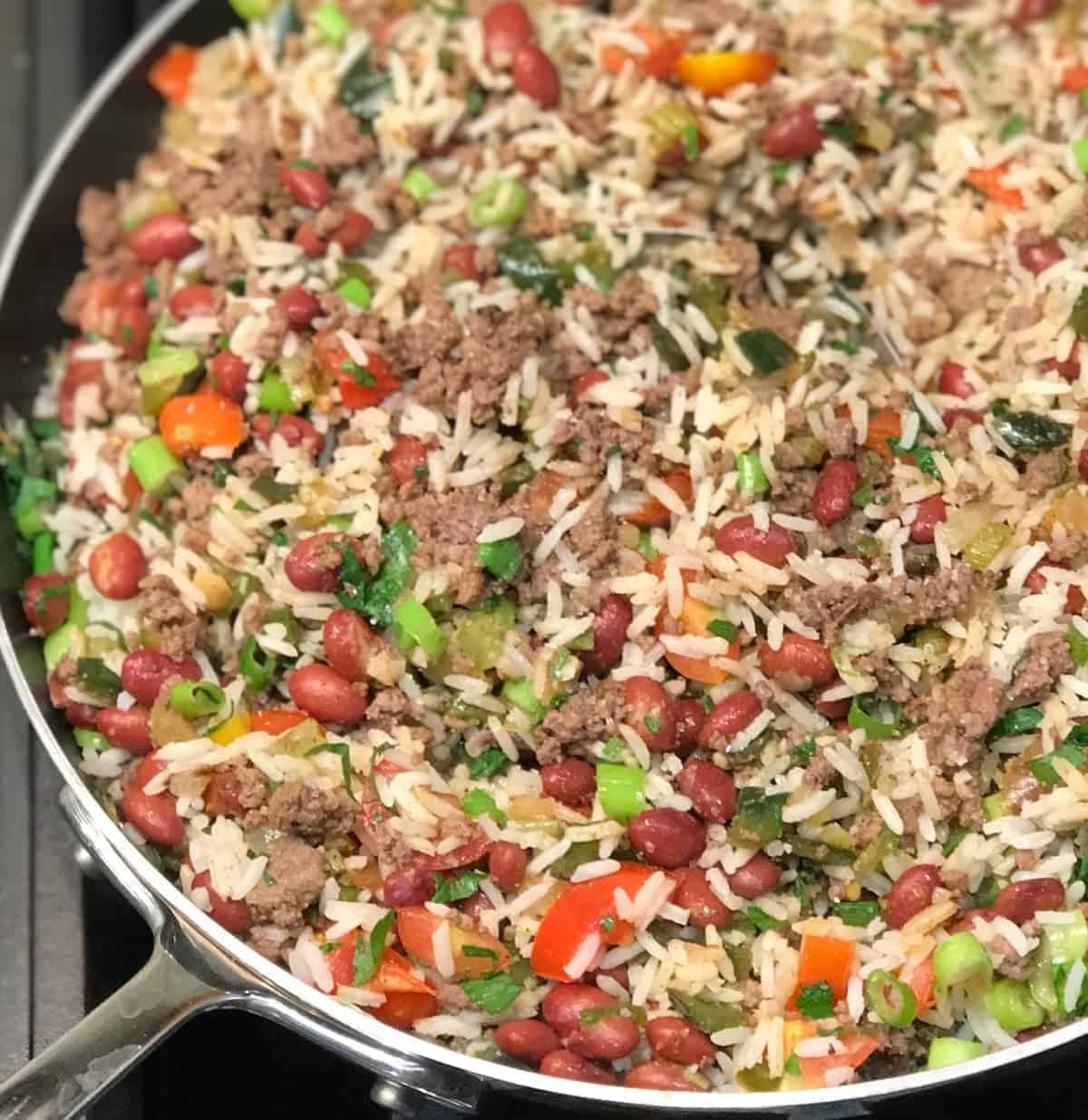 Spicy Dirty Rice
Dirty rice is an inexpensive and filling meal that you can get on the table in under 20 minutes. Made with leftover ground beef and rice. This mashup dirty rice recipe is meaty, spicy, and real comfort food.
Ingredients
Mirepoix (flavor bomb)
2

tsp

Oil

,

I prefer coconut oil

½

Sweet onion

,

diced

2

stalks

Celery

,

diced

2

Pasilla peppers

,

diced

2

jalapeño or serrano peppers

,

diced

3

cloves

Garlic

,

finely minced
The Basics
3

cups

Cooked long grain rice

,

from leftovers

2

cups

Browned ground beef

,

from leftovers

1

can

Small red beans

,

drained

½

cup

Stock

,

chicken stock or vegetable stock

2

tsp

Dried oregano

1 ½

tsp

Chili powder

(affiliate link)

1

tsp

Kosher salt

(affiliate link)

,

adjust to taste

¼

tsp

black pepper,

adjust to taste
Remove From Heat and Add In
1

cup

Fresh tomatoes

,

diced

¼

cup

Green onions

¼

cup

Fresh parsley
Instructions
Start with cooked rice and browned ground beef. If you don't have these in the fridge already, make these first.

Add the oil, celery, peppers, and garlic to a large pan. Cook over medium-high heat until vegetables are fragrant. Approximately 5 minutes.

Add the rice, ground beef, beans, onions, oregano, chili powder, and salt and pepper. Mix until well incorporated.

Add the chicken broth. This helps to degalze the pan and get all of the flavor into the rice.

Remove from heat and add tomatoes, green onions and parsley.

Have your self a big bowl of yum!
Laura's Tips + Notes
Keto/Paleo Adapt It: Use grated cauliflower instead of rice.
Vegan Adapt It: Leave out the ground beef or use ground meat substitute instead.
YOUR OWN NOTES
Sign In to add your own private notes
Nutrition
Calories:
274
kcal
Carbohydrates:
29
g
Protein:
16
g
Fat:
10
g
Saturated Fat:
3
g
Cholesterol:
38
mg
Sodium:
256
mg
Fiber:
4
g
Sugar:
3
g
Calcium:
49
mg
Iron:
2.6
mg