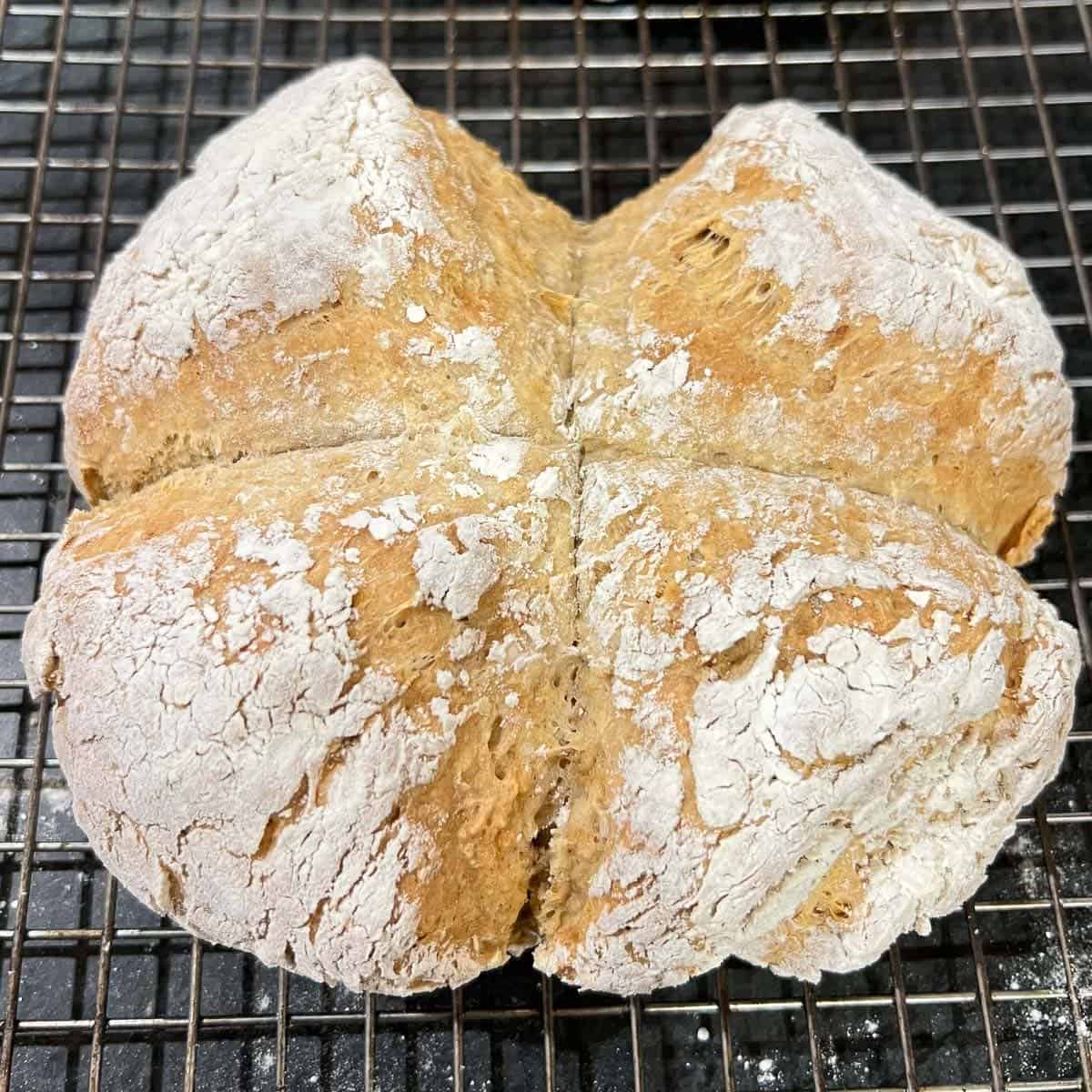 Recipe
Comments
Save
Go to Collections
This post may contain affiliate links. Please read my
disclosure policy.
Are you looking for an easy and delicious homemade bread recipe? Look no further than this traditional Irish soda bread recipe! It's not only for St.Patrick's Day. It's so easy to make that even novice cooks can create a masterpiece.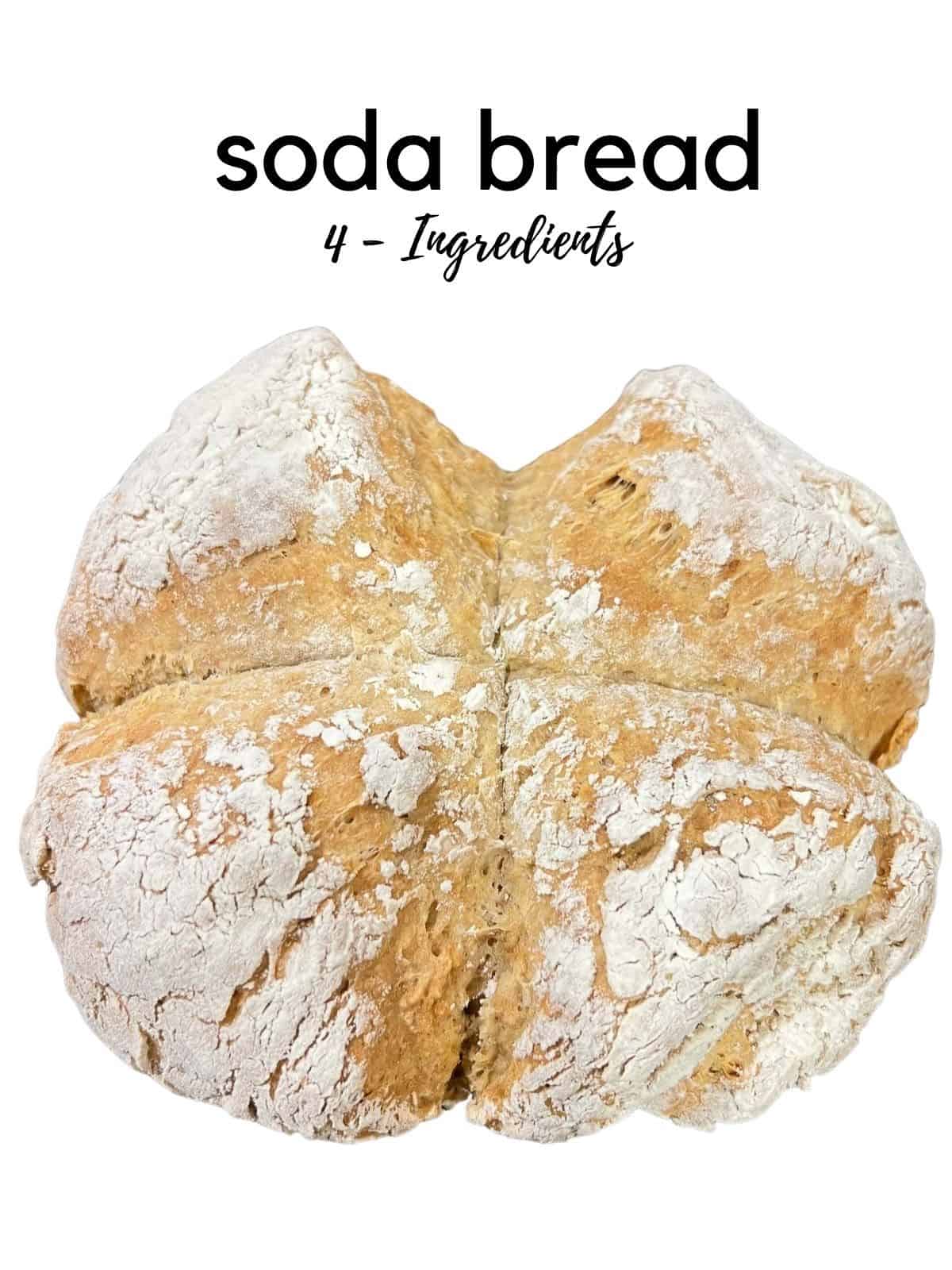 This bread is perfect for dunking into your favorite soup or stew recipe or for a quick breakfast or snack. So what are you waiting for? Give this 5-minute bread recipe a try today!
Irish soda bread is a type of quick bread that is made without yeast. It's super easy to make and has a tender crumb that is perfect for serving with your favorite hearty stew and soups.
This easy bread recipe has only 4 ingredients, comes together in less than 5 minutes, and bakes in under an hour. There's no proofing involved so this bread can easily be baked for and weeknight dinner.
The Easiest No Yeast Bread Recipe
This recipe makes one large loaf or two small loaves. I almost always make 2 loaves. When the loaves are cut into 4 you end up with nice furls that pull apart into perfectly sized handfuls of rustic bread.
What You'll Need
Only 4 simple ingredients.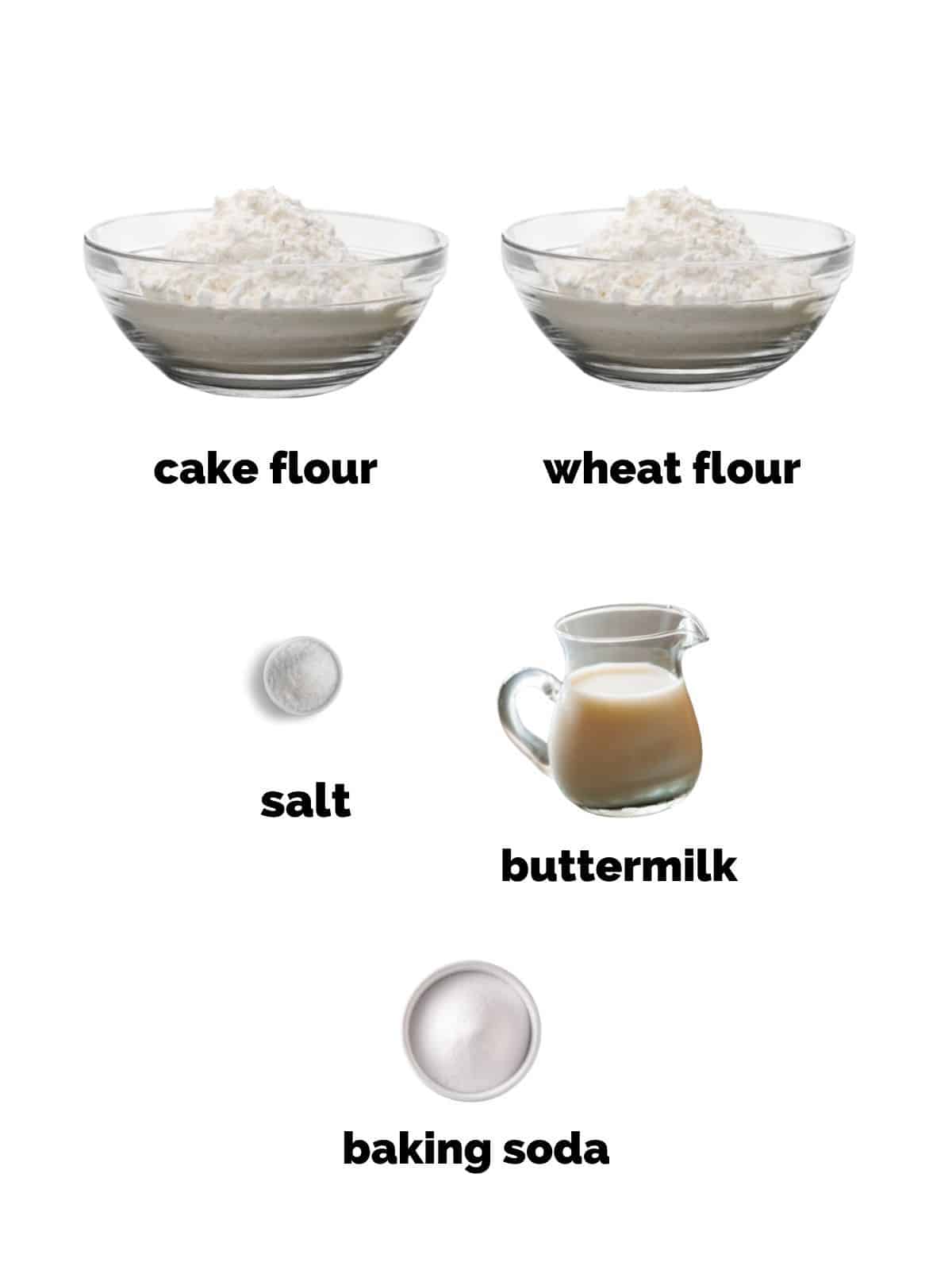 Flour. I use a mixture of white and whole-wheat pastry flour. 3 ¾ cups in total with whatever ratio of flour you prefer. Soda bread uses soft wheat flour, like pastry or cake flour. You can use all-purpose flour as well.
Baking soda. The only leavening agent in this no yeast bread.
Salt. Use kosher or fine sea salt. I never use iodized salt.
Buttermilk. Opt for the full-fat variety.
How To Make Classic Irish Soda Bread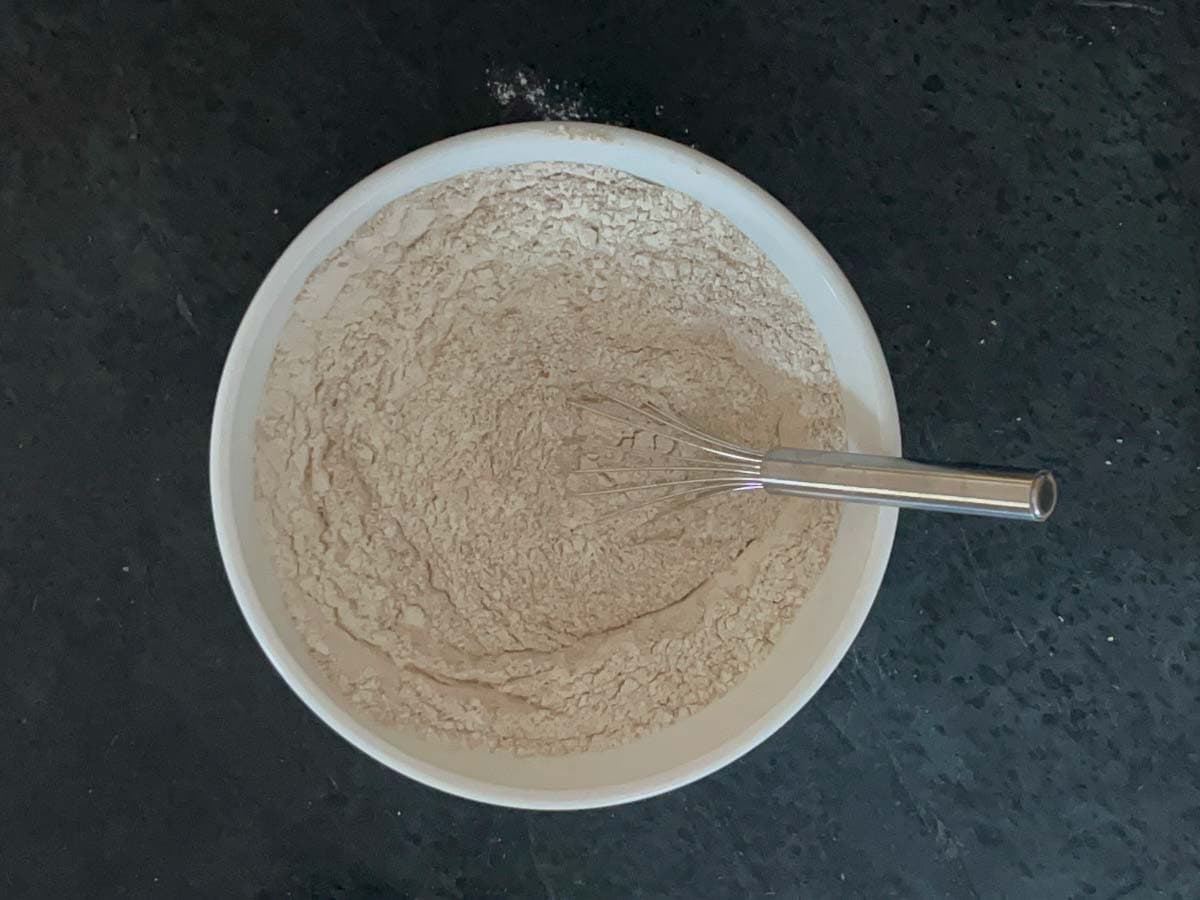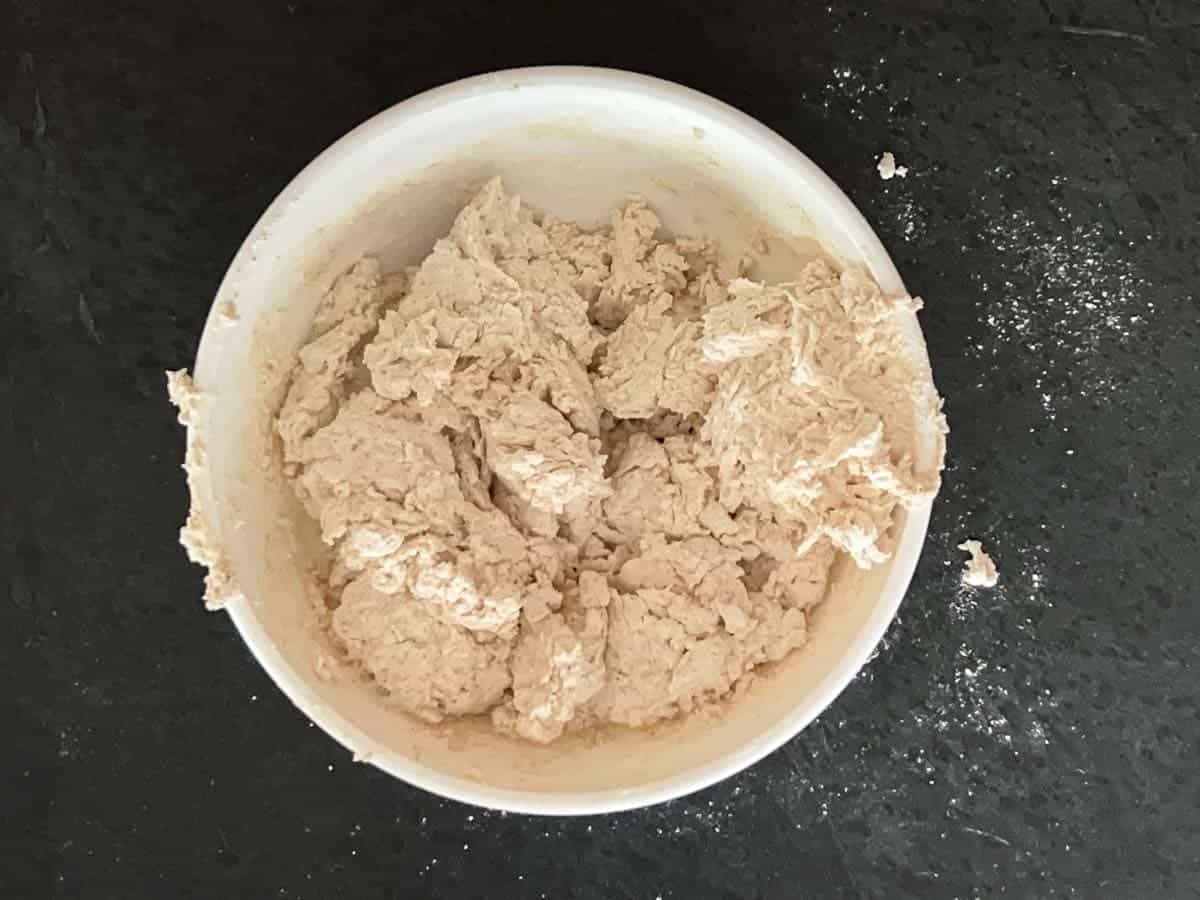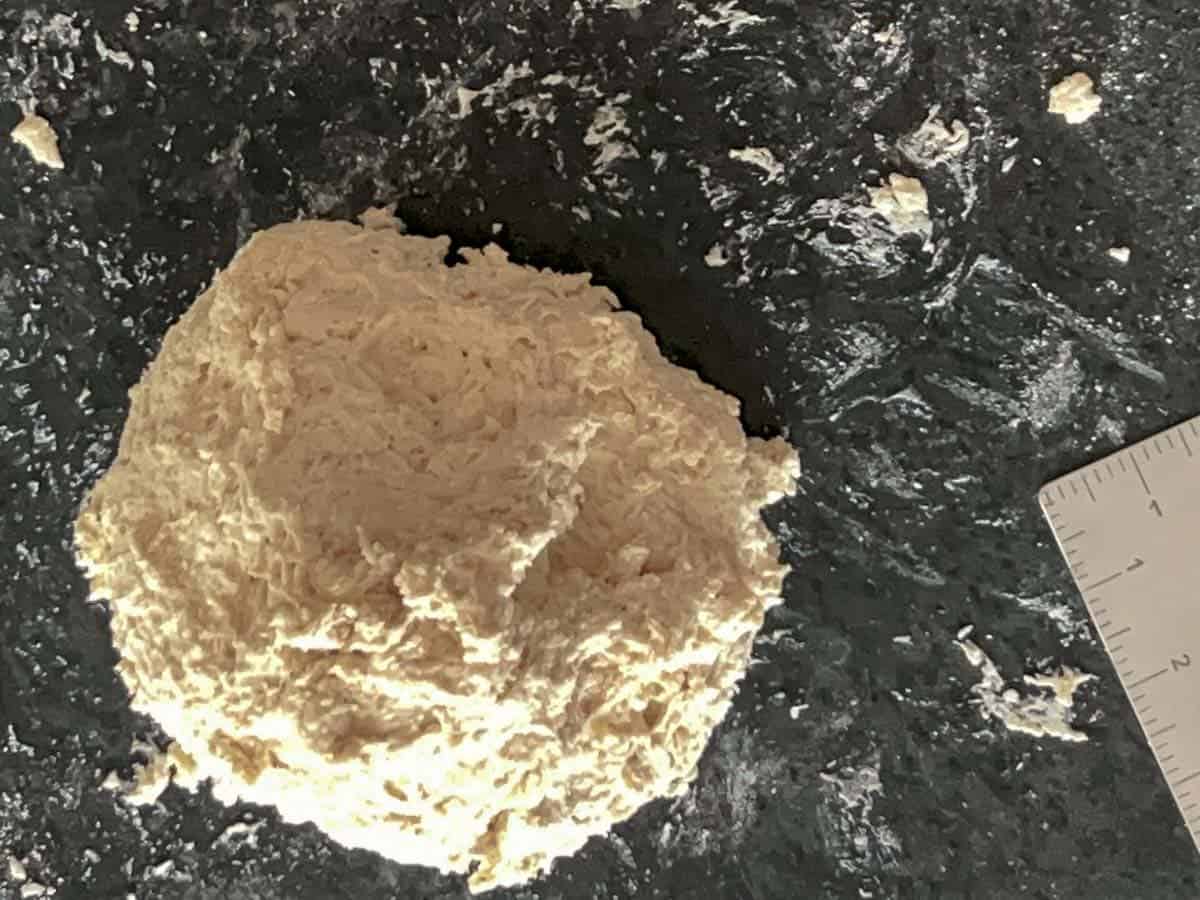 Preheat the oven to 425℉ (220℃)
Mix the dry ingredients. Add the flour, baking soda, and salt to a large bowl and whisk the flour mixture to combine the dry ingredients.
Add the wet ingredients. Add the buttermilk and mix the flour and the buttermilk together using a wooden spoon or a stiff spatula until you have a rough shaggy dough.
Turn the dough out onto a lightly floured surface and knead about 10 times. Don't overwork the dough.
Shape the dough into either 1 large round or 2 smaller round loaves.
Get ready to bake. Place the loaves onto a parchment-lined baking sheet. [note 1]
Cut a deep cross. Using a sharp knife or a pastry knife cut a deep cross across the center of the loaf. You are going to cut the dough through to the bottom without separating the halves. Then turn the knife ninety degrees and repeat in the opposite direction. You'll end up with a cross cut into the dough. Everything will bake together as the dough rises in the oven but then it can be easily pulled apart once the loaves are one.
Bake the bread for 20 minutes and then reduce the temperature to 350℉ (180℉) and continue to bake for another 10 to 20 minutes. If you're baking small loaves you may not need the extra time.
Test the bread for doneness. When the bread is done the loaves will have a hollow sound when you tap on them. Bread is done when the internal temperature is 210℉ (99℃).
How To Make Soda Bread Without Buttermilk
The chemical reaction of the lactic acid in real buttermilk and sodium bicarbonate from baking soda is what makes soda bread soda bread.
The acid and the bicarbonate react to release the gas carbon dioxide which causes the bread to rise during the baking process. The reaction is essential to get the proper texture of traditional soda bread.
If you don't have buttermilk or if you want to make vegan soda bread you can add 2 tablespoons of lemon juice or apple cider vinegar to regular milk or even non-dairy milk.
What Type of Flour Do You Use to Make Soda Bread?
Soda bread is traditionally made with soft wheat flour. Soft wheat flour has a lower content of gluten protein.
Pastry flour or cake flour is what I usually use to make soda bread. All-purpose flour is also a fine choice If you don't have any cake flour on hand.
I like to use a mixture of white flour and whole wheat flour.
The whole wheat flour adds the flavor of the soda bread. You'll use 3 3/4 cups of flour in total and you can use any ratio of white flour to wheat flour to suit your taste.
Different Ways To Bake Soda Bread
In the 1800s soda bread was baked in a cast iron dutch oven in a fire. The dutch oven that was used is similar to a Lodge cast iron camp stove. The lid allows you to put hot coals on top of the lid.
Today, it's probably much easier to bake your bread in your home oven. I usually opt for baking sheets lined with parchment paper.
On Baking Sheets
Line a baking sheet with parchment paper. Place the loaf of the loaves of soda bread onto the prepared baking sheet.
Use a large knife or a pastry cutter to cut a large X into each loaf. Cut the dough all the way through to the bottom of the loaf.
Place the loaves into the preheated oven.
In A Skillet
A cast-iron skillet works beautifully for baking soda bread.
Place the loaf into the skillet. Use a large knife or pastry cutter to cut a large X into the loaves, through to the bottom.
In a dutch oven
A cast iron dutch oven is also great for baking soda bread.
You can use parchment paper or not when using this method of baking.
You'll bake this bread in the oven for the first 20 minutes covered and then uncovered for the last 10 to 20 minutes.
What can I add to soda bread?
Classic soda bread is a simple recipe made with four ingredients. But over the years people have added many ingredients to the original recipe with great success.
Some modifications are simply to add a little bit of butter to the dough. Others include a wide variety of mix-ins. The cheese and carmelized onion soda bread was inspired by Paul Hollywood's Soda Bread Recipe.
You can also try the even heartier and mildly sweet Irish Brown Bread.
Cheese and caramelized onion: 100g parm 1/2 caramelized onion 150g cheddar
Currants
Caraway seeds
Oats
Rosemary and parmesan
What Is The Best Way To Eat Irish Soda Bread?
Irish soda bread is delicious served with hearty stews like Beef Stew, Split Pea Soup, or Creamy Potato Soup.
Or as a breakfast bread slathered with butter and jam. Of course, you should opt for Irish butter in this situation!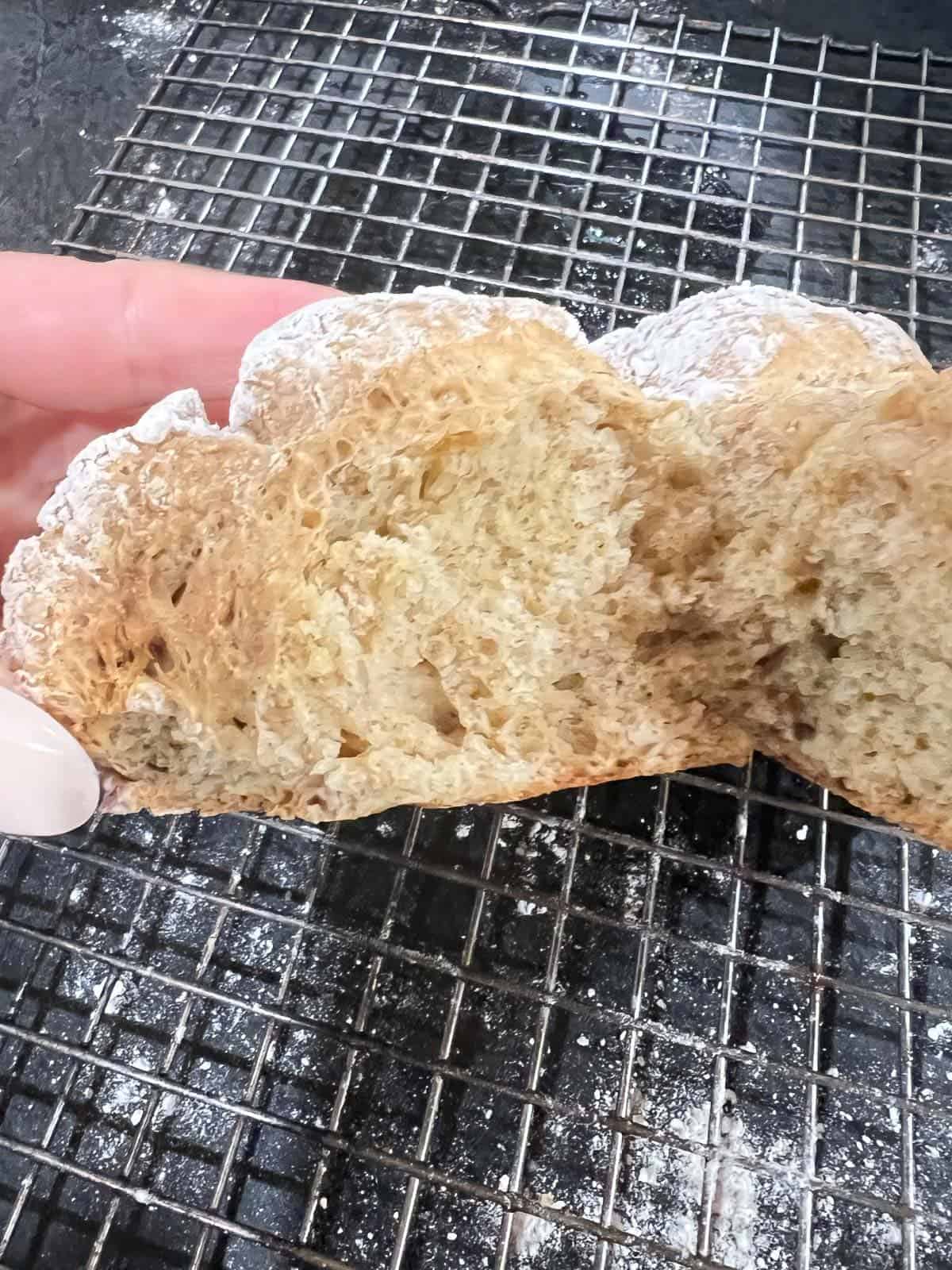 What does Irish soda bread taste like?
Soda bread has a texture that is somewhere between a yeast bread and a scone. It's light and soft but not quite as crumbly as a scone would be.
The flavor is mildly wheaty. This bread is a comforting addition to any meal.
The History Of Soda Bread
Is Irish soda bread really Irish?
The first record of soda bread is actually traced to the late 1700 in America. The chemical reaction that occurs in soda bread was used by the Native American Indians to leaven bread with potash.
Why Did the Irish Make Soda Bread?
Sodium bicarbonate (baking soda) became available in Ireland in the early 1800s.
Due to the potato famine, soda bread became a staple at the Irish dinner table.
What makes Irish soda bread different?
You may see different recipes on the internet that are called soda bread.
However, Traditional Irish soda bread contains only four ingredients; flour, baking soda, salt, and buttermilk. Some even argue that the original bread contained no salt. However, salt adds flavor so we are going to use ia little.
Adding butter, currants, eggs, or anything else that enriches the dough turns this recipe into a tea cake.
How Do You Keep Soda Bread Fresh?
Soda bread is definitely best eaten the same day that it's baked. If you do happen to have leftovers you can store them for 2 to 3 days in an airtight container.
Can You Freeze Soda Bread?
Yes, I often freeze soda bread. Simply wrap it tightly with plastic wrap and then place it into a zip-top freezer bag. Freeze for several months.
When you're ready to eat it, thaw it in the fridge for several hours. You can rewarm it in an oven heated to 250℉ (120℃).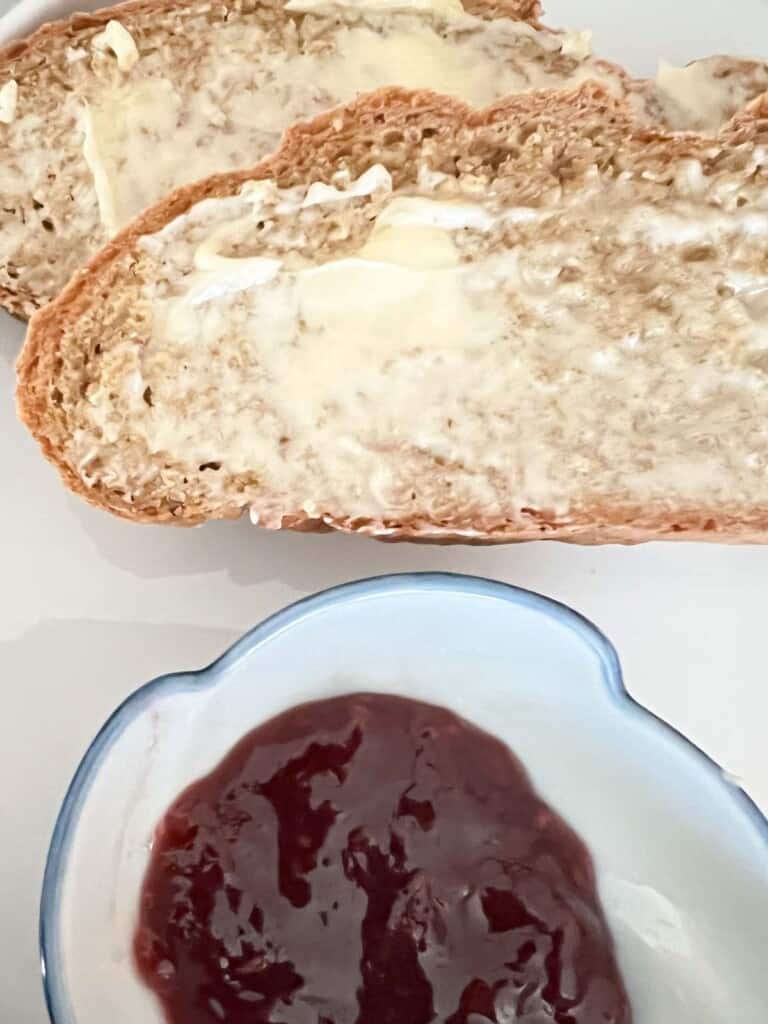 What To Eat With Soda Bread
Of course, soda bread is the perfect partner for all of your favorite comfort food recipes.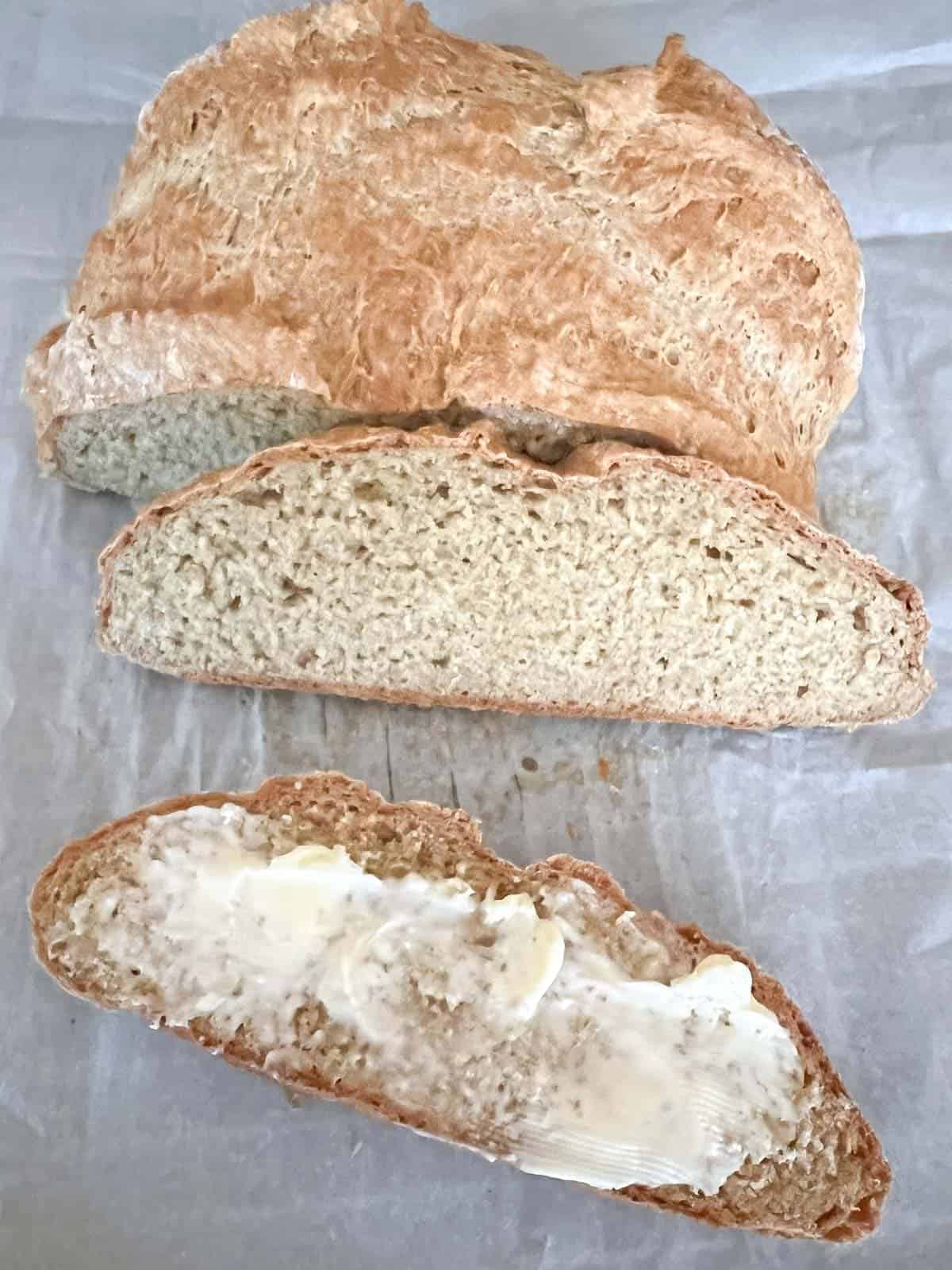 Leave A Review
Did you make this recipe? Leave a comment and a 5 ★ review. Your feedback helps other readers and helps me continue to offer recipes at no cost. Happy Cooking!!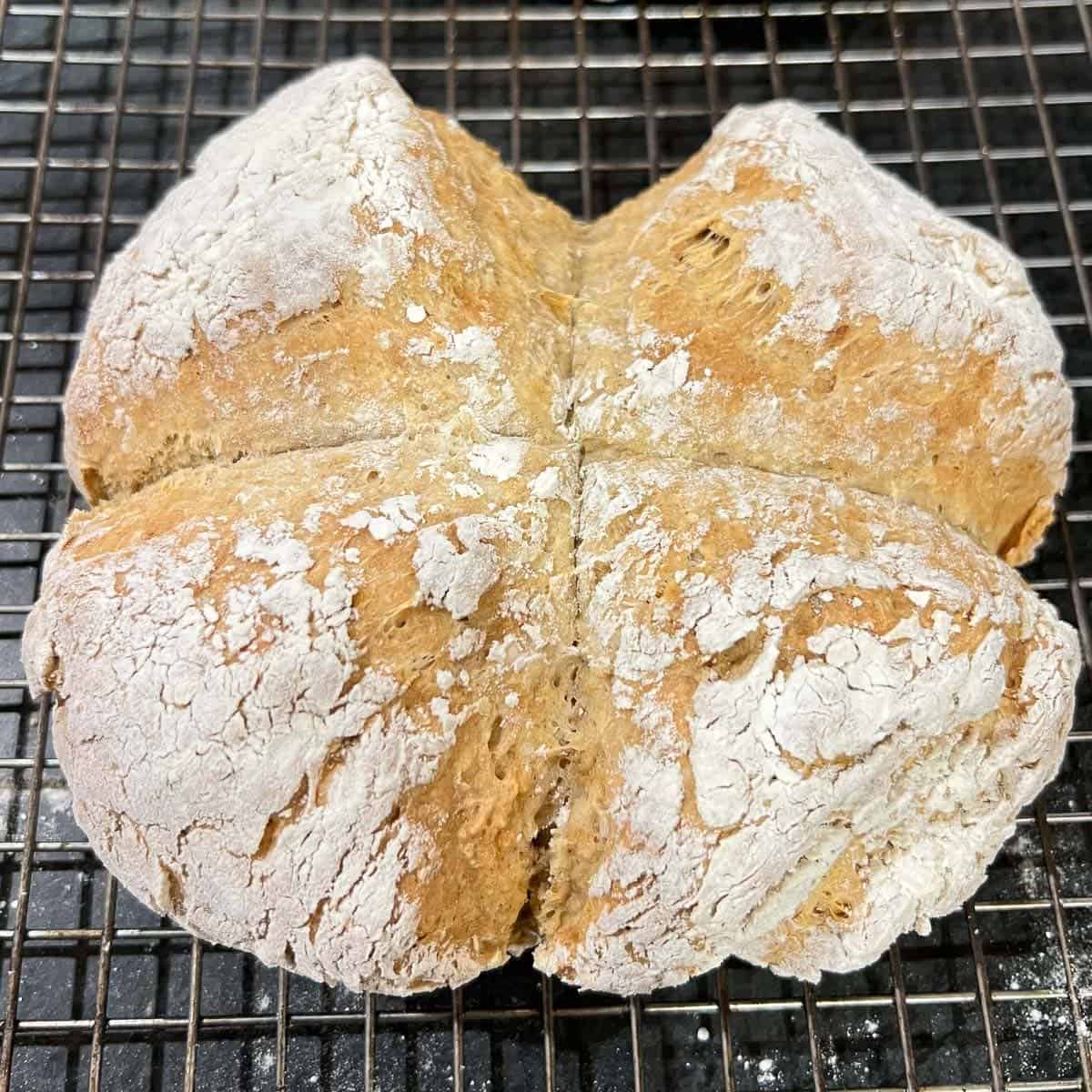 Irish Soda Bread Recipe
Are you looking for an easy and delicious bread recipe? Look no further than this soda bread recipe! This bread is perfect for a quick breakfast or snack. Plus, it's so easy to make that even novice cooks can create a masterpiece. So what are you waiting for? Give this recipe a try today!
Instructions
Preheat the oven to 425°F (220°C)

Prepare a baking sheet by lining it with parchment paper or a silpat baking mat.

Add the flours, the baking soda and the salt to a large bowl and whisk to combine.

Add the buttermilk and mix using a large wooden spoon or spatula.

Add a few tablespoons of flour to your work surface and turn out the bread dough.

Knead the dough about 8 times. It will be slightly sticky.

Shape it into a round and place it onto your prepared baking sheet.

Cut a large deep cross over the top of the bread. Cut all the way through the through the dough. This step allows steam to escape dutring the cooking process.

Bake the loaf for 20 minutes at 425°F (220°C).

Reduce the temperature to 350°F (180°C). Bake for an additional 20 minutes.

Check for doneness: The internal temperature of the bread should be about 200°F (93°C).

Remove the soda bread from the oven and let it cool completely (about 30 minutes) before serving.
Laura's Tips + Notes
Flour selection. Soda bread is traditionally made with soft wheat flour. Soft wheat flour is low in gluten protein and produces a very tender crumb. I chose to use cake flour and pastry flour in this recipe. All-purpose flour is also fine to use in the recipe. Wholemeal flour adds flavor and texture to this hearty bread. You can adjust the amount to your taste. Just make sure to keep the total amount of flour equal to 2 ¾ cups.
YOUR OWN NOTES
Sign In to add your own private notes
Nutrition
Calories:
151
kcal
Carbohydrates:
27
g
Protein:
6
g
Fat:
2
g
Saturated Fat:
1
g
Cholesterol:
5
mg
Sodium:
150
mg
Fiber:
2
g
Sugar:
2
g
Calcium:
62
mg
Iron:
1
mg