Chile Verde is a classic dutch oven
stew, chock full of succulent slow-cooked pork shoulder in a rich, spicy sauce made with tomatillos and peppers. You can also make this flavorful dish with chicken.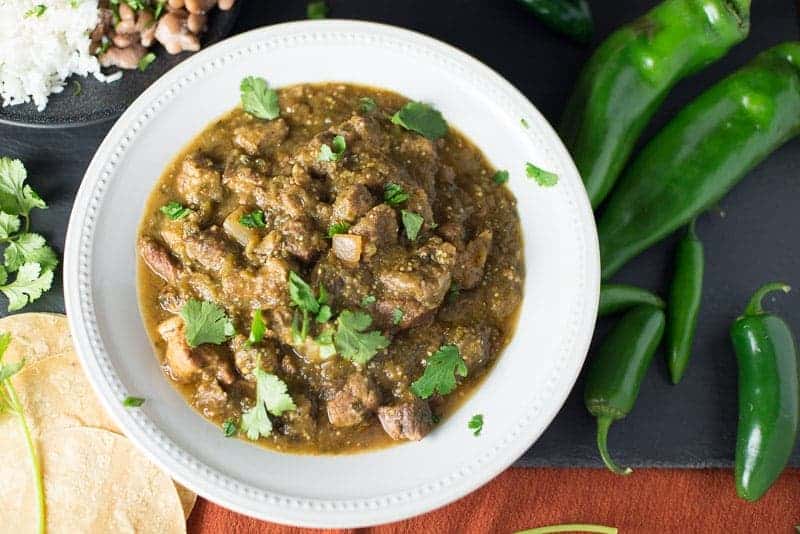 Chile Verde is most famously known in New Mexico, where it is practically the official state dish.
You can see this meatless green chile sauce on almost every menu in the state. It is like a flavor-punch gravy that goes with so many things.
This simple, rustic full-of-flavor dish is the kind of cooking I love.
This is food that is a lot like me: it fits in perfectly fine at a gourmet dinner party and is just as at home around the campfire after a long day of hiking.
I am a big fan of a rich stew of any kind, but Chile Verde might be my favorite.
Typically I will serve this with corn tortillas, rice and beans, and cabbage slaw. We have previously discussed my obsession with tacos, so it should be no surprise that I am going to make this into a chile Verde taco situation.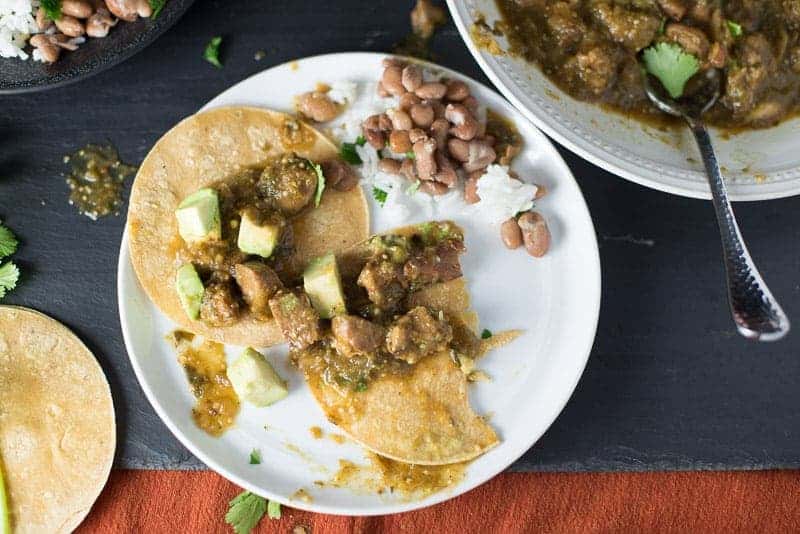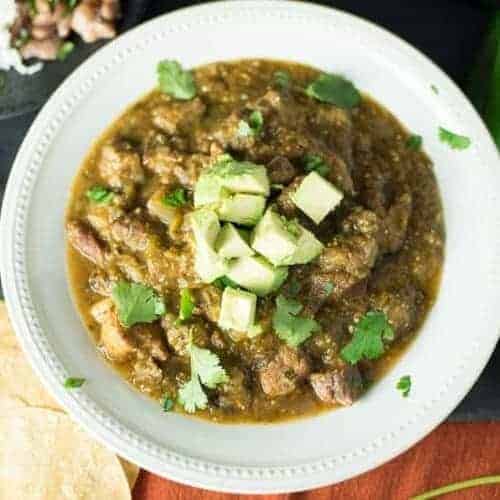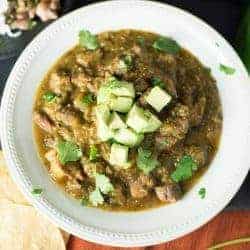 Chile Verde
Chile Verde is a classic dutch oven stew, chock full of succulent slow-cooked pork shoulder in a rich, spicy sauce made with tomatillos and peppers. You can also make this flavorful dish with chicken.
Ingredients
2 - 4

lbs

Pork Shoulder

Trimmed and cut into knuckle size pieces

10 -12

medium sized tomatillos

scored

10-12

anaheim chile peppers

2

poblano chile peppers

1-3

jalepeno peppers

I usually use 3

1-3

serrano peppers

I usually use 2

1

large

yellow onion

diced

1

bunch

fresh cilantro

5

cloves

garlic

4-6

limes

juiced (add to taste)

1

tsp

cumin powder

1

tsp

oregano

1-2

bay leaves

1

tsp

salt and pepper

to taste

32

oz

chicken stock
Instructions
Place the peppers and scored tomatillos on a sheet pan and roast at 500℉. Blacken skin and turn so that all sides are blackened. (Be sure to reserve the juices from the tomatillos)

Place foil over the baking sheet and let the peppers and tomatillos sweat until cool.

While peppers are cooling brown the pork shoulder. (See below)

While browning the pork shoulder work on removing the skin and seeds from the peppers and the core from the tomatillos. Make sure to reserve all the juices!
Pork Shoulder
Trim and dice pork shoulder into knuckle sized pieces.

Use the trimmed pork fat for browning the meat. Do this by placing the trimmed fat into your dutch oven and cooking it over medium heat until some of the fat has rendered out. Remove the fat pieces and add in the pork shoulder.


Salt and pepper pork, and then brown pork on all sides on medium high heat.

Remove pork from dutch oven. Set aside.

Drain off the majority of the pork fat from the pan. Reserve a little for carmelizing the onion.

Reduce to medium heat. Add diced onion and a little salt. Caramelize onion. All the crunchy brown bits from the pan should incorporate nicely as the liquid from the onion acts as a deglazing agent. (Flavor Wow!)
The Magic
Add peppers, tomatillos and reserved juice to the caramelized onions.

I use a stick blender here to puree everything. If you don't have a stick blender make sure to rough chop all the peppers before you add them back to the pot and squish the tomatillos well with your hands as you add them.

Add the chicken stock. I add enough to cover the meat.

Give everything a big stir.

Add bay leave, garlic, cumin, and oregano.

Bring to a boil. Cover and reduce to simmer for about 2 hours.

You will want to cook this until the pork is tender. If you need to reduce the sauce, raise the heat and cook with the lid off until you reach the desired consistency.
Notes
Chile Verde can be made with no meat at all, as a sauce that's a great addition to almost anything – my favorite is eggs.
This can be eaten in bowl like chili with sour cream on top. But my favorite is serving it with rice and beans and tortillas.
Nutrition
Calories:
511
kcal
Carbohydrates:
34.6
g
Protein:
35.4
g
Fat:
14.1
g
Fiber:
3.8
g
(Visited 3,066 times, 1 visits today)