Bone Broth is a magic elixir! Not only is it good for you, but it's also delicious. Anytime I make a roast chicken I use the leftovers to make this nutritive broth recipe. Sip it alone or use it as a base for soup and stew. I always have a surplus of extra broth in the freezer.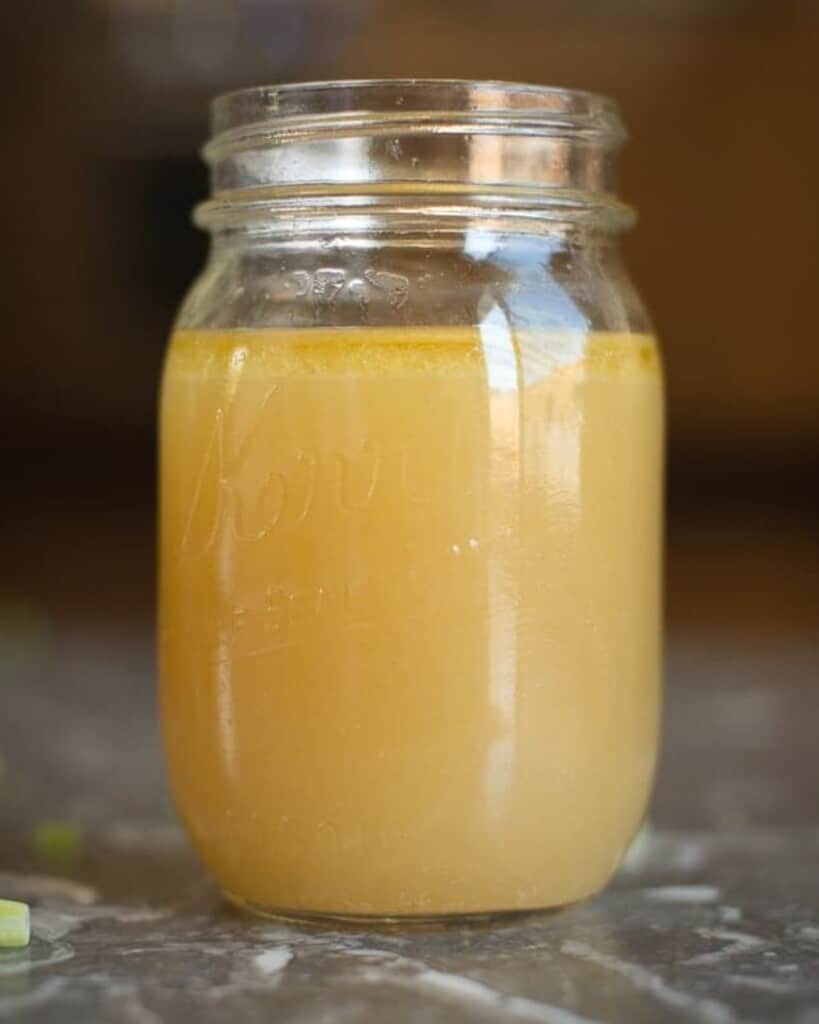 Bone broth is highly nutritive, and contains collagen proteins that help to heal your gut.
Collagen is also great for the health of your connective tissues - your joints, your skin, your nails, your hair.
Once you realize how easy this is to make (and how much more flavorful it is) you won't ever buy another can of broth again!
This bone broth recipe is what I typically use for poultry (either turkey or chicken).
When making chicken broth I usually take the entire chicken, meat and all, and put it in a large stock pot with the remaining ingredients.
Once the broth is done cooking you can pull the chicken meat from the bones and save it for soup or other recipes.
Recipes that use leftover shredded chicken
Lemongrass Chicken Lettuce Wraps, chicken enchiladas, curried chicken salad, chicken pot pie, chicken tortilla soup, and many more that we promise to share with you!
Easy Soup Recipes
In the meantime, use this broth to make my Aunt Jayne's dumpling noodles or easy turkey soup (which can also be made using chicken).
Alternatively, if I have made roasted chicken or turkey, after all of the meat is carved and only the left over bones remain, add the bones to a large stockpot with carrots, onions, and celery.
➽ Did you make this recipe? I love to see what's going in your kitchen. Show me what you're cooking. 🍳 Tag me @foodologygeek on your favorite social channel! Facebook, Instagram & Pinterest. If you loved ❤︎ this recipe, please leave a 5 ★ review and a comment!
Easy Chicken Bone Broth (Paleo)
Easy nutritive bone broth. This is a great staple to have in the freezer and can be used as a base for all the recipes that call for canned broth. Homemade broth is so much more flavorful and nutritious!
Ingredients
Whole

Chicken or Turkey

including the giblets and neck bones

2

tablespoon

apple cider vinegar

1

onion quartered

leave skin on

2

carrots

broken into large pieces

3

stalks

celery

torn into large pieces

1

bunch

parsley

torn

1

teaspoon

all spice berries

1

teaspoon

whole peppercorns

1

teaspoon

dried juniper berries

1

teaspoon

brown mustard seeds
Instructions
Add everything to a large stock pot, using the whole chicken or turkey, including the giblets and neck bones. (For turkey broth I use the leftovers from Thanksgiving dinner).

Cover with water, and bring to a boil. Boil for 5-10 minutes, but be careful not to let the pot boil over.

Reduce heat and simmer for 2 hours (add extra water if needed), then let the mixture cool.

Pour the liquid through a strainer, and save this bone broth in a large container for storage!

Once the meat is cool enough, pull from bones and save for other recipes. Discard the vegetables.
Laura's Tips + Notes
You can use a whole chicken or the leftover bones from a roasted chicken.
Alternatively, ask your butcher for bones. They are usually really inexpensive. Remember that the real nutrition here comes from the connective tissue so chicken feet, necks and backbones also work. They are rich in connective tissue that breaks down while cooking.
Nutrition
Calories:
15
kcal
Carbohydrates:
3
g
Sodium:
23
mg
Sugar:
1
g
Calcium:
18
mg
Iron:
0.2
mg