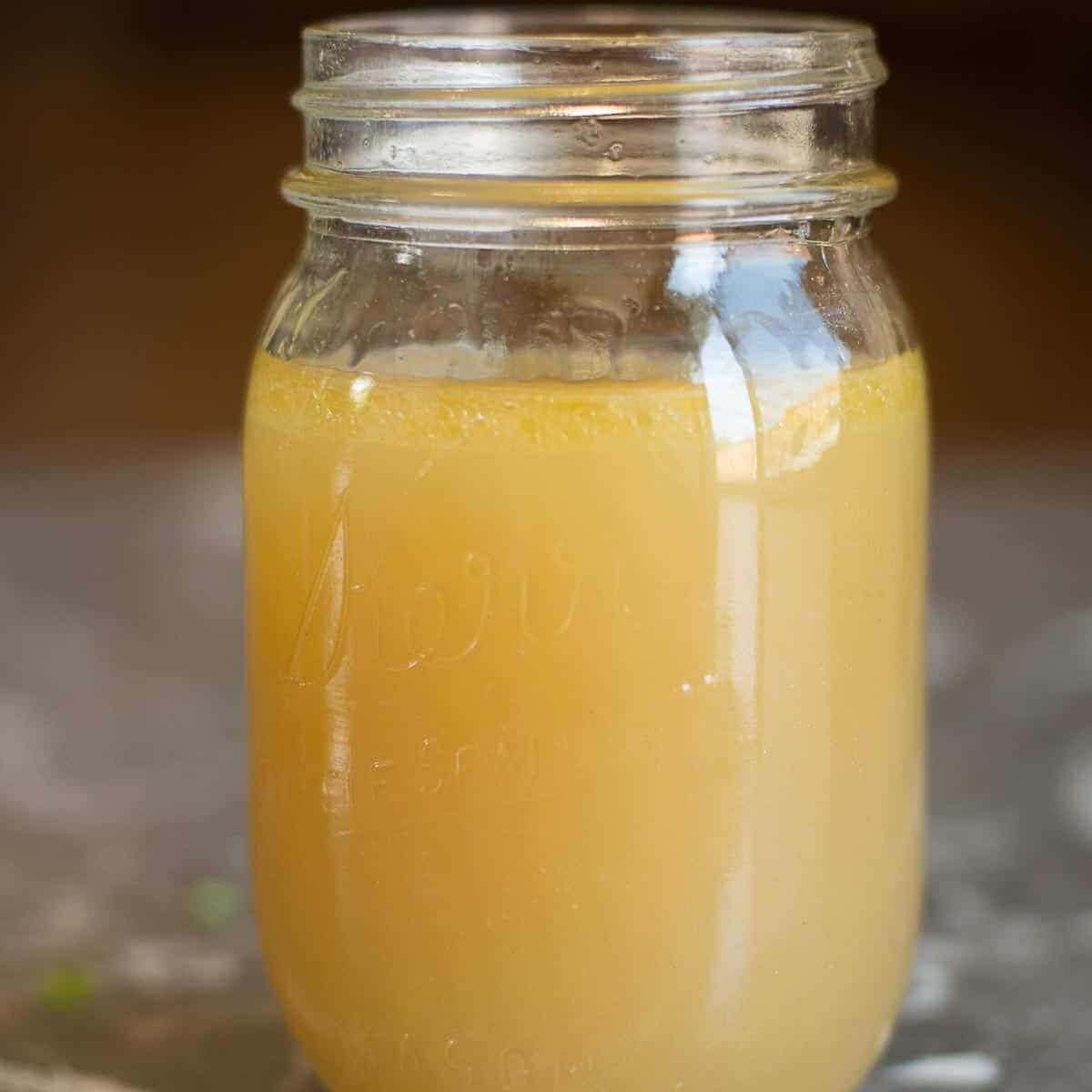 Recipe
Comments
Save
Go to Collections
This post may contain affiliate links. Please read my
disclosure policy.
Homemade Bone Broth is a magic elixir! Not only is it good for you, but it's also delicious. Anytime I make a roast chicken I use the leftovers to make this chicken bone broth recipe.
Sip it alone or use it as a base for soup and stew. I always have a surplus of extra chicken broth in the freezer.
Once you realize how easy this is to make (and how much more flavorful it is) you won't ever buy another can of broth again!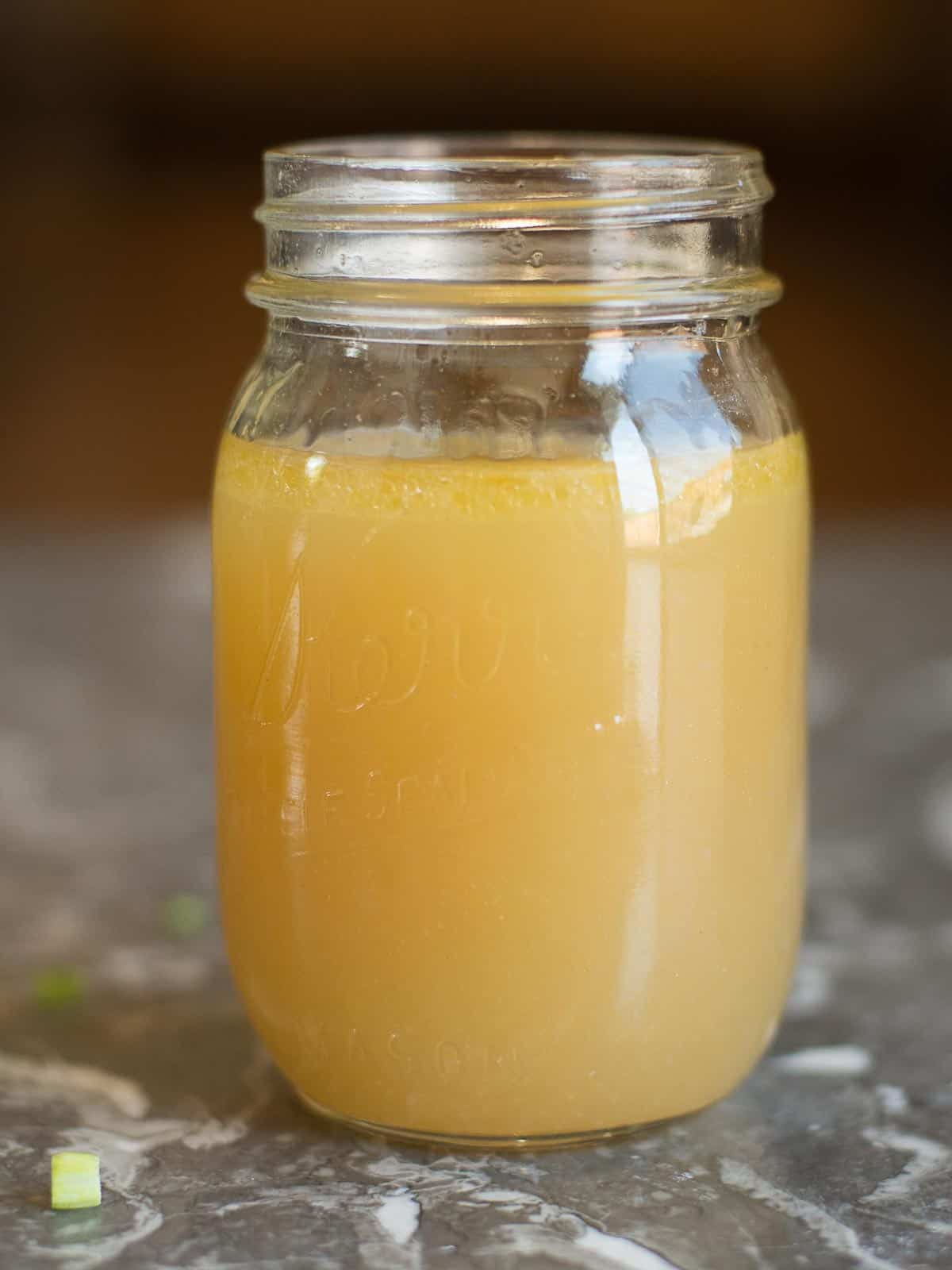 What are the benefits of bone broth?
Good for your gut. Bone broth is highly nutritive and contains collagen proteins, minerals, and Omega fatty acids that help to heal your gut.
Good for your joints. Collagen is also great for the health of your connective tissues – your joints.
This bone broth recipe is what I typically use for poultry (either turkey or chicken).
When making chicken broth I usually take the entire chicken, meat and all, and put it in a large stockpot with the remaining ingredients. I use the leftover chicken to make chicken salad, chicken enchiladas, or soup recipes.
You can also use leftover chicken bones. If you've made baked or roasted chicken and have leftover bones you can use these to make bone broth.
If you don't have leftover chicken bones you can buy chicken wings, drumettes, and feet to use in this recipe.
What You'll Need
Chicken. Bone broth is made with left over chicken bones. Alternatively, you can use chicken wings and drumettes which have a lot of bone and less meat. I've also used a whole chicken and then just pulled the meat to use for soup or chicken salad.
Onions. 1 white of yellow onion quartered. I leave the skin on.
Carrots. 2 to 3 carrots, washed and unpeeled. Break them in half.
Celery. 2 to 3 stalks of celery cut in small enough peices to fit into the stockpot.
Fresh Herbs. Add in thyme, parsley, rosemary, and sage. Use whatever you have around.
Spices. You can use some or all of these spices. Bay leaves, juniper, whole allspice, whole mustard, whole black peppercorns, whole pink peppercorns.
Apple Cider Vinegar. Apple cider vinegar extracts the collagen out of the connective tissue. You want this in your bone broth. It's highly nutritive.
FAQS and Expert Tips
Use vegetable scraps.
Save vegetable scraps and store them in the freezer. Cuttings from celery, onions, carrots, and fresh herbs can all be stocked away in a freezer bag and used to make broth and stock when you have extra bones.
Why use apple cider vinegar?
Apple cider vinegar is an essential ingredient in making bone broth. It helps to extract all the nutrients (minerals and proteins) out of the bones.
Bring the water to a boil. Then cook it low and slow for a long time.
It's necessary to bring the water to a boil. Getting things hot enough is essential for making bone broth. You need that heat in order to break the proteins down.
Instructions
Bone broth can be made on the stovetop or in your instant pot.
How To Make Bone Broth On The Stovetop
You'll need a large stockpot to make bone broth.
If using, place bones and chicken feet into a large stock pot.
Add onions, carrots, celery, garlic, bay leaf, and peppercorns.
Fill the pot with enough filtered water to cover the bones.
Add apple cider vinegar (this helps leach minerals and collagen from the bones as it cooks and is a crucial ingredient).
Bring a boil and skim the scum rising to the top with a large spoon.
Reduce heat to LOW and simmer, covered, for 24 hours adding additional boiling water, if needed, to keep the bones submerged.
After 24 hours, remove from heat and allow the broth to cool slightly before straining through a fine-mesh strainer.
Broth may be stored in Mason jars with lids in the fridge for up to 5 days (remove the layer of hardened fat before use).
How To Make Instant Pot Bone Broth
Add bones, veggies, herbs/seasonings, apple cider vinegar, and plenty of water to your Instant Pot. Your water level should be just below the "max fill" line.
Lock Instant Pot lid into place, flip vent valve to "Sealing"
Select "Manual" (if you have a newer Instant Pot and don't have a manual option, select "Soup/Broth" and make sure the setting is on "High Pressure") and adjust the time to 120 minutes.
When cooking time is done, allow pressure to naturally release (this should take 20-30 minutes).
Allow to cool, then strain into storage containers (I like to use mason jars) to store in the refrigerator or freezer.
Easy Soup Recipes
I always keep the extra bone broth in the freezer to have it on hand when making a bowl of soup.
Use this broth to make my Aunt Jayne's dumpling noodles or easy turkey soup (which can also be made using chicken).
On cold days there's nothing better than a hot bowl of soup. This collection of recipes features easy homemade soup recipes that can be served…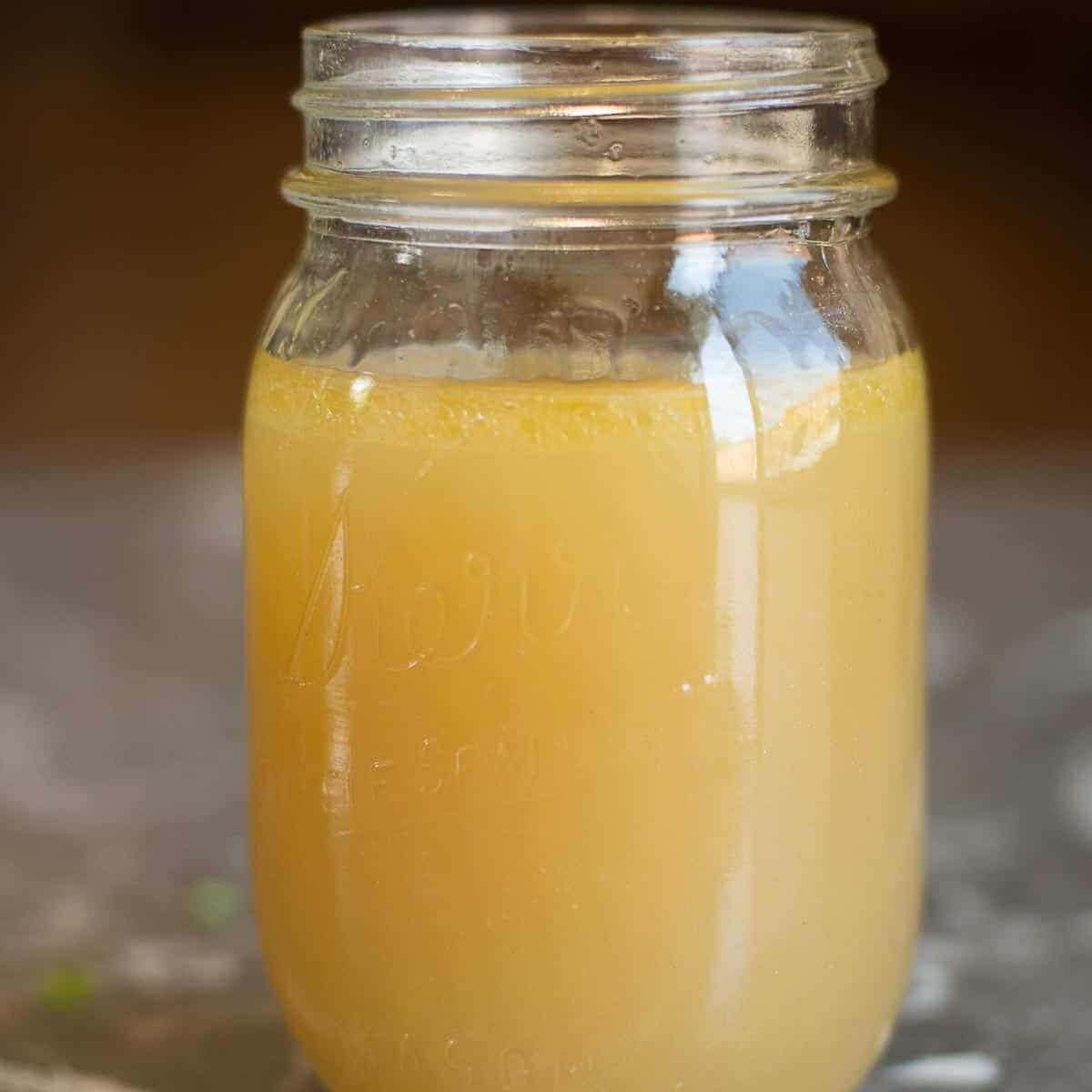 Chicken Bone Broth Recipe
Easy nutritive bone broth. This is a great staple to have in the freezer and can be used as a base for all the recipes that call for canned broth. Homemade broth is so much more flavorful and nutritious!
Ingredients
Whole

Chicken or Turkey

,

including the giblets and neck bones

2

tbsp

apple cider vinegar

1

onion quartered

,

leave skin on

2

carrots

,

broken into large pieces

3

stalks

celery

,

torn into large pieces

1

bunch

parsley

,

torn

1

tsp

all spice berries

1

tsp

whole peppercorns

1

tsp

dried juniper berries

1

tsp

brown mustard seeds
Instructions
Add everything to a large stock pot, using the whole chicken or turkey, including the giblets and neck bones. (For turkey broth I use the leftovers from Thanksgiving dinner).

Cover with water, and bring to a boil. Boil for 5-10 minutes, but be careful not to let the pot boil over.

Reduce heat and simmer for 2 hours (add extra water if needed), then let the mixture cool.

Pour the liquid through a strainer, and save this bone broth in a large container for storage!

Once the meat is cool enough, pull from bones and save for other recipes. Discard the vegetables.
Laura's Tips + Notes
You can use a whole chicken or the leftover bones from a roasted chicken.
Alternatively, ask your butcher for bones. They are usually really inexpensive. Remember that the real nutrition here comes from the connective tissue so chicken feet, necks and backbones also work. They are rich in connective tissue that breaks down while cooking.
YOUR OWN NOTES
Sign In to add your own private notes
Nutrition
Calories:
15
kcal
Carbohydrates:
3
g
Sodium:
23
mg
Sugar:
1
g
Calcium:
18
mg
Iron:
0.2
mg