Caesar Salad With Dressing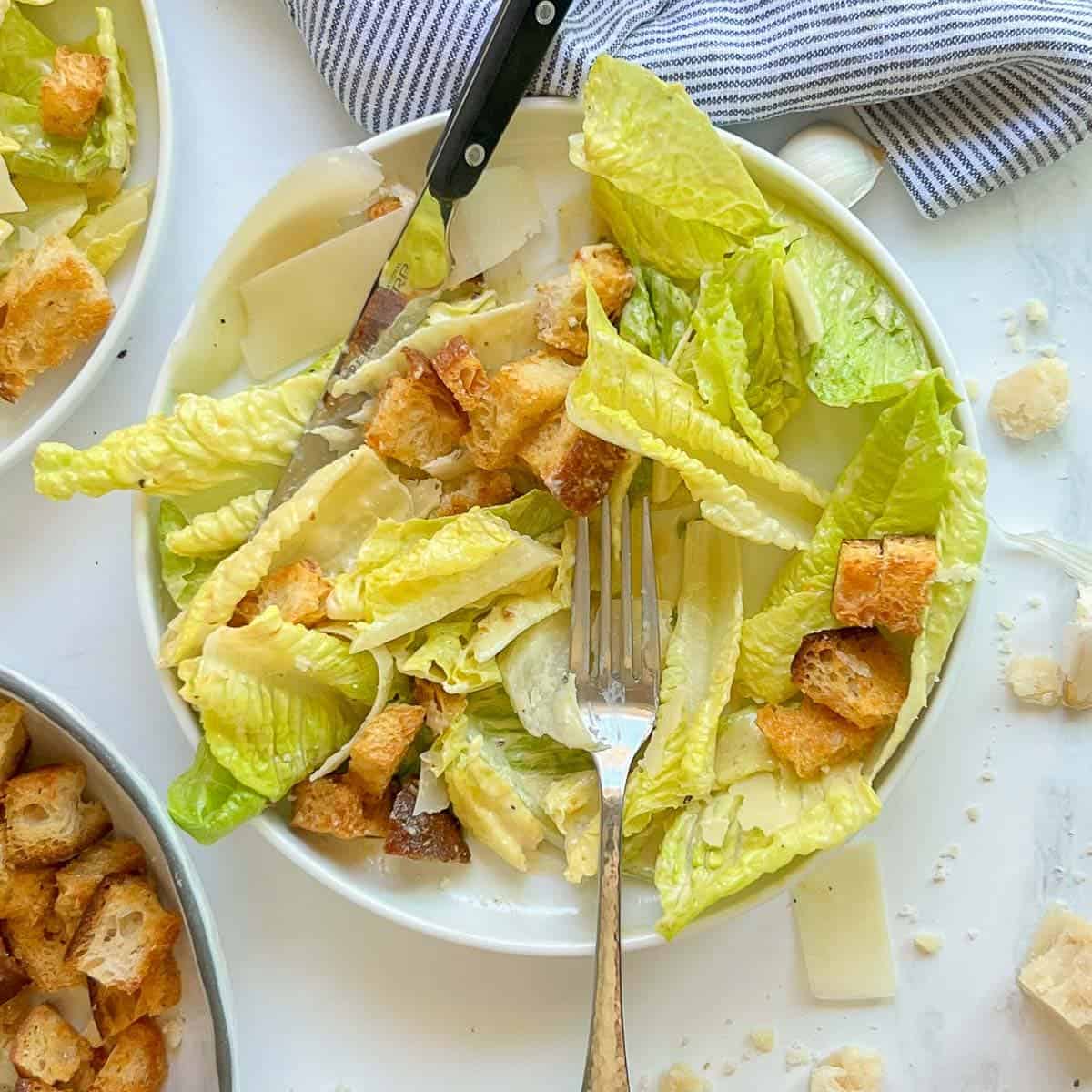 Recipe
Comments
Save
Go to Collections
This post may contain affiliate links. Please read my
disclosure policy.
This classic Caesar Salad Recipe has all the things that you love, crisp romaine lettuce, cheesy garlic croutons, and the best Caesar salad dressing.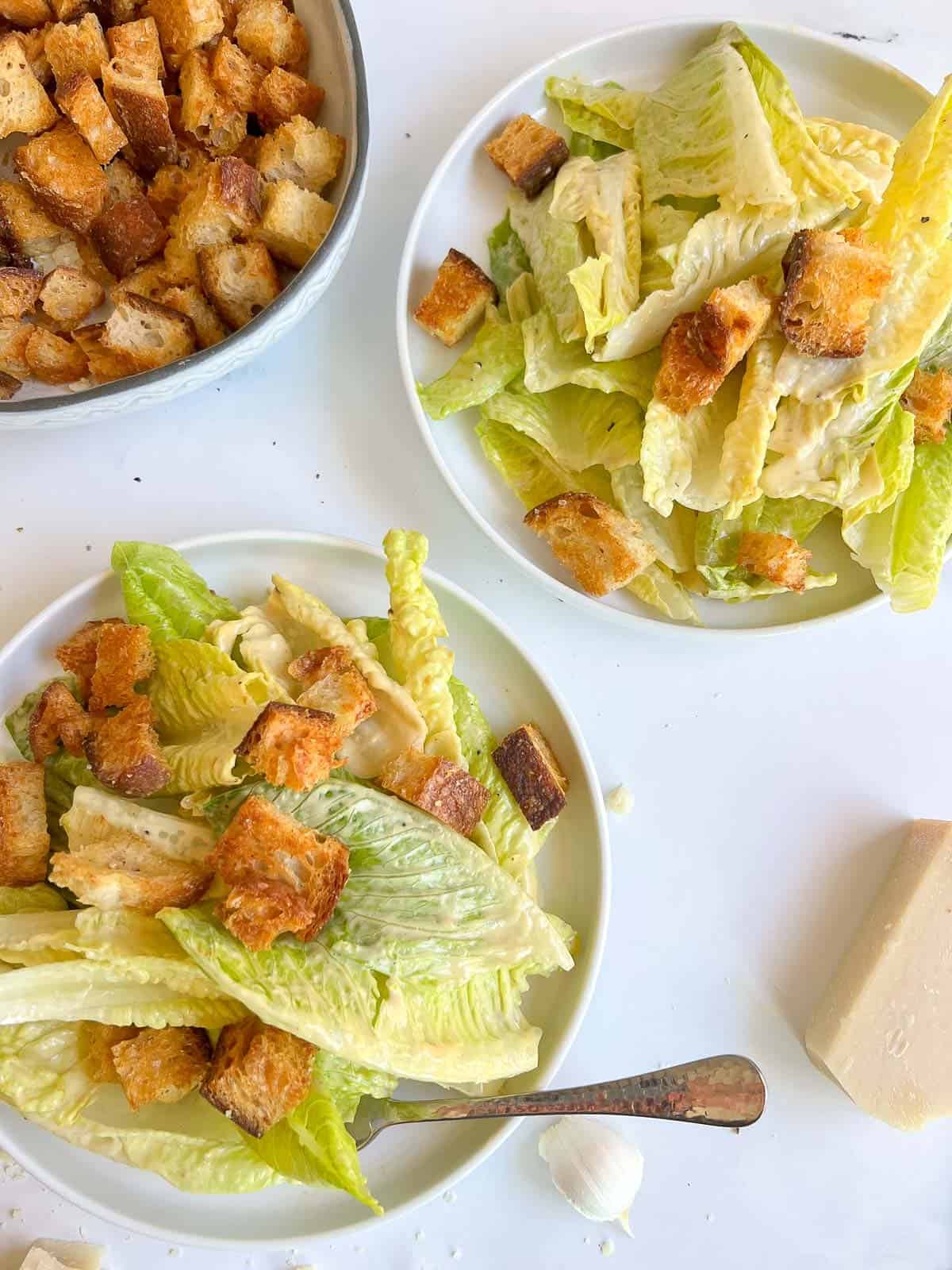 The original Caesar salad recipe has an interesting origin. It has Italian roots in that its creator, Caesar Cardini, was an Italian immigrant who opened a restaurant in Tijuana, Mexico.
It was assembled and served tableside at Cardini's hotel restaurant Caesar's at the Hotel Caesar. The original recipe did not contain anchovies.
Most modern versions of this salad dressing all contain anchovies. It's unclear why or when anchovies were added to the recipe. But most will agree that the anchovies give Caesar salad its signature flavor.
Why This Recipe Works
Perfectly fresh and crispy romaine hearts.
Savory Garlic and Cheese Croutons are so good you can't stop eating them.
Creamy Caesar Salad Dressing that comes together in minutes.
What You'll Need
This umami-packed Caesar Salad Dressing gets its signature flavor from the salty briny anchovies, garlic, and Worchestershire sauce. The raw egg yolk is imperative to add flavor and texture to this classic salad dressing recipe.
Romaine hearts: 3 to 4 extra fresh romaine hearts. A Caesar salad has one main ingredient and its romaine hearts. Make sure you use only the crispest inner leaves for this salad.
For The Homemade Croutons
You can always use store-bought croutons instead. However, I strongly encourage you to give this recipe a try. There is nothing that compares to freshly toasted garlic and cheese croutons. Heck, make a double batch to use on all of your salads this week.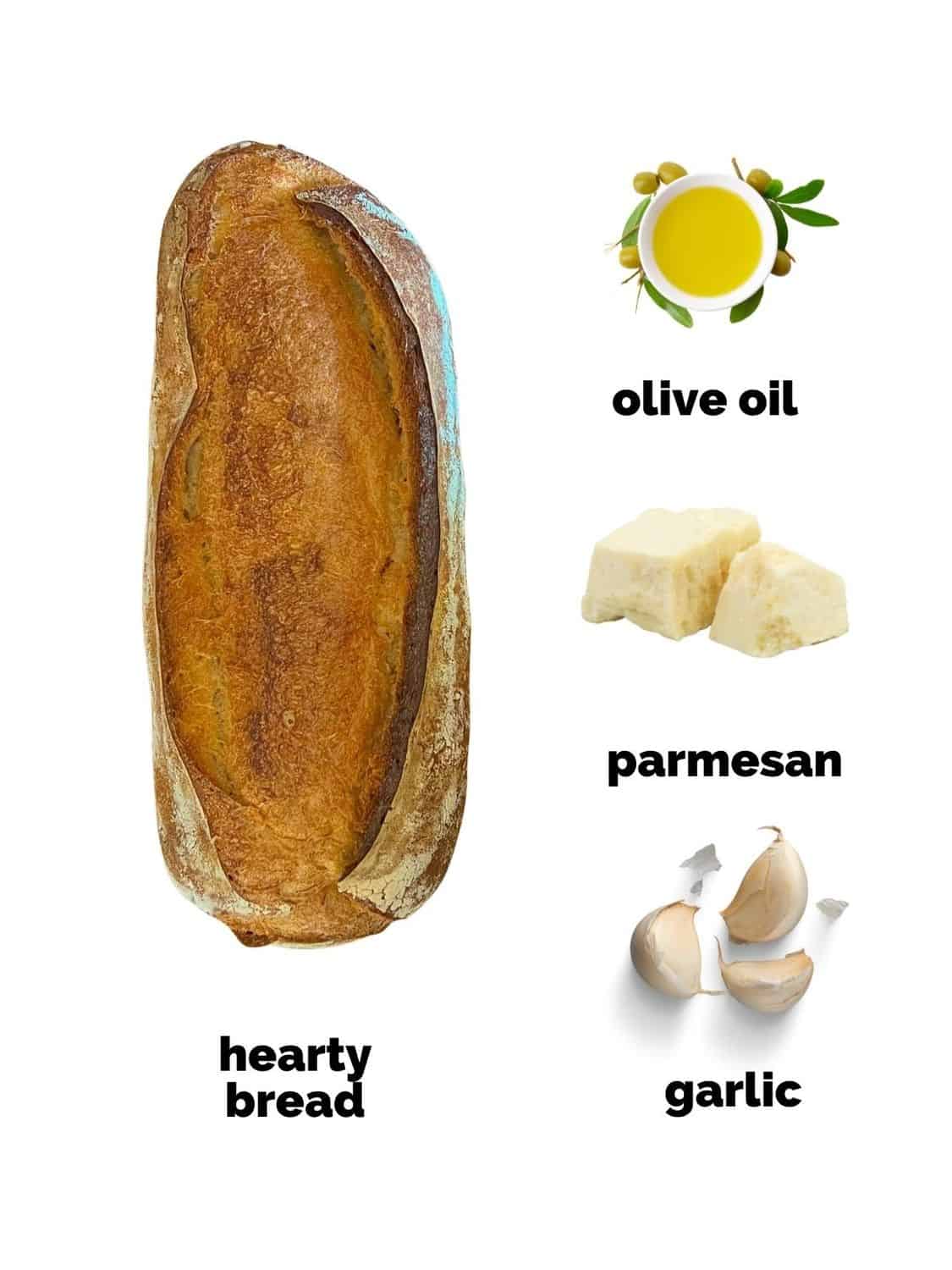 Country bread with crusts. Cut or tear the bread into 1-inch pieces. You'll want about 3 cups.
Olive oil and minced garlic cloves are used to make fragrant garlic oil. The oil is used for toasting the croutons, and the reserved garlic will be used in the salad dressing.
Parmesan cheese, shredded. Parmesan cheese adds a toasty, nutty flavor to the bread.
Salt: Add just a touch of kosher or fine sea salt to the bread before baking.
Caesar Salad Dressing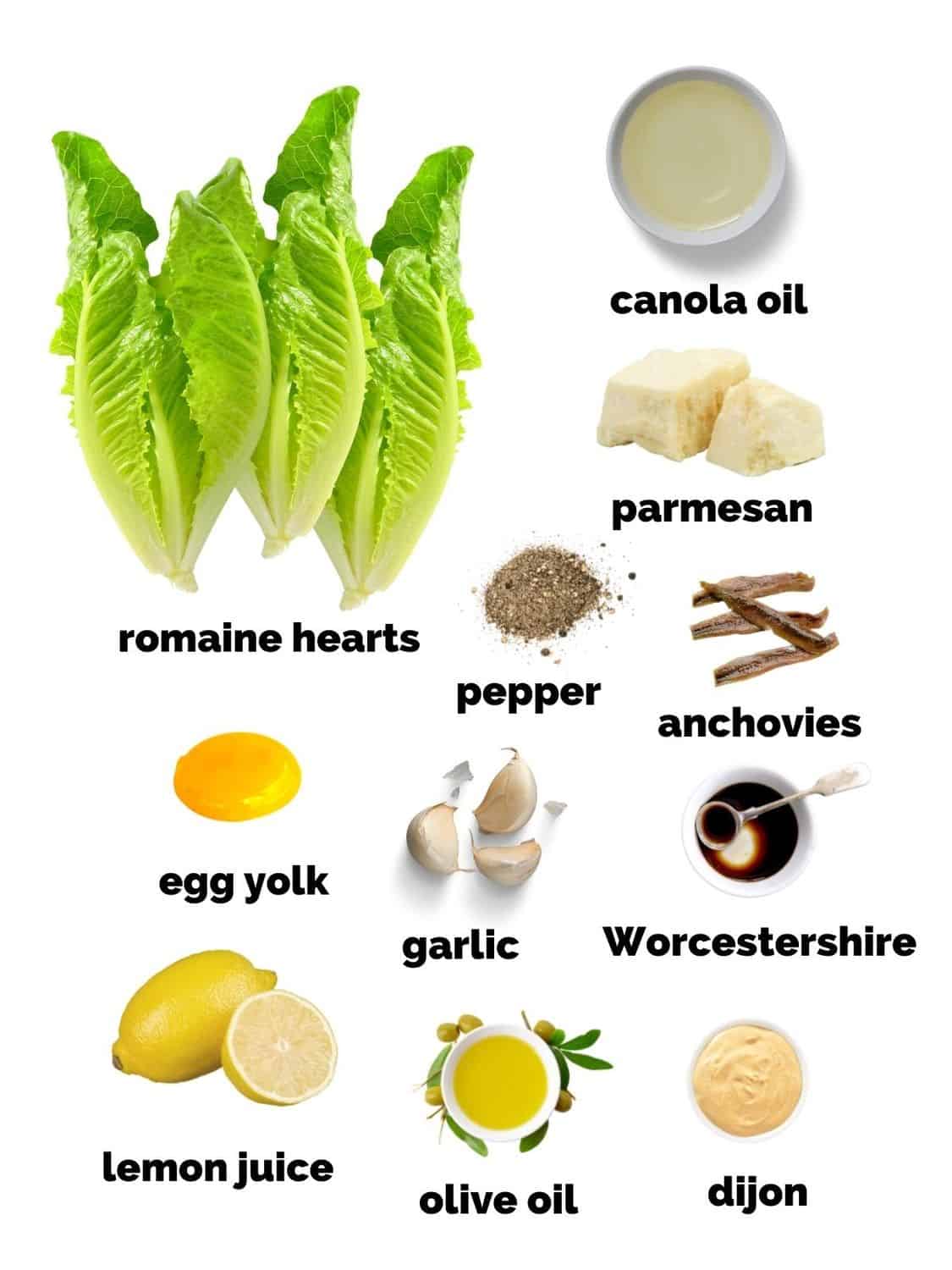 Anchovy fillets packed in oil drained. Don't skip the anchovies they are the reason that Caesar dressing tastes so good. [note 2]
Reserved garlic from making the croutons.
Egg yolk
Fresh lemon juice
Dijon mustard
Worcestershire sauce
Parmesan
Vegetable oil. I usually use canola oil.
Olive oil
Freshly ground black pepper
Special Equipment
Having the right tools makes every job easier. Here are a few items that will help you pull off this recipe like a true expert.
Steps
Make the croutons.
Prepare the lettuce.
Make the Caesar dressing.
Assemble the Caesar salad.
Make the Croutons
One extra step in this croutons recipe will give you the best-tasting garlic croutons ever to grace your tastebuds.
Garlic gets bitter if it is browned too deeply. Using garlic-infused oil allows you to add garlic flavor to the croutons and toast them until they are ultra crispy without getting burnt garlic. This mellow garlic flavor, in combination with toasted parmesan cheese, make the croutons super tasty.
Preheat the oven to 300℉.
Make a garlic-infused olive oil. Add 3 to 4 tablespoons of olive oil to a small bowl and add the minced garlic to the olive oil.
Stir the garlic into the olive oil and set it aside while you prepare the bread.
Strain the oil off the garlic using a fine mesh strainer. Using the back of a spoon, press as much oil out to the minced garlic as possible. Reserve the minced garlic to use in the salad dressing.
Toss the bread in the garlic oil and add ¼ cup of grated parmesan cheese; toss again.
Spread the seasoned bread onto a baking sheet.
Toast the croutons in the oven until they are crisp and golden brown. Toss them halfway through cooking. As soon as the croutons come out of the oven, season them with a sprinkle of salt and fresh ground black pepper.
Allow them to cool before serving.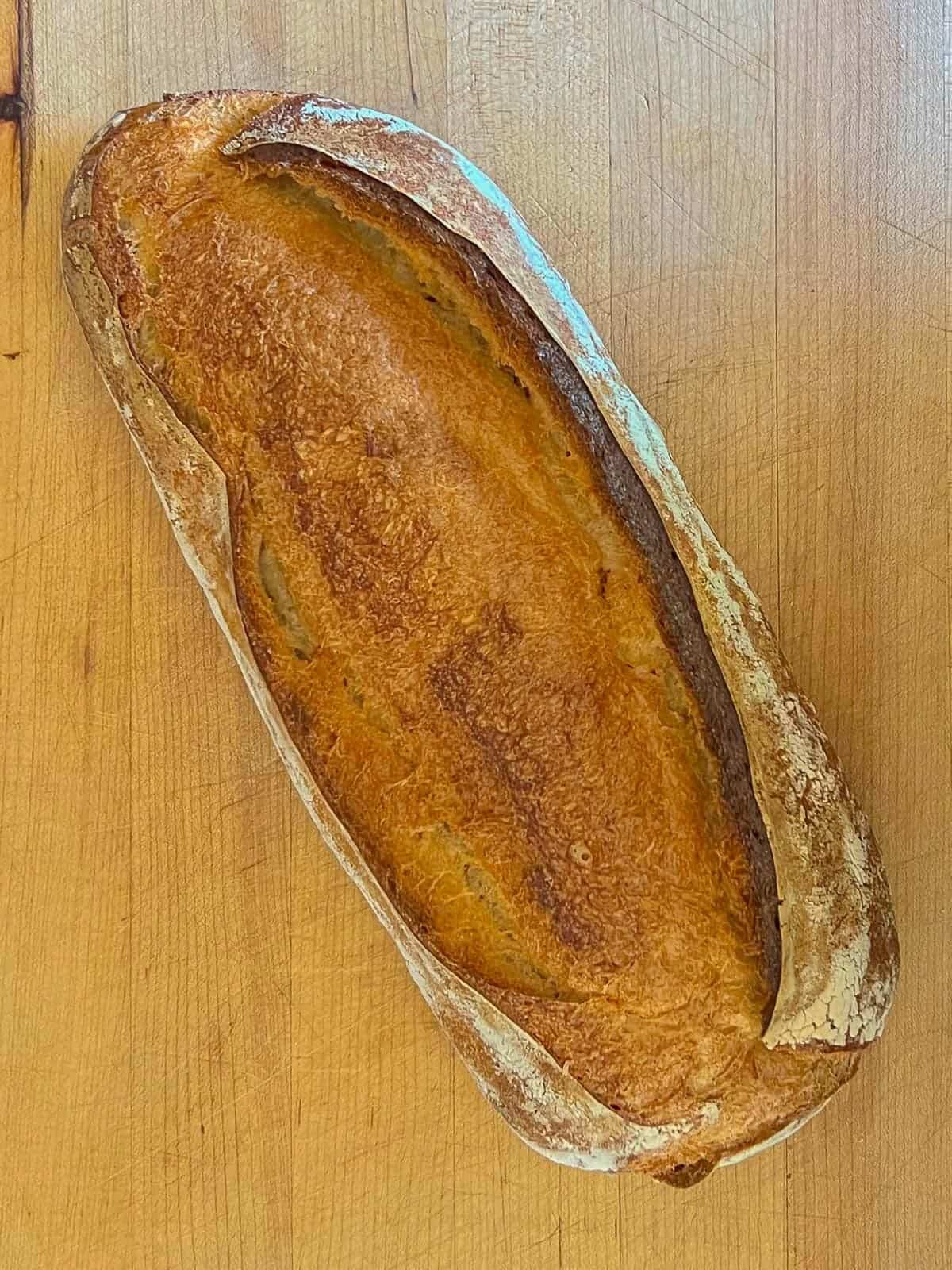 Prepare the Lettuce
Crispy romaine hearts are essential to a perfect Caesar salad. Start with 3 to 4 fresh romaine hearts.
Peel off any of the outer leaves that have any wilting or softness.
Wash the lettuce. Separate the leaves and wash them well in cold water.
Dry the romaine leaves by laying them between layers of paper towels.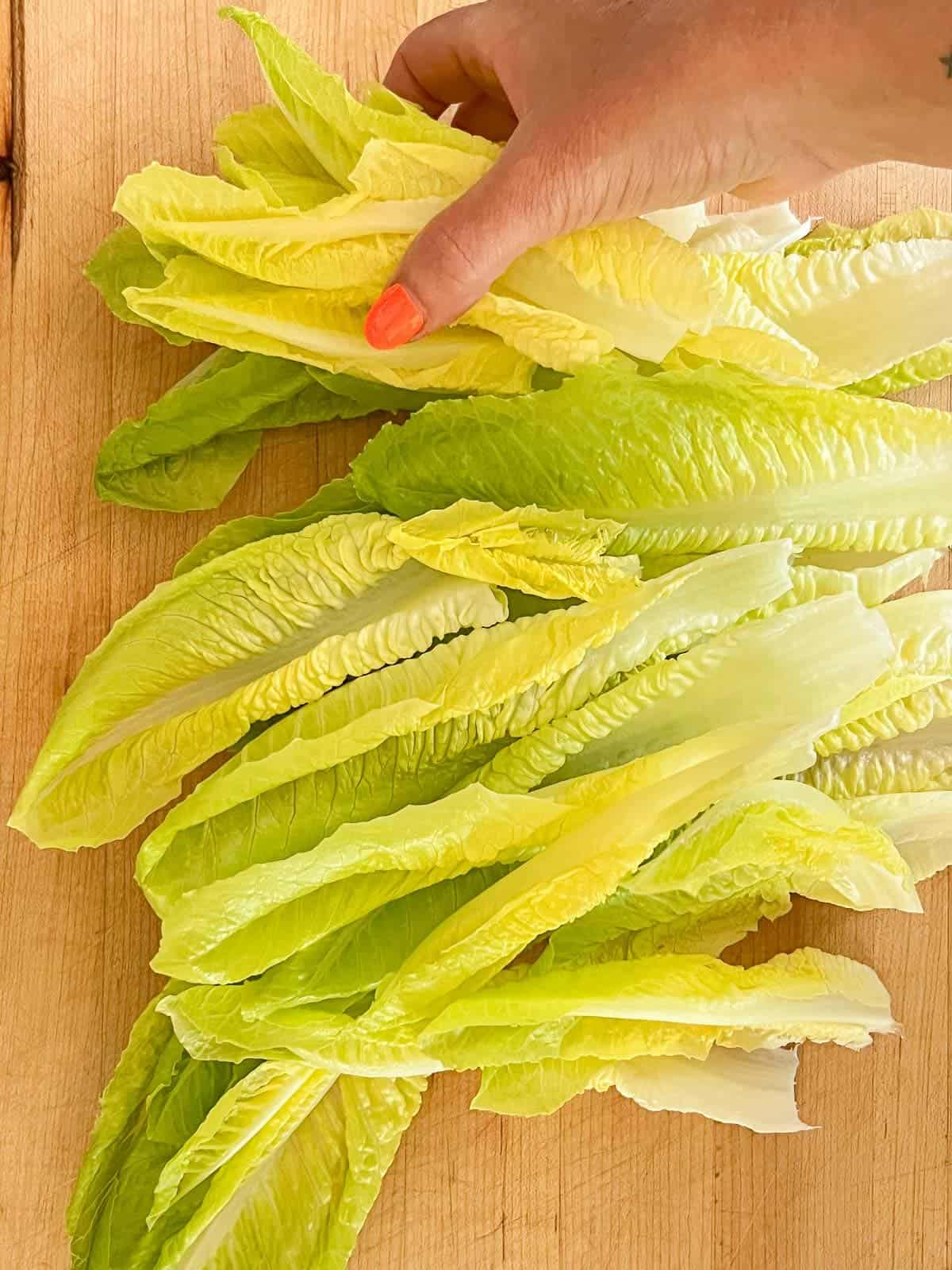 Make Caesar Salad Dressing
The easiest way to make a salad dressing is with an immersion blender. You can also use a blender or a whisk if you don't have one.
Combine the ingredients. Add the egg yolk, anchovies, garlic, parmesan cheese, lemon juice, dijon mustard, and Worcestershire sauce to a mason jar. Cover this mixture with vegetable oil.
Emulsify. Use an immersion blender to emulsify this mixture until it is smooth and creamy. [note 1]
Whisk. Transfer the emulsified dressing to a large bowl and whisk in the olive oil and a little fresh ground black pepper.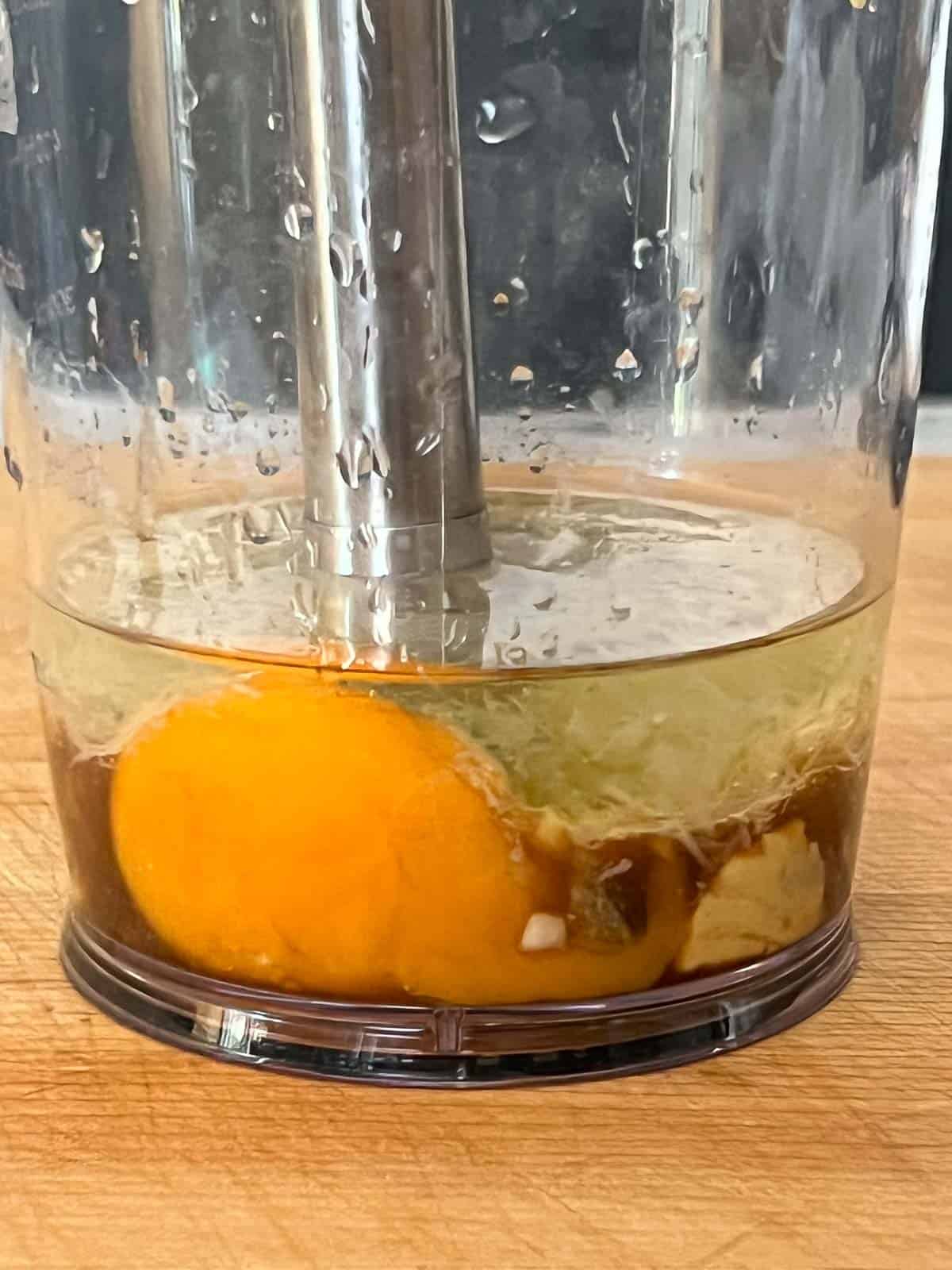 Assemble The Caesar Salad
Now it's time to eat!
The croutons and the dressing can be made days ahead of time. Assemble this salad right before serving.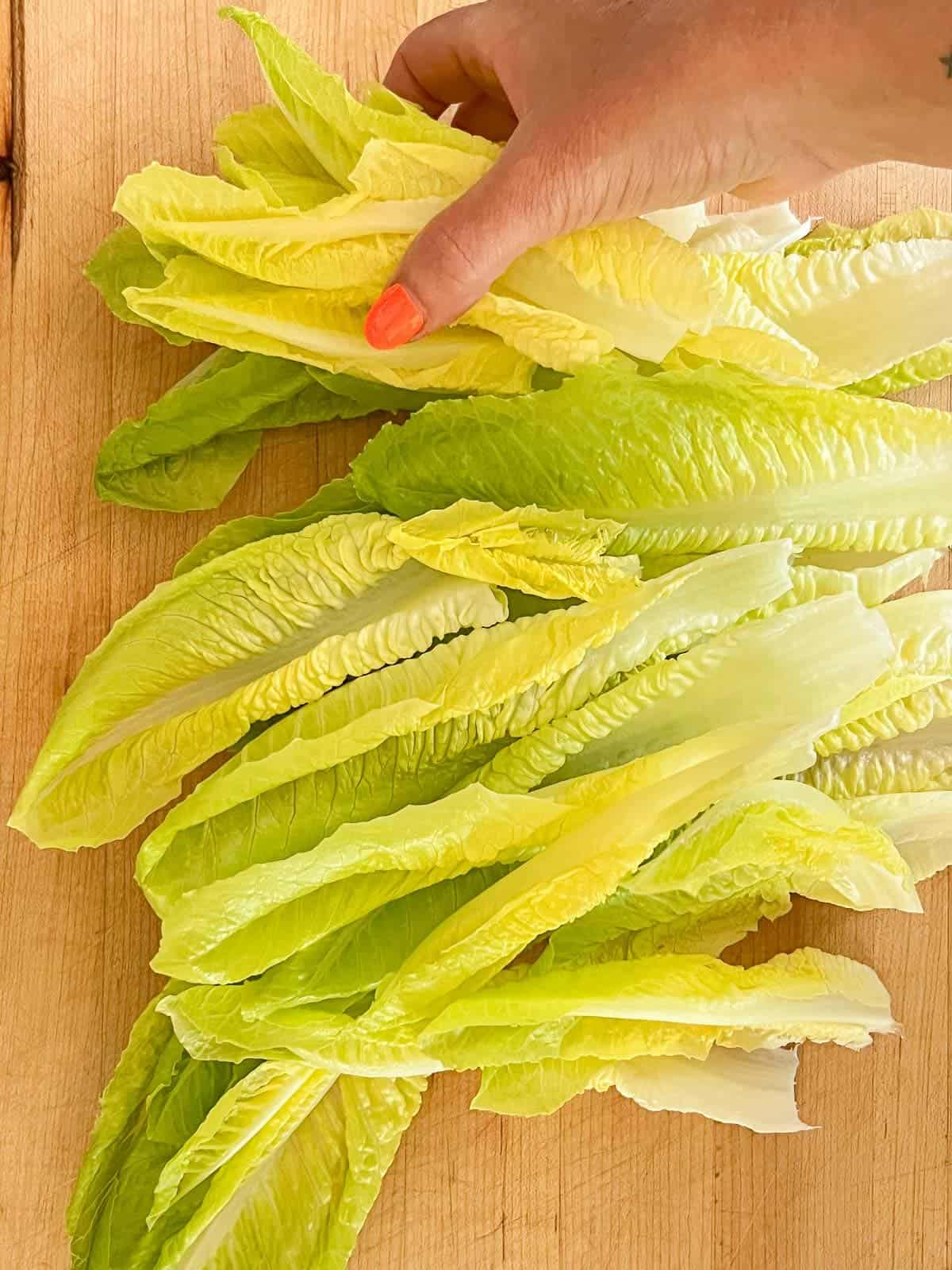 Tear the lettuce into large chunks.
Add the lettuce to the bowl that contains the dressing.
Gently toss the lettuce and the dressing.
Plate the dressed lettuce and top with generous croutons and shaved parmesan cheese.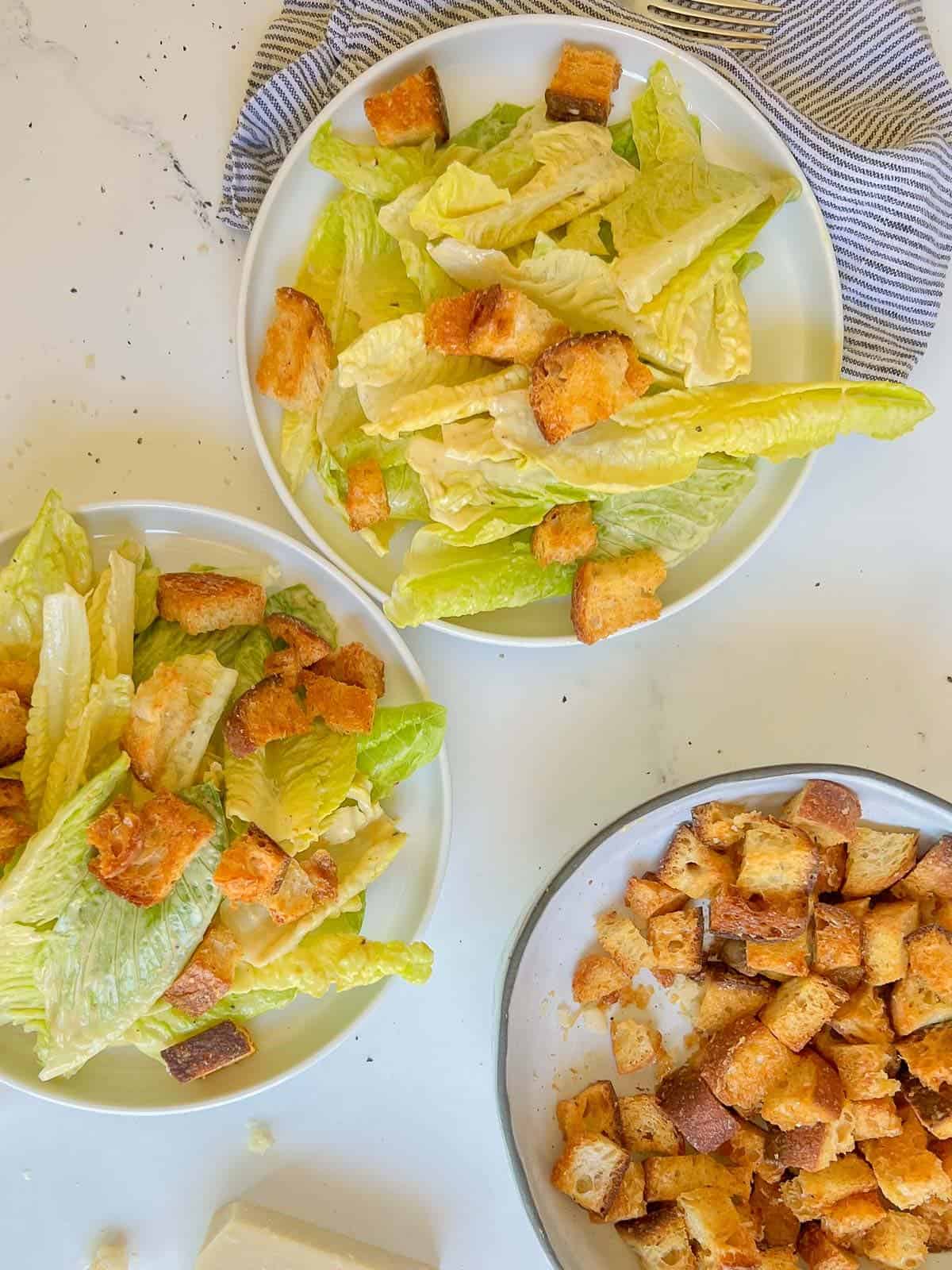 Serving Suggestions
Caesar salad makes a great side salad for almost any grilled protein. You can also serve this salad as a main dish with your favorite protein. Grilled chicken or baked salmon is both delicious additions.
Hungry For More Salad Recipes?
Fresh, crisp salads can be a refreshing side or a fast, easy, no-cook weeknight dinner. Here are a few of our favorites.
Green Goddess dressing is a creamy herbaceous dressing packed with satisfying umami. It can be used as a salad dressing or served as dip with…
What to Serve With Caesar Salad
A cool and crisp salad is perfect with grilled chicken or baked chicken thighs. And don't forget you're favorite pizza or pasta recipe.
This grilled chicken marinade adds a ton of flavor and tenderizes the chicken breasts. Say Hello to the Best Grilled Chicken! This is the best-grilled…
If you love pizza night as much as we do, you will love this pizza toppings list. As I make more homemade pizza, I will…
Fresh homemade pasta is so easy to make. You can make fresh pasta from scratch with just a few simple ingredients. You only need flour,…
Basil pesto adds flavor to a multitude of dishes. Use it on everything from pasta to grilled chicken. Plus, this recipe freezes beautifully, so you…
Leave A Review
Did you make this recipe? I'd love to hear about it. Leave a comment, and don't forget to leave a 5 ★ review.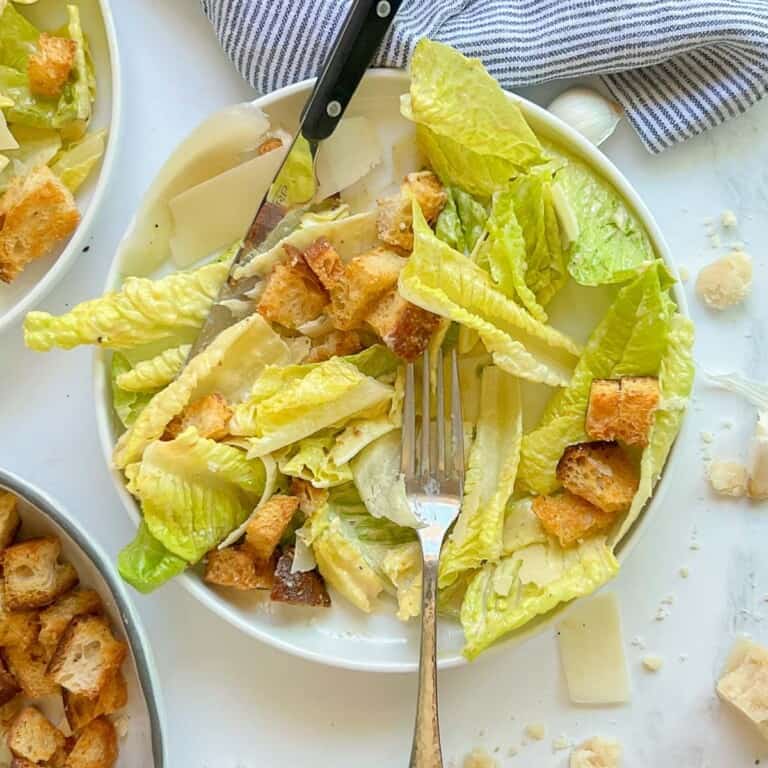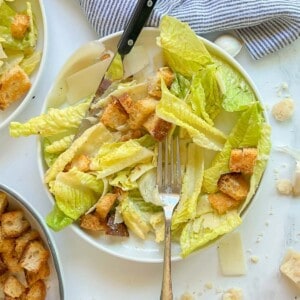 Caesar Salad Dressing
This classic Caesar Salad Recipe has all the things that you love, Crisp romaine lettuce, cheesy garlic croutons, and the best Caesar salad Dressing.
Ingredients
3 to 4

romaine lettuce hearts

,

washed, dried, and torn
Garlic Parmesan Croutons
3

cups

hearty bread

,

torn or cubed into bite-sized pieces

3

tablespoons

olive oil

1 to 2

small

garlic clove

,

minced

2 to 3

tablespoons

parmesan cheese

,

grated

½

teaspoon

Kosher salt
Caesar Salad Dressing
1

large

egg yolk

2

tablespoons

lemon juice

,

the juice of one lemon

5 to 6

anchovy fillets

,

or 1 tablespoon of anchovy paste

garlic

,

reserved from the garlic oil in the croutons steps

1

teaspoon

dijon mustard

1

teaspoon

Worcestershire sauce

2

tablespoons

parmigiano-reggiano cheese

,

or grana padano grated

⅓

cup

vegetable oil

2

tablespoons

olive oil

¼

teaspoon

black pepper,

freshly ground, to taste
Instructions
The Croutons
Preheat the oven to 375°F.

Mince the garlic and add it to the 3 tablespoons of olive oil. Stir and let it sit while you prepare the bread.

3 tablespoons olive oil,

1 to 2 small garlic clove

Tear or cube the bread into bite-sized pieces.

Add the steeped garlic to a fine mesh strainer. Working over the bowl of olive oil, use a spoon to press the garlic oil out of the cloves. Set the garlic aside to be used in the salad dressing.

3 tablespoons olive oil,

1 to 2 small garlic clove

Toss the bread into the bowl with the garlic oil, and add 3 to 4 tablespoons of grated parmesan cheese (about a ¼ cup) and the salt. Toss to coat.

½ teaspoon Kosher salt,

2 to 3 tablespoons parmesan cheese

Spread the cubed bread onto a heavy-rimmed baking sheet. Bake for 20 minutes. Toss the croutons halfway through the cooking process.

Remove from the oven and allow the croutons to cool.
Prepare The Lettuce
Tear apart the hearts of romaine. Reserve only the crispest inner romaine leaves. Rinse the lettuce in cold water and gently dry the leaves between paper towels.

3 to 4 romaine lettuce hearts
Making Caesar Salad Dressing
Add the egg yolk, dijon mustard, lemon juice, Worchestershire sauce, Anchovy filets, garlic, and ⅓ cup of vegetable oil to a container that is approximately the width of the head of your immersion blender.

1 large egg yolk,

2 tablespoons lemon juice,

5 to 6 anchovy fillets,

garlic,

1 teaspoon dijon mustard,

1 teaspoon Worcestershire sauce,

2 tablespoons parmigiano-reggiano cheese,

⅓ cup vegetable oil

Emulsify the dressing with the immersion blender. The mixture should be combined thoroughly and the texture a creamy dressing.

Finish the dressing by whisking in 2 tablespoons of olive oil and the fresh ground black pepper.
Assembling the Ceasar Salad
Tear large leaves into pieces. And leave the smaller leaves whole. You should need a knife to eat a Caesar salad, so keep the pieces of lettuce generously sized. You want to be able to cut them into two or three bites when eating the salad.

Add the lettuce to the large bowl containing the salad dressing. Use tongs to gently toss the lettuce and the dressing.

Plate the salad on individual plates or one large platter. Top with shaved parmigianno reggiano and croutons, if desired.
Laura's Tips + Notes
Don't have an immersion blender? No problem.

Add the anchovy fillets, salt, and garlic to your cutting board. Use a large chef's knife to chop everything. Using the side of the knife, smash the mixture together until it forms a paste. Add the anchovy mixture to a bowl. Whisk in egg yolk, dijon mustard, lemon juice, and Worchestershire sauce. Add the oil slowly. Start with a few drops and then whisk to create an emulsion. Then slowly add the remainder of the oil while whisking continuously. Finish the dressing with a few tablespoons of olive oil and fresh cracked black pepper.

Vegan? If you are vegan, substitute kalamata olives for the anchovies. They will add a similar flavor.
YOUR OWN NOTES
Nutrition
Calories:
221
kcal
Carbohydrates:
10
g
Protein:
4
g
Fat:
19
g
Saturated Fat:
5
g
Trans Fat:
0.04
g
Cholesterol:
35
mg
Sodium:
331
mg
Fiber:
2
g
Sugar:
5
g
Calcium:
70
mg
Iron:
1
mg