Creme Brûlée French Toast Casserole is the perfect thing to make when you want a breakfast that looks ultra-fancy but need a recipe that's super easy. This easy breakfast casserole can be assembled the night before and then baked in the morning!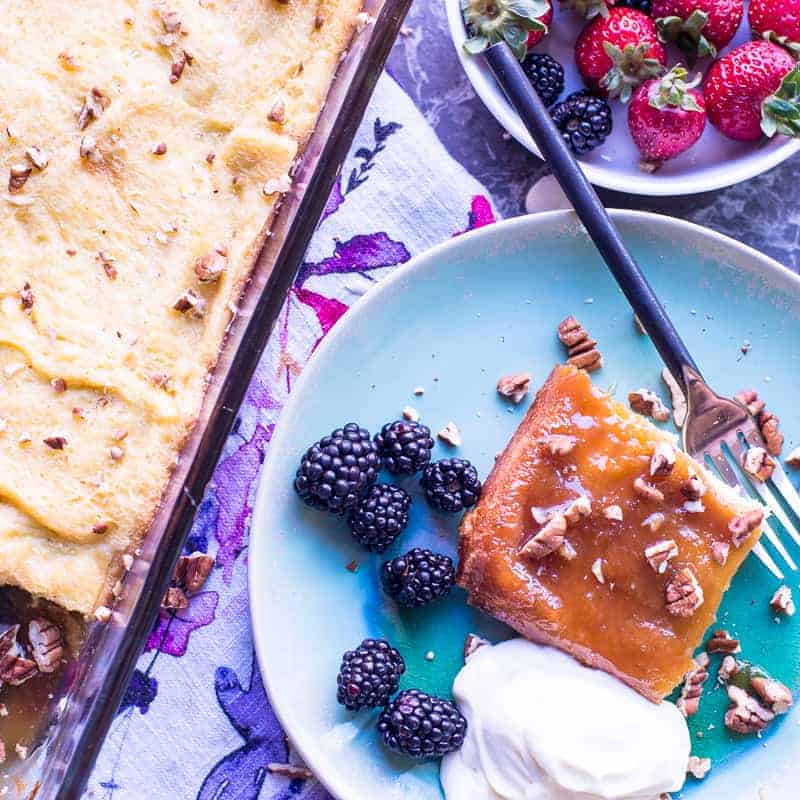 Everyone needs a few tasty make-ahead breakfast recipes in their arsenal. This one is my favorites.
Sometimes, especially around holidays OR those times of the year when you have tons of company and very little time, you need an easy recipe.
Just because this recipe is easy to make, doesn't mean it can't look impressive.
In our house, this is a Christmas morning favorite. Yes, this means that I prepare it AFTER we've hosted the entire family for dinner... AFTER the dishes are done...and AFTER I've had a few glasses of wine...and I STILL consider it to be totally doable!
Pushing to do this last bit of prep means that I can sit with everyone and enjoy the festivities in the morning over a lazy cup of coffee - without hustling around in 'hostess mode.'
What I love About French Toast Casserole
It's prepared in advance. You simply bake it when you are ready to eat it.
It feeds a crowd.
It's easily transported to a brunch potluck.
Kids and adults both love it.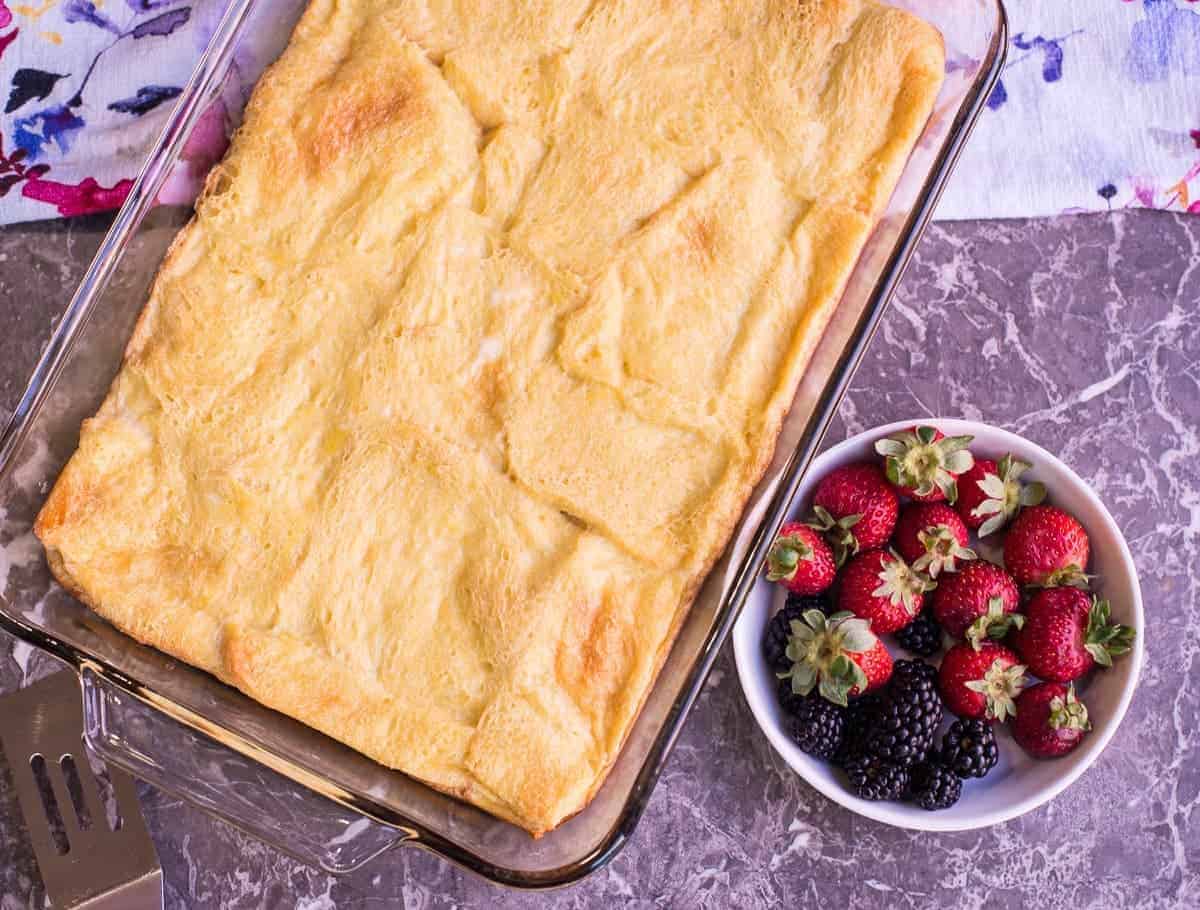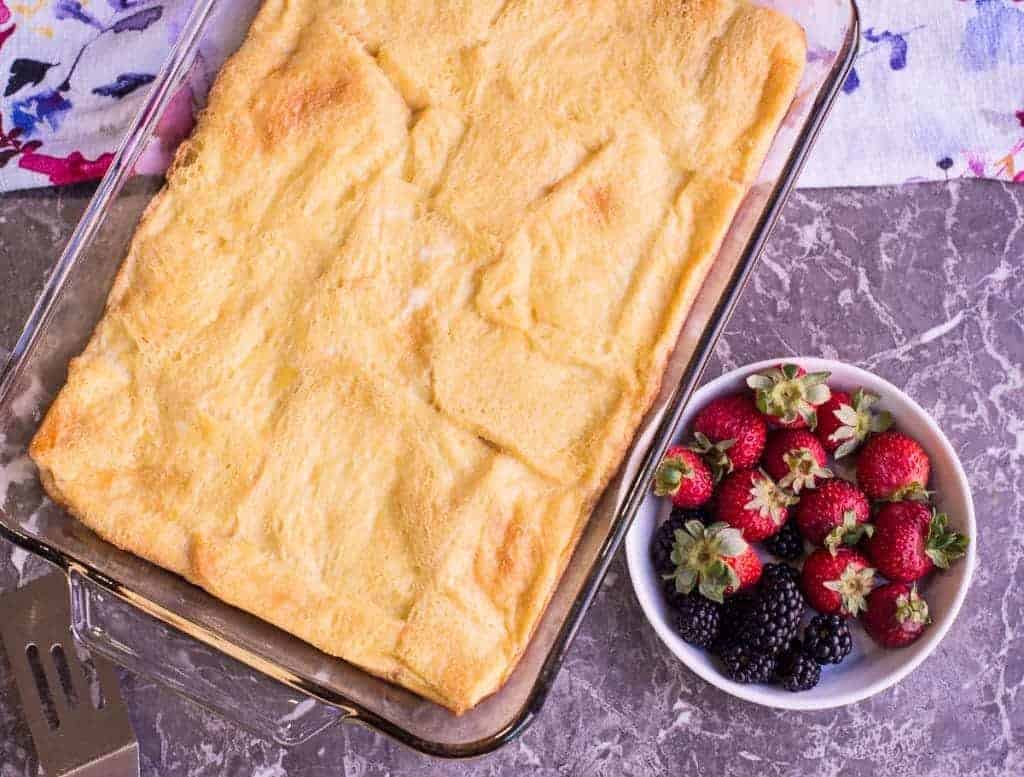 Recipe Notes
This recipe is so simple; It barely needs any explanation. But, here are a few tips and tricks to make sure everything goes smoothly. Especially if you are making this late at night after you've had a few glasses of wine.
Ingredients For French Toast Casserole
One Loaf of white bread: Really, you can use any white bread to make this recipe. Brioche is my favorite! But Honestly, I've even made this with leftover hot dog and hamburger buns. That can be our secret! 🤫
Caramel Sauce: Brown sugar and butter make a quick caramel sauce. The corn syrup helps ensure the sauce is nice and smooth without any crystals. The corn syrup isn't absolutely necessary. If you don't have any, you could use maple syrup as a stand-in.
Custard: Heavy cream, eggs, sugar, and vanilla are used to make a custard base that bakes up to perfection. You can swap the heavy cream for a different type of milk if you want to.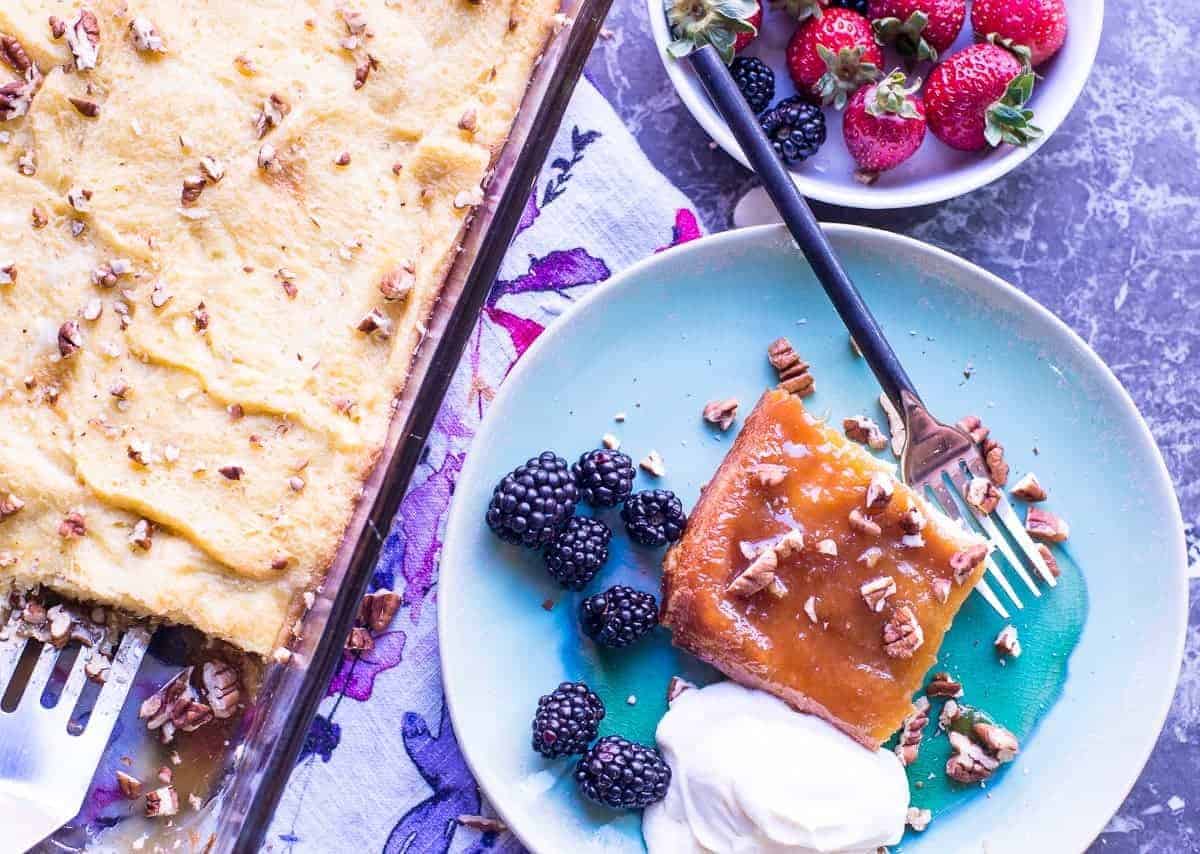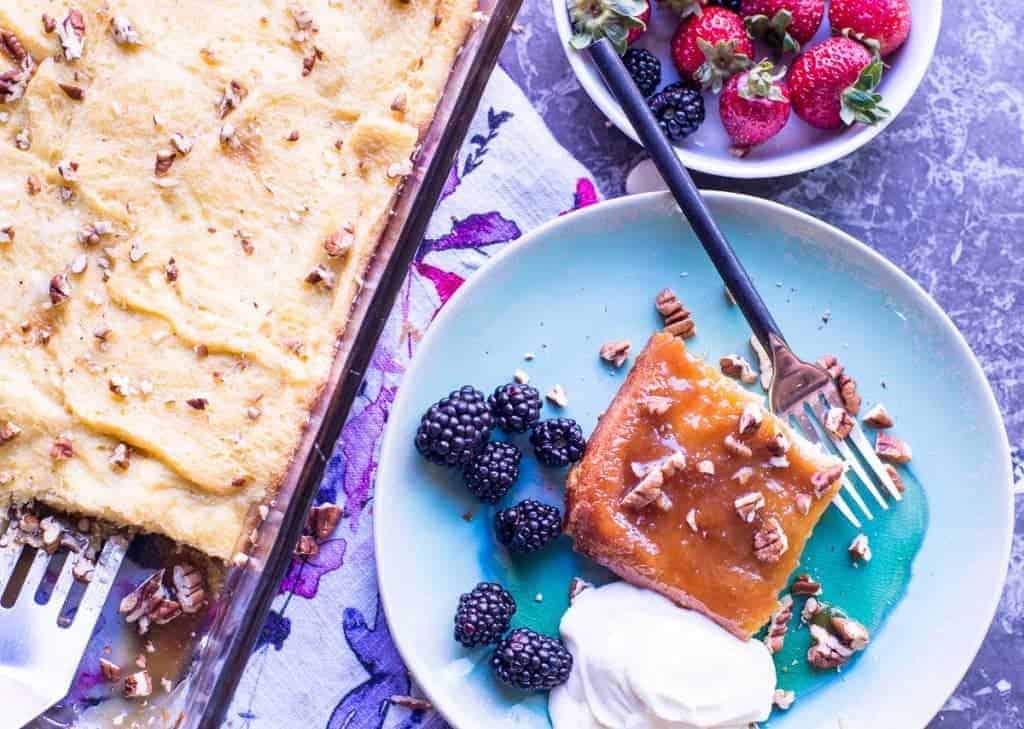 How to Make French Toast Casserole
Make The Caramel Sauce: Add the brown sugar, butter, and corn syrup to a heavy saucepan. Heat over medium heat and stir until smooth. Pour this into a 9x13 inch baking pan.
Layer The Bread: This step doesn't have any real rules. You can cut your bread into cubes or slices if you have an unsliced loaf. Basically, add the bread to the baking pan in whatever fashion you see fit.
Make The Custard: Whisk together the eggs, cream, sugar, vanilla, and Grand Marnier. Pour over the bread!
Refrigerate Overnight: Cover the cake pan with plastic wrap and refrigerate overnight.
Bake: In the morning, preheat your oven to 35o℉ and bake for 35-40 minutes.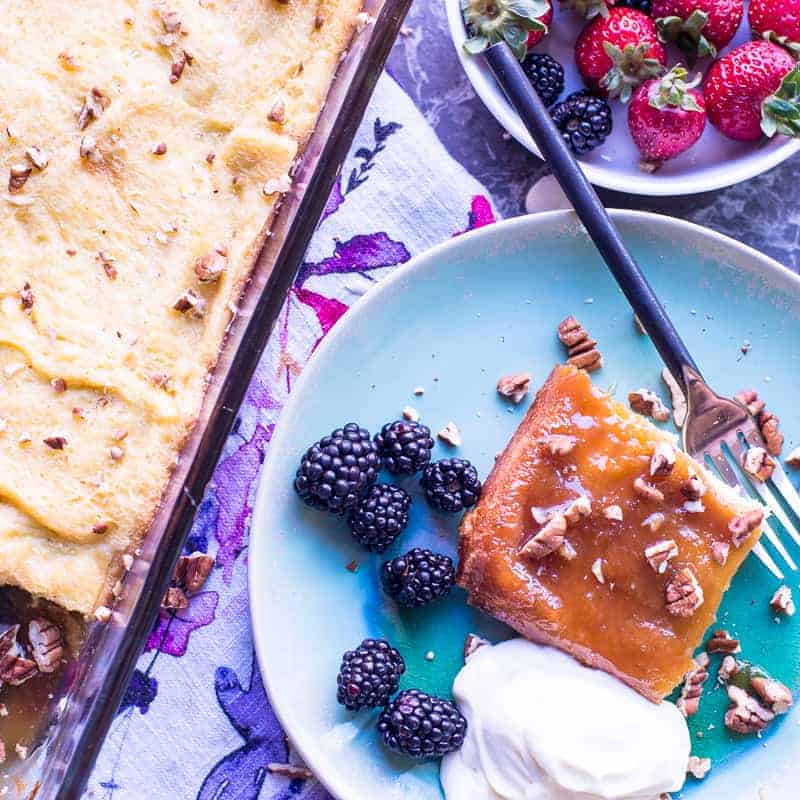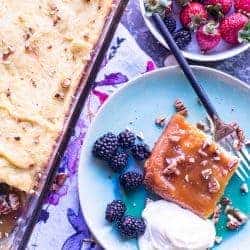 Creme Brulee French Toast
This is the perfect make-ahead dish for a houseful of overnight guests. It is also perfect for a potluck brunch.
Ingredients
1

loaf

white bread

brioche, or country-style bread
Custard
Serve With
fresh berries

chopped pecans

whipped cream
Instructions
Make the Caramel Sauce: In a heavy saucepan melt butter with brown sugar and corn syrup over moderate heat. Stir until smooth. Pour into a 13 x 9" baking dish.

Layer the Bread: Trim crusts off the bread. Arrange the bread in one or more layers in the baking dish.

Squeeze the bread slightly for a snug fit in the pan. (The number of layers you have will depend upon the thickness of your bread. Standard sandwich bread will result in two layers.)

Make the Custard: In a bowl, whisk together eggs, cream, vanilla, Grand Marnier, and salt until well combined.

Pour over the bread. Cover and bread mixture and chill for at least 8 hours and up to 1 day.

PRO-TIP: Throw this together just before you go to bed. It will be all ready to bake for breakfast in the morning.)

Bake: Preheat oven to 350 degrees. Bring bread mixture to room temperature.

Bake uncovered in the middle of the oven until puffed and the edges are pale golden brown. 35-40 minutes.
Notes
This recipe was originally found in an old Gourmet magazine. It was in the 'You Asked for It' column. This dish was popularized by the Inn at Sunrise Point in Camden, Maine.
Nutrition
Calories:
439
kcal
Carbohydrates:
60
g
Protein:
10
g
Fat:
17
g
Saturated Fat:
9
g
Cholesterol:
119
mg
Sodium:
528
mg
Fiber:
1
g
Sugar:
28
g
Calcium:
248
mg
Iron:
3
mg
(Visited 603 times, 1 visits today)