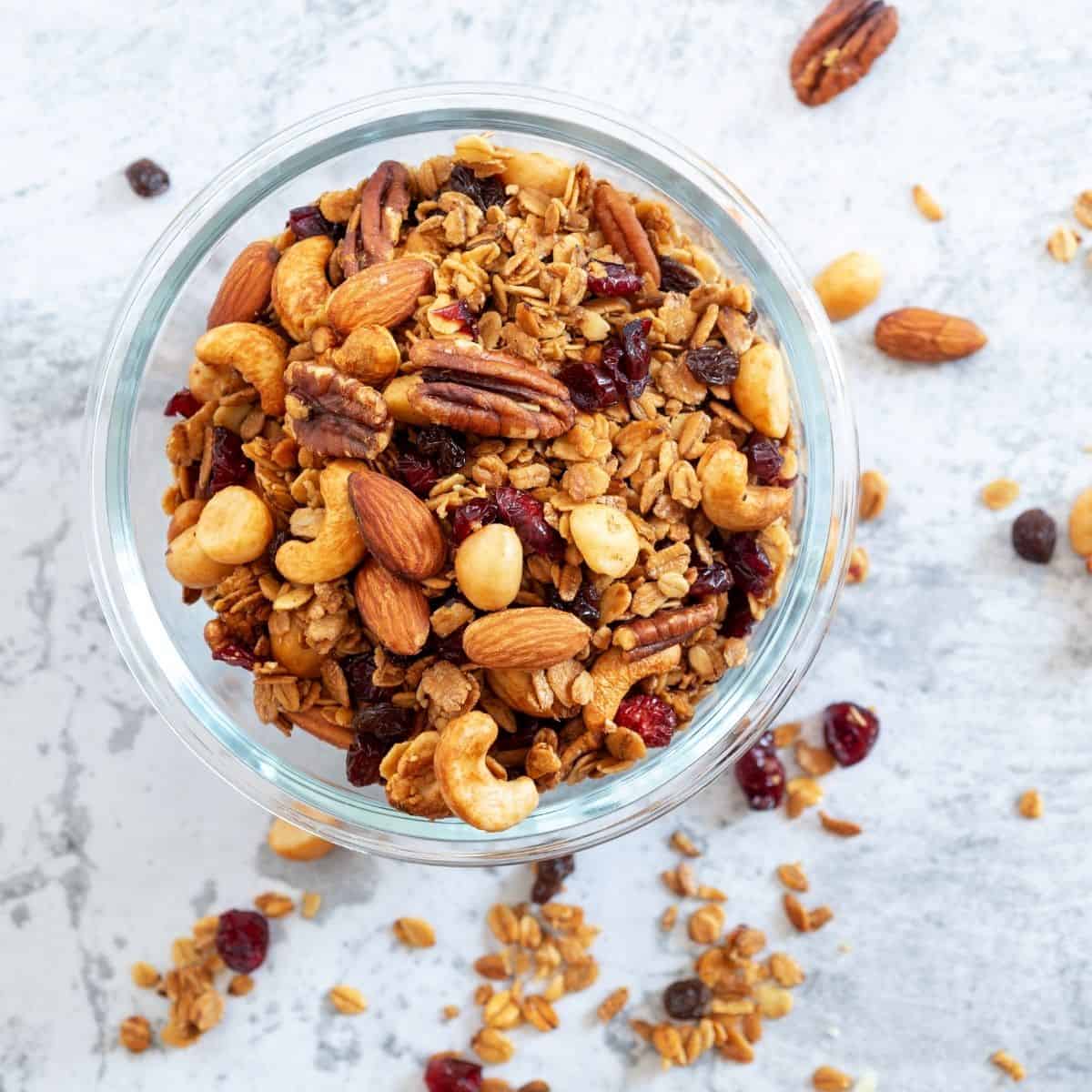 Recipe
Comments
Save
Go to Collections
This post may contain affiliate links. Please read my
disclosure policy.
Granola adds the perfect crunchy sweetness to fruit and yogurt. If you've ever wondered how to make granola at home, look no further. This easy breakfast recipe is easy to make, and you'll love how many ways you can switch it up to get different flavors. It's infinitely customizable.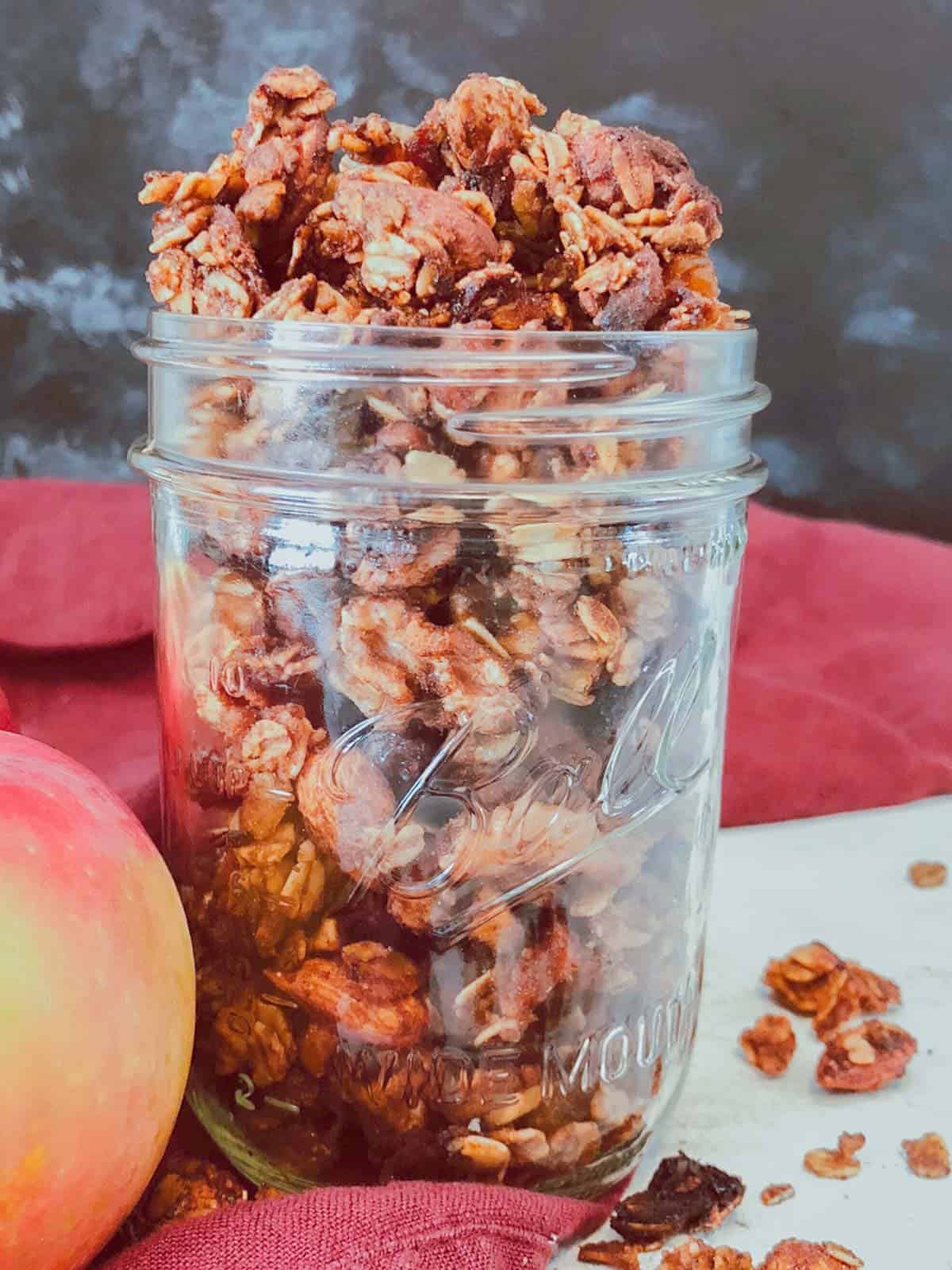 After you make granola at home, you'll never buy it at the grocery store again. It's not only way cheaper to make at home, but it's also healthier because there are no preservatives.
I love granola with almond milk for breakfast in the morning, or a handful sprinkled on Greek yogurt to add a little sweet crunchiness. It's a great snack in the afternoon, or anytime you need a quick pick-me-up.
What Is In Granola?
Homemade granola is made with a mixture of dry ingredients like oats, dried fruit, nuts, and seeds, combined with natural sweeteners. A small amount of oil is added to help toast the ingredients, slow and low, in the oven. You can also add spices like cinnamon and vanilla.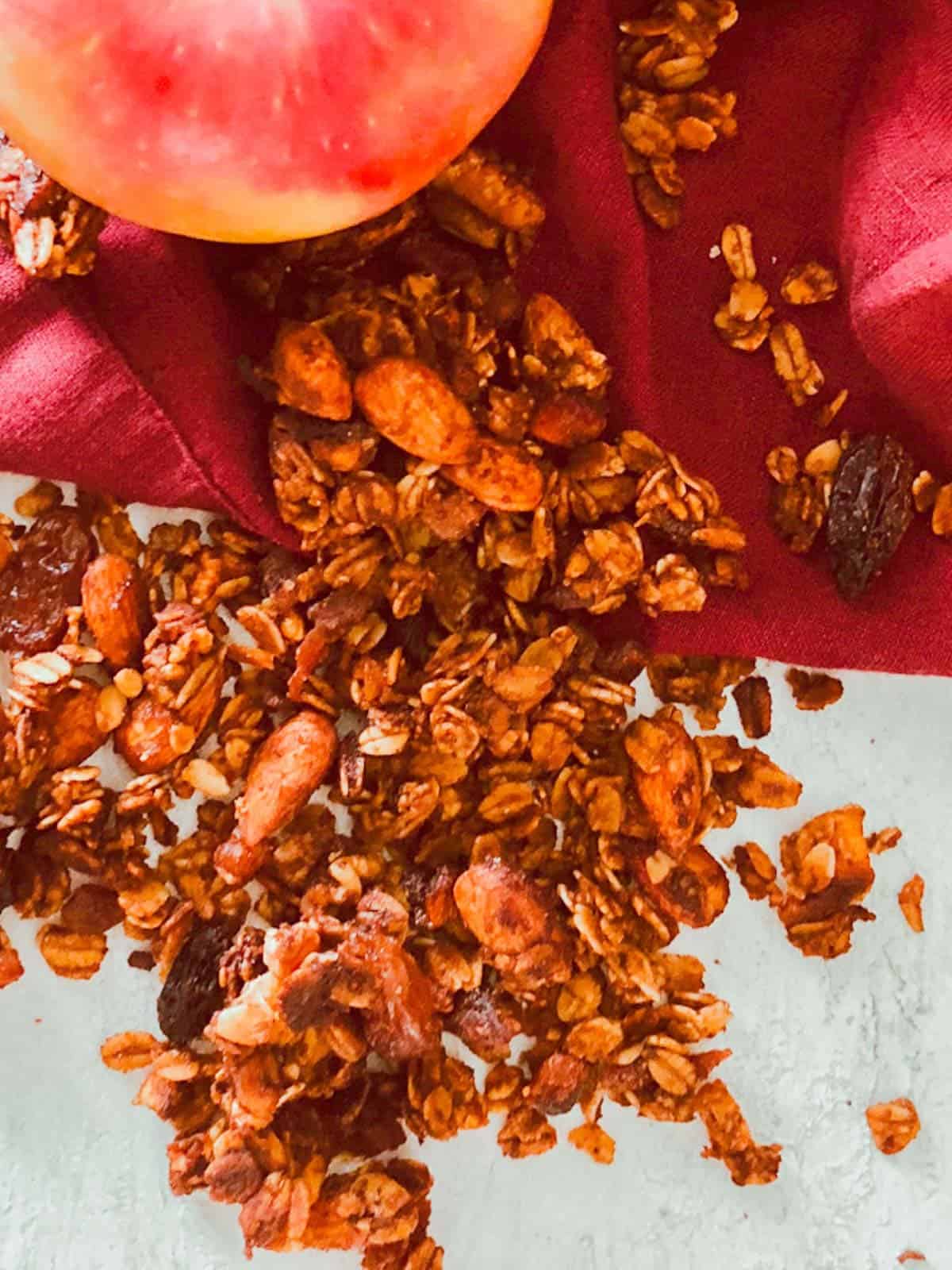 What You'll Need…
Heavy rimmed baking sheet
Parchment paper
Granola Ingredients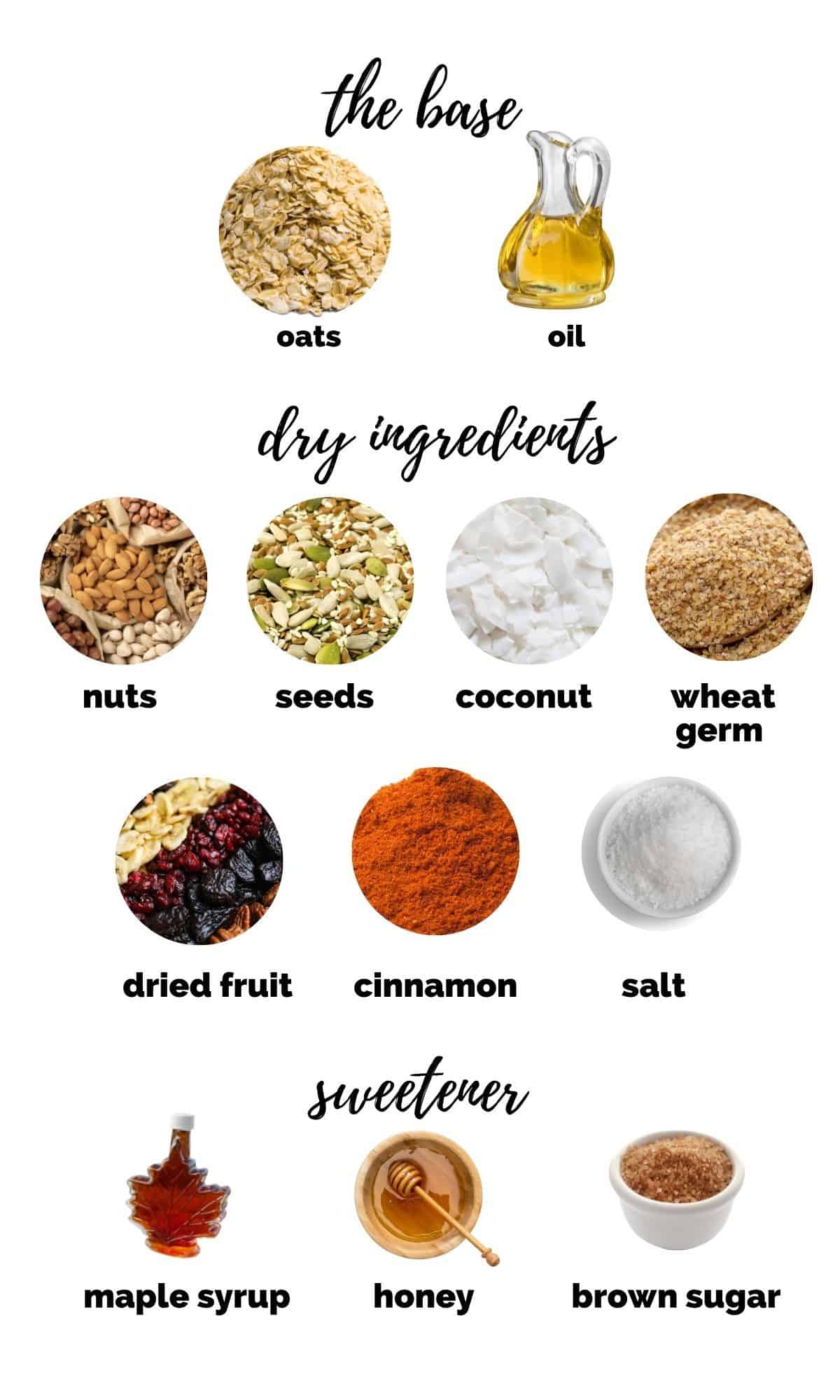 Whole Oats
I recommend using rolled oats when making a batch of granola. Old-fashioned oats give you the best super crunchy texture. Quick oats will give you a more clumpy granola.
Dry Ingredients
Nuts and seeds add texture and flavor and are especially delicious when they are toasted. You can use any combination that suits your taste. I like to hold off adding coconut flakes until midway through cooking.
Slivered almonds
Macadamia nuts
Chia seeds
Flax seeds
Pumpkin seeds
Sesame seeds
Sunflower seeds
Coconut flakes – add halfway through cooking!
Wheat germ
Sweeteners
The sweetener adds texture by melting and then caramelizing as it bakes. Different sweeteners will give you slightly different textures. Sugar and brown sugar are very crispy when baked. Syrups, nectar, and honey contain more water and may take slightly longer to bake also giving you a chewier texture.
Agave nectar
Brown sugar
Brown rice syrup
Real maple syrup
Honey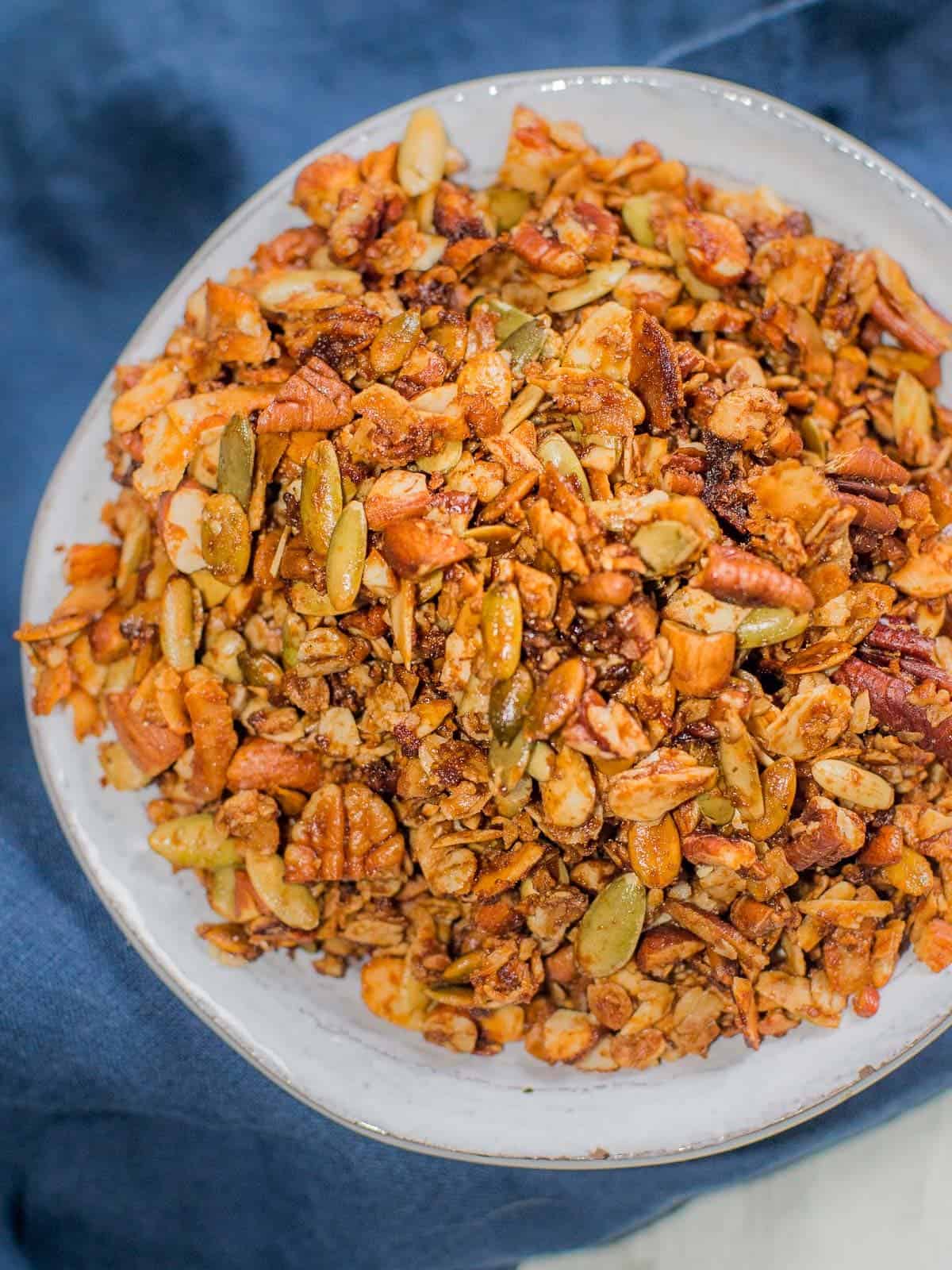 The Best Oil For Granola
You want to use an oil with a neutral flavor.
Coconut oil bakes into this recipe beautifully but can add a slight coconut flavor.
MCT oil, which is refined coconut oil, has less coconut flavor.
Extra virgin olive oil has the least flavor in the family of olive oils but also can add a slight olive oil flavor. Not necessarily a bad thing.
Canola oil is a neutral oil that will add no flavor.
Vegetable oil also has a neutral flavor but might not be as healthy as other choices.
Melted butter can also be used and will add a mild buttery flavor. This works well with the peanut butter granola.
Other Things That Add Flavor
Nut butter and fruit butter add a concentrated flavor to this recipe. For best results, mix the butter with the sweetener before combining it with the mixed dry ingredients.
Peanut butter and honey make a great combo. Add dark chocolate chips fo an extra treat.
Apple butter and cinnamon plus diced dried apples.
Pumpkin butter and cinnamon plus pumpkin seeds are perfect for fall.
Cinnamon
Vanilla
Dried Fruits
Add dried fruits after the granola is baked and cooled. You can add any combination of dried fruits that you like. Here are a few of my favorites.
Cranberries
Blueberries
Apples
Pineapple
Mango
Papaya
Banana
Recipe For Granola
The best granola recipe is made with a base of whole oats and your favorite nuts. The oat mixture is combined with your sweetener of choice and some oil. After it's baked and crunchy, you can add other sweet ingredients like dark chocolate chips or dried fruit to the oat mixture.
How To Make Granola
Preheat your oven to 350℉.
Line your baking sheet with parchment paper.
Combine the dry ingredients in a large mixing bowl; oats, nuts, and seeds.
Combine the wet ingredients in a smaller bowl, including the oil and the sweetener. If you are using any fruit butter or peanut butter, you will also add that at this stage. Any spices can be added in this step as well. Egg whites also act as a binder, if you are scooping these into granola cookies, add the egg whites here.
Mix together the wet ingredients with the dry ingredients and use a large spatula to combine them, making sure they're evenly combined.
Spread the oat mixture in an even layer on the parchment-lined baking sheet. Pack it down using a rubber spatula.
Bake for 20 minutes.
Toss and then reduce the temperature to 275℉.
Continue to bake at the lower temperature until the granola is a light golden brown and nice and crunchy.
Cool. Once the finished granola has cooled to room temperature, use your hands to break it apart into smaller chunks.
Add in any dried fruits or chocolate chips at this stage.
Expert Tips For Perfect Chunky Granola
Pack the granola together tightly when baking. You want all of the ingredients to stick together as they bake. After the granola cools to room temperature, you will break it into chunky bits.
Bake on low heat. Toast the oats and nuts slowly and low in the oven. Cooking the granola at too high of a temperature will make the sugar brittle. You want the sugar to melt and bind the oats and nuts together but not get hot enough to crack.
Stir halfway through baking and press it together with a spatula. Midway through baking, the sugar is melty, and it's the perfect time to make sure that all those chunky pieces are sticking together for the perfect chunky granola.
Granola Variations
I've made homemade granola for a couple of years and have several different varieties that we love. Using this simple method, you can make endless varieties of flavor combinations.
Peanut Butter
½ cup of peanut butter
Honey
Tropical
Macadamia nuts
Coconut flakes
Dried tropical fruits
Apple Cinnamon
Dried apples
Apple butter
Cinnamon
Pumpkin Spice
Pumpkin seeds
Pumpkin butter
Cinnamon
Granola Cookies
Egg white- whipped egg whites help to bind the granola together.
Use a cookie scoop to scoop out cookie-sized portions of granola.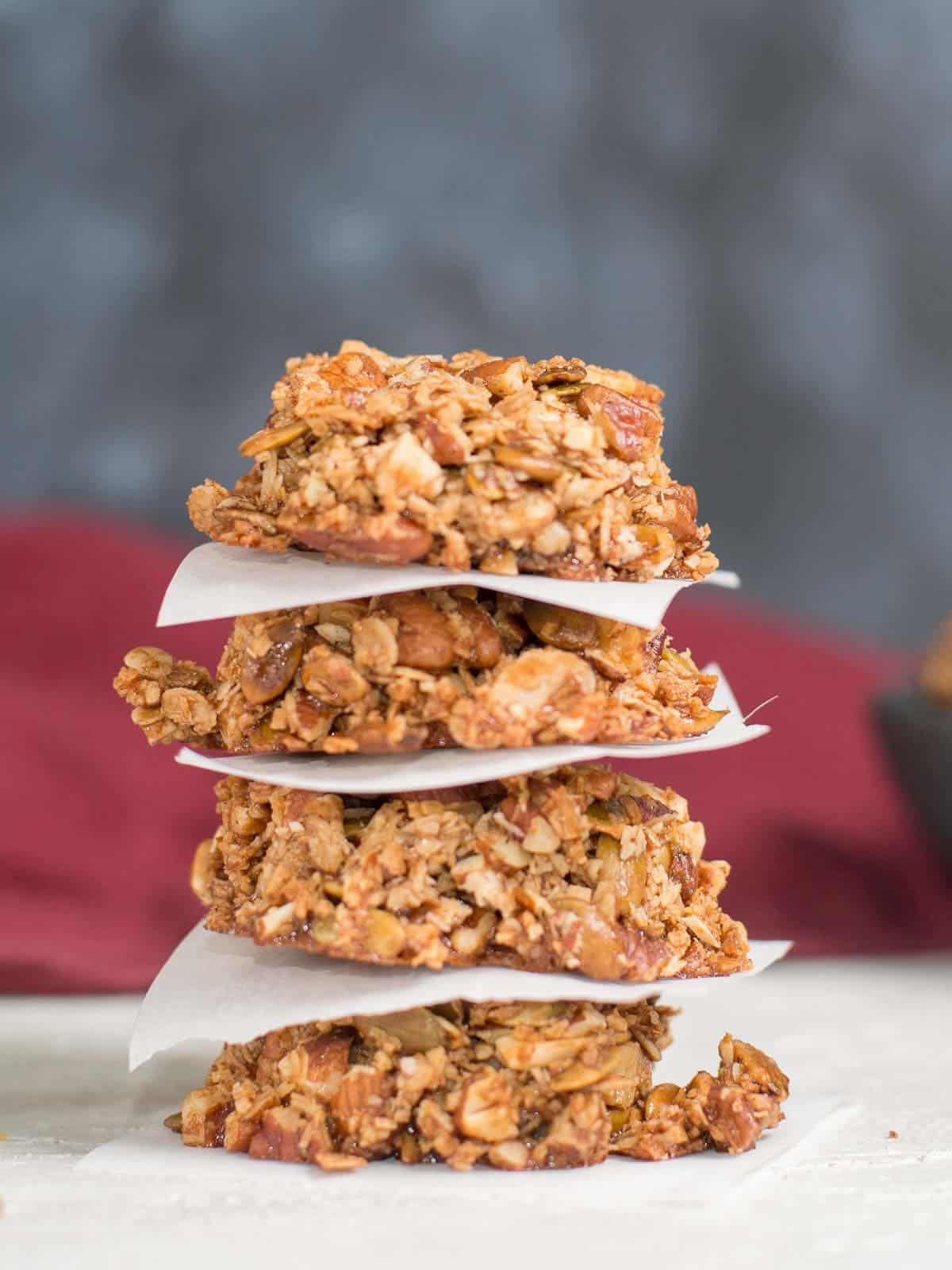 How To Eat Granola
Ice cream
Almond milk
Yogurt parfait made with Greek yogurt and fresh fruit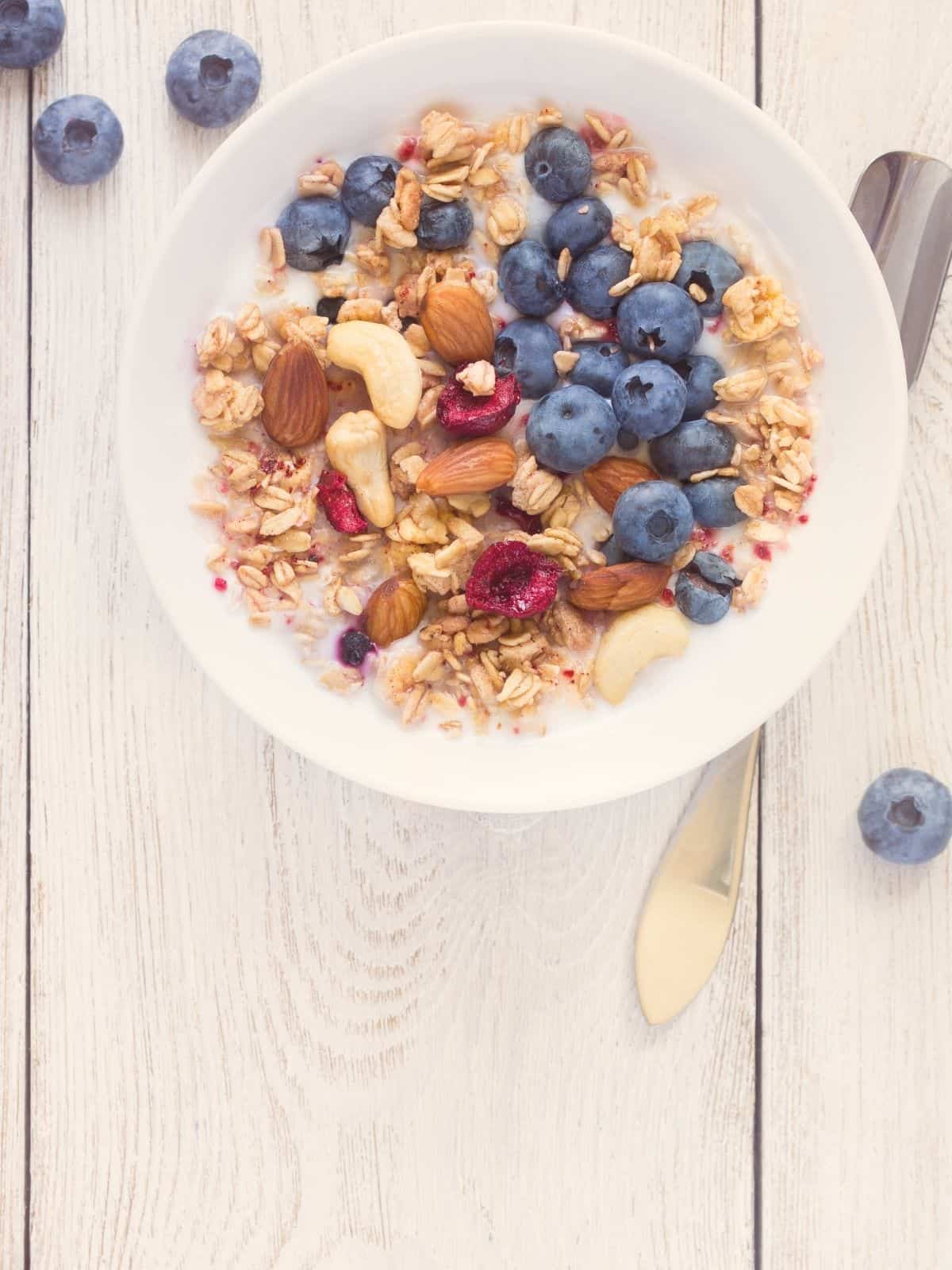 How To Store Granola
Store in an airtight container. Granola will stay fresh for about one month if stored in a cool, dry place and tightly sealed.
More Breakfast Recipe To Try
When you want something for breakfast we have so many recipes to choose from.
I'm no stranger to bringing my brunch game. We have everything from Sweet Creme Brulee French Toast Casserole to the perfect Egg Frittata.
Light as air French Crepes or stick to your ribs Buttermilk Pancakes.
Leave A Review
Did you make this recipe? Leave a comment and a 5 ★ review. Your feedback helps other readers and helps me continue to offer recipes at no cost. Happy Cooking!!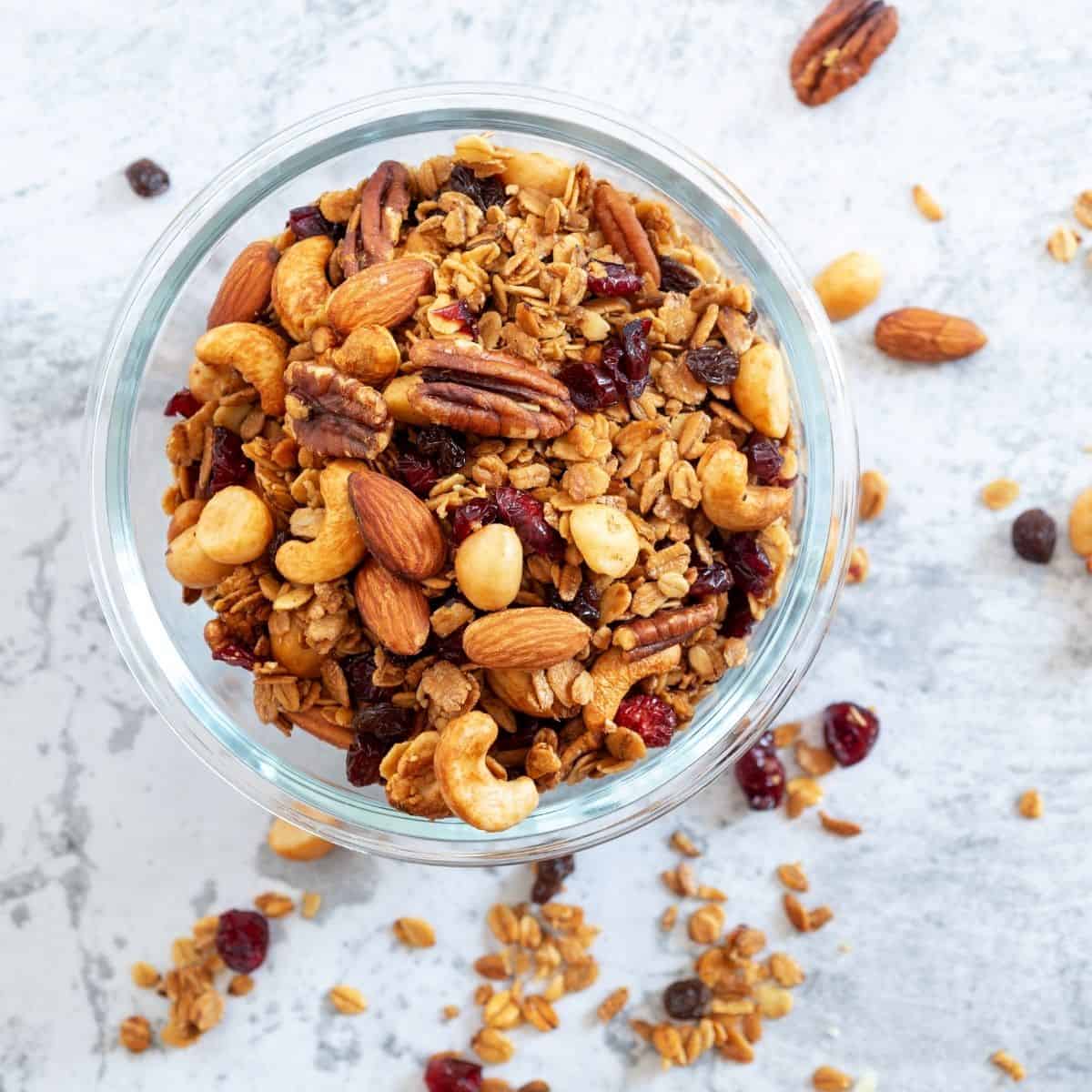 Granola Recipe
Add the perfect crunchy sweetness to your breakfast with this homemade granola recipe. It's so easy to make, and you can customize it with your favorite flavors.
Ingredients
1

cup

old fashioned rolled oats

2

cups

pecans,

pieces

2

cups

almonds,

sliced

1 ½

cups

pumpkin seeds

1

cups

coconut

,

shredded or flaked – unsweetened

6

tablespoons

coconut oil,

melted

4

egg whites

1 ⅓

cups

coconut sugar

(affiliate link)

,

or real maple syrup or honey

1

teaspoon

fine sea salt
Optional Ingredients
1

cup

dried fruit

,

raisins, cranberries, blueberries, pears, apples, apricots, pineapple, papaya

1 to 2

tablespons

citrus zest

1

cup

chocolate chips

1

tablespoon

cinnamon
Instructions
Mix together dry ingredients and coconut oil in a large bowl: pecans, almonds, coconut, pepitas, oats, salt (and coconut oil). Spread on a rimmed baking sheet.

Bake 10 minutes. Then let cool.

Whisk egg whites in a large bowl until foamy. Gradually add the coconut sugar while continuing to whisk.

Add the two (wet and dry) mixtures together. (It doesn't matter which you add to the other.) Stir until well incorporated.

Use a tablespoon or a cookie scoop to drop spoonfuls of the mixture onto a parchment-lined baking sheet. Space them evenly. You can place your 'cookies' pretty close to one another. They will not spread much.

Bake 15-20 minutes until golden brown. Transfer to a wire rack to cool. [They will get crispier as they cool.]
Laura's Tips + Notes
You can bake this mixture into pretty much any loosely structured shape…or no shape at all. If you want to make granola, simply spread the mixture in a thin layer on a parchment-lined rimmed baking sheet. Cook until golden brown. Crack it into pieces when cool.
YOUR OWN NOTES
Sign In to add your own private notes
Nutrition
Serving:
0.25
cup
Calories:
204
kcal
Carbohydrates:
11
g
Protein:
4
g
Fat:
17
g
Saturated Fat:
6
g
Trans Fat:
1
g
Sodium:
84
mg
Fiber:
3
g
Sugar:
5
g
Calcium:
31
mg
Iron:
1
mg