Duck Hash with Poached Eggs and Pickled Red Onions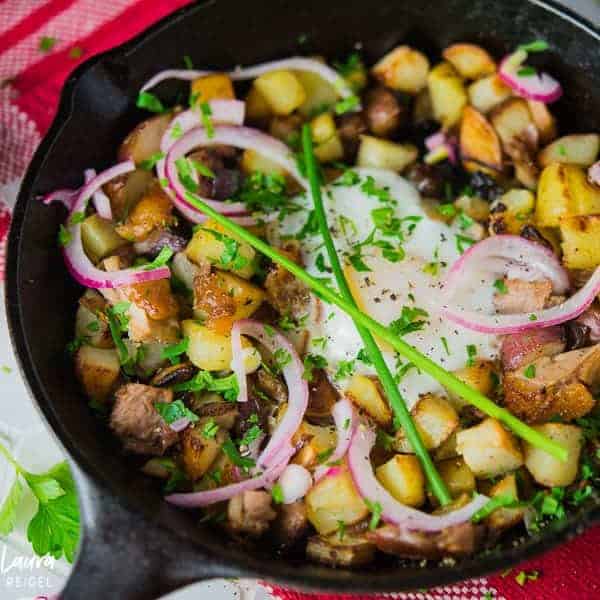 Recipe
Comments
Save
Go to Collections
This post may contain affiliate links. Please read my
disclosure policy.
On a trip to Oregon a few years ago I fell in love with duck, along with developing a serious crush for potatoes cooked in duck fat.
Duck Fat Potatoes are only half the story here. Whenever I visit Oregon, I get so excited to see duck on almost every menu. If I wanted to, I could have duck something for breakfast, lunch, and dinner.
While in Oregon, I have had duck hash, duck steamed buns, duck phở, duck tacos, and duck confit. My favorite was always a glass of Oregon Pinot or a Whisky flight and an order of duck egg rolls from Veritable Quandary in Portland. VQ was always a must do every time I made it out there, but I sadly learned that this fantastic historical Portland site closed in September of 2016.
UPDATE: As I rewrite this post I just found out that VQ was reborn under a new name — Q in 2017. I was just out there and completely missed this fact. It's fine, I'll be back Willamette.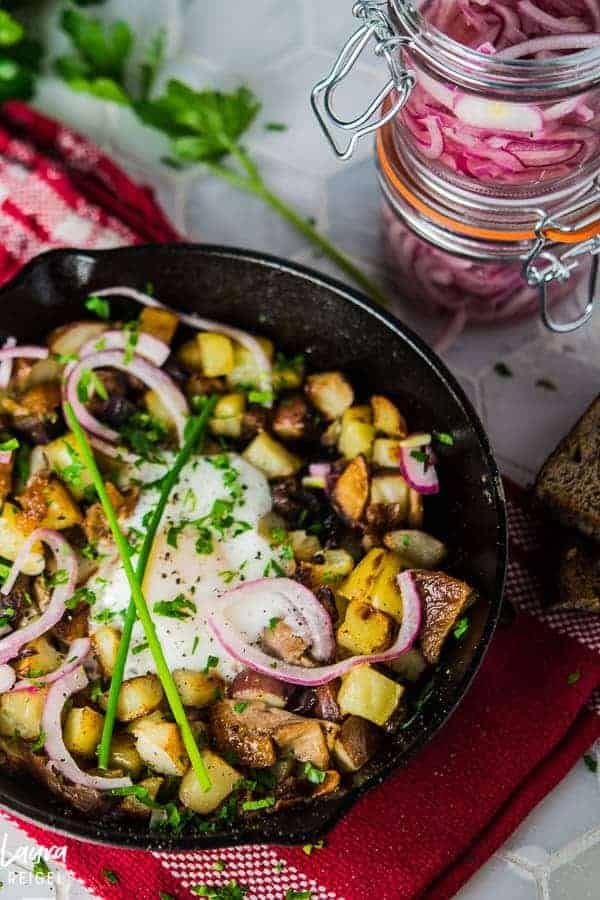 Duck hash with poached eggs, pickled onions, and duck fat potatoes.
There is no doubt that this is a gourmet brunch recipe.
Can you see yourself ordering this and a few mimosas? I thought so.
If you're looking at this recipe thinking no way can I roast a duck? Let me reassure you. It's easy! You literally put the duck in the oven at a really low temperature and let it cook for a long time.
You end up with a generous amount of what I believe to be the holy grail of fats, duck fat (affiliate link)and amazingly, delicious tender duck meat, and that magical crispy skin. Let me just say It's totally worth it to take the time to make this perfect roasted duck. Don't worry; I'm gonna walk you through it step by step.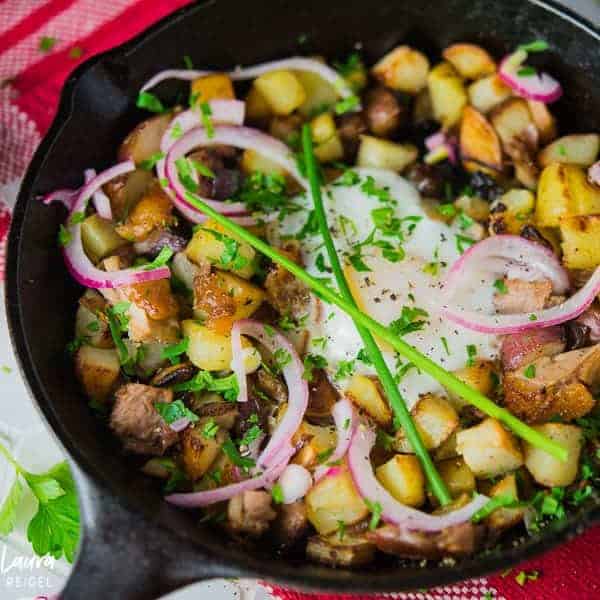 Crispy duck fat potatoes topped with a perfectly poached egg and some pickled onions = HEAVEN.
Your first question might be, where can get a duck in the first place?
If you're like me, you know people that duck hunt. Oddly enough, most of the duck hunters I know don't even like to eat the duck. This seems like such a waste of deliciousness. Give me all the duck.
Your second choice in finding a duck, if your local store doesn't carry them, is an Asain market — many Asian markets stock duck in the meat sections.
Now, I'm the type of white girl that has no problem strolling myself into an ethnic market and hunting down atypical ingredients for anything that I might want to try cooking. I'm not shy!
Over the years, I've gotten a few curious looks when I walk into my local Hispanic market and ask for the pork fat for making tamales. Not the packaged stuff but the one they use for frying the chicharrones. Yeah, get me that from back. That's where some serious flavor is.
They look at me like how cute this white girl is gonna make a tamale. But let me assure you I can make tamales with the best of them. Just like I can make a genuinely authentic lumpia, pancit, and chicken adobo.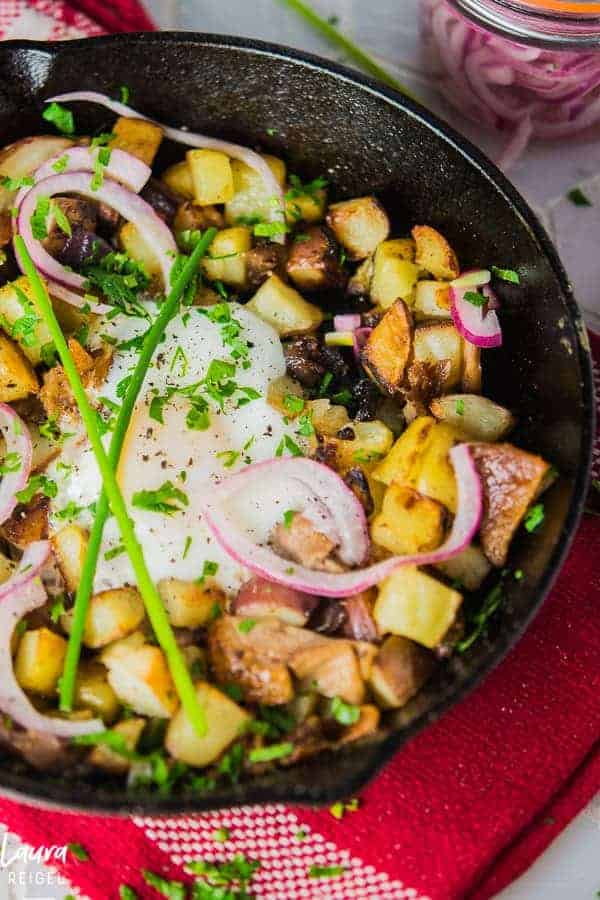 Do not underestimate this white girl when it comes to ethnic cooking.
From collard greens and banana pudding to spam fried rice, I can hang with the best of them. I have a sincere appreciation for food history and am passionate for figuring out how to get authentic flavors into my recipes. I study it like one might study sports statistics or military history. Food history facts fascinate me. I guess this is why I am the Foodology Geek.
If you aren't lucky enough to have an Asian market in your area you can still have fresh, quality duck delivered right to your door in a dry ice pack container. I have ordered duck many times to have in the freezer. For truly top-notch whole duck I recommend D'Artagnan. (affiliate link) D'Artagnan is a supplier of quality meat and they have truffles. If you have never experienced really truffles, here is your chance. Truffle Mac, anyone?
Do you have an excellent source for local meat in your area? I would love to hear about it! Leave me a comment below or shoot me an email. I am always looking to connect with people with excellent food resources.
I know that in a lot of areas in the US it is tough to even find consistently fresh fruits and vegetables, let alone sustainable quality meat.
I created this duck hash recipe in an effort to recapture some of the romantic Oregon trips that my husband and I have taken – I ended up making this for him on Valentine's Day this year.
Salty, crispy duck fat potatoes are a beautiful thing all by themselves, but serve them with rich roasted duck and soft poached eggs, and you have a magical and super impressive brunch.
Roasting the duck is the most time-intensive part of this recipe, but it really is worth it. It's very hands-off. You end up with a good amount of left-over duck fat (affiliate link) that you can use for fries and other potatoes for months. I usually keep it in the fridge and then use it for breakfast potatoes whenever I get a craving for something crispy and salty.
If you don't want to worry about rendering your own duck fat, you can buy it here (affiliate link).
If you aren't sure how to poach eggs check out this instructional video by one of my all-time Chef Idols, Jamie Oliver.
Leave A Review
Did you make this recipe? Leave a comment and a 5 ★ review. Your feedback helps other readers and helps me continue to offer recipes at no cost. Happy Cooking!!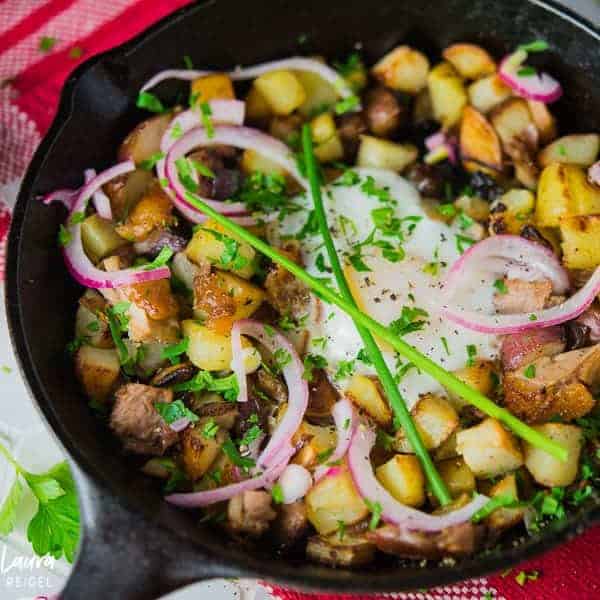 Duck Hash Recipe
Crispy duck fat potatoes and roasted duck make this hash a seriously succulent treat. Roasting the duck takes a little bit of time. But don't let that part scare you. It is really easy and totally worth it!!!!
Ingredients
Roasted Duck
Duck Fat Potatoes
2

lbs

red potatoes

,

about 8 small ones

2

tbsps

duck fat

salt and pepper

,

to taste
Poached Eggs
6

eggs

salted boiling water
Garnish
2

tbsps

parsley

2

tbsps

chives
Special Equipment
Instructions
Roasted Duck
Score the skin of the duck, rub with salt and pepper.

Roast the duck in a roasting pan at 350℉ for about an hour. Carefully spoon over some of the rendered duck fat over the top of the duck.

Continue to roast the duck for another 45 minutes to an hour, until the skin is crispy and a deep golden brown.

Remove from oven and reserve duck fat. When duck is cool remove meat from bones and chop into bite size pieces.
Potatoes
Dice the potatoes (½ inch dice)

Heat the duck fat in an iron skillet, add the potatoes and brown them. Salt and pepper to taste.

Remove the potatoes and add the duck meat to pan to reheat. Use as much skin as you like.

Add the potatoes back to the pan, and mix with the duck meat.

Plate, served with poached eggs on top. Garnish with fresh parsley and chives.

Quick Pickled Onions
Cut the onion in half and then slice thin.

Place in a bowl and add salt, sugar and vinegar. Toss.

Let sit for at least 15-20 minutes before serving.

Store leftovers in a non-reactive airtight container in the refrigerator.
YOUR OWN NOTES
Sign In to add your own private notes
Nutrition
Calories:
512
kcal
Carbohydrates:
24
g
Protein:
17
g
Fat:
38
g
Saturated Fat:
12
g
Cholesterol:
225
mg
Sodium:
138
mg
Fiber:
2
g
Sugar:
2
g
Calcium:
50
mg
Iron:
3.8
mg