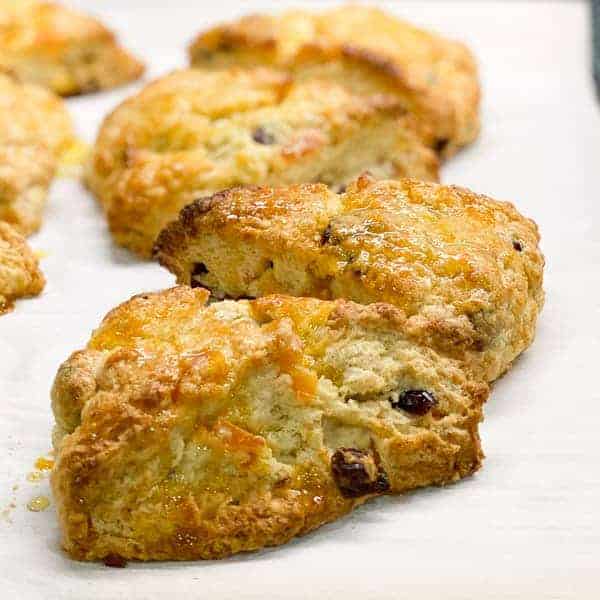 Recipe
Comments
Save
Go to Collections
This post may contain affiliate links. Please read my
disclosure policy.
Cranberry orange scones are flakey and tender and filled with a fresh burst of orange flavor. This scones recipe is filled with dried cranberries and candied orange zest. Then they're topped with a sweet orange glaze.
This scones recipe can also be used to make any kind of scone that you like. You can mix in your favorite fruit and have perfect scones every time.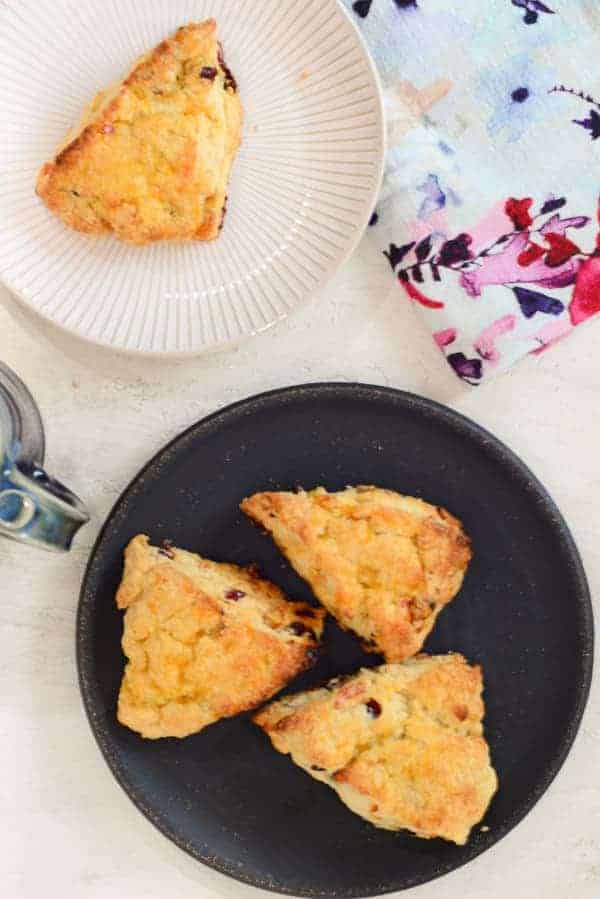 This Is The Best Scone Recipe
My husband adores baked goods, and one of his favorites is scones. His favorite is blueberry scones, but blueberry might be his second favorite after he had these cranberry orange scones.
This recipe is made with my Candied Orange Peel. You can substitute orange zest if you haven't made the candied orange peel. I'll give you the deets in the recipe card.
Don't forget to pin this recipe to save it for late!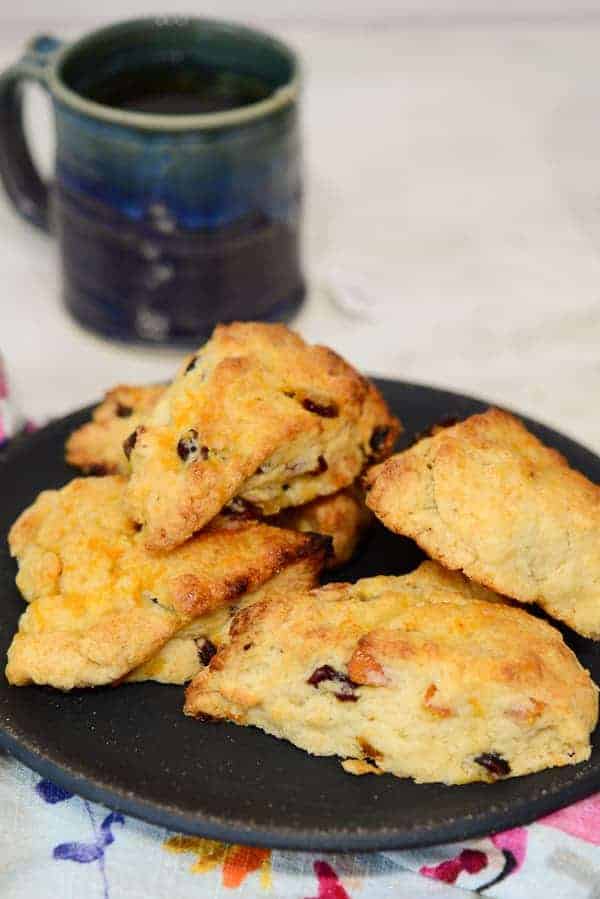 Ingredients needed to make cream scones:
Dry Ingredients: All-purpose flour, baking powder, sugar, and salt.
Wet Ingredients: Butter and heavy cream. Make sure to freeze your butter beforehand so that it is ultracold.
Fruit: Dried Cranberries and candied orange peel. You can use almost any fresh or dried fruit to make scones. I like the super tart dried cranberries and the candied orange peel together in this recipe.
Glaze: Confectioners sugar, orange juice, orange zest, and butter.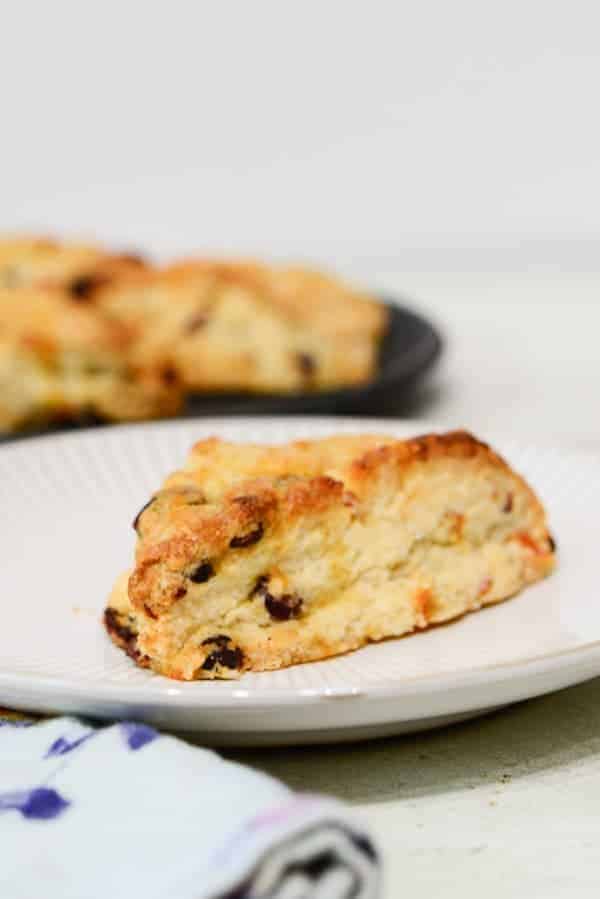 How To Make THE Cranberry Orange Scone Recipe
You can mix up this easy scone recipe in a bowl. However, you can also use a food processor. It's essential that all of the ingredients are really cold.
Combine the dry ingredients: I add all of my dry ingredients to a mixing bowl and toss with a fork. If you are using a food processor, spin the blade for a few seconds to combine the dry ingredients.
Grate the butter: I use frozen butter and then grate it into the flour mixture using a box grater. If you use a food processor, dice the very cold butter and pulse ten times with blade attachment.
Add the cream and fruit: If you are using a bowl, add the cream, dried cranberries, and candied orange peel to the flour mixture. Mix with a fork until loosely combined. If you are using a food processor, add ONLY the cream and pulse a few times.
Form the dough into a disk: After the flour mixture is loosely combined, turn it out onto a lightly floured board. Add fruit if you haven't yet. Knead until the dough comes together and then form it into a round disk that is about 8 to 9 inches in diameter.
Slice into eight pieces: Slice the disk into eight equal pieces, like a pizza. Place the scones on a parchment-lined baking sheet. Brush with heavy cream before baking.
Bake: Bake for 15-20 minutes at 400℉. Do not underbake. The scones should be a deep golden brown. Let the scones cool before glazing them.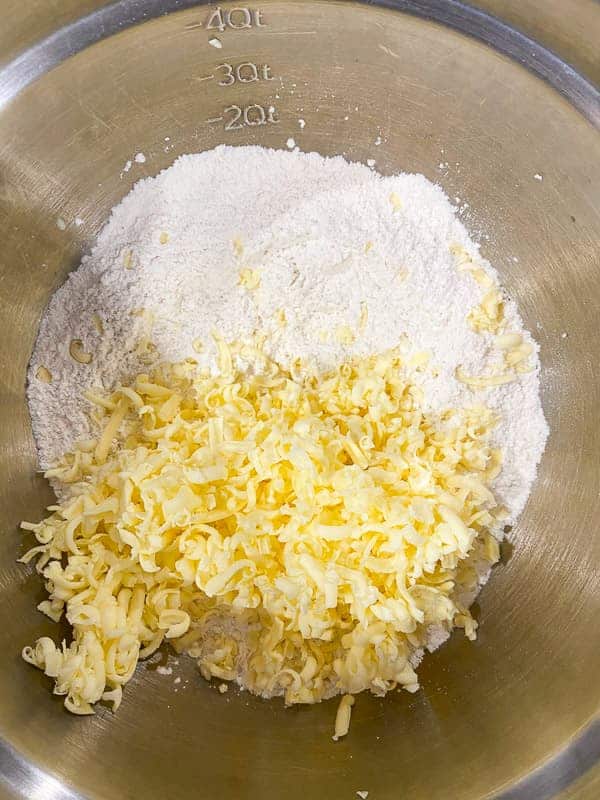 Making Orange Glaze for Scones
Make a simple orange glaze for the scones. I like a thin transparent glaze on my scones.
Orange: Mix the zest of one orange, 2 tablespoons of orange juice
Confectioners Sugar: Add three to four tablespoons of confectioners sugar. You can add more confectioners sugar if you want a thicker glaze.
Butter: Add in 1 tablespoon of butter.
Microwave: for 30 seconds on high, stir, and then repeat.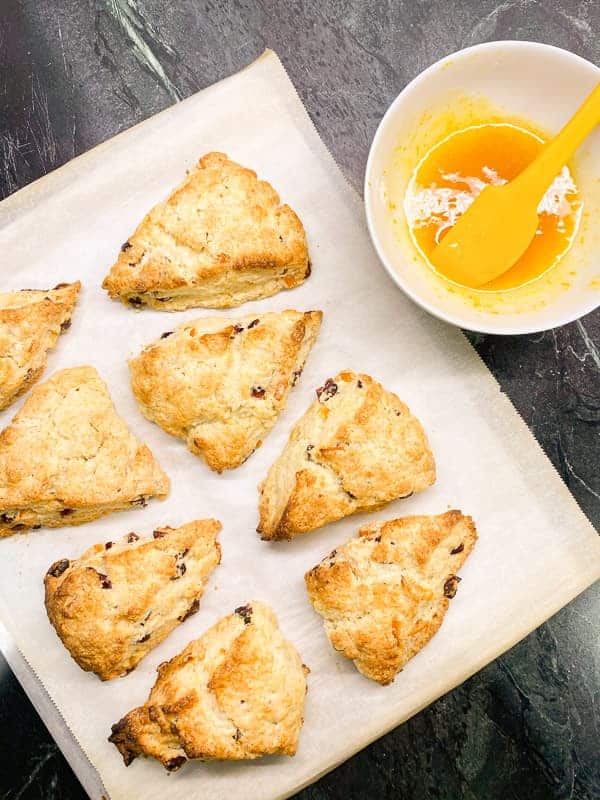 Variations of Scones
This Master Scone Dough can be used to make a variety of scones, both savory and sweet.
Blueberry Scones: Add 1 cup of blueberries and the zest of one lemon. Add a lemon glazed.
Lemon Poppy Seed Scones: Add three tablespoons of poppyseeds and three tablespoons of lemon zest. Make a lemon glaze.
Chocolate Chip Scones: Add two teaspoons of vanilla extract and one cup of chocolate chips. I like using mini chocolate chips for this recipe.
Cheddar and Green Onions Scones: Reduce the sugar to 2 tablespoons. Add one cup of very sharp cheddar cheese, shredded, and a third of a cup of green onions.
Caramelized Onion and Gruyere: Add one cup of shredded gruyere and one onion thinly sliced and caramelized.
Scone Making Tips
Make Scones In Your Food Processor
If you have a food processor, making scones couldn't be easier.
Add the dry ingredients to the work bowl. Pulse a few times.
Add the cold butter and pulse 10 times.
Turn the bowl to ON and pour in the heavy cream while the food processor is running.
Once the dough comes together, add the mix-ins and pulse a few more times.
Follow the remaining recipe instructions for baking.
How to make gluten-free scones
This scone recipe does well if you swap out the all-purpose flour for a gluten-free flour blend. I like King Arthur Brand One-to-One (affiliate link).
I've had outstanding success using this flour in cakes and cookies too!
Why did my scones not rise?
The ingredients must be really cold before they go into the oven.
After I cut my scones, I place them on a baking sheet and put them in the fridge for an hour. This step isn't absolutely necessary, but it does make sure the butter is as cold as possible before baking.
When cold butter hits the oven, the heat caused the butter to release its moisture as steam. This steam creates air pockets in the dough, which gives you a more flakey tender scone.
How to freeze scones
Scones freeze well. This is great news because it means that you can have scones ready to go in the freezer 24/7.
You can freeze the dough before you bake it. Just cut out the dough into either triangles or rounds, and then freeze them individually.
When you are ready to bake them, just pop them in the oven straight from the freezer and cook for five additional minutes.
You can also freeze baked scones. When you are ready to eat them, pull them out of the freezer and let them thaw.
More Baking Recipes That You Might Like
Puff Pastry Tart with Goat Cheese Filling, Figs And Bacon
All the deliciousness of the classic appetizer (figs stuffed with goat cheese and wrapped in bacon) with even more sophistication.
SEE THE RECIPE
PIN FOR LATER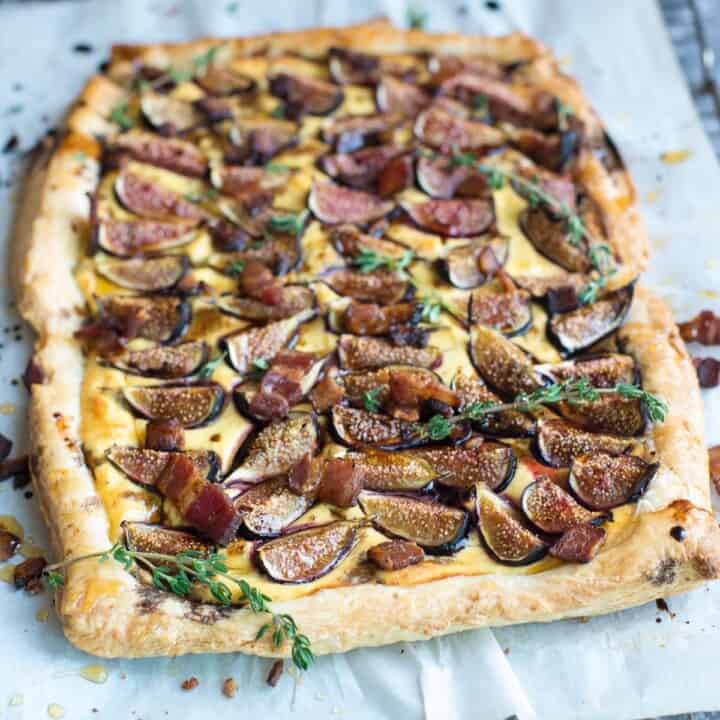 German Apple Cake Recipe
Looking for the perfect dessert that combines both tradition and irresistible flavors? Look no further than this authentic German Apple Cake recipe! This delectable treat is a staple in our house, loved for its moist and fluffy texture, rich taste, and delightful aroma. Whether it's for a family gathering, a festive occasion, or simply to satisfy your sweet tooth.
SEE THE RECIPE
PIN FOR LATER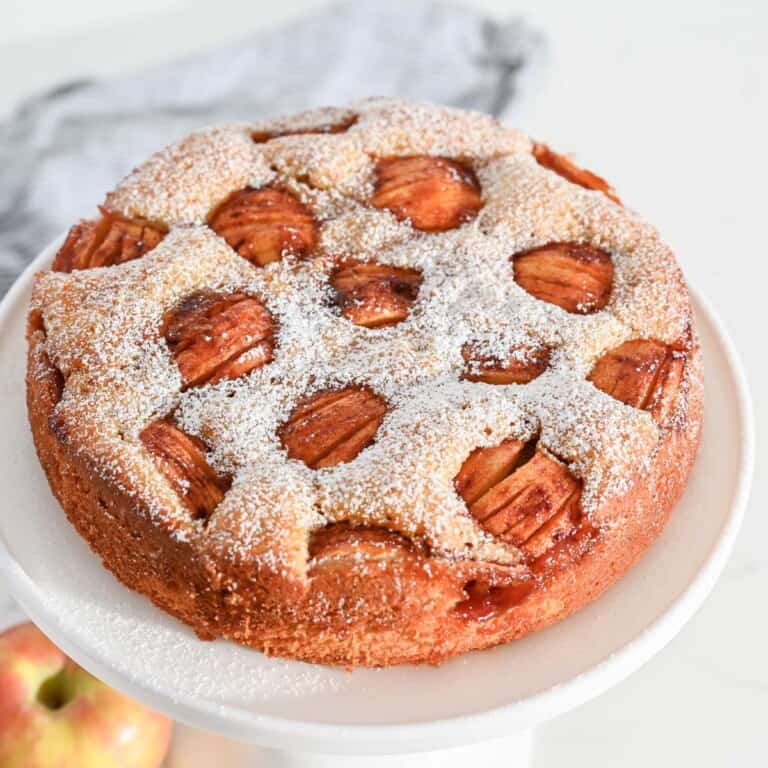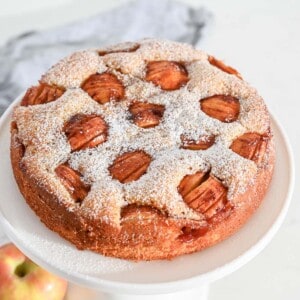 The Best Sour Cream Cheesecake (New York Style)
Rich, creamy, perfectly baked cheesecake couldn't be easier. This is my foolproof recipe for the most delicious New York Cheesecake. This recipe never cracks and always looks super impressive. Here you go: all the tips to make sure your cheesecake is perfect!
SEE THE RECIPE
PIN FOR LATER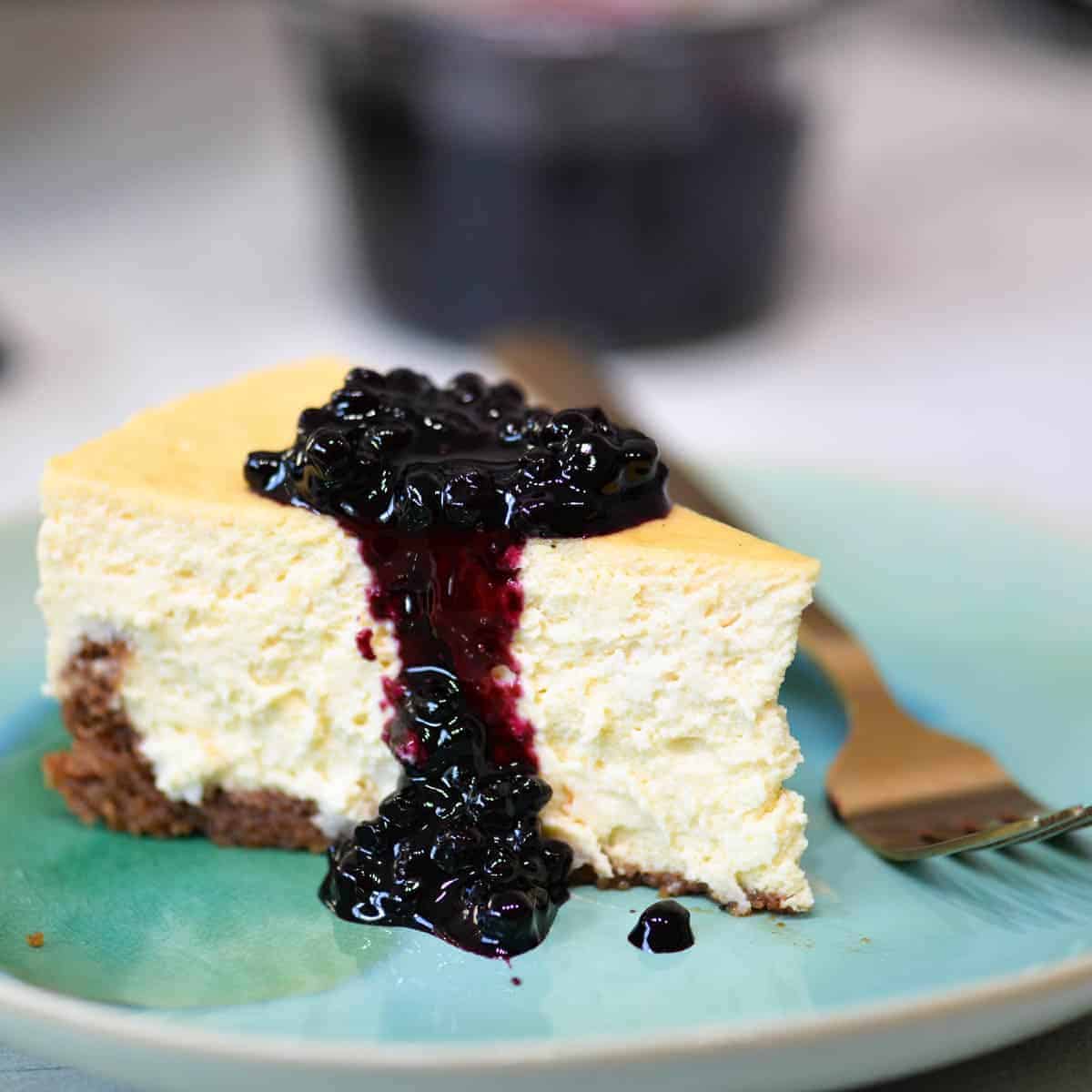 Pecan Christmas Cookies
This old-school pecan finger cookie recipe is chock full of finely ground pecans and then covered in powdered sugar. It 's one of my absolute favorite cookies of all time.
SEE THE RECIPE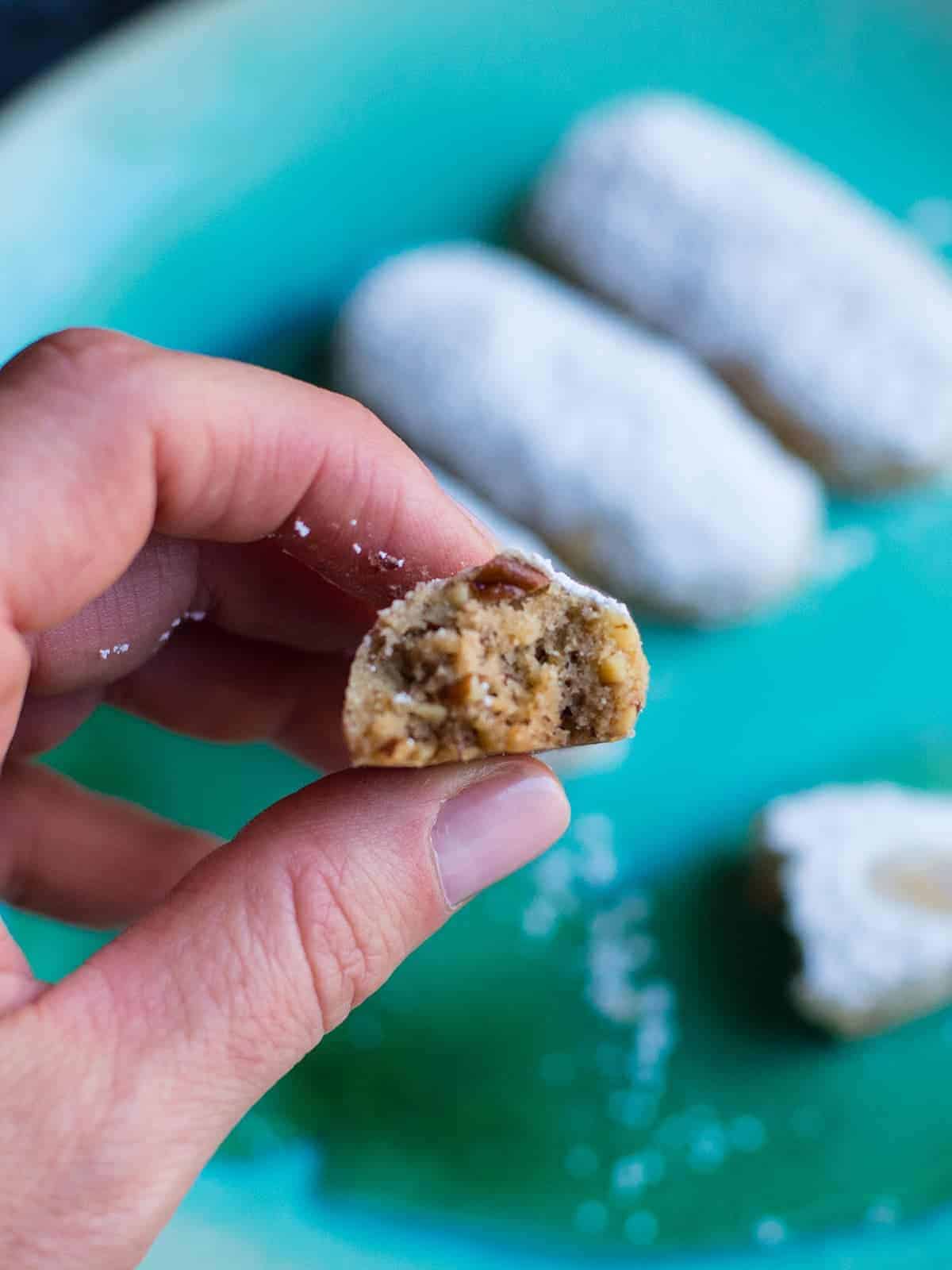 Old Fashioned Glazed Pumpkin Donuts
This donut is everything that a true old fashioned donut should be. The crumb is perfect and moist. The outside is crispy in that perfect-glazed-way. Plus it's full of amazing pumpkin pie flavor.
SEE THE RECIPE
PIN FOR LATER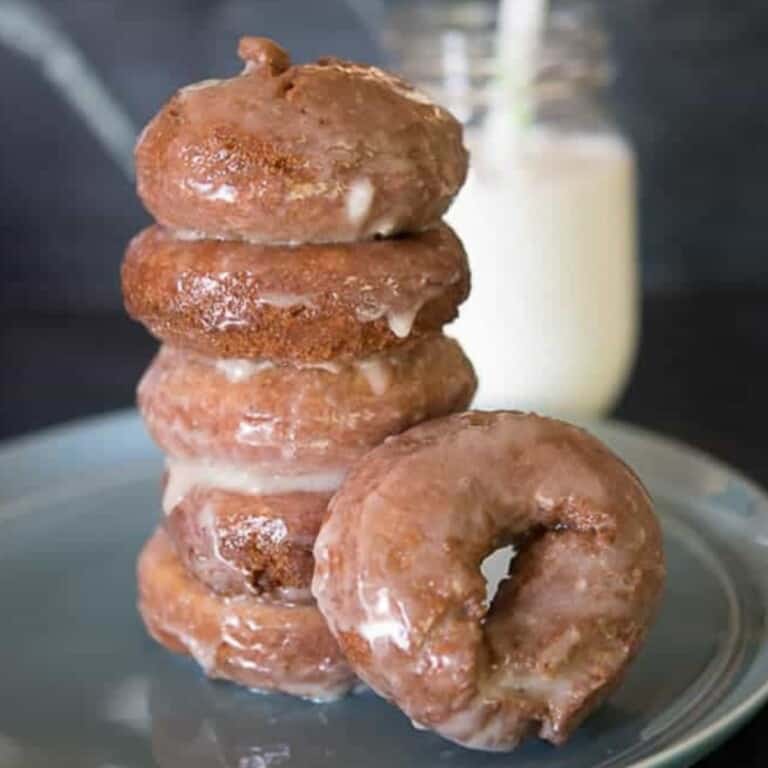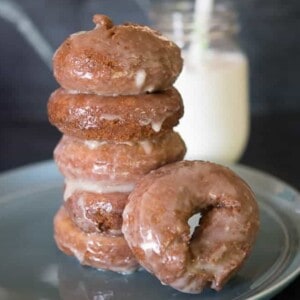 Homemade Apple Cider Donuts
These cider house donuts are full of apple spice flavor. They're the best apple cider donuts that I have ever tasted.
This recipe is adapted from Bon Appetit.
SEE THE RECIPE
PIN FOR LATER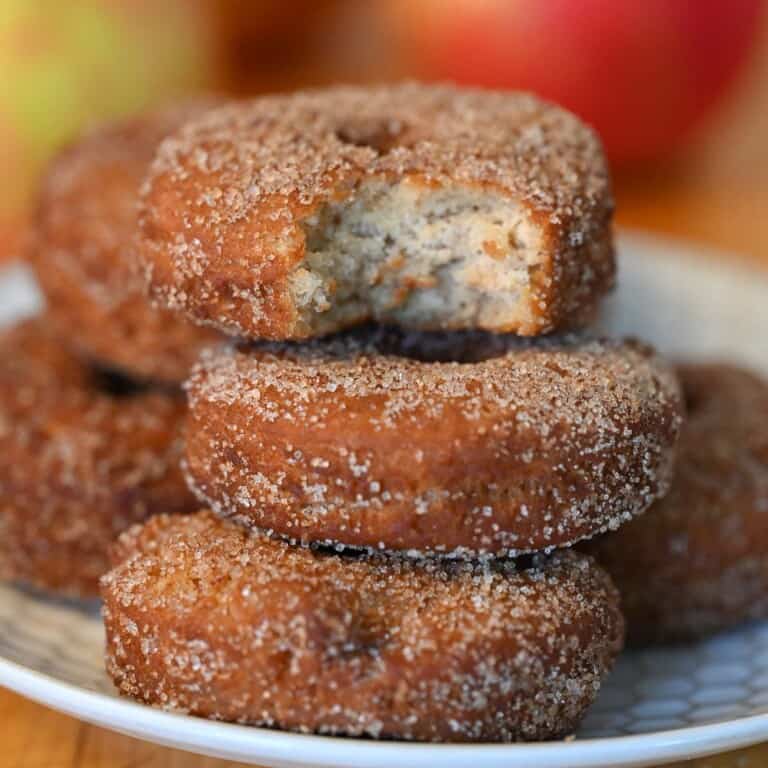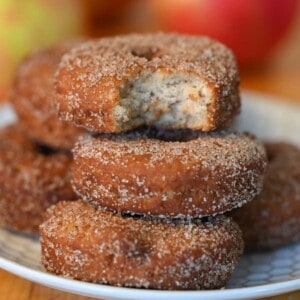 Pumpkin Cheesecake Bars
These are incredibly decadent. Everything that a fall dessert recipe should be. Pumpkin spice and a sweet Bourbon Caramel Sauce take these Pumpkin Cheesecake Bars to the next level.
SEE THE RECIPE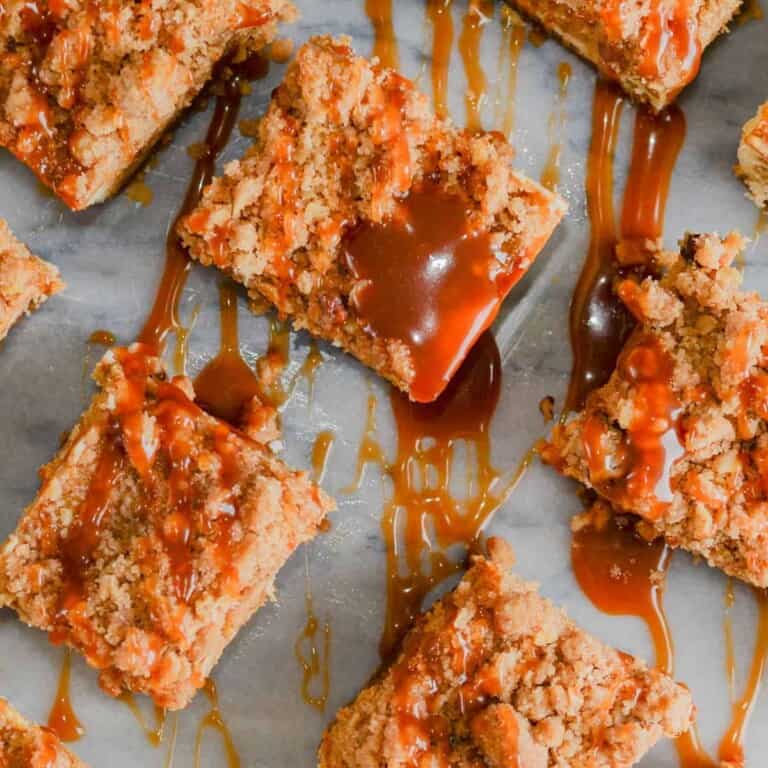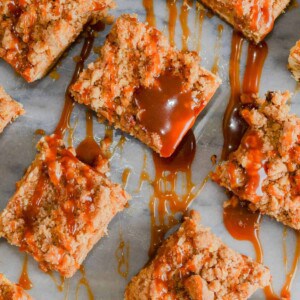 Caramel Sauce
Easy to make and easier to eat. This bourbon caramel sauce is the perfect addition to ice cream or apple pie. Sweet, bourbon-y, and just a pinch of salt. 10-minutes to the perfect caramelly goodness.
SEE THE RECIPE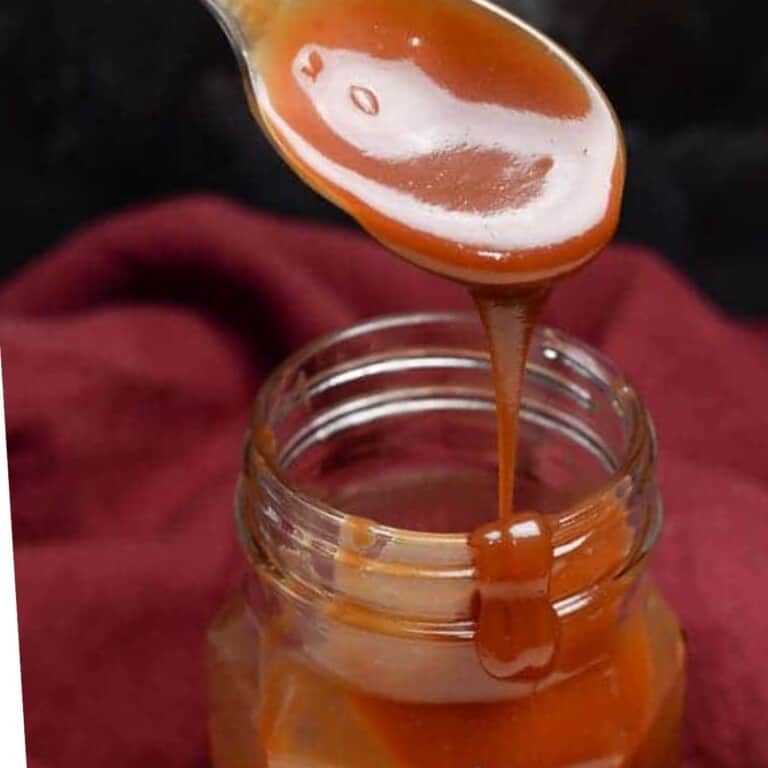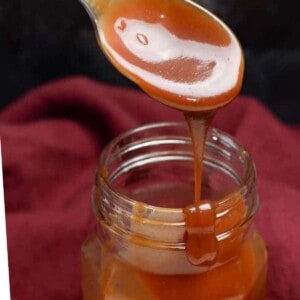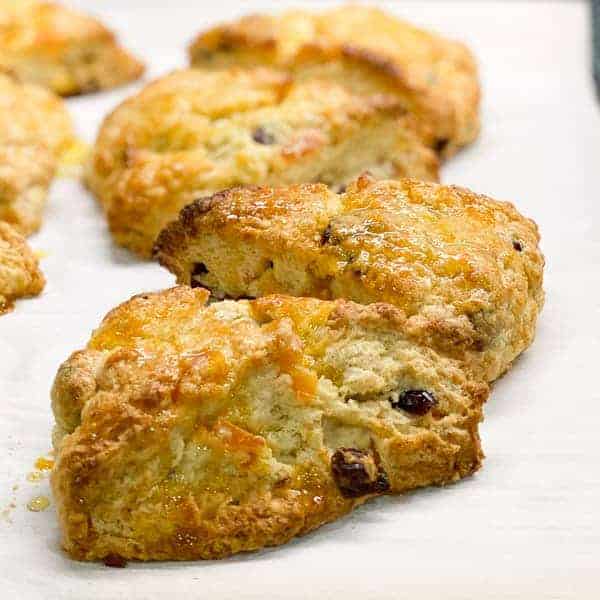 The BEST Glazed Cranberry Orange Scones
These glazed scones are buttery and flaky with a burst of cranberry and orange flavor. This is my Master Scone Recipe that you can change up to make any kind of savory or sweet scone. This recipe is completely fail-proof. I promise you will get perfect scones every single time.
Ingredients
Mix-Ins
½

cup

dried cranberries

½

cup

diced candied orange

,

OR tablespoons of grated orange zest
Glaze
½ to 1

tablespoon

orange zest

,

approximately one orange

2

tablespoons

orange juice

3 to 4

tablespoons

confectioners sugar,

add more or less sugar to adjust the thickness

1

tablespoon

unsalted butter
Instructions
Mix together the dry ingredients in a bowl, toss with a fork.

Grate the frozen butter into the flour mixture. Toss again with a fork.

Add the fruit and cream to the flour mixture. Mix together until it everything comes together in a loose mixture.

Dump out onto a lightly floured surface.

Use your hand to press the mixture together. Shape into a 8- inch disk.

Cut into 8 equal pie shaped peices.

Place each piece on a parchment lined baking sheet.

Optional: For best results refrigerate the mixture for about and hour before baking.

Using the additional 2 tablespoons of heavy cream, brush the tops of each scone with heavy cream before baking.

Preheat the oven to 400°F. Bake for 15-20 minutes. The scones should be a deep golden brown. Do not under bake.

Let the scones cool before glazing.
The Glaze
Mix together the orange zest, orange juice, and confectioners sugar. Mix together.

Microwave for 30 seconds, stir, repeat.

Use a spoon to glaze each scone.
YOUR OWN NOTES
Sign In to add your own private notes
Nutrition
Serving:
1
scone
Calories:
393
kcal
Carbohydrates:
41
g
Protein:
4
g
Fat:
24
g
Saturated Fat:
15
g
Cholesterol:
75
mg
Sodium:
161
mg
Fiber:
1
g
Sugar:
15
g
Calcium:
92
mg
Iron:
2
mg