This Easy Salsa Recipe is definitely going to be your new favorite Salsa Fresca. You only need a few ingredients; tomatoes, onions, garlic, and cilantro to pull together this fresh salsa recipe for next Taco Tuesday!
I've already confessed to being completely taco obsessed
Therefore, it should make sense that chips and salsa are also way up there on my most delicious things ever list.
Salsa recipes are another thing that I have an arsenal of, starting with this Salsa Fresca AKA Pico de Gallo AKA one of the best things you will ever put on a chip.
This simple Salsa recipe is a great way to get acquainted with the basic foundation of salsa making
Once you have the foundational knowledge of what makes a delicious fresh salsa you can start to tweak it in your own way.
Just by swapping out the tomatoes for pineapple, mangoes or watermelon, you can easily create a fruit salsa that goes great with fish or shrimp. (did you know that tomatoes are actually a fruit?)
Using peaches you can create an amazing salsa for roasted pork.
One of my favorite go-to salsa recipes is my Roasted Corn Salsa, probably the first variation I ever made.
I remember making this salsa when I was in high school, and I served it with a grilled cilantro lime swordfish.
This salsa is also perfect for grilled chicken or my Carne Asada Tacos.
Salsas are a really easy way to add a fresh, healthy and bright punch of flavor to so many things
I love pairing salsas with grilled meats and veggies.
This basic fresh salsa recipe can be adapted in so many ways depending on what you are eating and what you can dream up.
Ingredients Needed For Salsa
Tomatoes: Make sure you use fresh ripe tomatoes. This is where you can swap out any fruit. (pineapple, mango, and watermelon are a few of my favorites.)
Veggies: Serrano peppers. Serrano peppers are what I usually use when I make salsa. If you want something with a little less heat you can use jalapeños.
Aromatics: Onions, garlic, and cilantro. For this salsa recipe, I like using white onions. But, you can use red onion or sweet onion instead.
Citrus: Lime or lemon juice. Lime is what is traditionally used when making Salsa Fresca. But, you can use lemon in a pinch.
How to make Fresh Salsa Fresca
The awesome thing about making resh salsa is that it is super easy.
The only step is to cut everything up and add it to a bowl, stir to combine.
Technically, you could put all of the ingredients into a food processor or blender.
However, if you do this then you are making more of a salsa than a pico de gallo. Still delicious!
Another option is to roast the ingredients to make a Roasted Salsa Recipe.
Simply roast the tomatoes, onions, garlic, and peppers.
Once everything has a nice char, chop the ingredients, remove the seeds, and add to your food processor or blender.
I incorporate salsas pretty regularly into my weekly food prep schedule.
A batch of salsa is a super fresh and veggi-ful way to add extra flavor to meats, salads and my favorite Beast Bowls (my version of the buddha bowl) – Basically Protein Meal Prep Bowls that include; meat, greens, veggies, and healthy carbs like quinoa or brown rice. Add some avocado and some kind of delicious salsa and you have a complete meal.
Here are a few more of my salsa recipes. I hope you add them to your salsa arsenal.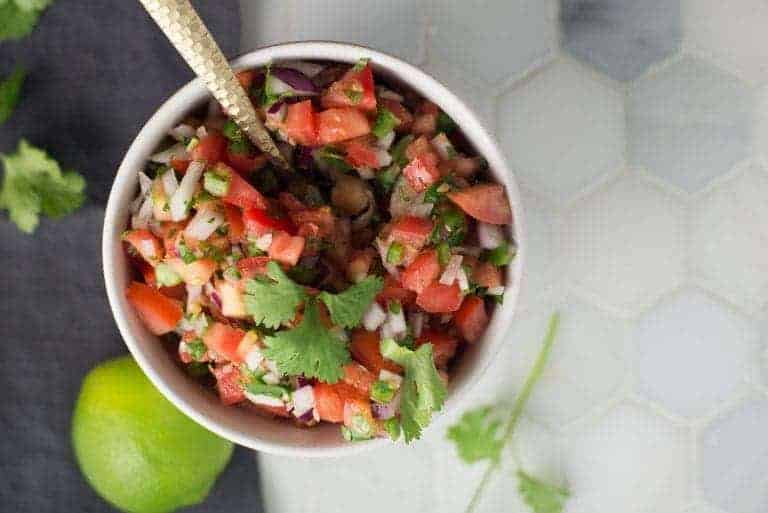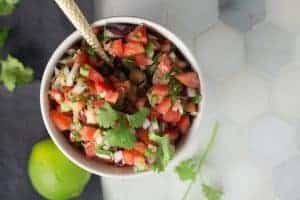 Salsa Fresca
Fresh, spicy, chunky salsa. Perfect for any taco situation.
Print Recipe
Pin Recipe
Ingredients
4

cups

fresh tomatoes

chopped

2

jalepeno peppers

finely diced

2

serrano peppers

finely diced

2

cloves

garlic

minced or pressed

1

cup

onion

diced

½

cup

cilantro

finely chopped

2

tsp

kosher salt

1

tsp

black pepper

2

tsp

olive oil

1

cucumber

diced (optional)

1

lime

juiced
Instructions
Dice and chop all of the vegetables. Add to a large non-reactive bowl.

Add lime juice, olive oil, and salt and pepper to taste.

Toss and serve. Store in an airtight container in the fridge.
Notes
I love the freshness cucumber adds to the salsa. My husband...not so much. So a lot of the time I will leave out the cucumber.
(Visited 33 times, 1 visits today)