Salsa Verde Mexican Salsa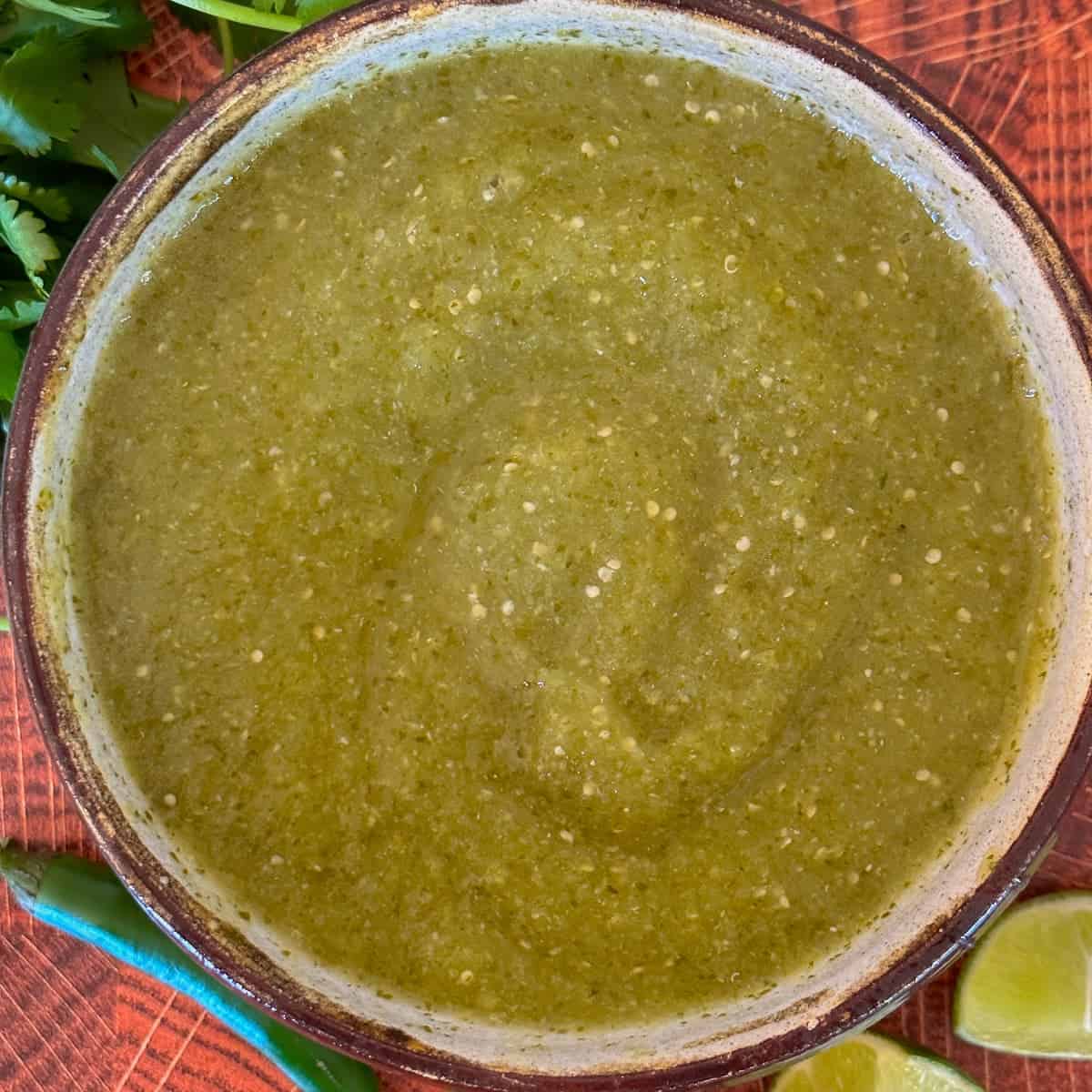 Recipe
Comments
Save
Go to Collections
This post may contain affiliate links. Please read my
disclosure policy.
Looking to add a burst of flavor to your favorite Mexican dishes? Look no further than salsa verde! This zesty and vibrant green sauce will elevate your meals to a whole new level.
Elevate your tacos, burritos, and enchiladas with this zesty sauce.
Made from a combination of tomatillos, spicy chilis, garlic, and cilantro, this zesty green sauce has tangy and refreshing flavors that will awaken your taste buds. Whether you prefer a mild or spicy kick, this versatile sauce can be customized to suit your palate.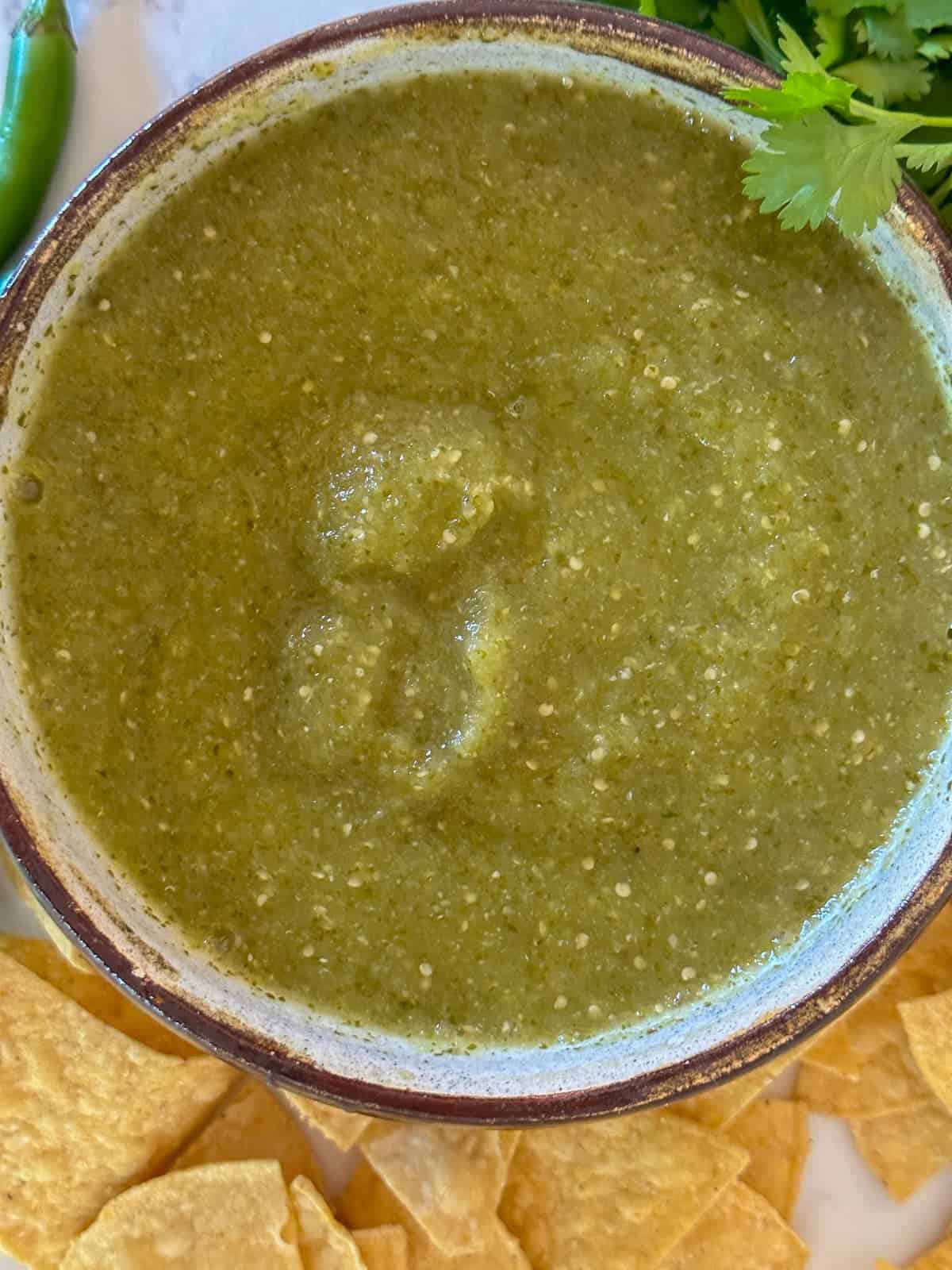 Two Versions Of This Recipe
The first one is made on the stovetop by first boiling the ingredients. And the second one is a roasted salsa. Both are fantastic!!!
Boiled salsas are a common way of preparing ingredients and results in a milder salsa, while roasted tomatillos and peppers give a more concentrated and spicier flavor and
While there are many variations of salsa verde, the essential ingredients remain the same – tomatillos, jalapenos, garlic, and cilantro. These ingredients are blended together to create a smooth and flavorful sauce that pairs perfectly with various Mexican recipes.
What is Salsa Verde?
Salsa verde, which translates to "green sauce" in Spanish, is a traditional Mexican condiment that has gained popularity worldwide. It is characterized by its vibrant green color and tangy flavor profile.
Not only does this green salsa add a delightful tang to your favorite dishes, but it also adds a beautiful pop of color, making your meals visually appealing.
History and Origins of Salsa Verde
The origins of this tangy sauce can be traced back to ancient civilizations in Mexico, where tomatillos were a staple ingredient. The Aztecs and Mayans used tomatillos in their cooking, and over time, they began experimenting with different combinations of ingredients to create flavorful sauces.
This salsa recipe was born from these culinary experiments and has since become integral to Mexican cuisine.
Salsa Verde Ingredients
Tomatillo salsas are known for their simple yet flavorful ingredients. The main components include: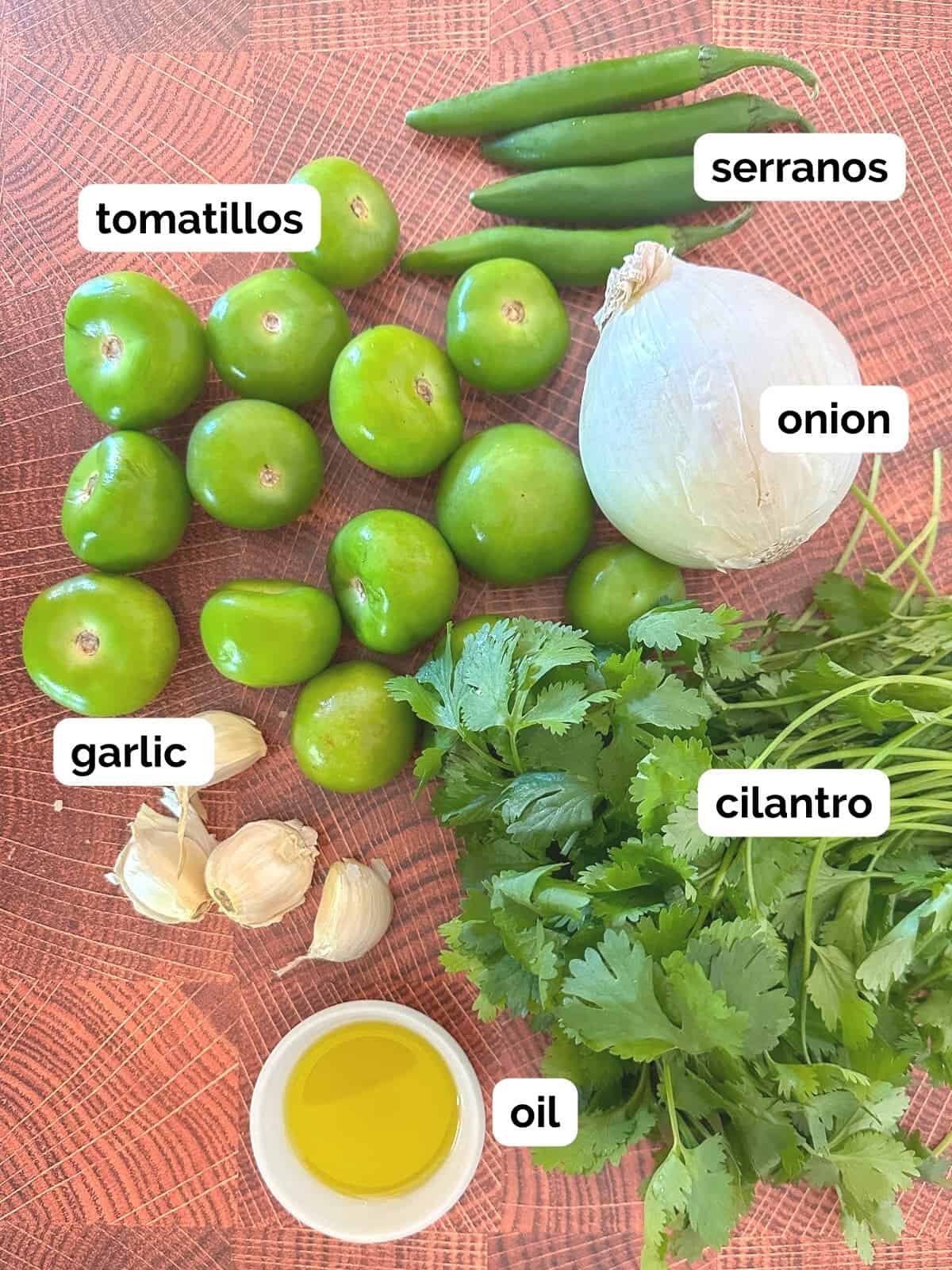 Tomatillos: These tiny green fruits are the star ingredient of salsa verde. They have a tart and tangy flavor, adding a refreshing kick to the sauce.
Serrano peppers or Jalapenos: Green chilis provide the heat in salsa verde. They can be adjusted to suit your spice tolerance.
Garlic: Garlic adds a savory and aromatic element to the sauce. It complements the tanginess of the tomatillos and the spiciness of the jalapenos.
Cilantro: Cilantro is an essential herb in Mexican cuisine. It adds a fresh and citrusy flavor to salsa verde.
These ingredients create a well-balanced and flavorful sauce when combined in the right proportions.
How to Make Homemade Salsa Verde
Making this salsa verde recipe at home is easier than you might think. Here's a simple recipe to get you started.
Step 1—Boil the ingredients:
Place the tomatillos, jalapenos, quartered onion, and garlic cloves in a large pot of water with a few teaspoons of salt. Bring the contents to a boil and then boil for 10 minutes. Remove from the heat and allow the vegetables to cool slightly before moving on to the next step. (Alternatively, roast the ingredients—see recipe notes.)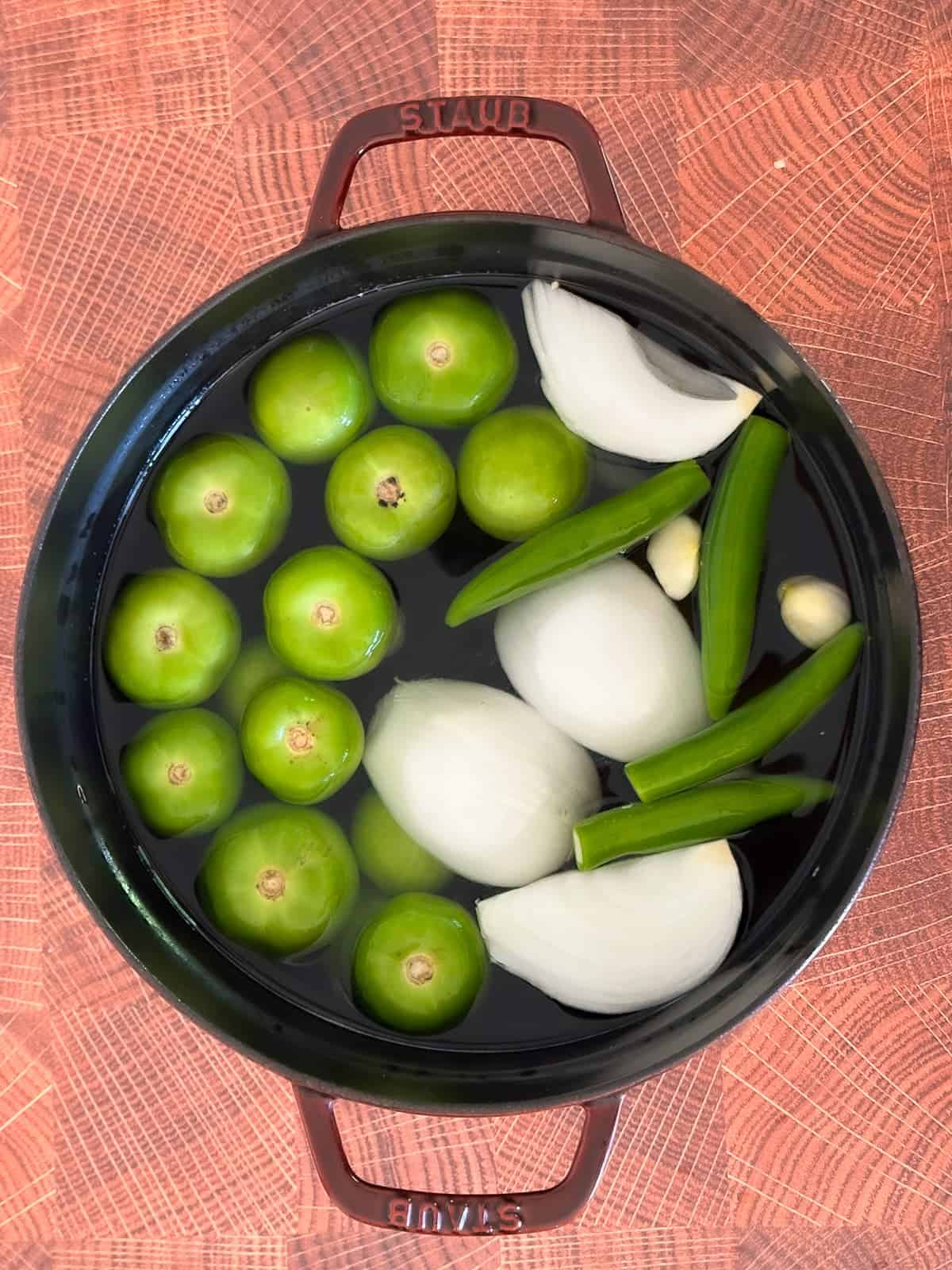 Step 2—Blend:
Transfer the roasted vegetables to a blender or food processor. Reserve one cup of the cooking water if you need to thin the salsa to the desired consistency. Add the cilantro, lime juice, and salt. Blend until smooth. Taste and adjust the seasoning if necessary.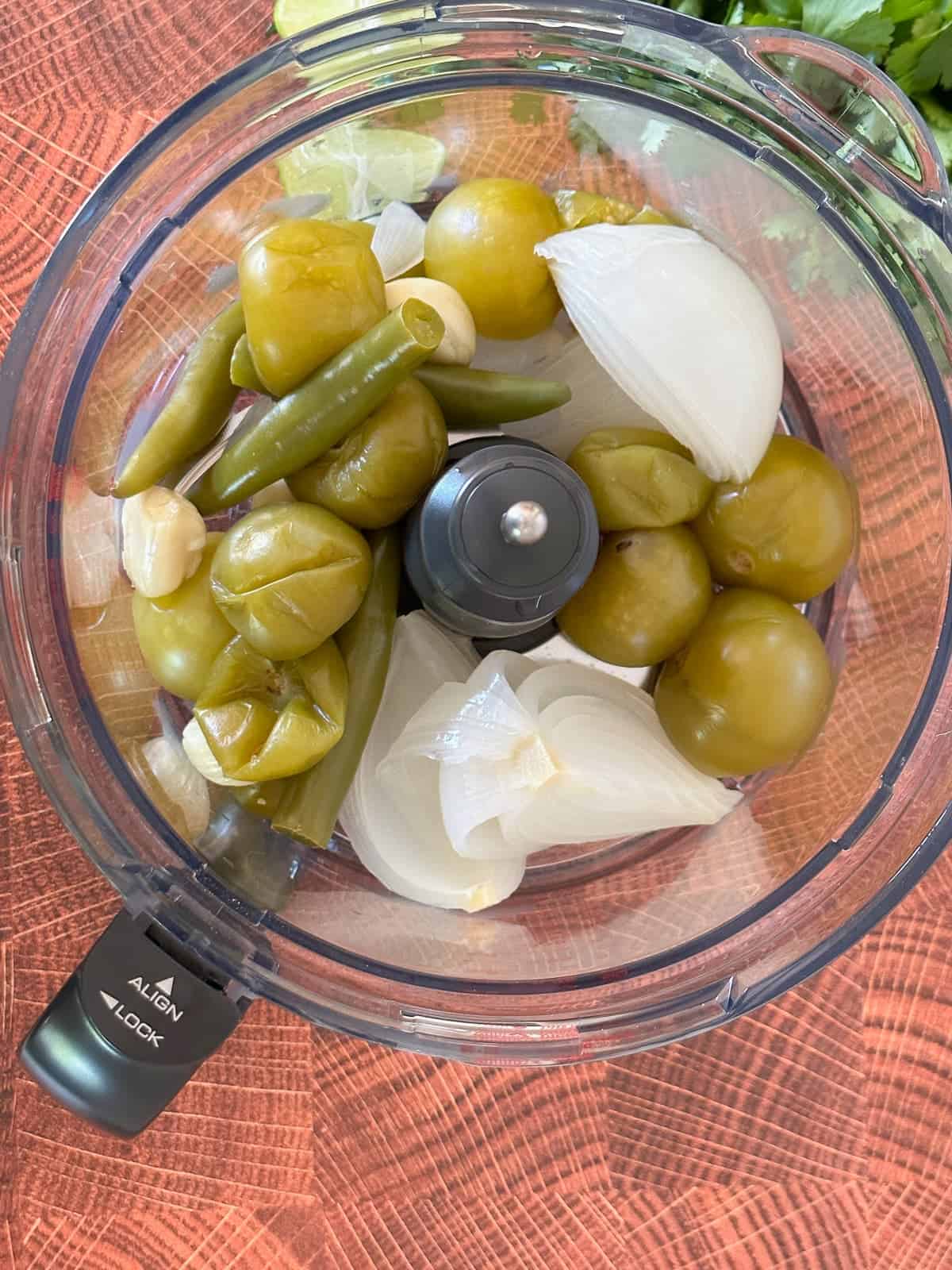 Step 3—Fry the salsa:
Add a tablespoon of olive oil to a medium pot. Heat of medium. Add the blended salsa to the pot and bring it to a boil. Reduce the heat to a simmer, and all the salsa to reduce.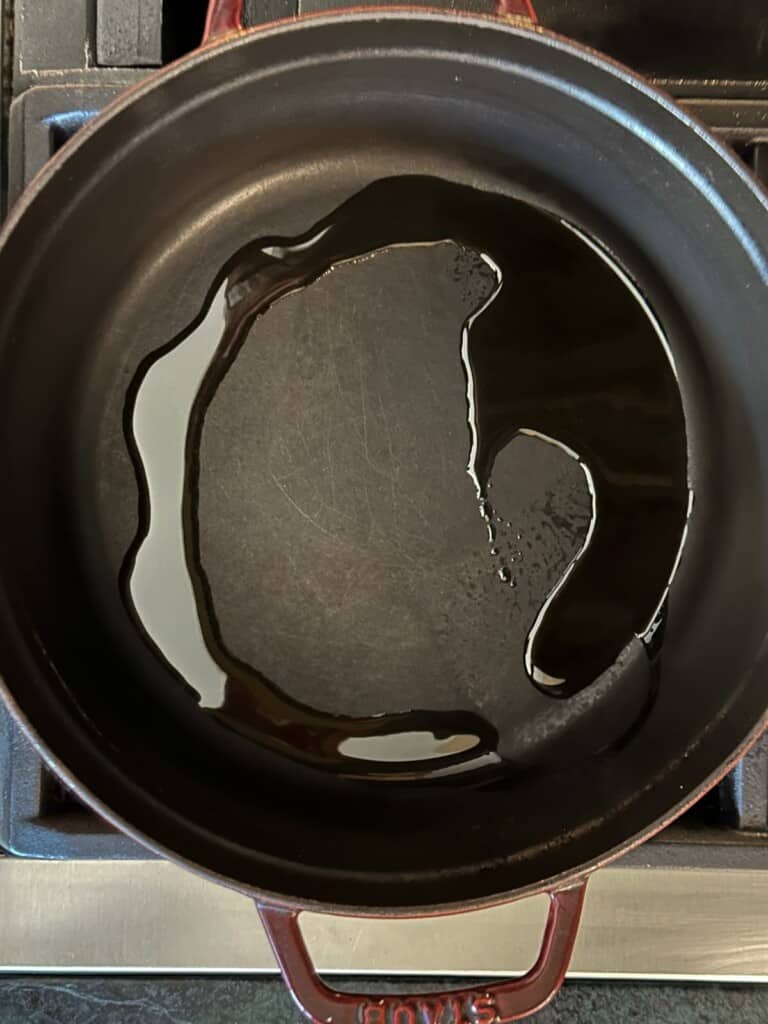 Traditional Recipes Using Salsa Verde
Mexican salsa verde is a versatile sauce that can be used in various traditional Mexican recipes. Here are examples of dishes that pair best with salsa verde:
Enchiladas Verdes: Enchiladas verdes are a delicious and comforting dish made with corn tortillas, shredded chicken, and cheese. The enchiladas are rolled and then smothered in salsa verde before being baked until the cheese is melted and bubbly.
Tacos de Carnitas: Carnitas, which are slow-cooked pork, are a popular filling for tacos. The tanginess of the salsa verde cuts through the richness of the pork, creating a harmonious combination of flavors.
Chiles Rellenos: Chiles Rellenos are roasted poblano peppers stuffed with cheese or meat and then battered and fried. Serve them with a generous drizzle of salsa verde for a tangy and spicy kick.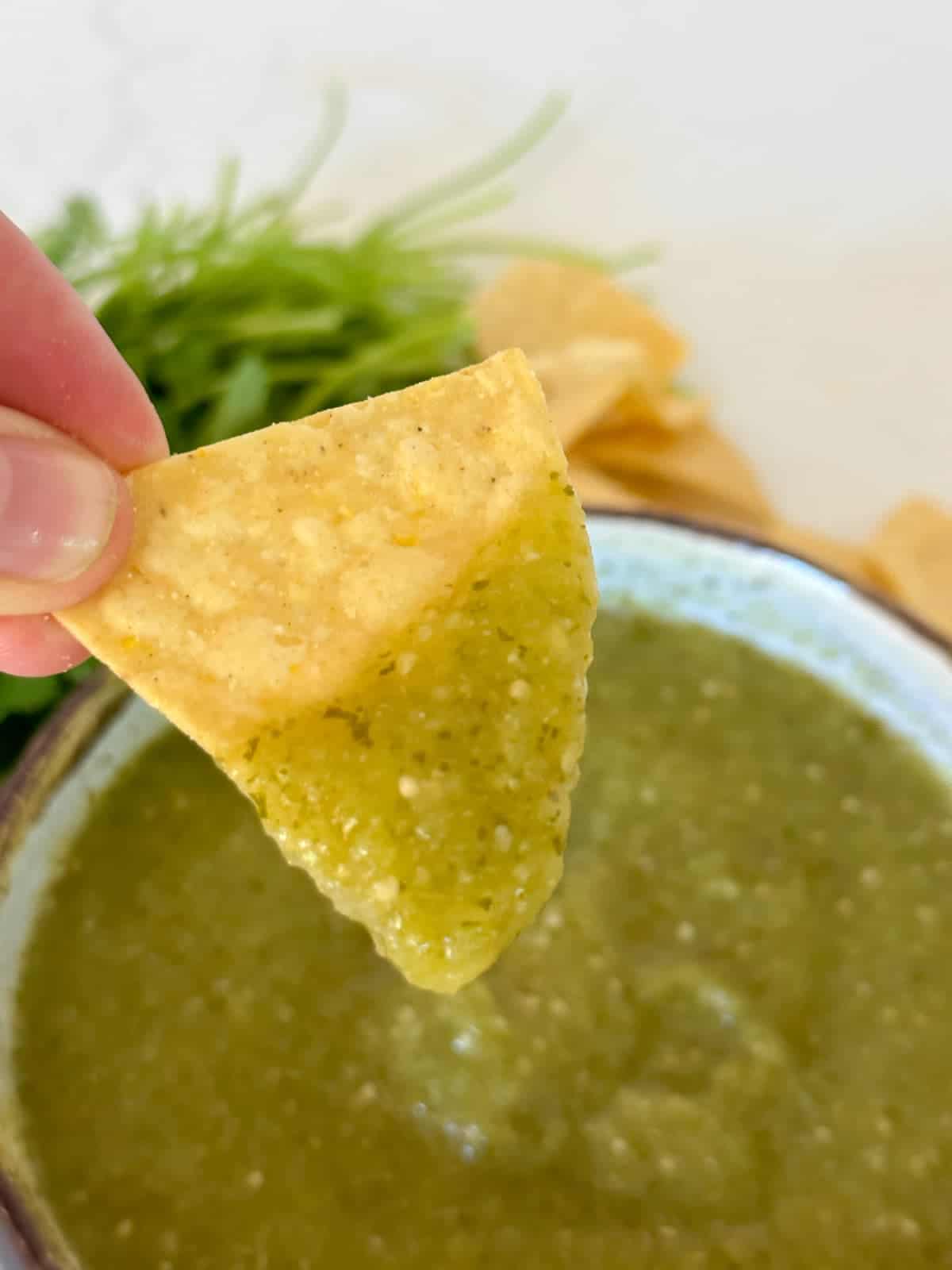 Creative Ways to Use Salsa Verde in Tacos, Burritos, and Enchiladas
This zesty green sauce can also elevate your tacos, burritos, and enchiladas. Here are a few ideas to get you started:
Chicken Burritos: Shred cooked chicken and mix it with salsa verde. Wrap the chicken mixture in a tortilla along with rice, beans, and your favorite toppings for a flavorful and satisfying burrito.
Breakfast Tacos: Start your day off right with green chili breakfast tacos. Fill tortillas with scrambled eggs, cheese, and salsa verde for a zesty and protein-packed breakfast.
Enchilada Verde Casserole: Layer corn tortillas, shredded chicken or beef, cheese, and salsa verde in a baking dish. Repeat the layers and bake until the cheese is melted and bubbly. Top with fresh cilantro and serve with sour cream for a delicious enchilada casserole.
Tips for Storing and Preserving
To ensure the optimum freshness of your salsa verde, here are a few tips for storing and preserving it:
Refrigerate: Salsa verde can be stored in an airtight container in the refrigerator for up to one week. Make sure to refrigerate it promptly after preparing to maintain its freshness.
Freeze: If you have a surplus of salsa verde, you can freeze it for future use. Transfer the salsa to a freezer-safe container or freezer bags and freeze for up to three months. Thaw it in the refrigerator before using.
Preserve: To enjoy salsa verde year-round, you can preserve it through canning. Follow proper canning procedures and guidelines to ensure food safety.
Salsa verde is a versatile and flavorful sauce that can take your tacos, burritos, and enchiladas to a whole new level. Salsa verde adds a delightful kick to your favorite Mexican dishes with its tangy and refreshing flavors.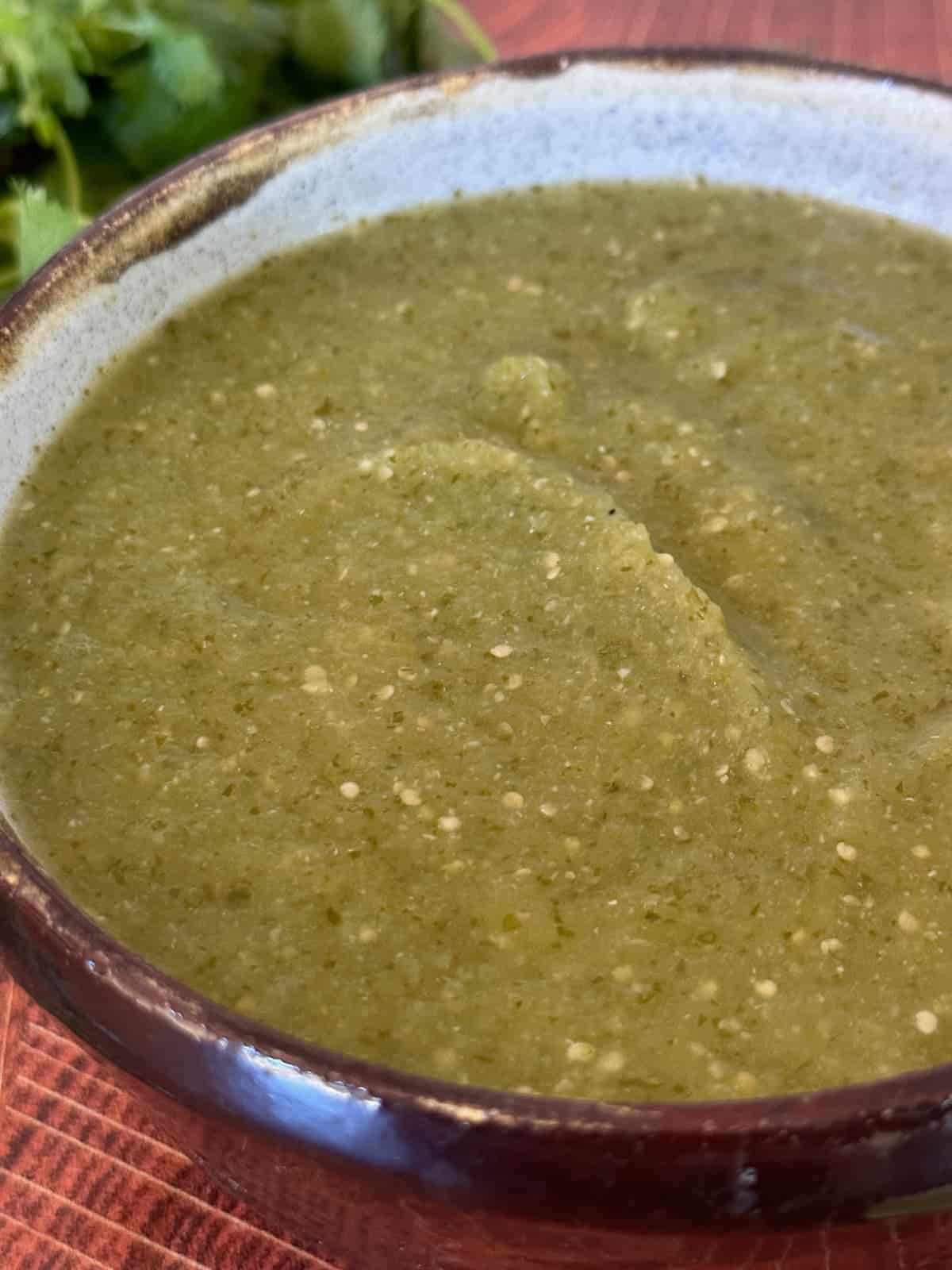 FAQs And Tips
Is Salsa Verde always spicy?
No, the heat of salsa can vary. Boiled salsas are milder, while roasted salsa tends to be spicier since the flavors are more concentrated. The spiciness and the number of peppers used also vary the heat in salsa.
What's the difference between Salsa Verde and traditional red salsa?
Traditional red salsa uses red tomatoes, but salsa verde uses tomatillos, which gives it its distinctive green color.
Hungry For More Salsa Recipes?
Add flavor and texture to your favorite recipes. Check out our full line up of salsa recipes.
Lomi-Lomi Salmon is a popular Hawaiian dish made with ripe, juicy tomatoes, sweet Maui onion, green onions, and shredded or diced salted salmon. This simple…
Leave A Review
Did you make this recipe? Leave a comment and a 5 ★ review. Your feedback helps other readers and helps me continue to offer recipes at no cost. Happy Cooking!!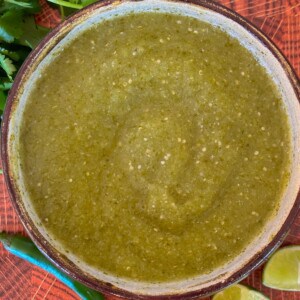 Salsa Verde Recipe
Looking for the ultimate Salsa Verde recipe? Dive into our step-by-step guide to create a mouthwatering green salsa using authentic ingredients. Perfect for dipping, drizzling, or marinating. This recipe makes 2 cups.
Ingredients
1

lb

tomatillos

1

white onion

,

quartered

4

serrano peppers

,

or jalapeños

2

cloves

garlic

½

cup

fresh cilantro

2 ½

teaspoons

sea salt

3

cups

water

,

to thin, if needed

1

tablespoon

oil

1

tablespoon

lime juice
Instructions
Boil the vegetables: Add the water, salt, tomatillos, onion, garlic, and chiles to a saucepan. Bring everything to a boil and then reduce the heat to a simmer. Simmer uncovered for 8 to 10 minutes.

1 lb tomatillos,

1 white onion,

4 serrano peppers,

2 cloves garlic,

2 ½ teaspoons sea salt,

3 cups water

Drain the liquid off of the boiled mixture. Reserve ½ to 1 cup of the liquid to thin the salsa, if needed.

Blend: Transfer the boiled vegetables to the bowl of your food processor. Add the cilantro and lime juice and blend until smooth.

½ cup fresh cilantro,

1 tablespoon lime juice

Fry: Add the oil to the pot and heat to medium-high. Add the blended salsa to the pan and bring it to a boil. Reduce the heat and simmer the salsa. This step reduces the salsa and concentrates its flavor.

Adjust the seasoning: Add a little salt, if needed. Finish with a squeeze of fresh lime juice.
Laura's Tips + Notes
To make roasted salsa: Place the vegetables on a baking sheet and broil for 5-7 minutes or until they are lightly charred.
YOUR OWN NOTES
Sign In to add your own private notes
Nutrition
Serving:
0.25
cup
Calories:
36
kcal
Carbohydrates:
4
g
Protein:
1
g
Fat:
2
g
Saturated Fat:
0.2
g
Trans Fat:
0.01
g
Sodium:
733
mg
Fiber:
1
g
Sugar:
2
g
Calcium:
10
mg
Iron:
0.4
mg