There's nothing like the smell of a crumble in the oven. This cherry crumble recipe is perfect for when you want something sweet and comforting. The cherries are cooked with sugar and spices to create a delicious filling, while the crumble topping is made with almond flour, sugar, butter, and almonds. Serve this dessert warm with a scoop of ice cream and a dollop of almond whipped cream for the ultimate comfort food experience.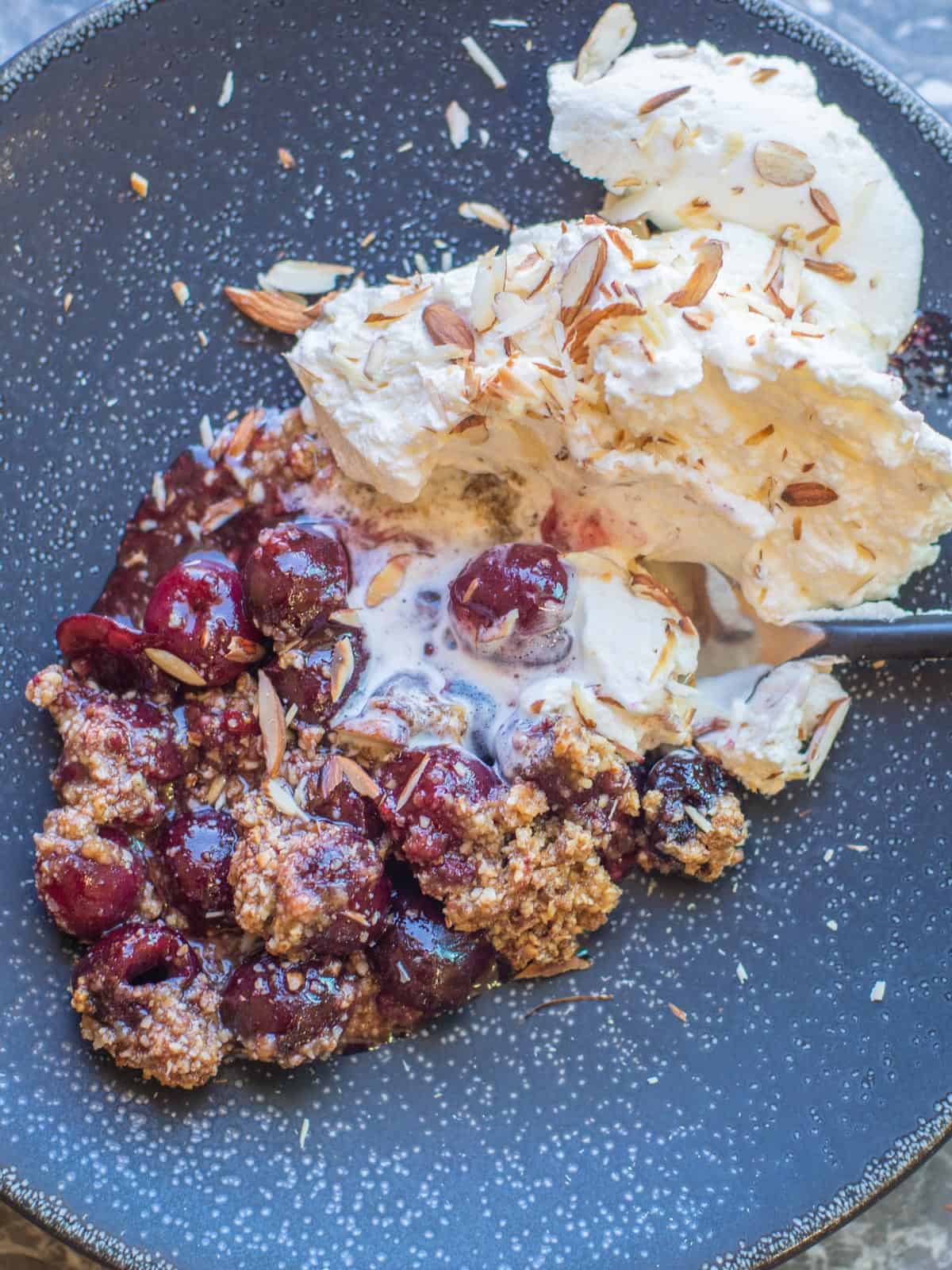 What does cherry crumble taste like?
Cherry crumble filling tastes much like cherry pie filling, only better.
This cherry crumble filling has a sophisticated twist. Butter paired with almond extract and panela sugar gives this cherry filling a rich, nutty buttery quality. The filling isn't cloyingly sweet like the cherry pie filling you might find in a can.
The almond crumble topping has a fantastic toasty-caramelly flavor and a delicious crunch that is amazing over a bowl of vanilla ice cream.
Almond-scented whipped cream adds another element of flavor that takes this cherry crumble recipe to the next level.
What Goes Into Cherry Crumble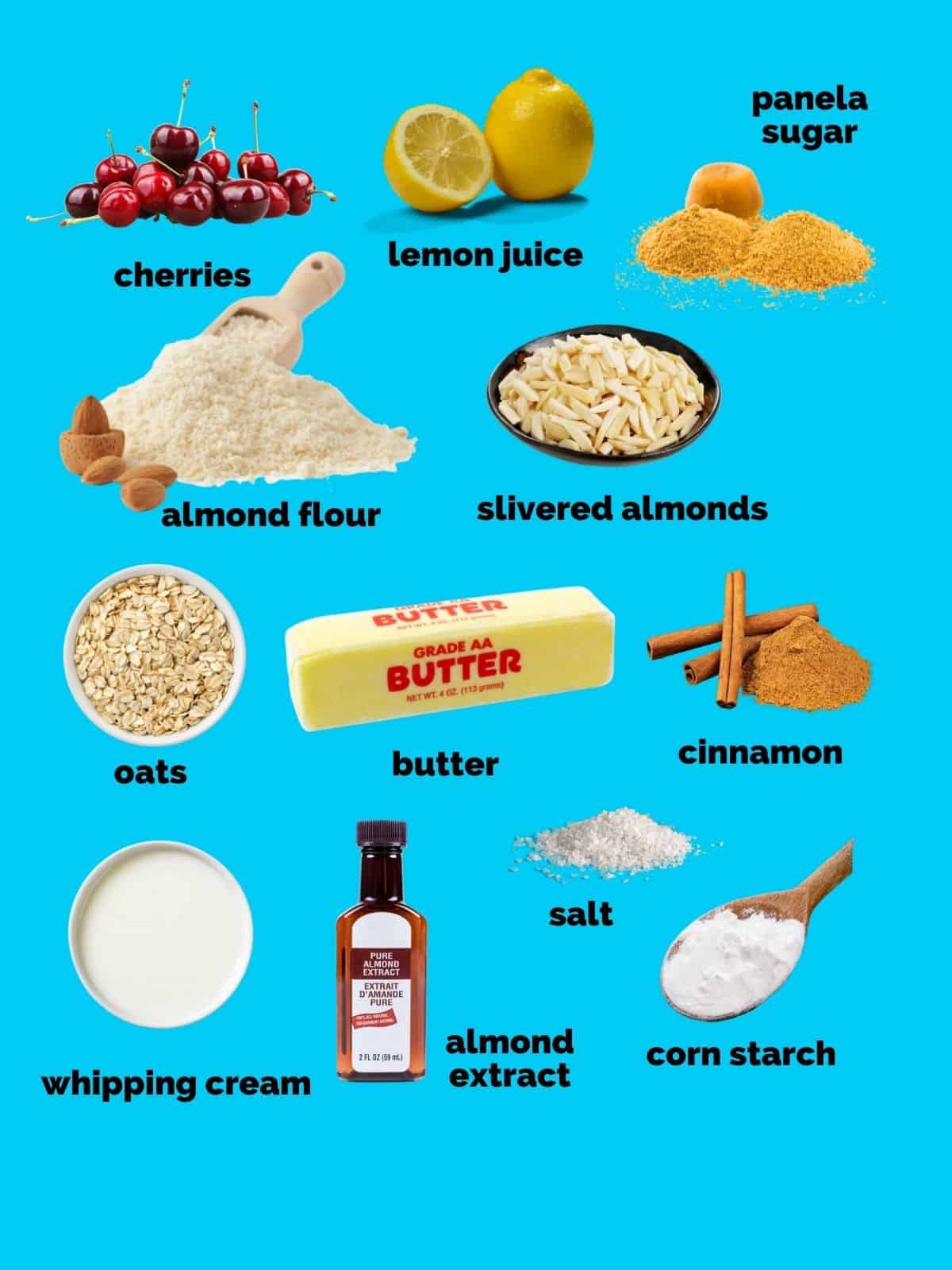 Cherry Filling
Fresh cherries have a short season, so you'll want to grab them up.
Lemon juice adds acid to round out the sweetness in any pie or crumble filling.
Corn starch thickens the cherry filling as it bakes.
Almond extract adds a warm, nutty note that pairs perfectly with the tart cherries and the almond crumble topping.
Panela sugar adds a deep rich brown sugar flavor to the cherry filling. If you can't find it, you can use coconut sugar or demerara sugar.
Butter adds a silkiness to the tart cherry filling as it melts together with the sugar to create a light buttery caramel.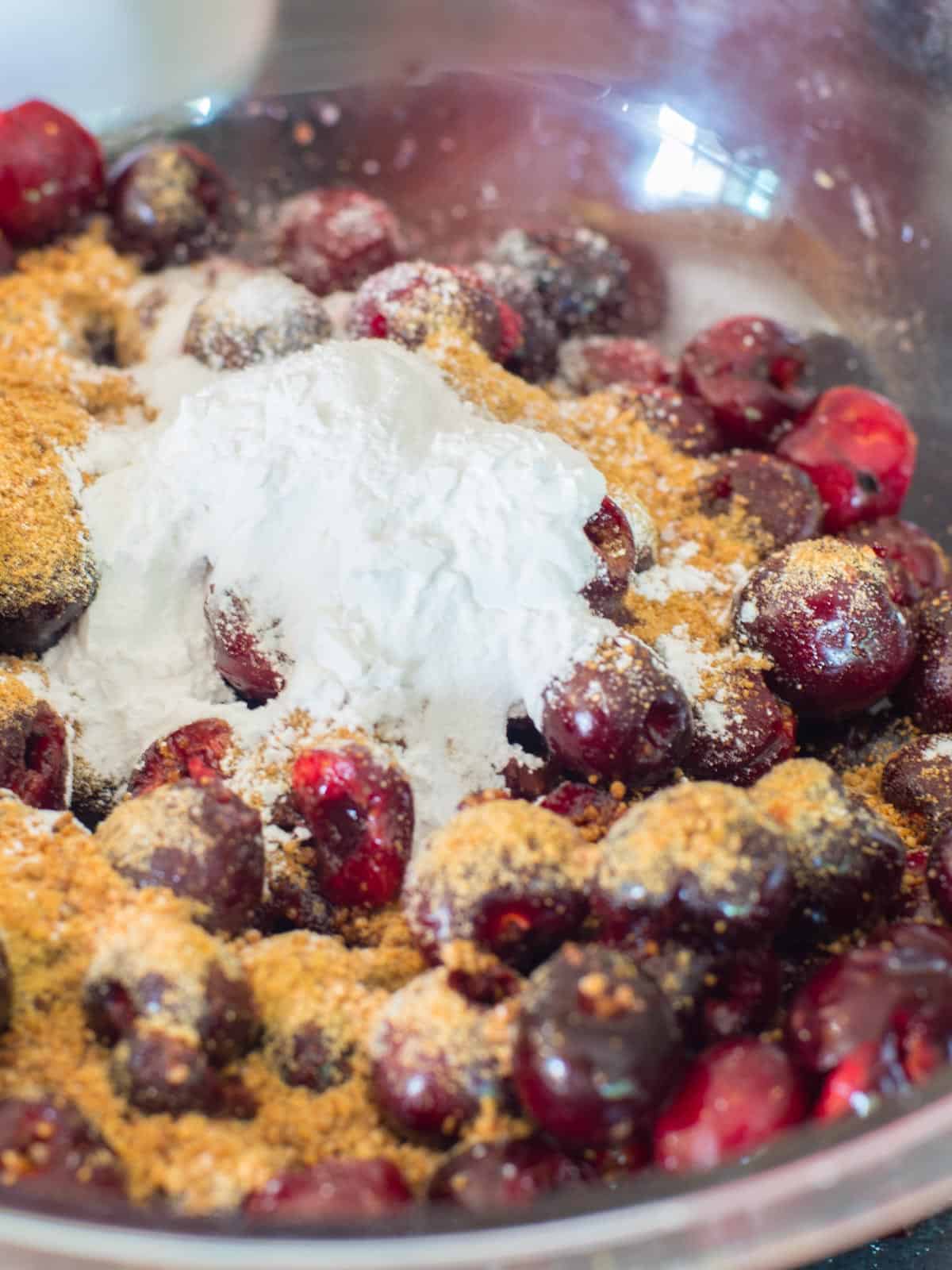 Almond Crumble Topping
Almonds add a toasty crunch to the almond crumble topping. I chose to use slivered almonds, but you can use sliced almonds or chopped almonds. I save some toasted almonds to top the whipped cream.
Almond flour acts as a binder in the crumble topping. I used ultra-fine almond flour. You can use regular flour instead if you don't have almond flour or aren't concerned about gluten.
Steel-cut oats add a chewy and toasted element to the almond crumble.
Butter melts into the crumble as it bakes and helps to brown and crisp the almonds and oats.
Panela sugar, cinnamon, and salt flavor to the almond crumble topping.
Almond Scented Whipped Cream
Heavy whipping cream can be beaten by hand or in a stand mixer to form fluffy peaks.
Almond extract adds almond flavor to the whipped cream that, brings this whole dish together.
How to make a cherry crumble
Pit the cherries. You can use frozen cherries in this recipe if you don't have fresh cherries. Thaw them and then drain excess juice before using them.
Preheat the oven to 325℉.
Make the filling. Combine the cherries with lemon juice, panela sugar, cornstarch, almond extract, and butter. Add it to the baking pan. You can use a cast iron pan or a large pie dish. I've also used a casserole pan.
Make the almond crumble by combining the toasted almonds, oats, almond flour, butter, sugar, cinnamon, and salt. Toss together and sprinkle evenly over the cherry filling.
Bake. Place the cherry crumble onto a large baking sheet. This will catch any filling that may bubble over. Bake for 1 hour until the top of the crumble is golden brown and the filling is thick and bubbly.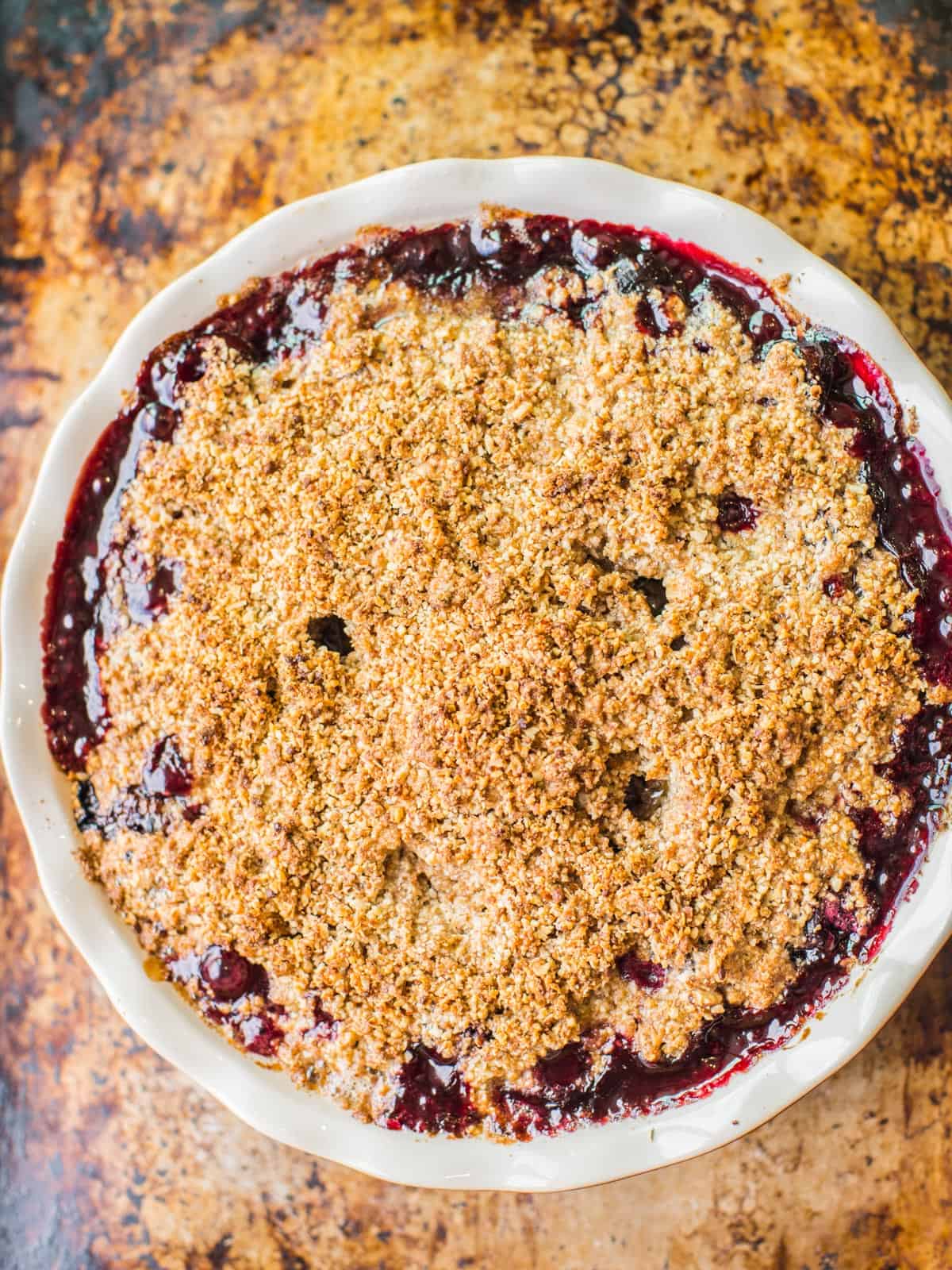 Recipe Variations
Switch Up The Fruit
This crumble recipe work with any fruit. Pick your favorite seasonal fruit.
Spring fruits: Rhubarb, apples, cherries, apricots, & strawberries.
Summer fruits: Apples, apricots, blackberries, blueberries, cherries, raspberries, strawberries, peaches, and plums.
Fall fruits: Apples, cranberries, grapes, mangoes, pears, pumpkin, and raspberries.
Winter fruits: Apple, oranges, pears, and pumpkin.
Make this cherry crumble ahead of time
Make the filling and crumble the night before! Keep them separate until ready to bake.
When you're ready to bake, preheat the oven, dump the cherries into the baking dish, then top the filling with the premade crumble and bake.
Take this Cherry Crumble Camping
Bring cherries or whatever kind of fruit you are in the mood for. I've made this recipe with peaches, plums, and blueberries. Or a combination of those.
This fruit crumble cooks right on the campfire in a Lodge Campfire Dutch oven.
Mix up the crumble and pack it into vacuum-sealed bags, butter and all. Check out my post on camping for all the deets.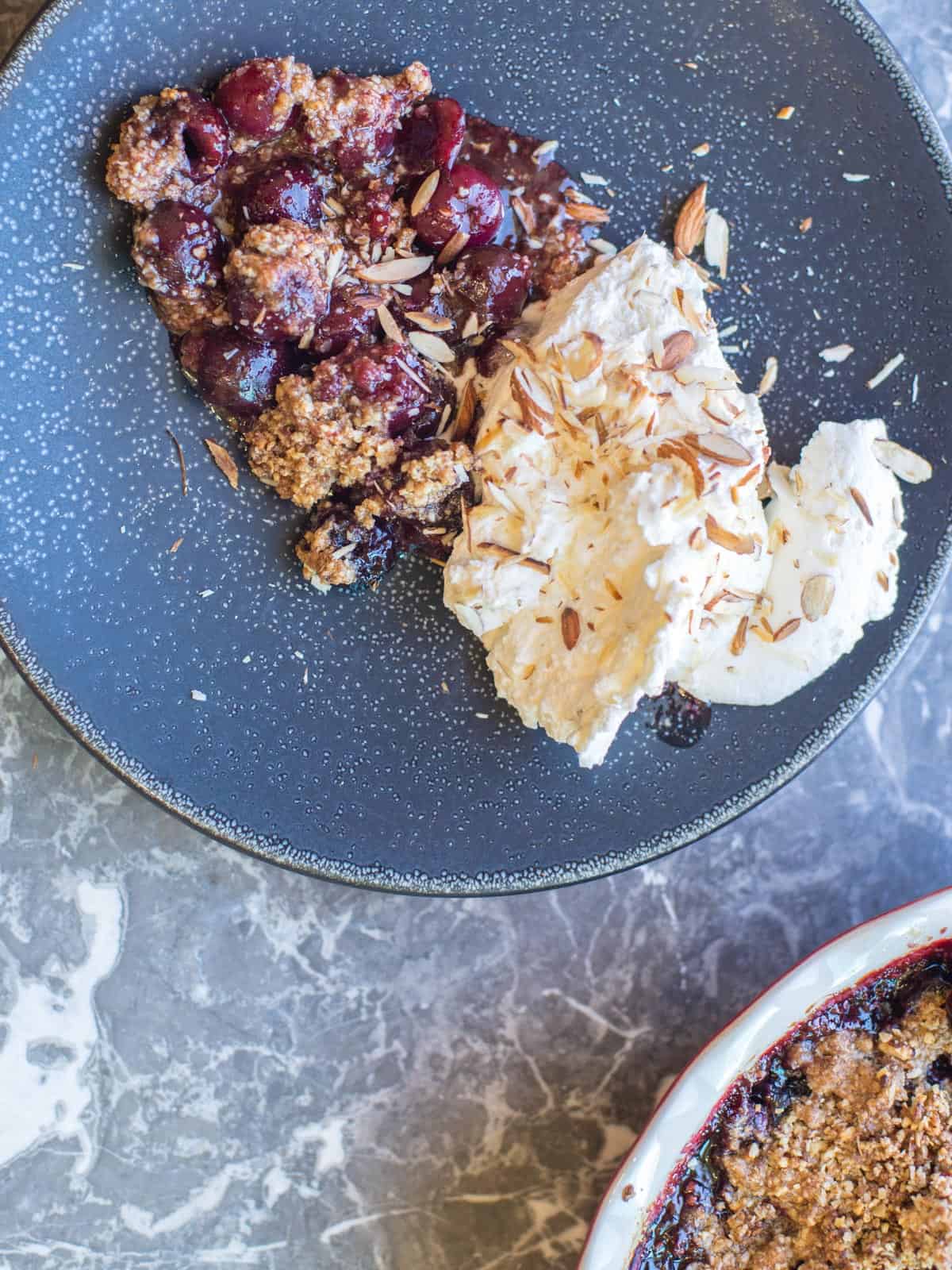 FAQs & Expert Tips
Can this cherry crumble be made with frozen cherries?
Yes, frozen cherries can be substituted for fresh cherries.
How to bake with frozen cherries.
If you use frozen cherries in this recipe, you must thaw them first.
It's best to that them in a colander set over a bowl to catch any excess liquid. Thaw them completely and then use them in the recipe exactly as you would use the fresh cherries.
My favorite summer desserts usually include fruit like my Blueberry Pie Bites, Banana Cream Pie, Strawberry Mojito Nice Cream, and the Fresh Fruit Pavlova. All of these are light and sweet — perfect for summer.
If you want something extraordinary, check out the Banana Cake!
➽ Did you make this recipe? I love to see what's going on in your kitchen. Show me what you're cooking. 🍳 Tag me @foodologygeek on your favorite social channel! Facebook, Instagram & Pinterest. If you loved ❤︎ this recipe, please leave a five ★ review and a comment!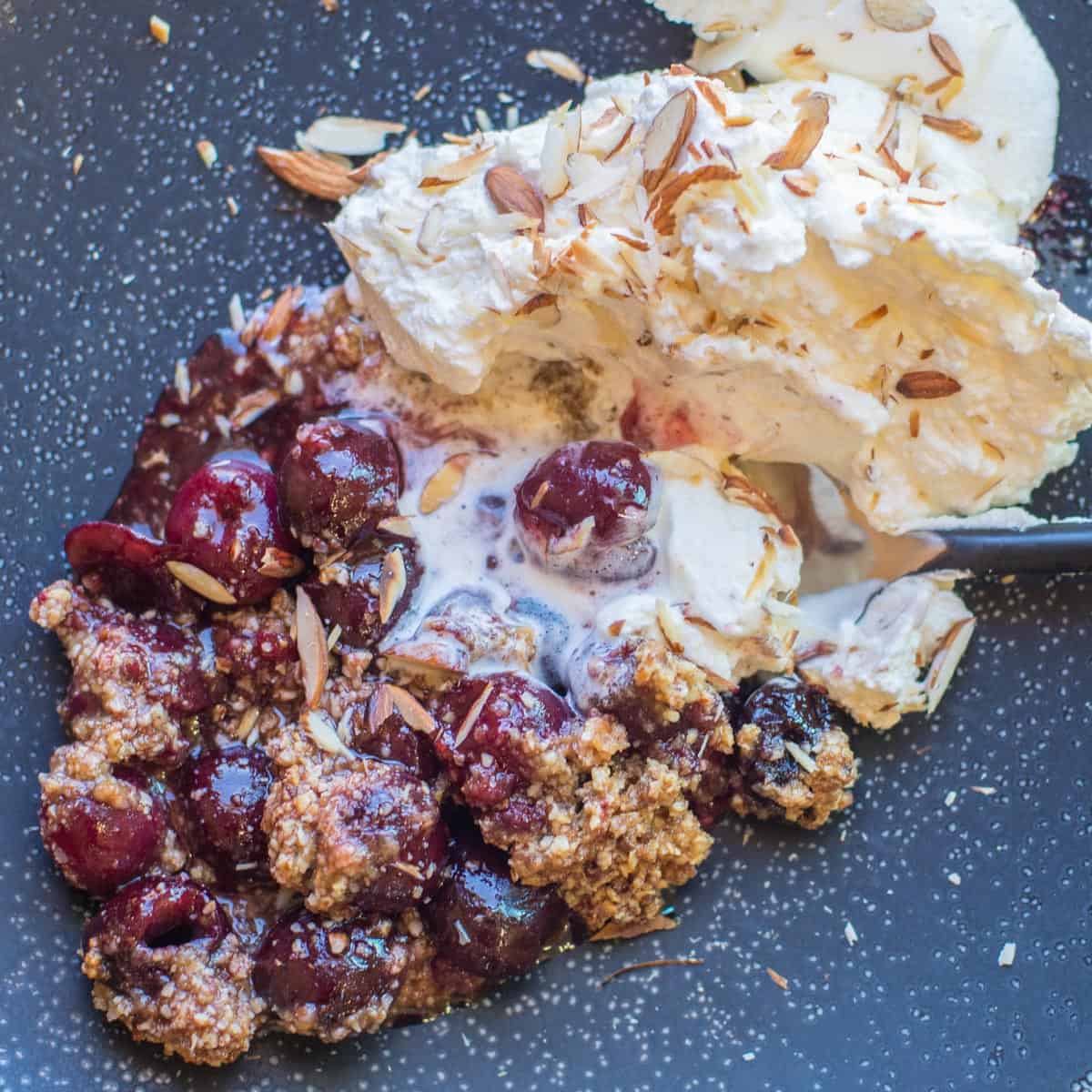 Cherry Crumble with Almond Cream
A cherry crumble (aka cherry crisp) is made with fresh juicy summer cherries baked to perfection with an almond crumble topping. It's the thing that your ice cream has been missing all summer long.
Ingredients
Cherry Filling
8

cups

cherries

,

pitted

2

tsp

lemon juice

1

tsp

lemon zest

3

tbsp

corn starch

,

or arrowroot powder

1 ½

tsp

almond extract

½

cup

panela sugar,

or coconut sugar

1

tsp

sea salt

¼

cup

butter

,

diced
Almond Whipped Cream
1

cup

heavy cream

,

or coconut cream

1

tsp

almond extract

,

or vanilla extract

1

tsp

panela sugar,

Panela brand*
Garnish
¼

cup

slivered almonds

,

toasted
Instructions
Filling
Pit all the cherries and put them in a large bowl.

Add the sugar, lemon juice, lemon zest, corn starch, almond extract, and salt to the cherries. Stir with a large spatula.

2 tsp lemon juice,

1 tsp lemon zest,

3 tbsp corn starch,

1 ½ tsp almond extract,

½ cup panela sugar,

1 tsp sea salt

Put cherry mixture into a pie dish or other baking dish.
Almond Crumble Topping
Add the oats to a food processor and pulse a few times. Dump them into a medium bowl and add the almond flour, cinnamon, sugar, and salt.

1 cup almond flour,

¾ cup steel cut oats,

1 tsp cinnamon,

1 ½ tsp sea salt,

½ cup panela sugar

Add the diced butter and use your fingers to pinch together and combine the butter and the crumble topping.

Sprinkle this mixture liberally over the top of cherries. (You may have left over crumble.)

Bake for 1 hour at 325℉. Or until the cherries are bubbly and the crumble is a light golden brown.
Almond Cream
Whip the heavy cream until fluffy and stiff peaks form.

Add almond extract and stir. Sweeten with a bit of sugar if desired.

1 tsp almond extract,

1 tsp panela sugar

Serve with extra crumble and toasted sliced almonds.
Laura's Tips + Notes
*Brown sugar can be substituted for the artisanal cane sugar.
YOUR OWN NOTES
Nutrition
Serving:
1
serving
Calories:
595
kcal
Carbohydrates:
64
g
Protein:
8
g
Fat:
36
g
Saturated Fat:
18
g
Trans Fat:
1
g
Cholesterol:
79
mg
Sodium:
873
mg
Fiber:
6
g
Sugar:
45
g
Calcium:
86
mg
Iron:
2
mg