When it's cherry season this baked cherry dessert is the first thing that I think of making! Finish off your next BBQ with this cherry crumble. Bonus: This is a gluten-free dessert recipe!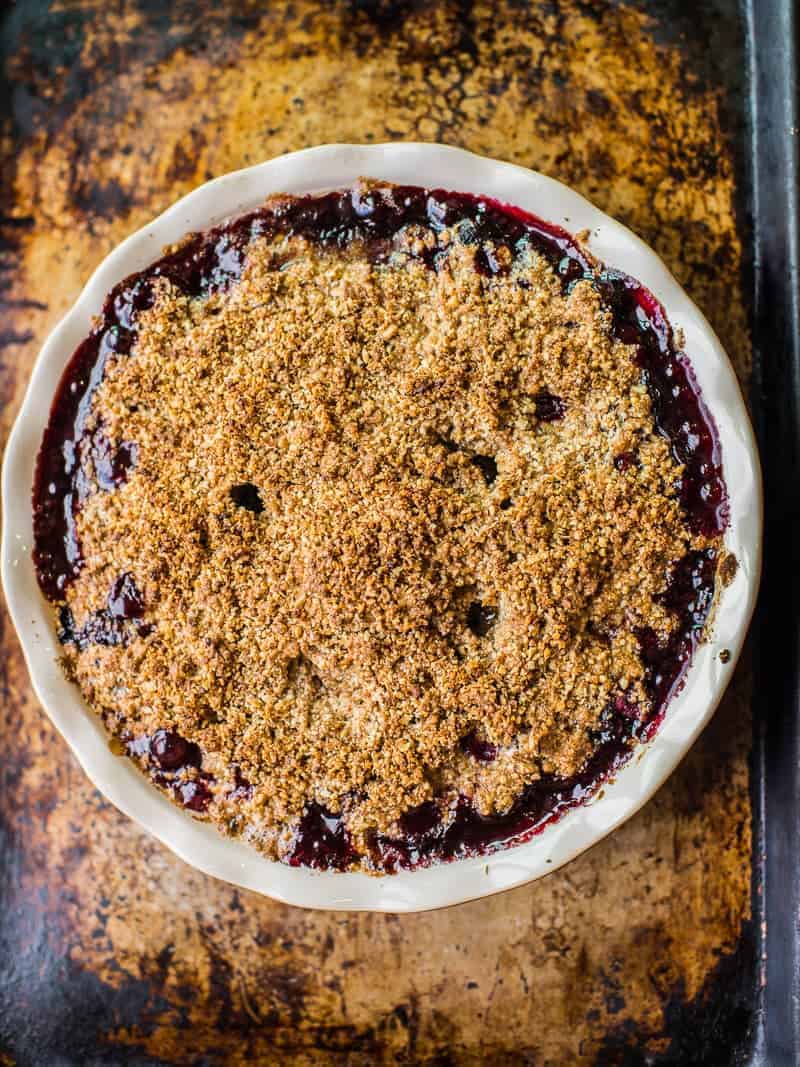 One of my fondest memories of my Granddaddy was sitting on the couch with him in the summers eating fresh cherries and watching featherweight boxing!
My granddaddy was perpetually anchored in front of the TV watching sports. My grandparents lived in Illinois and we would visit in the summers. I didn't get to spent a lot of time with them but I do have some great memories of our trips out there.
Both of my grandmothers were great cooks. They made simple but delicious midwestern food. Tons of baked goods and stick to your ribs dishes like dumplings and slow cooked pork chops.
My favorite summer desserts usually include fruit like my Blueberry Pie Bites, Banana Cream Pie, Strawberry Mojito Nice Cream, and the Fresh Fruit Pavlova. All of these are light and sweet — perfect for summer.
If you want something really special, check out the Banana Cake!
What does cherry crumble taste like?
Cherry crumble filling tastes a lot like a cherry pie filling. However, this recipe has a sophisticated twist because of a few unique ingredients that I use. The butter paired with the almond extract and the panela sugar gives this cherry filling a rich buttery quality that makes it not too sweet.
The cherry crumble topping is crisp, slightly cinnamony, toasty-caramelly. I made this cherry crumble with oats and almond flour.
Whipped almond cream topping is fresh and light and only with a slight hint of almond flavor. I also like to add toasted slivered almonds to give this dessert a gourmet finish.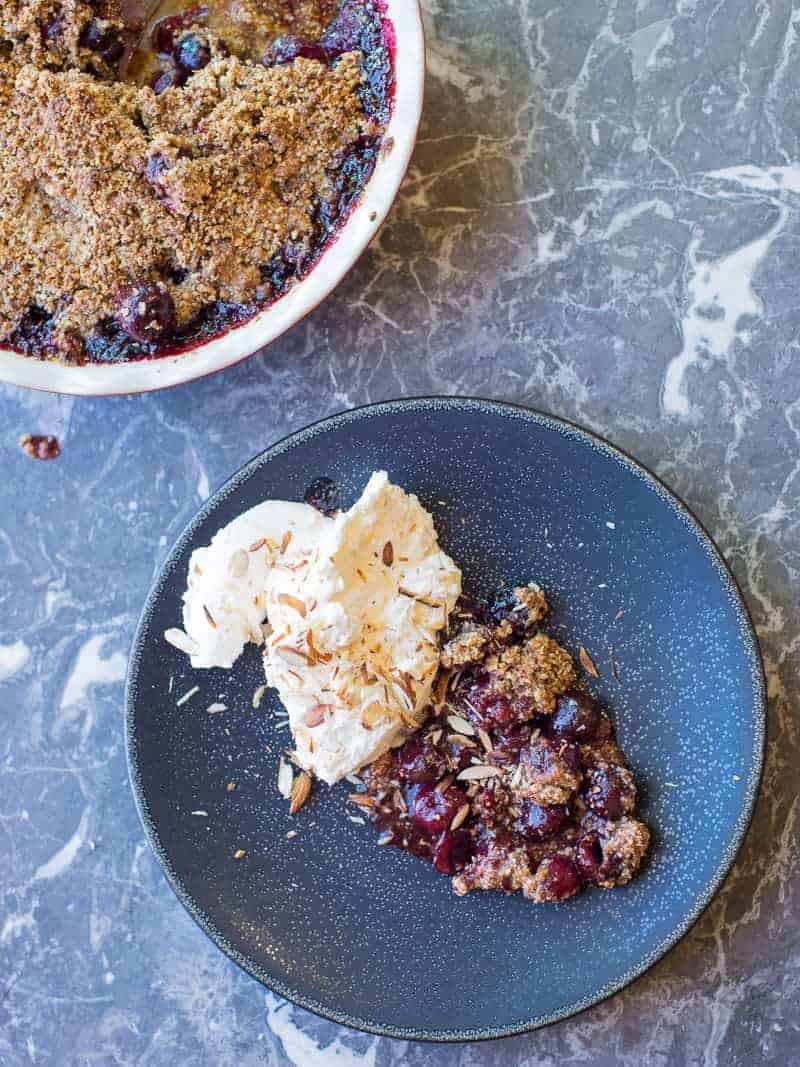 Summer is the ideal time to socialize outdoors with friends and family
This cherry crumble is the perfect dessert for a summer barbecue. Imagine a meal on the patio with friends, sharing grilled meat, veggies, a crisp salad - and a cold beer or a high glass of wine - followed by this cherry crumble.
In my mind, this is the definition of a perfect summer meal!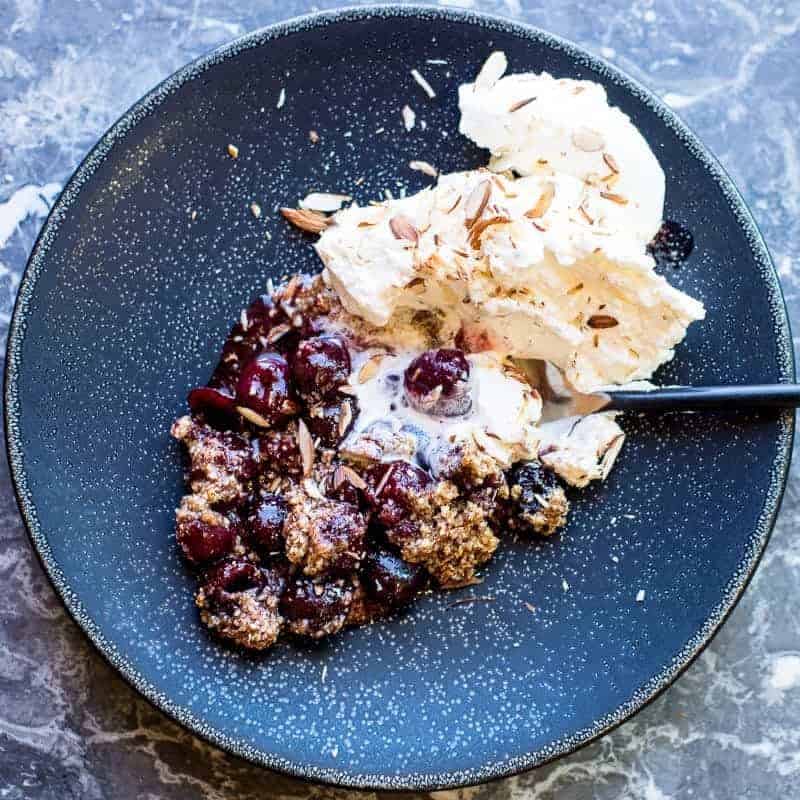 How to make a cherry crumble?
It's easy! You only need a few ingredients but act fast because the cherry season is extremely short. If you do happen to be reading this outside of the cherry season, you can use canned cherry pie filling for this recipe too! I promise I won't tell a soul.
I always think of fruit crumble as the lazy person's pie. Essentially you are making a fruit pie filling, in this case, cherry pie filling. And then you top it with a sweet crispy crumble topping. There is no pie crust, no rolling pin, just delicious pie filling topped with crispy, buttery topping.
Add ice cream, and it's the perfect dessert.
Ingredients for this Cherry Crumble Recipe
Fresh cherries
Lemon
Arrowroot powder or cornstarch
Almond extract
Panela sugar or coconut sugar
Butter
Almonds
Steel-cut oats
Cinnamon
Salt
Heavy whipping cream (for on top)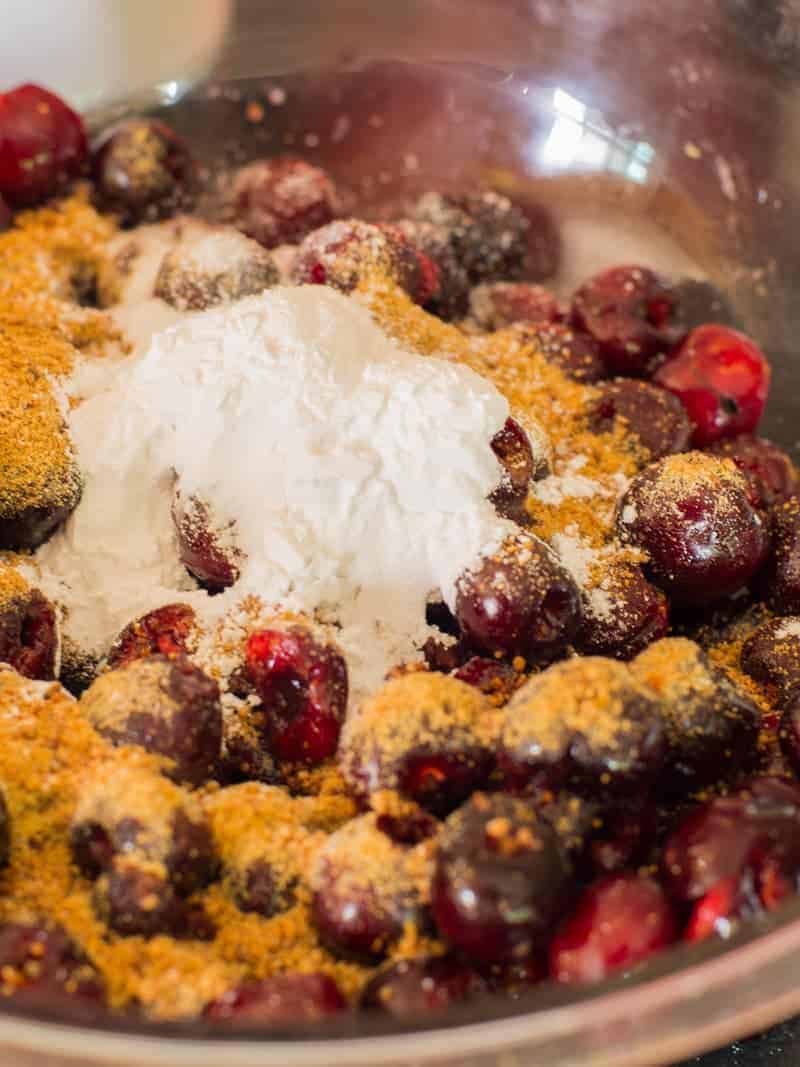 Toss all of the ingredients for the cherry pie filling in a bowl and then dump them into your pan for baking.[/caption]
I usually make this crumble in my cast iron pan.
This time I made this fruity crumble in a large pie dish.
Other options: You could also use a casserole pan. This is a super easy dessert recipe. It's completely low maintenance.
The hardest part of this recipe is pitting all the cherries.
Make sure you have a handy dandy cherry pitter. Cherry pitting can be a bit messy, and cherry juice stains, so make sure you have an apron on.
SHORTCUT: You can find frozen cherries in the freezer section that have already pitted if you want to skip this step.
Mix all the ingredients for the cherry pie filling in a large bowl.
Toss and dump into whatever pan you are baking the crumble in.
Wipe out the bowl.
Make the crumble in the same bowl.
Preheat your oven.
Add the crumble to the top of the cherries and bake until bubbly!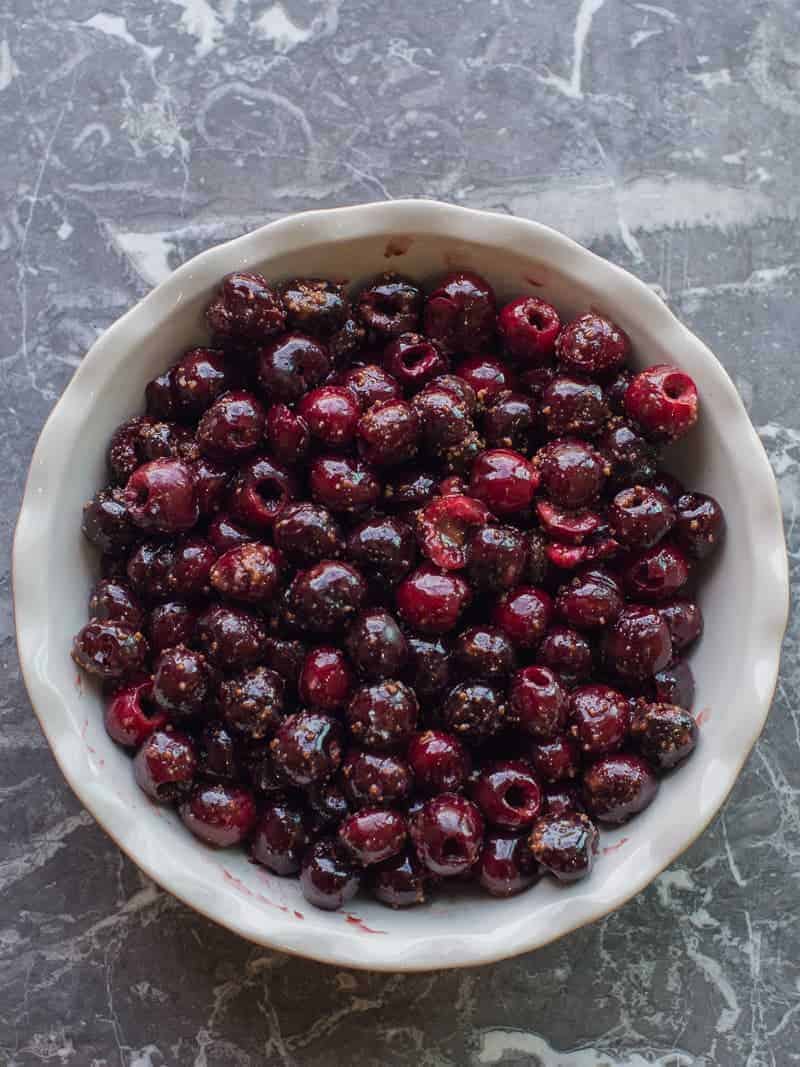 A Fresh Cherry Crumble is also a great make-ahead dessert.
Make the filling and crumble the night before!
Keep them separate until ready to bake.
Then top the juicy cherries with the premade crumble and bake.
Serve this dish warm or cold. There is no need to be a slave to the kitchen on a beautiful day. Keep things simple!
I take this crumble recipe camping all the time. I mix up the crumble and pack it into vacuum sealed bags, butter and all. I bring whatever kind of fruit we are in the mood for and then cook this fruit crumble right on the campfire. Check out my post on camping for all the deets.
My absolute favorite thing is cooking on a campfire with my Lodge Campfire Dutch oven. I use the paper liners that go inside. Guys, these liners make clean up a breeze. After we eat the crumble, we toss the liner right into the fire and just watch it burn. I wish cleaning up at home was this easy.
This crumble is screaming for something melty and creamy...Enter the almond cream
The rich almond cream pairs so well with the cherries, not to mention the toasted almond that comes through in the crust.
You have to try this recipe this summer. It's packed with a ton of healthy fruit and not too much sugar, plus it's gluten-free. It's also an easy dessert to take to any summer party
If you like this recipe, check out a few of my other desserts!
And so many more on my Desserts Page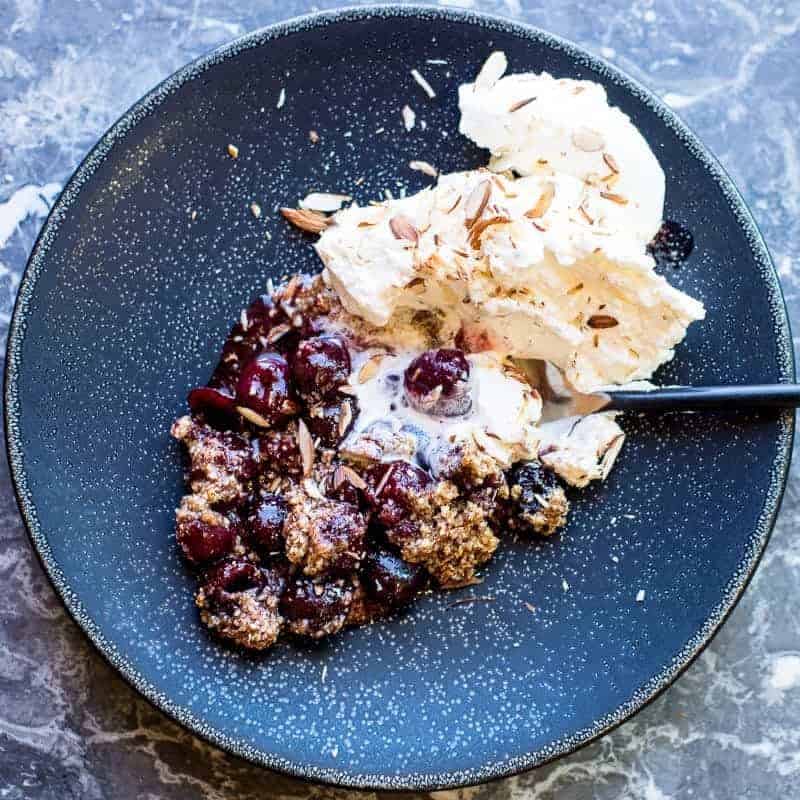 Cherry Crumble with Almond Cream
Sweet and tart cherries topped with an almond crumble and then an almond cream.
Ingredients
Cherry Filling
8

cups

cherries

pitted

2

tsp

lemon juice

1

tsp

lemon zest

3

tbsp

arrowroot powder

1 ½

tsp

almond extract

½

cup

artisanal cane sugar

Panela brand*

1

tsp

salt

¼

cup

butter

diced
Almond Cream
1

cup

heavy whipping cream

or coconut cream

1

tsp

almond extract

1

tsp

artisanal cane sugar

Panela brand*

slivered almonds

garnish
Instructions
Filling
Pit all the cherries and put in a large bowl.

Add sugar, lemon juice, lemon zest, arrowroot powder, almond extract, and salt to the cherries. Stir with a large spatula.

Put cherry mixture into a pie dish or other baking dish.

Grind almonds in the food processor until fine. Move them into a medium bowl.

Grind oats in the food processor until fine.

Return almonds to the food processor with the oats. Add salt, sugar and cinnamon. Pulse to blend.

Add diced butter and pulse until the texture is like coarse sand.

Sprinkle this mixture liberally over the top of cherries. (You may have left over crumble.)

Bake for 1 hour at 325℉. Or until the cherries are bubbly and the crumble is a light golden brown.
Almond Cream
Whip heavy cream until fluffy and stiff.

Add almond extract and stir.

Serve with extra crumble and toasted sliced almonds.
Laura's Tips + Notes
*Brown sugar can be substituted for the artisanal cane sugar.