How to Make an Easy Curry Risotto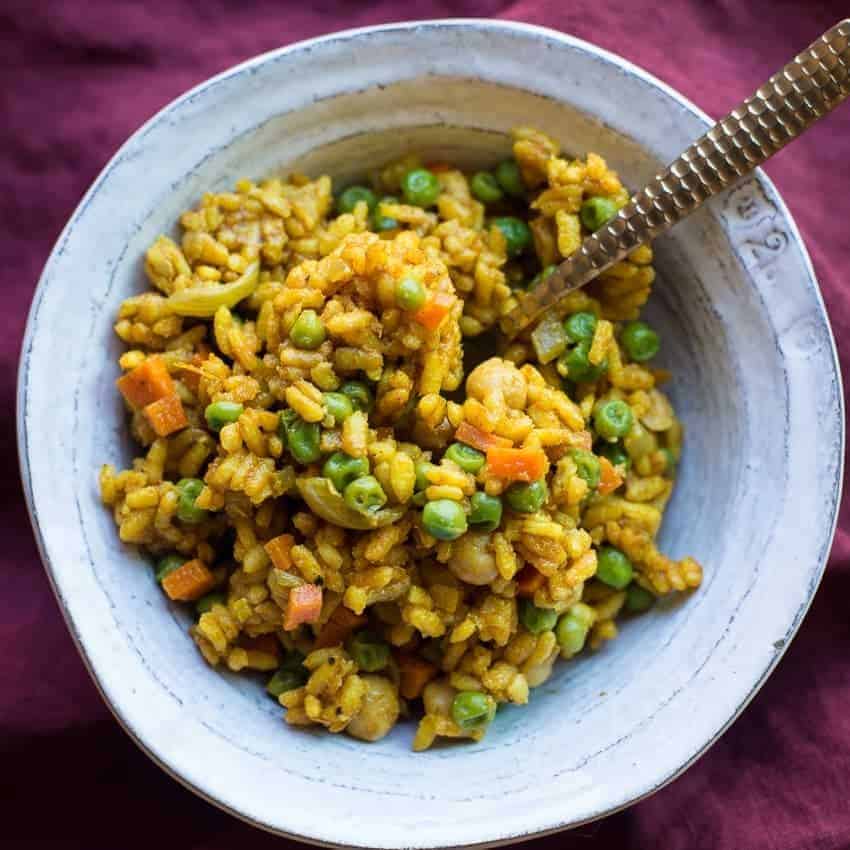 Recipe
Comments
Save
Go to Collections
This post may contain affiliate links. Please read my
disclosure policy.
If you've ever wondered how to make risotto, this risotto recipe is totally for you. An easy vegan risotto recipe is just what cold and stormy days need to warm you up for the inside out.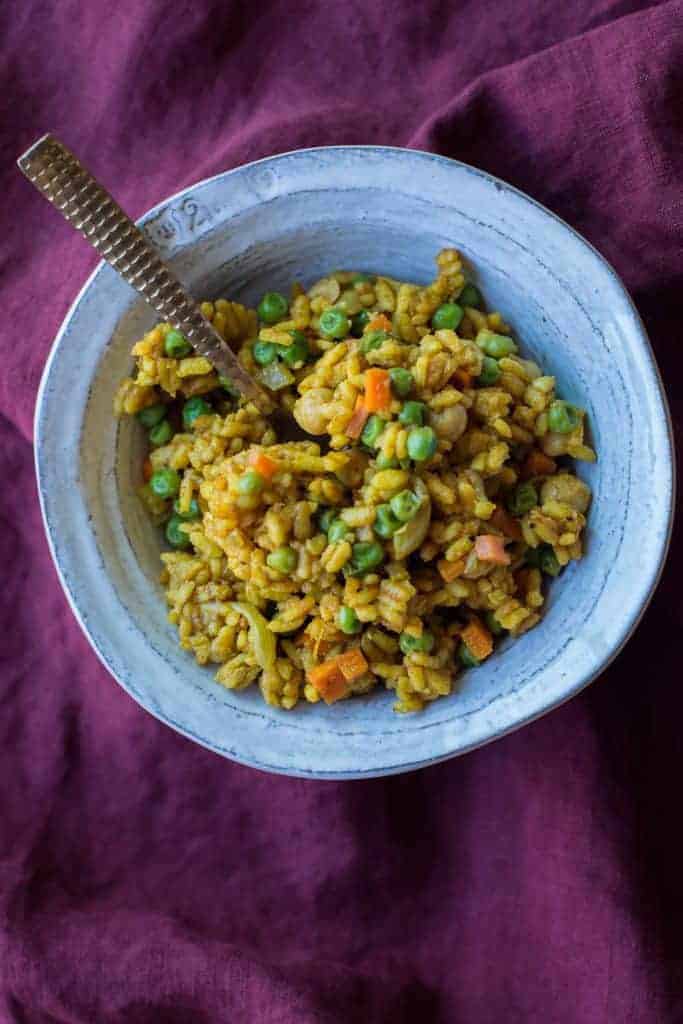 Risotto Is Comfort Food
This easy curry vegan risotto is completely soul-warming.
Next time you are in the mood for a bowl of comfort food. This risotto recipe is the perfect thing to whip up.
You probably already have most of the ingredients in your pantry and freezer. especially if you've downloaded my Kitchen Essentials Grocery List.
If you haven't, you should grab it today. Having a well-stocked kitchen makes pulling dinner together on the fly ultra-easy.
Who doesn't like a rich, creamy bowl of risotto?
Maybe you think because I am a professional food blogger that, I would always know what to make for dinner.
Wouldn't that be nice? Let me tell you, creating recipes every single day can leave me with a lot of random leftover ingredients that don't always seem like they would go together and first glance.
A lot of nights I feel a bit like I'm on an episode of Chopped.
I'm staring into my refrigerator and pantry, and it feels like I'm on the clock to bring a batch of random ingredients together to make a delicious and presentable meal, for the judges, in less than 3o minutes!
This easy recipe is a result of one of those nights.
Another challenge that I face when meal planning for the week is that my daughter is a vegan, my husband is Mr. Meat and Potatoes, and I love healthy animal protein, but not too many potatoes.
Maybe you don't have all this going on, but I'm sure if you're a mom (or dad) running the dinner game, you have a picky eater or two living in your presence. It can be hard to figure out a healthy, hearty meal that everyone will eat and enjoy. I have to get creative.
I created this curry risotto one night when I was looking in the fridge and cupboard for inspiration.
I should mention that there are many varieties of curry.
This recipe uses a yellow curry and has Indian curry flavors. I feel like an Indian curry risotto has a warm soul-satisfying feeling to it.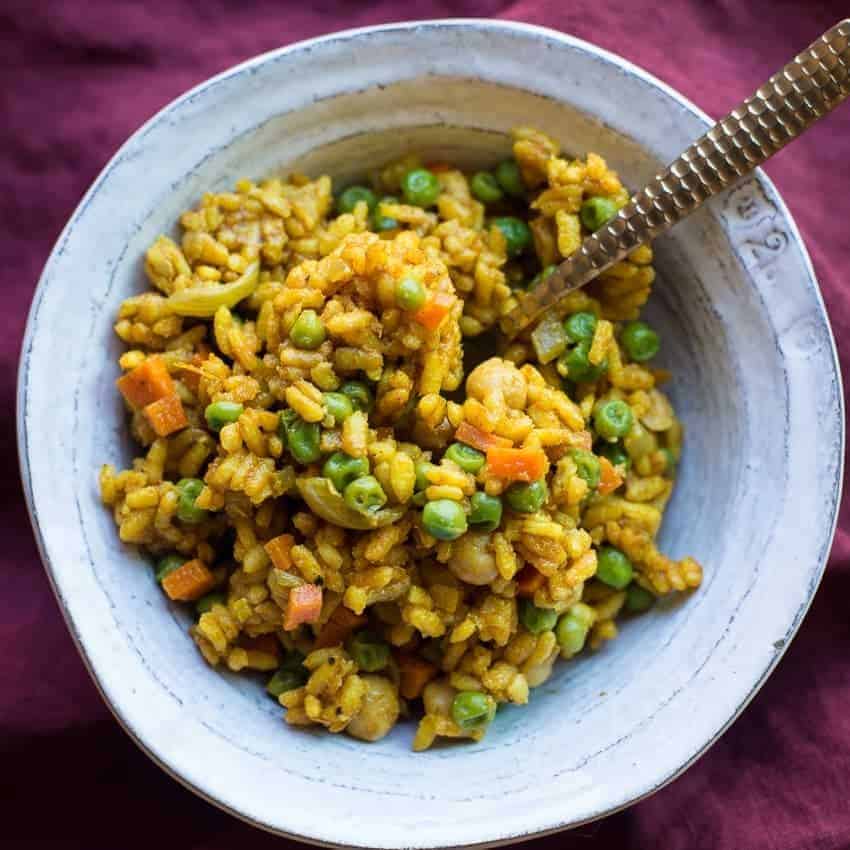 What Ingredients do you need
Mirepoix: Just a fancy name for carrots, celery, and onions
Arborio rice: A short-grain rice with high starch content. The starch is released during cooking, giving risotto its creaminess.
Vegetable broth: You can use vegetable or chicken broth for this recipe.
Frozen peas
Canned chickpeas
Yellow curry
On this particular night, I had arborio rice (affiliate link) in my panty. I typically have rice of some variety.
You could make this risotto recipe with another type of rice.
However, arborio rice is the best. Arborio rice is higher in starch which is essential for building in the creaminess that is typical of a well-done risotto recipe.
Step by Step Instructions
1. SAUTE any raw veggies in a little oil or butter.
2. RICE add rice and toast lightly.
3. BROTH add one ladle full at a time until absorbed, then repeat. (Classic risotto also has a little wine in it.)
Recipe Tips
There are just a few tricks to keep in mind that will ensure you get the creamy texture that you are craving.
Warm the broth in a separate saucepan over medium-high heat.
Keep the broth on a low simmer so it stays warm.
After adding the rice to the saucepan, you will add the broth to the rice a little at a time.
When you build a risotto, the key to getting a nice creamy texture is to slowly encourage the starch out of the rice.
Building the creaminess is done by adding small amounts of warm broth a cup at a time.
And the broth then begins stirring the rice for 1-2 minutes, which encourages the starch to be released into the broth.
You stir each time you add broth until the rice absorbs the liquid. Once absorbed, you add a bit more broth.
While this may seem like a lot of stirring, it doesn't take long. It's an excellent way to decompress – to give your brain a break – after a long day. Stir, Stir, Stir – Think of it as a form of meditation.
Recipe Variations
Once you learn the basic formula for building a risotto, you can go crazy — some of my favorite risotto recipes I have created on the fly.
I've made Butternut Squash Risotto.
This one has browned butter and sage, which is a classic and delicious flavor combo.
Mushroom Risotto is another tried and true flavor.
I like to get the mushrooms brown and season them with thyme before adding the rice. I also use a little wine in most of the risotto recipes that I make.
For the Curry Risotto, I didn't add any wine.
I also have memories of a fantastic Lobster Risotto.
What is not to like about lobster risotto?
One of my absolute all-time favorites is a simple risotto recipe that uses ham, peas, and a little parmesan. Yum!
I hope that you not only give this curry risotto recipe a try but that you will be inspired to try some other versions of risotto. I love taking a dish like this that seems intimidating and fancy and making it approachable. Starting with a simple risotto based on the classic gives you the confidence to try a more complex risotto recipe later on.
Enjoy this recipe, and if you do, make it tag me @foodologygeek. I would love to see it and celebrate your risotto mastery. And don't forget to grab the Kitchen Essentials Grocery List.
Other Vegan Recipes That You Might Like:
And a few other comfort food recipes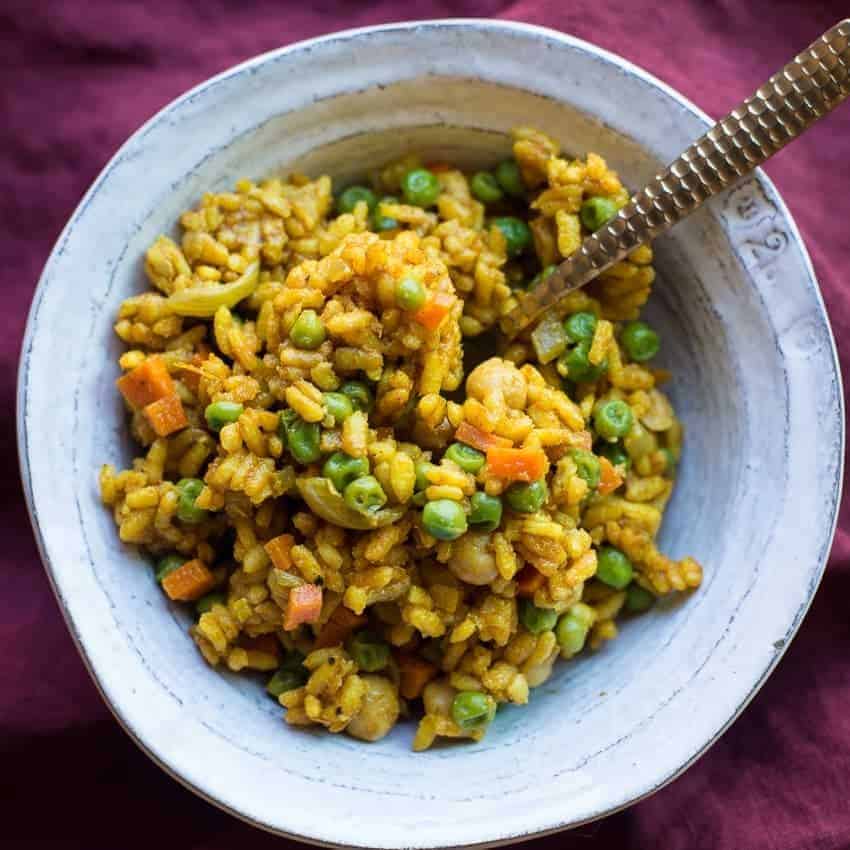 Easy Curry Risotto
A twist on a classic risotto recipe, this curry vegan risotto has a delicious curry flavor and an extra boost of protein from the chickpeas. This risotto recipe is hearty enough for even hardcore carnivores.
Ingredients
Special Equipment
Instructions
Heat the broth in a medium saucepan. Set aside and keep warm.

Add the coconut oil to a large heavy bottomed pan. (I use a cast iron enameled dutch oven)

Add the diced, onion, carrot and celery to the pan. Add the salt and pepper. Sauté for 3-5 minutes.

Add the garlic. Sauté for a few minutes, until fragrant.

Add the arborio rice and curry powder. Sauté, until slightly toasted.

Add the broth one cup at a time. Between each addition, stir rice until all the liquid is absorbed.

Continue to add the broth one cup at a time until rice is tender.

Add the chickpeas and peas. Stir in and cook until they are warmed through.
YOUR OWN NOTES
Nutrition
Calories:
214
kcal
Carbohydrates:
41
g
Protein:
5
g
Fat:
2
g
Saturated Fat:
1
g
Sodium:
600
mg
Fiber:
4
g
Sugar:
4
g
Calcium:
25
mg
Iron:
2.6
mg