Crispy Furikake Fried Chicken with Sriracha Aioli
This isn't your Grandma's fried chicken. It's crunchy and chock full of Hawaiian style umami! It's served with a Sriracha Aioli to make sure you are getting the complete experience. This Furikake Fried Chicken is a comfort food from my Hawaiian roots.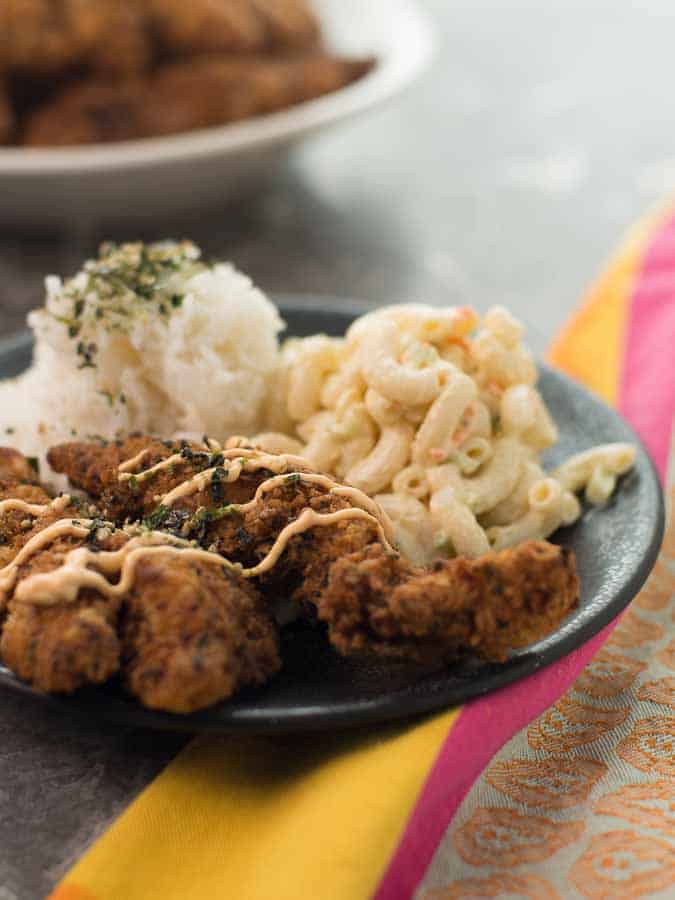 Furikake!?!? Say What?
Reading this post, your first question might be what is furikake?
Furikake is a Japanese seasoning made of dried seaweed, sesame seeds, and sometimes bonito flakes. There are many different varieties.
The variety used in this recipe is Nori Furikake. You can usually find it at any well-stocked Asian grocery store. If you can't find this fantastic rice seasoning mix near you-you can order it HERE (affiliate link).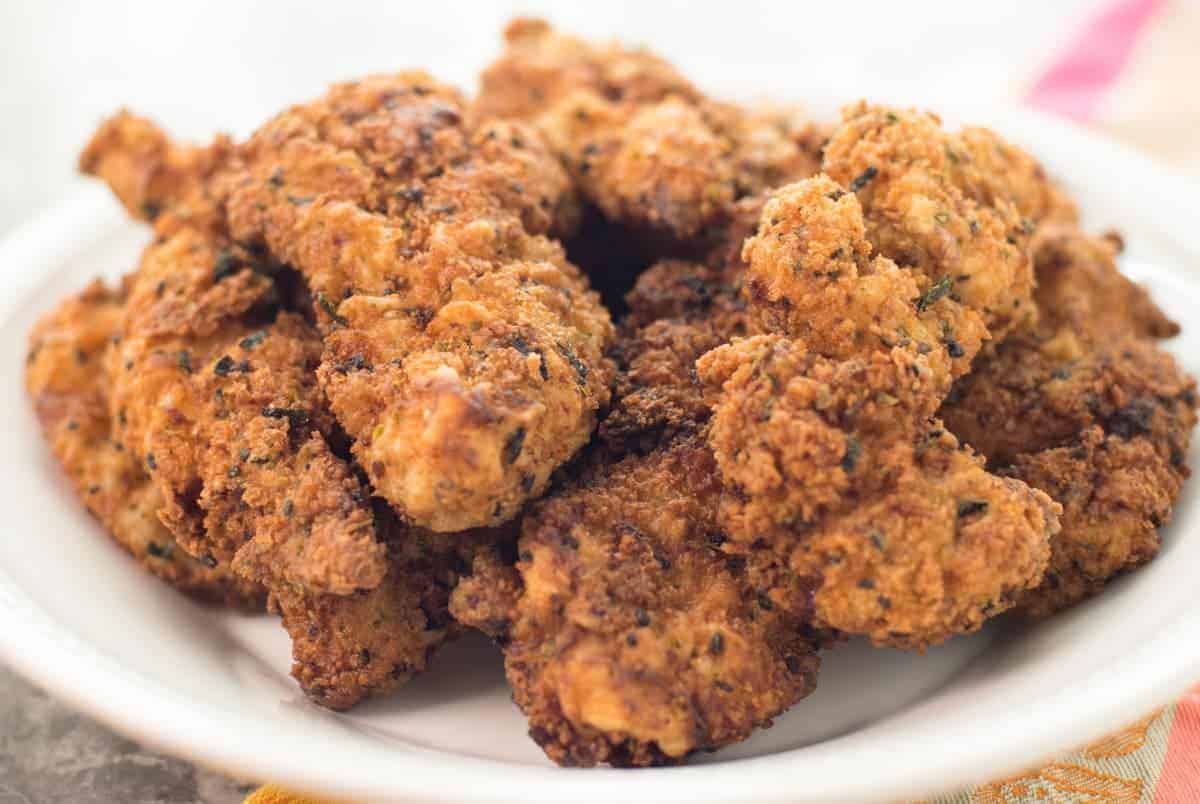 Hawaii's answer to fried chicken
The places I've lived and the people that I've met along the way, have given me a rich fabric that inspires my cooking.
This Hawaiian chicken recipe is no exception.
Growing up in a military family, I've never had just one place that I was able to call home.
I can tell you where I was born and where I've lived, but where I'm from – that's much more complicated.
I know it's weird that I'm a white girl living in California that cooks so much Asain and Polynesian food. Even some of my Asian friends are pretty impressed.
I feel like you learn to love the food you grew up with, and these flavors are the foods that I cut my teeth on. I wouldn't have it any other way. I love the fabric that makes up my childhood.
Knowing how to make Legit Hawaiian Mac Salad is one of the things I am most proud of. It's a humble thing, but not everyone can do it.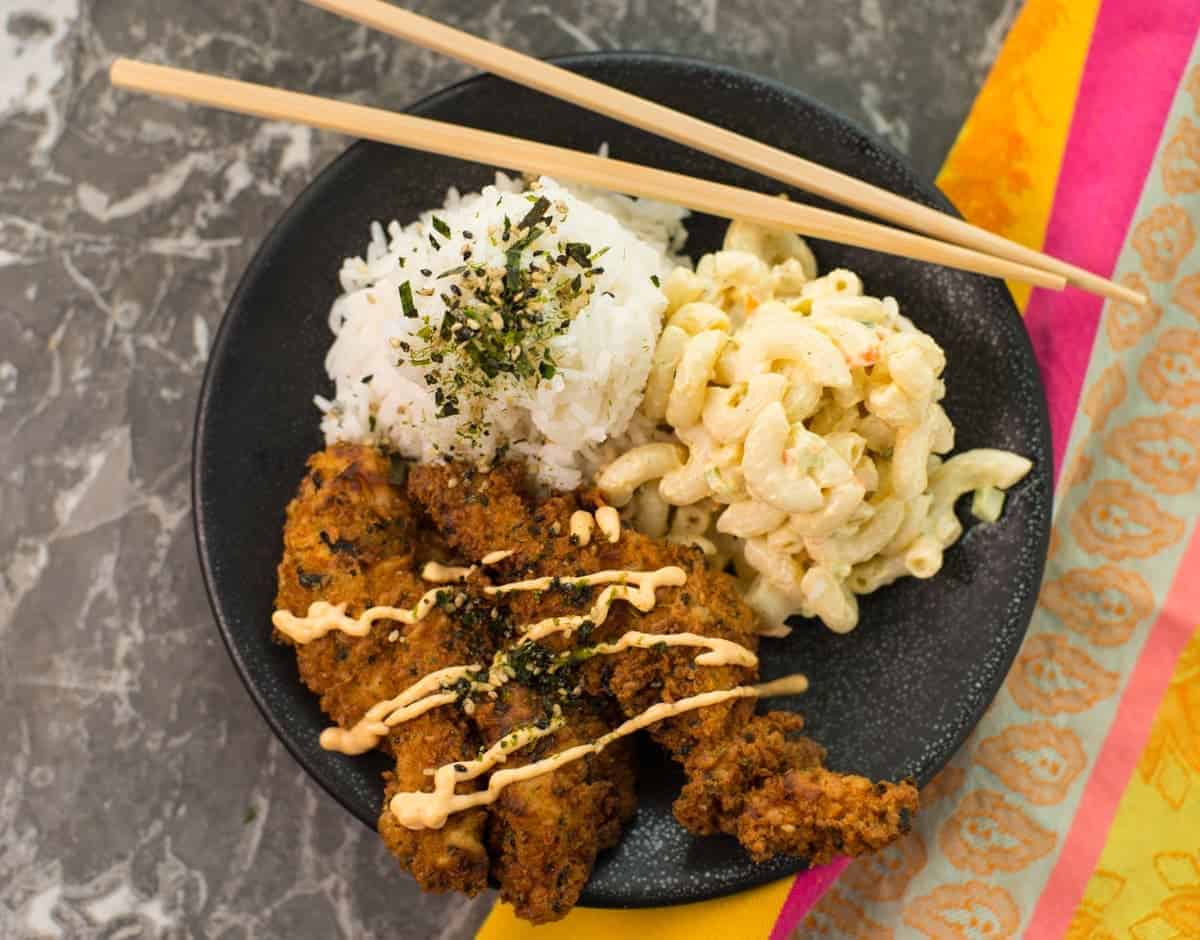 Crunchy and salty furikake fried chicken is perfect with rice and Mac Salad!
There are a few flavors that are so distinctly Hawaiian – furikake is one of those flavors.
If you haven't tried furikake, you are seriously missing out on a magical thing. Furikake is a rice seasoning mix that has nori seaweed and sesame seeds. You can shake furikake on rice, or eggs, or sprinkle onto a bowl of ramen. It's fantastic!
Or, you can use it to make some ridiculous Hawaiian fried chicken. The flavor combination is something to behold. It's crispy…and salty…and sesame-seedy. Then – when topped with a spicy sriracha aioli – you have something beautiful. It's tasty Hawaiian Style at it's best.
My first experience with Furikake was in middle school.
I lived in Ewa Beach, Hawaii. My best friend at the time, Rachel, lived next door. She was half Japanese and half Irish. Her dad was in the same mobile unit as my dad. We often hung out after school.
When we were at her house, she would often make us an after-school snack. One of the snacks I remember most was onigiri with furikake. I was so taken in by the flavors that I hadn't experienced before. The soft rice formed into these triangularly shaped rice balls then sprinkled with the furikake seasoning.
The other thing that we sometimes had after school was graham crackers smeared with chocolate frosting. You probably guessed that I grew up in an era where Twinkies and Ding-Dongs were in every lunch box at school.
One of my superpowers is being able to reverse engineer a recipe.
Even as a little girl I can remember being at a restaurant and my mom saying, "Wow this is an amazing sauce, I wonder what's in it?" and I would chime in with, "Oh that's tarragon." My mom would look at me quizzically like, "How do you even know that?" She still thinks I'm a little different. I'll take it. In my mind, it is a pretty awesome superpower to have!
After all the fantastic local food we had on our recent vacation to Hawaii, I was ready to come home and start experimenting – to bring back those flavors of my youth. Know that Furikake Fried Chicken is only the first in a line up of Hawaiian recipes that will be coming to the blog shortly.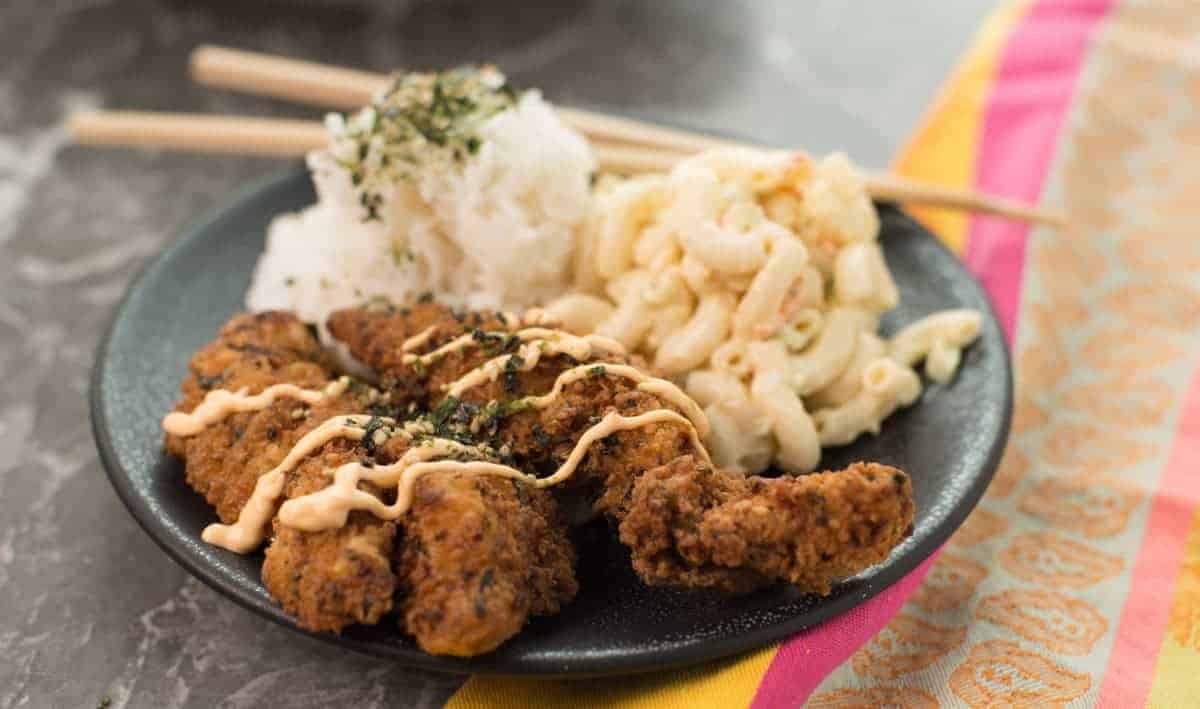 Crunchy Furikake Fried Chicken – You don't want to miss out on experiencing this fantastic chicken.
I hope you enjoy this delicious Hawaiian Fried Chicken. Don't miss the Hawaiian Mac Salad recipe. It's legit!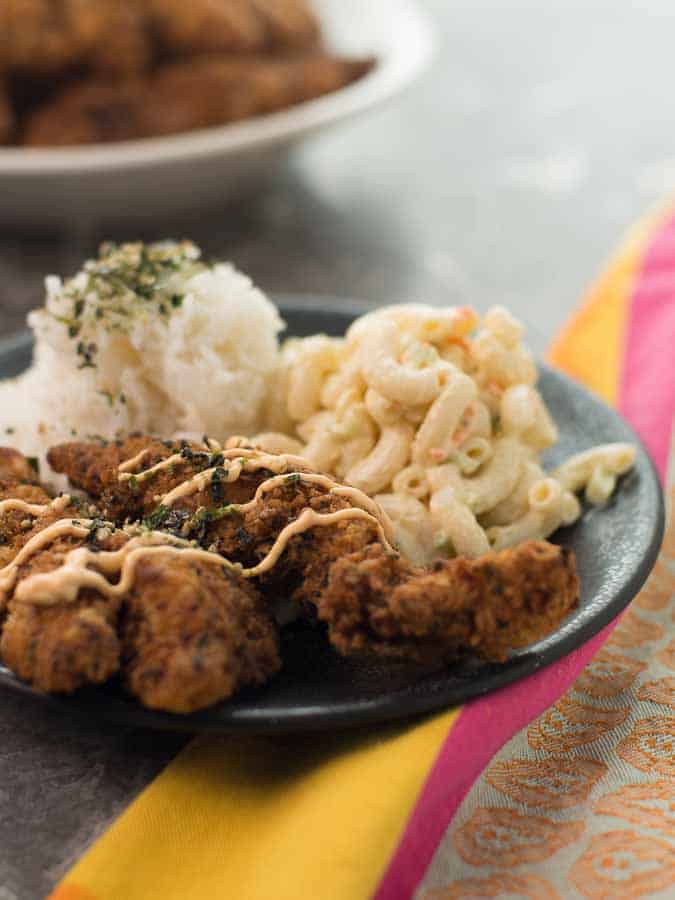 All Of My Authentic Hawaiian Recipes Are Right HERE
➽ Did you make this recipe? I love to see what's going on in your kitchen. Show me what you're cooking. 🍳 Tag me @foodologygeek on your favorite social channel! Facebook, Instagram & Pinterest. If you loved ❤︎ this recipe, please leave a five ★ review and a comment!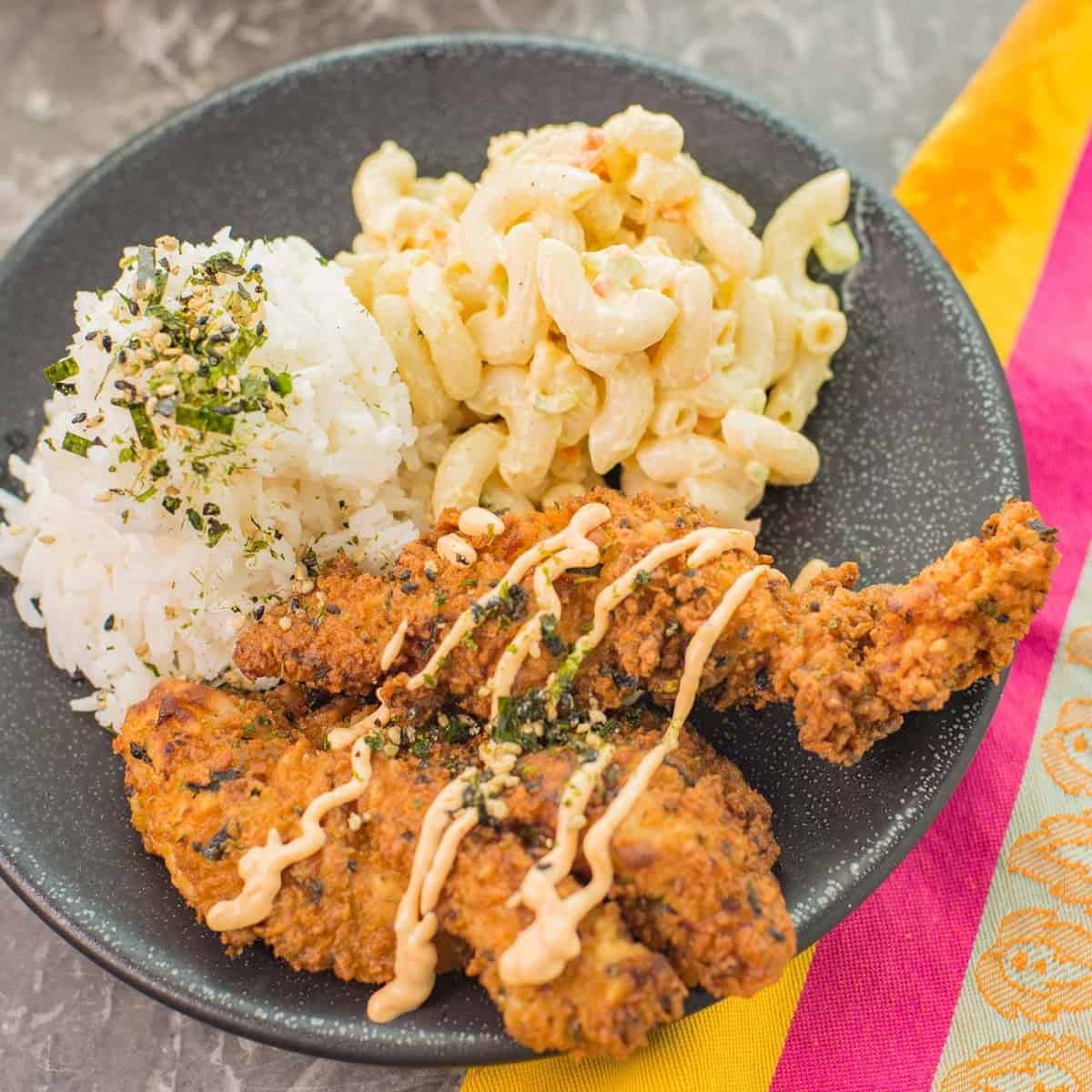 Furikake Fried Chicken
This Hawaiian style fried chicken is impressively umami-filled. Top it with spicy sriracha aioli. Are your taste buds ready?
Ingredients
Instructions
Marinate the Chicken
Combine milk, vinegar, and sriracha in a glass or plastic bowl.

Cut chicken into chicken strip or nugget-sized pieces and place it into the marinade.

Marinate for a few hours. (Up to overnight)
Bread the Chicken
Combine flour, panko, and furikake in a shallow bowl.

Remove chicken from marinade and place into flour mixture one piece at a time.

Coat well. Set aside to rest.
Fry the Chicken
Place coconut oil in a heavy-bottomed skillet.

Heat over medium-high heat. Oil should be about 360℉.

Place chicken in hot oil. Don't over-crowd the chicken in the oil.

During cooking, try to keep oil temperature between 350-375℉. It will fluctuate as you add chicken.

Fry until golden brown. Flip over several times during cooking.

A safe internal temperature of the chicken should be 165℉.
Sriracha Aioli
Combine mayo and sriracha to taste.

You can thin with a small amount of water if needed.
YOUR OWN NOTES
Nutrition
Calories:
203
kcal
Carbohydrates:
17
g
Protein:
12
g
Fat:
8
g
Saturated Fat:
2
g
Cholesterol:
40
mg
Sodium:
93
mg
Calcium:
22
mg
Iron:
1.6
mg