Furikake!?!? Say What?
This furikake fried chicken is comfort food from my Hawaiian roots.
This isn't your Grandma's fried chicken. It's crunchy and chock full of Hawaiian style umami!
Jump to Recipe
Growing up in a military family I've never had just one place that I was able to call home.
I can tell you where I was born and where I've lived; but where I'm from – that's much more complicated.  The places I've lived and the people that  I've met along the way, have given me a rich fabric that inspires my cooking. This Hawaiian treat is no exception.
There are a few flavors that are so distinctly Hawaiian – furikake is one of those flavors.
If you haven't tried furikake you are seriously missing out on a magical thing. Furikake is a seasoning mix that has dried seaweed and sesame seeds. You can shake furikake on rice, or eggs, or sprinkle onto a bowl or ramen. It's fantastic!
Or, you can use it to make some ridiculous fried chicken. The flavor combination is something to behold. It's crispy …and salty …and sesame-seedy. Then – when topped with a spicy sriracha aioli – you have something beautiful. It's tasty Hawaiian Style at it's best.
My first experience with Furikake was in middle school.
I lived in Ewa Beach. My best friend at the time, Rachel, lived next door. She was half Japanese and half Irish. Her dad was in the same mobile unit as my dad. We often hung out after school. When we were at her house, she would often make us a snack. One of the snacks I remember most was onogiri with furikake. I was so taken in by the flavors that I hadn't experienced before. 
One of my super powers is being able to reverse engineer a recipe.
Even as a little girl I can remember being at a restaurant and my mom saying, "Wow this is an amazing sauce, I wonder what's in it?" and I would chime in with, "Oh that's tarragon." My mom would look at me quizzically like, "How do you even know that?" She still thinks I'm a little different. I'll take it. In my mind it is a pretty awesome super power to have!
After all the amazing local food we had on our recent vacation to Hawaii, I was ready to come home and start experimenting – to bring back those flavors of my youth. Know that Furikake Fried Chicken is only the first in a line up of Hawaii-inspired recipes that will be coming to the blog in the near future. 
 I hope you enjoy this delicious furikake fried chicken. Stay tuned for the Hawaiian mac salad recipe. It's legit!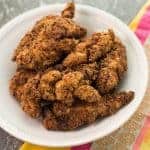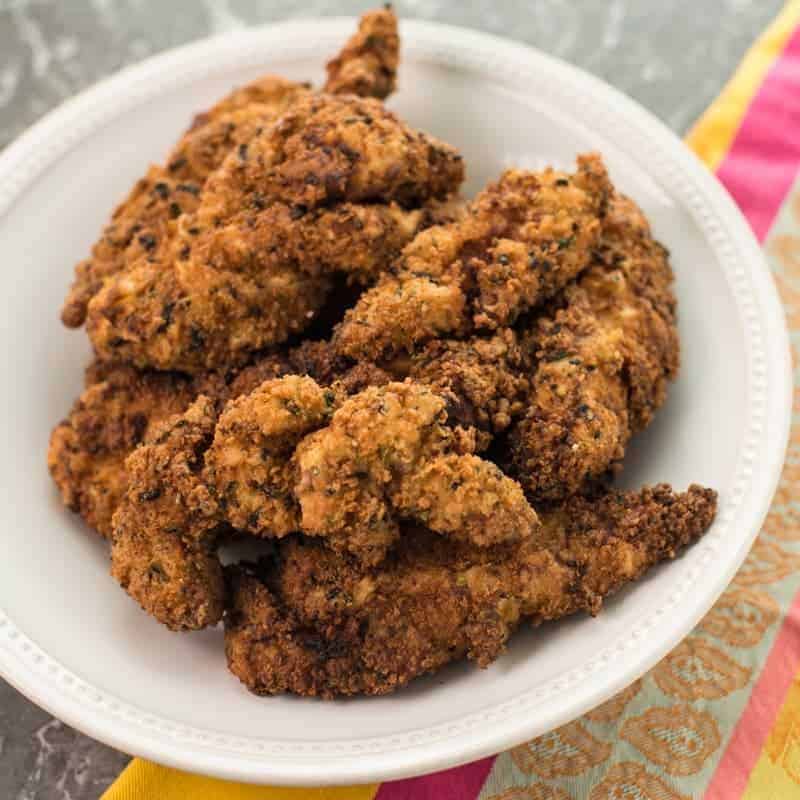 Furikake Fried Chicken
This Hawaiian style fried chicken is impressively umami filled. Top it with spicy sriracha aioli. Are your taste buds ready.
Ingredients
2

lbs

Chicken

boneless breasts of thighs
Marinade
Milk

Sriracha

Rice Wine Vinegar
Furikake Crunch
1

cup

All Purpose Flour

1

cup

Panko Bread Crumbs

⅓

cup

Furikake
Sriracha Aioli
2

tbsp

Mayonnaise

1

tsp

Sriracha
Instructions
Marinade the Chicken
Combine milk, vinegar, and sriracha in a glass or plastic bowl.

Cut chicken into nugget-sized pieces and place in to marinade.

Marinate for a few hours. (Up to overnight)
Bread the Chicken
Combine flour, panko, and furikake in a shallow bowl.

Remove chicken from marinade and place into flour mixture one piece at a time.

Coat well. Set aside to rest.
Fry the Chicken
Place coconut oil in a heavy bottomed skillet.

Heat over medium-high heat. Oil should be about 360℉.

Place chicken in hot oil. Don't over-crowd the chicken in the oil.

During cooking, try to keep oil temperature between 350-375℉. It will fluctuate as you add chicken.

Fry until golden brown. Flip over several times during cooking.

A safe iInternal temperature of the chicken should be 165℉.
Sriracha Aioli
Combine mayo and sriracha to taste.

You can thin with a small amount of water, if needed.
SaveSave
SaveSave
SaveSave
SaveSave