Have you ever paid ten dollars for overnight oats at some fancy-dancy Vegan cafe? I was like heck no I need to make these at home! Overnight oatmeal is an easy make-ahead breakfast that you can prepare the night before. You'll have a healthy breakfast ready for busy mornings all week long. You can switch up your toppings for endless variety.
What are overnight oats?
Maybe you've never heard of overnight oatmeal, or you have but can't imagine how eating uncooked oatmeal might taste.
Overnight oatmeal is made by mixing rolled oats with milk and leaving them in the refrigerator overnight.
You can also add chia seeds, greek yogurt, and even protein powder. These add-ins add a little bit more protein to this already healthy breakfast.
The milk soaks into the oats as the mixture sits in the refrigerator overnight. You end up with a creamy, al dente texture that is really nice to eat.
Then you can mix in a variety of toppings — usually fresh fruit and nuts. The sky is the limit here. The combinations are endless.
Making Perfect Overnight Oats
To make the best overnight oats, you have to find the right ratio of oat to milk. Start with the suggested ratios and then adjust them if you find you want to add more milk or less milk.
The overnight oats ratio to start with is 1 part oats ➕1 part milk ➕⅛ part seeds
Sometimes I even add a little bit more milk in the morning before I eat my overnight oats.
You can also use whatever kind of milk you like best. I usually use almond milk when I make my overnight oats recipes. Not because I don't eat dairy, but just because I like the flavor better.
I also add full-fat Greek yogurt so that I can have a little more protein. You can also use fat-free or 2% fat Greek yogurt.
The Ultimate Guide to Overnight Oats
Make a batch of healthy overnight oats on the weekend. Then you'll have plenty of stress-free morning breakfasts waiting for you in the refrigerator.
Make your overnight oats in mason jars. Small mason jars are perfect for mixing, storing, and then transporting your overnight oatmeal recipes.
What Ingredients Do You Need for Overnight Oats?
Oats
I use gluten-free old fashioned oats. Don't use quick oats; they will end up being too soggy after they soak up all of the milk.
Milk
You can use whatever kind of milk you chose. I usually make my overnight oats with almond milk.
You can use water in this recipe, but milk will give you a thicker and creamier consistency.
If you use dairy milk, you can use full-fat, 2%, or even skim milk. Non-dairy options include almond milk, coconut milk, or cashew milk.
Chia Seeds (optional)
Chia seeds add an extra boost of Omega-3 fats to these simple overnight oats. The chia seeds mix with the milk and give the base of the oatmeal a chia pudding consistency. I like the texture of the oatmeal with chia seeds.
Greek Yogurt (optional)
Greek yogurt is also optional but adds a little extra protein to this easy overnight oats recipe.
Sweetener
I typically use maple syrup or honey to sweeten my overnight oats. If you are using jam or fruit, you can leave out the sweetener.
Vanilla Extract (optional)
Vanilla extract adds a warm vanilla flavor to your oatmeal. Vanilla enhances the taste of your oats and goes well with all the toppings that you might add.
Kosher Salt (optional)
A pinch of salt also enhances the flavor of the oats. You can leave it out if you want to.
Toppings and Mix-Ins
This category is endless. For the most part, I top my overnight oats with fresh fruit and nuts. But the combinations are endless.
My Failproof Steps to Making Overnight Oats
Mix together the oats and the chia seed.
Add the Greek Yogurt, vanilla, and sweetener. I also add a pinch of salt here.
Add the milk and stir everything together until there are no lumps.
After this step, cover and store your healthy oatmeal base in the refrigerator overnight.
Now it's time to think about toppings!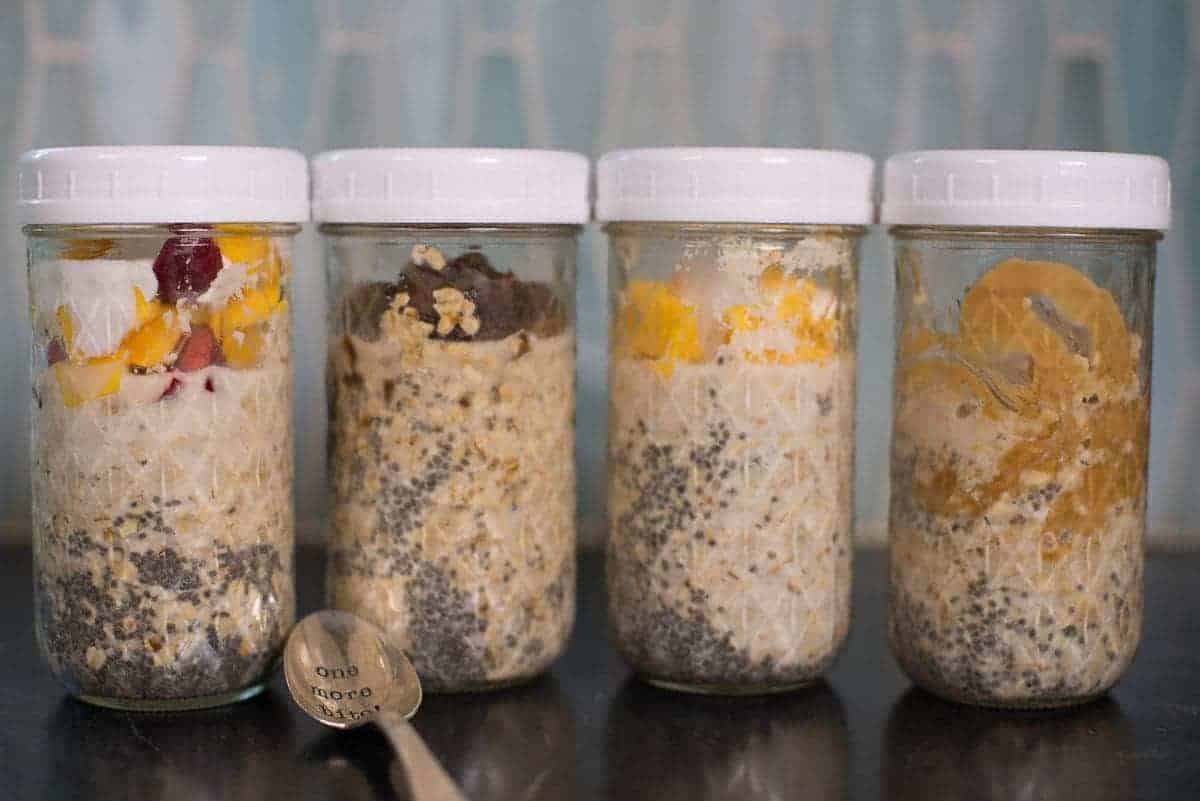 Varieties of Overnight oats
Peanut Butter:
To make simple peanut butter overnight oats, add a few tablespoons of peanut butter. For other peanut butter varieties, you can add peanut butter + bananas. Or peanut butter + jelly.
Cherry Vanilla Almond:
Add fresh cherries and slivered almonds.
Coconut Mango:
Add freshly chopped mangoes and a few tablespoons of coconut cream. For an added tropical twist, you can also add some dried, flak coconut.
Vanilla Fig:
Add a tablespoon of fig jam and then a few chopped dried or fresh figs.
Berry Almond:
Add fresh strawberries and blueberries and some chopped or slivered almonds.
Banana Nutella:
Add a tablespoon of Nutella and some sliced banana. You can also add some chopped hazelnuts or almonds for crunch.
Did you make this recipe?
Please leave and comment and review. And if you snap a photo tag me @foodologygeek on Instagram.
I love seeing your creations too!
If you make this recipe, please leave me a comment. I love to hear about your cooking adventures.
Overnight Oats
Overnight Oats Four Ways: These are delicious right out of the fridge or they can be warmed up.
Print Recipe
Pin Recipe
Ingredients
Basic Oats
½

cup

rolled, old fashioned oats

uncooked

½

cup

milk

dairy or non-dairy

¼

cup

greek yogurt

optional, use dairy or vegan yogurt

1

tbsp

maple syrup

½-1

tbsp

chia seeds

¼

tsp

vanilla

a pinch of salt
Coconut Mango
2

tbsp

unsweetened dried coconut flakes

½

cup

mango

diced
Cherry Almond Vanilla
2

tbsp

slivered almonds

⅓

cup

fresh cherries

chopped
Instructions
Prepare Each Jar Of Oats
Add the basic oats ingredients to each jar. Stir to mix.

Refrigerate oats overnight.
Peanut Butter Oats
Stir in a few tablespoons of your favorite peanut butter.
Coconut Mango Oats
Stir in a few tablespoons of dried coconut flakes. Add chopped mangoes and them top off with coconut cream.
Vanilla Fig Oats
Stir in a 3-4 teaspoons of fig jam and the chopped figs.
Cherry Almond Vanilla Oats
Add chopped fresh cherries and slivered almonds.
Notes
Pro Tip: Use wide mouth jars. The ones I used were too skinny and it made stirring the next morning a messy endeavor.
Nutrition calculations are for the basic oats without toppings.
Nutrition
Calories:
287
kcal
|
Carbohydrates:
46
g
|
Protein:
12
g
|
Fat:
6
g
|
Saturated Fat:
1
g
|
Cholesterol:
3
mg
|
Sodium:
186
mg
|
Fiber:
7
g
|
Sugar:
14
g
|
Calcium:
286
mg
|
Iron:
2
mg
(Visited 1 times, 1 visits today)