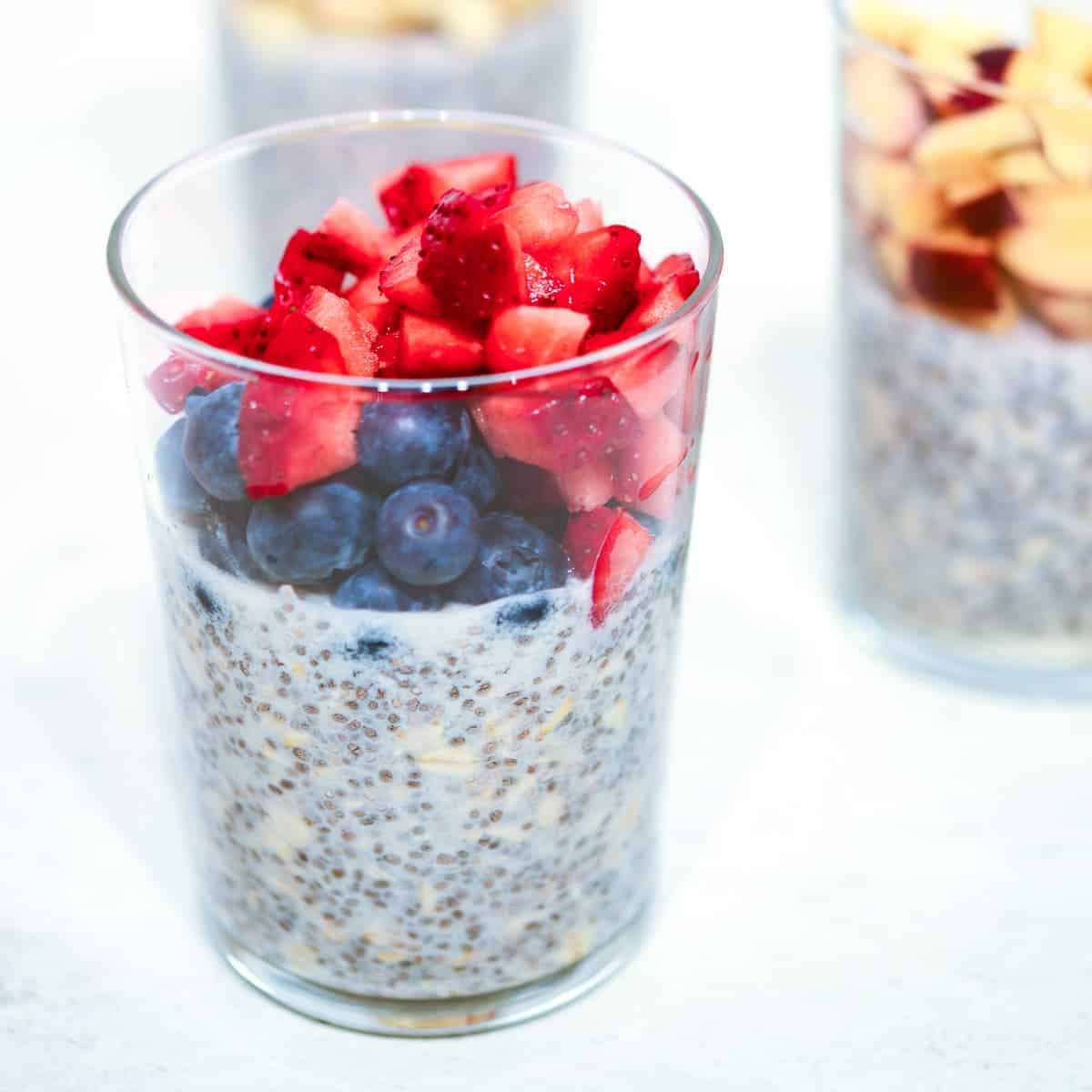 Recipe
Comments
Save
Go to Collections
This post may contain affiliate links. Please read my
disclosure policy.
Overnight oatmeal is an easy make-ahead breakfast that you prepare the night before. I love this recipe because you can add a million different toppings, and they all taste delicious. This recipe also has my special instructions on how to make High Protein Overnight Oats!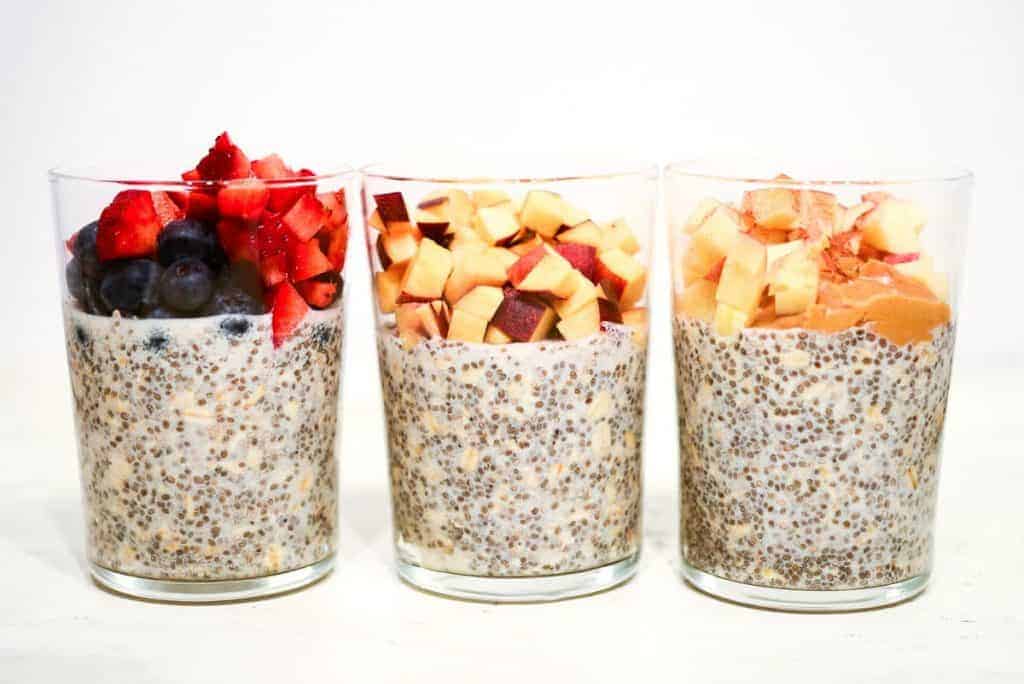 I was a little bit late getting on the overnight oats train.
I think everyone started making overnight oats during the years that I was still completely carb-phobic.
It wasn't until recently that I gave them a try! Let me tell you; I haven't looked back since.
Now that I've figured out how to make this recipe, I make it so many different ways, each with exceptionally delicious results.
Why You'll Love this Overnight Oats Recipe
This recipe is so easy; even your kids can make it!
Once you have the formula down, you can adapt this recipe to add whatever toppings you like.
A batch of overnight oatmeal keeps in the fridge all week long so you can grab it on the go and always get a healthy breakfast in.
Foodology Geek Recipe Notes
Ingredients
The ingredients in overnight oatmeal are pretty flexible. The variations are virtually endless once you get the basic overnight oatmeal recipe down.
Dry Ingredients
Oats: I use gluten-free old-fashioned oats. Don't use quick oats; they will end up being too soggy after they soak up all of the milk.
Chia Seeds (optional): Chia seeds add an extra boost of Omega-3 fats to these simple overnight oats. The chia seeds mix with the milk and give the base of the oatmeal a chia pudding consistency. I like the texture of the oatmeal with chia seeds.
Protein Powder: I usually use vanilla or unflavored whey protein. Find your favorite flavor of protein powder. Even chocolate can be great with the right toppings.
Wet Ingredients
Milk: You can use whatever kind of milk you choose. I usually make my overnight oats with almond milk. You can use water in this recipe, but milk will give you a thicker and creamier consistency. You can use full-fat, 2%, or even skim milk if you use dairy milk. Non-dairy options include almond milk, coconut milk, or cashew milk.
Greek Yogurt (optional): Greek yogurt is also optional but adds a little extra protein to this easy overnight oats recipe.
Flavor and Toppings
Sweetener: I typically use maple syrup or honey to sweeten my overnight oats. If you are using jam or fruit, you can leave out the sweetener.
Vanilla Extract (optional): Vanilla extract adds a warm vanilla flavor to your oatmeal. Vanilla enhances the taste of your oats and goes well with all the toppings you might add.
Kosher Salt (optional): A pinch of salt also enhances the flavor of the oats. You can leave it out if you want to.
Toppings and Mix-Ins: This category is endless. For the most part, I top my overnight oats with fresh fruit and nuts. But the combinations are endless.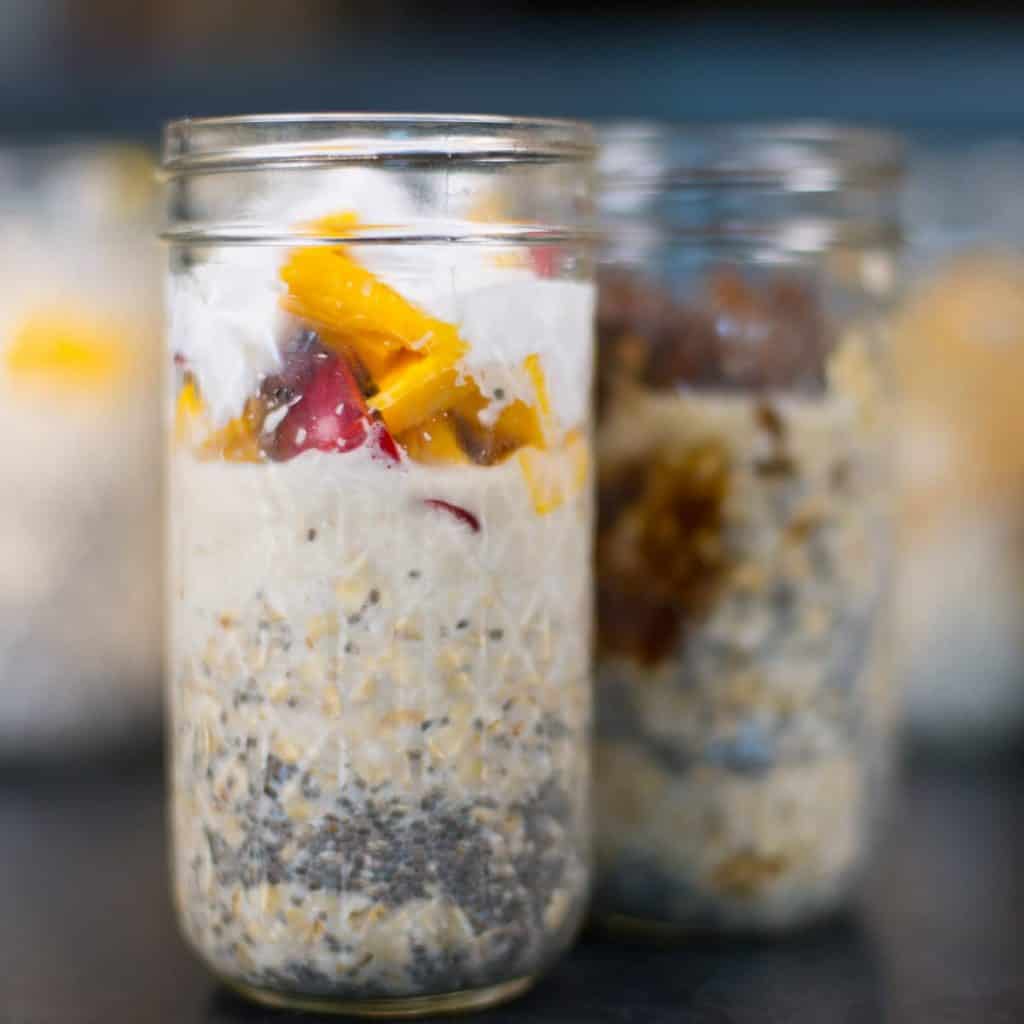 Instructions
Get your overnight oats container ready: You have a few different options. My favorite containers are Mason jars or Weck jars. Any sealable container will work. You'll want it to be able to hold about 2 cups. You want room for all those toppings.
Add the Dry Ingredients: Start by adding the dry ingredients to your container. Mix them up with a spoon.
Add the Wet Ingredients: Add the Greek yogurt (if you are making your overnight oats with yogurt) and then the milk. You'll also add the sweetness, vanilla, and salt at this step.
Mix: Mix a spoon or a small spatula until combined.
Store: Cover each container. If you are using glasses or mugs, you can cover the containers with plastic wrap.
To make the best overnight oats, you must find the right oats-to-milk ratio. Start with the suggested ratios and then adjust them if you want to add more or less milk.
The overnight oats ratio to start with is 1 part oats ➕1 part milk ➕⅛ part seeds.
Sometimes, I even add a little more milk in the morning before eating my overnight oats.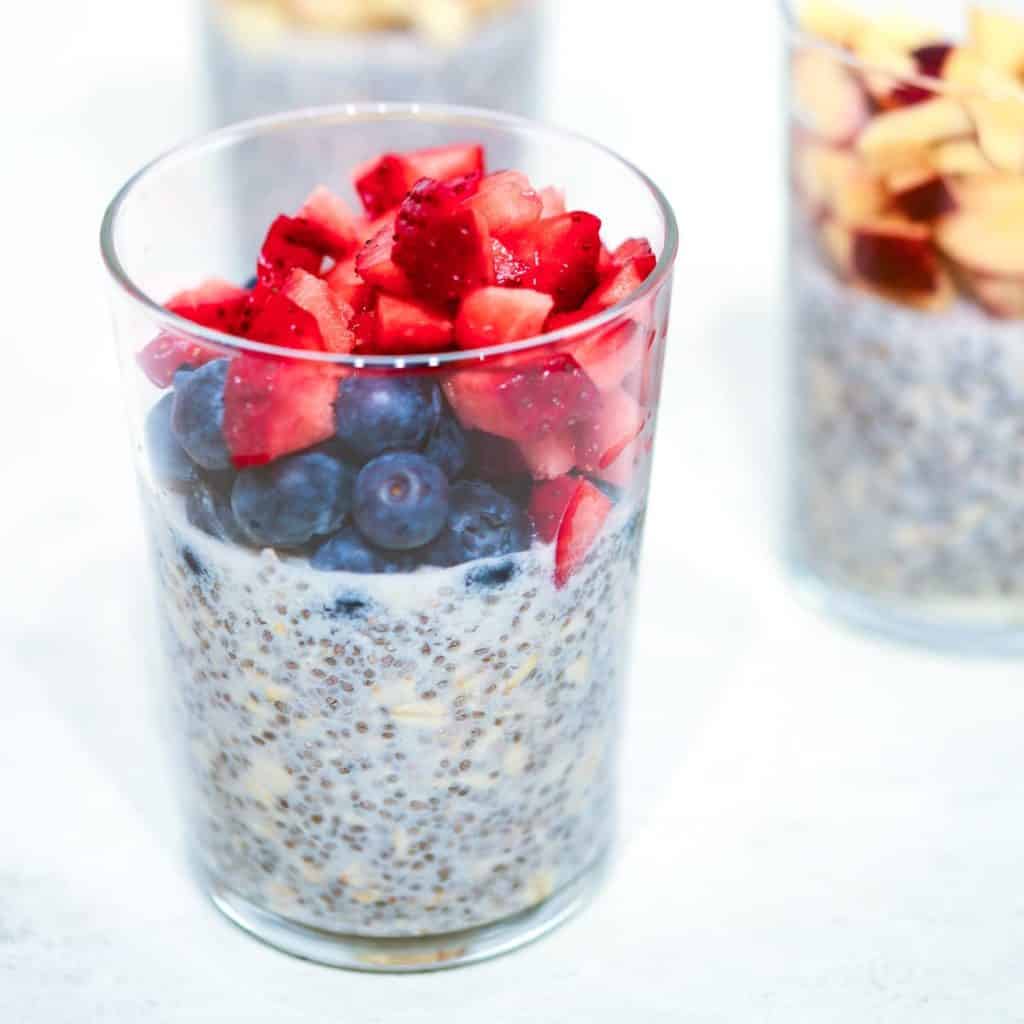 Varieties of Overnight oats
Peanut Butter or Peanut Butter and Banana Overnight Oats: To make simple peanut butter overnight oats, add a few tablespoons of peanut butter. For other peanut butter varieties, you can add peanut butter + bananas. Or peanut butter + jelly.
Cherry Vanilla Almond Overnight Oats: Add fresh cherries and slivered almonds.
Tropical Coconut Mango Overnight Oats: Add freshly chopped mangoes and a few tablespoons of coconut cream. You can add some dried, flaked coconut for an added tropical twist.
Vanilla Fig Overnight Oats: Make sure to use the vanilla in the recipe and then add a tablespoon of fig jam and then a few chopped dried or fresh figs.
Berry Overnight Oats: Add fresh strawberries, blueberries, and chopped or slivered almonds.
Banana Nutella Overnight Oats: Add a tablespoon of Nutella and some sliced banana. You can also add some chopped hazelnuts or almonds for crunch.
Apple Overnight Oats: Add a diced apple and a few walnuts in the morning. I also like to add a little sprinkle of cinnamon.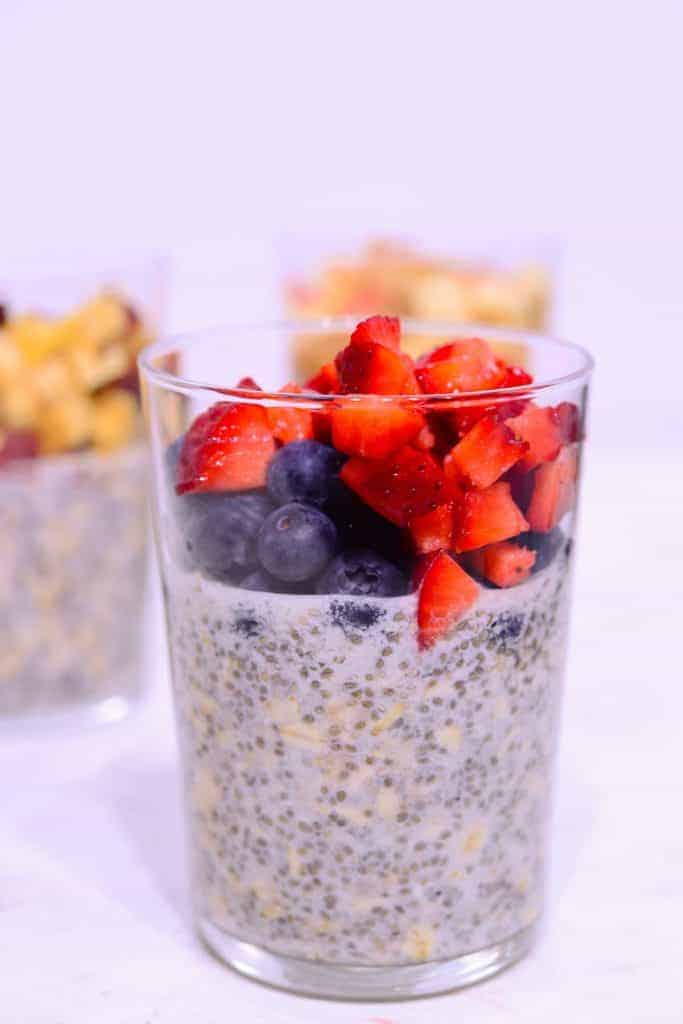 FAQs
What are overnight oats?
Maybe you've never heard of overnight oatmeal, or you have but can't imagine how eating uncooked oatmeal might taste. Overnight oatmeal is made by mixing rolled oats with milk and leaving them in the refrigerator overnight.

You can also add chia seeds, greek yogurt, and even protein powder. These add-ins add a little bit more protein to this already healthy breakfast. The milk soaks into the oats as the mixture sits in the refrigerator overnight. You end up with a creamy, al dente texture that is nice to eat.

In the morning, you can mix in a variety of toppings — usually fresh fruit and nuts. The sky is the limit here. The combinations are endless.
How long do overnight oats take?
Overnight oats take about 5 minutes to mix up. Then you put them in the refrigerator to sit overnight. After about 4-5 hours, they are good to go. The longer they are in the fridge to more liquid, the oats will absorb.
Are these gluten-free overnight oats?
Yes, I use Bob's Red Mill gluten-free oatmeal! Most oats are relatively gluten-free but can be processed in facilities that also process wheat. If you have a gluten allergy, make sure that you get oats that are certified gluten-free.
What are the best oats for overnight oats?
I use regular steel cut oats when I make this recipe. A lot of overnight oats recipes call for instant oats. Both are fine to use. The steel-cut oats will give you a chunkier, chewier texture, which I like in my oats.
How long do overnight oats last?
Overnight oats will keep for several weeks in the fridge.
Can you make Keto overnight oats?
Oats are pretty high in carbs. But you can make a few substitutions that will give you the texture and flavor of overnight oats without all of the carbs. Check out this post I found for a Keto Overnight Oats Recipe.
How much protein should I eat?
Figuring out your daily macros is easy. There are a million online macro calculators like this one from fitness volt. Simply enter your weight, age, and activity level, and then let the magic happen.
Hungry For More Breakfast Recipes?
Salty, caramelized pancetta, and sweet potatoes make this hash a super tasty addition to your breakfast routine. The sweet potatoes in this breakfast hash will…
Leave A Review
Did you make this recipe? Leave a comment and a 5 ★ review. Your feedback helps other readers and helps me continue to offer recipes at no cost. Happy Cooking!!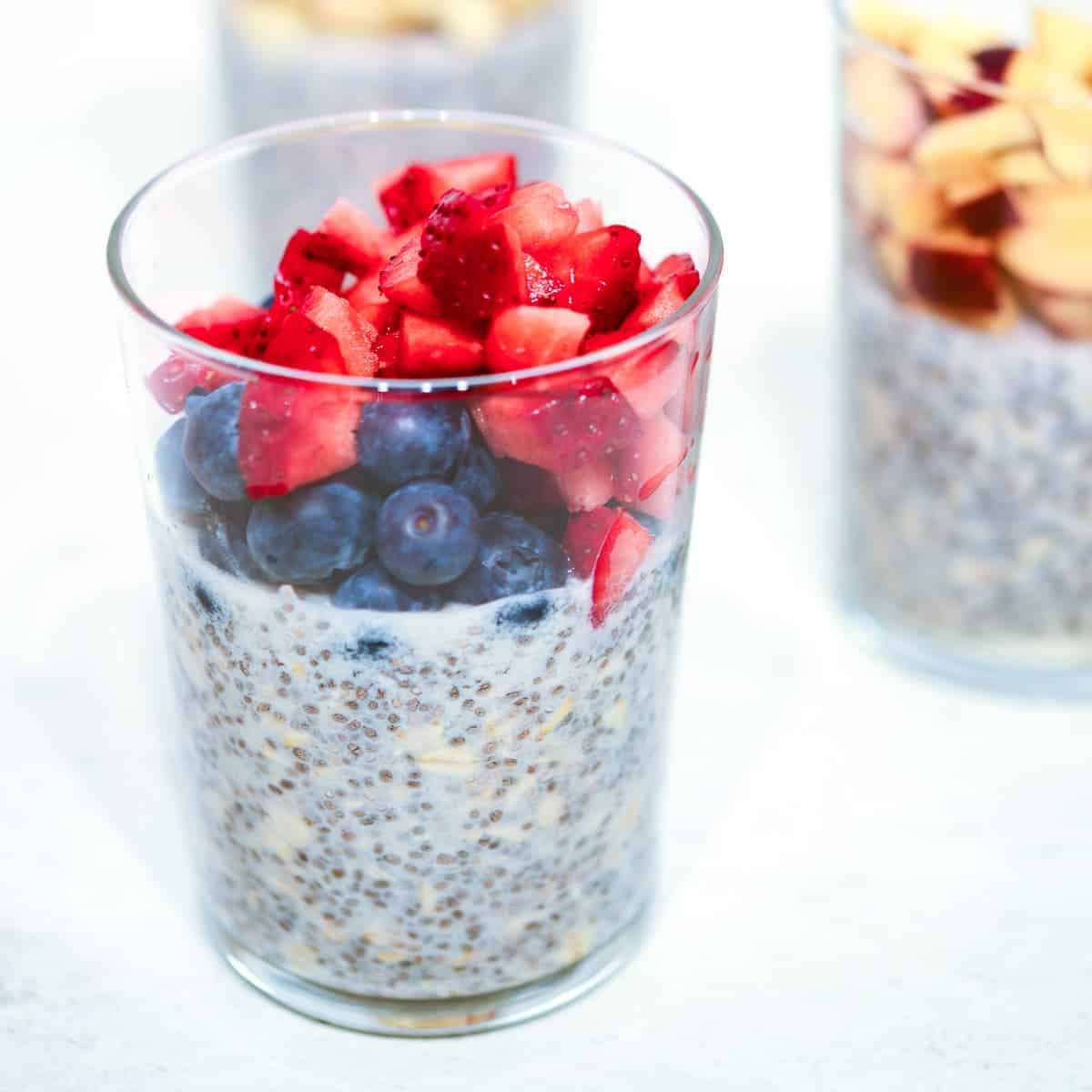 Overnight Oats
Overnight Oats Four Ways: These are delicious right out of the fridge or they can be warmed up.
Ingredients
Basic Oats
½

cup

rolled, old fashioned oats

,

uncooked

½

cup

milk

,

dairy or non-dairy

¼

cup

greek yogurt

,

optional, use dairy or vegan yogurt

1

tbsp

maple syrup

½-1

tbsp

chia seeds

¼

tsp

vanilla

a pinch of salt
Coconut Mango
2

tbsp

unsweetened dried coconut flakes

½

cup

mango

,

diced
Cherry Almond Vanilla
2

tbsp

slivered almonds

⅓

cup

fresh cherries

,

chopped
High Protein Overnight Oatmeal
⅓

cup

Steal Cut Oats

2

tbsp

Chia Seeds

1

scoop

protein powder

,

Vanilla Whey, or your favorite brand

1

cup

Almond Milk
Instructions
Prepare Each Jar Of Oats
Add the basic oats ingredients to each jar. Stir to mix.

Refrigerate oats overnight.
Peanut Butter Oats
Stir in a few tablespoons of your favorite peanut butter.
Coconut Mango Oats
Stir in a few tablespoons of dried coconut flakes. Add chopped mangoes and them top off with coconut cream.
Vanilla Fig Oats
Stir in a 3-4 teaspoons of fig jam and the chopped figs.
Cherry Almond Vanilla Oats
Add chopped fresh cherries and slivered almonds.
Laura's Tips + Notes
Pro Tip: Use wide mouth jars. The ones I used were too skinny and it made stirring the next morning a messy endeavor.
Nutrition calculations are for the basic oats without toppings.
YOUR OWN NOTES
Sign In to add your own private notes
Nutrition
Calories:
287
kcal
Carbohydrates:
46
g
Protein:
12
g
Fat:
6
g
Saturated Fat:
1
g
Cholesterol:
3
mg
Sodium:
186
mg
Fiber:
7
g
Sugar:
14
g
Calcium:
286
mg
Iron:
2
mg