First of all, I'm in love with chia pudding. I'd been wanting to make a spiced chia latte version for awhile.
There are so many things that I love about this chia latter pudding.
Then Vital Proteins® reached out to ask if we would be interested in doing some recipes with their Collagen Peptides. Inspiration hit and chai latte chia pudding with collagen peptide supplement was born.
Vital Proteins® has several different flavors. I also have another treat that's in the pipeline using their Dark Chocolate Blackberry flavor…stay tuned for that one. Think healthy truffles – I'll just leave you with that for now. 😋
Collagen peptides are a perfect match for chai pudding. They're virtually undetectable and don't change the texture or flavor of the pudding one bit.
I'm a foodie and have a really good sense of taste. I can taste a mild protein flavor when I add this supplement to plain water. However that being said, it's not off-putting at all. In this chia pudding recipe you will have no idea that it has been added.
In the meantime enjoy this fantastic and flavorful pudding. [Want to try another chia pudding? We also have two other chia pudding recipes on the blog. Dark Chocolate Chia Pudding and Fresh Strawberry Chia Pudding.]
Why eat Collagen, you ask?
Collagen protein is great for your connective tissue. It is also one of the building blocks for strong hair, skin, and fingernails. Collagen comes from connective tissue that has been broken down in the cooking process; for instance when you roast a whole chicken or cook a bone-in steak. But nowadays a lot of us cook with boneless, skinless chicken. While that is a great source of lean protein, cooking this way causes us to miss out on the nutrient-rich collagen that comes from the connective tissue.
This is why bone broth is so good for you. Bone broth contains minerals and other nutrients that support you immune system function.
Collagen is also specifically known to heal your gut lining and reduce inflammation. Including it in your diet is beneficial in so many ways.
Do you have a favorite treat that you would like to see with amped-up nutrition?
Leave a comment below and let us know. I would love to create something amazing just for you.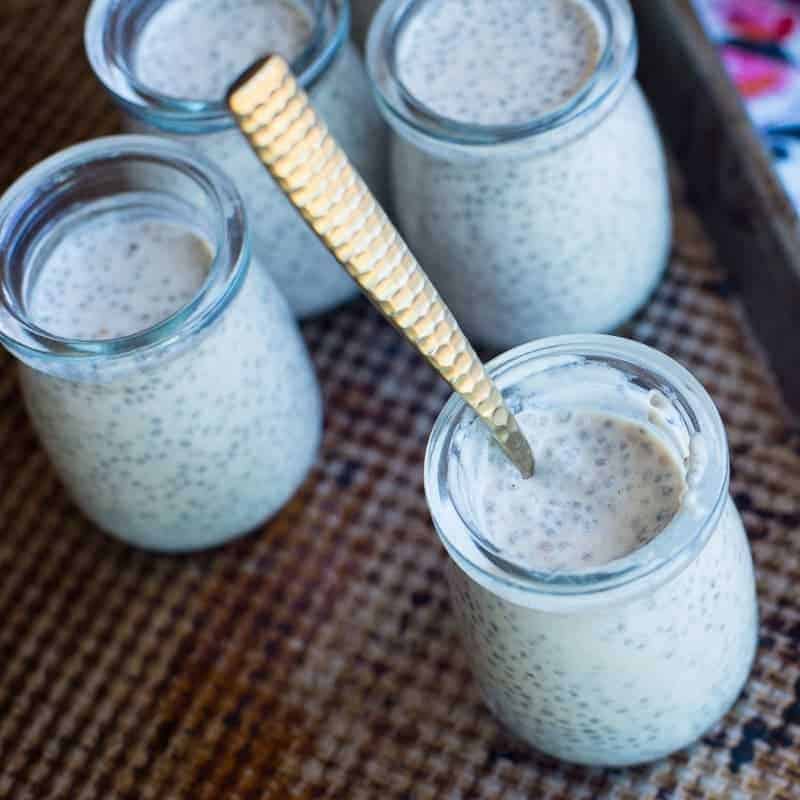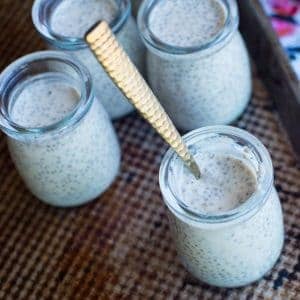 Chai Latte Chia Pudding
Dairy free chai latte chia pudding. All the spice of a chai latte in a delicious pudding cup. Packed with healthy fats. Made with collagen peptides for extra nutrition.
Print Recipe
Pin Recipe
Instructions
Whisk all ingredients together.

Distribute into pudding cups or small ramekins.

Refrigerate for a few hours before serving.
Nutrition
Serving:
2
oz
|
Calories:
173
kcal
|
Carbohydrates:
8
g
|
Protein:
2
g
|
Fat:
15
g
|
Saturated Fat:
12
g
|
Sodium:
10
mg
|
Fiber:
2
g
|
Sugar:
2
g
|
Calcium:
60
mg
|
Iron:
2.7
mg
(Visited 53 times, 1 visits today)