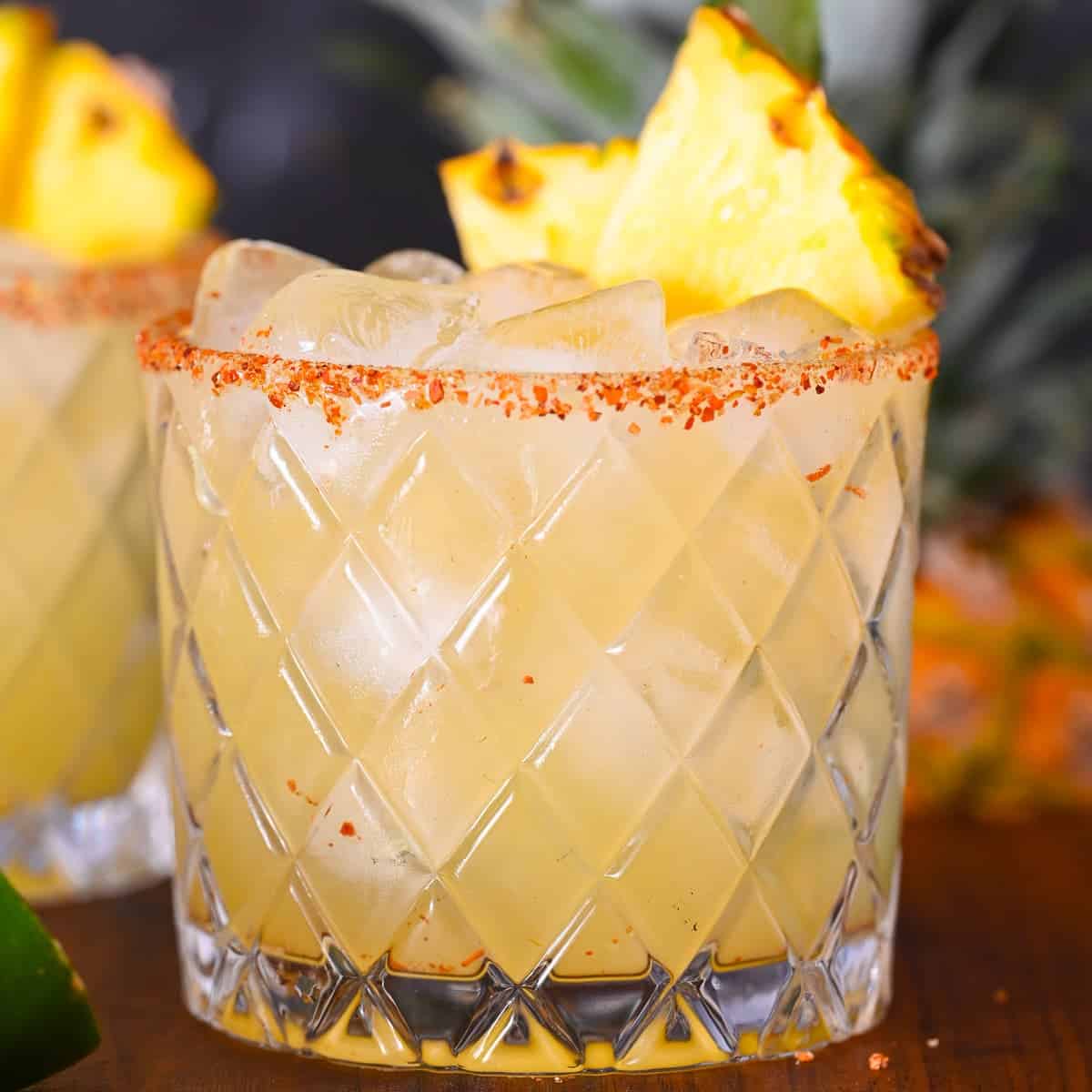 Recipe
Comments
Save
Go to Collections
This post may contain affiliate links. Please read my
disclosure policy.
Step up Your Cocktail Game with a Delicious Pineapple Margarita Recipe
Looking to bring some tropical vibes to your cocktail party? Look no further than this mouthwatering pineapple margarita recipe. Bursting with the sweet and tangy flavors of fresh pineapple, this drink is the perfect combination of refreshing and boozy.
Whether you're hosting a summer barbecue or simply want to impress your friends with a delicious concoction, this pineapple cocktail will surely be a crowd-pleaser, just like my pineapple martini.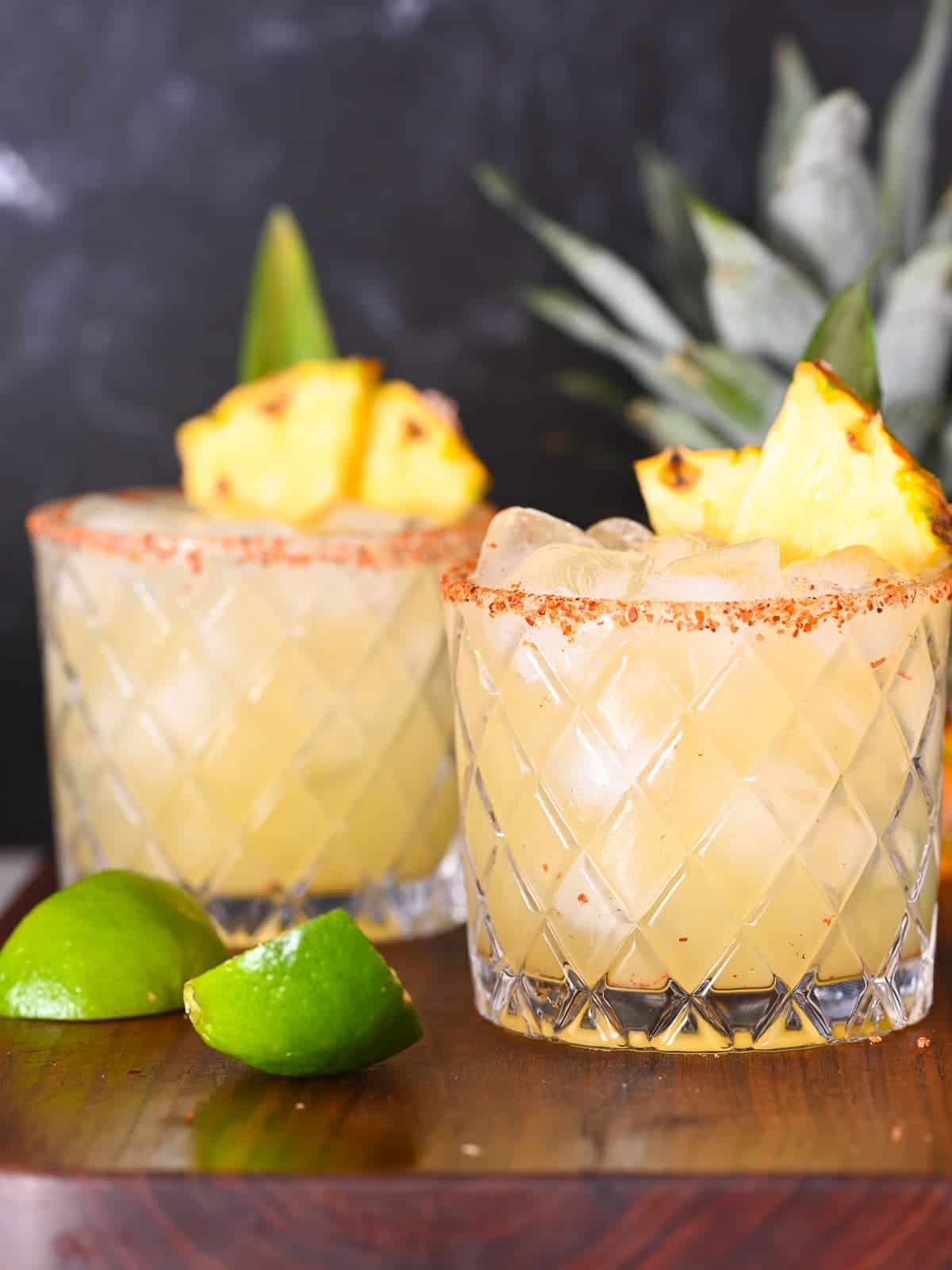 The subtle hint of salt on the rim of the glass adds an extra layer of flavor and perfectly balances out the sweetness of the pineapple. With just a few simple ingredients and basic bartending skills, you can easily step up your cocktail game and become the star mixologist of the night.
So dust off your blender, grab some fresh pineapples, and get ready to elevate your happy hour experience. With this pineapple margarita recipe in your arsenal, you'll be ready to whip up a taste of paradise anytime, anywhere. Cheers!
Why choose a Pineapple Margarita?
Pineapple margaritas are a refreshing twist on the classic margarita. The natural sweetness of pineapple pairs perfectly with the tangy lime and tequila, creating a tropical flavor explosion in every sip.
The addition of pineapple adds a tropical island vibe to the drink, making it the perfect choice for those looking to add some flair to their cocktail repertoire.
The history of the margarita cocktail
The margarita is a classic cocktail that has a rich and colorful history dating back to the 1930s. While there are several theories about its origin, one popular story credits a socialite named Margarita Sames for inventing the drink during a vacation in Acapulco. Sames supposedly mixed tequila, lime juice, and triple sec together, creating a refreshing and tangy cocktail that became an instant hit.
Over the years, the margarita gained popularity and evolved into different variations. From the classic margarita on the rocks to frozen margaritas and flavored versions like strawberry and mango, there's a margarita to suit every taste.
Ingredients for a Pineapple Margarita
You'll need a handful of simple yet flavorful ingredients to create the perfect pineapple margarita. Here's what you'll need: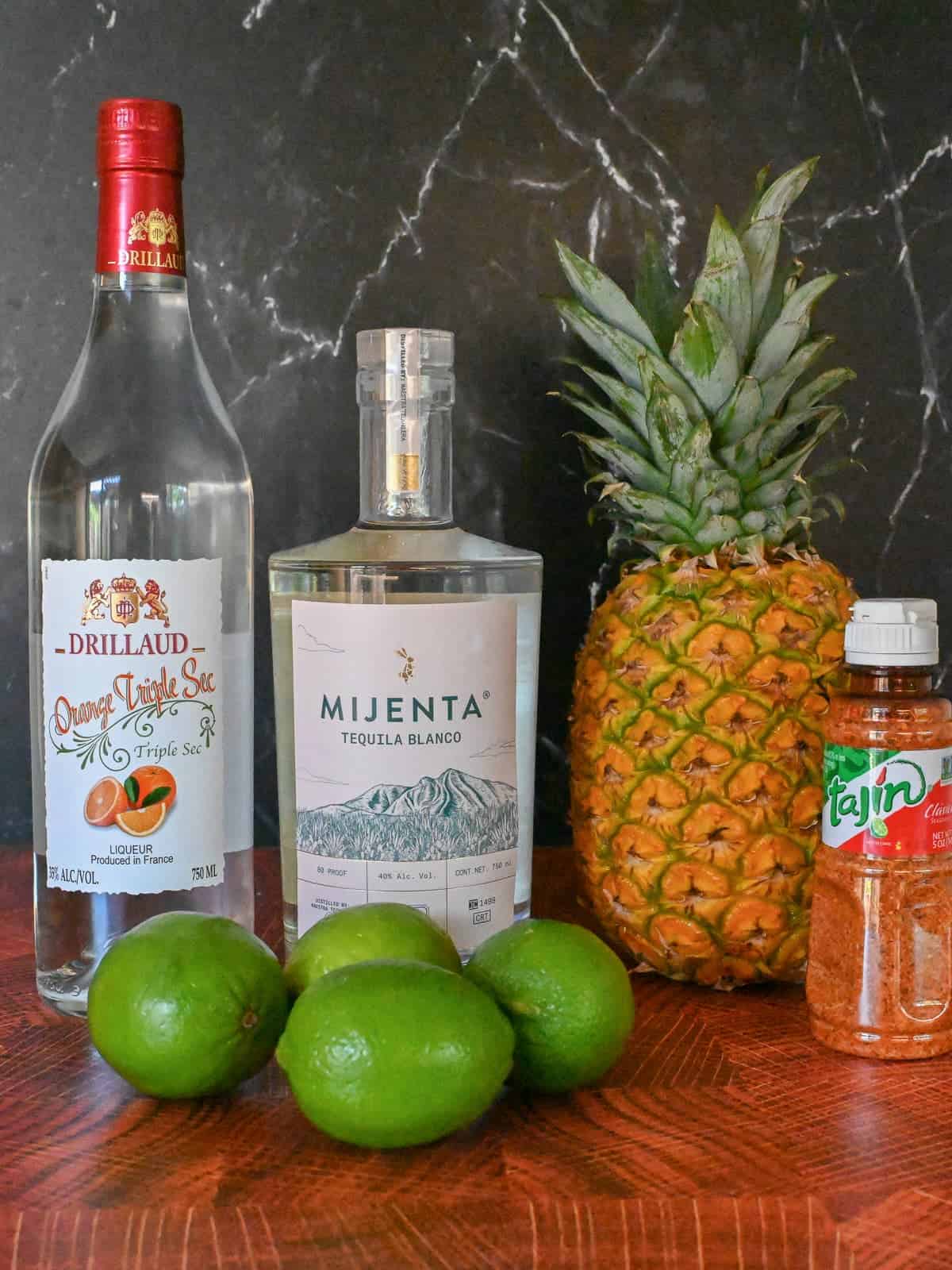 Ripe pineapples: Choose pineapples that are golden in color and have a sweet aroma. Fresh pineapple juice will give your margarita an authentic tropical taste. But canned juice is always an option.
Fresh limes: Fresh lime juice adds a tangy and citrusy flavor to your cocktail.
Tequila: Opt for a good quality tequila that complements the other flavors. Silver tequila or blanco tequila works best for a pineapple margarita. I have also used respado tequila.
Triple sec: This orange-flavored liqueur adds a subtle sweetness and complexity to the margarita.
Agave syrup: If you need to add sweetness, use agave syrup as a natural sweetener to balance the tartness of the lime and pineapple.
Ice: Serve over ice for an on-the-rocks margarita, or blend your margarita with plenty of ice to achieve a refreshing and slushy consistency.
On The Rocks OR Blended?
Now that you have gathered all the ingredients let's dive into the step-by-step process of creating a mouthwatering pineapple margarita:
On The Rocks
Prepare the pineapple: Cut up the pineapple and blend or juice the fruit. You can also use canned pineapple juice if you want to save time.
Prepare the garnishes: Slices of pineapple and pineapple leaves are both fantastic garnishes for this cocktail.
Prepare the cocktail glasses: Wipe the edge of each glass with lime and dip into salt or chili lime salt to coat the edges. Fill each glass with ice.
Make the cocktails: Fill the cocktail shaker with ice. Add the cocktail ingredients to the shaker. Shake vigorously. Pour over ice and serve.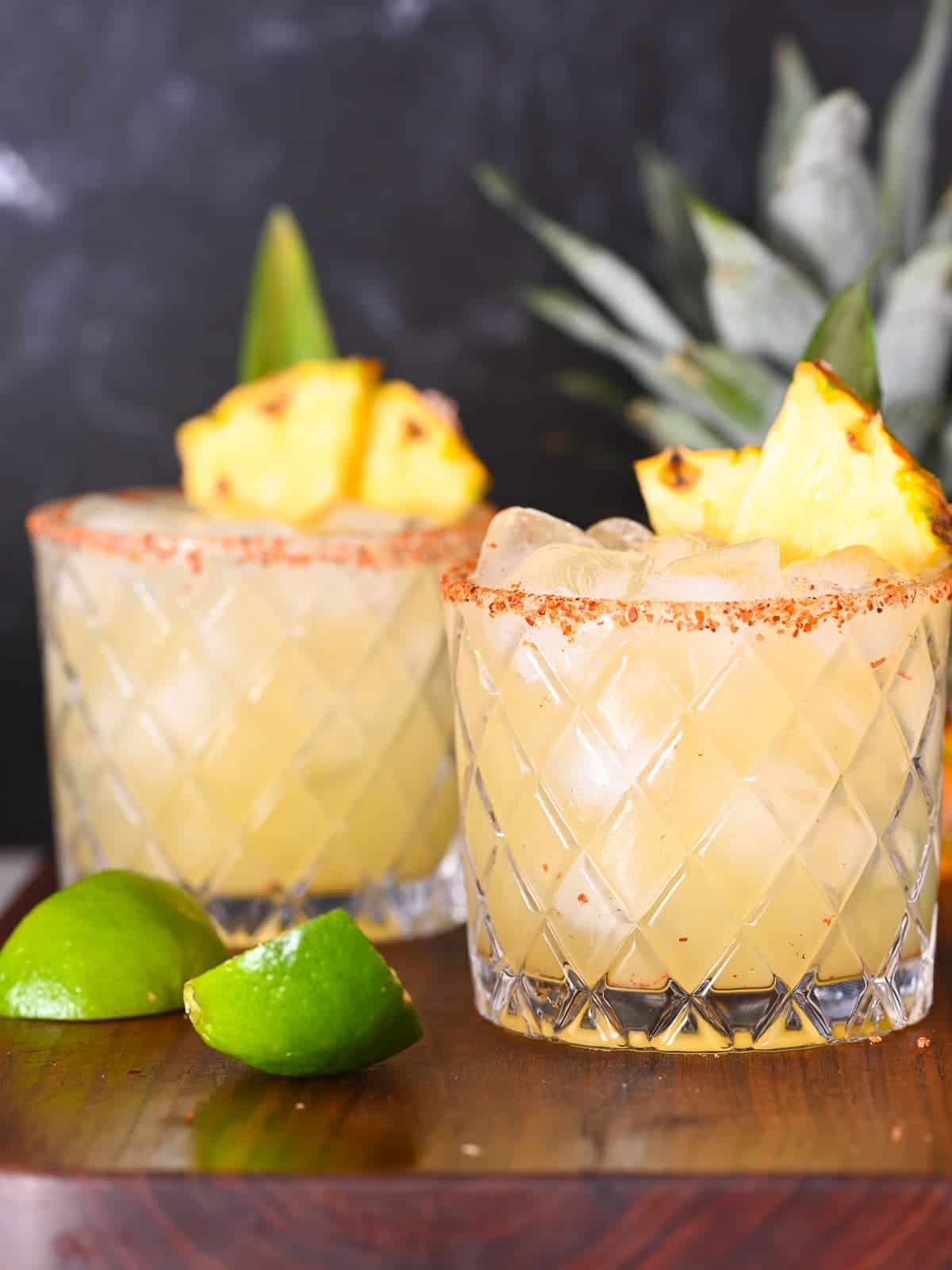 Blended Pineapple Margarita
Cut the fresh pineapple into chunks and remove the skin and core. Place the pineapple chunks in a blender.
Squeeze the juice of fresh limes into the blender, ensuring you remove any seeds.
Add the tequila, triple sec, and agave syrup to the blender.
Fill the blender with ice, leaving enough room for blending.
Blend the ingredients until smooth and slushy.
Taste the margarita and adjust the sweetness or tartness by adding more agave syrup or lime juice, if desired.
Rim your serving glasses with salt by wetting the rim with lime juice and dipping it into a plate of salt.
Pour the pineapple margarita into the salt-rimmed glasses.
Garnish each glass with a wedge of pineapple or a slice of lime.
Serve immediately and enjoy your homemade pineapple margarita!
Not only is the pineapple margarita delicious, but it is also incredibly versatile. You can easily customize the recipe to suit your taste preferences, whether you prefer a stronger tequila flavor or want to experiment with different variations.
Variations For Pineapple Margaritas
While the classic pineapple margarita is a crowd-pleaser, you can also experiment with different variations to add a unique twist to your cocktail. Here are a few ideas to get you started:
Spicy Pineapple Margarita: Add a kick to your margarita by muddling a few slices of jalapeno pepper before mixing the ingredients. The spicy heat pairs perfectly with the sweetness of pineapple.
Coconut Pineapple Margarita: Blend in a coconut milk or coconut cream splash to give your margarita a creamy and tropical twist.
Pineapple Mint Margarita: Muddle fresh mint leaves with the pineapple chunks before blending for a refreshing and herbaceous flavor profile.
Pineapple Ginger Margarita: Grate fresh ginger and add it to the blender for a margarita with a zingy and invigorating kick.
Feel free to get creative and customize your pineapple margarita to suit your taste preferences. The possibilities are endless!
Tips for serving and garnishing your Pineapple Margarita
To enhance the visual appeal and overall experience of your pineapple margarita, here are some tips for serving and garnishing:
Salt Rim: Before pouring the margarita into the glasses, rim them with salt. Wet the rim with lime juice, then dip it into a plate of coarse salt or spicy chile salt. This adds a touch of saltiness and creates a beautiful presentation.
Pineapple Wedge: Garnish each glass with a wedge of fresh pineapple. You can also add pineapple leaves or a slice of lime for an extra burst of color.
Umbrella or Cocktail Pick: Insert a colorful cocktail umbrella or a decorative cocktail pick with a pineapple-shaped topper into the margarita for a fun and tropical touch.
Chilled Glasses: For an extra refreshing experience, chill the glasses in the freezer before serving. This will keep your margarita colder for longer.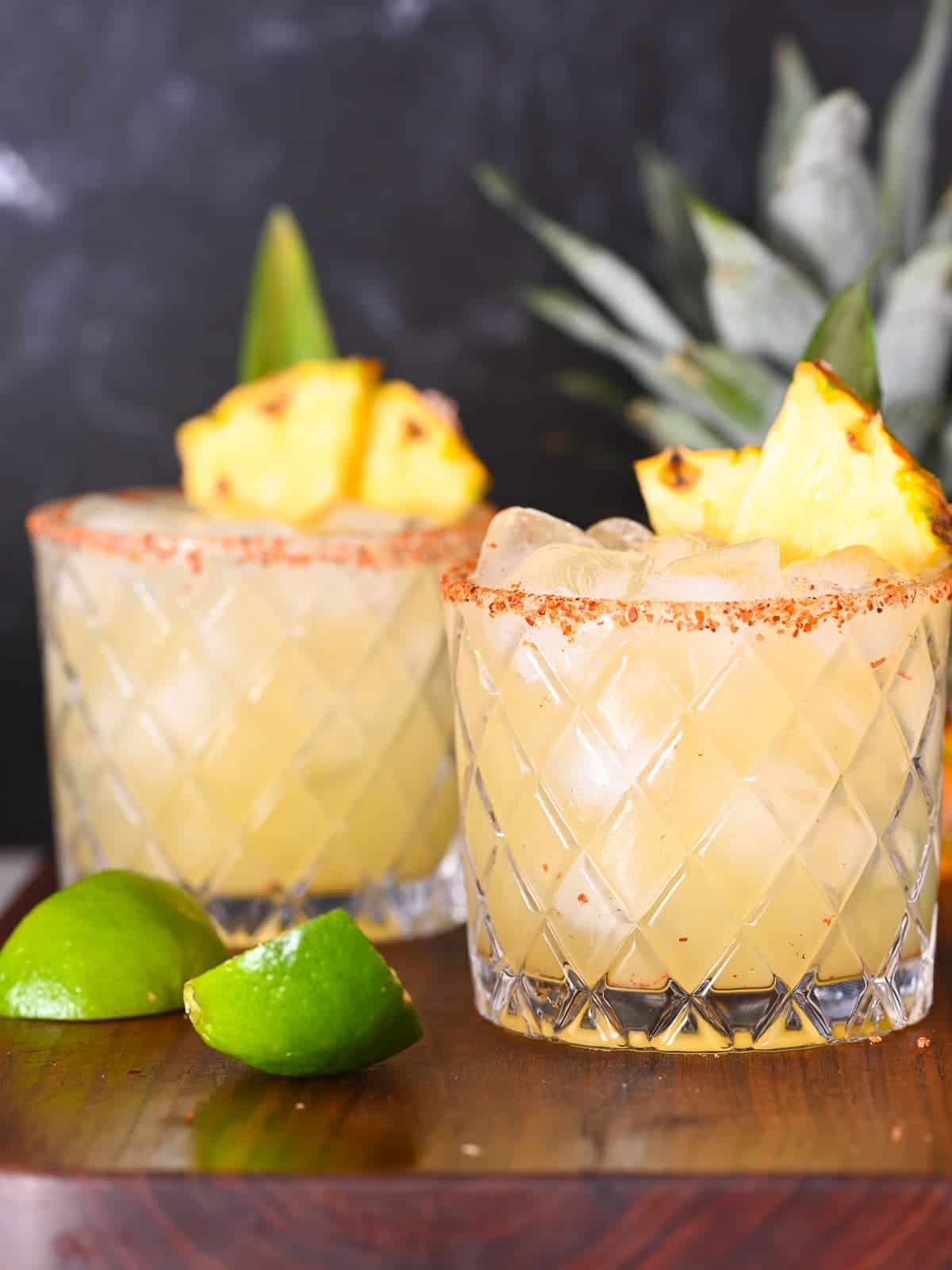 Pairing options for a Pineapple Margarita
The pineapple margarita's vibrant and tropical flavors make it a versatile drink that pairs well with a variety of foods. Here are a few food pairing suggestions to enhance your margarita experience:
Tacos: The tangy and sweet notes of the pineapple margarita perfectly complement the savory flavors of tacos. Whether you prefer fish tacos or carne asada, this cocktail will elevate your taco night.
Grilled Meat: The tropical flavors of the pineapple margarita pair exceptionally well with grilled dishes. Try serving it with grilled chicken, Kalbi Ribs, or Smoked Brisket.
Spicy Dishes: The sweetness of the pineapple margarita contrasts with spicy dishes like Chili Verde, Curry Chicken, or buffalo wings. The cooling effect of the drink helps balance the heat.
Food and drink pairings are subjective, so feel free to experiment and find combinations that delight your taste buds.
Frequently asked questions about Pineapple Margaritas
Can I make a non-alcoholic version of the pineapple margarita?
You can easily make a non-alcoholic version by omitting the tequila and triple sec. Simply blend together the pineapple, lime juice, agave syrup, and ice for a refreshing mocktail.
Can I use canned pineapple juice instead of fresh pineapple?
While fresh pineapple juice is preferable for the best flavor, you can use canned pineapple juice as a substitute if fresh pineapples are not available. Just make sure to choose a high-quality brand without added sugars or preservatives.
Can I make the pineapple margarita in advance?
You can make my pitcher of margaritas in advance and serve them on the rocks.

It's best to serve the blended pineapple margarita immediately after blending to enjoy its fresh flavors and slushy consistency. If you need to make it in advance, blend all the ingredients except the ice and refrigerate the mixture. When ready to serve, blend the mixture with ice until slushy.
How can I make the margarita less sweet or more tart?
If you find the margarita too sweet, add more lime juice to increase the tartness. Conversely, if it's too tart, add more agave syrup to balance the flavors. Adjust the sweetness and tartness according to your taste preferences.
More Cocktail Recipes
Try more of our favorite cocktail recipes. If you're feeling a tropical vibe, here are some of our best boozy Island concoctions.
Holiday events are the perfect time to bring out the champagne glasses. This fresh cranberry champagne cocktail recipe is perfect for holiday parties. Its vibrant…
Leave A Review
Did you make this recipe? Leave a comment and a 5 ★ review. Your feedback helps other readers and helps me continue to offer recipes at no cost. Happy Cooking!!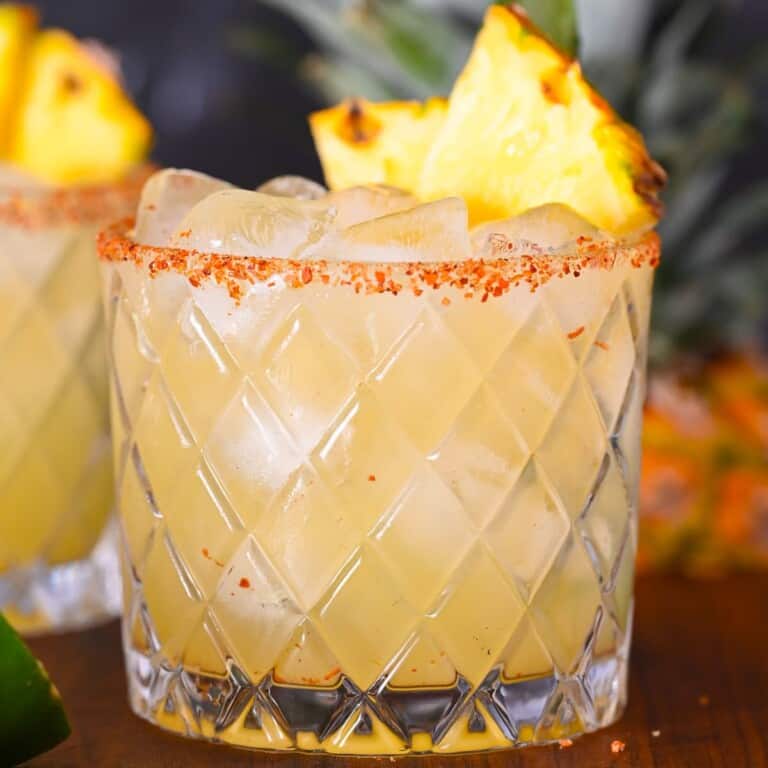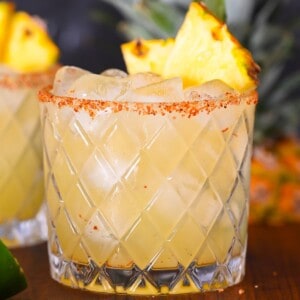 Pineapple Margarita Recipe
Indulge in a taste of tropical paradise with our mouthwatering pineapple margarita recipe. This delightful concoction is guaranteed to transport you to sun-drenched beaches and balmy breezes, even if you're miles away. Packed with the refreshing flavors of ripe pineapples, zesty lime juice, and a splash of tequila, this cocktail is the ultimate summer elixir.
Ingredients
fresh pineapple

,

for garnish, juicing, and blending

2

ounces

tequila

,

blanco or Respado

2

ounces

pineapple juice

1

ounce

lime juice

¾

ounce

triple sec

,

or cointreau

agave syrup

,

or simple syrup (optional)

ice
Spicy Chili Salt Rim [Optional]
kosher salt

(affiliate link)

New Mexico chile powder

,

or cayenne
Garnishes
fresh pineapple wedges

fresh pineapple leaves
Instructions
Prepare garnishes: Slices of pineapple and pineapple leaves are both fantastic garnishes for this cocktail.

fresh pineapple,

kosher salt,

granulated sugar,

New Mexico chile powder,

fresh pineapple wedges,

fresh pineapple leaves

Prepare the cocktail glasses: Wipe the edge of each glass with lime and dip into salt or chili lime salt to coat the edges. Fill each glass with ice.

Make the cocktails: Fill the cocktail shaker with ice. Add the cocktail ingredients to the shaker. Shake vigorously. Pour over ice and serve.

2 ounces tequila,

2 ounces pineapple juice,

1 ounce lime juice,

3/4 ounce triple sec,

ice,

agave syrup
YOUR OWN NOTES
Sign In to add your own private notes
Nutrition
Calories:
234
kcal
Carbohydrates:
17
g
Protein:
0.3
g
Fat:
0.2
g
Saturated Fat:
0.02
g
Sodium:
4
mg
Fiber:
0.2
g
Sugar:
13
g
Calcium:
12
mg
Iron:
0.2
mg