Even as the weather starts to warm up, I still love including healthy soups as part of my weekly meal prep. This soup is made with frozen peas and couldn't be easier.
Fresh green pea and mint soup. Perfect for all those spring peas.[/caption]
Easy homemade soups is a great way to get in an extra serving or two of healthy, colorful veggies. When I look for healthy meal prep ideas, soup is one of my favorite things to include in my weekly meal plans. Soup is chock full of healthy vegetables, it's easy to pack and reheat at work, and it usually freezes really well.
If you are meal prepping for just yourself it may feel like you are looking at a mountain of leftovers every week. Meal prep recipes like this green pea and mint soup allow you freeze some of the recipes so that you can eat the rest next month instead of eating the same thing over and over.
This Fresh Green Pea Soup with Mint is one of my absolute favorites.
Trips to the farmers market around this time of year always leave me inspired with a million different ideas. The availability of all the spring veggies as the weather starts to warm up has me craving recipes made with the season's most flavorful vegetables.
Creamy green pea soup highlights the fresh taste of Spring in a bowl. This soup uses two of my favorite spring vegetables – leeks and sweet spring peas. The mint in this soup gives it a fresh coolness that is perfect for pairing with sunny days. Green peas and mint is a classic English pairing, and it doesn't disappoint in this fresh pea soup with mint.
The fresh mint in my garden has just started coming up, and peas will be coming around soon if you have never cooked with fresh spring peas I highly recommend that you give it a try this year. I am anxiously awaiting my peas this year for all the salad and soup recipes that I have planned.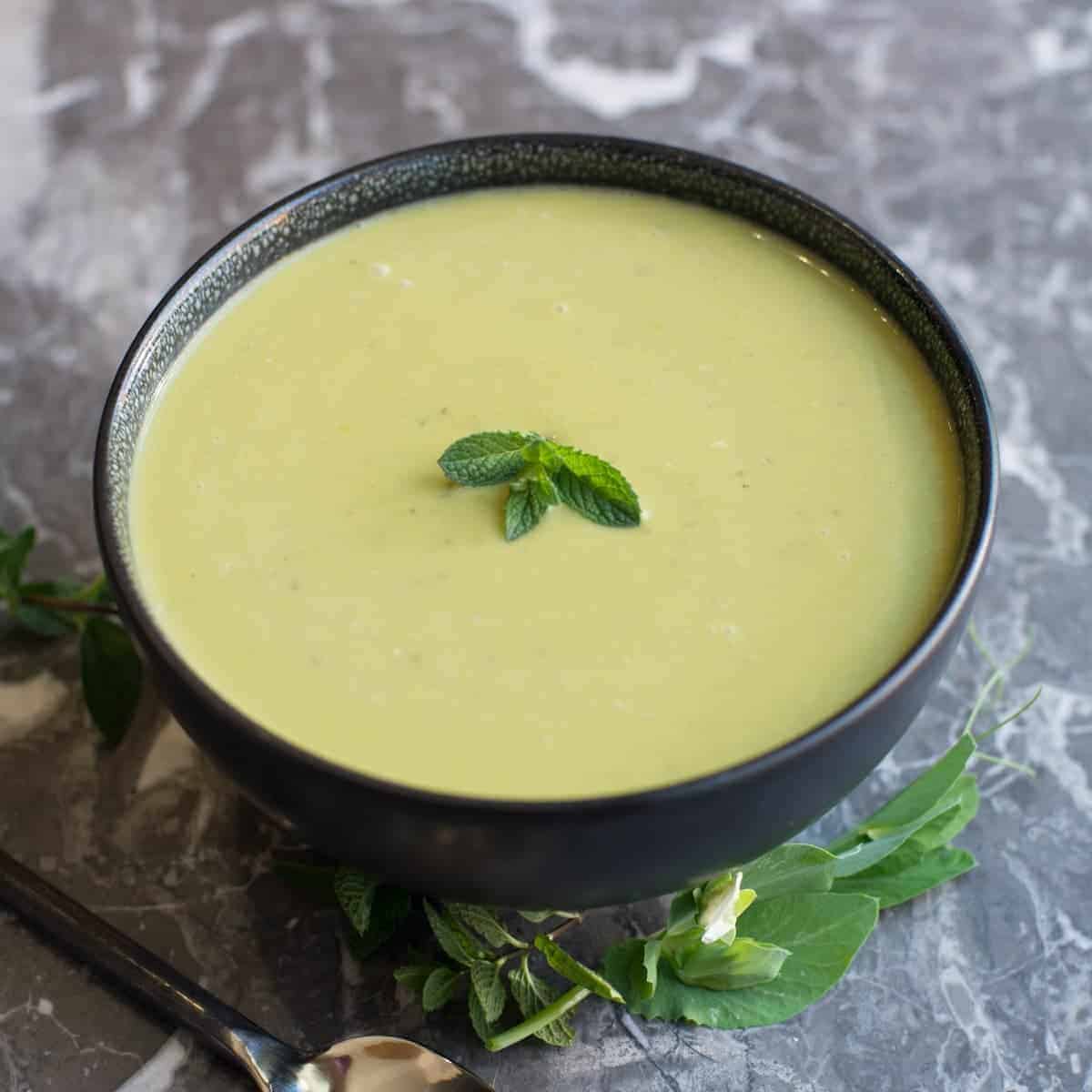 The fresh taste of Spring in a bowl.
How to make soup in under 20 minutes.
This homemade green pea soup recipe is easy to make all year round with frozen green peas. If you are like me you probably almost always have frozen green peas on hand. If you don't have access to fresh peas or you are just craving a simple green pea soup when peas aren't in season, rest assured frozen peas are a delicious substitute!
This green pea mint soup recipe is probably the easiest soup you could ever make. Start by sauteing your leeks in some unsalted butter. Then add peas and broth. Add your mint and greek yogurt and then hit the soup with anr.
Meal prep doesn't get any easier than this.
You can make this soup vegan with just a few easy substitutions.
Stick with a vegetable broth instead of chicken broth and instead of butter use your favorite mildly flavored oil.
My favorite is avocado oil. Avocado oil has a wonderful buttery taste, and it pairs well with all sorts of vegetables. Plus, it is excellent for cooking with higher temperatures so you can use it when roasting.
Use a vegan sour cream or yogurt. I also find that is a great substitute for dairy in creamy soups.
How to cook healthy even when you have no time.
Meal prep can feel overwhelming sometimes.
Like everything in life when you have the correct tools to do the job, it is effortless. If you grab all the things you need for eating healthy, then it makes your job a lot easier. You should definitely grab my download for Meal Prep 101. It includes a handy worksheet and planner to make weekly planning super easy.
What are the best storage containers for meal prep?
Having the right storage containers are a must for successful meal prep.
For storing soups I love I love using. They are the perfect size for a hearty serving of soup. These meal prep containers are leak proof, so they are easy to transport. You can heat your soup in the container or dump it into a bowl before heating. These containers are inexpensive, and they don't take up a ton of space in the cupboard. They freeze well, and you can wash them on the top rack of the dishwasher.
For non-soup meal prep, I also like to use that make portion control a no brainer. When you have everything ready, and you know storage is going to be a breeze you are more likely to be a success when you are planning.
An is a necessity for meal prepping delicious creamy soups.
are relatively cheap and make quick work of pureed soups or mashed cauliflower. As a bonus, the immersion blend takes about 30 seconds to clean. Blenders and food processors are great but take forever to clean. Save yourself time and get an immersion blender.
Since we are talking about soup and healthy meal prep recipes here is my line up of soups that I come back to again and again.
Spicy Chorizo Soup
5 Alarm Chili
Paleo Cream of Mushroom Soup
Vegetable Soup with Lentils and Wild Rice
Pumpkin Spice Soup
Easy Turkey Soup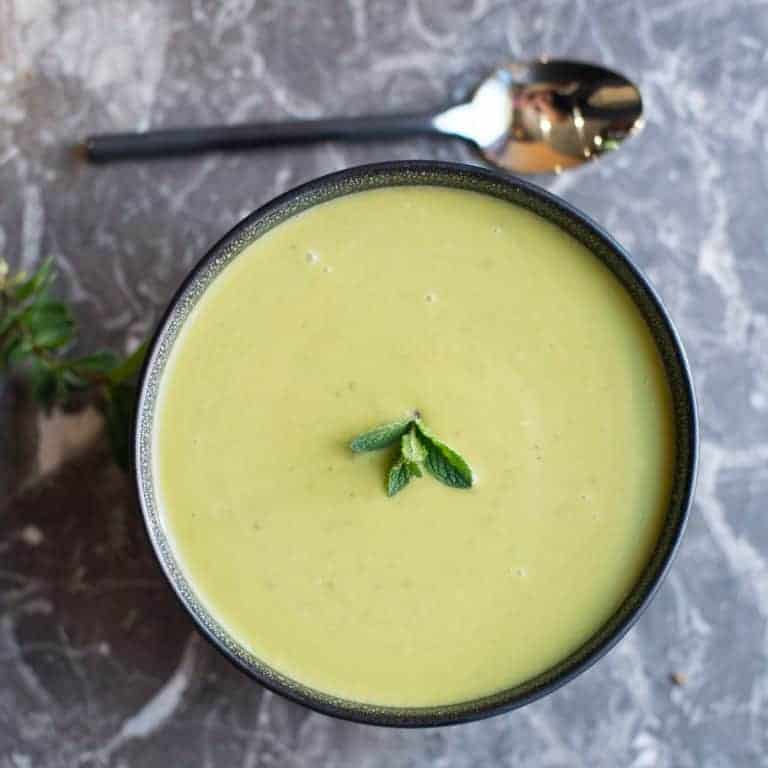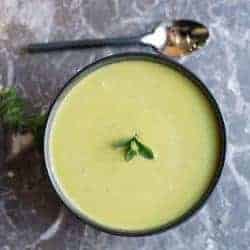 Fresh Spring Pea Soup
Super easy and super healthy spring pea soup.
Ingredients
1

tbsp

Unsalted Butter

4

Leeks

chopped (white and lighter green parts only)

1

tbsp

Kosher Salt

divided

6

cups

Chicken Broth

or Vegetable Broth

6

cups

Uncooked Green Peas

fresh or frozen

2

tbsp

Fresh Lime Juice

½

cup

Greek Yogurt

2

tbsp

Fresh Mint

minced (plus extra for garnish)
Instructions
Heat butter in a large soup pot over medium heat.

Add leeks and 1 teaspoon salt; cook, stirring frequently, until leeks are softened, about 10 minutes.

Add broth and peas to pot; increase heat to high and bring to a boil.

Reduce heat to low and simmer until peas are tender, about 5 minutes; stir in lime juice, yogurt, remaining 2 teaspoons salt, and mint.

Puree soup in pot using an immersion blender (be careful not to splatter hot liquid) or puree in batches in a regular blender.

Serve warm or chilled, garnished with mint (optional). Yields about 1 cup per serving.
Nutrition
Calories:
146
kcal
Carbohydrates:
24
g
Protein:
9
g
Fat:
2
g
Saturated Fat:
1
g
Cholesterol:
4
mg
Sodium:
1537
mg
Fiber:
6
g
Sugar:
8
g
Calcium:
81
mg
Iron:
3
mg
SaveSave
SaveSave
SaveSave
SaveSave