BBQ Rub (for smoking and grilling)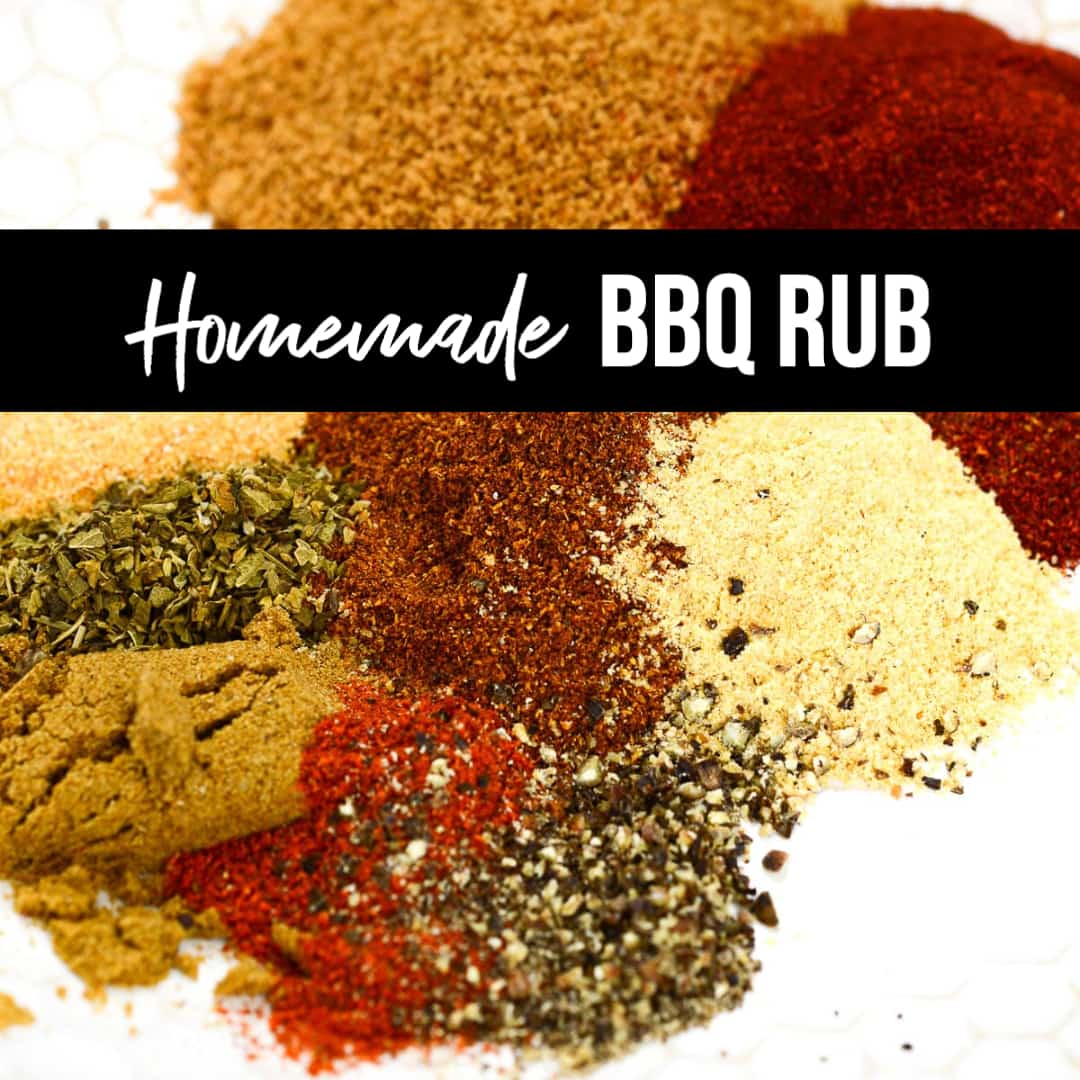 Recipe
Comments
Save
Go to Collections
This post may contain affiliate links. Please read my
disclosure policy.
This BBQ rub is perfect for brisket, pulled pork, chicken, and shrimp. Don't even get me started on how good this homemade seasoning rub is on roasted sweet potatoes.
For the BEST BBQ, you'll need a blend of spices, sugar, and salt. Plus, tips on the right way to use a dry rub.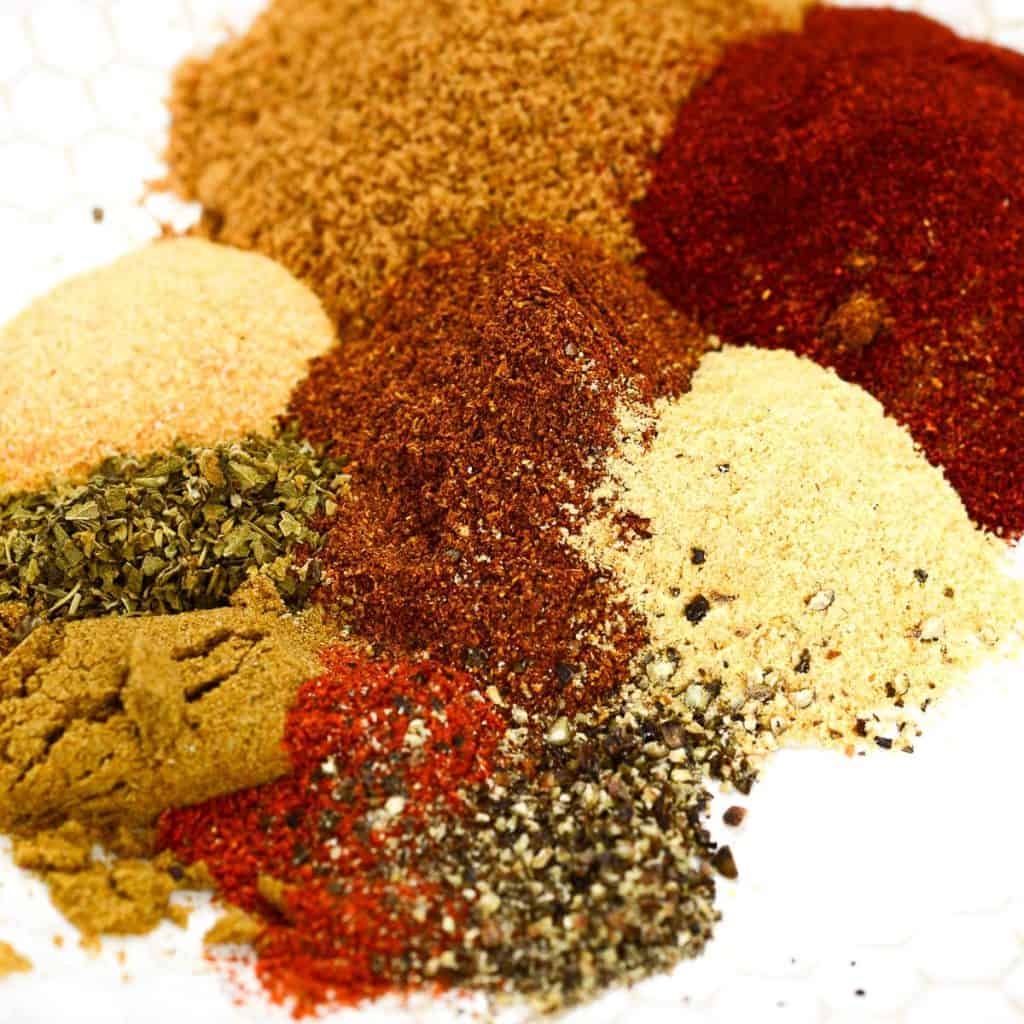 You won't find a BBQ rub with a more balanced flavor profile anywhere! Make a batch today and store it in the cupboard.
There are a few culinary categories that I have crowned myself an expert at.
I feel like once you have eaten a metric ton of a particular food item and analyzed every detail of its character, it's reasonable to consider yourself an aficionado. Am I right?
Barbecue is one of those food categories. While I'm still working on perfecting my grill maven status, I know what fantastic BBQ should taste like.
BBQ should be smokey and sweet. A little bit of char and a lot of chewing bark. Slow-cooked over a cool smoke to perfection. My mouth is watering, just thinking of the next rack of ribs I'm going to make.
It's my goal this summer to get on the Kamado grill train!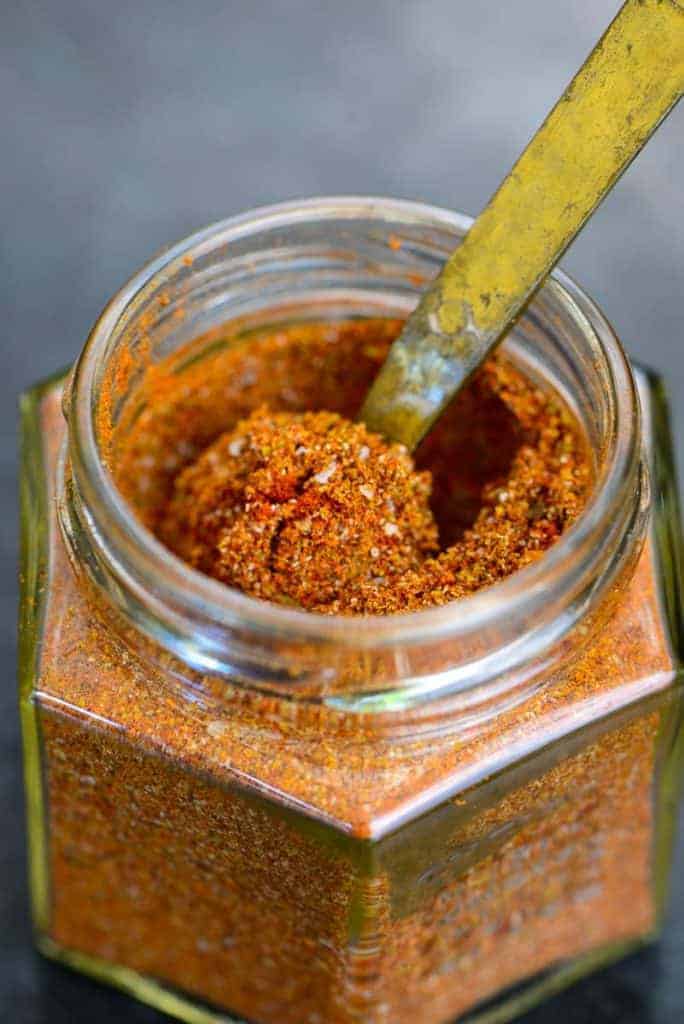 What you'll love about this rub recipe.
Easy: Most of these ingredients you already have in your pantry. All you have to do is mix them up and then store them in an airtight container.

(affiliate link)

Super Handy: You can use this seasoning blend to season almost anything. Did I mention the sweet potatoes?
So Much Flavor: This bbq seasoning blend, of course, can be used when you are grilling, but it can also be used when you want to bake up a quick batch of chicken or add flavor to some pan-fried shrimp.
Recipe Notes
This recipe doesn't require much explanation. Simply add all the ingredients to a bowl, mix them, and then store them in an airtight container.
My only advice is to find the highest quality spices that you can.
How To Use A Dry Rub
Learning how to use a dry rub is also essential.
A dry rub provides the right environment for the ideal Maillard reaction to occur. The salt and sugar encourage the creation of that signature bark that a slow-smoked piece of meat has.
The Maillard reaction in cooking is when amino acids and sugars break down during the cooking process and start to brown. The browning of these sugars and amino acids are major flavor makers.
This reaction occurs slowly when smoking meat at a nice low temperature.
My favorite spice merchants are:
I usually order my spices in bulk. I put together a lovely magnetic spice rack in my kitchen if you are interested in checking it out, visit the post on how to build a spice pantry.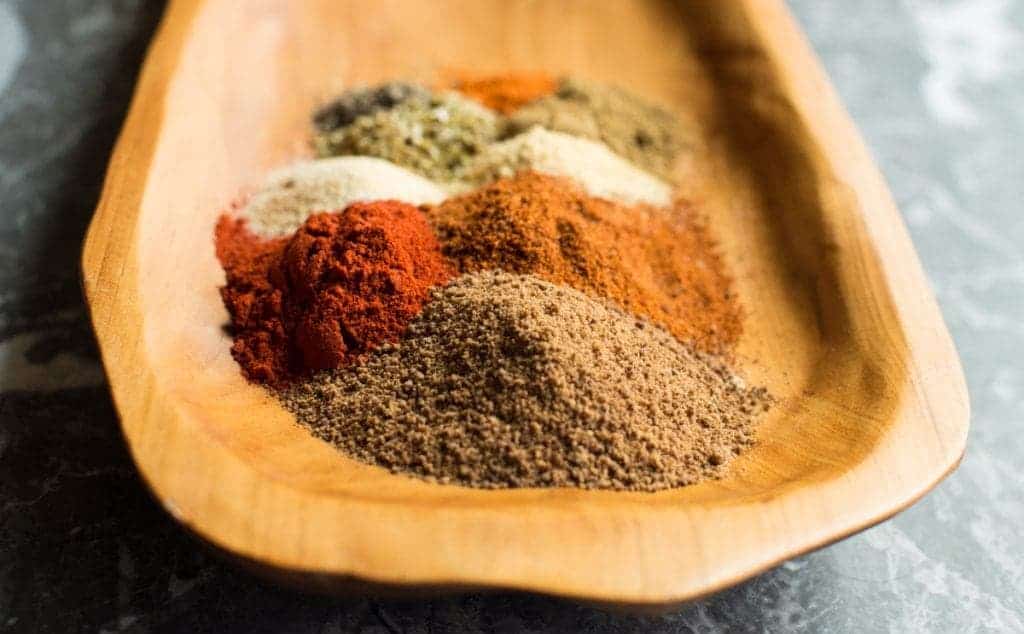 PRO TIP: If I'm not using this rub right away I leave out the salt so I can adjust it to the type of meat I'm using. I find that pulled pork needs more salt than say bbq shrimp.

Salt is an important element in barbecue so make sure that you season your meat well with a generous helping of kosher or sea salt. (ditch the iodized salt, please)
Ingredient Notes for making BBQ Rub Seasoning
Brown Sugar: I usually use coconut sugar (affiliate link) or panela sugar (affiliate link). I like the rich flavor of these sugars in my bbq rub. Both of these sugars are less processed, still maintain some nutritional elements, and have a lower glycemic index when compared to traditional brown sugar.
Salt: Barbecue needs a good amount of salt. Always Kosher salt. However, sometimes I leave the salt out of this recipe and add the salt in before cooking. That way, I can adjust the amount of salt I'm using. Fattier cuts of meat, like pork shoulder, can handle much more salt than shrimp.
Paprika: This recipe can use regular sweet paprika or smoked paprika. I usually use smoked paprika. If you aren't going to be smoking your meat, smoked paprika adds a lovely element of smokey flavor to any dish.
Chili Powder: Chili powder is a blend of spices. I use a lot of chili powder in cooking, which adds great flavor here! The spices in chili powder are similar to the ones used in this rub, in different ratios.
Garlic Granules: I like to use garlic granules (affiliate link) in my spice blends. I find that the granules are less cakey. They seem to keep better when storing.
Dry Mustard: Dry mustard has virtually no flavor until it is mixed with liquid. Then it yields an earthy, spicy element to the essential barbecue rub.
Oregano: Dried oregano provides an earthy, pungent, and slightly astringent flavor element to sauces.
Cumin: Cumin is used in many different types of food to provide an earthy note. It is the main ingredient in Chili Powder. It's used heavily in Mexican, Thai, Indian and Vietnamese cooking. Some of my favorite kinds of food!
Black Pepper: Black pepper adds a spicy, musty bite to recipes. Peppercorns have somewhat of a floral, piney character. I most often use tellicherry black peppercorns in cooking.
Cayenne Pepper: Ahhh, cayenne. Sweet heat. Cayenne doesn't have a lot of flavors it has bitterness and tartness and a whole heck of a lot of spicinesses. Cayenne is the main ingredient in Tabasco sauce. Adjust the amount of cayenne in this recipe to suit your preference level.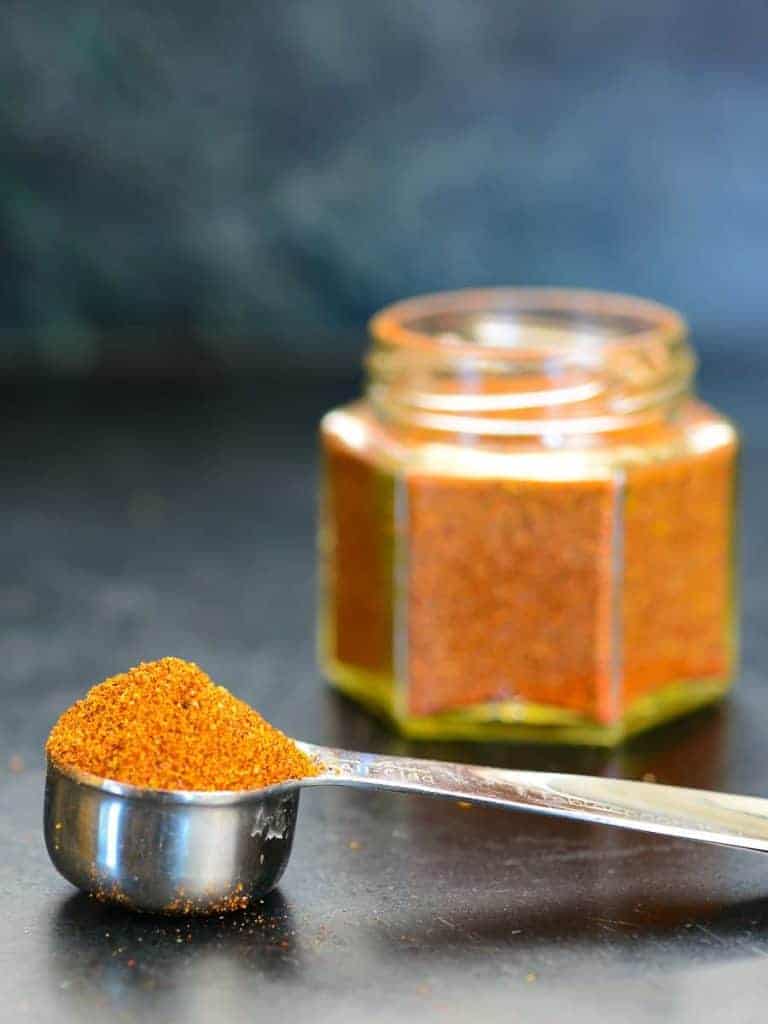 What can you make with BBQ Spice Rub?
What To Serve With BBQ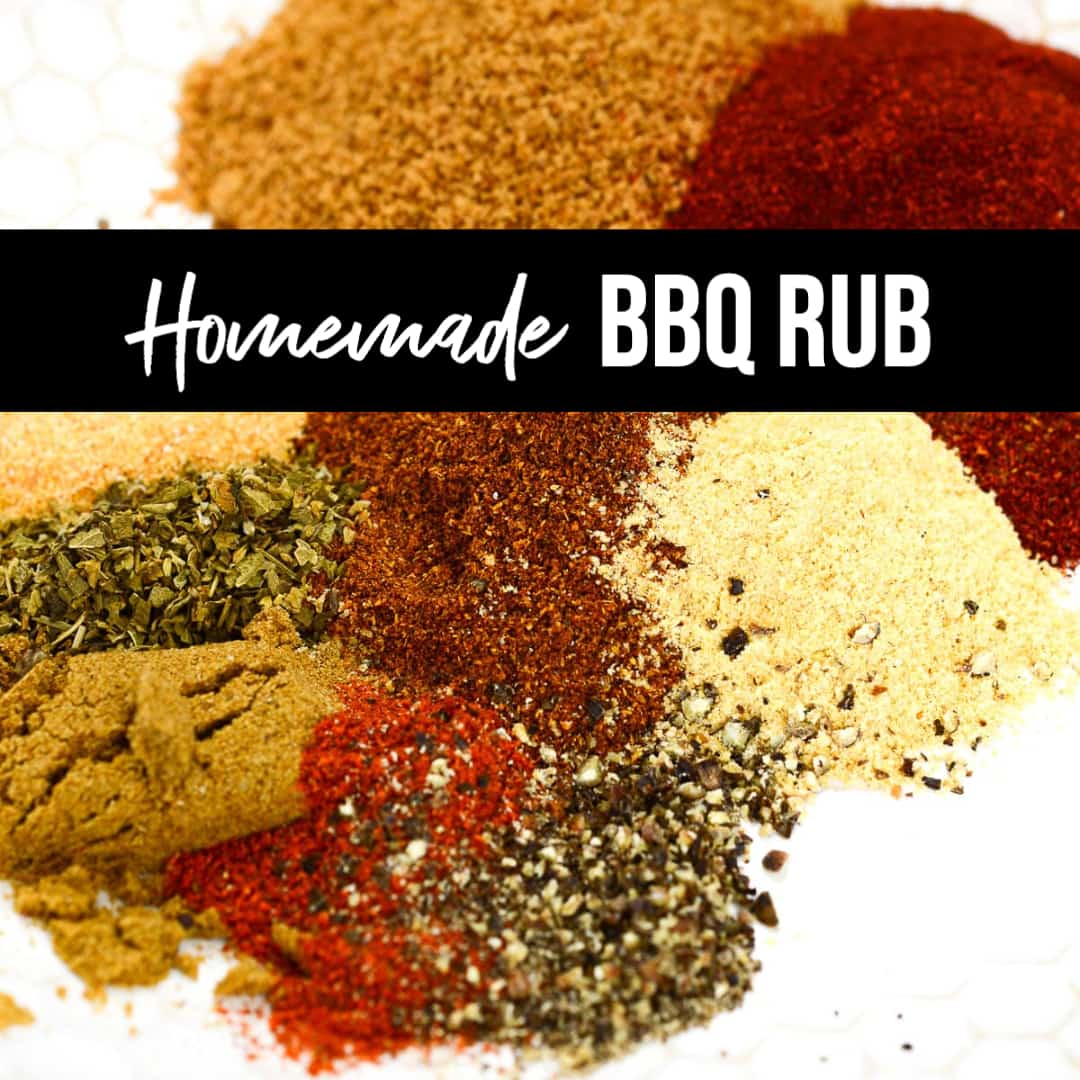 BBQ Rub Seasoning Blend
This AMAZING BBQ rub recipe can be used to add flavor to so many things. It's way cheaper than buying a specialty rub in the store. Make a batch right in your own kitchen and then store it to use anytime you are craving that smokey-sweet bbq flavor.
Instructions
Mix all of the ingredients together in a bowl.

Store in an airtight container.
Laura's Tips + Notes
My favorite spice merchants are:
I usually order my spices in bulk. I put together a lovely magnetic spice rack in my kitchen if you are interested in checking it out, visit the post on how to build a spice pantry.
YOUR OWN NOTES
Sign In to add your own private notes
Nutrition
Calories:
75
kcal
Carbohydrates:
16
g
Protein:
2
g
Fat:
2
g
Saturated Fat:
1
g
Sodium:
145
mg
Fiber:
4
g
Sugar:
8
g
Calcium:
47
mg
Iron:
3
mg