Healthy Pulled Pork Meal Prep Bowl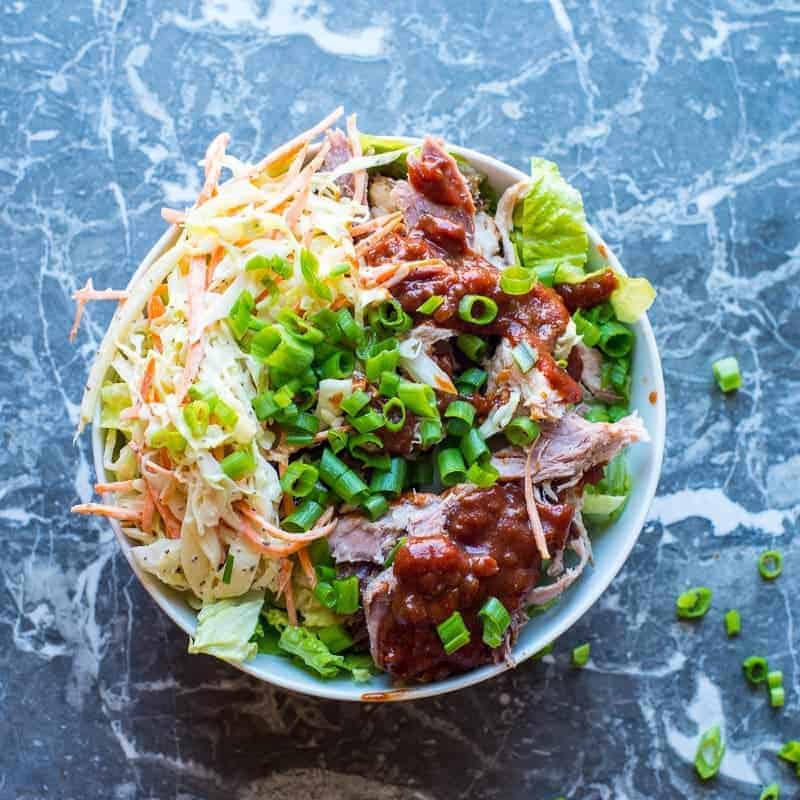 Recipe
Comments
Save
Go to Collections
This post may contain affiliate links. Please read my
disclosure policy.
Once you try this macro-friendly bowl of BBQ heaven, complete with a crunchy, creamy southern style coleslaw you will wonder how you could ever think that meal prep is hard! This protein bowl is super easy to eat.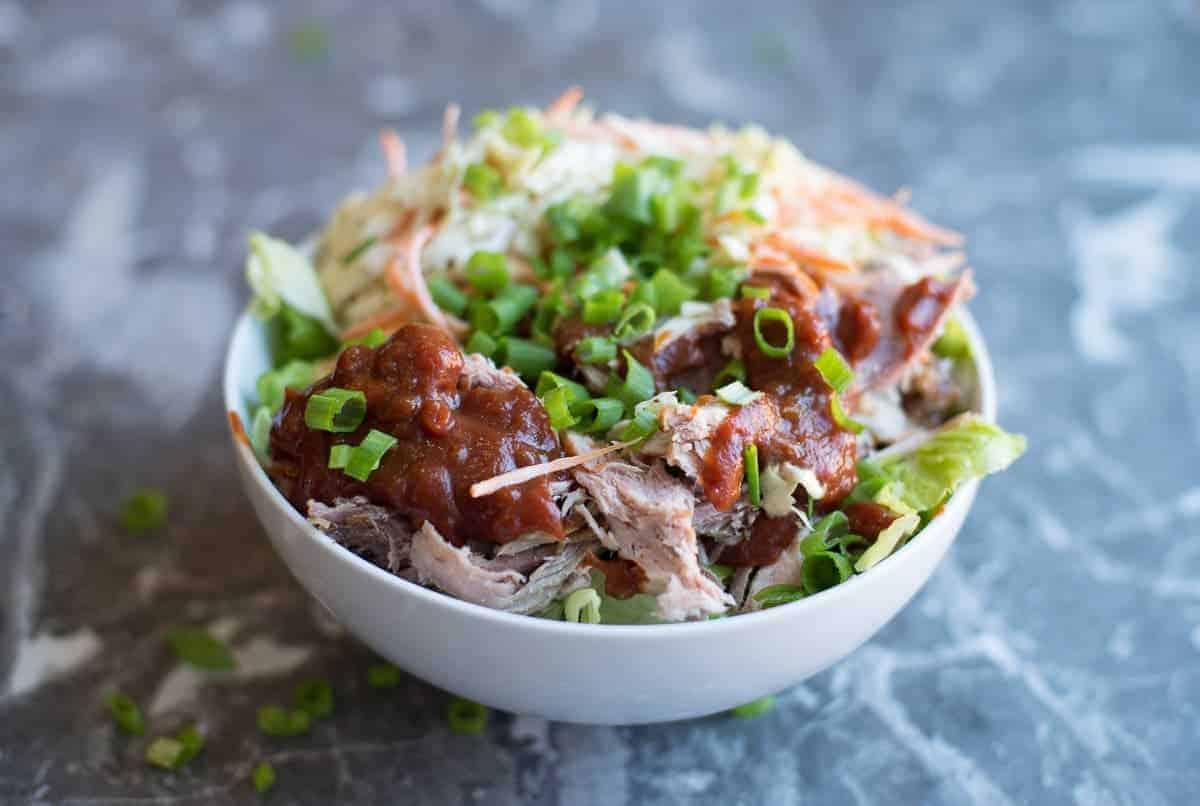 This delicious and healthy bowl is like your favorite pulled pork sandwich platter without the bun. Who says you can't eat healthily and have all the flavor that you want!
If you know me, you know that my pet peeve is healthy food that leaves you feeling like you are totally missing out. How disappointing is that?
That's is when I started to create my Beast Bowl line-up of recipes. I have a million of them. Beast bowls are healthy meal prep bowls that are so flavorful that you'll completely forget you eating something "good-for-you."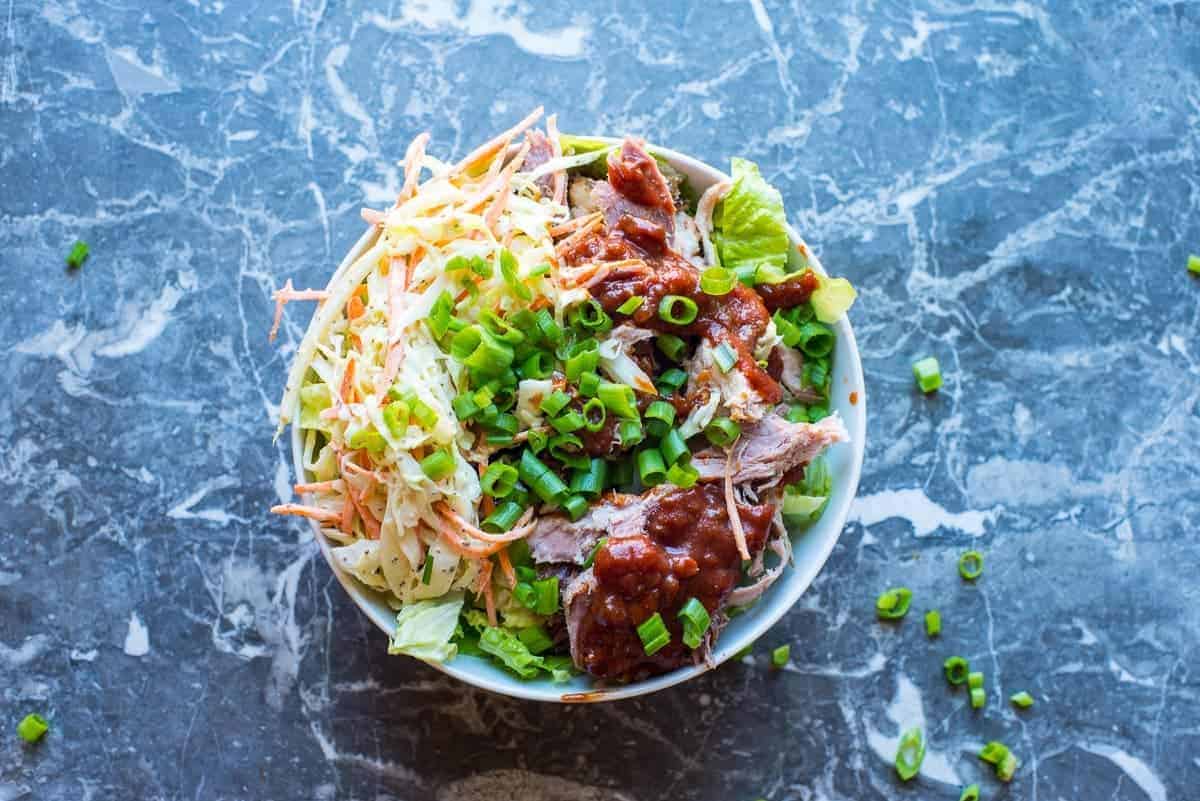 What you'll love about this recipe
Easy: This bbq pork bowl features a rich meaty pulled pork that's super easy to prepare in your slow cooker. You seriously can't mess it up. Simply rub the pork shoulder with the BBQ spice mix and then put it in the crockpot. No water – nothing. Just set it on 'cook' and go.
Healthy: The problem when you stop in for a BBQ meal at a restaurant is that there are usually a ton of high-carb sides. Not the best options if you are trying to stay lean.
Perfect for Meal Prep: Pulled pork, bbq sauce, and coleslaw all keep really well in the fridge and are make delicious leftovers. Fill a huge bowl with veggies and then top if off with everything else.
Recipe Notes
This pulled pork recipe is an easy version of barbecue. To make this protein bowl approachable I decided to make the pulled pork in a slow cooker. I also include the BBQ rub, BBQ sauce, and Southern Coleslaw Recipes. If you're short on time it's okay to substitute in the premade versions.
Ingredients
Pork shoulder: Use a 3 or 4-pound pork should for this recipe.
BBQ Rub: I make my own. You can buy a premade one for simplicity's sake. Or try the one in this recipe.
BBQ Sauce: Again, I always make my BBQ Sauce homemade. I use my Tangy BBQ Sauce Recipe. It's a family recipe that we have been using for years.
Cole Slaw: I use my Southern Cole Slaw Recipe for this bowl. For all the deets check out the post.
Fixins: Fixins are what I like to call the base of every meal prep bow that I put together. A few handful of greens, I like spinach. Maybe some shredded carrots or other crunchy veggies.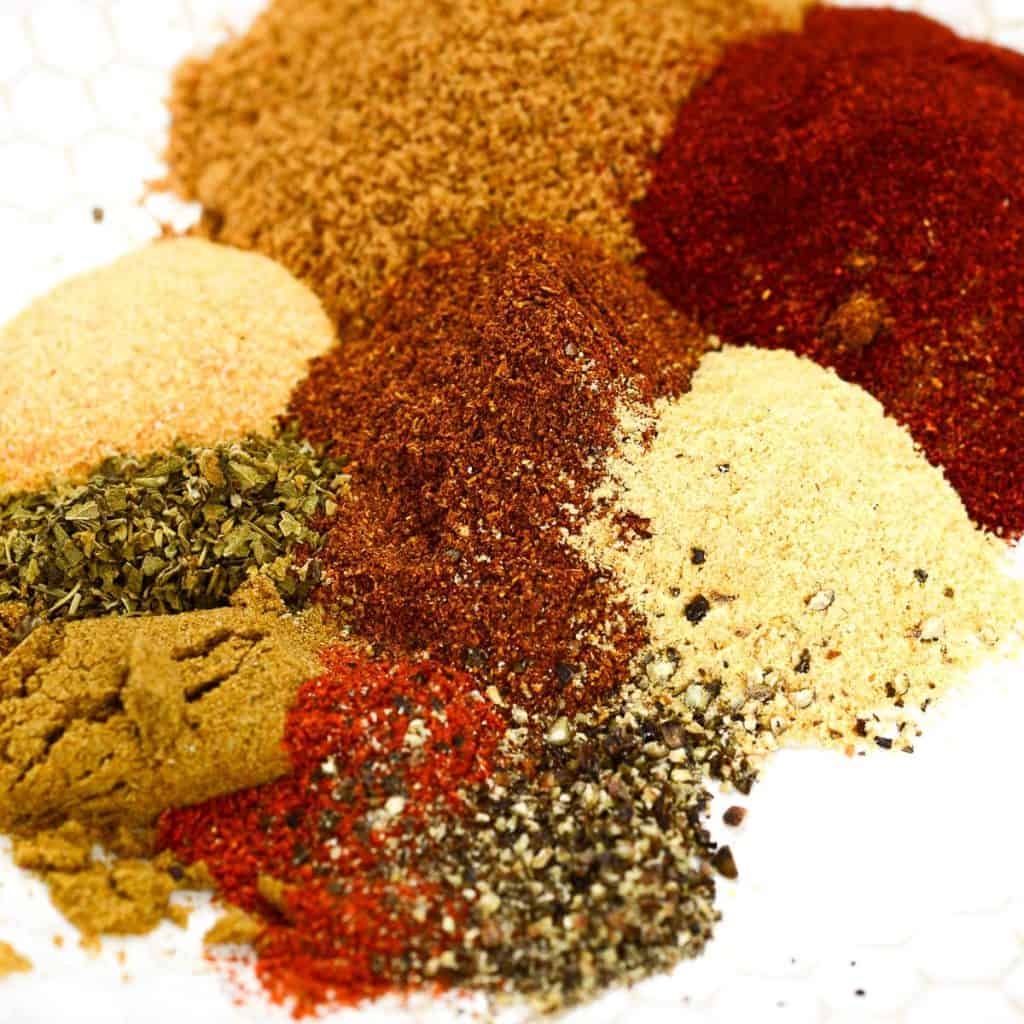 BBQ Rub Recipe
Making your own BBQ rub couldn't be easier. You will have leftovers. Make sure you store them in an airtight container to use later.
½ cup coconut sugar (or brown sugar)
¼ cup paprika, I like using smoked paprika
¼ cup chili powder
1 tbsp garlic granules
1 tbsp dry mustard
2 tsp dry oregano leaves
2 tsp cumin
¾ tsp black pepper
½ tsp cayenne pepper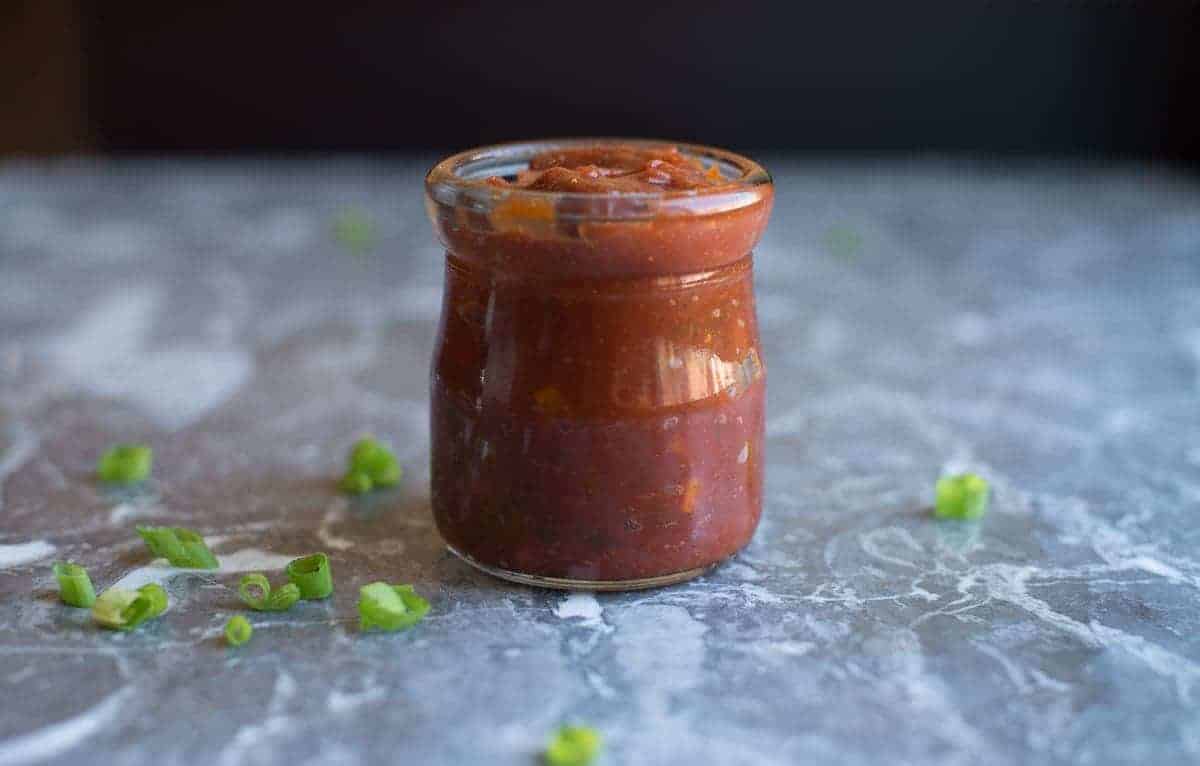 Tangy BBQ Sauce Recipe
If you want to try your hand at making homemade bbq sauce this recipe is easy to follow. I'm including it in the recipe card. If you are in a rush, then use your favorite BBQ sauce. I try to find brands with low sugar.
This BBQ sauce recipe is a keeper! It's adapted from a recipe that my mom had from a family friend. I added some jalapeño to make sure it had a little kick. I like a little spice in my life.
The sauce is a little bit chunky. If you prefer a smoother sauce hit it with an immersion blender.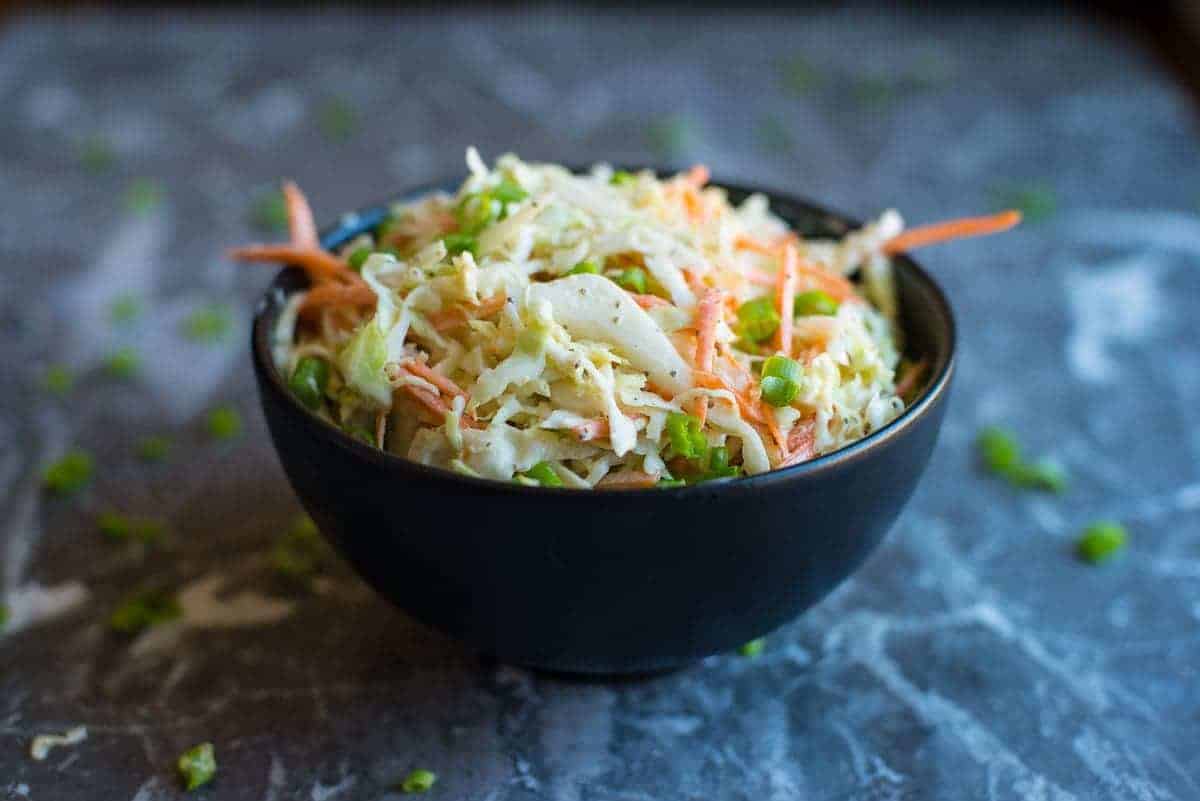 Southern Coleslaw Recipe
Coleslaw really makes this meal prep bowl, in my opinion. This slaw is crunchy, a little bit sweet, and a little bit creamy.
I highly recommend making it as part of this meal prep bowl. You can see the full detailed recipe here! I have included the recipe in the recipe card in this post as well.
Step-by Step Instructions
Make the pulled pork.
Make the BBQ Sauce
Make the Coleslaw
Pick your fixins
FAQs and Expert Tips
How to assemble this meal prep bowl.
Add a few handfuls of greens. Top with 4 to 6 ounces of pulled pork. Add coleslaw and BBQ sauce. Garnish with green onions.
How to store all the parts.
For this meal prep bowl, store the individual components separately. The coleslaw may wilt the greens if stored together. I like to warm up the pulled pork before I build my bowl.
Other Healthy Meal Prep Bowls — Try them all!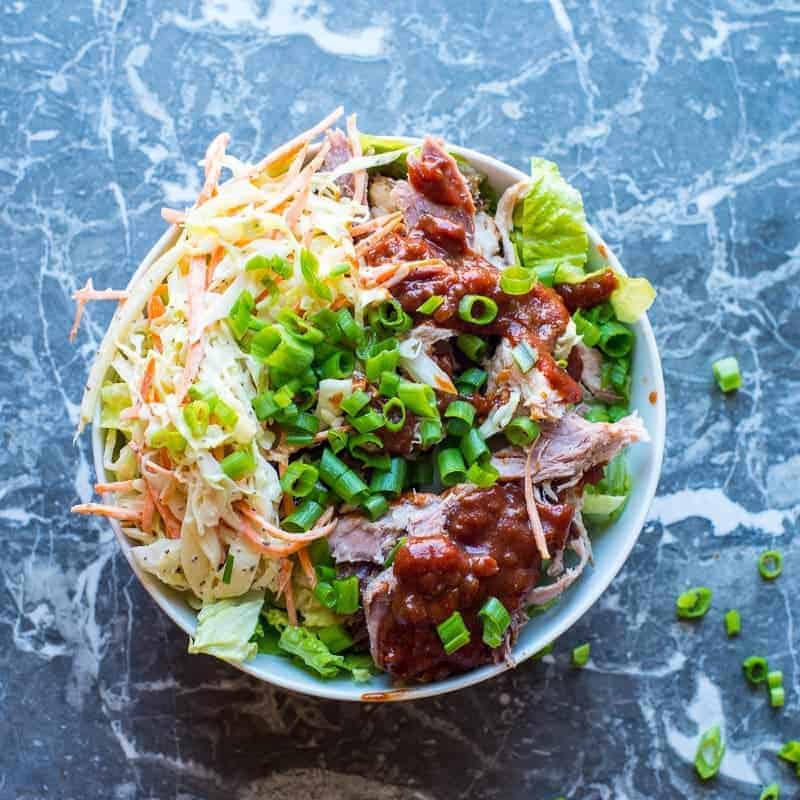 Pulled Pork Meal Prep Bowl
Slow cooker pulled pork, made with my fantastic bbq rub recipe. Get all the flavors you crave in a big plate of bbq in a healthy meal prep bowl.
Ingredients
Protein
4

lb

pork shoulder

4

tbsp

BBQ Rub
Spicy Tangy Barbecue Sauce
Southern Slaw
1

cup

carrots

,

shredded

4

cups

cabbage

,

finely shredded
Fixin's
romaine lettuce hearts

spinach

green onions

roasted sweet potatoes

,

roast with BBQ seasoning
Instructions
Pulled Pork
Rub: Rub the pork shoulder with BBQ rub.

Slow cook: Put in the slow cooker.

Leave on High if you will be home. Cook until the meat is tender and falling apart.

Leave on Low if you will be out all day.

Shred: Remove the pork shoulder from the slow cooker, let it rest for about 20 minutes. Shred the pork shoulder using two forks.
Spicy Tangy Barbecue Sauce
Sauté: Add the butter, onion, carrots, celery, and jalapeño to a medium saucepan. Sauté on medium-high until vegetables are tender and fragrant.

Sugar: Add the sugar and let it dissolve and get slightly bubbly.

Cook: Add the remainder of the ingredients and bring to a boil. Then simmer for about 20 minutes.

PRO-TIP: For a smoother barbecue sauce, use an immersion blender to blend it after it has cooled.
Southern Style Coleslaw
Shred: Shred the carrots and cabbage. Place in a large bowl.

Make the dressing: In a medium bowl, mix up ingredients for the dressing.

Add about ½ cup of dressing. (You will have dressing leftover.)

Toss: Toss and let set in the refrigerator for an hour before serving.
Meal Prep Bowl Assembly
Chose your fixin's. Add to a large bowl.

Top with meat, barbecue sauce, and coleslaw.
Laura's Tips + Notes
Substitutions: You can just as easily use chicken instead of pork. If you have some BBQ expertise, try some brisket.
If you like it spicy – add a few extra jalapeños to the BBQ sauce.
Vegan Adaptable:
Use seitan instead of meat.
Use coconut oil in the barbecue sauce instead of butter.
Use vegan mayo in the coleslaw.
BBQ Rub:
½ cup coconut sugar (or brown sugar)
¼ cup paprika. I like to use smoked paprika
¼ cup chili powder
1 tbsp garlic powder
1 tbsp dry mustard
2 tsp dry oregano leaves
2 tsp cumin
¾ tsp black pepper
½ tsp cayenne pepper
YOUR OWN NOTES
Sign In to add your own private notes
Nutrition
Calories:
376
kcal
Carbohydrates:
17
g
Protein:
28
g
Fat:
20
g
Saturated Fat:
5
g
Cholesterol:
98
mg
Sodium:
950
mg
Fiber:
1
g
Sugar:
14
g
Calcium:
54
mg
Iron:
2.2
mg