This Southern coleslaw is made with shredded cabbage and carrots and is topped with a savory-sweet creamy coleslaw dressing. This is my favorite coleslaw for pulled pork sandwiches but it's delicious as a side for anything grilled.
This coleslaw recipe is cool and crunchy. It's on my list of best-ever summer side dishes. It's soon to be on your favorite side dish recipe list as well.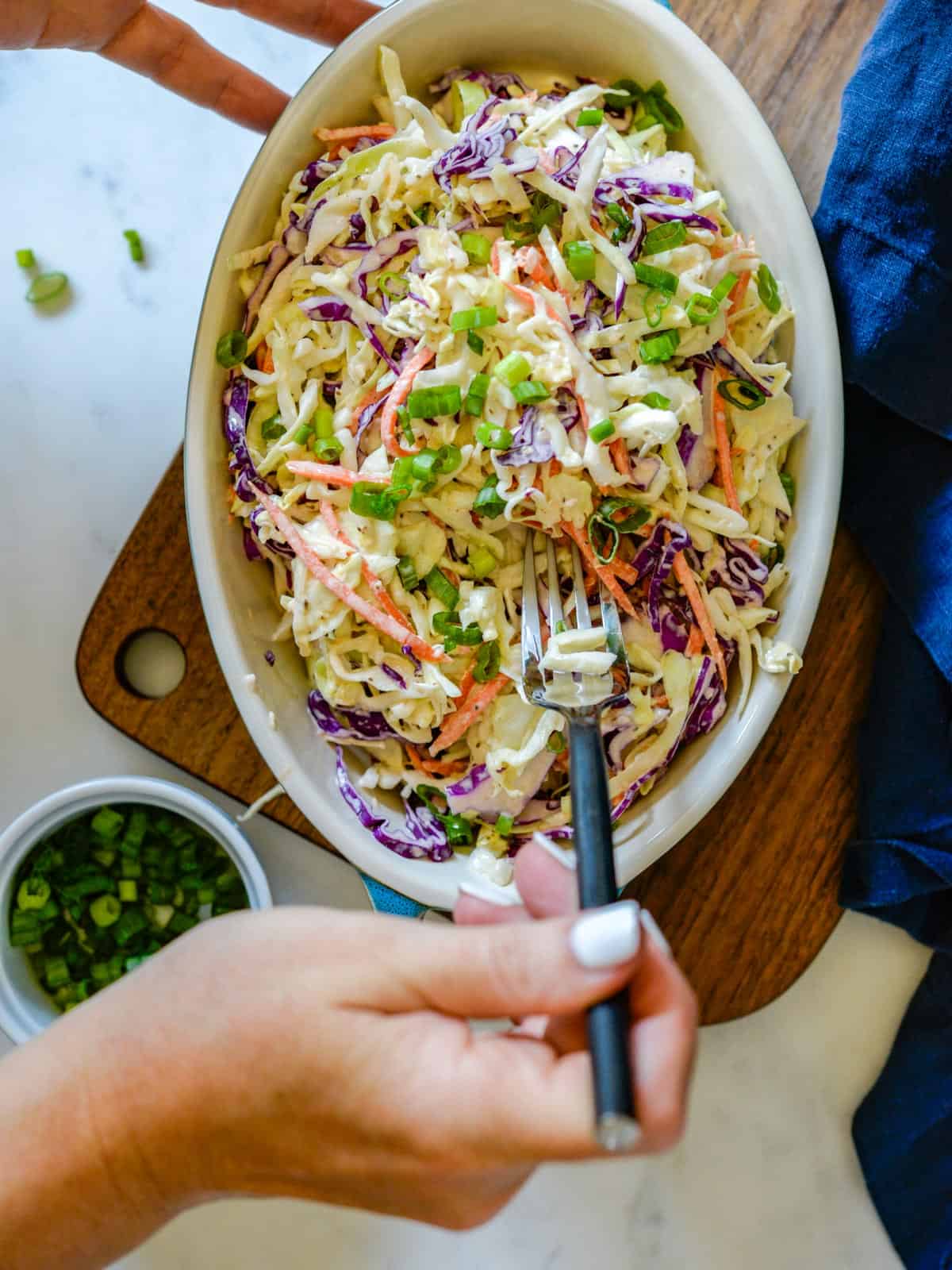 What You'll Need
Green cabbage and carrots. Traditionally this coleslaw recip is made with green cabbage. You can use a combination of red and green cabbage if you like an extra pop of color.
Green onions. Green onions make a colorful garnish for this simple coleslaw recipe. It's your choice to leave them in or not.
Coleslaw dressing. The secret to the tangy-sweet flavor is in the coleslaw dressing recipe. with a sweet and tangy creamy coleslaw dressing recipe.
Coleslaw Recipe
Coleslaw comes in all kinds of varieties. I'm a big fan of this crunchy cabbage side dish. Some recipes have creamy coleslaw dressing and others are sweet and vinegary. This slaw recipe is best for summer cookouts and pulled pork sandwiches.
Ingredients for Coleslaw Dressing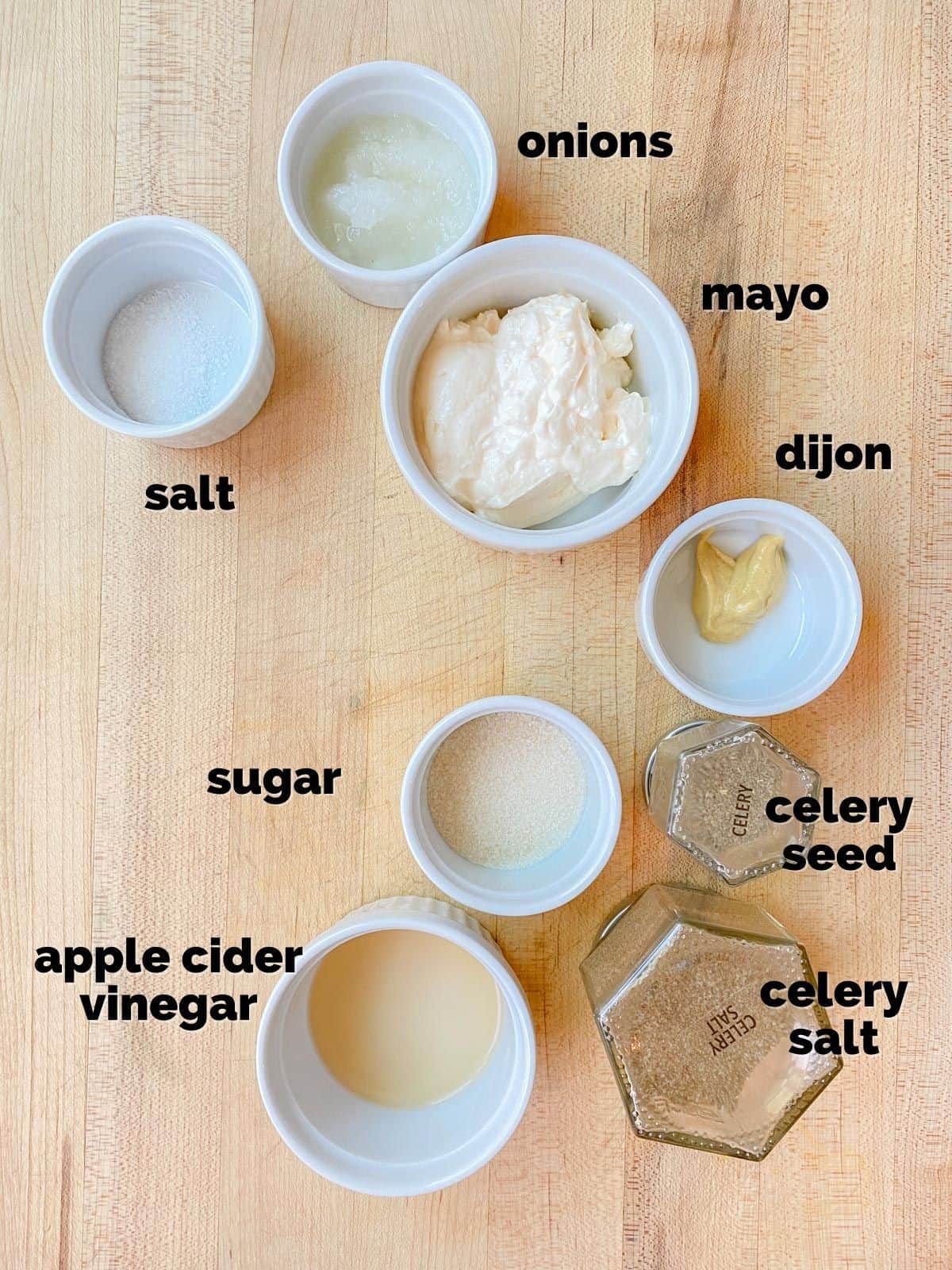 Celery seed + celery salt.
Apple cider vinegar.
Mayonnaise.
Dijon mustard.
Grated sweet onion.
Sugar.
Salt and pepper.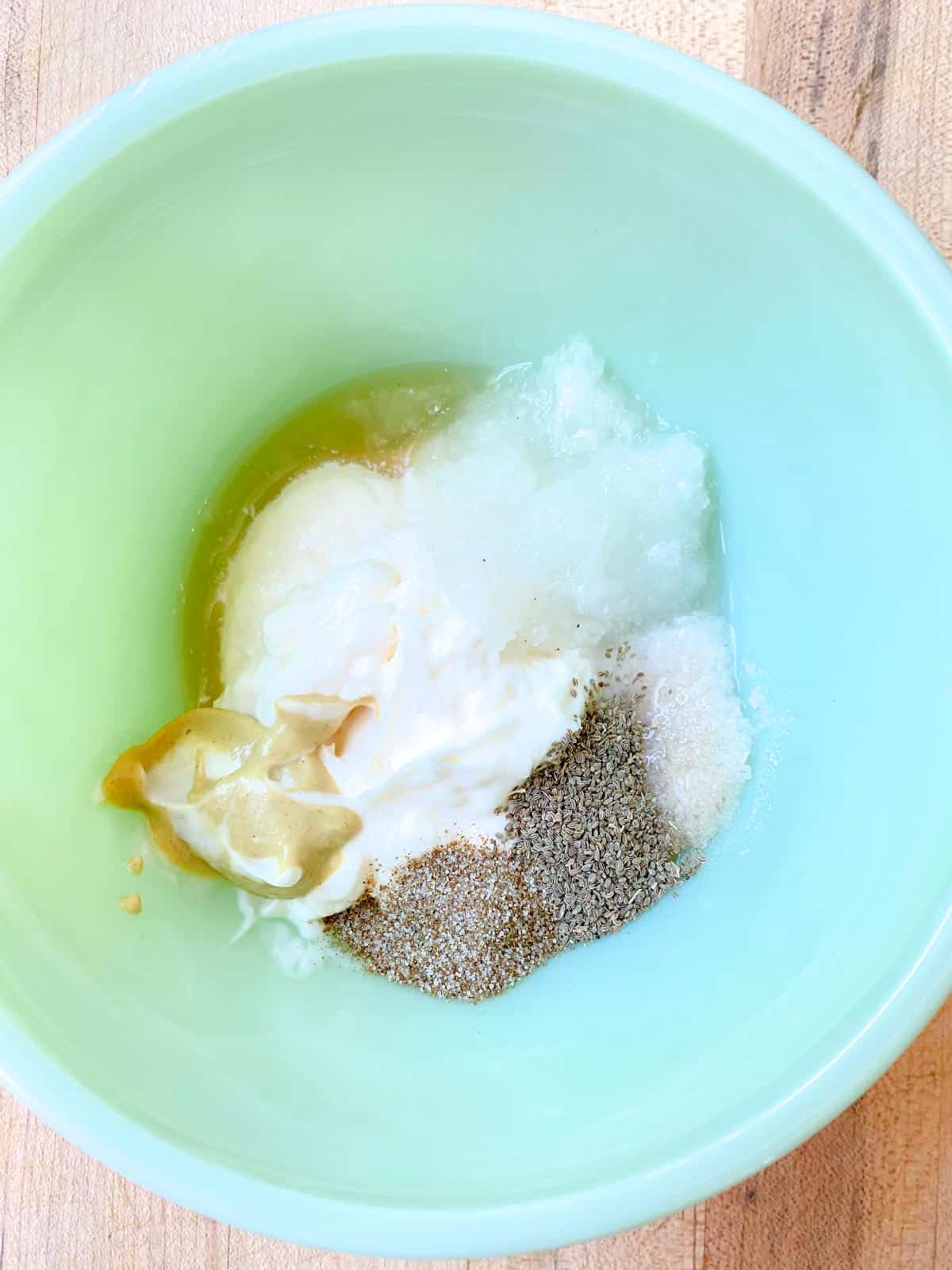 How to Make Coleslaw
The best way to shred cabbage is with a mandoline slicer. It makes quick work of shredding cabbage and making fine matchstick carrots.
Shred the carrots and the cabbage and place them in a large bowl.
Use a grater to grate the onion and add it to a medium bowl. Mix in the remaining ingredients for the dressing. Whisk to combine.
Use about ½ cup of the dressing. (You may have some left over.)
Toss and let the coleslaw set in the refrigerator ideally for an hour prior to serving. This allows the flavors to combine.
Garnish with green onions is desired.
What To Serve With Coleslaw
Traditional coleslaw is the perfect summer side dish to bring to backyard cookouts. I always whip up this recipe when I'm making Smoked Pulled Pork.
Other Summer Side Dishes
Summer cookout recipes that are sure to impress. Try something new like my cool and refreshing Watermelon Salad, Summer Vegetable Orzo Salad, Hawaiian Macaroni Salad, or Esquites (Mexican Corn Salad).
If you'd like to stick with a few classic Summer side dish recipes you can try my mom's Baked Beans or Grandma's Classic Deviled Eggs.
FAQs and Expert Tips
What is coleslaw?
Coleslaw is most commonly known as cabbage salad. While there are many varieties of coleslaw that have diverged to reflect many different cultural influences.

You can see versions of creamy coleslaw, sweet coleslaw, and even Asain Coleslaw made with peanut sauce or a Mexican coleslaw that is served on tacos.
Who invented coleslaw?
The origin of coleslaw is traced back to the Romans who ate shredded cabbage and eggs with spices.

However, the version of coleslaw that we are most familiar with today originated in the Netherlands. The word coleslaw is derived from the Dutch word koosla which means cabbage salad.

Coleslaw found its way to America as early as 1770 when it was brought by Dutch settlers to New York.
How long does coleslaw last in the fridge?
Coleslaw will last 3 to 5 days in the fridge. It will start to lose its crispness and become watery after a few days.
Can your freeze coleslaw?
I would not recommend freezing coleslaw. While freezing coleslaw does not make it unsafe to eat, it will have a mushy texture when it is thawed.
How long does coleslaw last out of the fridge?
Safe food guidelines indicate 2 hours. It's best to toss coleslaw if it's been at room temperature for 2 hours, especially if it's made with mayonnaise-based coleslaw dressing.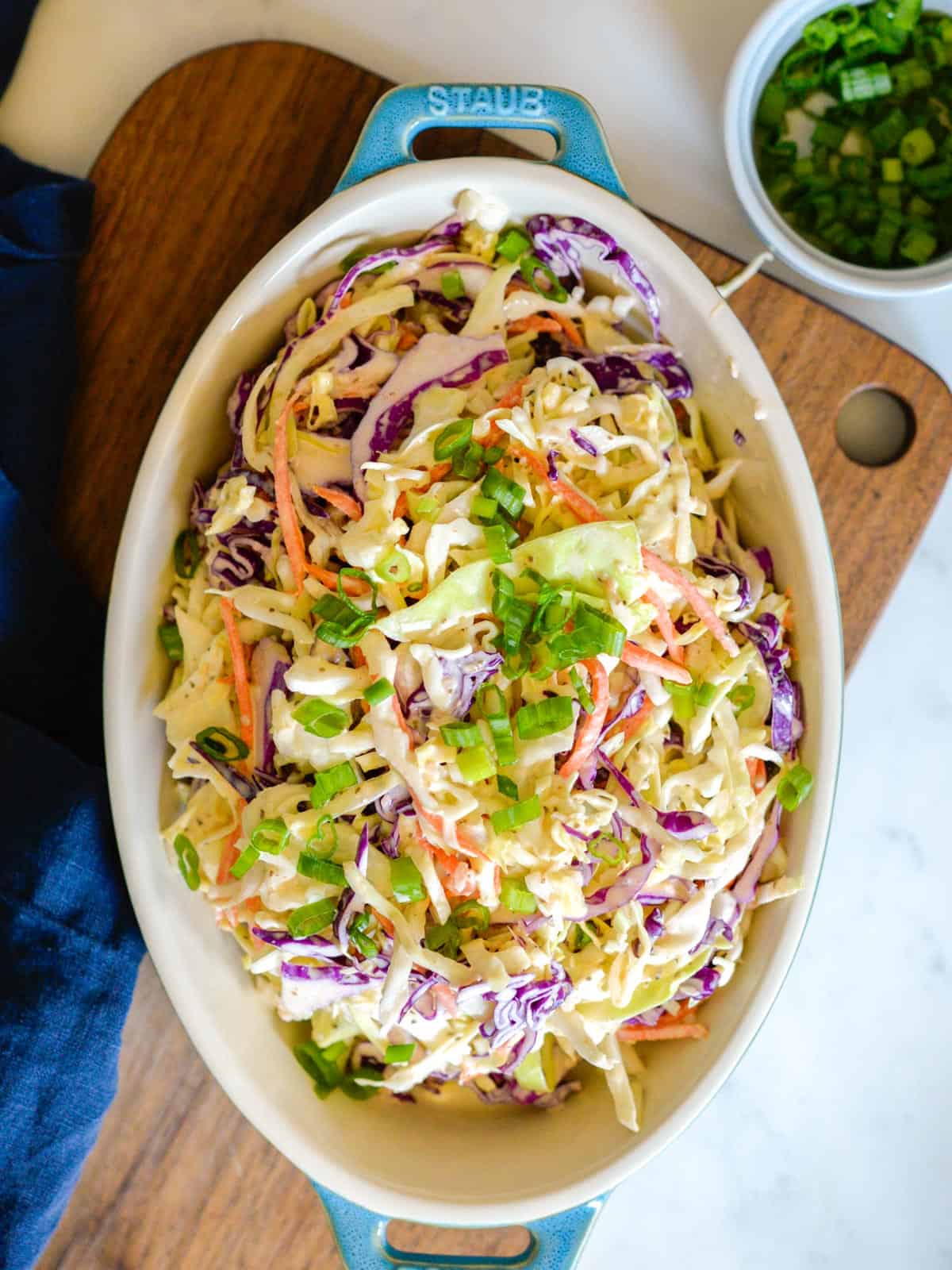 ➽ Did you make this recipe? I love to see what's going on in your kitchen. Please show me what you're cooking. 🍳 Tag me @foodologygeek on your favorite social channel! Facebook, Instagram & Pinterest. If you loved ❤︎ this recipe, please leave a five ★ review and a comment!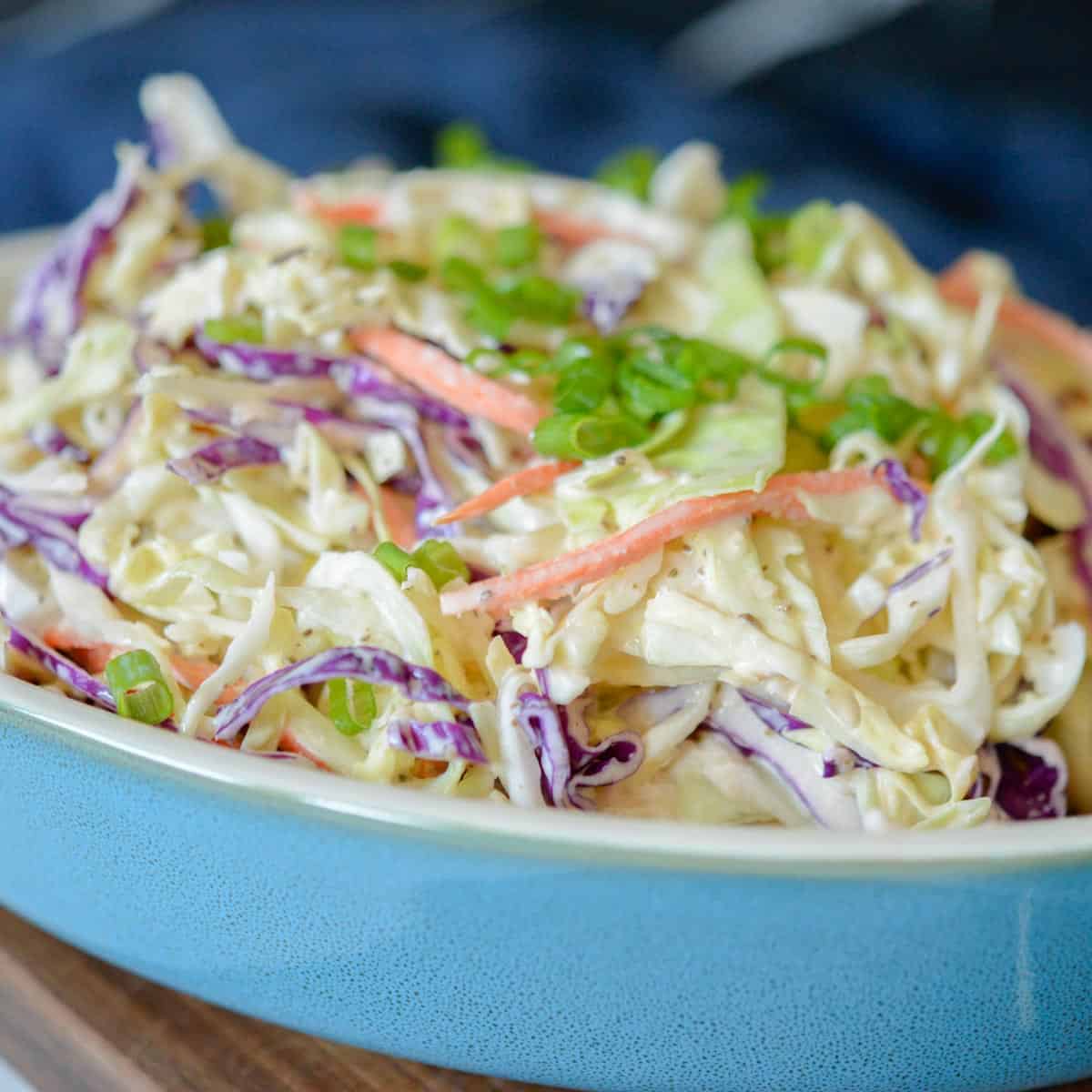 Southern Style Coleslaw
This coleslaw recipe is one of my favorite summer side dishes. This cool and crunchy side dish recipe is made with a tangy coleslaw dressing and is the perfect topping for pulled pork sandwiches.
Ingredients
Southern Slaw
1

cup

carrots

shredded

4

cups

cabbage

finely shredded
Instructions
Shred the carrots and the cabbage and place in a large bowl.

Use a grater to grate about one-quarter of a sweet onion. Add the onion and all of the juice to a bowl. Mix in the remaining ingredients for the dressing.

Use ½ cup of the dressing.

Toss and let set in the refrigerator ideally for an hour prior to serving. This allows the flavors to combine.
Laura's Tips + Notes
Vegan Adaptable: Use vegan mayo in the dressing.
Low carb or keto coleslaw: Omit the sugar from the dressing or use an equal amount of keto-friendly sugar as a substitute.
SHORTCUT: Buy the cabbage and carrots already shredded.
Serving Suggestion: Serve this coleslaw with smoked pulled pork sandwiches.
YOUR OWN NOTES
Nutrition
Calories:
120
kcal
Carbohydrates:
6
g
Protein:
1
g
Fat:
11
g
Saturated Fat:
2
g
Trans Fat:
1
g
Cholesterol:
6
mg
Sodium:
564
mg
Fiber:
1
g
Sugar:
4
g
Calcium:
27
mg
Iron:
1
mg