Baked Chicken Thighs Recipe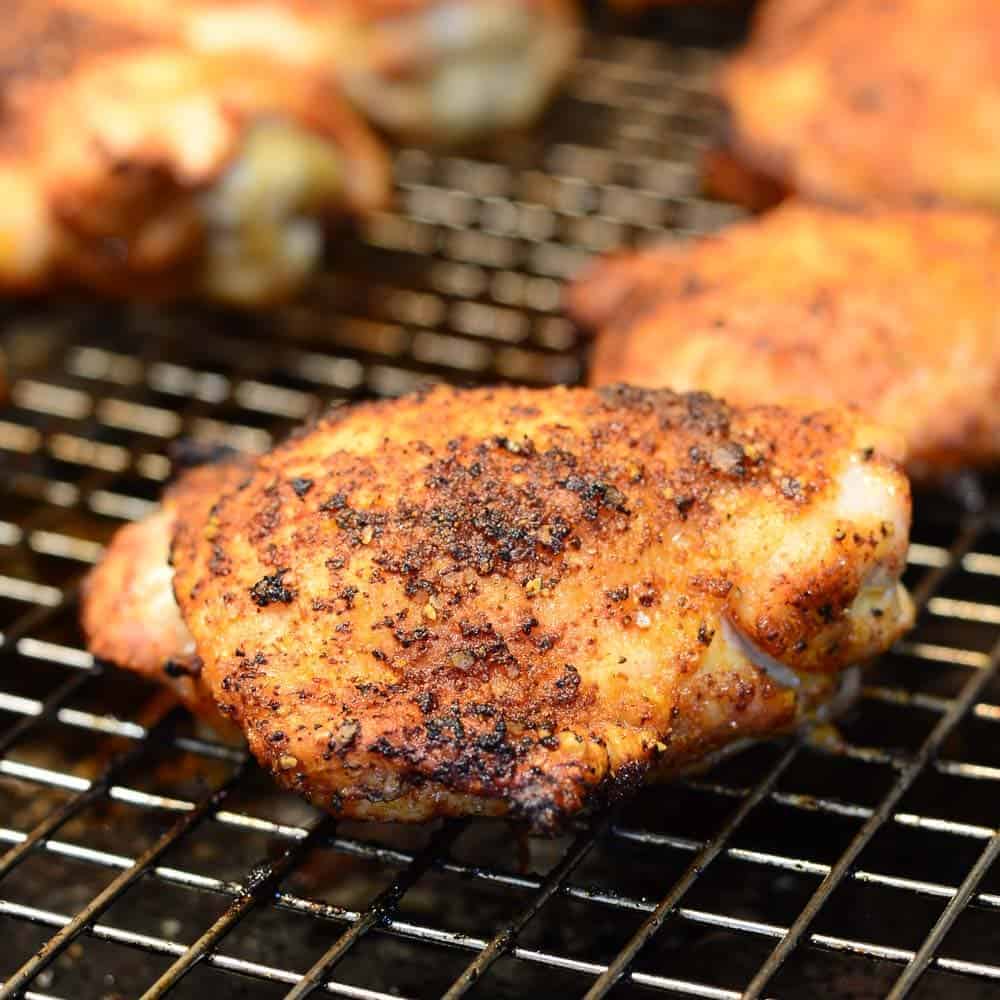 Recipe
Comments
Save
Go to Collections
This post may contain affiliate links. Please read my
disclosure policy.
These super easy Oven-Baked Chicken Thighs have been one of my go-to meal prep recipes for as long as I can remember. Chicken thighs have tons of flavor and can be seasoned a million different ways. They are also easy to reheat after a busy workday.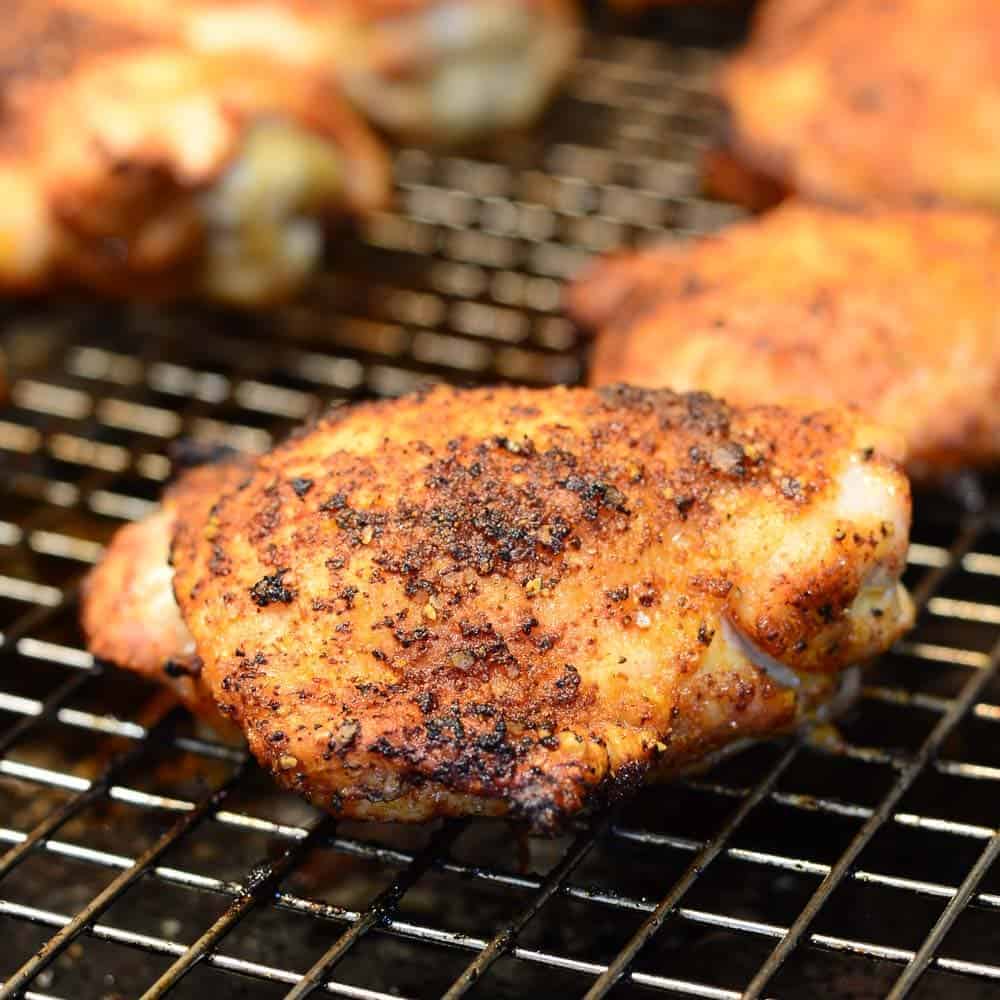 When I worked in an office every day, I always brought lunch. This Baked Chicken Thighs Recipe was something that I made, usually once a week.
You can serve these crispy baked chicken thighs with a salad or a side of steamed vegetables. Because I use an ultra-flavorful seasoning blend, they are never bland.
Meal prep is even more critical now that I'm working from home. I don't want to stop working to make a complicated meal in the middle of the day. Especially because now I am a professional cook and food stylist.
Easy baked chicken recipes are one reason I started developing so many of my Homemade Seasoning Blends.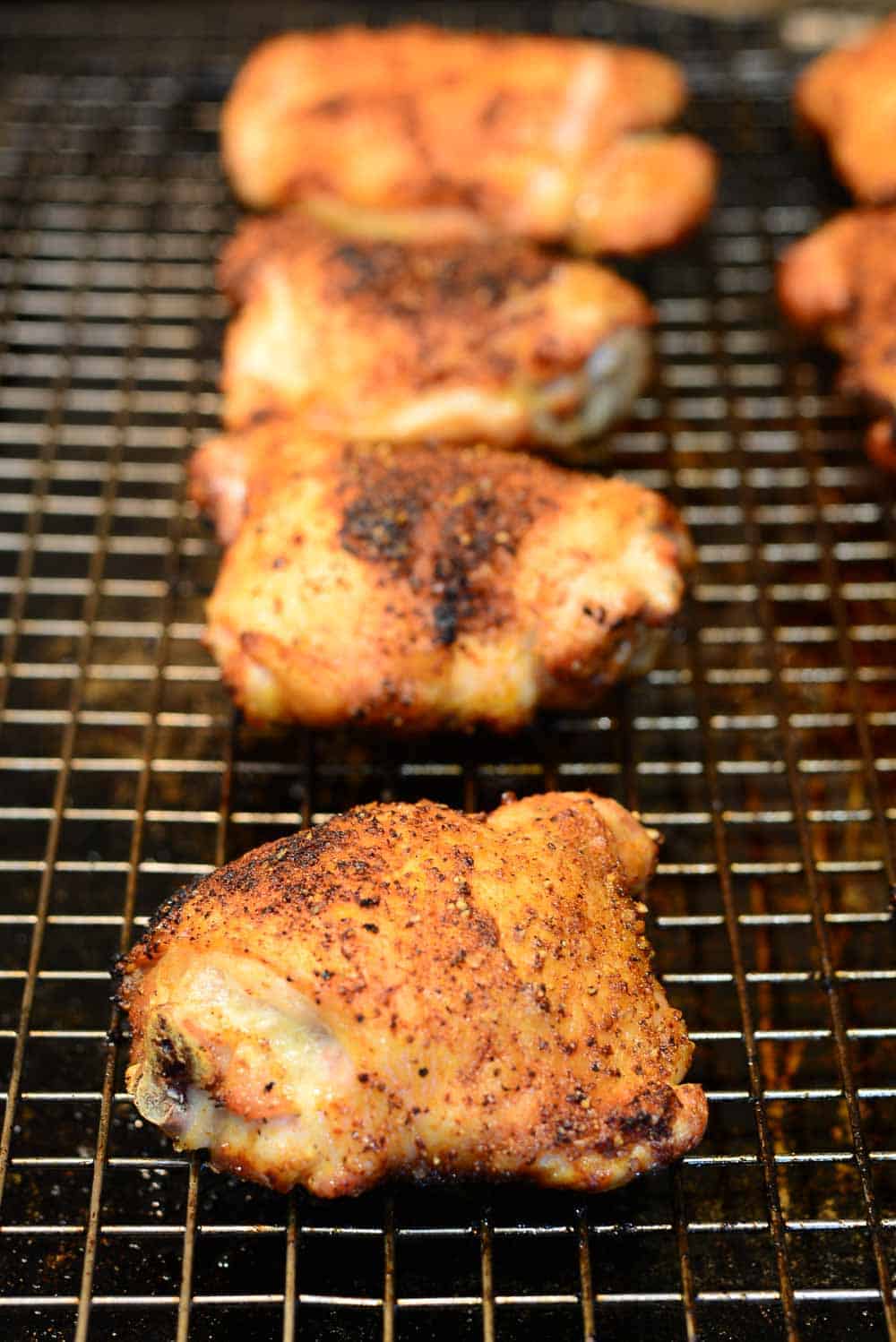 What I love about these Crispy Baked Chicken Thighs
Chicken thighs are easy to bake and have a tone of flavor.
Chicken reheats well and can be seasoned in so many different ways.
This recipe is the perfect reheat and eat protein.
Recipe Notes
Once you learn how to bake chicken thighs, you will want to make them all of the time. This recipe is so easy to make. You barely need any instructions at all but here are some helpful tips and
Ingredients
8 to 12 Chicken Thighs: I usually buy chicken thighs bone-in and with the skin still on. You can have the butcher debone the thighs if you want them boneless.
Oil: You'll need a little oil to ensure you get a perfectly crisp skin. I typically use Avocado Oil.

(affiliate link)

Your Favorite Seasoning Blend: Luckily, I have you covered here.
Special Equipment
Directions
Preheat the Oven: 450℉ I cook chicken thighs on high heat in the oven. The higher temperature will make sure you get the skins crispy.
Rinse and Dry Chicken Thighs: Rinse off the chicken thigh with cold water and then set them on a dry paper towel. Then use a second paper towel to pat them dry. Less water = more crispy!
Add the seasoning and a little oil: Salt and oil bring out the umami in this crispy chicken.
Bake: Bake the chicken thighs for 20 minutes or until the internal temperature of the meat is 165℉ (75℃)
Get the Safe Cooking Temperatures Guide at Foodsafety.gov
Use paper towels to dry off the chicken thighs.
This step gives you crispier skin with more flavor.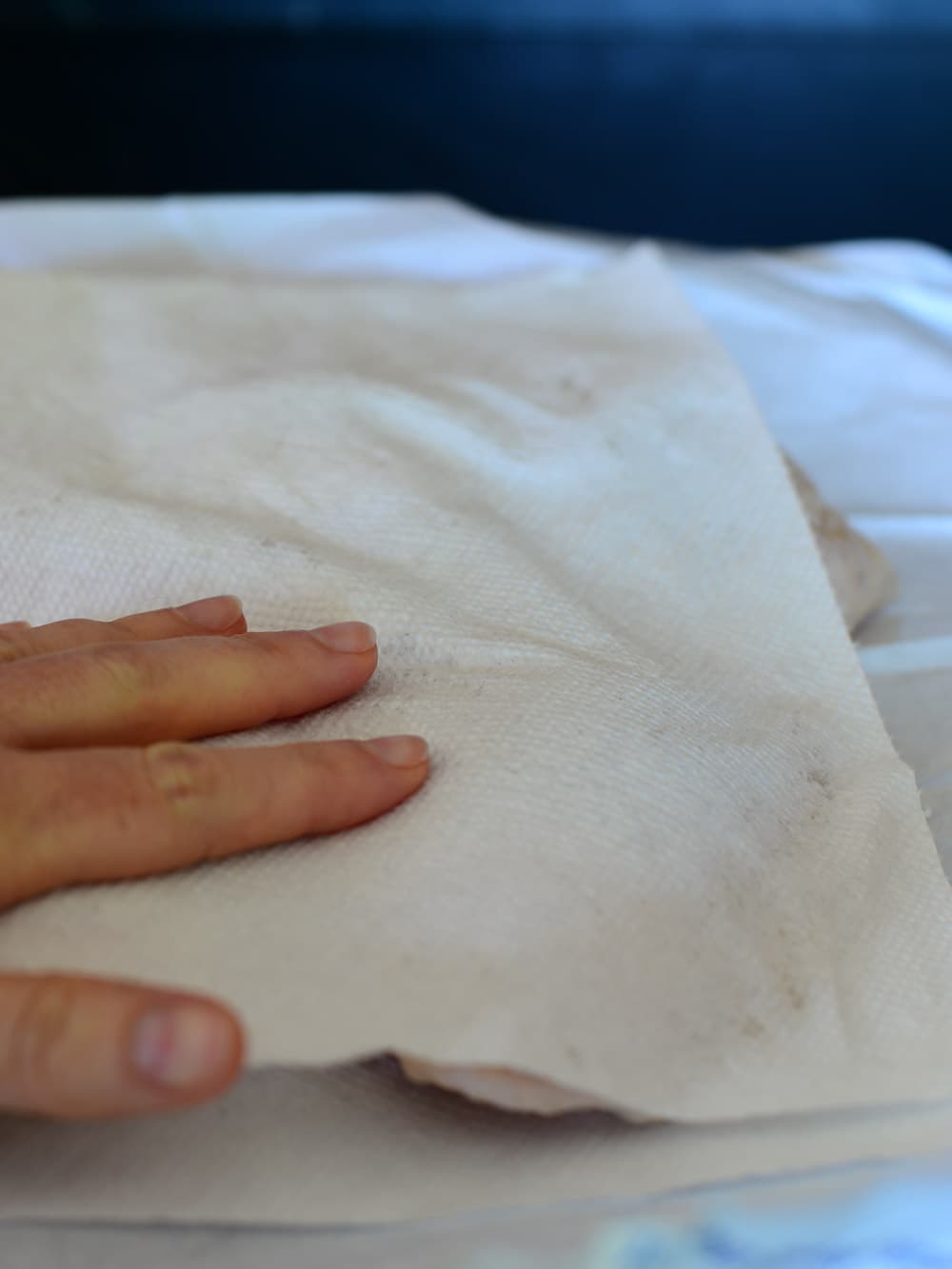 Season Well!
Add salt and pepper to both sides of your chicken thighs.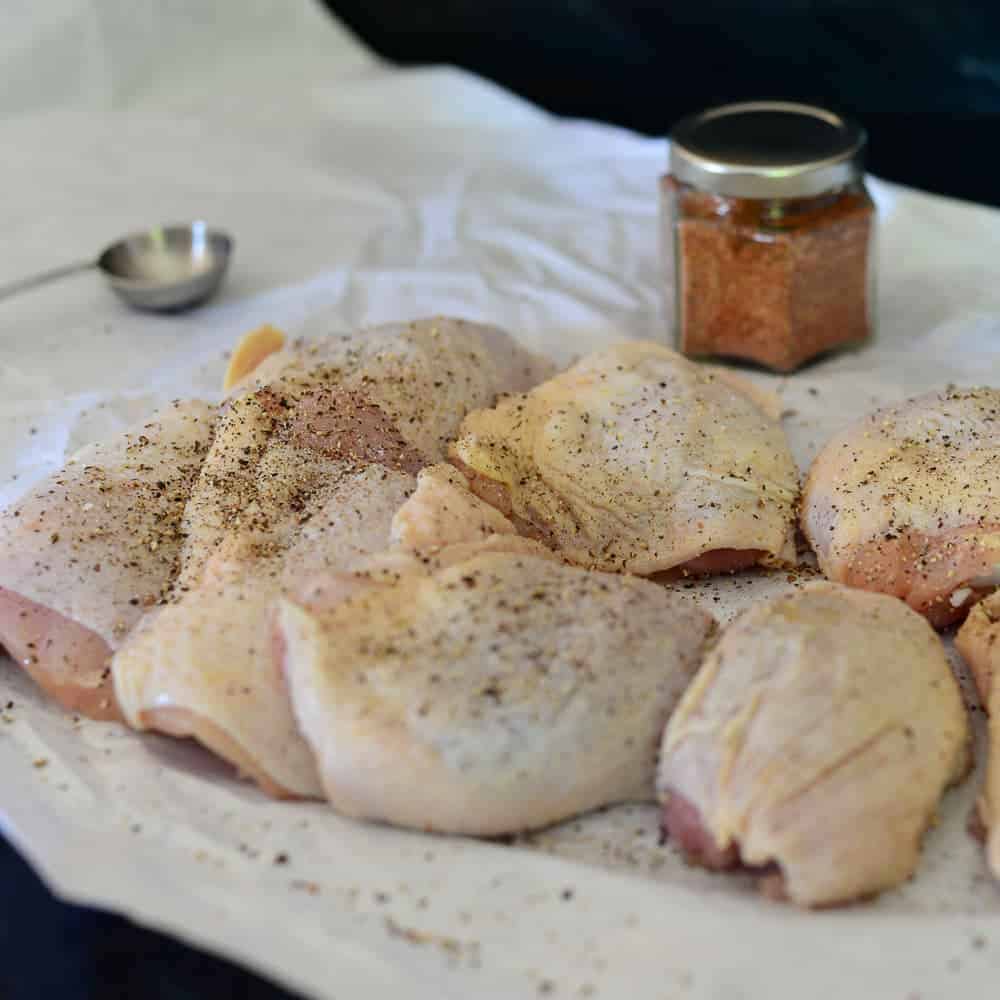 Add a tablespoon or more of Buffalo Seasoning Blend.
You can use your favorite seasoning blends! Check out more of my seasoning blend recipes.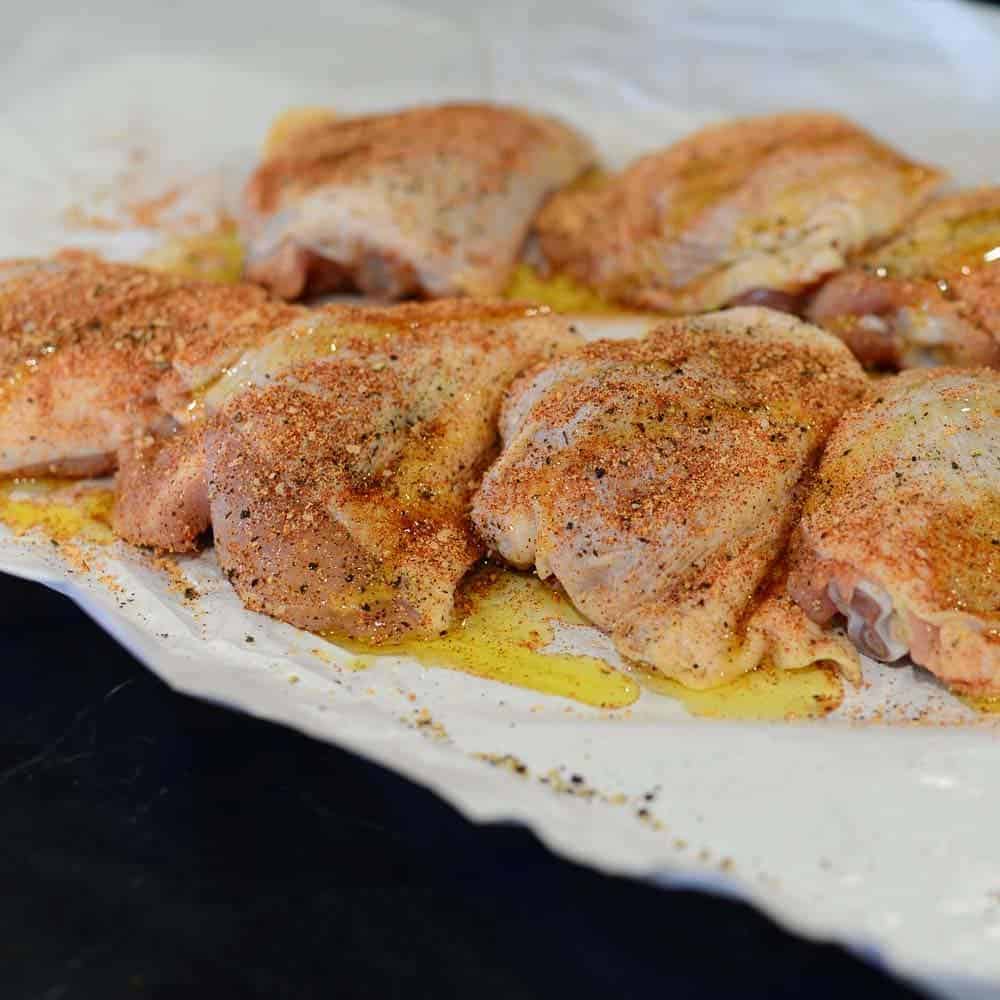 Bake until the skin is crispy.
You want the internal temp of your chicken to be 165 degrees Fahrenheit (75 degrees Celsius.) Use a meat thermometer (affiliate link) to make sure you have the perfect internal temperature.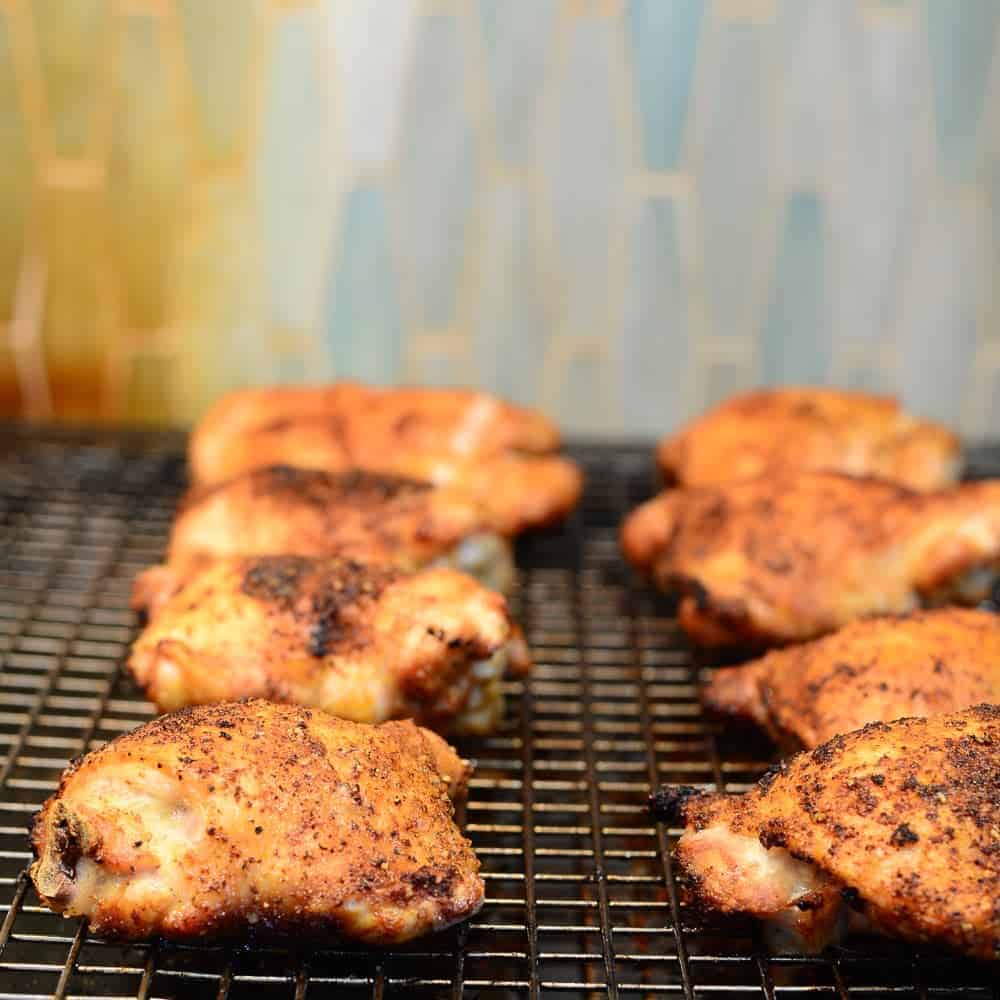 Tips and FAQs
Here are a few tips and tricks to making the best baked bone-in chicken thighs.
How long does it take to bake chicken thighs?
How long to bake chicken thighs depends on your oven temperature and whether or not you are cooking boneless or bone-in chicken thighs.
A meat thermometer (affiliate link) is the best way to ensure that whatever type of meat you are cooking is cooked to the correct temperature. I highly recommend this probe thermometer from Thermoworks (affiliate link).
Baking boneless chicken thighs?
Boneless chicken thighs take a little bit less time to cook. And boneless thighs are super easy to chop up and toss on top of a salad.
Baking bone-in chicken thighs?
Bone-in chicken thighs are inexpensive and easy to find. They will take a few extra minutes in the oven.
Can I make Chicken Thighs in an Air Fryer?
Yes, absolutely. This recipe is the perfect recipe to cook in an air fryer. On average, the time for air fryer cooking should be about 15 minutes. YOu should cook the thighs for 8 minutes in a preheated air fryer. Then flip them over and cook for an additional 7 to 8 minutes. Always use internal temperature as a guide if you aren't sure that they are thoroughly cooked.
What to serve with Crispy Chicken Thighs
My favorite way to serve these chicken thighs is with a big salad. My two favorite salad dressings are my Greek Salad Dressing and my Champagne Vinaigrette.
Other recipes that you might like:
Old Fashioned Potato Salad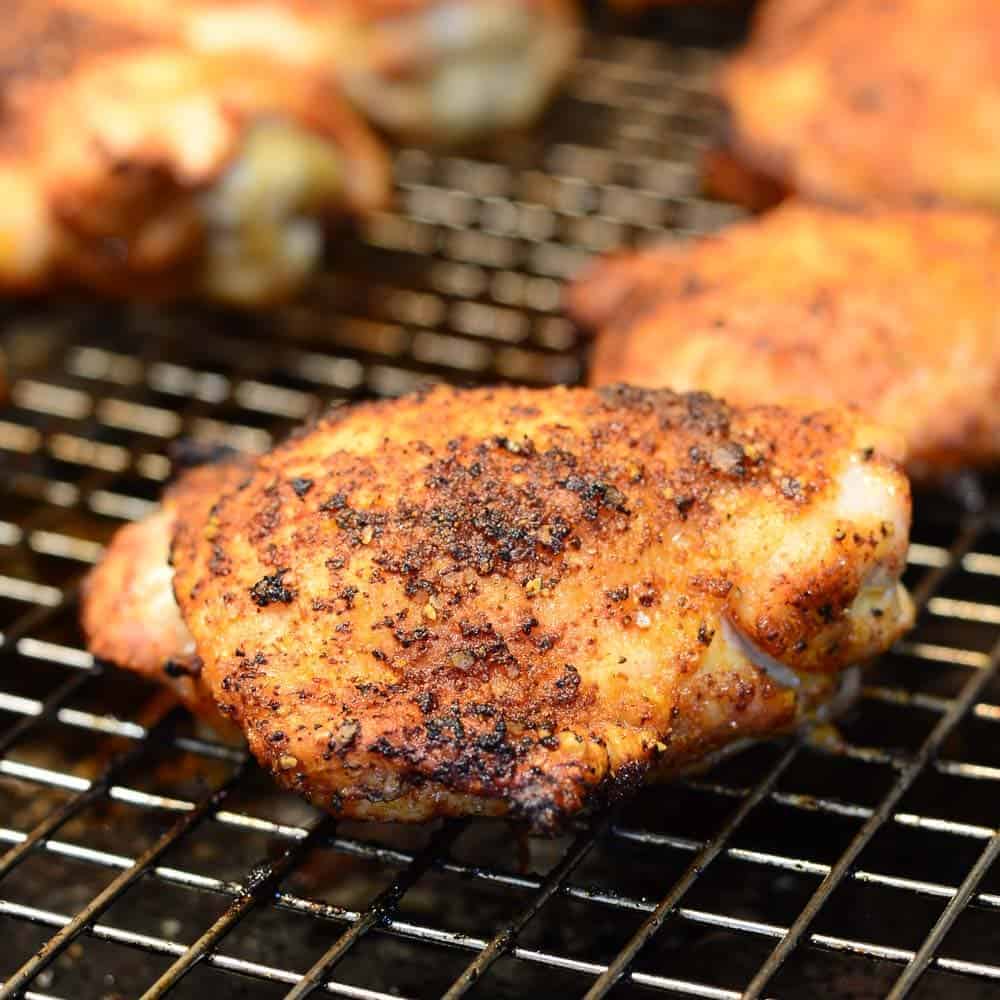 Easy Baked Chicken Thighs
This recipe is the easiest chicken recipe you can make. Crispy chicken thighs are perfect for meal prepping. You can cook a large batch and then reheat them all week to eat with and of your favorite side dishes.
Ingredients
8 to 12

Chicken thighs

1 to 2

teaspoons

Kosher salt

(affiliate link)

1

teaspoon

Black Pepper

1 to 2

tablespoons

Seasoning Blend

1 to 2

tablespoons

Avocado Oil,

use a heat that does well with high heat.
Instructions
Take the chicken thighs out of the oven at least one hour before you plan to cook them. Rinse the chicken thighs in cold water, and then dry them well using lint free paper towels.

Prepare the baking sheet by place a wire rack over the top of it.

Preheat the oven to 450°F

Season the chicken thighs with salt and pepper. Place the chicken on a plate or a plastic cutting mat for easy cleanup.

Add the oil and the seasoning mix. Make sure both sides are seasoned.

Bake the chicken thighs for 20 minutes, or until the internal temperature is 165°F/75°C

Remove the chicken thighs from the oven and let them rest for about 10 minutes before serving.

Store the chickn in an airtight container for up to 2 weeks in the fridge.
YOUR OWN NOTES
Sign In to add your own private notes
Nutrition
Calories:
268
kcal
Carbohydrates:
2
g
Protein:
19
g
Fat:
21
g
Saturated Fat:
5
g
Cholesterol:
111
mg
Sodium:
378
mg
Fiber:
1
g
Sugar:
1
g
Calcium:
39
mg
Iron:
1
mg